| | |
| --- | --- |
| AceNotes Today | Wednesday, July 6, 2022 |
Give Back via Payroll Deduction
Greetings Aces Family – It's that time of year again!
You are incredibly generous and dedicated people, so we want to be sure we bring you the opportunity to establish or renew a payroll deduction as a way to give back philanthropically.
We are so fortunate that the people on campus give of their time, talents, and treasures – That's a really big deal and makes a genuine difference in the lives of UE students.
Remember that you can make gifts to any area on campus, including those in which you are involved! To establish a payroll deduction, please follow this link and click on "Campus Campaign Pledge Form." https://myue.evansville.edu/DepartmentPages/UniversityAdvancement.
When completed, please send the form to annualgiving@evansville.edu.
Thank you once more for all you do at the University of Evansville. This is a special place, made all the more exceptional by you, your work, and your generous giving.
For any questions, please contact the Office of University Advancement at 812-488-1094 or at annualgiving@evansville.edu.
Go Aces!
PS – Please know that any giving though payroll deductions will count towards the university's goals for FORWARD: The Campaign for the University of Evansville. To learn more, click here! https://forward.evansville.edu
Submitted by Tyler White fw18@evansville.edu
FREE Summer Institute for Any K-16 Educator!
The University of Evansville is offering for the first time ever a FREE Summer Institute for Educators! All resources, workshop materials, food, and accommodation will be provided at absolutely zero cost to educators.
The 4-day workshop is designed for K-16 educators to transform their classrooms into creative problem-solving powerhouses. They will learn how to incorporate design thinking, changemaking, and innovative creative problem-solving skills regardless of discipline or grade level. This cohort will build a network of innovative educators and learn proven techniques from experienced mentors. Space is limited.
The Elevate Design Thinking Summer Institute presented by the Center for Innovation & Change at the University of Evansville, is made possible by the Elevate Ventures Higher Education Grant.
Deadline to Register: July 13th
Dates: Saturday, July 23rd – Wednesday, July 27th
For more information, and to register please visit: http://www.Evansville.edu/elevateinstitute
Questions: Please contact the UE Center for Innovation & Change at 812-488-2455

Submitted by Brooksie Smith / bs267@evansville.edu
CDEI Presents: Inclusive Language, Identity, and Terminology
Join the Center for Diversity Equity and Inclusion in learning and understanding inclusive language, identity, and terminology!
This session will be led by the CDEI Faculty Director, Dr. Valerie Stein. At the end of this session you will have developed a vocabulary for different social identities, understood the difference between gender, sex and sexuality, and ultimately have a better overall understanding of how to foster inclusion through everyday language!
Session will be held on July 13th from 11-12pm in Hyde Hall 108.
We look forward to seeing you there!
Submitted by Abagail Christine Catania ac532@evansville.edu
Academic Services Welcomes New Additions
Academic Services has welcomed three new additions recently and it is our pleasure to finally introduce them to the campus community. Please join us in welcoming these individuals in their new roles on campus!
Anthony Halmon – Senior Academic Advisor
Anthony Halmon joined Academic Services toward the end of the spring semester and comes to us from the Office of Admission. Besides advising students, Anthony will be helping coordinate the support programming and outreach efforts of our academic advisors and will be a DISC-110 instructor. Anthony has a bachelor's degree from Cornell University where he studied Africana Studies and a MDiv from the University of Chicago.
Kelsey Gordon – Assistant Registrar/Retention Coordinator
Kelsey Gordon joined Academic Services this spring where she stepped right into helping our graduating students and working in the background to make the 164th Commencement ceremony a success. She'll be working with junior and senior level students to ensure smooth progress toward degree completion and will be helping retention efforts throughout the year. Kelsey has a BA in International Studies from Centre College and a MA in Teaching from St. Louis University.
Laci Rowe – Academic Advisor
Laci Rowe is starting her new role as an Academic Advisor this summer and we are very excited! Since 2019, Laci has been working with Indiana 21st Century Scholars as our ScholarCorps member, a grant-funded AmeriCorps position. We're excited to have her begin work as an Academic Advisor and to have her finally join the University of Evansville as a full-time employee. Laci is herself a 2019 University of Evansville graduate and majored in English Literature and was an Admission Ambassador and a Writing Center Tutor during her time on campus.

Submitted by Chad Hart / ch299@evansville.edu
UE, VU Offer Guaranteed Admission Agreement in Engineering
The University of Evansville and Vincennes University have recently established a guaranteed admission agreement in the academic area of engineering! Students who complete, or are on track to complete, and associate's degree at VU majoring in electrical, civil, or mechanical engineering are guaranteed admission to UE if they meet the parameters of the VU/UE articulation agreements.
If they meet these parameters and earn a minimum 2.5 CGPA, students will be guaranteed a minimum UE scholarship of $18,000 per year but are eligible for up to $21,000 per year based on CGPA. They may also be considered for additional transfer add-on and engagement awards.
Submitted by Julie Beer / jb855@evansville.edu
Andiron Lecture Series 2022-2023 (Call for Papers)
UE faculty, staff, and administrators are invited to submit an abstract for papers on any aspect of their research or expertise for the 2022-2023 Andiron Lectures Series. All disciplines and fields of study are welcome to submit proposals.
Please send the following by email:
A 50-word abstract with Name, Academic Affiliation/ Occupation, Paper title, and Contact Information to: Ray Lutgring at RL5@evansville.edu with a Cc to Cheryl Emmons at CE36@evansville.edu. These will be forwarded to the Andiron Lecture Committee for consideration.
Nominations for off-campus speakers can be sent by email to Ray Lutgring at RL5@evansville.edu
with a Cc to Cheryl Emmons at CE36@evansville.edu; she will forward them to the Andiron Lecture committee for consideration.
Submitted by Cheryl Emmons / ce36@evansville.edu
HealthJoy App for UE Employee Health Insurance Demonstration
Employee Health Insurance Reminder: Sign Up for HealthJoy!
One of several enhancements offered through the University's employee health insurance plan is HealthJoy. This free app will help you save time and money and make the most of your benefits.
HealthJoy helps you centralize all of your benefits and save on healthcare in one easy-to-use app. As soon as you download and create your profile, you'll see all of your benefits displayed in HealthJoy's benefits wallet. In the app you'll also find:
24/7 virtual consults with a medical professional who can diagnose and even write Rx's
Expert personal healthcare concierge to help with employee benefits or healthcare questions
Virtual provider search and appointment booking
Medical bill review
Prescription savings
If you were unable to join the webinar on June 27, please find a 30- minute demo recording of the app at:
https://evansville-edu.zoom.us/rec/share/4l3gbp24uMXe5-Mx4X67nQtnbN8b3-anx3j_srYdD1-RYL-A66ICZ9tlnnMTnLJI.b7RZJe3WJPKOJufN
Passcode: eKBo2.**
To get started with HealthJoy, just look for the activation email in your inbox or call (877) 500-3212. If you have questions, you can email HealthJoy at groups@healthjoy.com.
Submitted by Lori LeDuc ll138@evansville.edu
Order Textbooks Online and Skip the Lines
Did you know you can order your textbooks online ahead of time and skip the long in-store lines? Simply visit the bookstore online at evansville.bncollege.com, click on "Find Course Materials" under the "Course Materials & Textbooks" header, select your courses from the dropdown menus, and the website will pull a personalized list of Required and Recommended titles!
Now if you plan on renting any books, you will need to put in a credit card to secure the rental BUT you can pay a different way! Are you an Athlete? On VA benefits? Or just need to use your Book Loan before your Financial Aid is distributed? You can do that AND rent! When it comes time to check out, make sure you follow the directions, putting in your credit card AND selecting the secondary form of payment as "Financial Aid: Student Account". When the order comes through, the appropriate account will be charged (nothing will be charged to the credit card unless you damage the books or don't bring them back at the end of the semester).
Please allow up to 72 hours for web order processing during the first 2 weeks of class. You will receive 2 emails: one confirming the order, the other to let you know when it is ready to pickup/has been shipped. Please wait for that second email before coming in to pick up your order. If you have decided to have your books shipped, the tracking number will be on that email.
Find out you don't need the book? You have one week from the start of classes to return the book for a full refund with the book in original condition and a copy of your receipt.
Dropped a class? Get a full refund if you return your book by September 30th, with proof that you dropped the course, the book in original condition, and a copy of your receipt.
Of course, if you don't feel comfortable ordering online, you're more than welcome to bring your schedule into the store (either printed or pulled up on your phone), we will pull your books at our back counter, and you can pay at the register. Remember, if you're renting, you need to have a credit card to secure the rentals, even if you're using a different form of payment.
Submitted by Becky Lamont bl164@evansville.edu
Summer Health Risk Assessment
Summer Health Risk Assessments will take place July 11th-13th in Eykamp Hall from 7:00AM-10:45AM each day. Complete your health risk assessment and earn HRA credits. Please remember, fasting 8-10 hours is recommended. Water and Black coffee are allowed. Please take maintenance medications as prescribed, as long as they are not required to be taken with food. Please click the link below to sign up today!
https://acelink.evansville.edu/Areas/MedicalClinic/Appointments/
Submitted by Ashley Chipps ac375@evansville.edu
Chi Omega Wins Founders' Cup
This summer at Chi Omegas 64th National Biennial Convention, the UE chapter of Chi Epsilon was presented with the prestigious Founders' Cup. It was created to recognize and reward the continued development and exceptional performance of collegiate chapters. It is now known as the highest honor a collegiate chapter can receive in Chi Omega and is the epitome of chapter excellence. Only 5 out of 181 chapters receive this award every two years. Chi Epsilon is honored to have been selected for the 2018-2020 and the 2020-2022 biennium's. Chi Epsilon is proud to be a part of UE Greek Life and looks forward to continuing this legacy of excellence.
Submitted by Jordan McKinney jm806@evansville.edu
LeCompte Named Director of Cross Country/Track & Field at UE
University of Evansville Director of Athletics Dr. Ziggy Siegfried has announced that Brooks LeCompte, who has helped collegiate runners achieve record-breaking performances and personal-best times at LSU, Elon, UNC-Wilmington and most recently at Western Kentucky University, has been named the new Director of Cross Country/Track & Field at UE.
"We are thrilled to have Brooks as the new leader of our Cross Country/Track & Field program," said Siegfried. "The search committee and I knew coming in that Brooks had a history of success in recruiting and developing student-athletes at the Division I level. But, what stood out for us during the in-person interview was hist high-level of energy, passion for student-athletes, and his enthusiasm for this opportunity.
"Please join me in welcoming Brooks and his family to the University of Evansville family. They will be a great addition to our campus and the community."
"I am very excited for the opportunity to lead the UE Cross Country/Track & Field program," said LeCompte. "First and foremost, I want to thank Dr. Siegfried for affording me this amazing opportunity. Thank you to the UE administration and support staff for welcoming me into the Evansville family!
"I know that I have some big shoes to fill in replacing Don Walters, but I am up for the challenge to continue pushing the UE Cross Country/Track & Field program forward to higher heights."
LeCompte comes to UE from Western Kentucky, where he has served as the head cross country coach and assistant track & field coach since January, 2020. Starting just months before the COVID-19 pandemic, LeCompte immediately made his mark at WKU, helping the mid-distance and distance runners for the Hilltoppers earn numerous personal-best times in the indoor track season, including helping Dedrick Troxell finish fourth in the indoor mile at the 2020 Conference USA Track & Field Championships.
In his first full year at WKU during the 2020-21 school year, LeCompte added two freshmen to the WKU program which placed in the top 10 in the Outdoor C-USA Track & Field Championships. He also helped build a third-place Distance Medley Relay Team at the 2021 Indoor C-USA Championships.
On the cross country course, LeCompte helped numerous WKU runners post personal-best marks, including helping senior Savannah Heckman develop from an individual who placed 95th as a freshman at the Conference USA meet into a second-team all-C-USA runner by her final season. In fact, the women's team at WKU posted its best C-USA team finish since 2016 last year under his tutelage.
LeCompte began his collegiate coaching career as a volunteer assistant coach at LSU under his mentor and two-time U.S. Olympian Khadevis Robinson. While at LSU, LeCompte assisted various Tigers to a number of school records in 2017. He helped guide LSU's Ruby Stauber to a fifth-place, All-American performance in the indoor 800-meters. He also helped Christian Johnson to his first All-SEC performance in the 3,000-meter steeplechase.
During his coaching career, LeCompte has also served as an assistant cross country and track and field coach at both Elon and UNC-Wilmington.
A native of Lake Charles, Louisiana, LeCompte earned his bachelor's degree in Health and Human Performance from McNeese State University in 2008, where he also competed in track and field and cross country. Brooks and his wife, Kelly, have one daughter, Emma, and two sons, Jayden and Kai. LeCompte takes over the UE program from Don Walters, who recently retired after 23 years as head coach of the Purple Aces.
Submitted by Athletics
Six UE women recognized as WGCA All-American Scholars
The 2021-22 Women's Golf Coaches Association (WGCA) All-American Scholar Team was announced today with a total of 1,485 women's collegiate golfers recognized with this prestigious honor.
Among those recognized were six University of Evansville student-athletes. The group of honorees for the Purple Aces includes Caitlin O'Donnell, Carly Frazier, Mallory Russell, Alyssa McMinn, Magdalena Borisova and Allison Enchelmayer.
The criteria for selection to the All-American Scholar Team are some of the most stringent in all of college athletics. The minimum cumulative GPA is 3.50.
"I could not be more proud of what these ladies are able to accomplish," UE head golf coach John Andrews exclaimed. "Their efforts in the classroom and on the golf course exemplify what it means to be a student-athlete."
Each UE golfer recognized by the WGCA currently has a GPA of 3.689 or higher. Allison Enchelmayer currently posts the top GPA on the squad with a 3.905 in Music Education.
Submitted by Athletics
UE Swimming & Diving Earns Scholar All-America Team Honors Again
The University of Evansville men's and women's swimming and diving teams made it a clean sweep in the classroom during the 2021-22 school year, as the Purple Aces have earned Scholar All-America Team honors from the College Swimming and Diving Coaches Association of America (CSCAA) for the spring 2022 semester. UE also earned the same honors on both the men's and women's sides in the fall 2021 semester.
The UE women posted an impressive 3.61 team grade point average in their championship season to rank 37th among Division I teams and earn CSCAA Scholar All-America Team honors. Meanwhile, the UE men ranked 30th nationally among Division I men's programs with a 3.42 team GPA in the spring. It marks the third-straight year in which both UE programs earned Scholar All-America Team honors under the direction of third-year head coach Stuart Wilson.
"Succeeding in the pool and in the classroom is one of the benchmarks of our program here at the University of Evansville," said Wilson. "I am really proud of the effort that the student-athletes put in both in the pool and in the classroom this year. To be ranked among the nation's top 40 on both the men's and women's sides is very impressive, and is a credit to the type of student-athlete that we have here at UE."
Submitted by Athletics
UE Named a 2022-2023 College of Distinction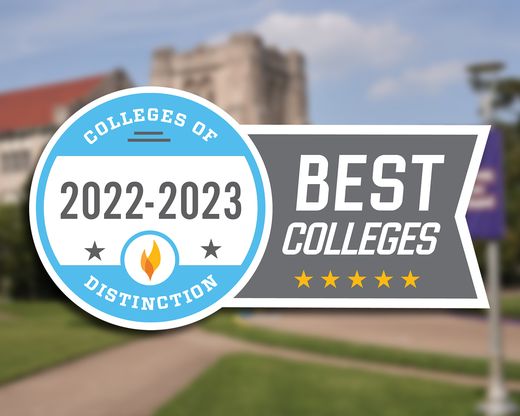 The University of Evansville has been recognized for its commitment to helping undergraduate students learn, grow, and succeed by Colleges of Distinction, a unique guide for college-bound students. UE has been named a 2022-2023 College of Distinction and an Indiana College of Distinction, and it also received recognition for a multitude of academic programs and campus departments.
Colleges of Distinction uses a selection process not only of in-depth research but also detailed interviews with the schools, accepting only those that adhere to the "Four Distinctions." This includes criteria of engaged students, great teaching, vibrant community, and successful outcomes. Combined, these principles ensure that students have a fulfilling and individualized college experience both inside and outside the classroom.
Aside from overall undergraduate recognitions, Colleges of Distinction also awards recognition in individual areas. UE earned recognition in the academic areas of business, education, engineering, and nursing. Colleges of Distinction also recognized the University's career development, equity and inclusion, and military support.
About Colleges of Distinction
Since 2000, Colleges of Distinction has been committed to honoring schools throughout the U.S. for true excellence in higher education. The member schools within the Colleges of Distinction consortium distinguish themselves through their dedicated focus on the undergraduate experience. Its website provides dynamic college profiles, customized tools, and resources for students, parents, and high school counselors. For more information, and to learn how to become a College of Distinction, visit CollegesofDistinction.com.
Submitted by Julie Bryant / jb855@evansville.edu
Contribute to AceNotes
To have content considered for inclusion in AceNotes, please submit a Marketing Request Form. Deadline for submission to AceNotes is 10:00 a.m. on the requested date of publication. Only articles concerning UE related/sponsored activities will be accepted. Articles submitted to AceNotes may be edited for length and clarity. Submitter contact information is at the end of each article.