| | |
| --- | --- |
| AceNotes Today | Wednesday, June 8, 2022 |
Help us welcome new students and families for SOAR - June 17 and June 24
Our incoming students and their parents will be on campus June 17 and June 24 for Student Orientation and Academic Registration (SOAR)! If you are on campus, please keep your eye out for our new students and guests who may need assistance finding campus locations. Don't forget to wear purple! Questions about the program can be directed to Megan Sicard (ms331@evansville.edu) or Jenni Sauls (deanofstudents@evansville.edu), or families can be brought to Student Life for help throughout the program.
If you have felt undercaffeinated this summer--Chartwells will be operating the coffee shop at Rademacher's Cafe in Ridgway from 8am-4pm each SOAR day. They will be set up with a limited menu, but employees are invited to buy coffee as well on SOAR days.
Submitted by Megan Sicard ms331@evansville.edu
New Satellite Copier Summer Transition
UE is transitioning black and white satellite copiers on campus this summer. The first satellite copier being transitioned is the production copier D125 located in OH on the 2nd floor. The D125 will be removed later this week (Thursday/Friday) and will be replaced with a Xerox 7556 (a color copier). In addition, 7556 series color copiers will be replacing the eight (8) black/white Satellite copiers in the following locations at a future date.
Satellite Copiers:
• Ridgway Center, 2nd floor
• Grave Hall, 2nd floor
• Fine Arts, 2nd floor
• Hyde Hall, 2nd floor
• Carson Center
• SOBA
• General Services, 2nd floor
• Physical Plant, 2nd floor
Note: The color production copier currently in KC on the second floor will remain for at least a year.
Watch AceNotes for future updates.
Submitted by Kim Winsett kw83@evansville.edu
UE Receives $1.7 Million Gift from Zane and Frances Todd
The University of Evansville (UE) has been provided a $1.7 million gift from the Zane and Frances Todd Trust. With this generous support, the University will now establish the Zane and Frances Todd Merit Scholarship Fund.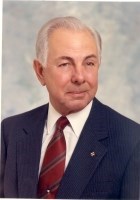 Born in 1924, Zane Todd was a native of Evansville and a graduate of Central High School. He attended Evansville College for one year before transferring and eventually being drafted into the Army during World War II. He led a remarkable life and had a career with Indianapolis Power & Light Company that spanned four decades. He later retired in Florida with his wife, Frances, until his passing in 2013. Together, they shared a vision for establishing a scholarship fund to support nontraditional students – as Zane was one himself.
While there is no precise definition, a "nontraditional student" is one who falls outside of the traditional undergraduate student mold by virtue of age, marital or family status, financial independence, full-time work status, military service, or other characteristics less common among typical college-age students.
This gift will fund scholarships for nontraditional students majoring in engineering, computer science, the sciences, and nursing.
Submitted by Julie Bryant / jb855@evansville.edu
Welcome Dr. Carpenter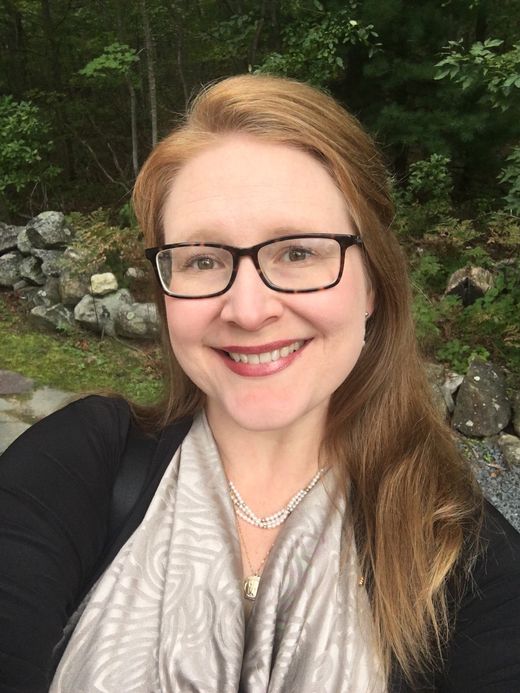 Please join us in welcoming Dr. Rachel Carpenter to the UE campus! Effective June 1, Dr. Carpenter begins her new role at the University of Evansville as Vice President for Student Affairs / Dean of Students. Dr. Carpenter is no stranger to UE though as she received her Bachelor of Arts in International Studies from UE in 2003, followed by a Master of Science in Public Service Administration in 2009. Dr. Carpenter also served in various roles at the University from 2003-10. If you see Dr. Carpenter on campus, please introduce yourself.
Submitted by Jenni Sauls js944@evansville.edu
Second Piece of Artwork Added to Presidential Collection in Olmsted
Tess Chanley, a rising junior at UE majoring in painting with a minor in visual communication design, recently received the Presidential Purchase Award for her acrylic painting, titled Emerald Realms. Her painting will join the Presidential Collection in Olmsted Administration Hall and will be professionally framed this summer. A small presentation was held in the Office of the President on June 7.
Congratulations, Tess!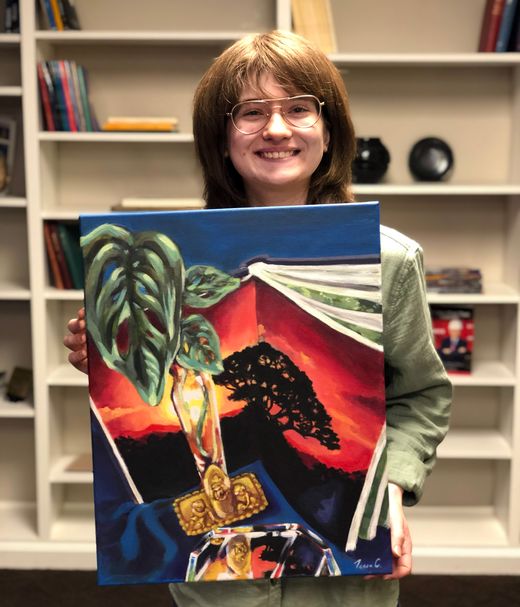 Submitted by Julie Bryant / jb855@evansville.edu
Archaeology Major Awarded Field School Grant
Sophomore Archaeology major Chloe Burns received a $2,000 Strange and Midkiff Families Scholarship from ASOR (American Society of Overseas Research) for Fieldwork Participation to support Chloe's participation in the Shikhin Excavation Project in Israel during the summer of 2022. Established in 2014 by lead gifts from James F. and Carolyn Midkiff Strange, the Strange and Midkiff Families Endowed Scholarship Funds have been designated to support the participation of ASOR members as volunteers or staff on excavation projects.
Submitted by Alan Kaiser ak58@evansville.edu
Archaeology Major Wins Travel Grant
Daniel Griffaton of Pickerington, Ohio, recently was awarded a study abroad grant worth $1,000 from The Honor Society of Phi Kappa Phi — the nation's oldest and most selective collegiate honor society for all academic disciplines. Griffaton is one of 125 students nationwide to receive the award.
The grants are designed to support undergraduates, both members and nonmembers from campuses that have Phi Kappa Phi chapters, as they seek expanded knowledge and experience in their academic fields by studying abroad.
Currently a junior majoring in archaeology and music at University of Evansville, Griffaton will use the grant to study abroad in Israel.
The selection process for a study abroad grant is based on the applicant's academic achievement, campus and community service, relation of travel to academic preparation and career goals, a personal statement, letters of recommendation, and acceptance into a study abroad program. Each recipient receives $1,000 to be applied toward travel abroad.
Established in 2001, the Study Abroad Grant Program is part of the Society's robust portfolio of award and grant programs, which gives more than $1 million each year to outstanding students and members through graduate and dissertation fellowships, funding for post-baccalaureate development, and grants for local, national and international literacy initiatives.
To learn more about the Study Abroad Program and other Phi Kappa Phi awards, visit www.phikappaphi.org/awards
Submitted by Alan Kaiser ak58@evansville.edu
Harlaxton Faculty Member Publishes Article
Tim Williams of Harlaxton College has published an article in Early Music (OUP) "Rethinking early music in a time of isolation" with co-author Magnus Williamson. The article is on rethinking approaches to early music via lockdown methods that emerged in the Covid-19 pandemic, based on the work at St Wulfram's Church in Grantham.
Submitted by Holly Carter hc110@evansville.edu
Trio of Aces earn MVC Scholar-Athlete honors
A trio of members of the University of Evansville baseball team have earned scholar-athlete honors from the Missouri Valley Conference, it was announced by the Conference office on Tuesday morning.
First baseman Tanner Craig captured first team scholar-athlete honors, while relief pitcher Drew Dominik and outfielder Mark Shallenberger each received scholar-athlete honorable mention recognition. Craig is the first Ace to earn first-team scholar-athlete honors since Josh Jyawook was named to the top academic team in 2016.
One of the best to ever put on an Evansville uniform, Tanner Craig concluded his Aces career with his best season. Craig finished the season with a .305 batting average, the Scottsburg, Ind. native led the MVC in doubles with 24 and RBI with 61 and recorded 18 home runs, the fourth-best total in the conference, while ranking in the top 10 in seven other statistical categories. Craig's 47 career home runs are the most ever by an Ace and his single-season totals for doubles and home runs both sit second in UE history. For his efforts, Craig was named second team all-MVC. In the classroom, Craig has excelled from the day he set foot on campus. A two-time recipient of the Commissioner's Academic Excellence Award and a member of the MVC honor roll all-four years at Evansville, Craig holds a 3.54 GPA and is coming-off back-to-back semesters with a 4.0.
One of the best pitchers on Evansville's staff, Drew Dominik continued his impressive for this season for the Aces. Dominik recorded a team-best 2.29 ERA, the second-straight season he has led the team in the category, while working 39.1 innings in 23 appearances with a 5-1 record and striking-out 30 batters and only walking six. Dominik received second team all-MVC honors and was selected to the NCBWA Stopper of the Year Award watch list prior to the season. Academically, Dominik holds a 3.88 GPA in his Master's of program after graduating with his Bachelor's last spring.
Putting together an explosive season, Mark Shallenberger made a jump to one of Evansville's best players in 2022. Shallenberger led the team in average (.336), hits (74), and on-base percentage (.444), while recording 17 doubles, 11 homers and 54 RBI. The first team all-MVC selection led the Aces in average from nearly start to finish, reaching the .300 mark on March 4 and never dropping below it. Shallenberger concluded the season ranking inside the top 12 in the MVC in all statistical categories other than sacrifice flies, sacrifice hits, and triples. Academically, Shallenberger has been named to the MVC's honor roll in both seasons he was eligible to be named to it and holds a 3.46 GPA in psychology.
Submitted by Athletics
Roosevelt Jones named Director of MBB Operations at UE
Roosevelt Jones – a former star at Butler University and most recently an assistant coach at the University of Indianapolis – has joined the University of Evansville men's basketball program as the Director of Men's Basketball Operations.
Purple Aces head coach David Ragland crossed paths with Jones throughout his career, most recently over the course of the last year.
"I have gotten an opportunity to get to know Roosevelt very well during my time at Butler. He is known as being the ultimate teammate and an extremely hard worker," Ragland explained. "During his coaching career he has earned the respect as an aggressive recruiter, a motivating skill developer and detailed in his scouts. I look forward to working with Rose as he continues to grow as a coach and mentor!"
Jones worked at UIndy as an assistant over the last two seasons and made history in 2021-22, helping the program advance to its first-ever appearance in the GLVC Tournament Championship Game. The Greyhounds were 19-11 overall and 10-8 in conference action. In his first year with the Hounds, the team won 11 of their final 16 games to advance to the postseason.
"I'm so thankful for this opportunity to get started in Evansville," Jones said. "I love the vision that Coach Rags and the staff have for future of the team. Big things are ahead for UE!"
His first coaching opportunity a came at IU-Kokomo where he worked for two seasons. The Cougars were 53-15 during his tenure and recorded two NAIA National Tournament appearance. They were ranked as high as 10th nationally.
Prior to his coaching days, Jones enjoyed a storied playing career. The legend at Butler University completed a record-breaking career with the Bulldogs that saw him rank at or near the top in starts (1st), assists (4th), rebounds (5th), steals (8th) and points (11th). The 2-time All-Big East Second Team player earned NABC All-District accolades in 2015-16.
Jones went on to play professionally for two years with the Canton Charge, the G- League affiliate of the NBA's Cleveland Cavaliers, while additionally training players during the offseason in his hometown of O'Fallon, Ill.
Submitted by Athletics
George Swanson named Assistant Men's Basketball Coach
For the third time in six days, University of Evansville head men's basketball coach David Ragland has made an addition to his coaching staff. On Thursday, Ragland announced the appointment of George Swanson as an assistant on his first Purple Aces staff.

"I have known George for over 15 years. With my staff, I wanted to surround myself with guys that I know and trust who are high in character and work hard. "G" is a tireless recruiter and proven winner," Ragland said. "He has been a part of numerous championship teams and helped move along countless players to the 4-year level. George has been committed to graduating his student athletes and will be instrumental in molding our players academically, socially and athletically. I'm excited to welcome "G" and his family to Evansville."

Swanson joins the Evansville program from North Idaho College where he was set to begin his first season as the head women's basketball coach. He spent the previous eight seasons as an assistant coach with the NIC men's program and enjoyed great success, including a perfect 30-0 regular-season record in 2016. That team advanced to the NJCAA Sweet 16. His squads won back-to-back Northwest Athletic Conference Championships in 2017-18 and 2018-19, going a combined 56-10.

"I am extremely excited about the opportunity to come to University of Evansville and work with this staff and players, who are so focused on winning at the highest level," Swanson exclaimed. "I look forward to being part of a team in one of best men's basketball conferences."

During his tenure at NIC, Swanson directed multiple student-athletes to the Division I level following their JUCO careers. He oversaw all planning and execution of the annual recruiting process for the program while designing development plans and strategies for the guards and wings. He placed a large emphasis on recruiting quality student-athletes and was actively involved in their success both on and off the court.

He joined the NIC program following two seasons as a head coach at Reardan (WA) High School and Emerald City Basketball Academy. Prior to his time in Washington, he worked as an assistant at Hardin Simmons University in Abilene, Texas. Other stints included time as a head coach at Grays Harbor College and Pierce College. At Grays Harbor, he led the quad to the NWAACC Tournament and a #1 ranking in the NWAACC poll.

His playing days saw him play at Grays Harbor where his efforts resulted in a NWAACC 6th place finish. Swanson also played for Northwest University, leading the school to its only national championship in 1993. He was later a Hall of Fame inductee at Northwest (2014) and Pierce College (2015). He earned his bachelor's degree in health science from Eastern Washington University in 2006. Swanson has two boys, Jayce and Myles, and a daughter, Jaide.
Submitted by Athletics
Marcus Wilson Joins UE Men's Basketball Coaching Staff
It was just over four years ago when the jersey of Marcus Wilson was retired, permanently cementing his spot among the all-time greats to wear the Purple Aces jersey. When the 2022-23 season commences, Wilson will find himself back on the bench as an assistant coach with the program.
Set to complete his first week at the helm of the Aces men's basketball program, head coach David Ragland made the second addition to his coaching staff. Wilson joins former teammate Craig Snow, who joined the staff on Saturday.
"I am elated to bring Marcus Wilson back to his alma mater in an assistant coaching position! Marcus is extra passionate about assisting in the success of our program. Marcus and I have known one another for over 20 years and I admire his competitive spirit and his desire to help young people become better in all aspects of life," Ragland expressed. "I wanted to hire a staff that wants to be at the University of Evansville and with the additions of Marcus and Craig, there is no doubt in my mind that this is where they want to be!"
Wilson enjoyed one of the most successful careers in program history, remaining 4th in career points with 2,053 and 5th with a total of 674 field goals. His career free throw percentage of 88.7% is the best in UE history and remains one of the top 25 averages all-time in the NCAA. The 1999 Larry Bird Missouri Valley Conference Player of the Year led the Aces to the regular season conference championship as a senior before the team garnered an at-large bid to the NCAA Tournament.
Matched up against Kansas in the opening round, Wilson scored 34 points in front of a national audience in New Orleans' Superdome. Wilson garnered All-American Honorable Mention accolades following the 1998-99 campaign and was named to the MVC All-Centennial Team in 2007.
"Words cannot express the gratitude and excitement I have to return to my alma and work for Coach Ragland on the men's basketball staff. I have known David for over 20 years, so my trust and respect for him is off the charts," Wilson exclaimed. "Being a player and winning a championship for the University of Evansville was one of the highlights of my life, so to return as a coach to help young men fulfill their potential both on and off the court with the opportunity to win another championship for this university is a dream come true."
"I have so many positive memories over the last 27 years being a part of the Evansville family and I am excited and hungrier than ever to make new memories! Evansville, I'm coming home! Go Aces!"
Following his playing career at UE, Wilson played at the professional level for 11 seasons. In the summer of 1999, he played with the Utah Jazz in the Rocky Mountain Review Summer League. Following that opportunity, his international career began in France with AS Bondy in the Pro B League where he led the entire league in scoring in the final portion of the 2001 season and the entirety of the 2001-02 campaign. In addition to separate tenures in France, Wilson's professional career included time in multiple countries that included: Germany, Belgium, Ukraine, Spain and Turkey.
After retiring as a pro in 2010, Wilson returned to the United States where he worked in executive-level positions at Aaron's Sales and Lease along with Chick-fil-a. In August of 2013, Wilson joined former UE head coach Jim Crews on the staff at Saint Louis University as the Video Coordinator. His first season with the Billikens was a special one as the team won 19 consecutive games while being ranked as high as 8th in the national polls. SLU won the Atlantic 10 regular season title before opening the NCAA Tournament as a #5 seed while defeating North Carolina State in the first round.
Wilson remained on the Saint Louis staff until 2016. Following his tenure with the Billikens, he assumed the position of Executive Director at the Monsanto Family YMCA in St. Louis. He earned multiple honors since that time for his work in and around the community. One of his most impressive accomplishments was being named a Delux Magazine Power 100 recipient, which honors 100 of the most influential African American business leaders in St. Louis.
With his executive career taking off, Wilson branched into broadcasting at UE in 2017. Since that time, Wilson has worked for the university and the MVC as a color commentator for men's basketball games on ESPN3 and ESPN+. He is married to 2001 UE graduate Camilla Wilson and has three children – Isaiah Wilson, Ryan Wilson and John Bol.
Submitted by Athletics
UE Women's Soccer Adds Oakland Transfer Danek To 2022 Roster
The University of Evansville women's soccer team strengthened its goalkeeping corps on Wednesday, as head coach Chris Pfau announced the addition of Oakland University transfer Myia Danek (Laingsburg, Mich./Laingsburg) to the Purple Aces' 2022 roster.
Danek has played two seasons at Oakland University, and will have three years of eligibility remaining at UE due to the COVID-shortened season of 2020-21. Danek made her collegiate debut during the COVID 2021 spring season, stopping both shots she faced as a true freshman in a match against Robert Morris. Danek then went 1-0-0 with a 1.61 goals-against-average in three matches for Oakland in fall 2021, while facing 27 total shots and recording 10 saves.
Danek earned first-team all-state honors at Laingsburg High School as a junior in a season in which she recorded 106 saves. She currently plays for Cap City Athletic 1847 in United Women's Soccer, a national pro-am league which provides high-level competition for college players, aspiring and former professionals, and international standouts.
"I am excited to add Myia to our program," said Pfau. "She brings experience, hard work and a great attitude. She is driven and wants to get better each day and make the team better. On top of all of that, she is a tremendous person, and she will be great not only for our team, but for our University."
Danek joins a strong incoming class for Evansville featuring Indiana natives Ryleigh Anslinger (Evansville, Ind./Memorial/Indiana Univ.), Kaylee Woosley (Evansville, Ind./North), Amy Velazquez (Avon, Ind./Avon HS) and Ella McAndrew (Greendale, Ind./Lawrenceburg HS), first-team all-Ohio standout Paige Radel (Metamora, Ohio/Evergreen), Southwest stars Chrysta Vasquez (Henderson, Nev./Coronado HS) and Isabel Valdez (Phoenix, Ariz./Desert Vista HS), Texas native Kathryn Tyler (Lantana, Texas/Liberty Christian HS), and Floridian Joelle Haines (Jacksonville, Fla./IMG Academy).
Evansville is coming off of a season in which the Purple Aces began with the best start in program history, ranked as high as #5 in the United Soccer Coaches Midwest Region poll, and earned a spot in the Missouri Valley Conference Tournament finals.
Submitted by Athletics
Contribute to AceNotes
To have content considered for inclusion in AceNotes, please submit a Marketing Request Form. Deadline for submission to AceNotes is 10:00 a.m. on the requested date of publication. Only articles concerning UE related/sponsored activities will be accepted. Articles submitted to AceNotes may be edited for length and clarity. Submitter contact information is at the end of each article.