| | |
| --- | --- |
| AceNotes Today | Wednesday, May 25, 2022 |
Summer Youth Camps Beginning in June
Throughout the summer, UE will offer several youth camps! Registration is now open for each camp, and the deadline for most of them is Friday, June 10. Visit evansville.edu/camps to learn more and register.
Springboard
In partnership with Black Lemonade, a nonprofit organization "dedicated to turning sour conflict into sweet and powerful solutions," Springboard will give students the opportunity to learn about stereotypes throughout the world and identify ways to educate the masses on the truth using media outlets. Participants will learn from UE faculty and staff, engage with their peers, and volunteer with several organizations in the Evansville community.
Springboard is open to high school students and will be held Monday through Friday, June 6 through July 22, from 8:00 a.m. until 12:00 p.m. The cost is $120, and the deadline to register is Friday, June 3.
Wesley Shepard Music Camp
The UE Music Conservatory will host a weeklong camp for students entering grades 6-12 from Sunday, June 19, through Saturday, June 25. Those who have completed at least one year of band, orchestra, piano, private lessons, or similar experience are eligible to attend.
The music camp will include experiences in band, orchestra, and piano. Students will rehearse and perform, receive specialized instruction, learn musicianship skills, and participate in other music-related activities. Lunch will be provided each day in Ridgway, and the cost to attend is $250.
STEM Camp
The UE Departments of Biology, Chemistry, Mathematics, and Physics will jointly host an inaugural STEM camp for high school students.
Rising students for grades 9-12 are invited to participate in hands-on exploration from June 20-25. The weeklong camp will cover several STEM topics, including energy in molecules, ecological interactions, DNA barcoding, data science, and more. Participants will also learn about STEM-based career discovery and undergraduate research. The cost of the camp is $250 and will last each day from 8 a.m. until 5 p.m.
Exploring Art at UE
The UE Department of Art is inviting the local youth to make all types of art in the studios on campus. Participants will get to draw, paint, dye, marbleize, and create jewelry alongside art faculty and students. At the end of the camp, students will take home a 106-piece art kit with a built-in easel for future creations.
Exploring Art at UE will be offered the week of June 20-25, and the cost is $100. The camp will be split into two groups: students entering grades 2-5 will meet from 9:00 a.m. until 11:30 a.m., and those entering grades 5-8 will meet from 1:00 p.m. until 3:30 p.m.
Dance Camp
The inaugural Dance Camp will be held from June 22-25, and students will have the opportunity to learn ballroom, hip hop, modern dance, and more. Ballroom dances will include swing, rumba, foxtrot, and waltz. On the last day, a performance will be held. Campers will also receive in-depth dance lessons, a T-shirt, and breakfast and lunch. The cost of the camp is $200.
Journey to Justice
UE is also leading an 8-day Journey to Justice bus tour through cities of the South to explore the history of the civil rights movement. The trip is scheduled for July 16-23 and open to rising high school juniors and seniors. More information is available at evansville.edu/journeytojustice.
The University strives to make summer camps accessible to all students regardless of their ability to pay. Thanks to generous funding from Lilly Endowment Inc., financial assistance could cover up to 90% of costs for those in need. Funds are limited, so parents and guardians are encouraged to apply early. Visit evansville.edu/camps to register for all camps, and the pre-registration will include financial assistance questions.
Submitted by Julie Bryant / jb855@evansville.edu
Calling All K-12 & University Educators!
Educators join us this summer for the Elevate Design Thinking Summer Institute 2022!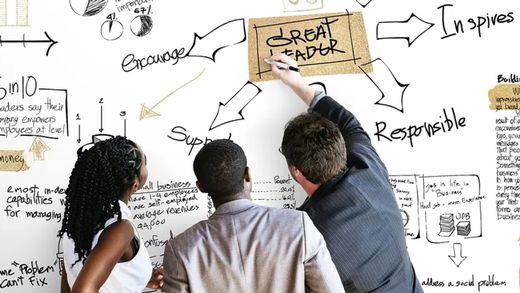 The University of Evansville is hosting the Elevate Design Thinking Summer Institute presented by the Center for Innovation & Change (CIC) at the University of Evansville, made possible by Elevate Ventures High Education Grant.
Dates: Saturday, July 23rd – Wednesday, July 27th
The Elevate Design Thinking Summer Institute is a professional development program for K-12 and University Professors that will train educators on how to leverage the Elevate Origins and Design Thinking process. This program will provide methods on how to incorporate design thinking, changemaking, and innovative creative problem-solving skills into your classroom regardless of discipline or grade level.
These skills are applicable to every title and subject. No matter what age group you teach, this program will help you prepare your students to develop strategic skills, the ability to craft innovative solutions and creatively solve problems in the modern world. Educators will learn a variety of proven techniques from experienced mentors.
All resources, workshop materials, food, and accommodation will be provided at absolutely zero cost to educators.
Be sure to register today to reserve your spot and share this opportunity with your network! The deadline to register is May 31, 2022.
For more information visit: http://www.Evansville.edu/elevateinstitute

Submitted by Brooksie Smith / bs267@evansville.edu
Free Piano Music at the Library
4 tables of FREE PIANO MUSIC -- all genres -- all eras! Come by and take your pick.
Submitted by Meg Atwater-Singer ma35@evansville.edu
Bob Dale promoted to Assistant Director for Facilities Management
I am pleased to announce that Bob Dale has been promoted to Assistant Director for Facilities Management effective June 1.
Bob started at the University of Evansville in November of 1987 as a Grounds Supervisor. Over his nearly 35 years at the university, Bob has managed and taken care of the beautiful campus and athletic grounds and exterior areas on campus. Bob is currently the Manager of Grounds and was the interim Executive Director of Facilities Management from June 2021-February 2022. Bob Holds a bachelor's degree from the University of Evansville and a master's degree from Oakland City University. Bob also holds many grounds certifications (i.e., sports turf management and tree care).
We are extremely fortunate to have Bob as a member of the Facilities Management team and a valued member of the University. I am grateful to have Bob in this role and look forward to his continued work in serving the needs of the faculty, staff, students, and visitors on our beautiful campus.
Please join me in congratulating Bob on his promotion.
Mike Averett
Executive Director/Facilities Management and Planning
Submitted by Michael Averett ma479@evansville.edu
Use the UE Digital Toolbox!
The Office of Marketing and Communications has several materials on the UE website – let's call it a "Digital Toolbox" – that are now available for download and use at your convenience. You can access a variety of phone wallpapers, Zoom backgrounds, desktop/computer backgrounds, PowerPoint templates, email signatures, and more. There are general purple-themed items and seasonal or special materials, such as Forward>>, Pep & Vim, and Harlaxton!

Visit the Digital UE Gallery to access backgrounds and wallpapers. For PowerPoint templates and email signatures, visit the Templates page. Both pages provide directions for setting up backgrounds and email signatures.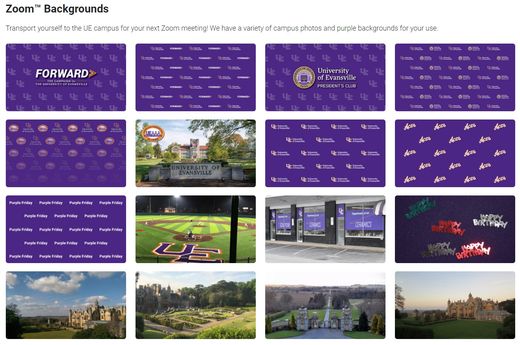 Submitted by Julie Bryant / jb855@evansville.edu
Archaeology Major Wins Travel Grant
Daniel Griffaton of Pickerington, Ohio, recently was awarded a study abroad grant worth $1,000 from The Honor Society of Phi Kappa Phi — the nation's oldest and most selective collegiate honor society for all academic disciplines. Griffaton is one of 125 students nationwide to receive the award.
The grants are designed to support undergraduates, both members and nonmembers from campuses that have Phi Kappa Phi chapters, as they seek expanded knowledge and experience in their academic fields by studying abroad.
Currently a junior majoring in archaeology and music at University of Evansville, Griffaton will use the grant to study abroad in Israel.
The selection process for a study abroad grant is based on the applicant's academic achievement, campus and community service, relation of travel to academic preparation and career goals, a personal statement, letters of recommendation, and acceptance into a study abroad program. Each recipient receives $1,000 to be applied toward travel abroad.
Established in 2001, the Study Abroad Grant Program is part of the Society's robust portfolio of award and grant programs, which gives more than $1 million each year to outstanding students and members through graduate and dissertation fellowships, funding for post-baccalaureate development, and grants for local, national and international literacy initiatives.
To learn more about the Study Abroad Program and other Phi Kappa Phi awards, visit www.phikappaphi.org/awards
Submitted by Alan Kaiser ak58@evansville.edu
Mason Spitzner, Nurse Anesthesia Resident, Awarded Scholarship
The American Association of Nurse Anesthesiology (AANA) Foundation received 2,456 competitive student scholarship applications this year. Eighty scholarships were awarded totaling $225,000. The Nurse Anesthesia Program is proud to announce that Mr. Mason Spitzner received the Ronald Lenninger Memorial Scholarship in the amount of $3000. Mason is in the inaugural cohort of the Nurse Anesthesia Program and moved to Newburgh, IN from Clay City, IL to join the UE family. He is the program's student representative to the Indiana Association of Nurse Anesthetists, and he attended the AANA Mid-Year Assembly in Washington, D.C. last month. Congratulations Mason!!
Submitted by Melissa Fitch mf245@evansville.edu
Over 500 Students Named to Spring 2022 Dean's List
The University of Evansville named more than 500 students to the Dean's List for the Spring 2022 semester. Congratulations to these Aces for their outstanding academic achievement!
Students are named to the Dean's List every fall and spring semester. To merit the honor of being placed on the Dean's List, a student must have carried a full academic load of 12 hours or more and have earned a grade point average of 3.5 or above.
You can view the Dean's List here.
Submitted by Julie Bryant / jb855@evansville.edu
Smith, Carroll earn major MVC awards as Aces have nine named to all-conference teams
Following it's best regular season in eight years, the University of Evansville baseball team hauled-in two major awards and nine all-conference honors in the Missouri Valley Conference's postseason awards, it was announced on Tuesday morning in a release from the Conference office.
For the first time since 2014, Evansville had an Ace earn MVC Pitcher of the Year honors as sophomore Nick Smith follows in the footsteps of Kyle Freeland. Head coach Wes Carroll becomes the first Evansville skipper to earn Dan Callahan Coach of the Year honors twice in his career after the coaches and media voted Carroll the conference's top coach.
Among Evansville's nine all-conference selections Brent Widder, Mark Shallenberger, Shane Gray, and Nick Smith all picked-up first team honors, while Tanner Craig, Simon Scherry, and Drew Dominik were named to the second team, and Evan Berkey and Eric Roberts both received honorable mention all-MVC recognition.
A nearly unhittable force in the MVC this season, Smith deservedly gets the nod for The Valley's best arm. The Boonville, Ind. native holds a 4.06 ERA in MVC action with four wins and a 40/10 strikeout-to-walk ratio. Smith is the first Ace since Kyle Freeland in 2014 to be named The Valley's best pitcher and just the third since Evansville joined the MVC in 1995.
Leading Evansville to its first 30-win campaign since 2014, the Aces head man receives the Dan Callahan Coach of the Year award. Guiding a team picked seventh in the MVC preseason poll to the no. 2 seed in the conference tournament, Carroll helped the Aces to their best postseason seed since 2014 when Carroll won his previous coach of the year honor With the honor, Carroll becomes the only coach in program history to be named MVC coach of the year twice. Carroll's 350 wins at UE are second-most in program history behind Jim Brownlee.
Evansville opens up MVC Tournament play on Wednesday at 3 PM in Springfield, Mo. against a team still to be determined based on results of the opening day of the tournament.
Submitted by Athletics
Four Purple Aces Named To MVC Track & Field Scholar-Athlete Team
For the second-straight year, four members of the University of Evansville track and field team garnered Missouri Valley Conference Scholar-Athlete Team honors on Tuesday, as sophomore Geordan Blades (Avon, Ind./Avon), junior Giovanni Purser (Port Maria, Jamaica) and seniors Trey Riggs (Ft. Branch, Ind./Gibson Southern) and Joey Rucinski (Ft. Wayne, Ind./Concordia Lutheran) were honored by the conference office.
The MVC Scholar-Athlete Team in the sport of track and field is based on both academic excellence and competitive success, as student-athletes must maintain at least a 3.3 cumulative grade point average and finish in the top eight of an individual event or be a part of a relay team which places in the top three at either the MVC Indoor or Outdoor Track & Field Championships. Student-athletes must also be a sophomore or higher academically.
Blades and Purser captured MVC Scholar-Athlete Team honors for being a part of UE's 4x100-meter relay squad which earned a podium finish at the Outdoor Championships. Blades currently owns a 3.635 GPA in Exercise Science at UE, while Purser carries a 3.526 GPA in Exercise Science.
Riggs earned MVC Scholar-Athlete Team honors for the second-straight year after placing eighth in the 60-meter hurdles at the MVC Indoor Championships, while boasting a 3.557 GPA in Civil Engineering. Rucinski, meanwhile, qualified in two events at the MVC Outdoor Championships, as he placed sixth in the pole vault and seventh overall in the decathlon event. He also carries a 3.32 GPA in Business Management in the classroom at UE.
Submitted by Athletics
David Ragland named head men's basketball coach at UE
David Ragland has been named the 16th head men's basketball coach in University of Evansville history. The announcement of the 8th Division I head coach in Purple Aces history was made by director of athletics Dr. Kenneth "Ziggy" Siegfried.
As we moved through the search process for our new head men's basketball coach, David Ragland separated himself from the other candidates and established himself as the clear choice to lead our program," Siegfried said. "David brings a wealth of experience that will help our program in every way, while his familiarity with the Evansville community will help to reengage our supporters."
In a coaching career that has spanned nearly two decades, Ragland's experience has contributed to an impressive group of programs that includes Butler, Utah State, Valparaiso, Vincennes, Northern Kentucky, Bowling Green, Indiana State, and Frank Phillips College. He joins the Evansville program following a 1-year stint as an assistant coach at Butler University.
Prior to his time with the Bulldogs, Ragland enjoyed a successful tenure at Utah State where his squads achieved at least 20 wins in each of his three seasons while finishing with an overall mark of 74-24. The Aggies made two NCAA Tournament appearances during his tenure, while the 2019-20 squad posted a 26-8 mark before the postseason was canceled due to COVID-19.
"I want to thank Dr. Siegfried and President Pietruszkiewicz for putting their trust in me to lead this program. It is a dream come true to return home. Evansville is such a special place for my family and myself and the opportunity to come back to where it all started means the world," Ragland exclaimed. "Growing up in the city, I understand what the Purple Aces program means to the community. From day one, I will work to establish a program that the entire University of Evansville campus community and the city of Evansville will be proud of. My family and I are excited to be home."
Ragland has worked at two current Missouri Valley Conference institutions, including a 2-year term at Valparaiso. During his first season with the program, the team accumulated 24 victories in 2016-17 while finishing with a Horizon League regular season championship and a spot in the postseason NIT. Highlighting the roster for VU was Horizon League Player of the Year Alec Peters, who was the 54th pick in the 2017 NBA Draft.
From 2010 through 2014, Ragland was an assistant coach at Indiana State where the Sycamores put forth one of the top stretches by a mid-major program in recent memory. ISU recorded 80 victories along with four postseason appearances, including a spot in the NCAA
Tournament in 2010-11. Ragland was an assistant at Northern Kentucky (2015-16) and Bowling Green (2014-15) following his stint with the Sycamores. He contributed to a 24-11 mark at NKU, which included an NCAA Tournament berth.
His first head coaching opportunity came at Vincennes University where he led the Trailblazers to a 44-19 record in his two years at the helm. The 2009-10 campaign saw them post a 22-10 mark and a run that took the program to the NJCAA District Tournament Finals. Ragland opened his coaching career at Frank Phillips College where he was part of a squad that went 25-5 in 2004-05.
Graduating from Harrison High School, Ragland was named an All-State Honorable Mention basketball player. He began his collegiate career at Missouri Southern State College in Joplin, where his team went on to the NCAA Division II Final Four during his freshman year. Following his sophomore year, he transferred to the University of Southern Indiana where he played for two seasons, propelling the Screaming Eagles to a total of 47 victories and leading the team in assists in both years.
Ragland and his wife, Annie, have two children: Ava and Joshua.
At 6 p.m. on Wednesday, a community introduction will take place at Meeks Family Fieldhouse. The event will be open to the public. Media is invited to cover the event; however, interviews with Ragland and Siegfried must be conducted at the earlier media opportunity.
Submitted by Julie Bryant / jb855@evansville.edu
Contribute to AceNotes
To have content considered for inclusion in AceNotes, please submit a Marketing Request Form. Deadline for submission to AceNotes is 10:00 a.m. on the requested date of publication. Only articles concerning UE related/sponsored activities will be accepted. Articles submitted to AceNotes may be edited for length and clarity. Submitter contact information is at the end of each article.