| | |
| --- | --- |
| AceNotes Today | Wednesday, May 11, 2022 |
Soba Parking Closed on 5/11-5/12 for Maintenance
Parking Lot "A", also known as the SOBA lot, will close at 6:00pm on Tuesday, May 10. The lot will remain closed through May 12. The closure will allow contractors to re-stripe the parking spaces and perform maintenance to the lot surface. Vehicles left in the lot after 6:00pm on the 10th will be subject to a $50 fine and may be towed at the owner's expense.
Parking is available in Lot N at the corner of Rotherwood and Walnut. Parking will also be available in the usual designated spots in the front oval, Lot B.
Submitted by Jason Cullum jc647@evansville.edu
Center for Career Development Receptions
Reminder of our upcoming receptions:
Thursday, May 12- Gene Wells' retirement reception
3PM-4:30PM in Phillips Alcove (2nd floor of Ridgway)
Tuesday, May 17- Kelly Bargeloh's Goodbye Reception
2PM-3:30PM in the Student Life Suite
Submitted by Amanda Wood / aw505@evansville.edu
Summer Youth Camps Beginning in June
Throughout the summer, UE will offer several youth camps! Registration is now open for each camp, and the deadline for most of them is Friday, June 10. Visit evansville.edu/camps to learn more and register.
Springboard
In partnership with Black Lemonade, a nonprofit organization "dedicated to turning sour conflict into sweet and powerful solutions," Springboard will give students the opportunity to learn about stereotypes throughout the world and identify ways to educate the masses on the truth using media outlets. Participants will learn from UE faculty and staff, engage with their peers, and volunteer with several organizations in the Evansville community.
Springboard is open to high school students and will be held Monday through Friday, June 6 through July 22, from 8:00 a.m. until 12:00 p.m. The cost is $120, and the deadline to register is Friday, June 3.
Wesley Shepard Music Camp
The UE Music Conservatory will host a weeklong camp for students entering grades 6-12 from Sunday, June 19, through Saturday, June 25. Those who have completed at least one year of band, orchestra, piano, private lessons, or similar experience are eligible to attend.
The music camp will include experiences in band, orchestra, and piano. Students will rehearse and perform, receive specialized instruction, learn musicianship skills, and participate in other music-related activities. Lunch will be provided each day in Ridgway, and the cost to attend is $250.
STEM Camp
The UE Departments of Biology, Chemistry, Mathematics, and Physics will jointly host an inaugural STEM camp for high school students.
Rising students for grades 9-12 are invited to participate in hands-on exploration from June 20-25. The weeklong camp will cover several STEM topics, including energy in molecules, ecological interactions, DNA barcoding, data science, and more. Participants will also learn about STEM-based career discovery and undergraduate research. The cost of the camp is $250 and will last each day from 8 a.m. until 5 p.m.
Exploring Art at UE
The UE Department of Art is inviting the local youth to make all types of art in the studios on campus. Participants will get to draw, paint, dye, marbleize, and create jewelry alongside art faculty and students. At the end of the camp, students will take home a 106-piece art kit with a built-in easel for future creations.
Exploring Art at UE will be offered the week of June 20-25, and the cost is $100. The camp will be split into two groups: students entering grades 2-5 will meet from 9:00 a.m. until 11:30 a.m., and those entering grades 5-8 will meet from 1:00 p.m. until 3:30 p.m.
Dance Camp
The inaugural Dance Camp will be held from June 22-25, and students will have the opportunity to learn ballroom, hip hop, modern dance, and more. Ballroom dances will include swing, rumba, foxtrot, and waltz. On the last day, a performance will be held. Campers will also receive in-depth dance lessons, a T-shirt, and breakfast and lunch. The cost of the camp is $200.
Journey to Justice
UE is also leading an 8-day Journey to Justice bus tour through cities of the South to explore the history of the civil rights movement. The trip is scheduled for July 16-23 and open to rising high school juniors and seniors. More information is available at evansville.edu/journeytojustice.
The University strives to make summer camps accessible to all students regardless of their ability to pay. Thanks to generous funding from Lilly Endowment Inc., financial assistance could cover up to 90% of costs for those in need. Funds are limited, so parents and guardians are encouraged to apply early. Visit evansville.edu/camps to register for all camps, and the pre-registration will include financial assistance questions.
Submitted by Julie Bryant / jb855@evansville.edu
Calling All K-12 & University Educators!
Educators join us this summer for the Elevate Design Thinking Summer Institute 2022!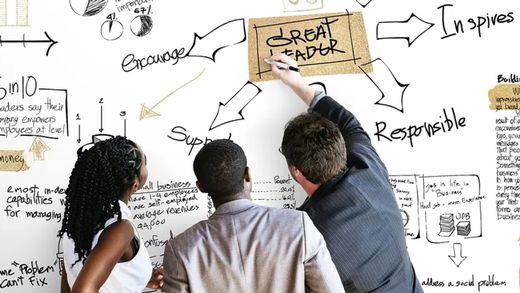 The University of Evansville is hosting the Elevate Design Thinking Summer Institute presented by the Center for Innovation & Change (CIC) at the University of Evansville, made possible by Elevate Ventures High Education Grant.
Dates: Saturday, July 23rd – Wednesday, July 27th
The Elevate Design Thinking Summer Institute is a professional development program for K-12 and University Professors that will train educators on how to leverage the Elevate Origins and Design Thinking process. This program will provide methods on how to incorporate design thinking, changemaking, and innovative creative problem-solving skills into your classroom regardless of discipline or grade level.
These skills are applicable to every title and subject. No matter what age group you teach, this program will help you prepare your students to develop strategic skills, the ability to craft innovative solutions and creatively solve problems in the modern world. Educators will learn a variety of proven techniques from experienced mentors.
All resources, workshop materials, food, and accommodation will be provided at absolutely zero cost to educators.
Be sure to register today to reserve your spot and share this opportunity with your network! The deadline to register is May 31, 2022.
For more information visit: http://www.Evansville.edu/elevateinstitute

Submitted by Brooksie Smith / bs267@evansville.edu
Purchasing Procedures for May 2022
As the Fiscal Year 2021 - 2022 ends May 31, please review the below purchasing guidelines for Pcards, Purchase Orders, Office Depot, and payments.
Pcard Purchases
• Pcard purchases posting on the May statement (cycle end date is May 22) will be paid from FY 2021-2022 funds unless a prepaid item. Most shipments post on your Pcard within three to four business days. However, vendors have up to nine business days to post transactions.
• Pcard purchases posting after May 23 through May 31 will be paid from FY 2022-2023(new year) funds, unless the item purchased exceeds $500. Purchases exceeding $500 will be paid from FY 2021-2022 funds.
Office Depot Orders
• Normally, Office Depot orders placed online by 3 p.m. for items in stock are delivered the next business day. Upon delivery, the transaction should post on your Pcard within three to four business days.
• Office Depot orders received by May 15 will likely post on the May 22 Pcard Cycle and be paid from FY 2021-2022 funds.
• Office Depot orders placed and received but posting to the Pcard after May 23 through May 31 will be paid from FY 2022-2023 funds, unless the items purchased exceed $500. Purchases exceeding $500 will be paid from FY 2021-2022 funds.
Purchase Orders
• Approved requisitions converted into purchase orders and delivered by May 31 will be paid from FY 2021-2022 funds.
• Approved Requisitions indicating FY 2022-2023 in Self-Service with a Requisition Date of 6/1/21 or later and a typed Internal Comment of FY 2022-2023 will be processed with a delivery date of June 1 or later.
• Backordered Purchase Orders not delivered by May 31 will be paid from FY 2022-2023 funds.
Blanket Orders
• All FY 2021-2022 Blanket orders expire on May 31, 2022.
• Approved Requisitions for FY 2022-2023 (new year) Blanket Orders may now be submitted via Self-Service with a Requisition Date of 6/1/22 or later with "Blanket Purchase order for ____________ effective June 1, 2022 through May 31, 2023" included in the line item description.
• Backordered Blanket Purchase Order items not delivered by May 31, 2022 will be paid from FY 2022-2023 funds.
Payment Requests
• All services completed and items purchased (and on campus) by May 31 must be submitted and approved on a Payment Request in Self-Service by Monday, June 13 to be paid from FY 2021-2022 funds. Any pre-May 31st purchases submitted for payment after this date will be charged to FY 2022-23.
Submitted by Kim Winsett / kw83@evansville.edu
Archaeology Students Cross US and Globe for Summer Experiences
The Department of Archaeology is pleased to announce that this summer we have students going to excavations and internships in Ireland, England, Greece, and Israel and in the United States to sites in Arkansas, Arizona, Illinois, Maryland, and Rhode Island. From a shipwreck to the grounds of Harlaxton to a burned Bronze Age palace, students will be working at some extraordinary sites and developing skills they will use in their careers for years to come.
Help us spread the word about what a unique and special place UE is for studying archaeology.
Submitted by Alan Kaiser / ak58@evansville.edu
Use the UE Digital Toolbox!
The Office of Marketing and Communications has several materials on the UE website – let's call it a "Digital Toolbox" – that are now available for download and use at your convenience. You can access a variety of phone wallpapers, Zoom backgrounds, desktop/computer backgrounds, PowerPoint templates, email signatures, and more. There are general purple-themed items and seasonal or special materials, such as Forward>>, Pep & Vim, and Harlaxton!

Visit the Digital UE Gallery to access backgrounds and wallpapers. For PowerPoint templates and email signatures, visit the Templates page. Both pages provide directions for setting up backgrounds and email signatures.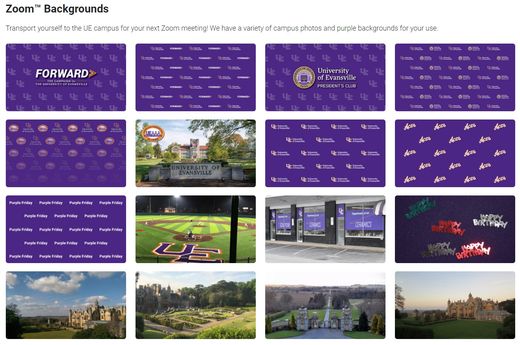 Submitted by Julie Bryant / jb855@evansville.edu
Watch the 2022 Graduate Video
The 2022 graduate video, which was shown prior to Commencement at the Ford Center, is now available on YouTube! If you didn't attend in-person, you can view it here.
A special thank-you to communications students Ethan Jaworski and Hayden Seaton for filming and producing the graduate video!
Submitted by Julie Bryant / jb855@evansville.edu
2022 Engineering Awards Presented
The School of Engineering and Computer Science is pleased to announce the recipients of the 2022 Engineering Awards.
The James M Hall Jr Outstanding Engineering Student Award was presented to Alex Sagers. Alex is a Junior level Mechanical Engineering student. This award recognizes Alex for scholastic achievement, participation in extra-curricular activities, character, responsibility, attitude, and potential for professional growth.
The Paul "PR" Brown Spirit Award was presented to Elisa Cardona. Elisa is a Senior level Civil Engineering student. This award recognizes Elisa for good academic standing, being an encouragement to fellow students, and demonstrating leadership in fostering cooperation and camaraderie among Engineering students.
The Dick Blandford Memorial Award was presented to Parker Dierks. Parker is a Senior level Electrical Engineering student. This award recognizes Parker's excellence in scholarship, service, and leadership.
Congratulations to each of these students. You are well deserving of the honors being bestowed upon you!
Submitted by Tonya Albright / ta58@evansville.edu
Faculty Receive Teaching Certificates and Awards
The Eykamp Center for Teaching Excellence offers certificates to faculty members who meet the requirements of engagement and participation in ECTE sponsored events.
Congratulations to the following faculty who earned a certificate or award for the 2021-2022 academic year, demonstrating exceptional dedication to pedagogy.
New Faculty Engagement Certificate:
Erik Brown
Meghan Buchta
Jill Mason
Charlene Nolan
Melissa Heffner
Hyunjae Jeon
Shari Millikan
Teaching Development Certificate:
Lisa Hale
Diana Rodriguez Quevedo
Alison Jones
Omid Khormali
Sara Petrosillo
Cris Hochwender
Leadership in Teaching Excellence Award:
Awarded annually to one faculty member demonstrating exceptional dedication to pedagogy through ECTE activities.
Submitted by Kristie Hochwender / kh125@evansville.edu
2022 Outstanding Senior Service Award Presented to Crayton Chesnut
Each year, UE collects nominations for the most outstanding senior. Afterwards, a committee of students and faculty selects an award recipient, taking into consideration a person's commitment to service, high academic performance, outstanding leadership, and involvement in diverse campus activities. The Outstanding Senior Service Award is named for two of the University's most respected alumni, Mabel Dillingham Nenneker and Guthrie May.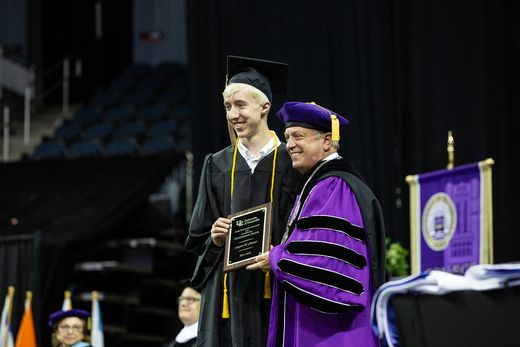 This year's recipient of the Outstanding Senior Service Award was Crayton Chesnut, a Class of 2022 alum who majored in marketing and management. President Pietruszkiewicz presented him with the award.
Crayton is very passionate about UE and the core values of inclusivity, innovation, integrity, and intellectual curiosity. On top of that, he is a walking example of UE's mission: to empower our students to think critically, serve responsibly, act bravely, and live meaningfully in this changing world.
In addition to serving as an ambassador for the Schroeder School of Business Administration, he was also an account executive for Embrace, the student-run marketing and communications organization that is also a ChangeLab.
During the pandemic, Crayton became the president of SAB, and the executive board was facing a huge task of planning events and entertainment while navigating health and safety guidelines. Nevertheless, he made it his personal mission to bring as much joy as possible to the campus while facing these challenges.
Congratulations, Crayton Chesnut!
Submitted by Julie Bryant / jb855@evansville.edu
Dr. Mari Plikuhn Awarded the Eykamp Prize
Last Saturday at the 164th Commencement, the Eykamp Prize was awarded to Mari Plikuhn, PhD, associate professor of sociology. Presenting the award was Mrs. Rita Eykamp, life member of the University of Evansville Board of Trustees.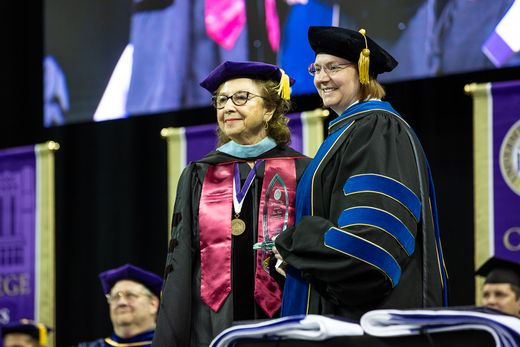 Through the generosity of the Eykamp Family, an award was created to recognize a faculty member who has displayed extraordinary service to UE. Each year, members of the faculty are nominated by other faculty, staff, and administrators. They choose someone who inspires students and provides a platform upon which they can explore and develop innovative ideas, for going above and beyond their regular classroom duties to interact with budding, talented young adults, for bringing positive awareness to the University, and for having a track record of program recruitment and commitment to student success.
Dr. Plikuhn was chosen because she:
Has been consistently dedicated to creating unique and impactful learning experiences for students across all majors. She mentors, advises, and encourages students every step of the way
Those who take a Sociology course to fulfill a general education requirement leave not just with a wealth of knowledge, but a love for her classes and teaching style. In fact, she was a previous recipient of the Outstanding Teacher of the Year in 2012, just a couple years after her career began at UE.
No matter students' major, she advocates on their behalf
She served on the Student Success Team for several years as well as an advisor for the Major Discovery Program, helping to retain students at UE
She reaches out to students at every step in the recruitment cycle; on top of identifying geographical areas to target recruitment efforts, she has managed to send customized packets with giveaways, program information, and hand-written letters to accepted students
Congratulations, Dr. Mari Plikuhn!
Submitted by Julie Bryant / jb855@evansville.edu
Dr. Katie Whetstone Receives Outstanding Teacher Award
At the 164th Commencement exercises, Katie Whetsone, PT, DPT, SCS '12, was presented with the Outstanding Teacher Award. This award is given to a faculty member who demonstrates extraordinary teaching effectiveness that inspires the intellectual development of students. The recipient must be a full-time faculty member who has taught at UE for at least two years.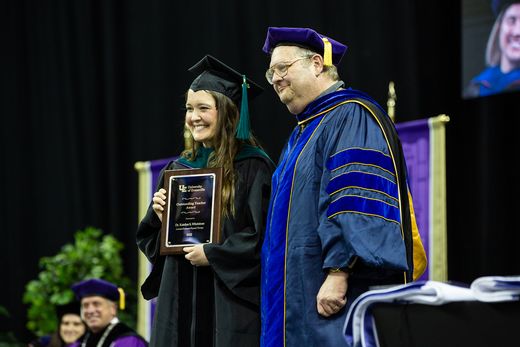 When reviewing nominations for this year's recipient, the three words that continually showed up were kind, compassionate, and caring. They said she was willing to go above and beyond to help students understand the material. And she doesn't just teach the material – they get excited about it and foster each student's desire to learn.
Dr. Whetstone makes a great support system for her students, as she too is a graduate of the program. In addition to her teaching duties, she is involved in the UE Sports Residency Program as a clinical mentor, and she remains active in the clinic as a physical therapist. She is also a co-faculty advisor for Ace CARE.Those who nominated Dr. Whetstone pointed out the wonderful influence she has on the physical therapy program not just because of her involvement in the program, but because of her genuine thoughtfulness.
Congratulations, Katie Whetstone!
Submitted by Julie Bryant / jb855@evansville.edu
Softball travels to MVC Championship
For the second year in a row, the University of Evansville softball team will begin its quest for a Missouri Valley Conference Championship against Loyola. Wednesday's opening game pits the 9th-seeded Purple Aces against #8 Loyola at 11 a.m. at Killian Stadium in Springfield, Mo. ESPN+ will have coverage of each game in the conference tournament.
Looking at the Matchup
- Evansville and Loyola meet up in the conference tournament for the third time since 2017 with the Ramblers taking both games, including a 3-1 decision in last year's championship opener at Cooper Stadium
- Since 2015, the Aces are 14-9 versus the Ramblers and have won six consecutive regular season series
- In 2022, UE took two out of three in Chicago
Last Time Out
- Taking on Valparaiso in the final series of the 2022 regular season, Evansville dropped two out of three contests
- After falling in the opener by a 5-1 score, UE rallied for a 2-1 win in eight frames in game two of the doubleheader
- Sunday's contest saw the Beacons score five times in the first inning on their way to a 10-0 win in five innings
- Izzy Vetter picked up the win on Saturday, allowing on earned run in eight innings while Jessica Fehr scored both of the Aces runs
Strong Finish
- Entering the MVC Championship, senior Mackenzie McFeron has reached base safely in each of the final 13 games of the regular season and carried an 8-game hitting streak into the series at Valpo
- Over the last 11 contests, she is batting .364 with 12 hits in 33 at-bats while scoring 11 runs
- McFeron was Evansville's leading hitter in Valley games (.324) and finished second with her season average of .296 and had the first 3-hit game of her career in the April 10 finale at Illinois State
Back in the Win Column
- On Saturday, Izzy Vetter gave up one run in eight innings on the way to a win over Valparaiso; it was her first victory since April 2 at Loyola
- Vetter finished conference play with a 4-10 record and a 6.25 ERA; she had 66 walks against 66 strikeouts in 84.0 frames of work in the MVC
- Her non-conference numbers saw her accumulate a 1.51 ERA and an 11-2 record while striking out 112 and walking just 22 in 74 innings
- Vetter has thrown three no-hitters in 2022 to improve to a total of four in her career and accomplished the feat this season against Mississippi Valley State, Morehead State and Creighton
- Her 178 strikeouts is second in the MVC and 45th nationally
Submitted by Athletics
Midweek matchup with SIUE ahead for Aces baseball
On a six-game win streak, the University of Evansville baseball team welcomes SIUE to German American Bank Field at Charles H. Braun Stadium on Wednesday night at 6 PM in Evansville for a non-conference clash.

Evansville vs. SIUE | Wed., May 10 | 6 PM
Site/Location: German American Bank Field at Charles H. Braun Stadium / Evansville, Ind.
Wednesday, 6 PM

Previewing the Matchup: SIUE
The Aces and Cougars are meeting for the 32nd time in series history with Evansville owning a 17-14 advantage in the all-time series.
Prior to the 2017 meetings, Evansville won 15 of the previous 19 meetings between the two sides.
Before coming to the River City, the Cougars face-off against SIU on Tuesday night.
One of the Hottest Teams in College Baseball
Over the last 32 games, the Aces are one of the hottest teams in college baseball.
Since beginning a three-game series with Tulane on March 11, the Aces are 24-8, including a 12-3 mark in MVC play.
During the 24-8 stretch, Evansville is hitting .291 as a team, averaging just shy of eight runs per game and limiting its opponents to 5.4 runs per contest.
Evansville's pitching staff holds a 4.71 ERA during that stretch, which would put UE in 81st in the nation.
UE has been even hotter over the last 14 games, going 12-2 and hitting .299 and nearly doubling-up its opponents (117 runs to 59).
Simon Becomes Sixth Ace to Earn MVC Honors
Following another MVC series sweep, University of Evansville baseball shortstop Simon Scherry has been named Missouri Valley Conference player of the week, it was announced in a release from the Conference office Monday afternoon.
Helping Evansville to a three-game sweep of Illinois State, Scherry was hot a the plate, leading the team with a .583 batting average on the weekend.
Scherry record seven hits in 12 at-bats, including a double, while scoring three runs, including the game-winning run in Evansville's 5-run ninth-inning comeback over the Redbirds on Friday night.
Scherry's 63 hits this season are tied with Mark Shallenberger for the most on the team and for fifth in the MVC in the category. In the field, Scherry has saved countless runs with his defensive play, ranking tops among non-first baseman in the MVC in double plays with 31.
Scherry is the sixth Ace this season to earn an MVC weekly honor, joining Mark Shallenberger, Tanner Craig, Shane Gray, Evan Berkey, and Nick Smith, who won the honor twice this season.
Submitted by Athletics
Three Aces earn MVC postseason recognition
Three University of Evansville softball players earned Missouri Valley Conference postseason recognition on Wednesday morning as the league is set to open the 2022 championship in Springfield, Mo.
Zoe Frossard was named the league's Newcomer of the Year while Mackenzie McFeron was named to the All-MVC Second Team. Hannah Hood earned a nod on the All-Defensive squad.
Playing the best softball of her college career over the last two months, McFeron led the Purple Aces with a .324 batting average in conference games. She recorded the second-highest team average over the course of the season, hitting .296. She enters the conference championship having reached base in 13 consecutive games. McFeron registered nine of her 12 career RBI as a senior on the way to the second team honor.
"I could not be happier for Mackenzie to receive this honor. She has put in so much work and it paid off with a tremendous senior season," Aces head softball coach Mat Mundell exclaimed. "She is the perfect example of what it means to be a Purple Ace both on and off the field!"
Earning the league's Newcomer of the Year award was Zoe Frossard. The sophomore transfer from Ball State played in 34 games over the course of the 2022 campaign while making 33 starts. Frossard excelled in her patience at the plate, accumulating 11 walks in MVC games, the second-highest total on the squad. She made her Evansville debut on March 4, picking up an RBI in her first contest.
"We were so excited when Zoe transferred to UE and you can see why," Mundell said. "She has made a big impact. She such a smooth outfielder."
Making her second appearance on the MVC All-Defensive Team is Hannah Hood. She was named to the team in 2021 and her unbelievable defense continued into her junior season. Hood made multiple diving plays to save countless runs with her defense. Her .980 fielding percentage led all Aces starters. At the plate, she batted .260 with 19 runs scored and 12 RBI.
"Hannah continues to shine in the outfield in just her second year playing the position. She makes highlight worthy plays every game," Coach Mundell commented. "Hannah's play along with Alexa and Zoe give us the best defensive outfield in the MVC."

Submitted by Athletics
Contribute to AceNotes
To have content considered for inclusion in AceNotes, please submit a Marketing Request Form. Deadline for submission to AceNotes is 10:00 a.m. on the requested date of publication. Only articles concerning UE related/sponsored activities will be accepted. Articles submitted to AceNotes may be edited for length and clarity. Submitter contact information is at the end of each article.