| | |
| --- | --- |
| AceNotes Today | Friday, May 6, 2022 |
Summer AceNotes Limited to Wednesday
As there are fewer submissions to AceNotes during the summer, AceNotes will only be published on Wednesdays starting the week of Monday, May 9. AceNotes Extras will still be published whenever needed. The regular AceNotes publication schedule of every Monday through Friday will resume when school begins again in August.
Summer Youth Camps Beginning in June
Throughout the summer, UE will offer several youth camps! Registration is now open for each camp, and the deadline for most of them is Friday, June 10. Visit evansville.edu/camps to learn more and register.
Springboard
In partnership with Black Lemonade, a nonprofit organization "dedicated to turning sour conflict into sweet and powerful solutions," Springboard will give students the opportunity to learn about stereotypes throughout the world and identify ways to educate the masses on the truth using media outlets. Participants will learn from UE faculty and staff, engage with their peers, and volunteer with several organizations in the Evansville community.
Springboard is open to high school students and will be held Monday through Friday, June 6 through July 22, from 8:00 a.m. until 12:00 p.m. The cost is $120, and the deadline to register is Friday, June 3.
Wesley Shepard Music Camp
The UE Music Conservatory will host a weeklong camp for students entering grades 6-12 from Sunday, June 19, through Saturday, June 25. Those who have completed at least one year of band, orchestra, piano, private lessons, or similar experience are eligible to attend.
The music camp will include experiences in band, orchestra, and piano. Students will rehearse and perform, receive specialized instruction, learn musicianship skills, and participate in other music-related activities. Lunch will be provided each day in Ridgway, and the cost to attend is $250.
STEM Camp
The UE Departments of Biology, Chemistry, Mathematics, and Physics will jointly host an inaugural STEM camp for high school students.
Rising students for grades 9-12 are invited to participate in hands-on exploration from June 20-25. The weeklong camp will cover several STEM topics, including energy in molecules, ecological interactions, DNA barcoding, data science, and more. Participants will also learn about STEM-based career discovery and undergraduate research. The cost of the camp is $250 and will last each day from 8 a.m. until 5 p.m.
Exploring Art at UE
The UE Department of Art is inviting the local youth to make all types of art in the studios on campus. Participants will get to draw, paint, dye, marbleize, and create jewelry alongside art faculty and students. At the end of the camp, students will take home a 106-piece art kit with a built-in easel for future creations.
Exploring Art at UE will be offered the week of June 20-25, and the cost is $100. The camp will be split into two groups: students entering grades 2-5 will meet from 9:00 a.m. until 11:30 a.m., and those entering grades 5-8 will meet from 1:00 p.m. until 3:30 p.m.
Dance Camp
The inaugural Dance Camp will be held from June 22-25, and students will have the opportunity to learn ballroom, hip hop, modern dance, and more. Ballroom dances will include swing, rumba, foxtrot, and waltz. On the last day, a performance will be held. Campers will also receive in-depth dance lessons, a T-shirt, and breakfast and lunch. The cost of the camp is $200.
Journey to Justice
UE is also leading an 8-day Journey to Justice bus tour through cities of the South to explore the history of the civil rights movement. The trip is scheduled for July 16-23 and open to rising high school juniors and seniors. More information is available at evansville.edu/journeytojustice.
The University strives to make summer camps accessible to all students regardless of their ability to pay. Thanks to generous funding from Lilly Endowment Inc., financial assistance could cover up to 90% of costs for those in need. Funds are limited, so parents and guardians are encouraged to apply early. Visit evansville.edu/camps to register for all camps, and the pre-registration will include financial assistance questions.
Submitted by Julie Bryant / jb855@evansville.edu
CRNA Whitecoat Ceremony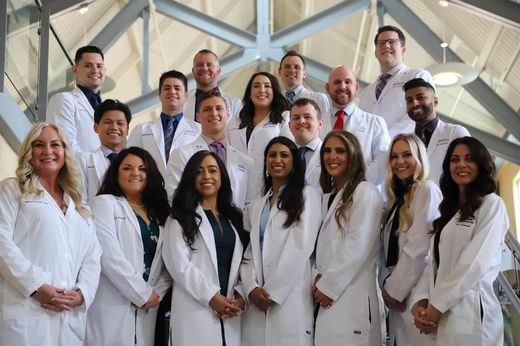 The University of Evansville Nurse Anesthesia Program held its inaugural Whitecoat Ceremony on Saturday, April 30th. We appreciate all of the administration, faculty and staff, families and friends who helped make this such a special day for our residents. This milestone achievement signifies the end of the residents' didactic year of education and entry into clinical residency.
Congratulations to the Class of 2023!
Submitted by Lisa Jones lj79@evansville.edu
Save the date! Kelly Bargeloh Farewell Reception
Kelly Bargeloh and her family will be relocating to Knoxville, TN this summer. Please join us as we say goodbye and wish her well! Kelly's Farewell Reception will be on Tuesday, May 17 from 2-3:30pm in the Student Life Suite.
Submitted by Amanda Wood aw505@evansville.edu
Class of 2022 Commencement and Baccalaureate
Commencement
Everyone is invited to attend the 164th Commencement ceremony on Saturday, May 7 to honor the class of 2022. The ceremony will begin at 1:30 p.m. at the Ford Center. No tickets are required. For those who cannot attend in-person, the ceremony can also be live streamed at evansville.edu/live.
Cap and gown orders will be available from the bookstore beginning April 25 through May 6. Seniors should also complete the 2022 Graduation Survey.
Baccalaureate Service
The Interfaith Baccalaureate Service will be held Saturday, May 7 at 9:00 a.m. in Neu Chapel. This is a religious service that honors the graduating class. All graduates and their families are invited to attend. The service provides time to reflect and give thanks to God in the context of high University ceremony.
Baccalaureate will include music, prayer, and readings. Music will be provided by the UE Music Conservatory and University Choir.
If you are a senior in need of information for Commencement, Baccalaureate, regalia pick-up, arrival information, and more, please visit Commencement Central.
Submitted by University Relations
Department of Art proudly presents the Senior Exhibition 2022 in the Melvin Peterson Gallery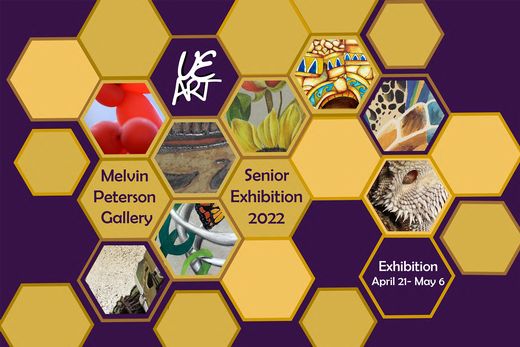 The Department of Art is pleased to present the Senior Exhibition 2022 in the Melvin Peterson Gallery starting, April 21- May 6, 2022. Please come see the artwork of Hannah Girten, Ashley Gray, Greg King, Paige Kirkey, Bailey Korschgen, Autumn Owens, Makayla Stewart, and Jane Tafolla. The gallery hours are Monday, Tuesday, Friday, and Saturday 12-3 pm and Wednesday and Thursday 12-6 pm. A closing reception is on May 6, 5-6:30 pm.
Submitted by Todd Matteson tm8@evansville.edu
Board of Trustees Approves New Degrees
During the spring meetings, the Board of Trustees voted to approve the establishment of three new degree programs.
The Master of Arts in Innovative Leadership in heritage management will focus on learning experiences in heritage, leadership, business, and environmental sciences to learn how to use heritage effectively and inclusively as a tool for community capacity-building and changemaking.
The Bachelor of Science in construction management will meet the growing need for construction professionals and will attracted qualified students who would like to study subjects related to construction, but do not want to be involved in construction design and analysis, which is done primarily by civil engineers.
The Bachelor of Science in anthropology addresses the rising employment gap in Cultural Resource Management (CRM), both locally and nationally. The curriculum draws on the strengths of our acclaimed archaeology program to appeal to students interested in anthropology, anthropological archaeology, or CRM.
Submitted by ac116@evansville.edu
Rental Openings
Are you an Employee looking for housing close to campus? Facilities Management and Planning may have a few options available for rent starting June 1st
Please contact Fred Wilson, Manager of Residential Maintenance at 488-2666 or fw2@evansville.edu for more details.
Submitted by LISA M CRESCI lc70@evansville.edu
2022-23 Margery Florence Kahn Scholarship Application Now Available
It was the desire of the donor, Margery Florence Kahn, that her scholarship be awarded to "dedicated and conscientious students who exhibit a true passion for their chosen fields of study, and who, in the opinion of the members of the University of Evansville faculty, are likely to bring the same enthusiasm into the performance of their jobs or the practice of the professions which they will pursue following graduation."
All University of Evansville full-time undergraduate students who will be juniors or seniors in the 2022-23 academic year may apply. An essay of about 300 words must accompany the application along with two to five faculty recommendation letters.
The application and faculty recommendation information can be found here.
Completed applications and recommendation letters should be returned to the Office of Student Financial Services by MAY 10, 2022.
Questions may be directed to the Office of Student Financial Services via email or by phone at (812) 488-2364.
Submitted by Amber Chandler ac547@evansville.edu
The deadline to apply for the 2022-2023 Dr. Marvin E. Hartig Memorial Scholarship has been extended to May 6th
Family, friends and loved ones of the late Dr. Marvin E. Hartig are pleased to announce the application process for the Dr. Marvin E. Hartig Memorial Scholarship. This scholarship is dedicated to the loving memory of Dr. Hartig, Dean of Evansville College's Evening College in 1967, and administrator for the Center for Advanced Study, director of the Evansville chapter of the American Institute of Banking (AIB), and the international student advisor. In 1974, Dr. Hartig was appointed Dean of Academic Services. He retired in 1984 after serving his alma mater for thirty-five years and passed away in 2007.
This scholarship will be awarded annually to a deserving sophomore student. Preference will be given to a student working while being enrolled as a full-time student. International students are encouraged to apply.
Eligible students for the 2022-2023 Hartig Memorial Scholarship will be sophomores in the 2022-2023 academic year.
Apply for the 2022-2023 Hartig Memorial Scholarship
Deadline: Please return all materials to the Office of Student Financial Services by April 22, 2022. The decision will be announced by May 27, 2022.
Questions: Amber Chandler, Administrative Assistant to the Office of Student Financial Services, at ac547@evansville.edu or 812-488-2364
Submitted by Amber Chandler ac547@evansville.edu
Congratulations to Accounting Data Analytics Certificate and Badge Recipients
Professor Rania Mousa, Associate Professor of Accounting and MJN Endowed Chair, would like to congratulate her students for successfully completing the requirements of the Data Analytics Core Concepts Certificate. The certificate is offered by the American Institute of Certified Public Accountants (AICPA). It offers an opportunity to understand the language of data analytics and develop data-driven mindset by using three real-world business scenarios covering revenue analysis, financial planning and analysis, and business performance. Students have also earned digital badges which can be shared on professional networks.
The following students have completed their certification and earned their digital badges while enrolled in Professor Mousa's Accounting Information Systems course in Spring 2022:
Olivia Barnes
James Buchanan
Tyler Denu
Ethan Garvey
Soomin Ko
Garrett Presko
Neal Quick
Pema Sherpa
Elayna Walters
Brock Wandel
Ben Welp
Kyler West
Garrett Wood
Submitted by Rania Mousa rm190@evansville.edu
Flavio Felix de Morais Filho Receives Aarstad Award in Political Science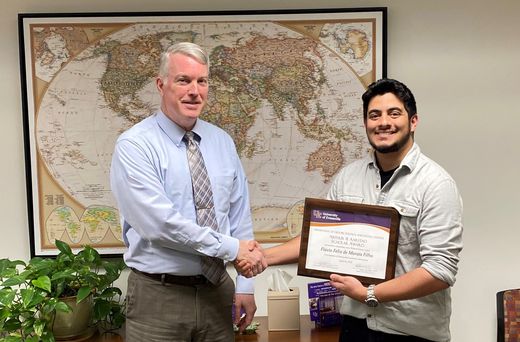 The Arthur B. Aarstad Scholar Award for the Outstanding Senior in Political Science for this year has been presented to Flavio Felix de Morais Filho, who will be graduating this month with a double major in Political Science and International Studies. In the fall, he plans to begin his graduate work for a master's degree in International Studies from Washington University in St. Louis with an eye to pursuing an eventual career in counterterrorism and homeland security. The Arthur B. Aarstad award recognizes the life and legacy of Dr. Arthur Aarstad, who started teaching in the History and Political Science department at Evansville College in 1958 and who served with distinction until his retirement in 1995.
Submitted by Robert Dion rd35@evansville.edu
Mechanical Engineering seniors join the Order of the Engineer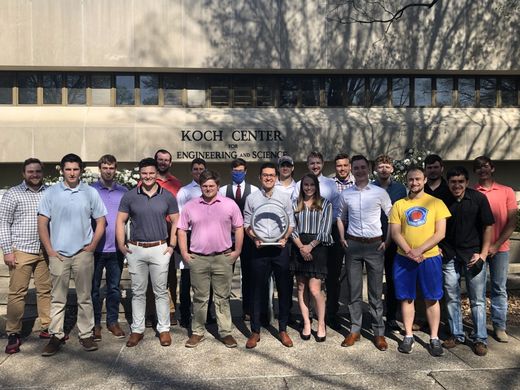 Congratulations to the Mechanical Engineering Class of 2022 on joining the Order of the Engineer as they prepare to enter the engineering profession. Details of the Order from the organization's website are included below.
The Order of the Engineer was initiated in the United States to foster a spirit of pride and responsibility in the engineering profession, to bridge the gap between training and experience, and to present to the public a visible symbol identifying the engineer. At the induction ceremony, engineers are invited to accept the Obligation of the Engineer and a stainless steel ring. The Order fosters a unity of purpose and the honoring of one's pledge lifelong. The Obligation is a creed similar to the oath attributed to Hippocrates (460-377 B.C.) that is generally taken by medical graduates and which sets forth an ethical code. The Obligation likewise, contains parts of the Canon of Ethics of major engineering societies. Initiates, as they accept it voluntarily, pledge to uphold the standards and dignity of the engineering profession and to serve humanity by making the best use of Earth's precious wealth.
Submitted by Jessie Lofton jb363@evansville.edu
Thananatthanachon, Lampkins Invested as Wargel Endowed Chairs of Academic Programs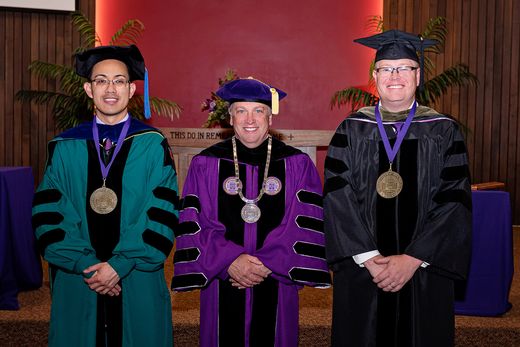 On Monday, May 2, UE held an investiture ceremony for two faculty members: Todsapon Thananatthanachon, PhD; and Andrew Lampkins, PharmD, PhD. Both individuals were invested as the Wargel Endowed Chair of their respective programs, which was made possible due to a generous gift from Bob and Judy Wargel.
Thananatthanachon, or known by his colleagues and students as "Dr. Tod," will now serve as the Wargel Endowed Chair in Chemistry for the Wargel Department of Chemistry in the William L. Ridgway College of Arts and Sciences. As an associate professor, he teaches a variety of courses and maintains an active research group in the area of organometallic chemistry, green chemistry, and catalysis. Dr. Tod also serves as a faculty research advisor for the Chemistry Club, and he established an annual Chemistry Club Lecture Series that invites distinguished researchers in all areas of chemistry to present on campus.
Lampkins was invested as the Wargel Endowed Chair in Physician Assistant Science for the Master of Physician Assistant Science program in the College of Education and Health Sciences. After earning his PhD in organic and medical chemistry, he completed a Walther Cancer Institute Postdoctoral Fellowship at the University of Notre Dame. Before he became an associate professor for the physician assistant program, he was an assistant professor and inaugural G. Richard and Rita '59 Eykamp Endowed Chair in Chemistry.
Following the formal ceremony, which was held in UE's Neu Chapel, guests were invited to a reception where UE unveiled the Robert and Judy Decker Wargel Department of Chemistry. The department and its new signage are located on the third floor of Koch Center for Engineering and Science.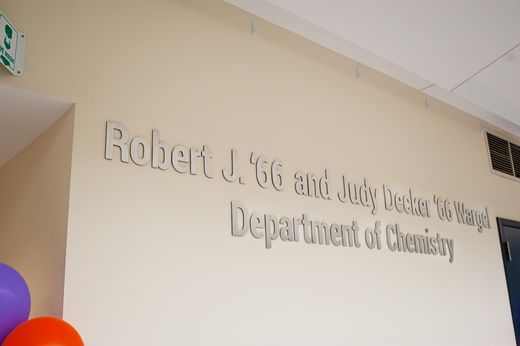 Bob and Judy Wargel are two alumni and friends of the University whose generosity has supported remarkable student experiences, cutting edge faculty research, and continuously enhanced academics. They met one another at UE, and both earned degrees in chemistry. After successful careers, the Wargels followed their love of volunteering and passion for improving health and wellness in third-world countries. They also gave countless hours to the Department of Chemistry by sponsoring summer internships for students and establishing a planned gift to the department.
Submitted by Julie Bryant / jb855@evansville.edu
Congratulations to the 2022-2023 Global Scholars
Congratulations to the 2022-2023 Global Scholars! The Global Scholars Program offers support for faculty engaged in scholarship or curriculum development that helps prepare our students and community for global leadership, citizenry, and success. The program is supported and administered by the Center for Innovation & Change and is made possible by the John H. Schroeder Global Scholar Endowed Fund. These extraordinary faculty will begin their work this summer. We congratulate them for:
---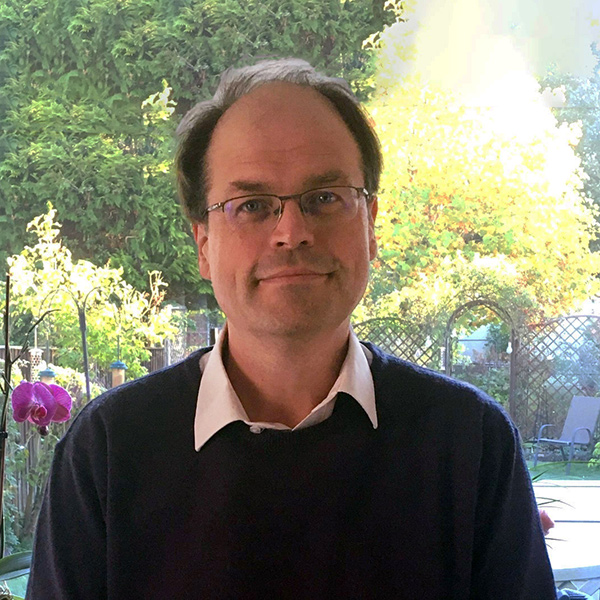 Dr. Ed Bujak: Certification in Facilitating Intercultural Learning and Intercultural Development Inventory
---
Dr. Vincent Campese: (Thai cities of Bangkok, Phuket and Pattaya) Ending the pandemic: Reducing persuasion towards misinformation through perspective and personalization in the communication of medical science.
---
Dr. Mari Plikuhn: Researching First Generation Students Studying Abroad
---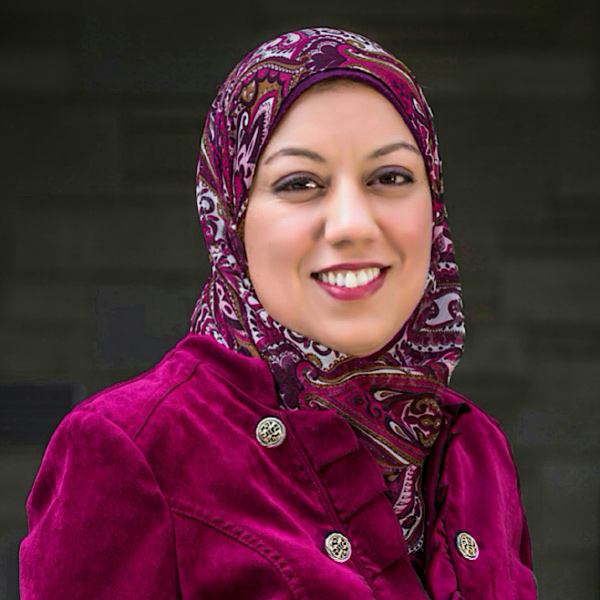 Dr. Rania Mousa: (Switzerland) Reimagining Financial Inclusion in the Post COVID-19 World: The Case of Grameen America.
---
Dr. Tamara Wandel: (Italy) Breaking Barriers Within the Deaf Community
Submitted by Erin L Lewis el131@evansville.edu
Aces head into fun-filled weekend series against Illinois State
Looking to continue its run of strong performance, the University of Evansville baseball team plays host to Illinois State for a three-game set on Friday, Saturday, and Sunday at German American Bank Field at Charles H. Braun Stadium in Evansville.
Previewing the Matchup: Illinois State
• The Aces and Redbirds are meeting for the 125th time in series history with Illinois State owning a 69-54-1 advantage in the all-time series.
• Evansville and Illinois State met five times last season, four during their regular season series in Normal, Ill. and once in the first game of the MVC Championship in Carbondale, Ill., with Illinois State taking four of the five meetings.
• Entering the weekend, Evansville sits alone at the top of the MVC standings with a 9-3 mark in conference play, while the Redbirds are tied for fifth at 5-7 in Valley play.
• The Aces have won eight of their last nine MVC contests, earning sweeps over Missouri State and Bradley. Evansville's lone loss in its last nine Valley contests came in extra innings to Indiana State.
Getting a Boost
• Comparing the 2021 seasons for Mark Shallenberger and Brent Widder to what they have produced so far in 2022 shows the hard work both have put in.
• Shallenberger hit .258 with nine doubles, five homers, and 27 RBI a season ago and this season is currently hitting .373 with 15 doubles, nine homers, and an MVC-best 46 RBI.
• Widder hit .246 last season with two homers and 17 RBI. Through 42 games this year, Widder is hitting .330 with seven home runs and 38 RBI, putting him top 10 in the MVC.
A Tale of Two Seasons
• The Aces opened the season with a 3-10 record, but turned its season around with a series sweep of Tulane, going 21-8 since.
• Prior to the Tulane series, the Aces were hitting just .248 at the plate. In the Tulane series and onward, UE is hitting .291.
• The pitching staff has also seen big improvements dropping a 6.75 ERA prior to the trip to New Orleans down to a 4.86 ERA since, which would rank in the top 100 in the nation.
Kids and Family Day | Saturday, 2 PM
• Kids (17 and under) get in free to Saturday's game.
• Inflatables, face painting, free popsicles, and more!
Submitted by Athletics
Fifth Third Invests $15,000 in Embrace's Jacobsville Advantage
Embrace, the University of Evansville student-run marketing and communications agency, will continue offering discounted services to local businesses through the Jacobsville Advantage. Fifth Third Bank provided an initial $25,000 grant to kickstart the endeavor, and they have recently invested an additional $15,000 to support ongoing services.
The Jacobsville Advantage was launched in October 2021 to help fuel growth and development for businesses in the Jacobsville community. Since that time, Embrace has taken on six clients, some of which include Foster Care in the US, Gayla Cake, Jacobsville Community Cooperative, The Jacobsville Fine Arts Association, and Zesto. Projects with these businesses have included website creation and redesign, flyers, video advertisements, social media, and more.
Any business owner in the Jacobsville community can apply to receive marketing services at discounted rates. Embraces uses a stairstep approach for pricing, and the initial five hours begin at $10 per hour. Rates increase up to and max out at $50 after 35 hours of service. To learn more or schedule an appointment with the team, owners should visit jacobsvilleadvantage.org.
With senior members of Embrace graduating, seven new members will be added, and each brings unique capabilities to the dynamic team. With Fifth Third Bank's $15,000 investment, the incoming students are eager to continue creating positive change and supporting local businesses.
About Embrace
Embrace Marketing and Communications was founded in October 2018 at the University of Evansville to provide students with real-world business experience. Its mission is to provide its clients with innovative, high-quality marketing and communications services. For more information, please visit embracemarcomm.com.
Submitted by Julie Bryant / jb855@evansville.edu
Contribute to AceNotes
To have content considered for inclusion in AceNotes, please submit a Marketing Request Form. Deadline for submission to AceNotes is 10:00 a.m. on the requested date of publication. Only articles concerning UE related/sponsored activities will be accepted. Articles submitted to AceNotes may be edited for length and clarity. Submitter contact information is at the end of each article.