| | |
| --- | --- |
| AceNotes Today | Monday, April 25, 2022 |
Summer Hours and July 4 Holiday
Summer Hours
UE will reduce business hours during the summer from 8:00 a.m. to 4:30 p.m. Monday-Thursday, and 8:00 a.m. to 4:00 p.m. on Fridays. This schedule will be in place beginning Monday, May 9 through Friday, August 5. Regular hours will return Monday, August 8.
Friday Jeans Day
You can wear jeans on Fridays in the summer – as long as you wear purple on Fridays. Please dress appropriately and adjust the dress code as necessary on Fridays for visitors or other events.
July 4 Holiday
The University will observe Monday, July 4, as a holiday. In addition, the President's Council added Friday, July 1 as an additional day off to make a long weekend a little longer for faculty and staff. The University will be closed on Friday, July 1 and Monday, July 4. Please enjoy the extended holiday weekend!
Submitted by University Relations
The Reading-Study Day Tradition Returns: Pancake Study Break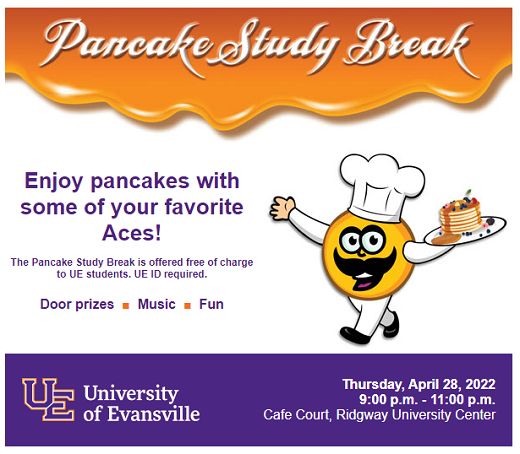 Finals are coming - but so are pancakes! Take a break from studying for finals to join some of your favorite Aces at the Pancake Study Break! This event is free of charge for UE students. A UE ID is required. Pancakes and more will be available on Reading-Study Day - Thursday, April 28 - from 9:00-11:00 p.m. in Cafe Court. Door prizes will be given out, too.
Contact: Chad Hart ch299@evansville.edu.
Thursday, April 28 Obsolete Electronics Recycling - Hale loop drive from 10:00 a.m. - 1:00 p.m.
Students and employees (faculty, administrators and staff) can bring the following personal, obsolete electronic equipment to be recycled at no cost:
• LCD displays, LCD TV's and LCD monitors, computers, printers, fax machines, laptops, cell phones, PDAs, cables, circuit boards, connectors, electrical equipment, audio video equipment, DVD players, stereos, radios, calculators, speakers, VCRs. Small quantities of batteries will be accepted.
The following items will NOT be accepted:
• CRT TV's and CRT computer monitors
• Fluorescent light bulbs (including compact bulbs), refrigerators, freezers, microwaves, stoves, vacuum cleaners, dehumidifiers, leaking or enlarged batteries and any other items C&I deems unallowable
• Electronics owned by the University.
NOTE: The cost of processing CRT TV's and CRT computer monitors has increased significantly, and the University is no longer able to cover these items. However, the City of Evansville is having their Spring Electronic Recycling Event on Saturday, April 30 from 8:00 am to 12:00 pm in the Civic Center parking lot. (9th & Walnut Streets) This is for residents of Vanderburgh county or Students provided you show your UE student ID.
Accepted items included: TVs, computers, monitors, printers, hard drives, laptops, fax/scanners, cell phones, DVD players, digital cameras, modems
Not Accepted: copy machines, microwaves, appliances
For more information or questions contact Amber Elkins at ae152 or 2697.
Submitted by Amber Elkins ae152@evansville.edu
Class of 2022 Commencement and Baccalaureate
Commencement
Everyone is invited to attend the 164th Commencement ceremony on Saturday, May 7 to honor the class of 2022. The ceremony will begin at 1:30 p.m. at the Ford Center. No tickets are required. For those who cannot attend in-person, the ceremony can also be live streamed at evansville.edu/live.
Cap and gown orders will be available from the bookstore beginning April 25 through May 6. Seniors should also complete the 2022 Graduation Survey.
Baccalaureate Service
The Interfaith Baccalaureate Service will be held Saturday, May 7 at 9:00 a.m. in Neu Chapel. This is a religious service that honors the graduating class. All graduates and their families are invited to attend. The service provides time to reflect and give thanks to God in the context of high University ceremony.
Baccalaureate will include music, prayer, and readings. Music will be provided by the UE Music Conservatory and University Choir.
If you are a senior in need of information for Commencement, Baccalaureate, regalia pick-up, arrival information, and more, please visit Commencement Central.
Submitted by University Relations
Spring Art Sale from the Department of Art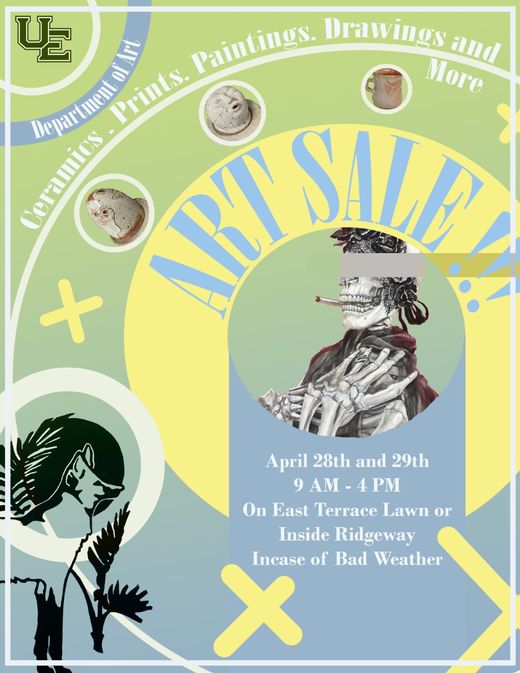 The Department of Art is having a Spring Art Sale. They will have Paintings, Drawings, Ceramics, Prints, and more. Come support the Department of Art and the Art Students. This event is rain or shine either inside Ridgeway Center or on the East Terrace Lawn. See flier for more details. Cash, check, or charge accepted.
Submitted by Todd Matteson tm8@evansville.edu
Department of Art proudly presents the Senior Exhibition 2022 in the Melvin Peterson Gallery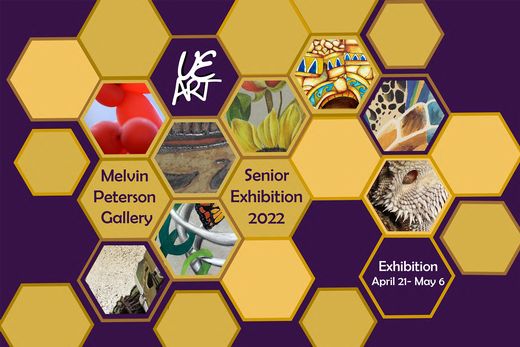 The Department of Art is pleased to present the Senior Exhibition 2022 in the Melvin Peterson Gallery starting, April 21- May 6, 2022. Please come see the artwork of Hannah Girten, Ashley Gray, Greg King, Paige Kirkey, Bailey Korschgen, Autumn Owens, Makayla Stewart, and Jane Tafolla. The gallery hours are Monday, Tuesday, Friday, and Saturday 12-3 pm and Wednesday and Thursday 12-6 pm. A closing reception is on May 6, 5-6:30 pm.
Submitted by Todd Matteson tm8@evansville.edu
The Menstrual Equity Club presents Jampon to fundraise for the YWCA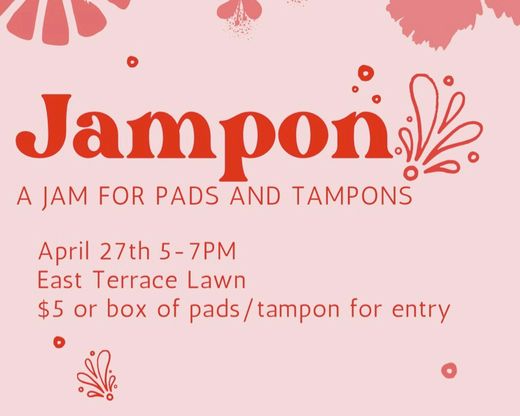 Jampon is a one night only fundraiser for people with periods and the YWCA, and will be held on April 27 from 5:00 to 7:00 pm on the East Terrace Lawn.
Jampon is a cabaret and presentation of art that promotes the normalization of menstruation. We also sell art from UE students for a monetary donation.
Price of admission is a box of period products or a $5 donation to @JamponUE on venmo
Submitted by Sophie Greenway sg231@evansville.edu
Sexual Assault Awareness Month Upcoming Events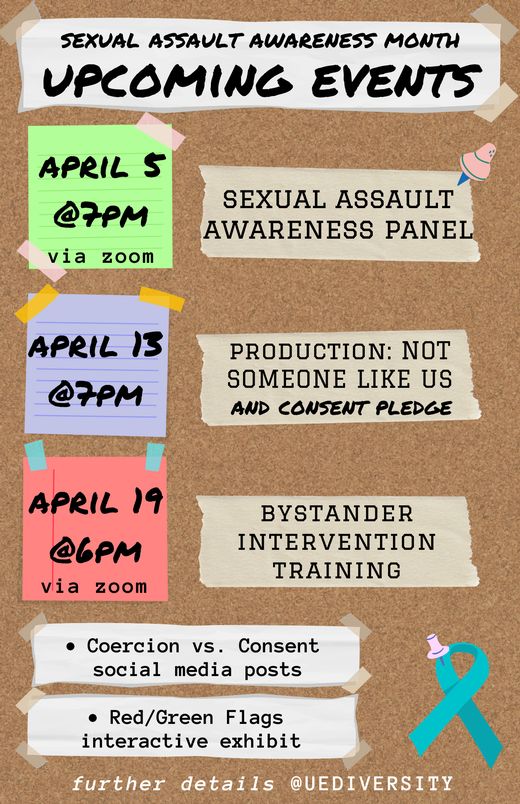 April is Sexual Assault Awareness Month, also known as SAAM. The Center for Diversity, Equity, and Inclusion & Office of Institutional Equity have brought forth activities to bring awareness, education, and support in this time.
April 5th at 7:00 PM Sexual Assault Awareness Panel via Zoom.
The Panel consists of Counseling Services, Public Safety, Institutional Equity, EPD, Albion Fellows Bacon Center, Deaconess, and the Prosecutor's Office.
Tuesday, April 13th at 7:00 PM in Eykamp: Not Someone Like Us: a collaboration between the CDEI and Evansville Civic Theatre. It is a play about sexual assault based on true stories. The Consent Pledge will take place before the play. The Center will also be hosting a talk back session after the play.
Monday, April 19th at 6:00 PM Bystander Intervention Training via Zoom.
Learn how to safely act when others may be in dangerous situations.
Submitted by Rachael Rose rr204@evansville.edu
Summer Work Study
On-campus jobs available for summer. Continuing undergraduates can apply for positions online through WebAdvisor. Students can work multiple jobs up to a combined 37.5 hours per week during summer. Summer enrollment is not required.
Submitted by Sean Riley sr252@evansville.edu
Requests for Official Excused Absences During Finals
Please note that the Dean of Students office will not grant official excused absences during finals except for extreme circumstances (i.e.: death of an immediate family member, emergency surgery, etc.). Students who feel they are unable to take a scheduled final exam should work directly with their professors to discuss other possible options.
Submitted by Jenni Sauls js944@evansville.edu
Retirement Reception for Dr. David Unger, Professor of Mechanical & Civil Engineering

The School of Engineering and Computer Science would like to invite you to a retirement reception for Dr. David Unger, Professor of Mechanical & Civil Engineering, on Thursday, April 28 from 3:00-4:00 p.m. The reception will be held in the Koch Center second floor lobby (near the concrete canoe, in front of KC 271). Dr. Unger is retiring at the end of this semester after more than 20 years of service to the University. Please come and celebrate with us, showing our appreciation for all he has contributed to the University. and the Engineering Community.
Dr. David Unger has taught mechanical and civil engineering at the University of Evansville since 2001. He has been the faculty advisor for student participation in the National Aeronautics and Space Administration student launch initiatives and accompanied his students to Huntsville, Alabama, in 2010 and 2012, as they competed in NASA high power rocket competitions. Dr. Unger won the University of Evansville's Berger Award for scholarship in 2005, the Dean's Teaching Award in 2006, and a Global Scholar Award in 2007.
Dr. Unger completed a BS at St. Louis University and a master's degree from the University of Illinois in Urbana, both in aerospace engineering. He then earned his PhD from the University of Illinois in Theoretical and Applied Mechanics. His text, Analytic Fracture Mechanics, was published first by Academic Press and is offered now by Dover Press. He has published numerous technical articles and has a particular research interest in how and why materials break. In three years of his free time, David built a wood model of Charles Darwin's ship, the H.M.S. Beagle from plans he received from the National Maritime Museum near London. For additional information, see http://mece.evansville.edu/faculty/unger.asp
Submitted by Tonya Albright ta58@evansville.edu
Rental returns due May 5
Any late textbooks will be subject to a 20% late fee. If you fail to return rented textbooks, your diploma and transcripts both go on hold. Don't miss this deadline!
Submitted by Niamh Steffens ss837@evansville.edu
Seniors: Here's the 411 on Cap and Gowns
Seniors, as long as you have previously ordered your cap and gown, pick-up in the bookstore starts Monday, April 25th and runs through Friday, April 29th. Please come in during normal business hours with you I.D. and a valid form of payment. There will be a designated pick-up area before you head to the register to pay.
2022-23 Margery Florence Kahn Scholarship Application Now Available
It was the desire of the donor, Margery Florence Kahn, that her scholarship be awarded to "dedicated and conscientious students who exhibit a true passion for their chosen fields of study, and who, in the opinion of the members of the University of Evansville faculty, are likely to bring the same enthusiasm into the performance of their jobs or the practice of the professions which they will pursue following graduation."
All University of Evansville full-time undergraduate students who will be juniors or seniors in the 2022-23 academic year may apply. An essay of about 300 words must accompany the application along with two to five faculty recommendation letters.
The application and faculty recommendation information can be found here.
Completed applications and recommendation letters should be returned to the Office of Student Financial Services by MAY 10, 2022.
Questions may be directed to the Office of Student Financial Services via email or by phone at (812) 488-2364.
Submitted by Amber Chandler ac547@evansville.edu
Financial Aid for Summer Courses
UE students seeking financial aid or intending to use loan funds for summer courses at UE, please complete a Summer Financial Aid Application and return to the Office of Student Financial Services (Olmsted 105) however is most convenient. The application will allow our office to assess your aid and loan eligibility.
Work-Study:
On-campus jobs are available for continuing UE students during the summer. You do not need to be eligible for need-based Federal Work-Study during the academic year in order to apply. You may also apply regardless of your enrollment in summer courses. Applications will be available within the Student Employment area of WebAdvisor.
Submitted by Amy Sowders as560@evansville.edu
Summer Sessions Payment Plan
Summer session courses can be added to your monthly payment plan now with no additional set-up fee. If your student is enrolling in summer courses, anticipated summer charges can be included in the spring semester payment plan and the plan extended through May (for Summer 1 charges) or June (Summer 2 charges). The undergraduate tuition rate for Summer 2022 is $580 per credit hour. Fees per summer term include a $50 registration fee and a $40 technology fee. Online courses are assessed a $50 online course fee. Payment arrangements are due prior to the start of the summer term.
Students should contact the Office of Student Financial Services no later than Reading/Study Day, April 28, 2022 to determine if financial aid is available for their summer courses.
To modify your current payment plan to include summer, contact the cashiers in the Office of Student Financial Services at 812-488-2565.
Submitted by Amy Sowders as560@evansville.edu
Congratulations 29th Annual Leadership Award Recipients
The Center for Student Engagement would like to congratulate all the winners that were recognized at the University of Evansville 29th Annual Leadership Awards Ceremony & Reception that was held on April 20, 2022.
Here is a list of this year's winners:
Admission Ambassador Service Award: Shane Ranschaert
Admission Ambassador Leadership Award: Grace Reisinger
Admission Ambassador Vision Award: Crispin Ewen
Lois D. Patton Award: Anna Lowry
Ralph H. Coleman Scholar Student Athlete: Tanner Craig
SGA Vision Award: Alex Ortiz
Mark R. Simpson Award: HarMonee Baltzell
Student Media - Crescent Magazine- The Glue: Rachel Fisher
Student Media - Crescent Magazine - The Hustler: Paris Himes & Maddy Webb
Student Media - Crescent Magazine - The Rock: Rylie Stephens
Outstanding Intramural Supervisor: Drew Cvelbar
Outstanding International Leadership: Pema Sherpa
Outstanding International Senior: Xinyue Bi
Diversity and Inclusion at Work Award: International Club
Champion of Diversity Award: Shane Ranschaert
President's Diversity and Inclusion Senior Award: Ty Meadors
Emerging Changemaker Award: Imelda Salgado
Changemaker of the Year Award: Samantha Kinnevan
Resident Assistant of the Year: Amanda Ward
Donnie Dunville Dedication & Service Award: Lauren Stevenson
Golden Heart Award - Student: Paige Webster
Golden Heart Award - Staff: Dr. Dana Clayton
Senior Keynote Address Finalists: Anh Tran & Katlyn Hands
Senior Keynote Address Speaker: Mohammed Amaan Alikhan
Howard S. Rosenblatt Dean of Students Leadership Award - Advisor of the Year: Dr. Edward Curran
Howard S. Rosenblatt Dean of Students Leadership Award - Organization of the Year: Resident Students Association
Howard S. Rosenblatt Dean of Students Leadership Award - Student Leader of the Year: Mackenzie McFeron
Ace Certificate Recipients: Falicity Atkins, Chloe Bontrager, Claire Brown, Katherine Dowell, Merris Egloff, Michael Furman, Baylee Geng, Dani Hurwitz, Zachary Jakpor, Ava Kelly, Samantha Kinnevan, Alexa Markl, Kausalya Mandipalli, Alec McAlister, Grace McGuire, Autumn Owens, Arian Medina Paredes, NaTaya Partee, Sue Prasad, Tyla Rasche, Anna Schindler, John Sutter, Michela Till, Amanda Ward, Casey Winters, Majestica Weatherford, Paige Webster, Haley Worland
Please take time to congratulate the winners and celebrate the accomplishments of your fellow UE students & leaders. Recipients may request their photo at cse@evansville.edu.
Sociology Programs Announce Annual Awards
The Sociology Programs announced the winners of their annual awards on Tuesday, April 12. This year saw the debut of two new awards to recognize student service and involvement, as well as the 10th anniversary of their senior research award. Each of these awards are named for UE emeriti faculty who were committed to improving the experiences and opportunities of our students.
---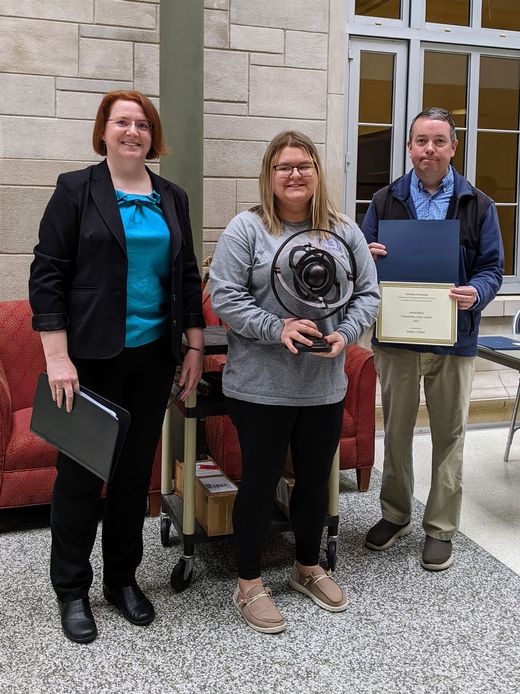 The James Berry Outstanding Junior Award is given to a junior Criminal Justice or Sociology major for achievement on their Research Methods proposal, their campus or community involvement, and their program commitment. The 2022 winner of the Berry Outstanding Junior Award is Kaitlyn Collins '23 (Criminal Justice).
---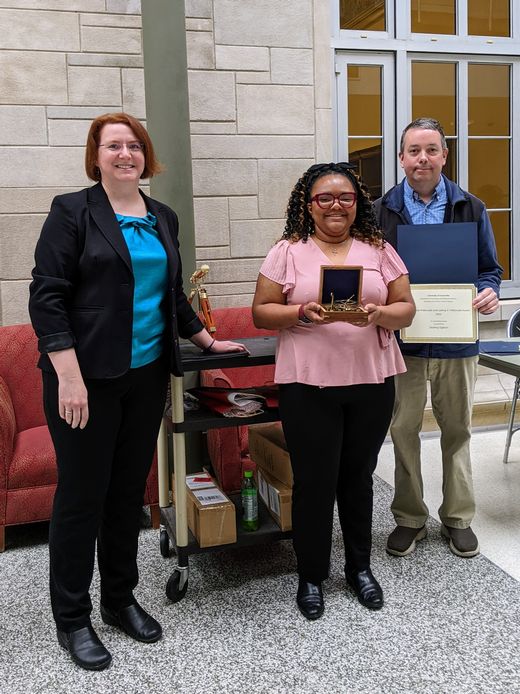 The Mary Rode and Ludwig Petkovsek Outstanding Service Award is given to a Criminal Justice or Sociology major of any academic year for significant achievement in campus and community involvement, internship, and program commitment. The 2022 winner of the Petkovsek Outstanding Service Award is Destiny Ogburn '22 (Criminal Justice/Sociology).
---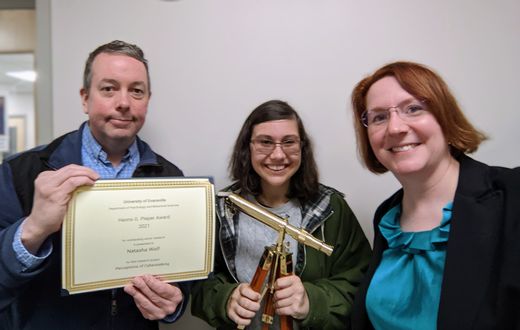 The Hanns G. Pieper Sociology and Criminal Justice Senior Research Award is given to a Criminal Justice or Sociology senior for their outstanding Senior Seminar research project, presentation, and paper. The 2022 winner of the Pieper Senior Research Award is Natasha Wolf '22 (Criminal Justice).
UE Students to Present at Posters on the Hill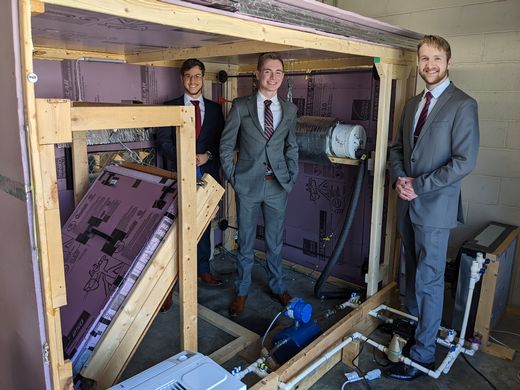 Posters on the Hill is the signature student advocacy event for the Council on Undergraduate Research. Each year, 60 research presentations are selected from approximately 300 applications. Students are invited from all over the country and Puerto Rico to learn about how to advocate for undergraduate research with members of Congress, present their research, and discuss the impact undergraduate research has had on their college experience and future educational and career goals.
The student researchers selected from UE include Jackson Smith (Team Lead), Alek Dunkelberger, and Edward Friesel, all mechanical engineering seniors set to graduate this spring. The presentation portion of the conference will be held via Zoom on Wednesday, April 27, 2022, between 1:00 and 2:40 p.m. CST. The student's poster presentation is titled The Investigation into the Existence of Local Minimum and Maximum Locations in Thermosiphon System Efficiency. Their research involves work on a passive thermosiphon, which can be used to provide domestic hot water or supplement domestic heating. It is a green solar energy driven system without any moving parts. Dr. Douglas Stamps is their faculty research advisor.
The presentation is free and open for all to attend virtually. Information can be found at
https://www.cur.org/what/events/students/POH__meet_the_researchers_2022/.
Click on "RVSP to Support Researchers" to register to attend. The UE team will be in Zoom room 7. Attendees can come and go throughout the hour and 40 minutes period.
Congratulations to Jackson, Alek, and Edward!
Submitted by Paula Heldt ph28@evansville.edu
Harlaxton Archaeology Field School
Harlaxton College is delighted to host our first archaeological excavation on the grounds of the breath-taking Harlaxton Manor. Open to all, from beginners to experienced archaeologists, we are aiming to provide the most inclusive and accessible archaeological field school in Britain. We will be hosting both American and British students, expecting daily visits from members of the local community, and receiving expert input from the Ministry of Defense's award-winning archaeology program, Operation Nightingale. With evidence from the Iron Age to the present, we will be investigating three key areas of the grounds: a suspect iron age enclosure, the 'thunder house' of the early Victorian walled garden complex, and the training trenches from WWI.
The archaeological excavation will take place June 1-30, and there are opportunities for participation for 2, 3, or 4 weeks and for academic credit or just experience. The deadline to apply and make an initial deposit is May 2, so check out the details and register now here: https://harlaxton.evansville.edu/accepted/archaeology-field-school.cfm
Please contact the program director, Dr. Emily Stammitti, at estammitti@harlaxton.ac.uk with any questions about the program details or Kaylynn McCalister in the UE Harlaxton office at kc205@evansville.edu with any questions about the registration process!
Submitted by Kaylynn McCalister kc205@evansville.edu
Spring 2023 Harlaxton applications
There are still spaces available for Harlaxton Spring 2023, but we are filling fast! If you have an interest in going to Harlaxton next spring, be sure to talk with your advisor and get your application in by the end of this semester if possible! You can find the course information and application on the Harlaxton website here: https://harlaxton.evansville.edu/accepted/semester.cfm. Feel free to reach out to the Harlaxton team with questions at harlaxton@evansville.edu!
Submitted by Kaylynn McCalister kc205@evansville.edu
Harlaxton Walled Garden Presentations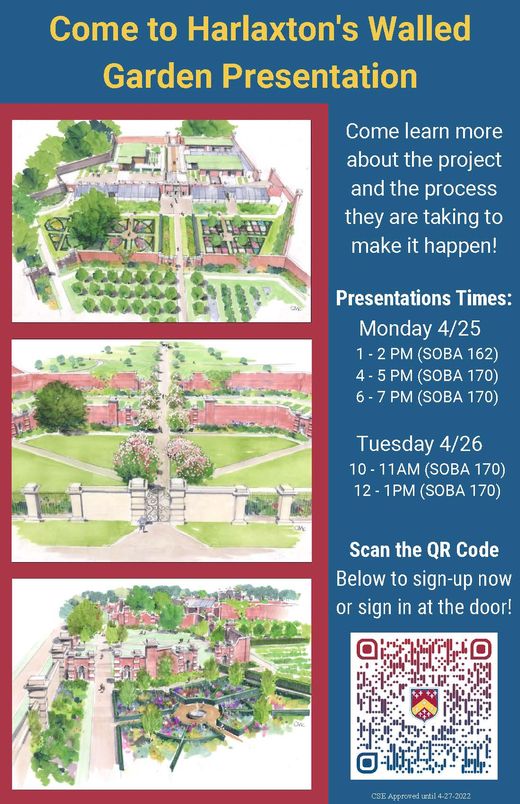 Come learn about the plans for the exciting new Walled Garden project at Harlaxton with Dr. Holly Carter and Ian Welsh! These presentations are open to all faculty, staff, and students at University of Evansville, as well as UE and Harlaxton alumni. They will be held in person in the Schroeder Family School of Business Administration building. There will be presentations on Monday, April 25 at 1pm, 4pm, and 6pm, and Tuesday, April 26 at 10pm and 12pm. Please sign up for slot to attend here: https://www.signupgenius.com/go/20f0944afa923a0fc1-harlaxton, and feel free to contact Kaylynn McCalister with any questions at kc205@evansville.edu or 812-488-2039.
Aces clinch series with 6-3 win over Braves
At the top of the lineup, Mackenzie McFeron and Alexa Davis combined for four hits, four RBI and two runs to push the University of Evansville softball team to a 6-3 series-clinching win over Bradley on Sunday at Petersen Hotels Field.
McFeron went 2-for-4 with two runs and a RBI while Davis was 2-4 with three runs batted in. In the circle, Sydney Weatherford picked up the victory with another complete game performance.
Back-to-back doubles led the game off for the Purple Aces, who took a 1-0 lead. After McFeron opened with a 2-base hit, Davis did the same to score McFeron and give UE a 1-0 edge. The Braves took their first lead with a pair of runs in the bottom of the first, but UE quickly countered.
Alex Barnaby crossed home when Haley Woolf reached on a fielder's choice in the second. In the top of the third, a string of patient at-bats put the Aces back in front. With two outs and the bases empty, Alyssa Barela, Barnaby and Hannah Hood walked to load the bases. Hood came home on a Woolf single to give UE a 3-2 edge.
Bradley tied the game on a single in the fourth and the score remained tied until the top half of the sixth. Haley Woolf opened with a walk and Bella Coffey was hit by a pitch to put set up a prime scoring opportunity. With one out, a single by McFeron scored Woolf and would prove to be the game-winner. Evansville added some insurance when Alexa Davis followed up with a 2-RBI double to extend the lead to 6-3.
Over the final two frames, Sydney Weatherford allowed just one hit and kept the Braves off the board as she earned win #8 of the season. She gave up three runs, two earned, on nine hits. Evansville tallied six hits in the game with McFeron and Davis registering two apiece. Bradley had nine hits.
UE is back at Cooper Stadium for its final four home games of the season. The week opens on Wednesday with a 5 p.m. game versus Indiana State.
Offense continues to shine in Aces series-clinching win over Sycamores
In a battle of home runs, the University of Evansville baseball team's offense was overpowering, securing a series victory with a 12-9 win over Indiana State on Sunday afternoon in Terre Haute.
"I knew it was going to be an offensive game today with the wind blowing out, but Shane Harris was able to come out of the pen and get the important outs," said Aces head baseball coach Wes Carroll. "We had big hits up and down the lineup especially when we recaptured the lead in the seventh. Proud of this team after getting walked off the field Friday night to earning the series win. We are ready to be back home the next couple of weeks"
Of nine combined home runs in the game, Evansville launched three with each going for two runs or more. On the other side, Indiana State had six homers, but four were solo shots.
On the mound, right handed Caleb Reinhardt got the start, going five innings, allowing five runs and striking-out three. Nate Hardman and Donovan Schultz came on in relief, but it was Shane Harris who locked down the final 3.1 innings and earned the win, allowing just one run on four hits and recording a strikeout.
The top of the first continued to prove fruitful for the Aces, who scored five in the opening half inning. After a leadoff double from Mark Shallenberger, Tanner Craig blasted a two-run shot to center for a 2-0 Aces lead. Evansville would bat around, scoring three more runs to take a five-run advantage after three outs.
Indiana State climbed back into the contest with single home runs in the first, second, and third, while reliever Jack Parici held the Aces offense in check to trail just 5-4.
Evan Berkey boosted Evansville's lead back to three-runs with his ninth dinger of the season in the fourth to give UE a 7-4 lead.
The sixth looked to be a turning point for Indiana State as the Sycamores roared back with four runs, including a three-run go ahead home run from Tyler Nelson that gave Indiana State its first lead of the day at 8-7.
Evansville did not wait long to retake the lead on an RBI double by Danny Borgstrom and an error by the Sycamores.
The Aces got some much needed insurance in the eighth. Simon Scherry came to the plate and delivered, crushing a three-run bomb to left that lifted Evansville's lead to 12-8.
In the bottom of the ninth, Indiana State scored a single run, but Harris closed down the win for the series victory.
Evansville is back at German American Bank Field on Tuesday night at 6 PM against Belmont in Evansville.
Wassmer in the top ten at MVC Championship
Caleb Wassmer carded a 3-over 75 to pace the University of Evansville men's golf team in Sunday's opening round of the Missouri Valley Conference Championship at the Country Club of Paducah.
Wassmer's round has him in a tie for the 10th position in the standings with two rounds remaining. One behind him was Carson Parker. His 4-over round of 76 put him in a tie for 15th.
Third for the Purple Aces was Henry Kiel. With a round of 80 strokes, Kiel is positioned in a tie for 28th. Isaac Rohleder and Dallas Koth carded rounds of 85 and are tied for 41st. As a team, Evansville is in the 8th spot, but has plenty of time to move up as the team is just nine strokes out of a top four position.
Just in front of the Aces in 7th is Illinois State, who stands at a 313 while Missouri State and Loyola, who rank in the 4th and 5th positions, are six and seven strokes in front of UE, respectively. Three teams have put some distance on the rest of the pack at the top of the field with Southern Illinois leading the way. A 295 has them three in front of Drake and five on top of third-place Valparaiso.
Matthis Besard of SIU and Silvester Tan from Drake are the individual leaders, each finishing Sunday's round with a 1-under 71.
On Monday, the second round of 18 will take place before the tournament is completed on Tuesday.
Bats come alive as Aces split doubleheader at Bradley
After opening the day with a 10-1 loss, the University of Evansville softball team regrouped in a big way to split Saturday's doubleheader with a 7-3 win over Bradley in game two at Petersen Hotels Field.
Game One – Bradley 10, UE 1
A 6-run first inning lifted Bradley to a 10-1 win in Saturday's opener. Keeler van Breusegen and Jordy van def Werf each recorded 2-RBI hits in the inning. The Braves added a single run in the second and three more in the third to make it a 10-0 contest.
Each of the three hits for the Purple Aces came consecutively in the fourth inning. With one out, Mackenzie McFeron tripled before scoring on a single by Marah Wood. Jenna Lis also added a single in the frame. From there, the Braves remained in control to finish with the 10-1 win. Grace French picked up the win for the Braves while Izzy Vetter took the loss.
Game Two – UE 7, Bradley 3
After scoring just one run in the opening contest, Evansville stormed out to a 3-0 lead before an out was even recorded in the first. Mackenzie McFeron led the game off with a single while Alexa Davis followed with a walk. Marah Wood tripled off of the right field wall to score McFeron and Davis. Alyssa Barela added a sacrifice bunt to solidify a 3-0 UE lead in the opening frame.
Single runs in the second and third got the Braves within one run before the Aces broke it open in a big way in the fourth. UE plated four runs, all with two outs, to make it a 7-2 game. Alexa Davis hit a bases-clearing triple before stealing home to cap off the inning. The Braves tacked on a run in the sixth, but it was not enough to overcome the deficit and UE wrapped up its 22nd win of the year.
Evansville had six hits from six different players in the contest. Davis had three RBI while Wood had two. McFeron and Davis each scored twice. Sydney Weatherford won her 7th game of the season. She gave up three runs on nine hits in the complete game. Just one of the three runs was earned.
The rubber match in the series is set for Sunday afternoon at 12 p.m.
Smith throws complete game shutout, offense stays hot in 14-0 win
Bouncing back from a tough extra innings loss on Friday night, the University of Evansville baseball team got a dominant performance on the mound from starter Nick Smith and the offense smashed 10 hits to capture a 14-0 run-rule victory over Indiana State in seven innings at Bob Warn Field in Terre Haute, Ind.
"Great bounce back win after last night. Proud of how we came to the park today with energy and focus," said Aces head baseball coach Wes Carroll. "We had some big two-out RBI early in the game and four homers throughout to get us the win. Nick Smith was outstanding throwing a shutout and 7 K's against a very good offense."
Going the distance on the mound, Smith threw the first complete game of his young collegiate career, stifling a hot Sycamore offense, allowing just two hits in a scoreless seven innings of work. Smith's seven punchouts mark back-to-back games with seven Ks and his fourth-straight win on the mound.
At the plate, the bats exploded for 14 runs with six Aces recording a hit on the day, including a three hit day for catcher Brendan Hord and a five-RBI, two homer outing for Brent Widder. The Aces launched three home runs on the day, two coming from Widder and another smashed by shortstop Simon Scherry.
Evansville jumped on top of Indiana State early in the contest with Widder going up top for a two-run blast in the top of the first to hand UE a 2-0 advantage. With Smith holding the Sycamores at bay, the Aces pushed home a single run in the fourth on a solo shot from Scherry before exploding for 11 combined runs in the fifth, sixth, and seventh innings.
In the seventh, Indiana State got the leadoff runner on, but Smith shut down any thoughts the Sycamores might have of a rally, inducing back-to-back fly-outs and then getting a strikeout to end the contest.
Evansville and Indiana State will meet for the series-decider on Sunday with a new start time of 11 AM (CT0 at Bob Warn Field in Terre Haute, Ind.
UE's Boots Breaks 46-Year-Old School Record At Gibson Invitational
University of Evansville senior Mike Boots (Evansville, Ind./Mater Dei) broke a more than 46-year-old school record in the outdoor shot put on Saturday to pace the Purple Aces' track & field teams at the Gibson Track & Field Invitational in Terre Haute, Indiana.
Boots, facing a cross-wind at between 15 and 20 miles per hour, recorded a school-best mark of 15.34 meters (50'4") on his final throw of the finals to place third overall. His mark broke the previous UE school outdoor record of 14.85 meters (48'9") set during the 1976 season. Boots' throw is the best shot put mark at UE – indoor or outdoor – as he also holds the indoor mark of 15.22 meters.
"What a tremendous job by Michael today, and it comes at a great time of the year," said UE head coach Don Walters. "With the Valley championships coming up in only a couple of weeks, we want to be at our best right now, and take that towards the conference meet. The wind was really tough for a lot of people today, but Michael was able to push through and that was great to see."
With the wind constantly blowing from the south all day, personal-best marks were hard to come by for a majority of the competitors on Saturday, but Evansville was still able to set 11 PR marks. Junior Zach Dove (Princeton, Ind./Princeton Community) also set a personal-best mark in the shot put with a throw of 14.73 meters, as he placed fifth, just two spots behind Boots in the standings.
Senior Joey Rucinski (Ft. Wayne, Ind./Concordia Lutheran) was able to set a new personal standard in the pole vault with a height of 4.38 meters, while fellow senior Skylar Tucker (Linton, Ind./Linton-Stockton) set a PR mark in the long jump with a leap of 5.40 meters. Freshman Justin Nichols (Lewis Center, Ohio/Olentangy Orange) cut through the wind to post a PR mark in the 1,500-meters with a time of 4:36.27.
While the wind made life difficult for a majority of the track runners on Saturday, the sprinters excelled thanks to a large tail wind. In the 100-meters, sophomore Geordan Blades (10.64) and junior Giovanni Purser (10.66) posted their fastest times ever while placing sixth and seventh overall on the men's side. Freshman Kara Yunker (13.10) also posted her fastest-ever time in the 100-meters on the women's side. Tucker (26.57), Yunker (27.46) and Blades (21.97) also posted their fastest times ever in the 200-meter competition, but both the 100 and 200 meter marks do not qualify for records purposes because of the tail wind being above the mark of 2.0 meters per second.
Overall, Evansville placed fifth out of 11 teams on the men's side, and sixth out of nine teams on the women's side. The Purple Aces will return to action next weekend in their final warm-up before the Missouri Valley Conference Outdoor Track & Field Championships in Des Moines, Iowa May 13-15.
Two School Records Fall For UE Track & Field On Day Two At Gibson Invitational
University of Evansville senior Joey Rucinski (Ft. Wayne, Ind./Concordia Lutheran) and junior Zach Dove (Princeton, Ind./Princeton Community) broke school records in the decathlon and hammer throw events on Friday in the second day of action at the Gibson Track & Field Invitational in Terre Haute, Indiana.
Rucinski won the decathlon event with a dominant performance on Friday, as he finished first or second in all five events on the day while totaling a school-record mark of 5,906 points. It was more than 200 points better than his previous-best mark, set at last year's Missouri Valley Conference Outdoor Track & Field Championships. He set personal-best marks in both the 110-meter hurdles (16.87) and javelin (44.74 meters) on his way to the decathlon victory.
Dove, meanwhile, broke the UE school record in the hammer throw for the third-straight meet with a toss of 49.50 meters. Dove entered the year with a personal-best mark of just 41.03 meters in the hammer throw, but has excelled in his junior season. Dove also broke the 40-meter barrier in the javelin event for the first time ever on Friday, as he posted a mark of 41.92 meters to place third overall.
"What Joey and Zach did today is really no surprise," said UE head coach Don Walters. "They have both put in a ton of work this year, and that hard work is really paying off in meets for them. It is great to see them both succeed, because they have really earned it this year!"
In all, Evansville set eight personal-best marks on Friday. Senior Andrew Schuler (Ferdinand, Ind./Forest Park) recorded a hammer throw toss over three meters further than his previous-best mark with a throw of 45.12 meters. Freshman Preston Riggs (Ft. Branch, Ind./Gibson Southern) set a new personal standard in the javelin portion of the decathlon competition with a throw of 35.36 meters, while fellow freshman Kaitlyn Sansone (Fairfield, Ohio/Mercy McAuley) cracked the 20-meter mark in the women's javelin competition with a personal-best throw of 20.87 meters.
The UE men currently sit in third place behind DePaul and Purdue Fort Wayne with 24 total points at the end of the second day of competition. The UE women currently sit in eighth place. The Gibson Invitational wraps up on Saturday with a full day of track and field action beginning at 10 a.m. central time.
Aces drop series opener to Indiana State in extras
In a battle fitting of the top two teams in the Missouri Valley Conference standings, the University of Evansville baseball team was edged by Indiana State, 7-6, in 10 innings at Bob Warn Field on Friday night in Terre Haute, Ind.
"Competitive Friday night Valley game that didn't go our way in extra innings," said Aces head baseball coach Wes Carroll. "Shane Gray was outstanding, but credit their offense for putting the ball in play. Tanner delivered a big blow, but we squandered a couple opportunities to get that game tonight. We knew this weekend was going to be a dogfight because both teams are playing well."
The aforementioned Gray turned-in a career-best nine innings of work on the night, allowing six runs and striking-out three and getting the Aces out of a couple of difficult situations. At the plate, Mark Shallenberger, Tanner Craig, and Ty Rumsey, the one, two, and nine hitters in the lineup all recorded a pair of hits with Craig launching his 42nd career home run.
Evansville jumped on the board first with third baseman Brent Widder capitalizing on a Sycamore mistake and ultimately scoring on an RBI groundout from Evan Berkey in the second inning. Indiana State answered, scoring a combined three runs in the third and fourth innings to take a 3-1 lead.
What would prove to be a back-and-forth affair saw the Aces battle back to tie the contest at three on a Shallenberger RBI base hit and a wild pitch that scored Rumsey. After a bunt scored a run for Indiana State in the sixth, the Aces responded in a big way in the top of the seventh. With two runners on and one out, Craig demolished a ball to left field, pushing UE back in front, 6-4, and earning the fifth-year senior his 12th blast of the season.
As was true all night, an answer was manufactured by the Sycamores with a pair of runs the next half inning, tying the game at six. That score would hold until the bottom of the 10th inning when Keegan Watson hit a walk-off home run to left to secure a 7-6 win for Indiana State.
The two sides will meet again on Saturday at 1 PM (CT) for the second game of their three-game series at Bob Warn Field in Terre Haute, Ind.
Softball travels to Bradley for weekend series
This weekend, the University of Evansville softball team makes the trek to Peoria, Ill. for a 3-game series against Bradley. Play opens on Saturday with a 12 p.m. doubleheader before Sunday's finale begins at noon; all three games will be carried on ESPN3.
Last Time Out
- It was a tale of two games on Wednesday in a doubleheader at Indiana State
- After dropping the opener by a 16-3 final, the Aces rebounded with a 3-2 win in the second contest
- Alexa Davis hit the game-winning home run in the sixth inning to help the Aces earn the split against the Sycamores
- Sydney Weatherford recorded her sixth victory of the season, allowing two runs, one earned, on eight hits
- She tossed her sixth complete game in her last eight starts
Game-Winner
- Alexa Davis provided one of the biggest hits of the season on Wednesday at Indiana State, connecting on a 2-run home run in the 5th inning of the 3-2 win
- Davis completed the doubleheader against the Sycamores with four hits in seven at-bats
- In the series finale against UNI, she was 2-3 with two doubles, two runs scored along with a walk and steal to help the Aces take a 6-3 win
- Her season average checks in at .275
Back On Track
- Saturday's series finale against Missouri State saw Jessica Fehr snap out of an 0-for-15 drought by going a perfect 3-for-3 and she added a hit in each game at Indiana State
- Fehr continues to lead the Aces with a .311 batting average and 25 runs scored
- She has recorded a hit in 19 of the last 28 games
- The senior is fifth in the MVC with 21 walks
Another W
- Sydney Weatherford helped the Purple Aces end their recent skid with her sixth complete game in her last eight starts on Wednesday at Indiana State
- She gave up two runs, just one earned, on eight hits in the winning effort on the way to win #6 of the season
- The effort against the Sycamores lowered her season ERA to 2.93, which is 7th in the MVC
Men's golf set for MVC Championship
Beginning on Sunday, the University of Evansville men's golf team will be in Paducah, Ky. to take part in the 2022 Missouri Valley Conference Men's Golf Championship.
Hosted by the Country Club of Paducah, tournament will feature three rounds of 18 holes. A single round will be played each day from April 24 through the 26th. Par is set for 72 and the yardage layout is set for 7,014.
Evansville completed the regular season on April 12 at the Tennessee State University Big Blue Intercollegiate. Carson Parker was the top finisher for the Purple Aces, earning a tie for the 21st position. Following his opening-round score of 77, Parker shot a 1-over 72 in the second round, which was spread between Monday and Tuesday due to the inclement weather. His final score came in at a 149.
Isaac Rohleder matched Parker's final round score with a 72. He made one of the largest improvements between rounds in the entire event, dropping his score by 10 strokes from his opening round tally. He finished in a tie for 39th with a total of 154. Henry Kiel completed the tournament with a 156, completing both rounds with a 78. He tied for 44th.
Michael Ikejiani and Caleb Wassmer tied for 53rd in the final standings with a 158. In round two, Ikejiani matched his opening round score of 79. Wassmer began the tournament with an 81 before lowering his score to a 77 in the final 18 holes.
The Purple Aces earned a ninth-place finish with a total of 614 strokes. They were three behind 8th-place finisher Arkansas-Pine Bluff.
Dr. Kenneth "Ziggy" Siegfried named UE Director of Athletics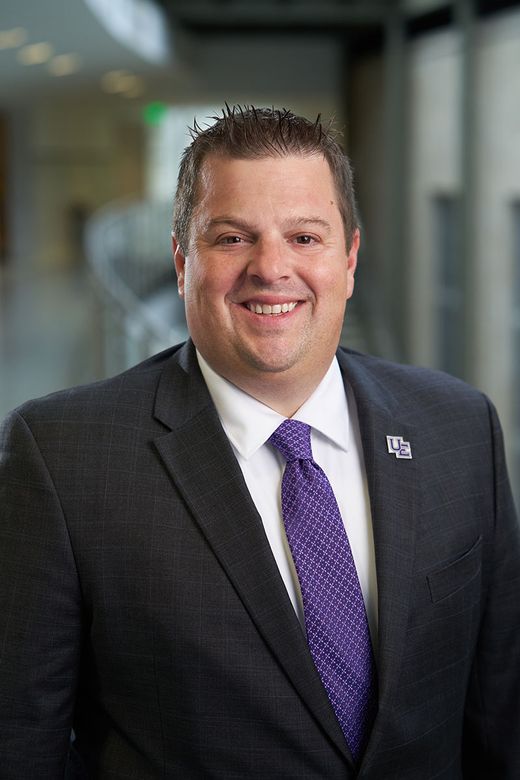 Turning the page into a new era of Purple Aces athletics, University of Evansville President Christopher M. Pietruszkiewicz announced the hiring of Dr. Kenneth "Ziggy" Siegfried as the new Director of Athletics. Siegfried will officially be introduced today at a 2:00 p.m. press conference inside Meeks Family Fieldhouse.
Siegfried joins the University of Evansville from California State University Bakersfield (CSUB) where he has served as the Director of Athletics and Associate Vice President for Student Affairs since August of 2015. In his role at CSUB, Siegfried has successfully led an athletic program that is comprised of 16 varsity sports programs with over 300 student-athletes and 90 employees. One of the highlights of his tenure at CSUB was when he succeeded in securing an invitation for CSUB to join the Big West Conference.
Siegfried transformed the athletic department during his tenure at CSUB through the development of a new strategic plan, the creation of a comprehensive master facilities plan, and the commencement of a variety of major construction projects. Under his direction, CSUB generated the largest amount of revenue in the history of the department while achieving high ticket sales and securing significant donations and corporate sponsorships.
Putting an emphasis on academics is a pivotal part of Siegfried's blueprint. During his tenure, CSUB set records in Graduation Success Rates (GSR), departmental GPAs, and Academic Progress Rates (APR). Siegfried has also been active at the university, conference, and national level throughout his career. On a national level, he serves on the Minority Opportunities Athletic Association (MOAA) Board and is in his third year serving on the NCAA Accelerating Academic Success Program Committee.
At the conference level, he serves on the Big West Diversity, Equity, and Inclusion Committee, the D1-AAA Athletics Directors Association Scholar-Athlete Team Committee and has served on the conference championships committee for both the Western Athletic Conference and the Big West Conference.
Prior to his arrival in Bakersfield, Siegfried worked at the University of Memphis for eight years on the Senior Staff within the Athletics Department while serving on the University fundraising leadership team during a successful $250 million campaign. During his time at U of M, Siegfried helped to raise $16 million that went into the transformation of the athletic facilities.
Siegfried attended the University of Memphis where he earned a bachelor's degree in education and sports management in 2003. He earned his Master of Science in sports administration from Middle Tennessee State University in 2004 and completed his Doctor of Education from the University of Memphis in 2019. A native of Memphis, Siegfried and his wife, Karen, have five children: William, Samuel, Caroline, Miriam, and their late sister Delilah.
Contribute to AceNotes
To have content considered for inclusion in AceNotes, please submit a Marketing Request Form. Deadline for submission to AceNotes is 10:00 a.m. on the requested date of publication. Only articles concerning UE related/sponsored activities will be accepted. Articles submitted to AceNotes may be edited for length and clarity. Submitter contact information is at the end of each article.