| | |
| --- | --- |
| AceNotes Today | Tuesday, April 19, 2022 |
Department of Art proudly presents the Senior Exhibition 2022 in the Melvin Peterson Gallery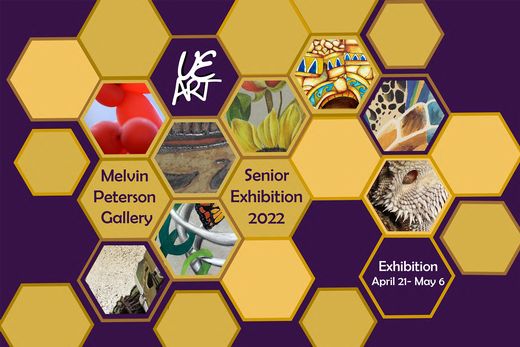 The Department of Art is pleased to present the Senior Exhibition 2022 in the Melvin Peterson Gallery starting, April 21- May 6, 2022. Please come see the artwork of Hannah Girten, Ashley Gray, Greg King, Paige Kirkey, Bailey Korschgen, Autumn Owens, Makayla Stewart, and Jane Tafolla. The gallery hours are Monday, Tuesday, Friday, and Saturday 12-3 pm and Wednesday and Thursday 12-6 pm. A closing reception is on May 6, 5-6:30 pm.
Submitted by Todd Matteson tm8@evansville.edu
Free Paper Shredding on Thursday, April 28
Free off-site paper shredding by Piranha Mobile Shredding will return to campus once again April 28 (Reading Study Day) from 10:00 a.m. - 1:00p.m. All UE students, faculty, staff, and alumni can take advantage of this free service by bringing paper to the Piranha truck in Koch Center for Engineering and Science parking lot. Paper will be shredded off-site. We will place bins along the parking lot to allow each person to empty their own material for a no contact approach.
So, if mounds of paper are taking over your office, home, or room, this is the time to gather those old files, receipts, cancelled checks, tax forms, etc. No need to take out the staples or paper clips. Avoid identity theft by having confidential information permanently destroyed.
Please - no telephone books, magazines, or newspapers. Also, please note that there is a 100-pound paper limit per visit (number of visits is not limited).
THIS Wednesday, April 20! VOICE: Your Vision. Your Voice. Shaping Our Region's Future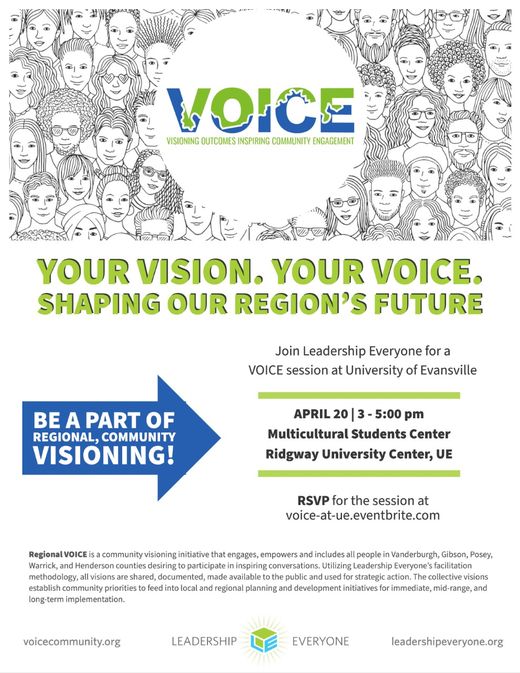 VOICE: Your Vision. Your Voice. Shaping Our Region's Future.
This session may be applied to Passport to Inclusion!
This session will be of interest to any Faculty interested in teaching a ChangeLab, and will also count toward the Faculty Teaching Certificate!
The UE Center for Innovation & Change and Leadership Everyone are partnering to bring VOICE to UE Campus THIS Wednesday, April 20th from 3:00pm to 5:00pm in the Multicultural Commons Area, 2nd Floor in Ridgway University Center.
Regional VOICE is an initiative by Leadership Everyone to bring together diverse groups of people to envision a preferred future for our region. While RSVPs are appreciated, if you don't know until the last minute, come anyway! We can't wait to vision with you.
RSVP here: https://voice-at-ue.eventbrite.com
Join the Fitness Center and CDEI for Self-Defense Class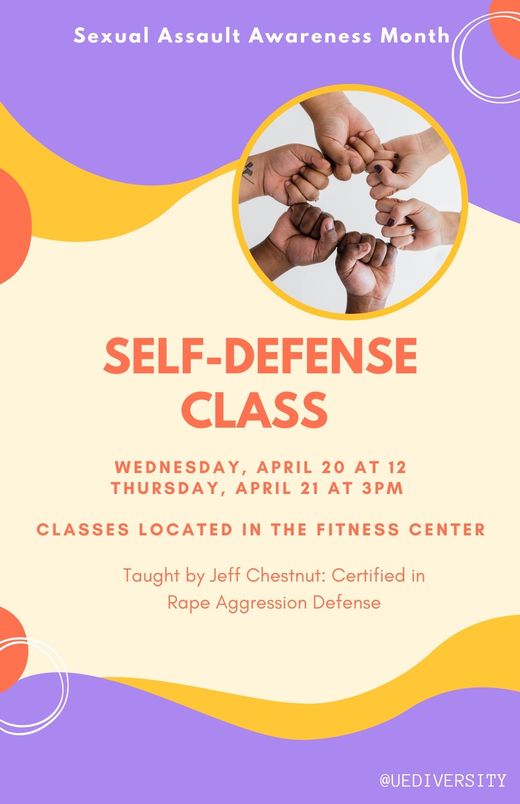 The Center for Diversity, Equity, and Inclusion and the Fitness Center invites you to attend Self-Defense training. Fitness Center Director Jeff Chestnut, who is certified in Rape Aggression Defense will be holding two, one-hour sessions at 12 pm on Wednesday, April 20th, and 3 pm on Thursday, April 21st in the Fitness Center.
Please reach out to CDEI with any questions at center4dei@evansville.edu.
This Week in Music
Several big events take place in the UE Music Conservatory this week:
On Tuesday, April 19 at 7:30 p.m. the combined UE University Choir and Choral Society along with faculty/professional chamber orchestra will perform W.A. Mozart's Solemn Vespers K 339. Also on the program are works by Charles Villiers Stanford, Alan Hovhaness, Ola Gjeilo, and Charles Ives. The concert takes place in Neu Chapel on the UE campus and is free admission. Come support UE's Choral program and hear one the great classics of choral repertoire!
Then, on Thursday, April 21, the UE Community Band will present a concert at 7:30 p.m., in Neu Chapel. The ensemble, which includes both UE students and area community members will perform a variety of audience favorites for concert band. Our small ensembles will also be performing this coming weekend. First, on Friday, April 22, 2022, the Brass and Percussion and Percussion Ensemble will present a concert at 7:30 p.m. in Krannert room 110. Secondly, the Woodwind and String ensembles will be performing at 4:00 p.m. on Sunday, April 24 in Neu Chapel.
Please join us for these events!
SAA Lemonade Stand - All Are Welcome
The Staff and Administrators Assembly executive board invites you to enjoy some lemonade and popcorn on Tuesday, April 19th from 2-4pm on the Carson Center front lawn. Take a few minutes to grab an afternoon snack - all are welcome! We look forward to seeing you there!
Senior Reading for Creative Writing
The #uelitfest kicks off with the Senior Reading at the Mel Peterson Gallery on Thursday, April 21st at 4 PM. Seniors will be reading from the work they've done over the years, and the winners of the Virginia Grabill Awards will be announced. Come support our seniors as they transition from student writers to professionals!
Candy-Making Immigrants Subject of Spring History Lecture
The annual Spring History Lecture will take place on Thursday April 21, at 4pm in SOBA 162. The speaker is historian Dr Ann Flesor Beck, and her subject is "Sweet Greeks: American Immigration 1880-1930". Ann Flesor Beck, Ph.D. is an independent scholar with focus on American immigration history. She is the author of Sweet Greeks: First-Generation Immigrant Confectioners in the Heartland (University of Illinois Press, 2020). Dr Beck is a third-generation Greek confectioner and, with her sister, she co-owns and operates Flesor's Candy Kitchen in Tuscola, Illinois.
Reception for Employee Photography Exhibit
The UE campus community (and guests) are invited to a reception in the Krannert Gallery on Thursday, April 21 at 4:30 p.m. Please plan to join us to celebrate the 2022 UE Employee Photography Exhibit. The exhibit will be open through Sunday, May 8 in the Krannert Gallery.
Co-workers and UE retirees participating include:
Melissa Gust, Center for the Advancement of Learning
Tonya Albright, School of Engineering and Computer Science
Donnie Dunville, Retiree Physical Plant/Maintenance
Lynn R. Penland, Dean Emerita
Keith Gehlhausen, Human Resources and Institutional Equity
Mari Plikuhn, Sociology Programs
Lois Patton, Professor Emerita
Hanns G Pieper, Professor Emeritus
Nancy Lockyear, Department of Art
Todd Matteson, Department of Art
Kevin Gray, Criminal Justice
Joe Flauto, Professor Emeritus
John Metelko, Track and Field/Cross County
Corliss Chastain, Department of Art
Sexual Assault Awareness Month Upcoming Events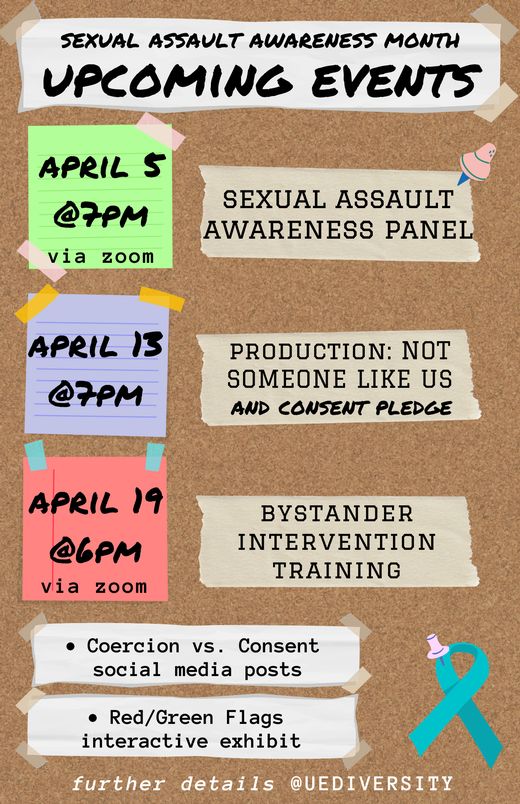 April is Sexual Assault Awareness Month, also known as SAAM. The Center for Diversity, Equity, and Inclusion & Office of Institutional Equity have brought forth activities to bring awareness, education, and support in this time.
April 5th at 7:00 PM Sexual Assault Awareness Panel via Zoom.
The Panel consists of Counseling Services, Public Safety, Institutional Equity, EPD, Albion Fellows Bacon Center, Deaconess, and the Prosecutor's Office.
Tuesday, April 13th at 7:00 PM in Eykamp: Not Someone Like Us: a collaboration between the CDEI and Evansville Civic Theatre. It is a play about sexual assault based on true stories. The Consent Pledge will take place before the play. The Center will also be hosting a talk back session after the play.
Monday, April 19th at 6:00 PM Bystander Intervention Training via Zoom.
Learn how to safely act when others may be in dangerous situations.
Submitted by Rachael Rose rr204@evansville.edu
Faculty Retirement Tree Planting Ceremony
The following faculty members will be honored at the Faculty Retirement Tree Planting Ceremony that will take place on Sunday, April 24:
• Sharon Gieselmann- Associate Professor of Education/Chair
• Donald Rodd- Professor of Exercise Science and Physical Therapy
• David Unger- Professor of Mechanical and Civil Engineering
The UE community is welcome to attend this event which will begin at 1:00 p.m. on the lawn south of the Schroeder Family School of Business Administration building.
Retirement Reception for Dr. David Unger, Professor of Mechanical & Civil Engineering

The School of Engineering and Computer Science would like to invite you to a retirement reception for Dr. David Unger, Professor of Mechanical & Civil Engineering, on Thursday, April 28 from 3:00-4:00 p.m. The reception will be held in the Koch Center second floor lobby (near the concrete canoe, in front of KC 271). Dr. Unger is retiring at the end of this semester after more than 20 years of service to the University. Please come and celebrate with us, showing our appreciation for all he has contributed to the University. and the Engineering Community.
Dr. David Unger has taught mechanical and civil engineering at the University of Evansville since 2001. He has been the faculty advisor for student participation in the National Aeronautics and Space Administration student launch initiatives and accompanied his students to Huntsville, Alabama, in 2010 and 2012, as they competed in NASA high power rocket competitions. Dr. Unger won the University of Evansville's Berger Award for scholarship in 2005, the Dean's Teaching Award in 2006, and a Global Scholar Award in 2007.
Dr. Unger completed a BS at St. Louis University and a master's degree from the University of Illinois in Urbana, both in aerospace engineering. He then earned his PhD from the University of Illinois in Theoretical and Applied Mechanics. His text, Analytic Fracture Mechanics, was published first by Academic Press and is offered now by Dover Press. He has published numerous technical articles and has a particular research interest in how and why materials break. In three years of his free time, David built a wood model of Charles Darwin's ship, the H.M.S. Beagle from plans he received from the National Maritime Museum near London. For additional information, see http://mece.evansville.edu/faculty/unger.asp
Submitted by Tonya Albright ta58@evansville.edu
Schedule Assistance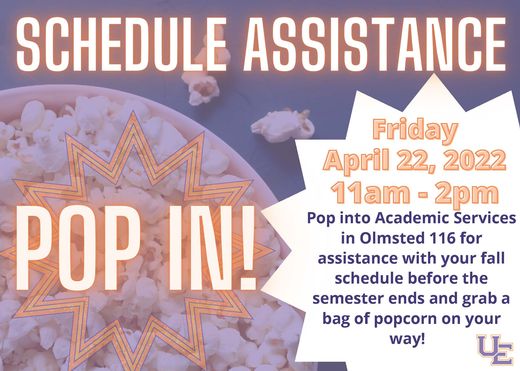 Schedule assistance needed? Pop into Academic Services in Olmsted 116 for assistance with your fall schedule before the semester ends and grab a bag of popcorn on your way!
University of Evansville Board of Trustees | Front Oval Parking
The University of Evansville Board of Trustees will be on campus for April 2022 Board meetings on Friday, April 22, and Saturday, April 23. Parking in front of Olmsted Administration Hall and the Schroeder Family School of Business Administration will be reserved for University Trustees. Employee parking on the front oval will be limited on both days.
Sexual Assault Statistics
Sexual Assault Awareness is critical for many reasons. Around 20% of women will be sexually assaulted in college while 4% of men will. Most victims are assaulted by someone they know and 42% of women expect to be raped again. Nearly another 42% of college women raped will end up telling no one; only 5% of overall college sexual assaults are reported. These assaults can lead to serious problems. 4 out of 5 victims suffer from chronic physical and psychological conditions. Rape results in about 32,000 pregnancies a year and 40% of the survivors develop a sexually transmitted disease. Even more tragic, survivors are 13% more likely to attempt suicide compared to those who have not. These, and many more, reasons are why Sexual Assault Awareness Month (SAAM) should be important to you for more than just the month of April.
The deadline to apply for the 2022-2023 Dr. Marvin E. Hartig Memorial Scholarship has been extended to May 6th
Family, friends and loved ones of the late Dr. Marvin E. Hartig are pleased to announce the application process for the Dr. Marvin E. Hartig Memorial Scholarship. This scholarship is dedicated to the loving memory of Dr. Hartig, Dean of Evansville College's Evening College in 1967, and administrator for the Center for Advanced Study, director of the Evansville chapter of the American Institute of Banking (AIB), and the international student advisor. In 1974, Dr. Hartig was appointed Dean of Academic Services. He retired in 1984 after serving his alma mater for thirty-five years and passed away in 2007.
This scholarship will be awarded annually to a deserving sophomore student. Preference will be given to a student working while being enrolled as a full-time student. International students are encouraged to apply.
Eligible students for the 2022-2023 Hartig Memorial Scholarship will be sophomores in the 2022-2023 academic year.
Apply for the 2022-2023 Hartig Memorial Scholarship
Deadline: Please return all materials to the Office of Student Financial Services by April 22, 2022. The decision will be announced by May 27, 2022.
Questions: Amber Chandler, Administrative Assistant to the Office of Student Financial Services, at ac547@evansville.edu or 812-488-2364
Submitted by Amber Chandler ac547@evansville.edu
Students Participate in Research in Gerontology Symposium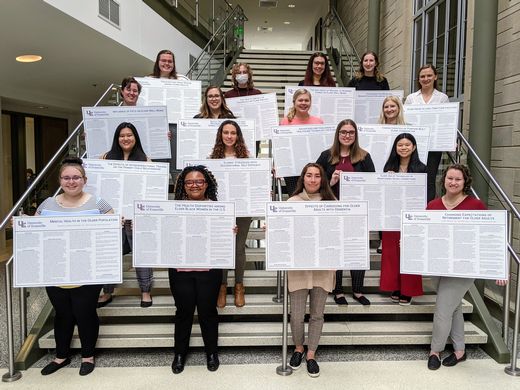 On Tuesday, April 12, students from across campus participated in the 3rd annual Research in Gerontology Symposium, hosted by the University of Evansville's Gerontology Center. This year's symposium featured poster presentations from the following students on the following topics:
Sydney Bachman (Public Health)- "Elder Abuse in Long-Term Care Facilities"
Paige Beard (Sociology)- "Sexual (Re-)Education for Elders: Becoming Reacquainted with New Norms, Expectations, and Knowledge"
Brandi Borchers (Theatre Technology and Design)- "The Health Impact of Financials on Older Adults"
Megan Buechler (Public Health)- "Characteristics of Purpose-Built Elder Communities"
Corey Cagle (Theatre: Stage Management)- "The Effects of Intergenerational Trauma on the Parent-Child Relationship"
Rebecca Crow (Public Health Policy)- "Elders' Struggles with Occupational Self-Efficacy"
Baylee Geng (Sociology and Psychology)- "Prescription Drug Misuse Among Older Adults"
Shelby Jones (Public Health- Nutrition)- "Strategies for Reducing Rehospitalization Among Older Adults"
Destiny Ogburn (Criminal Justice and Sociology)- "The Health Disparities Among Elder Black Women in the US"
Lindsey Phillips (Literature)- "Influence of Pets on Elder Well-Being"
Brynn Radak (Sociology and Ethics and Social Change)- "The Influence of Moving to Nursing Homes on Elder Well-Being"
Taylor Rapp (Public Health)- "Advantages and Challenges of Healthcare Technology for Elders"
Becky Riggs (Criminal Justice and Sociology) and Kira Ulrich (Criminal Justice and Sociology)- "Elder Use of Technology in Maintaining Social Connections"
Sophia Rodil (Public Health)- "Effects of Caregiving for Older Adults with Dementia"
Kirby Swails (BS/MS Health Services Administration)- "Changing Expectations of Retirement for Older Adults"
Majestica Weatherford (Psychology and Sociology)- "Mental Health in the Older Population"
American Society of Civil Engineers Indiana Section Award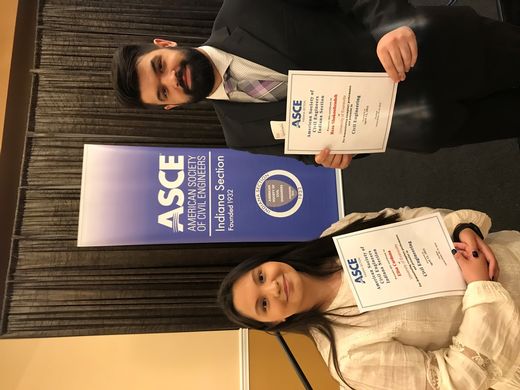 Two civil engineering seniors, Elisa Cardona and Reza Shokouhzadeh received the ASCE Indiana Section award for demonstrating exemplary performance and potential in civil engineering. A certificate and a cash award was presented to them at the ASCE Indiana Section meeting on April 12th at Carmel, Indiana. Congratulations, Elisa and Reza!
Exemplary Teacher Award
Dr. Michael Slade, associate professor of Chemistry, was presented the Exemplary Teacher Award at the Spring Faculty Meeting on Tuesday, April 13. The award recognizes exceptional achievements in the classroom by creating distinctive opportunities and promoting intellectual, moral, social, and emotional growth of our students. Dr. Slade exemplifies all of these traits throughout his teaching and student interaction.
Congratulations Dr. Slade!
UE's School of Education student wins 2022 Darrell Ragland Leadership Everyone Award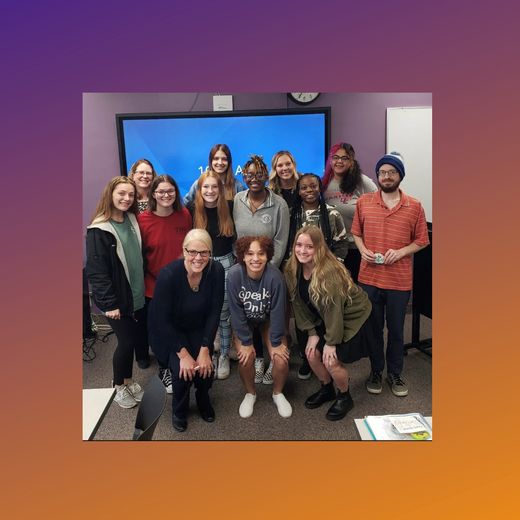 The School of Education held a surprise recognition for student Emani Marks in Dr. Amy's class Tuesday. April 12, 2022. Emani won the 2022 Darrell Ragland Leadership Everyone Award. She was moved to action and had a desire to combat systemic racism in the Tri-state area. As a then-senior from Harrison High School, she brought the community together for a Black Lives Matter peaceful protest at the Four Freedoms Monument in Downtown Evansville on September 27, 2020.
Harlaxton Archaeology Field School
Harlaxton College is delighted to host our first archaeological excavation on the grounds of the breath-taking Harlaxton Manor. Open to all, from beginners to experienced archaeologists, we are aiming to provide the most inclusive and accessible archaeological field school in Britain. We will be hosting both American and British students, expecting daily visits from members of the local community, and receiving expert input from the Ministry of Defense's award-winning archaeology program, Operation Nightingale. With evidence from the Iron Age to the present, we will be investigating three key areas of the grounds: a suspect iron age enclosure, the 'thunder house' of the early Victorian walled garden complex, and the training trenches from WWI.
The archaeological excavation will take place June 1-30, and there are opportunities for participation for 2, 3, or 4 weeks and for academic credit or just experience. The deadline to apply and make an initial deposit is May 2, so check out the details and register now here: https://harlaxton.evansville.edu/accepted/archaeology-field-school.cfm
Please contact the program director, Dr. Emily Stammitti, at estammitti@harlaxton.ac.uk with any questions about the program details or Kaylynn McCalister in the UE Harlaxton office at kc205@evansville.edu with any questions about the registration process!
Submitted by Kaylynn McCalister kc205@evansville.edu
Spring 2023 Harlaxton applications
There are still spaces available for Harlaxton Spring 2023, but we are filling fast! If you have an interest in going to Harlaxton next spring, be sure to talk with your advisor and get your application in by the end of this semester if possible! You can find the course information and application on the Harlaxton website here: https://harlaxton.evansville.edu/accepted/semester.cfm. Feel free to reach out to the Harlaxton team with questions at harlaxton@evansville.edu!
Submitted by Kaylynn McCalister kc205@evansville.edu
Mallory Russell in top ten entering final round
Day two of the Missouri Valley Conference Championship saw Mallory Russell continued to pace the University of Evansville women's golf team. Russell shot a team-low 79 in Monday's round at Greenbriar Hills Country Club.
Russell's tally stands at 152 strokes following two rounds of play. She ranks in 8th place. Second for the Purple Aces is Alyssa McMinn. Following an opening-round score of 76, McMinn carded an 82 in round two. She has a 158, which is tied for 17th.
Allison Enchelmayer is next for UE. After posting a 78 to open the championship, Enchelmayer scored an 83 in the second 18. She has a 161, which is tied for 28th. Caitlin O'Donnell wrapped up the day with an 85 while Magdalena Borisova registered an 87. O'Donnell has a 2-round total of 167 while Borisova checks in with a 169. They rank in 40th and a tie for 42nd, respectively.
Leading the team standings entering the final day is Illinois State. The Redbirds posted a 296 on Monday and stand at 604 strokes through 36 holes. They are seven ahead of Missouri State and 21 in front of Drake. UE is in 7th with a 638 and are five behind Bradley. Kehler Koss of the Redbirds leads the individuals with a 148. She scored a 71 on Monday and leads the field by one stroke.
On Tuesday, the final 18 holes will be played.
Evan Berkey named MVC Player of the Week after explosive week
Helping the Aces to a clean sweep of four contests, University of Evansville baseball second baseman Evan Berkey has been selected as the Missouri Valley Conference's Player of the Week, it was announced by the Conference office on Tuesday afternoon.
Leading the Aces to a 4-0 week, Berkey put in a show at the plate and in the field. On the week, Berkey hit a team-best .438, going 7-of-16 at the plate with two doubles, two homers, and eight RBI. In the field in Sunday's second game of the doubleheader alone, Berkey helped Evansville turn a pair of double plays, lifting their season total to 33. Berkey's best game of the week came in the second game of the three-game series sweep of Missouri State, where the La Quinta, Calif. native drove in five of Evansville's nine runs, smashing a home run and recording a double in a 2-for-5 performance at the plate.
Berkey becomes the fifth Ace this season to earn an MVC weekly honor, joining Mark Shallenberger, Tanner Craig, Shane Gray, and Nick Smith.
Evansville gets back on the field on Wednesday evening with a contest at Purdue at 5 PM (CT) in West Lafayette, Ind.
Contribute to AceNotes
To have content considered for inclusion in AceNotes, please submit a Marketing Request Form. Deadline for submission to AceNotes is 10:00 a.m. on the requested date of publication. Only articles concerning UE related/sponsored activities will be accepted. Articles submitted to AceNotes may be edited for length and clarity. Submitter contact information is at the end of each article.