| | |
| --- | --- |
| AceNotes Today | Monday, April 18, 2022 |
Join the Fitness Center and CDEI for Self-Defense Class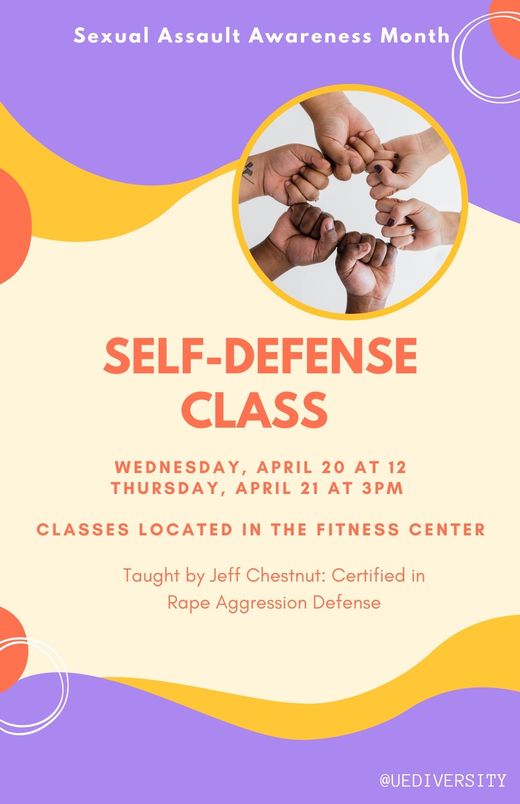 The Center for Diversity, Equity, and Inclusion and the Fitness Center invites you to attend Self-Defense training. Fitness Center Director Jeff Chestnut, who is certified in Rape Aggression Defense will be holding two, one-hour sessions at 12 pm on Wednesday, April 20th, and 3 pm on Thursday, April 21st in the Fitness Center.
Please reach out to CDEI with any questions at center4dei@evansville.edu.
This Week in Music
Several big events take place in the UE Music Conservatory this week:
On Tuesday, April 19 at 7:30 p.m. the combined UE University Choir and Choral Society along with faculty/professional chamber orchestra will perform W.A. Mozart's Solemn Vespers K 339. Also on the program are works by Charles Villiers Stanford, Alan Hovhaness, Ola Gjeilo, and Charles Ives. The concert takes place in Neu Chapel on the UE campus and is free admission. Come support UE's Choral program and hear one the great classics of choral repertoire!
Then, on Thursday, April 21, the UE Community Band will present a concert at 7:30 p.m., in Neu Chapel. The ensemble, which includes both UE students and area community members will perform a variety of audience favorites for concert band. Our small ensembles will also be performing this coming weekend. First, on Friday, April 22, 2022, the Brass and Percussion and Percussion Ensemble will present a concert at 7:30 p.m. in Krannert room 110. Secondly, the Woodwind and String ensembles will be performing at 4:00 p.m. on Sunday, April 24 in Neu Chapel.
Please join us for these events!
SAA Lemonade Stand - All Are Welcome
The Staff and Administrators Assembly executive board invites you to enjoy some lemonade and popcorn on Tuesday, April 19th from 2-4pm on the Carson Center front lawn. Take a few minutes to grab an afternoon snack - all are welcome! We look forward to seeing you there!
Senior Reading for Creative Writing
The #uelitfest kicks off with the Senior Reading at the Mel Peterson Gallery on Thursday, April 21st at 4 PM. Seniors will be reading from the work they've done over the years, and the winners of the Virginia Grabill Awards will be announced. Come support our seniors as they transition from student writers to professionals!
Candy-Making Immigrants Subject of Spring History Lecture
The annual Spring History Lecture will take place on Thursday April 21, at 4pm in SOBA 162. The speaker is historian Dr Ann Flesor Beck, and her subject is "Sweet Greeks: American Immigration 1880-1930". Ann Flesor Beck, Ph.D. is an independent scholar with focus on American immigration history. She is the author of Sweet Greeks: First-Generation Immigrant Confectioners in the Heartland (University of Illinois Press, 2020). Dr Beck is a third-generation Greek confectioner and, with her sister, she co-owns and operates Flesor's Candy Kitchen in Tuscola, Illinois.
The Menstrual Equity Club presents Jampon to fundraise for the YWCA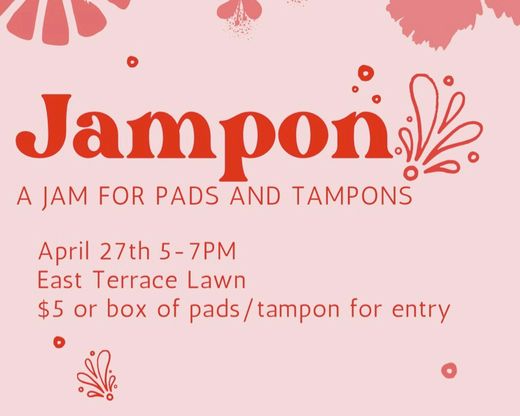 Jampon is a one night only fundraiser for people with periods and the YWCA, and will be held on April 27 from 5:00 to 7:00 pm on the East Terrace Lawn.
Jampon is a cabaret and presentation of art that promotes the normalization of menstruation. We also sell art from UE students for a monetary donation.
Price of admission is a box of period products or a $5 donation to @JamponUE on venmo
Submitted by Sophie Greenway sg231@evansville.edu
College of Business and Engineering Speaker Series - Denny Quinn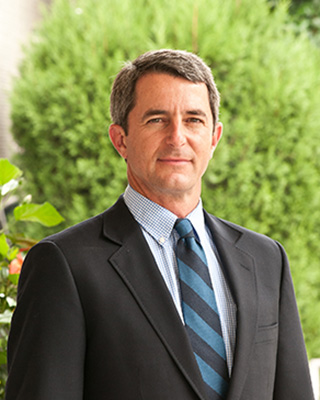 Join us for the inaugural College of Business and Engineering Speaker Event.
The College of Business and Engineering Speaker Series highlights the intersection of business and engineering. Our inaugural speaker, Denny Quinn, CEO of Traylor Industrial Group, has made a career of leadership in this space.
Speaker to begin at 6 p.m. with a reception and networking to follow.
Monday, April 18, 2022
6:00 p.m.
Room 251, Ridgway University Center, Eykamp Hall,
University of Evansville Campus, 1800 Lincoln Ave., Evansville, IN
A Zoom invitation will be provided via email, the day before the event, to those that would like to attend virtually. In order to receive the invitation, you must register at the link above.
Denny Quinn is CEO of Traylor Industrial Group, a national contractor who provides construction, maintenance, and fabrication services for clients in the energy, industrial and infrastructure market sectors. Mr. Quinn is a registered Professional Engineer and a US Patent Holder. He received his engineering degree from the University of Illinois and obtained his executive business education from the Tuck School of Business at Dartmouth College and IMD business school for management and leadership in Switzerland. He has served on the board of directors for manufacturing and construction businesses in the US and UK. Mr. Quinn resides in Evansville Indiana where he is involved with several local non-profit and civic organizations.
Sexual Assault Awareness Month Upcoming Events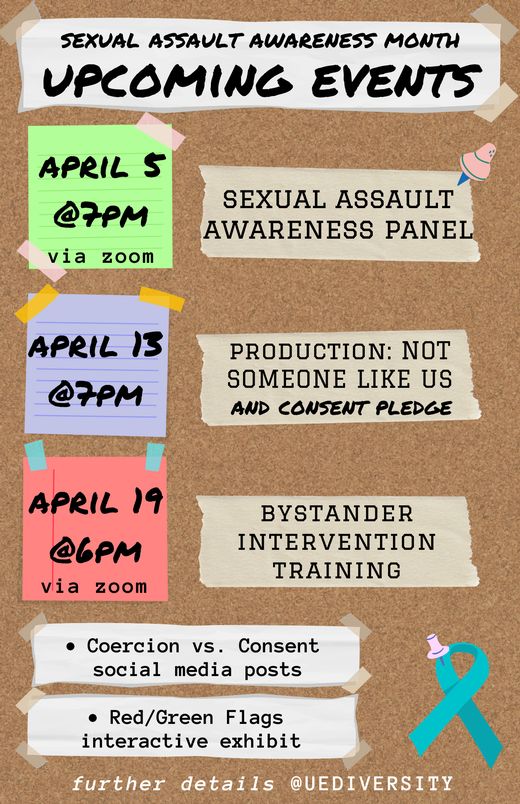 April is Sexual Assault Awareness Month, also known as SAAM. The Center for Diversity, Equity, and Inclusion & Office of Institutional Equity have brought forth activities to bring awareness, education, and support in this time.
April 5th at 7:00 PM Sexual Assault Awareness Panel via Zoom.
The Panel consists of Counseling Services, Public Safety, Institutional Equity, EPD, Albion Fellows Bacon Center, Deaconess, and the Prosecutor's Office.
Tuesday, April 13th at 7:00 PM in Eykamp: Not Someone Like Us: a collaboration between the CDEI and Evansville Civic Theatre. It is a play about sexual assault based on true stories. The Consent Pledge will take place before the play. The Center will also be hosting a talk back session after the play.
Monday, April 19th at 6:00 PM Bystander Intervention Training via Zoom.
Learn how to safely act when others may be in dangerous situations.
Submitted by Rachael Rose rr204@evansville.edu
Faculty Retirement Tree Planting Ceremony
The following faculty members will be honored at the Faculty Retirement Tree Planting Ceremony that will take place on Sunday, April 24:
• Sharon Gieselmann- Associate Professor of Education/Chair
• Donald Rodd- Professor of Exercise Science and Physical Therapy
• David Unger- Professor of Mechanical and Civil Engineering
The UE community is welcome to attend this event which will begin at 1:00 p.m. on the lawn south of the Schroeder Family School of Business Administration building.
Sexual Assault Statistics
Sexual Assault Awareness is critical for many reasons. Around 20% of women will be sexually assaulted in college while 4% of men will. Most victims are assaulted by someone they know and 42% of women expect to be raped again. Nearly another 42% of college women raped will end up telling no one; only 5% of overall college sexual assaults are reported. These assaults can lead to serious problems. 4 out of 5 victims suffer from chronic physical and psychological conditions. Rape results in about 32,000 pregnancies a year and 40% of the survivors develop a sexually transmitted disease. Even more tragic, survivors are 13% more likely to attempt suicide compared to those who have not. These, and many more, reasons are why Sexual Assault Awareness Month (SAAM) should be important to you for more than just the month of April.
2022-23 Margery Florence Kahn Scholarship Application Now Available
It was the desire of the donor, Margery Florence Kahn, that her scholarship be awarded to "dedicated and conscientious students who exhibit a true passion for their chosen fields of study, and who, in the opinion of the members of the University of Evansville faculty, are likely to bring the same enthusiasm into the performance of their jobs or the practice of the professions which they will pursue following graduation."
All University of Evansville full-time undergraduate students who will be juniors or seniors in the 2022-23 academic year may apply. An essay of about 300 words must accompany the application along with two to five faculty recommendation letters.
The application and faculty recommendation information can be found here.
Completed applications and recommendation letters should be returned to the Office of Student Financial Services by MAY 10, 2022.
Questions may be directed to the Office of Student Financial Services via email or by phone at (812) 488-2364.
Submitted by Amber Chandler ac547@evansville.edu
Financial Aid for Summer Courses
UE students seeking financial aid or intending to use loan funds for summer courses at UE, please complete a Summer Financial Aid Application and return to the Office of Student Financial Services (Olmsted 105) however is most convenient. The application will allow our office to assess your aid and loan eligibility.
Work-Study:
On-campus jobs are available for continuing UE students during the summer. You do not need to be eligible for need-based Federal Work-Study during the academic year in order to apply. You may also apply regardless of your enrollment in summer courses. Applications will be available within the Student Employment area of WebAdvisor.
Submitted by Amy Sowders as560@evansville.edu
Summer Sessions Payment Plan
Summer session courses can be added to your monthly payment plan now with no additional set-up fee. If your student is enrolling in summer courses, anticipated summer charges can be included in the spring semester payment plan and the plan extended through May (for Summer 1 charges) or June (Summer 2 charges). The undergraduate tuition rate for Summer 2022 is $580 per credit hour. Fees per summer term include a $50 registration fee and a $40 technology fee. Online courses are assessed a $50 online course fee. Payment arrangements are due prior to the start of the summer term.
Students should contact the Office of Student Financial Services no later than Reading/Study Day, April 28, 2022 to determine if financial aid is available for their summer courses.
To modify your current payment plan to include summer, contact the cashiers in the Office of Student Financial Services at 812-488-2565.
Submitted by Amy Sowders as560@evansville.edu
American Society of Civil Engineers Indiana Section Award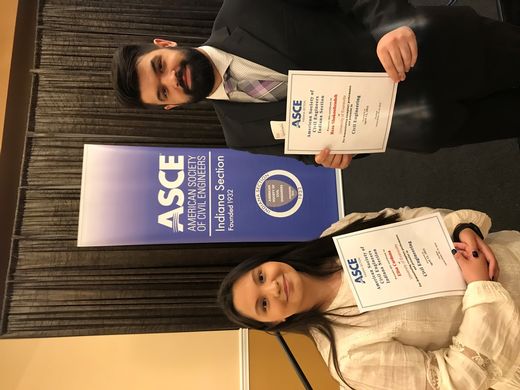 Two civil engineering seniors, Elisa Cardona and Reza Shokouhzadeh received the ASCE Indiana Section award for demonstrating exemplary performance and potential in civil engineering. A certificate and a cash award was presented to them at the ASCE Indiana Section meeting on April 12th at Carmel, Indiana. Congratulations, Elisa and Reza!
Exemplary Teacher Award
Dr. Michael Slade, associate professor of Chemistry, was presented the Exemplary Teacher Award at the Spring Faculty Meeting on Tuesday, April 13. The award recognizes exceptional achievements in the classroom by creating distinctive opportunities and promoting intellectual, moral, social, and emotional growth of our students. Dr. Slade exemplifies all of these traits throughout his teaching and student interaction.
Congratulations Dr. Slade!
UE's School of Education student wins 2022 Darrell Ragland Leadership Everyone Award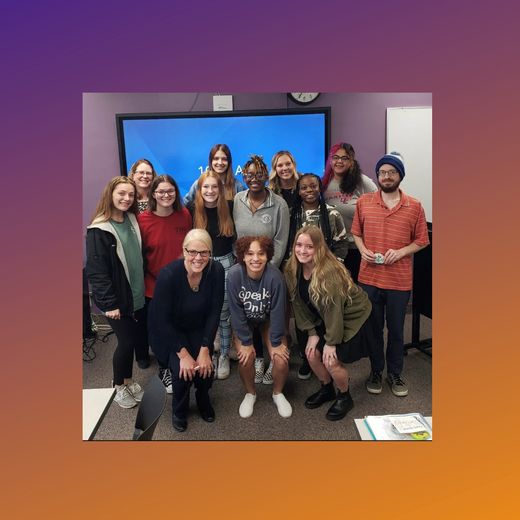 The School of Education held a surprise recognition for student Emani Marks in Dr. Amy's class Tuesday. April 12, 2022. Emani won the 2022 Darrell Ragland Leadership Everyone Award. She was moved to action and had a desire to combat systemic racism in the Tri-state area. As a then-senior from Harrison High School, she brought the community together for a Black Lives Matter peaceful protest at the Four Freedoms Monument in Downtown Evansville on September 27, 2020.
Class of 1961 Faculty Fellowship Awards
Congratulations to Dr. Vincent Campese, assistant professor of Psychology, and Dr. Julie Merkle, assistant professor of Biology, for receiving the Class of 1961 Faculty Fellowship Awards. The award was established with gifts and pledges from the members of the Class of 1961 for pre-tenured faculty to provide support for their research projects.
Spring 2023 Harlaxton applications
There are still spaces available for Harlaxton Spring 2023, but we are filling fast! If you have an interest in going to Harlaxton next spring, be sure to talk with your advisor and get your application in by the end of this semester if possible! You can find the course information and application on the Harlaxton website here: https://harlaxton.evansville.edu/accepted/semester.cfm. Feel free to reach out to the Harlaxton team with questions at harlaxton@evansville.edu!
Submitted by Kaylynn McCalister kc205@evansville.edu
Harlaxton Walled Garden Presentations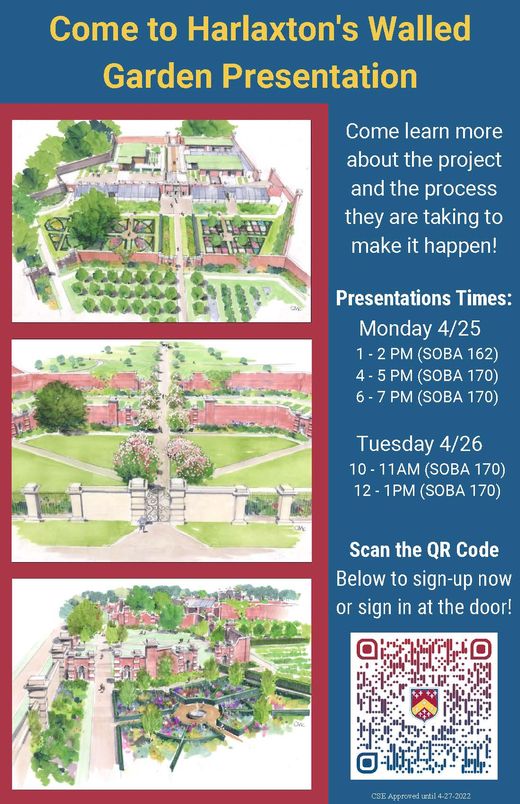 Come learn about the plans for the exciting new Walled Garden project at Harlaxton with Dr. Holly Carter and Ian Welsh! These presentations are open to all faculty, staff, and students at University of Evansville, as well as UE and Harlaxton alumni. They will be held in person in the Schroeder Family School of Business Administration building. There will be presentations on Monday, April 25 at 1pm, 4pm, and 6pm, and Tuesday, April 26 at 10pm and 12pm. Please sign up for slot to attend here: https://www.signupgenius.com/go/20f0944afa923a0fc1-harlaxton, and feel free to contact Kaylynn McCalister with any questions at kc205@evansville.edu or 812-488-2039.
Aces roll to series sweep behind pair of gems from Smith and Reinhardt
Turning-in a complete effort in all three phases of the game, the University of Evansville baseball team secured a three-game series sweep of Missouri State with 9-2 and 14-2 wins in Saturday's doubleheader in Springfield, Mo.
"Great week for Aces Baseball. We got 4 straight quality starts from our pitchers," said Aces head baseball coach Wes Carroll. "Today we competed in all facets of the game. Everybody helped contribute which was great to see. We know what we are capable of."
Game One: Evansville 9, Missouri State 2
Key to its recent success, the Aces got another excellent start from their starter with sophomore Nick Smith pitching a gem. Smith pitched six scoreless innings to start his outing, but the Bears were sharp on the mound as well, keeping Evansville off the scoreboard until the sixth.
In the sixth, Widder was hit by a pitch to open the inning and advanced to second after a groundout. With two outs, Eric Roberts came in as a pinch hitter and delivered immediately, driving a double to right bringing WIdder home and opening the scoring,
An inning later, it was Evan Berkey who added to the lead, contributing a two-run double to left that scored Widder and Simon Scherry, giving the Aces a 3-0 lead.
For the first and what would be the only time on the day, Evansville ran into some trouble in the seventh with the bases loaded. After a run was walked in, Drew Dominik came in and quickly fired a strikeout after falling behind 3-0 in the count to end the inning.
The Aces responded to Dominik's strikeout by blowing the game wide open in the eighth. Evansville scored six runs in the inning with Rumsey and Widder each recording RBI on base hits before Berkey launched a three-run homer to left as the Aces went ahead 9-1.
In the ninth, Missouri State pushed across one, but Dominik locked-down the Evansville win, 9-2.

Game Two: Evansville 14, Missouri State 2
The second game of the doubleheader began much like the first with both sides getting strong outings out of their starters. Evansville was able to get to the Bears first with a pair of runs coming across on a double by Mark Shallenberger. Two innings later, the Aces chased the Bears starter when Widder smashed a three-run shot into the Missouri State bullpen, handing the Aces a 5-0 lead.
A single run for the Bears was all Missouri State could muster as an answer in the bottom of the sixth as UE starter Caleb Reinhardt continued to cruise. Key to pulling away for the series sweep, Evansville tacked on a total of nine runs over the course of the final three innings. Highlighting the burst of late runs was Chase Hug's two-run homer in the seventh that re-sparked the Aces offense.
Reinhardt lasted into the eighth inning finishing with eight innings of work, allowing just one earned run and striking-out six Bears, while walking just one. On in relief, Shane Harris helped close down the win for the Aces despite a run coming across as Evansville secured a series sweep with the 14-2 win.
Evansville was strong in all facets over the week, amassing 40 runs in four games and allowing just nine. The Aces smashed eight home runs in their 4-0 week and defensively they turned five double plays. All four of the Aces starting pitchers lasted 29.1 innings and combined to record a 1.53 ERA.
The Aces return to action on Wednesday with a midweek trip to take on Purdue in a non-conference contest at 5 PM (CT) in West Lafayette, Ind.
UE women post strong effort to open MVC Championship
With the first of three rounds of the 2022 Missouri Valley Conference Championship completed, Mallory Russell is tied for the lead while the University of Evansville women's golf team is tied for the third position.
Mallory Russell completed Sunday's first round at Greenbriar Hills Country Club with a 2-over 73. Finishing the day with two birdies, Russell is tied with Hannah Bermel of Northern Iowa for the individual lead. The duo is two strokes in front of a third-place tie.
Alyssa McMinn was second for the Purple Aces and finished the day in a tie for 6th overall. She completed the opening 18 holes with a 5-over 76. Two behind her was Allison Enchelmayer. With four birdies on the day, Enchelmayer tied for the highest total. Her final score of 78 has her tied for 19th. Caitlin O'Donnell and Magdalena Borisova carded scores of 82 and are tied for 37th.
With a team score of 309, UE is right in the thick of the battle. The Aces are tied with Illinois State for third and are just one behind Missouri State and trail leader Indiana State by five strokes.
On Monday, the teams will play the second out of three championship rounds. The start time has been pushed back one hour to 9 a.m. CT.
Gray's dominant effort captures series-opening win for Aces
A vintage performance from starting pitcher Shane Gray powered the University of Evansville baseball team to a 6-4 series-opening victory over Missouri State on Friday evening in Springfield, Mo.
Gray tied his career-high, putting in eight innings of work, allowing just three earned runs and striking-out nine in the win. At one point spanning the fourth and fifth innings, Gray recorded strikeouts on four-straight outs.
"Shane flipped a switch there. He dug deep and was able to find multiple pitches in the zone and we got a lead," said Aces head baseball coach Wes Carroll. "We had a big four spot there and he dug deep and threw some really good pitches. I feel like he was really dialed in. Man, he gave us a great effort and everything he had and I couldn't be more proud of his performance."
At the plate, a trio of Aces finished with multi-hit games with Mark Shallenberger, Simon Scherry, and Evan Berkey all recording two hits each.
"Our offense, I feel like, we got a lot of great, quality trips," said Carroll. "Just what we're getting out of the leadoff spot position with Mark Shallenberger. Him getting us out in front in the lead with a big two-run home run, he's really in a special place right now. Offensively, I like where we're at, I think we're clicking in some areas."
What would turn into an impressive outing for Gray started a bit rocky as the Bears put the first two batters on base to start the game, pushing across a run in the bottom half of the first. In the third, Evansville answered in a big way with Shallenberger launching his eighth homer of the season, this one a two-run blast, over the wall in right field to give UE the 2-1 lead.
A fielding error by the Aces allowed the tying run for the Bears to score in the fourth, knotting the contest at two apiece. Gray settled in and showcased his ability during the mid-portion of the game, facing just two above the minimum from the third through fifth innings and allowing just one hit.
The Aces broke through in the sixth with Chase Hug providing the big at-bat. With the bases loaded and one out, Hug battled at the plate, fouling back-to-back two-strike pitches off before lacing a double down the line, clearing the bases and earning a 5-2 lead for UE. Later in the inning, Shallenberger drove in his third run today with an RBI sac fly.
In the ninth and down to their final opportunity, Missouri State pushed for a comeback, loading the bases with just one out. Nate Hardman helped close-out the game, inducing a flyout and groundout around a single Bear run as the Aces captured the 6-4 win.
Evansville and Missouri State close their series with a doubleheader on Saturday beginning with game one at 1 PM in Springfield, Mo.
Softball drops weekend finale against Missouri State
With the score tied at 1-1 in the top of the fifth, Missouri State hit a grand slam that was the turning point in a 7-1 victory over the University of Evansville softball team on Saturday afternoon at Cooper Stadium.
Evansville scored the first run of the game before the Bears scored seven unanswered to take the win. Highlighting the game for UE was a perfect 3-for-3 day at the plate for Jessica Fehr to go along with a stolen base. Madison Hunsaker also had a 3-for-3 game to lead MSU. Bears pitcher Steffany Dickerson threw six innings of 1-run ball on the way to her third win of the series. Izzy Vetter took the loss, giving up five runs in five frames.
Haley Woolf got the Purple Aces on the board in the bottom of the second. Jessica Fehr reached on a leadoff single to bring Woolf to the plate. Her double to right center scored Fehr to give UE a 1-0 lead. The Bears countered in their half of the third. Three one-out singles resulted in their first run of the afternoon. Pitcher Steffany Dickerson executed a successful squeeze play to tie the game. Izzy Vetter recorded the final two outs to limit the damage.
Things remained knotted at 1-1 until the top of the fifth. With two outs and the bases loaded, Olivia Krehbiel hit a grand slam to center field to make it a 5-1 game. UE battled back with a scoring opportunity on the bottom of the fifth. Mackenzie McFeron singled to load the bases with one out, but back-to-back ground ball outs ended the threat.
Missouri State added two more runs in the seventh to cap off the scoring.
UE returns to the field on Wednesday for a doubleheader at Indiana State. Game one begins at 2 p.m. ET.
Three-game series at Missouri State on tap for Aces
Following a midweek win over Butler, the University of Evansville baseball team travels to Springfield, Mo. for a three-game weekend series with Missouri State, its first road series in MVC play this season.
Previewing the Matchup: Missouri State
• The Aces and Bears are meeting for the 103rd time in series history in Friday's series opener with Missouri State owning a 60-42 advantage for the all-time series.
• Last meeting at German American Bank Field in 2021, the Bears took a four-game set from the Aces, 3-1, a season ago.
• UE and Missouri State have not played each other in Springfield since 2018 playing seven-straight games in the series in Evansville before this weekend.
• Missouri State enters the weekend with a .500 record just like the Aces, opening MVC play last weekend, falling in all three games of a series at DBU, who sits second in the nation in RPI, and most recently falling by a narrow 9-8 margin to Oral Roberts in a midweek contest.
Night is Alright
• This season, Evansville has been excellent in games with first pitch at 6 PM or later.
• In night games, the Aces are 5-1 this season, averaging 8.5 runs per contest.
• Comparatively, UE is averaging just 6.1 runs in day games.
• Individually, Brent Widder is hitting .577 in night games and .257 during day contests.
Berkey Wears It
• For the second-straight season, an Evansville player is among the nation's leaders in being hit-by-pitch.
• A year ago, Troy Beilsmith was hit 23 times, the sixth-most in the nation.
• This season, Evan Berkey has been hit 12 times, the 26th most in the nation and second-most in the MVC.
• Mark Shallenberger is not far behind, having been hit nine times, including a game-winning HBP to secure a series sweep over Michigan State.
Women's golf looks to defend MVC Championship
Greenbriar Hills Country Club in Kirkwood, Missouri will be the site of 2022 Missouri Valley Conference Championship with the University of Evansville women's golf team looking to defend their title from 2021.
Comprised of 54 holes, the championship will feature one round of 18 each day between Sunday, April 17 and Tuesday, April 19. Par is set for 71 while the yardage checks in at 5,830. All ten MVC schools will be playing in the tournament.
It was just one year ago when the Purple Aces made their improbable run to the first-ever women's golf conference championship in program history. Following the opening two rounds, the Aces led the field by 10 strokes. With a steady snow falling throughout the final round, Evansville held strong to force a playoff hole against Northern Iowa.
Only one hole was needed for the Aces to clinch the championship with Sophia Rohleder taking medalist. Following her graduation, UE brings extensive experience into the 2022 championship with four out of five returning from the 2021 championship run. Allison Enchelmayer tied for the 12th position last April while Alyssa McMiinn also picked up a top 20 finish, tying for 17th.
Caitlin O'Donnell set the tone for the Purple Aces in last year's opening round, shooting a 73 to put Evansville in position to hold the double-digit lead following the first two rounds. Mallory Russell came home in the 32nd position in her first MVC event. Her biggest contribution came on the playoff hole where she hit the first shot off the tee, which set the Aces up for the playoff win.
This year, Russell holds the low stroke average for the Aces. She enters the championship with a 78.81 average. Russell excelled in the fall, tying for 6th at the Briar Ridge Invitational while recording a 77.20 average in the opening months of the season. Enchelmayer (79.58) and McMinn (79.79) also hold averages under 80 at the completion of the regular season. Set to make her inaugural championship appearance is freshman Magdalena Borisova.
Borisova has the second-lowest spring average for UE, sitting at 79.64. Over her last seven rounds, Borisova has posted a 77.57 average. Her top finish was a tie for fourth at the Indiana State Invitational.
Marah Wood homers twice in Friday doubleheader
Sophomore Marah Wood blasted two home runs for the University of Evansville softball team in Friday's doubleheader against Missouri State at Cooper Stadium. After taking an 8-2 win in the opener, the Bears held on for a 4-1 victory in game two.
Game One – Missouri State 8, UE 2
Marah Wood hit a pair of solo home runs, but three long balls from Missouri State gave them an 8-2 victory. The Bears opened the scoring in the top half of the second when Annie Mueller hit a 2-run shot to left. Wood got one of the runs right back in the bottom of the frame, hitting a solo shot to left.
Missouri State used the long ball once again to make it a 3-1 game when Olivia Krehbiel hit a shot to left. Mueller struck again with a 2-run double in the sixth before the Bears tacked on three more in the seventh. Wood hit her 7th home run of the season in the bottom of the 7th to make it a final of 8-2. Steffany Dickerson picked up the win for MSU, allowing one run on three hits in six innings. Izzy Vetter suffered the loss and fell to 14-8 on the season.
Game Two – Missouri State 4, UE 1
An unearned run opened the scoring for the Bears in the top of the first to open game two. Another run crossed the plate in the third when a double by Madison Hunsaker scored Daphne Plummer, who tripled to lead off the inning.
Picking up right where she left off from game one, Marah Wood had the big RBI knock to get UE on the scoreboard. Her 2-out single in the third brought in Zoe Frossard to make it a 2-1 game. Frossard reached on a leadoff double. The Bears countered in the top of the sixth when a McKenzie Vaughan single plated the third run of the contest before an unearned run in the seventh capped off the scoring.
Hannah Hood gave the Aces some life with a leadoff walk in the bottom of the seventh before MSU pitcher Steffany Dickerson recorded the final three outs on the way to her second win of the day. She tossed the final four innings and gave up two hits. Sydney Weatherford had a solid start in the circle. In seven innings, she gave up four runs, two of which were earned.
UE looks to pick up a win in the final game of the series on Saturday at 12 p.m.
Contribute to AceNotes
To have content considered for inclusion in AceNotes, please submit a Marketing Request Form. Deadline for submission to AceNotes is 10:00 a.m. on the requested date of publication. Only articles concerning UE related/sponsored activities will be accepted. Articles submitted to AceNotes may be edited for length and clarity. Submitter contact information is at the end of each article.