| | |
| --- | --- |
| AceNotes Today | Thursday, April 14, 2022 |
Pep and Vim Reaches Goal of 1,854 Gifts
Attention Aces – We have breaking news!
YOU DID IT!
UE has officially surpassed the goal of 1,854 gifts during Pep and Vim, our Annual Day of Giving. Through your incredible philanthropy, you have propelled the University of Evansville FORWARD in a major way.
The Alumni Board of Directors will now gift $25,000 to the UEvansville Fund! Thank you for coming together and unlocking their generous challenge gift. This tremendous philanthropy makes a huge difference on our campus and in the community, so your decision to give really represents something special. In fact, your impact is proof that Aces are willing to give back generously, to uplift others, and to transform the alma mater we love so much.
We are honored and grateful to call each of you a member of the Aces family. Truly, because of you, UE is able to provide life-changing opportunities for students, both now and in the future.
Thank you for carrying on your legacy of philanthropy, for all the ways you empower Aces, and for moving all of us FORWARD.
Vanderburgh County Tox-Away Day
UE's environmental, health and safety manager Amber Elkins would like to let the UE Community know about the 2022 Tox Away Day planned for Saturday, April 16. The event is from 9:00 a.m.-1:00 p.m. at the Civic Center parking lot (Ninth and Walnut). This program is for Vanderburgh County households only. Help dispose of hazardous materials properly, so they don't end up entering local streams and rivers.
Items accepted include motor oil, oil-based paint, automotive batteries and fluids, solvents and thinners, antifreeze, auto batteries, pesticides and herbicides, household chemicals, smoke detectors, fluorescent tube lights, and pharmaceuticals.
For a complete list, and for items not accepted, see the Vanderburgh County website: https://www.evansvillegov.org/city/department/index.php?structureid=115
Employee Benefit Open Enrollment Deadline is Friday, April 15
This is a friendly reminder that the deadline to enter your benefit elections for 2022 – 2023 is this Friday, April 15. Please note that the university will be closed on Friday for the observance of Good Friday, but the enrollment period will remain open to make your elections that day. You can view the entire benefit presentation in the Open Enrollment section of the MyUE portal at: https://bit.ly/2GcdKph. You can also view all of the relevant documents beginning with the open enrollment memo for important announcements, reminders, and changes which will occur June 1 to the University's benefits.
If you were unable to attend either of the Open Enrollment Zoom meetings, you can view the entire benefit presentation in the Open Enrollment section of the MyUE portal at: https://bit.ly/2GcdKph
Simply log in to WebAdvisor following the instructions below, affirm your current benefit elections or make changes to coverage if you wish. If you previously entered your dependents via online benefit enrollment, those entries should already be pre-populated for you. Please review this information and make changes as necessary. If you do not wish to be enrolled in our insurance plans, please check the "opt out" button for those benefits.
Please review the attached On-line Benefit Enrollment Manual and FAQ, which should answer many of the questions you might have. You are also welcome to call the Office of Human Resources (812-488-5045) or email LL138@evansville.edu if you need assistance with your on-line enrollment.
On-line Benefit Enrollment Log-in Instructions:
Log in to WebAdvisor at: https://webadvisor.evansville.edu
Click on the "Employees" button (highlighted in purple)
Click on the "Benefits Enrollment Online" link (located in the "Employee Profile" section)
Follow the instructions in red located at the top of the Benefit Enrollment page.
*** One helpful tip for those currently enrolled in voluntary life insurance and/or the flexible spending account: when you first log in to Benefit Enrollment, you will see a listing of your current benefits. Please make a note of your current voluntary life insurance coverage amount and/or flexible spending account annual election. You will be required to enter the coverage amount/annual election for 2022-23 and you might find it helpful when you get to these screens to know what you elected for 2021-22.
The Menstrual Equity Club presents Jampon to fundraise for the YWCA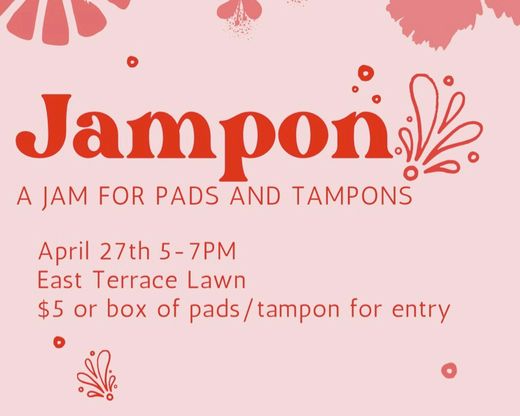 Jampon is a one night only fundraiser for people with periods and the YWCA, and will be held on April 27 from 5:00 to 7:00 pm on the East Terrace Lawn.
Jampon is a cabaret and presentation of art that promotes the normalization of menstruation. We also sell art from UE students for a monetary donation.
Price of admission is a box of period products or a $5 donation to @JamponUE on venmo
Submitted by Sophie Greenway sg231@evansville.edu
College of Business and Engineering Speaker Series - Denny Quinn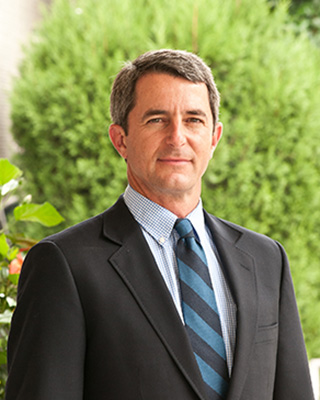 Join us for the inaugural College of Business and Engineering Speaker Event.
The College of Business and Engineering Speaker Series highlights the intersection of business and engineering. Our inaugural speaker, Denny Quinn, CEO of Traylor Industrial Group, has made a career of leadership in this space.
Speaker to begin at 6 p.m. with a reception and networking to follow.
Monday, April 18, 2022
6:00 p.m.
Room 251, Ridgway University Center, Eykamp Hall,
University of Evansville Campus, 1800 Lincoln Ave., Evansville, IN
A Zoom invitation will be provided via email, the day before the event, to those that would like to attend virtually. In order to receive the invitation, you must register at the link above.
Denny Quinn is CEO of Traylor Industrial Group, a national contractor who provides construction, maintenance, and fabrication services for clients in the energy, industrial and infrastructure market sectors. Mr. Quinn is a registered Professional Engineer and a US Patent Holder. He received his engineering degree from the University of Illinois and obtained his executive business education from the Tuck School of Business at Dartmouth College and IMD business school for management and leadership in Switzerland. He has served on the board of directors for manufacturing and construction businesses in the US and UK. Mr. Quinn resides in Evansville Indiana where he is involved with several local non-profit and civic organizations.
Sexual Assault Awareness Month Upcoming Events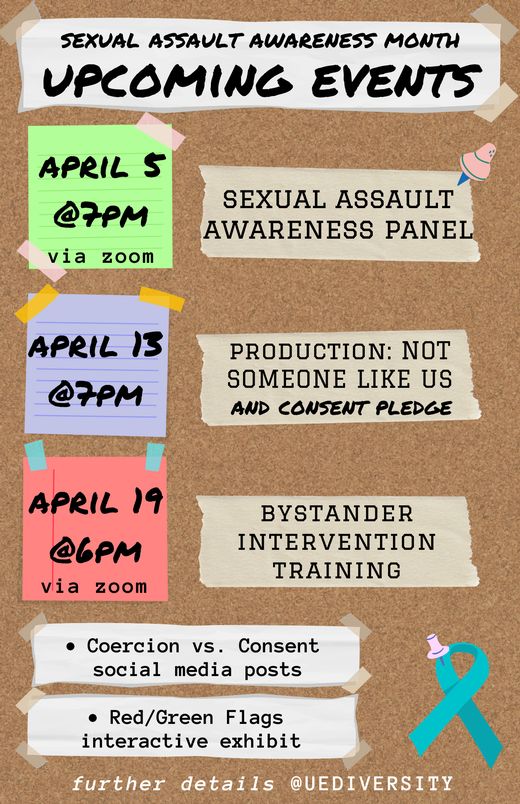 April is Sexual Assault Awareness Month, also known as SAAM. The Center for Diversity, Equity, and Inclusion & Office of Institutional Equity have brought forth activities to bring awareness, education, and support in this time.
April 5th at 7:00 PM Sexual Assault Awareness Panel via Zoom.
The Panel consists of Counseling Services, Public Safety, Institutional Equity, EPD, Albion Fellows Bacon Center, Deaconess, and the Prosecutor's Office.
Tuesday, April 13th at 7:00 PM in Eykamp: Not Someone Like Us: a collaboration between the CDEI and Evansville Civic Theatre. It is a play about sexual assault based on true stories. The Consent Pledge will take place before the play. The Center will also be hosting a talk back session after the play.
Monday, April 19th at 6:00 PM Bystander Intervention Training via Zoom.
Learn how to safely act when others may be in dangerous situations.
Submitted by Rachael Rose rr204@evansville.edu
Faculty Retirement Tree Planting Ceremony
The following faculty members will be honored at the Faculty Retirement Tree Planting Ceremony that will take place on Sunday, April 24:
• Sharon Gieselmann- Associate Professor of Education/Chair
• Donald Rodd- Professor of Exercise Science and Physical Therapy
• David Unger- Professor of Mechanical and Civil Engineering
The UE community is welcome to attend this event which will begin at 1:00 p.m. on the lawn south of the Schroeder Family School of Business Administration building.
Join the Journey to Justice this July!
High school students and current Aces can join the University of Evansville on an eight-day civil rights bus tour! From July 16-23, 2022, travelers on the Journey to Justice will venture through cities of the South to explore the history of the civil rights movement. Students on this journey will learn important, valuable lessons at each stop for an impactful experience of personal reflection and application within their own community.
Earn College Credit
Through this opportunity, students can earn three college credits. While the Journey to Justice bus tour will be an exciting trip, it will also be an interactive experience as part of Social Justice Movements, an ethics course. Students who register can apply this towards the Ethics & Social Change major or a general education requirement. Some assignments will be completed during the trip, while others will be given before and after returning.
Site Visits
Journey to Justice will include site visits at Evansville, Indiana; Montgomery, Birmingham, and Selma, Alabama; Memphis, Tennessee; and Louisville, Kentucky. Popular attractions will include the National Voting Rights Museum, Beale Street, Edmund Pettus Bridge, Rosa Parks Museum, and more. Please note: the subject is schedule to change.
Students are required to receive an approved COVID-19 vaccine prior to Journey to Justice.
Registration details and tuition costs are available at the Journey to Justice webpage, evansville.edu/J2J.
A limited number of scholarships are available for high school students. Journey to Justice is made possible through the generous support of Lilly Endowment Inc.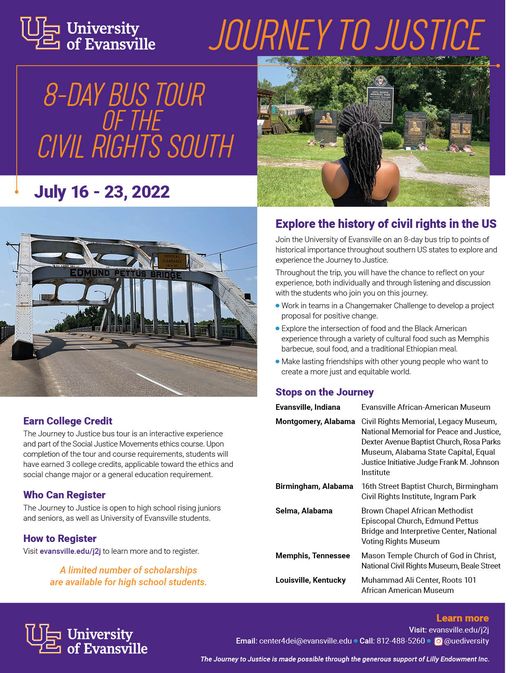 ENGL 210 will be Offered Online in Both Summer Sessions
ENGL 210: Approaches to Literature will be offered online in both summer sessions. It will be taught by Dr. Robert Baines in summer session one and by Dr. Sara Petrosillo in summer session two.
ENGL 210 provides students with the opportunity to read great works of literature from many different times and places. In doing so, it introduces students to a broad range of literary forms and genres. ENGL 210 is an Outcome Two course and a Writing Across the Curriculum course.
If you have any questions about the Summer sections of ENGL 210, please contact Dr. Baines at rb211@evansville.edu or Dr. Petrosillo at sp220@evansville.edu.
Tips to Help a Victim of Sexual Assault
Once you have taken note of the situation and have confirmed the incident, there are a few tips you should be aware of to help the victim. Firstly, and most importantly, you should listen to what they have to say and not disclose the information without their consent, unless it is to a professional counselor or, if under the age of 18, a guardian. You could say things such as "I believe you," "That took a lot of courage to tell me," "It's not your fault and you didn't deserve it," or"You're not alone and I will help in any way I can." Try to avoid asking "why" questions and instead focus on open ended questions. Lastly you should check in periodically and provide resources you're knowledgeable about.
UE resources:
UE Counseling Services (812-488-2663)
Office of Public Safety (812-488-2051)
Office of Title IX and Institutional Equity (812-488-5261, titleix@evansville.edu, www.evansville.edu/safety/report.cfm)
Evansville Police Department (812-436-7896)
Community resources:
Albion Fellow Bacon Center (812-424-7273)
Holly's House (812-437-7233)
WE TIP (1-800-782-7463)
National Sexual Assault Hotline (800-656-4673)
2022-23 Margery Florence Kahn Scholarship Application Now Available
It was the desire of the donor, Margery Florence Kahn, that her scholarship be awarded to "dedicated and conscientious students who exhibit a true passion for their chosen fields of study, and who, in the opinion of the members of the University of Evansville faculty, are likely to bring the same enthusiasm into the performance of their jobs or the practice of the professions which they will pursue following graduation."
All University of Evansville full-time undergraduate students who will be juniors or seniors in the 2022-23 academic year may apply. An essay of about 300 words must accompany the application along with two to five faculty recommendation letters.
The application and faculty recommendation information can be found here.
Completed applications and recommendation letters should be returned to the Office of Student Financial Services by MAY 10, 2022.
Questions may be directed to the Office of Student Financial Services via email or by phone at (812) 488-2364.
Submitted by Amber Chandler ac547@evansville.edu
Financial Aid for Summer Courses
UE students seeking financial aid or intending to use loan funds for summer courses at UE, please complete a Summer Financial Aid Application and return to the Office of Student Financial Services (Olmsted 105) however is most convenient. The application will allow our office to assess your aid and loan eligibility.
Work-Study:
On-campus jobs are available for continuing UE students during the summer. You do not need to be eligible for need-based Federal Work-Study during the academic year in order to apply. You may also apply regardless of your enrollment in summer courses. Applications will be available within the Student Employment area of WebAdvisor.
Submitted by Amy Sowders as560@evansville.edu
Summer Sessions Payment Plan
Summer session courses can be added to your monthly payment plan now with no additional set-up fee. If your student is enrolling in summer courses, anticipated summer charges can be included in the spring semester payment plan and the plan extended through May (for Summer 1 charges) or June (Summer 2 charges). The undergraduate tuition rate for Summer 2022 is $580 per credit hour. Fees per summer term include a $50 registration fee and a $40 technology fee. Online courses are assessed a $50 online course fee. Payment arrangements are due prior to the start of the summer term.
Students should contact the Office of Student Financial Services no later than Reading/Study Day, April 28, 2022 to determine if financial aid is available for their summer courses.
To modify your current payment plan to include summer, contact the cashiers in the Office of Student Financial Services at 812-488-2565.
Submitted by Amy Sowders as560@evansville.edu
The deadline to apply for the 2022-2023 Dr. Marvin E. Hartig Memorial Scholarship has been extended to May 6th
Family, friends and loved ones of the late Dr. Marvin E. Hartig are pleased to announce the application process for the Dr. Marvin E. Hartig Memorial Scholarship. This scholarship is dedicated to the loving memory of Dr. Hartig, Dean of Evansville College's Evening College in 1967, and administrator for the Center for Advanced Study, director of the Evansville chapter of the American Institute of Banking (AIB), and the international student advisor. In 1974, Dr. Hartig was appointed Dean of Academic Services. He retired in 1984 after serving his alma mater for thirty-five years and passed away in 2007.
This scholarship will be awarded annually to a deserving sophomore student. Preference will be given to a student working while being enrolled as a full-time student. International students are encouraged to apply.
Eligible students for the 2022-2023 Hartig Memorial Scholarship will be sophomores in the 2022-2023 academic year.
Apply for the 2022-2023 Hartig Memorial Scholarship
Deadline: Please return all materials to the Office of Student Financial Services by April 22, 2022. The decision will be announced by May 27, 2022.
Questions: Amber Chandler, Administrative Assistant to the Office of Student Financial Services, at ac547@evansville.edu or 812-488-2364
Submitted by Amber Chandler ac547@evansville.edu
American Society of Civil Engineers Indiana Section Award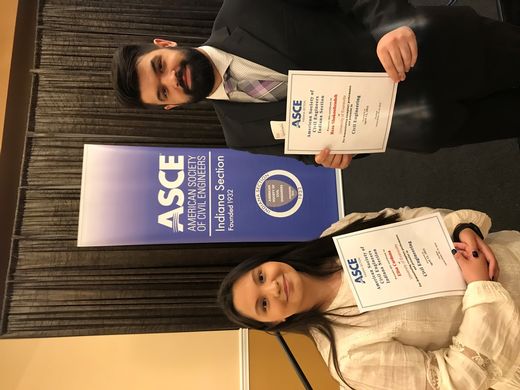 Two civil engineering seniors, Elisa Cardona and Reza Shokouhzadeh received the ASCE Indiana Section award for demonstrating exemplary performance and potential in civil engineering. A certificate and a cash award was presented to them at the ASCE Indiana Section meeting on April 12th at Carmel, Indiana. Congratulations, Elisa and Reza!
Exemplary Teacher Award
Dr. Michael Slade, associate professor of Chemistry, was presented the Exemplary Teacher Award at the Spring Faculty Meeting on Tuesday, April 13. The award recognizes exceptional achievements in the classroom by creating distinctive opportunities and promoting intellectual, moral, social, and emotional growth of our students. Dr. Slade exemplifies all of these traits throughout his teaching and student interaction.
Congratulations Dr. Slade!
Class of 1961 Faculty Fellowship Awards
Congratulations to Dr. Vincent Campese, assistant professor of Psychology, and Dr. Julie Merkle, assistant professor of Biology, for receiving the Class of 1961 Faculty Fellowship Awards. The award was established with gifts and pledges from the members of the Class of 1961 for pre-tenured faculty to provide support for their research projects.
Engineering Professor Awarded Best Paper at ASEE Conference
Congratulations to Dr. Lofton on receiving the Best Paper Award at the IL-IN American Society for Engineering Education conference. She presented her peer-reviewed work titled, "Flipping the Heat Transfer Classroom," at the conference hosted by Anderson University on April 9th, 2022.
Harlaxton Archaeology Field School
Harlaxton College is delighted to host our first archaeological excavation on the grounds of the breath-taking Harlaxton Manor. Open to all, from beginners to experienced archaeologists, we are aiming to provide the most inclusive and accessible archaeological field school in Britain. We will be hosting both American and British students, expecting daily visits from members of the local community, and receiving expert input from the Ministry of Defense's award-winning archaeology program, Operation Nightingale. With evidence from the Iron Age to the present, we will be investigating three key areas of the grounds: a suspect iron age enclosure, the 'thunder house' of the early Victorian walled garden complex, and the training trenches from WWI.
The archaeological excavation will take place June 1-30, and there are opportunities for participation for 2, 3, or 4 weeks and for academic credit or just experience. The deadline to apply and make an initial deposit is May 2, so check out the details and register now here: https://harlaxton.evansville.edu/accepted/archaeology-field-school.cfm
Please contact the program director, Dr. Emily Stammitti, at estammitti@harlaxton.ac.uk with any questions about the program details or Kaylynn McCalister in the UE Harlaxton office at kc205@evansville.edu with any questions about the registration process!
Submitted by Kaylynn McCalister kc205@evansville.edu
Harlaxton Walled Garden Presentations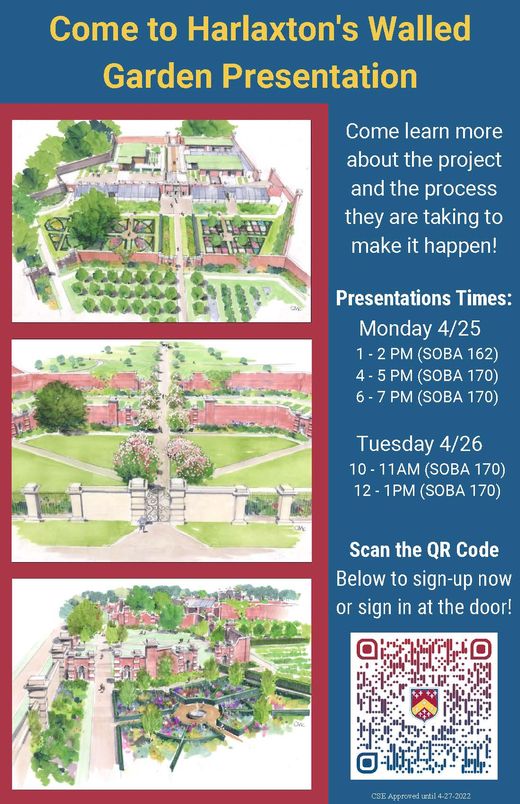 Come learn about the plans for the exciting new Walled Garden project at Harlaxton with Dr. Holly Carter and Ian Welsh! These presentations are open to all faculty, staff, and students at University of Evansville, as well as UE and Harlaxton alumni. They will be held in person in the Schroeder Family School of Business Administration building. There will be presentations on Monday, April 25 at 1pm, 4pm, and 6pm, and Tuesday, April 26 at 10pm and 12pm. Please sign up for slot to attend here: https://www.signupgenius.com/go/20f0944afa923a0fc1-harlaxton, and feel free to contact Kaylynn McCalister with any questions at kc205@evansville.edu or 812-488-2039.
Softball home for Friday/Saturday series
A Friday and Saturday Missouri Valley Conference series is on the docket for the University of Evansville softball team when the Purple Aces face Missouri State in a 3-game set at Cooper Stadium. Friday's doubleheader opens the weekend at noon with Saturday's finale set for a 12 p.m. start; all three games will be on ESPN3.
Last Time Out
- UE dropped three contests last weekend in its series at Illinois State
- The first and final games of the weekend saw the Redbirds win in walk-off fashion, both by final scores of 3-2
- Game two on Saturday saw ISU take a 9-0 victory
- Marah Wood belted her team-leading fifth home run of the season in Saturday's opener at ISU
- Mackenzie McFeron had one of the top offensive games in her career in the finale, going 3-4 in her first collegiate 3-hit game
Raising Her Level
- Through the opening 12 games of the MVC slate, senior Mackenzie McFeron leads the team with a .379 batting average and carries a 5-game hitting streak
- Her efforts in conference have seen her season average rise to .302
- She had the first 3-hit game of her career in the April 10 finale at Illinois State
- McFeron has 11 RBI in her career with eight of them coming in 2022
- She connected on one of the biggest hits of the season, hitting the game-tying double in the 7th inning of the opener at Loyola
- Four of those RBI came in the doubleheader sweep over Drake in March
- In game one, her triple in the sixth inning proved to be the game-winner in a 5-3 UE win that evened the weekend series
- McFeron did even better in the finale, belting a base-clearing walk-off double to seal a 12-3 victory and a series win
Still Going Strong
- Picking up a hit in all three games at Illinois State, Alyssa Barela improved her average to .333 in MVC play while adding two home runs and seven RBI in 12 games
- That is a huge disparity from her non-conference numbers, which saw her bat .176 with one homer and five RBI in 21 appearances
- Barela hit a game-tying single at Illinois State on April 10, which followed up a successful trip to Loyola in the weekend prior where she had a 2-3 effort in game two with a home run, double and three RBI
- With one out and two runners on in the bottom of the 9th on March 27, Barela belted a 3-run walk-off home run to give the Aces a 6-3 win over UNI
- She entered the March 4 home opener with four hits in her first 30 at-bats of the season before rebounding to hit .444 in the opening four home contests
Home Run Threat
- For the fifth time this season and first time in Valley play, Marah Wood hit a home run in the opener at Illinois State
- While her consistency has seen her record a hit in 17 of her last 23 games, she looks to make the jump on her power numbers, which have seen her register one homer and three RBI
- For the season, Wood is batting .270 with five homers and 19 RBI and is tied for third in the MVC with 10 doubles while her five homers is tied for 8th
Men's basketball inks three in latest signing class
Three freshmen have signed National Letters of Intent to join the University of Evansville men's basketball program in the fall. Purple Aces head coach Todd Lickliter announced the addition of Zaveion Chism-Okoh, Logan McIntire and Christopher Moncrief on Wednesday.
"We are extremely excited to add Christopher and Zavion along with fellow signee Logan in creating a very promising freshman class," Lickliter exclaimed. "All three are talented backcourt performers that are skilled, versatile and possess a high level of competitiveness."
"These attributes allow them to play off and on the ball, which will not only serve them individually but will guarantee they have a positive impact on Aces basketball throughout the course of their careers. We enthusiastically welcome Christopher, Logan and Zavion to UE and look forward to their approaching arrival on campus."
Zaveion Chism-Okoh – Freshman – 6-3 – Guard – Mount Pleasant, Texas
A native of Mount Pleasant, Texas, Zaveion Chism-Okoh joins the Purple Aces program after spending the 2021-22 season playing at Link Year Prep in Branson, Missouri. In his final year at Mount Pleasant High School (2020-21), he led the team to a 27-1 record and a state ranking as high as third. The Tigers were undefeated in district play on their way to the championship before advancing all the way to the regional semifinals.
He led the Tigers with 13.6 points and 2.6 steals per game as a senior on his way to a spot on the 5A Region 2 All-Region Team. Chism-Okoh saw that average rise to 16 points in the playoffs. Following the season, he was one of 20 players across Texas to earn a spot on the Texas Association of Basketball Coaches Class 5A All-State Team.
Logan McIntire – Freshman – 6-4 – Guard – Ramsey, Ind.
Freshman guard Logan McIntire makes the move to Evansville following his career at North Harrison High School in Ramsey, Ind. In his final high school campaign, McIntire averaged 21.9 point, 6.7 rebounds and 2.8 steals per game. North Harrison went 19-4 this season on its way to the sectional title.
McIntire was a 58% shooter while finishing at 39% from outside. Last month, he was named an Indiana Basketball Coaches Association (IBCA)/Franciscan Health All-State Honorable Mention.
Christopher Moncrief – Freshman – 6-6 – Guard – Pittsburgh, Pa.
Pittsburgh, Pa. product Christopher Moncrief will join the UE program following a successful stint at The Kiski School in Saltsburg, Pa. As a senior in 2021-22, Moncrief led the team in scoring (19 PPG), rebounds (7.2 RPG), assists (84) and steals (51). Moncrief was a two-time team MVP.
In December, he led Kiski to a second-place finish at the Peddie School Invitational Tournament on his way to a spot on the All-Tournament Team. It is an annual early-season tournament that has showcased area prep schools annually since 1972.
Contribute to AceNotes
To have content considered for inclusion in AceNotes, please submit a Marketing Request Form. Deadline for submission to AceNotes is 10:00 a.m. on the requested date of publication. Only articles concerning UE related/sponsored activities will be accepted. Articles submitted to AceNotes may be edited for length and clarity. Submitter contact information is at the end of each article.