| | |
| --- | --- |
| AceNotes Today | Monday, April 11, 2022 |
Are You Graduating Next Month?
Are you an upcoming Class of 2022 graduate? Read below for important information!
Each year before the Commencement ceremony begins at the Ford Center, we display a senior video on the jumbotron. This is a short video (less than 5 minutes usually) that features many of our graduates reflecting on their time at UE and answering a question or two (i.e. what's your favorite memory at UE? or who is your favorite professor and why?). In order to do this, we need to collect your responses!
Two students from our Department of Communication, Ethan Jaworski and Hayden Seaton, will graciously be taking on this project and producing a video for Commencement. They have scheduled two dates for filming, and we encourage all seniors to stop by and answer a few questions on camera. You can show up by yourself, or come with a group of friends and even record together!
Filming dates will be:
Today, April 12 from 4-7PM
Tuesday, April 19 from 4-7PM
Filming will take place in the Peterson Lab, which is Room 16 in the basement of Hyde Hall.
If you have any questions about the senior video filming, please contact Julie Bryant, university relations coordinator, at jb855.
Employee Benefit Open Enrollment Deadline is Friday, April 15
This is a friendly reminder that the deadline to enter your benefit elections for 2022 – 2023 is this Friday, April 15. Please note that the university will be closed on Friday for the observance of Good Friday, but the enrollment period will remain open to make your elections that day. You can view the entire benefit presentation in the Open Enrollment section of the MyUE portal at: https://bit.ly/2GcdKph. You can also view all of the relevant documents beginning with the open enrollment memo for important announcements, reminders, and changes which will occur June 1 to the University's benefits.
If you were unable to attend either of the Open Enrollment Zoom meetings, you can view the entire benefit presentation in the Open Enrollment section of the MyUE portal at: https://bit.ly/2GcdKph
Simply log in to WebAdvisor following the instructions below, affirm your current benefit elections or make changes to coverage if you wish. If you previously entered your dependents via online benefit enrollment, those entries should already be pre-populated for you. Please review this information and make changes as necessary. If you do not wish to be enrolled in our insurance plans, please check the "opt out" button for those benefits.
Please review the attached On-line Benefit Enrollment Manual and FAQ, which should answer many of the questions you might have. You are also welcome to call the Office of Human Resources (812-488-5045) or email LL138@evansville.edu if you need assistance with your on-line enrollment.
On-line Benefit Enrollment Log-in Instructions:
Log in to WebAdvisor at: https://webadvisor.evansville.edu
Click on the "Employees" button (highlighted in purple)
Click on the "Benefits Enrollment Online" link (located in the "Employee Profile" section)
Follow the instructions in red located at the top of the Benefit Enrollment page.
*** One helpful tip for those currently enrolled in voluntary life insurance and/or the flexible spending account: when you first log in to Benefit Enrollment, you will see a listing of your current benefits. Please make a note of your current voluntary life insurance coverage amount and/or flexible spending account annual election. You will be required to enter the coverage amount/annual election for 2022-23 and you might find it helpful when you get to these screens to know what you elected for 2021-22.
Research in Gerontology Symposium- Tuesday, April 12
The UE Gerontology Center will host the 2022 Research in Gerontology Symposium on Tuesday, April 12 from 11:30am-1:00pm in the Atrium of the School of Business. This year's symposium will feature poster presentations from students in sociology, psychology, criminal justice, ethics and social change, public health, health services administration, literature, and theatre across a variety of topics in aging and the life course.
The Symposium also will include the announcement and celebration of the winners of the Sociology Programs' annual student awards: Hanns G. Pieper Senior Research Award, James Berry Outstanding Junior Award, and the Mary Rode and Ludwig Petkovsek Outstanding Service Award.
Join us in celebrating student research and achievement!
College of Business and Engineering Speaker Series - Denny Quinn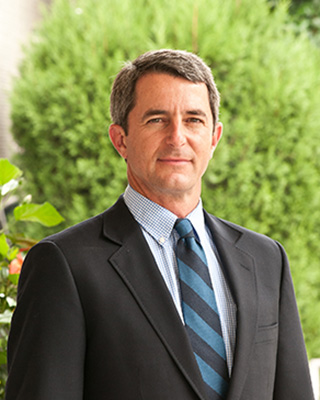 Join us for the inaugural College of Business and Engineering Speaker Event.
The College of Business and Engineering Speaker Series highlights the intersection of business and engineering. Our inaugural speaker, Denny Quinn, CEO of Traylor Industrial Group, has made a career of leadership in this space.
Speaker to begin at 6 p.m. with a reception and networking to follow.
Monday, April 18, 2022
6:00 p.m.
Room 251, Ridgway University Center, Eykamp Hall,
University of Evansville Campus, 1800 Lincoln Ave., Evansville, IN
A Zoom invitation will be provided via email, the day before the event, to those that would like to attend virtually. In order to receive the invitation, you must register at the link above.
Denny Quinn is CEO of Traylor Industrial Group, a national contractor who provides construction, maintenance, and fabrication services for clients in the energy, industrial and infrastructure market sectors. Mr. Quinn is a registered Professional Engineer and a US Patent Holder. He received his engineering degree from the University of Illinois and obtained his executive business education from the Tuck School of Business at Dartmouth College and IMD business school for management and leadership in Switzerland. He has served on the board of directors for manufacturing and construction businesses in the US and UK. Mr. Quinn resides in Evansville Indiana where he is involved with several local non-profit and civic organizations.
Reception for Employee Photography Exhibit
The UE campus community (and guests) are invited to a reception in the Krannert Gallery on Thursday, April 21 at 4:30 p.m. Please plan to join us to celebrate the 2022 UE Employee Photography Exhibit. The exhibit will be open through Sunday, May 8 in the Krannert Gallery.
Co-workers and UE retirees participating include:
Melissa Gust, Center for the Advancement of Learning
Tonya Albright, School of Engineering and Computer Science
Donnie Dunville, Retiree Physical Plant/Maintenance
Lynn R. Penland, Dean Emerita
Keith Gehlhausen, Human Resources and Institutional Equity
Mari Plikuhn, Sociology Programs
Lois Patton, Professor Emerita
Hanns G Pieper, Professor Emeritus
Nancy Lockyear, Department of Art
Todd Matteson, Department of Art
Kevin Gray, Criminal Justice
Joe Flauto, Professor Emeritus
John Metelko, Track and Field/Cross County
Corliss Chastain, Department of Art
The CDEI & Evansville Civic Theatre Presents: Not Someone Like Us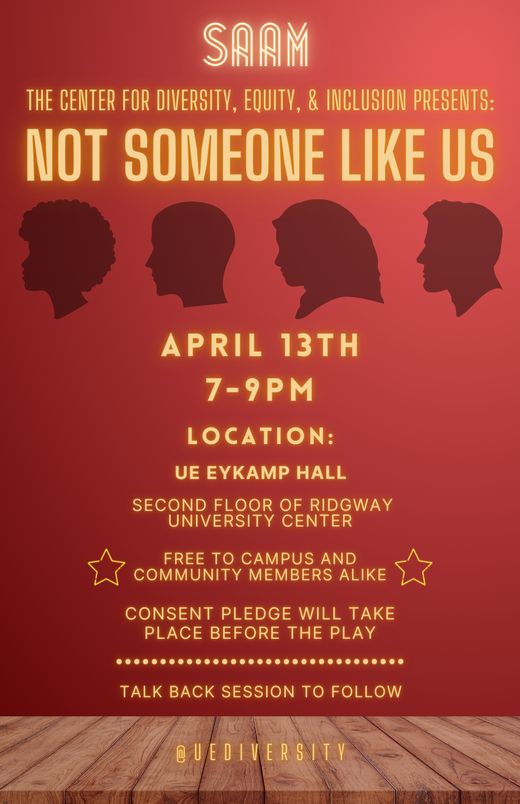 The CDEI and Evansville Civic Theatre Presents: Not Someone Like Us, real stories of real accounts of sexual assault and violence from an intersectional cast.
The play will take place in Eykamp Hall @7:00PM on Wednesday, April 13th.
The CDEI will host a talkback session after the performance.
At the performance sign the Pledge to Get Consent. Campus Community Members can pledge to do the following: always ask for consent in all of their relationships; to be an active bystander in potentially dangerous situations; and to help create a culture on campus in which sexual assault is unacceptable and survivors are supported. The department or organization with the most percentage of pledges will be receive a prize from the Center for Diversity, Equity, and Inclusion.
Sexual Assault Awareness Month Upcoming Events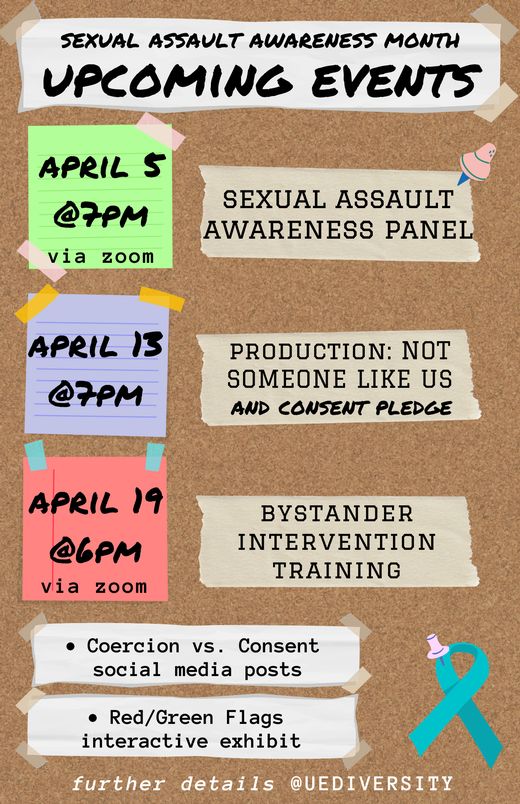 April is Sexual Assault Awareness Month, also known as SAAM. The Center for Diversity, Equity, and Inclusion & Office of Institutional Equity have brought forth activities to bring awareness, education, and support in this time.
April 5th at 7:00 PM Sexual Assault Awareness Panel via Zoom.
The Panel consists of Counseling Services, Public Safety, Institutional Equity, EPD, Albion Fellows Bacon Center, Deaconess, and the Prosecutor's Office.
Tuesday, April 13th at 7:00 PM in Eykamp: Not Someone Like Us: a collaboration between the CDEI and Evansville Civic Theatre. It is a play about sexual assault based on true stories. The Consent Pledge will take place before the play. The Center will also be hosting a talk back session after the play.
Monday, April 19th at 6:00 PM Bystander Intervention Training via Zoom.
Learn how to safely act when others may be in dangerous situations.
Submitted by Rachael Rose rr204@evansville.edu
Faculty Retirement Tree Planting Ceremony
The following faculty members will be honored at the Faculty Retirement Tree Planting Ceremony that will take place on Sunday, April 24:
• Sharon Gieselmann- Associate Professor of Education/Chair
• Donald Rodd- Professor of Exercise Science and Physical Therapy
• David Unger- Professor of Mechanical and Civil Engineering
The UE community is welcome to attend this event which will begin at 1:00 p.m. on the lawn south of the Schroeder Family School of Business Administration building.
Plant Sale - Tues, April 12
The annual BiSci Club Plant Sale is happening on April 12th from 9 am to 5 pm! Come down to the greenhouses (located between the Koch Center and Weinbach Ave, near the Lincoln and Weinbach corner) at any time to buy a range of plants. There will be succulents in beautiful pots made by UE students and faculty in ceramics, tomatoes, hot peppers, several types of herbs, some flowers, and even some hanging baskets! Come support the Biology Club's fundraising efforts, and reconnect yourself with nature. Cash is preferred, but Venmo will also accepted. If you have questions, please email BiSci's President Sam Schmidt at ss747.
Join the Journey to Justice this July!
High school students and current Aces can join the University of Evansville on an eight-day civil rights bus tour! From July 16-23, 2022, travelers on the Journey to Justice will venture through cities of the South to explore the history of the civil rights movement. Students on this journey will learn important, valuable lessons at each stop for an impactful experience of personal reflection and application within their own community.
Earn College Credit
Through this opportunity, students can earn three college credits. While the Journey to Justice bus tour will be an exciting trip, it will also be an interactive experience as part of Social Justice Movements, an ethics course. Students who register can apply this towards the Ethics & Social Change major or a general education requirement. Some assignments will be completed during the trip, while others will be given before and after returning.
Site Visits
Journey to Justice will include site visits at Evansville, Indiana; Montgomery, Birmingham, and Selma, Alabama; Memphis, Tennessee; and Louisville, Kentucky. Popular attractions will include the National Voting Rights Museum, Beale Street, Edmund Pettus Bridge, Rosa Parks Museum, and more. Please note: the subject is schedule to change.
Students are required to receive an approved COVID-19 vaccine prior to Journey to Justice.
Registration details and tuition costs are available at the Journey to Justice webpage, evansville.edu/J2J.
A limited number of scholarships are available for high school students. Journey to Justice is made possible through the generous support of Lilly Endowment Inc.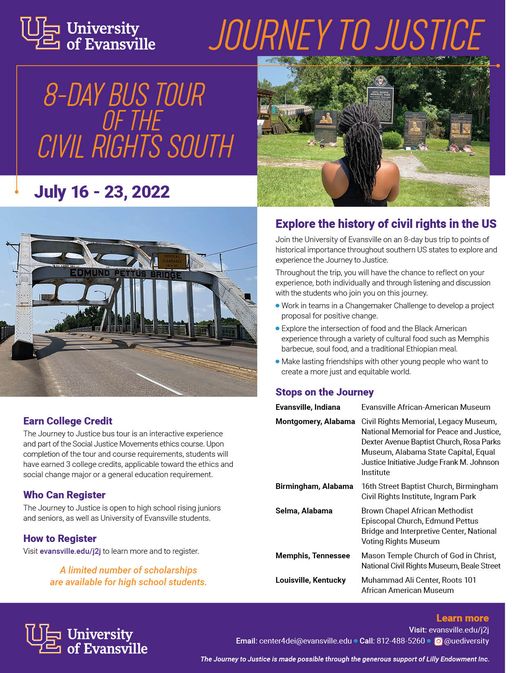 Apply for 2022-23 LEAD Forward Fellows
The LEAD Forward program invites students to apply for the 2022 – 2023 LEAD Fellows cohort! This executive-style leadership training is a one-year program led by expert consultants in the professional world. Students learn and grow through an intense retreat in August, monthly meetings with local executives, one-on-one coaching, and year-round work with a nonprofit organization. You will learn more about your own strengths and weaknesses, how to work effectively as a team, and how to capitalize on networking opportunities. We welcome students of all majors and years to apply, as leadership grows stronger through interdisciplinary ideas and fellowship. Please complete The LEAD Forward program invites students to apply for the 2022 – 2023 LEAD Fellows cohort! This executive-style leadership training is a one-year program led by expert consultants in the professional world. Students learn and grow through an intense retreat in August, monthly meetings with local executives, one-on-one coaching, and year-round work with a nonprofit organization. You will learn more about your own strengths and weaknesses, how to work effectively as a team, and how to capitalize on networking opportunities. We welcome students of all majors and years to apply, as leadership grows stronger through interdisciplinary ideas and fellowship. Please complete this application electronically and return to Dr. Martha Stilwell via email at ML86@evansville.edu by Friday, April 15 at 5:00pm.
Professor Evan McCracken Offering Multiple PSYC Summer Courses
PSYC 229 (Social Psychology), PSYC 420 (Children, Psychology, and the Law) and PSYC 405 (Psychology of Gender) will be offered summer session 1. PSYC 405 (Gender, Psychology, and Law) and PSYC 320 (Psychology and Law) will be offered summer session 2. All courses will be offered in an online, asynchronous format.
If you're interested in any of these courses I'd love to have you in class this summer. Also, if you know of anyone who might be interested, please spread the word. If you have any questions please contact Professor McCracken at em157@evansville.edu.
A new issue of the Crescent Magazine is available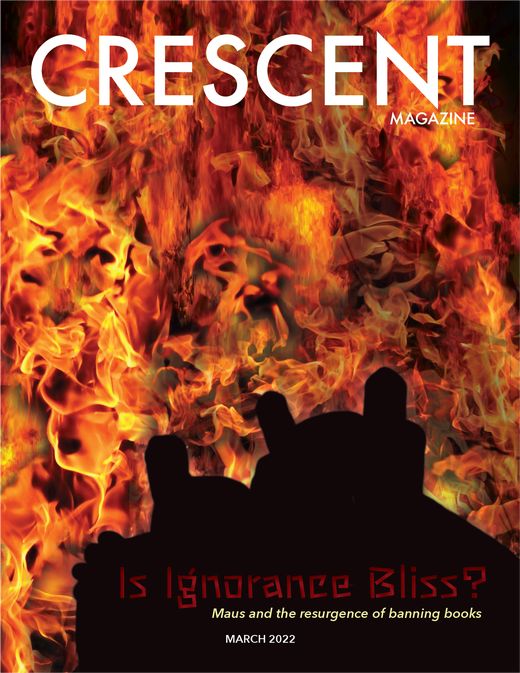 A new issue of the Crescent Magazine is available at https://crescent.evansville.edu.
The Crescent Magazine is produced by Student Media. All content is created by UE students. If you are interested in joining Student Media please contact the Student Media Advisor, Tommy J Housman th208@evansville.edu
Student Media has 2 Federal Work Study positions open during the fall semester of 2022. If interested email th208@evansville.edu
The Crescent website is receiving about 1,000 views a week when classes are in session.
There are many advertising opportunities on the website and in the online publications. Contact th208@evansville.edu about pricing.
Tips to Help a Victim of Sexual Assault
Once you have taken note of the situation and have confirmed the incident, there are a few tips you should be aware of to help the victim. Firstly, and most importantly, you should listen to what they have to say and not disclose the information without their consent, unless it is to a professional counselor or, if under the age of 18, a guardian. You could say things such as "I believe you," "That took a lot of courage to tell me," "It's not your fault and you didn't deserve it," or"You're not alone and I will help in any way I can." Try to avoid asking "why" questions and instead focus on open ended questions. Lastly you should check in periodically and provide resources you're knowledgeable about.
UE resources:
UE Counseling Services (812-488-2663)
Office of Public Safety (812-488-2051)
Office of Title IX and Institutional Equity (812-488-5261, titleix@evansville.edu, www.evansville.edu/safety/report.cfm)
Evansville Police Department (812-436-7896)
Community resources:
Albion Fellow Bacon Center (812-424-7273)
Holly's House (812-437-7233)
WE TIP (1-800-782-7463)
National Sexual Assault Hotline (800-656-4673)
2022-23 Margery Florence Kahn Scholarship Application Now Available
It was the desire of the donor, Margery Florence Kahn, that her scholarship be awarded to "dedicated and conscientious students who exhibit a true passion for their chosen fields of study, and who, in the opinion of the members of the University of Evansville faculty, are likely to bring the same enthusiasm into the performance of their jobs or the practice of the professions which they will pursue following graduation."
All University of Evansville full-time undergraduate students who will be juniors or seniors in the 2022-23 academic year may apply. An essay of about 300 words must accompany the application along with two to five faculty recommendation letters.
The application and faculty recommendation information can be found here.
Completed applications and recommendation letters should be returned to the Office of Student Financial Services by MAY 10, 2022.
Questions may be directed to the Office of Student Financial Services via email or by phone at (812) 488-2364.
Submitted by Amber Chandler ac547@evansville.edu
Ascension St. Vincent Mobile Mammography bus will be on campus April 12th from 9:00 a.m 2:00 p.m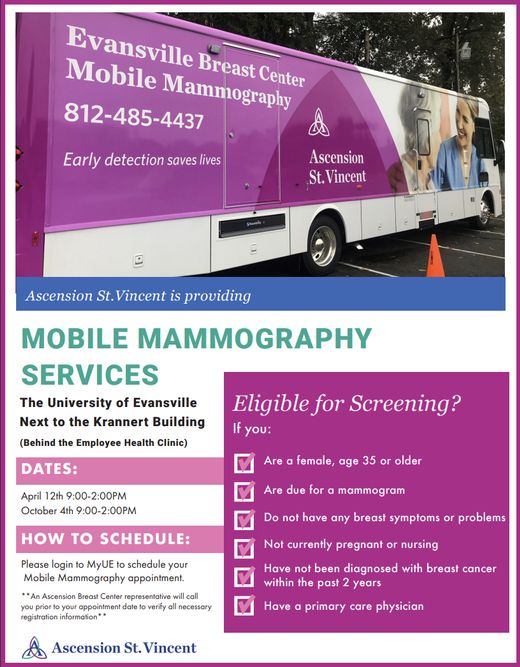 The Mobile Mammography services will take place next to the Krannert Fine Arts building, behind the Employee Health Clinic on April 12th from 9 a.m. until 2 p.m. Appointments are available every 20 minutes.
Those who are eligible:
-Females, age 35 or older
-Are due for a mammogram
-Do not have any breast symptoms or problems
-Not currently pregnant or nursing
-Have not been diagnosed with breast cancer in the past
-Have a primary care physician
*As a reminder, your health insurance card and information will be collected for this service.
Financial Aid for Summer Courses
UE students seeking financial aid or intending to use loan funds for summer courses at UE, please complete a Summer Financial Aid Application and return to the Office of Student Financial Services (Olmsted 105) however is most convenient. The application will allow our office to assess your aid and loan eligibility.
Work-Study:
On-campus jobs are available for continuing UE students during the summer. You do not need to be eligible for need-based Federal Work-Study during the academic year in order to apply. You may also apply regardless of your enrollment in summer courses. Applications will be available within the Student Employment area of WebAdvisor.
Submitted by Amy Sowders as560@evansville.edu
Summer Sessions Payment Plan
Summer session courses can be added to your monthly payment plan now with no additional set-up fee. If your student is enrolling in summer courses, anticipated summer charges can be included in the spring semester payment plan and the plan extended through May (for Summer 1 charges) or June (Summer 2 charges). The undergraduate tuition rate for Summer 2022 is $580 per credit hour. Fees per summer term include a $50 registration fee and a $40 technology fee. Online courses are assessed a $50 online course fee. Payment arrangements are due prior to the start of the summer term.
Students should contact the Office of Student Financial Services no later than Reading/Study Day, April 28, 2022 to determine if financial aid is available for their summer courses.
To modify your current payment plan to include summer, contact the cashiers in the Office of Student Financial Services at 812-488-2565.
Submitted by Amy Sowders as560@evansville.edu
The deadline to apply for the 2022-2023 Dr. Marvin E. Hartig Memorial Scholarship has been extended to May 6th
Family, friends and loved ones of the late Dr. Marvin E. Hartig are pleased to announce the application process for the Dr. Marvin E. Hartig Memorial Scholarship. This scholarship is dedicated to the loving memory of Dr. Hartig, Dean of Evansville College's Evening College in 1967, and administrator for the Center for Advanced Study, director of the Evansville chapter of the American Institute of Banking (AIB), and the international student advisor. In 1974, Dr. Hartig was appointed Dean of Academic Services. He retired in 1984 after serving his alma mater for thirty-five years and passed away in 2007.
This scholarship will be awarded annually to a deserving sophomore student. Preference will be given to a student working while being enrolled as a full-time student. International students are encouraged to apply.
Eligible students for the 2022-2023 Hartig Memorial Scholarship will be sophomores in the 2022-2023 academic year.
Apply for the 2022-2023 Hartig Memorial Scholarship
Deadline: Please return all materials to the Office of Student Financial Services by April 22, 2022. The decision will be announced by May 27, 2022.
Questions: Amber Chandler, Administrative Assistant to the Office of Student Financial Services, at ac547@evansville.edu or 812-488-2364
Submitted by Amber Chandler ac547@evansville.edu
IACTE - Outstanding Future Educators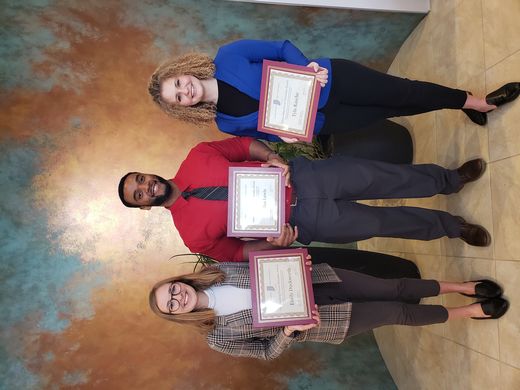 Three School of Education students at the University of Evansville were recognized at the Indiana Association of Colleges for Teacher Education (IACTE) luncheon. They were Jordan Lewis, elementary education, Emily Duckworth, elementary education and Tyla Rasche, French education. These individuals received awards during the organization's Outstanding Future Educators banquet in Carmel, Indiana.
Nerd Wars Winners Crowned
The Honors Activity Board wishes to thank everyone who participated in Nerd Wars on Wednesday, March 30. The event included nineteen teams of students and faculty using their trivia knowledge to compete for the title of Nerd Wars Champions. Congratulations to the overall champions, the faculty team "Army Ants", consisting of team members Dr. Katie Aldred, Dr. Robert Baines, Dr. Kevin Gray, Dr. Julie Merkle, and Dr. Mari Plikuhn. Also, congratulations to the top-finishing student team, "Poppin Panda Pals", with team members HarMonee Baltzell, Ava Bourn, Izzy Stapp, Nicole Tucker, and Anna Watson.
In addition to providing a night of trivia and entertainment, Nerd Wars is also a philanthropic event to benefit HACER, the Honors Program's community service initiative. All proceeds from the event will support HACER.
Thanks to all for a fun evening, and we hope to see you again next year!
Aces even series with exceptional defensive performance in 6-2 win
Turning in a complete effort in all three phases of the game, the University of Evansville baseball team evened its weekend series with Southern Illinois with a 6-2 victory over the Salukis on Saturday afternoon at German American Bank Field at Charles H. Braun Stadium in Evansville.
"Great bounce back win from last night," said Aces head baseball coach Wes Carroll. "Nick Smith was outstanding giving us a quality start and our defense made some great plays. Offensively we attacked in the first inning and got out in front. We were picking each other up all day especially with two outs. Big Valley game tomorrow."
On the mound, Smith earned his second-straight quality start, turning-in six innings of work, allowing just two earned runs and striking-out five in the win. Offensively, four Aces finished with two hits on the afternoon with Mark Shallenberger, Evan Berkey, Eric Roberts, and Brendan Hord all tallying multi-hit games.
Doing so for the 10th time this season, Evansville scored in the first inning, pushing across a pair of runs. Simon Scherry opened the scoring with an RBI groundout, which allowed Shallenberger to scored. The next batter, Brent Widder, doubled the Aces early advantage, slashing a single through the right side of the infield, allowing Tanner Craig to score.
An RBI double in the third allowed the Salukis to get back within a run after the Aces lost a pop fly in the sun, allowing a run to score. Evansville regained its advantage in the bottom half of the third as Hord delivered the first of his clutch hits of the afternoon, sending home Berkey to increase UE's lead to 3-1.
As was true multiple times on the day, Evansville's defense came up large helping to save runs. In the fifth, Widder tracked a ball in foul territory, making a diving over-the-shoulder grab to record the second out of the inning.
The Salukis would get back within a run just an inning after Widder's show-stopping catch as J.D. Ortiz lifted a solo home run over the right field wall to cut Evansville's lead to one at 3-2.
Quick responses were a hallmark of the Aces effort on Saturday as UE answered with two runs in the bottom of the sixth on a two RBI double from Shallenberger that gave Evansville its largest lead up to that point at 5-2.
Adding some insurance in the eighth, Hord capped-off his big day with a solo homer, his third bomb of the season, as the Aces lead reached 6-2.
After Michael Parks and Drew Domonik came in and pitched scoreless innings in the seventh and eighth, Evansville turned to Nate Hardman to close things out in the ninth. After a tough start on Friday night, Hardman returned to his usual form, sitting the Salukis down in order, securing the 6-2 win for the Aces.
Evansville and SIU close their series on Sunday with a 1 PM first pitch at German American Bank Field at Charles H. Braun Stadium in Evansville.
Aces rally but fall in weekend finale
Trailing 2-0 in the fifth inning, the University of Evansville softball team rallied to tie the game at 2-2 before a walk-off hit gave Illinois State a 3-2 win in Sunday's series finale.
Following a scoreless two innings to begin the game, Delainey Bryant opened the scoring with a solo home run in the third. The Redbirds added a second run and continued to threaten, loading the bases with no out, but Izzy Vetter limited the damage while Hannah Hood made a spectacular inning-ending grab for the third out.
In the fifth, the Purple Aces got going when Zoe Frossard led off with a walk. After stealing second, she would advance to third on a Mackenzie McFeron single. Jessica Fehr got UE on the board with a sacrifice fly to center for the second out. That brought Alyssa Barela to the plate, who faced a 1-2 count, but drove the next pitch to right field for a single to tie the game.
Things remained knotted at 2-2 until the bottom of the seventh. When ISU hit a walk-off single with two outs to clinch a 3-2 victory. Vetter allowed the three runs on five hits, but walked nine batters in the contest. UE finished the day with five hits with McFeron accounting for three.
UE is home this weekend for a 3-game set versus Missouri State. Because of it being Easter weekend, the series opens with a doubleheader on Friday at noon before a noon game on Saturday at Cooper Stadium.
Craig ties home run record as Aces drop series finale to SIU
University of Evansville baseball first baseman Tanner Craig tied the late Jeff Starks for the program's career home run record on an afternoon where the Aces were unable to hold an early lead in a 14-5 loss to SIU on Sunday at German American Bank Field at Charles H. Braun Stadium in Evansville.
"We weren't good enough this weekend to win a series in every aspect of the game," said Aces head baseball coach Wes Carroll. "SIU put together big innings to get out in front of us and then to put us away. Offensively we did a great job getting out in front and had a good plan against their starter. Just didn't have an answer at the plate for McDaniel who did an outstanding job. We will need some guys to step up on our pitching staff the second half of the season to be competitive in Valley play."
Evansville's early offense was efficient and showcased its power as the Aces took an early 4-0 advantage after the first two innings. An RBI single from Simon Scherry in the first earned the early lead for Evansville and it was Craig's second-inning blast that helped open up the lead. On a 3-2 count with two outs and on the 10th pitch of the at-bat, Craig lifted a ball 422 feet and over the scoreboard, bouncing off the nearly all the way up the netting, plating three runs and giving the senior his 40th career homer.
The Aces and Salukis traded runs in the fourth with UE maintaining its four-run advantage. The top of the fifth inning proved to be the decider in the series finale as the Salukis scored six runs, taking a 7-5 lead. On the mound in relief for SIU, Trey McDaniel pitched five scoreless innings for the Salukis, helping hold onto the lead. SIU would add seven more runs over the course of the remaining four innings, securing the 14-5 win.
Evansville returns to action on the road with a Tuesday trip to Butler for a 3 PM (CT) first pitch in Indianapolis.
UE softball drops doubleheader at ISU
Game one on Saturday saw Illinois State rally for a 3-2 win before the Redbirds took a 9-0 decision in game two to sweep a Missouri Valley Conference doubleheader against the University of Evansville softball team.
Game One – ISU 3, UE 2
Saturday's opener came right down to the wire with Illinois State hanging on for a 3-2 win. The Redbirds took a 1-0 lead when Abby Knight led the fourth inning off with a solo home run. ISU continued to reach base in the inning, loading the bags with one out. Izzy Vetter pitched out of the jam to keep the deficit at one.
Things remained that way until the sixth inning when the Purple Aces stormed back. Marah Wood hit an inside the park home run to give UE its first lead. Pinch runner Paige McAllister also scored on the play. Unfortunately, the Redbirds went right back in front as they opened the bottom half of the sixth with a double before Dayna Kennedy homered to make it a 3-2 game
Down to its final three outs, the Aces staged a rally. Mackenzie McFeron singled to lead while Jessica Fehr and Alex Barnaby walked to load the bases with one out. The Redbirds were able to buckled down and get the final two outs to seal the win. Hannah Ross took the win for ISU, allowing two runs on five hits. Izzy Vetter suffered just her sixth loss of the season, allowing three runs on six hits.
Game Two – ISU 9, UE 0
Game two saw the Redbirds break it open in the bottom half of the third with Jayden Standish hit a grand slam to turn a scoreless contest into a 4-0 game. They extended the lead even more with five runs in the fourth. Addison Masching and Emme Olson highlighted the frame with 2-run knocks to push the lead to 9-0.
Evansville had its best scoring chance in the top of the second. Marah Wood led off with a double before Haley Woolf was hit by a pitch. Following a pair of strikeouts, Mackenzie McFeron walked to load the bases, but a groundout ended the threat. Alyssa Barela added a double in the third while McFeron hit a single in the fifth; but Amanda Fox answered each time, finishing with 10 strikeouts to seal the win.
Sunday's finale is set for a 12 p.m. first pitch.
PRs Fall On Blustery Day At Bellarmine For UE Track & Field
Battling a cold, windy day, the University of Evansville track and field team still produced 10 personal-best marks and four podium finishes at Bellarmine's Jim Vargo Invitational on Saturday to wrap up the two-day meet.
Evansville posted first-place finishes in both the men's pole vault by senior Joey Rucinski (Ft. Wayne, Ind./Concordia Lutheran) and the 4x100-meter relay team of seniors Brendon Smith (Newburgh, Ind./Castle) and Greg King (Indianapolis, Ind.), junior Giovanni Purser (Port Maria, Jamaica) and sophomore Geordan Blades (Avon, Ind./Avon). Junior Zach Dove (Princeton, Ind./Princeton Community) also placed second in the discus with a personal-best mark of 48.18 meters, while freshman Adam Oulgout (St. Paul, Minn./Central) placed third in the 800-meters with a time of 1:59.03.
"Considering the elements today, I am really proud of the effort by both teams," said UE head coach Don Walters. "To get four podium finishes and set 10 PRs on a day like today is incredible."
In addition to Dove's PR in the discus, Rucinski added a personal-best mark in the 110-meter hurdles (17.13) and the 100-meter dash (11.88). Freshman Denzel Lasam (St. Louis, Mo./De Smet Jesuit) also set a PR mark in the 100-meters at 11.76, while junior Jackson Maurer (Evansville, Ind./Gibson Southern) set a new PR in the 200-meters (24.07). Freshman Preston Riggs (Ft. Branch, Ind./Gibson Southern) and Justin Nichols (Lewis Center, Ohio/Olentangy Orange) also set PRs in shot put (7.88 meters) and the 5,000-meters (17:37.11) respectively.
On the women's side, senior Sam Weldon (Ft. Wayne, Ind./Bishop Dwenger) and freshman Ellie Stewart (Lombard, Ill./Glenbard South) both set PR marks in the 1,500-meters with times of 5:10.23 and 5:29.76, respectively. Freshman Kara Yunker (Evansville, Ind./North) lowered her best time in the 100-meters with a time of 13.19 to place tenth overall.
Evansville will return to action next on Friday, as the Purple Aces will travel to Owensboro, Kentucky to take part in the Brescia Bearcat Invitational.
Dove Breaks UE's Hammer Throw Record Again At Bellarmine's Jim Vargo Invite
For the second-straight week, University of Evansville junior Zach Dove (Princeton, Ind./Princeton Community) broke the UE hammer throw record on Friday as the UE track and field teams battled the competition and the elements at Bellarmine's Jim Vargo Invitational in Louisville, Kentucky.
Competing in rain, sleet, and wind, Dove broke the UE school record in the hammer throw for the second-straight meet. After posting a mark of 47.96 meters last Friday at Eastern Illinois, Dove bettered that mark again with a toss of 48.15 meters to place fifth overall. For Dove, it continues a strong start to his 2022 season, as he has set a personal-best mark in six of his first seven meets this spring.
"Zach just continues to impress this year," said UE head coach Don Walters. "It was not a nice day to compete weather-wise, but Zach didn't let that bother him at all, and had a great day, as he also set a PR in the javelin.
"Overall, I am really proud of the way that the team persevered today. Like I said, the weather was not good today, but our team did a great job of focusing on the task at hand, and set some really good PRs."
With the weather forcing the postponement of the pole vault event until Saturday, Evansville competed in just three events on both the men's and women's sides. But, that didn't stop the Purple Aces from posting five personal-best marks on the day.
Dove added to his school record in the hammer throw with a PR in the javelin with a throw of 38.48 meters. Dove placed seventh, while senior Joey Rucinski (Ft. Wayne, Ind./Concordia Lutheran) placed second overall with a toss of 42.97 meters.
On the women's side, UE's two competitors – senior McKenna Sapp (Bloomington, Ill./University) and freshman Kaitlyn Sansone (Fairfield, Ohio/Mercy McAuley) – both set personal-best marks in the javelin with throws of 25.51 and 19.21 meters, respectively, to place fifth and seventh overall.
Junior Giovanni Purser (Port Maria, Jamaica) also set a new personal-best mark in the long jump with a leap of 6.37 meters to place sixth overall.
The Jim Vargo Invitational will continue on Saturday, with field events beginning at 10 a.m. central time. Track events are currently scheduled to begin at 11 a.m. central.
Late SIU rally hands Aces series-opening loss
Leading for much of the contest, one bad inning handed the University of Evansville baseball team a series-opening loss to Southern Illinois, 14-4, on Friday night at German American Bank Field at Charles H. Braun Stadium in Evansville.
"3-2 lead with 6 outs to get and we couldn't finish it out. We need to keep that into perspective," said Aces head baseball coach Wes Carroll. "We have been playing great baseball and haven't had a two-inning performance like that for a long time. SIU's offense does a great job of making big innings happen by exploiting free bases. We will rebound tomorrow with a competitive effort."
Tanner Craig and Simon Scherry led Evansville with three hits a piece, while Brent Widder also turned in a multi-hit game with two on the evening. On the mound, Shane Gray was dominant for the Aces, pitching six innings, allowing just one earned run on six hits, while striking-out six.
For the first time all season, the Aces blew a lead in the seventh inning or later as Evansville entered the night with a 12-0 record when leading after the seventh.
A couple early mistakes allowed SIU to plate a run in the top of the first, but the Aces answered with a pair of runs in the bottom half of the second. Back-to-back RBI singles from Mark Shallenberger and Tanner Craig powered Evansville in front.
In the top of the third, the Salukis tied the game with an RBI base-hit of their own. After a lull in the offense, the Aces would retake the lead in the bottom of the fifth. With Scherry on second and just one out, Brent Widder ripped a single to center, sending Scherry home and earning the Aces a 3-2 lead. In consecutive innings in the fifth and sixth, Evansville loaded the bases with two outs, but was unable to push across any extra insurance runs.
Big innings in the eighth and ninth for the Salukis were the difference in the contest with SIU scoring eight in the eighth and four in the ninth, surrounding a single run for Evansville in the bottom of the eighth as SIU captured the 14-4 win.
Evansville and SIU meet for game two of their weekend series at 2 PM on Saturday at German American Bank Field at Charles H. Braun Stadium in Evansville.
McMinn records top 10 finish at Murray State
Leading the way in the final standings for the University of Evansville women's golf team was Alyssa McMinn, who picked up a top ten finish at the Murray State Jan Weaver Invite.
McMinn completed the second round on Saturday with an 80. Her final tally of 156 gave her a tie for 9th place in the final individual standings to lead the Purple Aces. Magdalena Borisova and Allison Enchelmayer tied for the 18th position. Both finished with 2-round scores of 159. Borisova carded an 80 in Saturday's final round. Enchelmayer registered an 84 in the final 18 to pick up a top 20 finish.
Mallory Russell was the #4 finisher for UE and tied for 25th in the final finishing order. After posting an 82 on Friday, Russell lowered her score to a 79 to finish the event with a 161. Caitlin O'Donnell notched an 84 in the last 18 holes and scored a 169 in the two rounds.
Evansville's low round of the day belonged to Carly Frazier. A 6-over 78 saw her jump to 41st in the standings. After opening the tournament with an 88, Frazier knocked 10 strokes off her score in round two and finished with a 166.
Samford cruised to the team championship, defeating second-place Belmont by 14 strokes. Shooting a 305 on Saturday – the low round of the tournament – Samford posted a 614. Evansville came in sixth place with a 635, which was four behind a third-place tie between Southern Mississippi and North Carolina A&T. Sophie Membrino of Samford was the medalist with a 2-round total of 151. She came in one shot ahead of a second-place tie.
UE has its sights set on defending its Missouri Valley Conference Championship. Running from April 17-19, it will be held in St. Louis
Softball back in Illinois to face Redbirds in weekend series
Looking to secure its third Missouri Valley Conference series victory in the opening four weeks, the University of Evansville softball team travels to Illinois State for a 3-game set this weekend. Saturday's doubleheader opens the weekend at noon with Sunday's finale set for a 12 p.m. start; all three games will be on ESPN3.
Last Time Out
- Taking to the road for the first time in Valley play, the Aces took two out of three games last weekend at Loyola
- Trailing 2-1 heading to the seventh inning of game one, UE rallied to score three times on its way to a 4-2 win
- Mackenzie McFeron had the game-tying single before Jessica Fehr added the game-winning double
- Sydney Weatherford also added an RBI single in the inning to cap off the win; the freshman made the start in game two, tossing a 2-hit shutout to lead UE to a 4-0 win
- Monday's finale saw the Ramblers hit a walk-off home run in a 4-3 victory
Another Stellar Performance
- Alyssa Barela continued to put up strong offensive numbers in the Aces' trip to Chicago last weekend
- She went 1-3 in the opener before posting a 2-3 effort in game two with a home run, double and three RBI
- With one out and two runners on in the bottom of the 9th on March 27, Barela belted a 3-run walk-off home run to give the Aces a 6-3 win over UNI
- She entered the March 4 home opener with four hits in her first 30 at-bats of the season before rebounding to hit .444 in the opening four home contests
Finishing Strong
- Mackenzie McFeron is putting up the top offensive numbers of her career - she has 11 RBI in her career with eight of them coming this season
- She connected on one of the biggest hits of the season, hitting the game-tying double in the 7th inning of the opener at Loyola
- Four of those RBI came in the doubleheader sweep over Drake in March
- In game one, her triple in the sixth inning proved to be the game-winner in a 5-3 UE win that evened the weekend series
- McFeron did even better in the finale, belting a base-clearing walk-off double to seal a 12-3 victory and a series win
Dual Threat
- Freshman Sydney Weatherford is off to an impressive start to her college career, ranking in a tie for 7th in the MVC with 20 RBI while sitting 5th with her season ERA of 2.51
- She is coming off the best start of her career at Loyola, throwing a 2-hit shutout while tossing her fourth complete game in the last five starts
- Weatherford recorded a hit in both games of Sunday's doubleheader at Loyola and registered an RBI single in the 7th inning rally in game one
Enchelmayer paces women's golf in first round at Murray State
Fresh off a second-place finish earlier this week at Indiana State, the University of Evansville women's golf team opened the Murray State Jan Weaver Invite by finishing the opening round in a tie for the second position.
Weather limited the teams to 18 holes on Friday with the final 18 set for Saturday morning at Miller Memorial Golf Course.
Allison Enchelmayer led the Purple Aces with a 3-over 75. Her effort has her tied for third entering the final round. One behind her was Alyssa McMinn. Her 4-over score of 76 is tied for 5th place. Ranking third for the Aces is Magdalena Borisova. She carded a 79 on Friday and sits in a tie for 14th.
Mallory Russell completed the opening 18 holes with an 82 while Caitlin O'Donnell scored an 85. The pair rank in a tie for 29th and 44th, respectively. Carly Frazier wrapped up the opening round with an 88.
Evansville is right in the thick of the battle and enters Saturday's final 18 in a tied for second place, just three strokes off the lead. UE is tied with North Carolina A&T with a score of 312. Samford leads the way in the team standings with a 309. Belmont (313) and Murray State (319) round out the top five.
Sophie Membrino of Samford leads the individual standings. She carded a 1-over 73 in round one and leads teammate Bailey Dunstan by one. Enchelmayer is tied for third, just two shots behind the leader.
Men's golf travels to TSU Big Blue Intercollegiate
Next up for the University of Evansville men's golf team is a trip to Old Hickory, Tennessee for the Tennessee State University Big Blue Intercollegiate.
The Presidents Course at Hermitage Golf Club will host the tournament on Monday and Tuesday. Day one consists of 36 holes with the second day set for one round of 18. The full participant list and tournament par will be added when available.
Last time out, the Purple Aces competed at the Butler Spring Invitational. Isaac Rohleder completed the final day with a 70 to improve to a tie for 8th in the final individual standings with a 2-round tally of 142. Dallas Koth and Caleb Wassmer tied for 34th on the final leaderboard with totals of 148. Koth recorded a 77 on Tuesday while Wassmer carded a 78.

Henry Kiel and Carson Parker both made a large jump in the final round. After scoring an 80 on Monday, Kiel scored a 74 and finished with a total of 154 strokes. Parker made a 10-stroke jump, dropping his score from an 85 to a 75. He finished with a 160. Nicholas Gushrowski improved on the individual side, going from an 81 to a 77 to score a 157.
Contribute to AceNotes
To have content considered for inclusion in AceNotes, please submit a Marketing Request Form. Deadline for submission to AceNotes is 10:00 a.m. on the requested date of publication. Only articles concerning UE related/sponsored activities will be accepted. Articles submitted to AceNotes may be edited for length and clarity. Submitter contact information is at the end of each article.