| | |
| --- | --- |
| AceNotes Today | Wednesday, March 30, 2022 |
Lot "H" to close for Bike Race preparations
The Office of Public Safety, in partnership with UE Bike Race organizers, will close Lot "H" to all vehicles on Sunday, April 3rd.
All vehicles must be removed from the lot by 2:00pm. Vehicles that have not been removed from Lot "H" by 2:00pm may be towed at the owner's expense and are subject to a $50 fine.
Alternative parking is available in all university owned parking lots, except for the Front Oval parking spots. As always, a university issued parking permit must be displayed on the rearview mirror while parked on campus.
Lot "H" will reopen on Sunday, April 10th.
Pep and Vim Virtual 5K Registration Deadline Extended
UE Alumni and Engagement has extended the deadline for the virtual 5K run/walk which can be completed indoors or outdoors between April 3 and April 8 during Pep and Vim's Spirit Week.
For $35, you will receive your race registration, a t-shirt and support the UEvansville Fund which will count towards the 1,854 gifts needed to unlock the Alumni Board's $25,000 Pep and Vim Challenge Gift!
On Friday, April 8, Day of Giving, post a video or picture wearing your Pep and Vim t-shirt on social media using #AcesGiveBack and #FORWARD to help spread the word.
To register, please click here.
If you have any questions, please contact alumni@evansville.edu.
Go Aces!
Upcoming Changes to COVID-19 Guidelines
The Coronavirus Task Force recently established a subcommittee focused on campus recovery and progress towards a "new normal." In the past couple of weeks, UE lifted the mask mandate and removed restrictions for indoor events. Now entering the month of April, UE will continue with these recovery steps and introduce additional changes to guidelines. Below is a timeline for these steps.
Beginning Monday, April 4, we will no longer conduct random COVID-19 testing for either students or employees.
Beginning Monday, April 4, UE will no longer conduct contact tracing for students. Students will have the responsibility to inform close contacts should they begin to experience symptoms and/or test positive for COVID-19. Contact tracing will continue for employees, however, as it is currently part of OSHA requirements.
On Monday, April 11, UE will remove the COVID-19 dashboard from the Coronavirus webpage. For over a year now, we have reflected new and active cases among our campus community, and the numbers were updated every Monday, Wednesday, and Friday. Cases have remained very low for several weeks, and with the University no longer conducting contact tracing for students, we no longer need to display the dashboard.
On Monday, April 11, we will remove the COVID-19 emergency banner from our website. This red ribbon has been displayed at the top of our webpage since the beginning of the pandemic, but with the removal of our guidelines, it no longer needs to be displayed. You can still access the Coronavirus webpage at any time by clicking the orange button at the bottom of our website.
This subcommittee will continue to navigate campus recovery and keep the community informed of future changes.
Bike Race 2022 Participant Info
For those interested in learning more about the rules and regulations of Bike Race, please follow the link below.
https://s3.amazonaws.com/file.imleagues/Images/Schools/Uploaded/201804/201841816423.pdf
A list of rules can also be found by logging onto imleagues.com and clicking the "rules/handbooks" tab.
Sign ups for Bike Race can be found on the Intramural office door located inside the Fitness center or on imleagues.com.
Any team participating in Bike Race needs to plan for all of their riders, catchers and throwers to attend at least1 of the 3 Riders Meetings.
Rider meetings are held Monday, Tuesday, and Wednesday the week of Bike Race at 9pm inside the Fitness Center lobby.
Anybody needing assistance training/learning to ride the bikes can contact Drew @ah519 to schedule a training session. Bikes can be checked out anytime from sun up to sun down by checking them out at the fitness center front desk.
WACKY OLYMPICS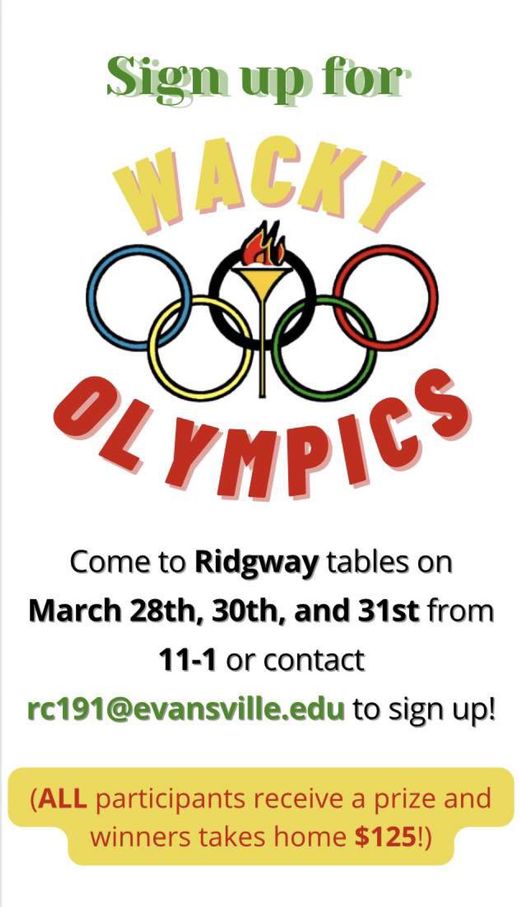 Join Lead Forward for a fun field day filled with Wacky Olympic games! $20 per team (4 people per team)
International Club Flag Parade
The International Club is holding the Flag Parade on March 31st from 4:00 to 4:30 PM to promote the IC Food Festival on April 1st! We are celebrating the diversity of UE and the world by parading flags around campus. You can hold flags of any country you choose! Also, participants will receive a free IC shirt! The route of the parade is below.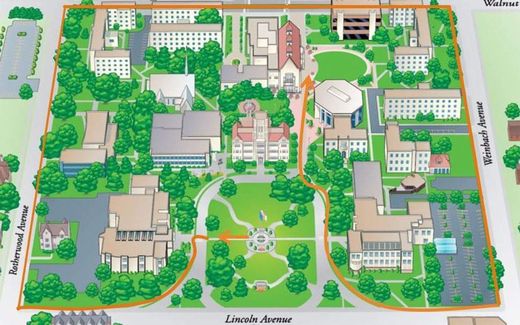 We kindly ask all participants to meet 1st floor Ridgway first to pick up a flag from 3:30 PM to 3:55 PM and then meet at the Oval in front of Olmsted. If you are unable to pick up your flag at this time but would still like to participate in the parade, please let us know and we will bring your flag directly to the Oval!
If you are interested in participating, then please fill out the following Google Form: https://forms.gle/Sgngv6GVZ1KftWxK6
Thank you for supporting International Club!
If you have any questions, then please email Akane Suzuki at as972@evansville.edu or Sylvia Lu at ll148@evansville.edu. Another email will be sent out shortly to those who fill out the Google Form with additional details.
Prom Night!
The Center for Diversity, Equity, and Inclusion & Student Activities Board are proud to present PROM NIGHT on Friday, April 1st from 8:00-11:30 pm in Eykamp Hall! All UE students, UE student guests and USI students are invited to dance the night away at this free event!
Attire for Prom is semi-formal. No blue jeans allowed!
Following Prom we will shuttle students to Walthers Golf and Fun for mini-golf, mini-bowling, karaoke, and much more for the After Party from 12-3:00am! The after party is $8 for UE students and $10 for UE student guests and USI students! Tickets for the afterparty can also be purchased separately, meaning you do not have to attend Prom in order to attend the after party.
To successfully attend, ALL students must RSVP. UE students, please RSVP on UEngage here: https://uengage.evansville.edu/event/7943276. Outside guest and USI students can RSVP here: https://www.eventbrite.com/e/university-of-evansville-prom-tickets-303232234777?ref=estw
If you plan on inviting a USI student or outside guest, please have them register using the correct link above. All outside guests must be affiliated with a UE student, unless they are a USI student. State and student IDs will be required during check-in for outside guests. UE students must only bring student IDs.
After party payment can be made at the door or during the week leading up to Prom. If utilizing cash, please have exact change. We will be tabling during the week, so be on the look out for our table in Ridgway and for information through our Instagram account @uediversity!
If you have any questions, please contact Center4DEI@evansville.edu.
Let's party!!
Pep and Vim Penny Wars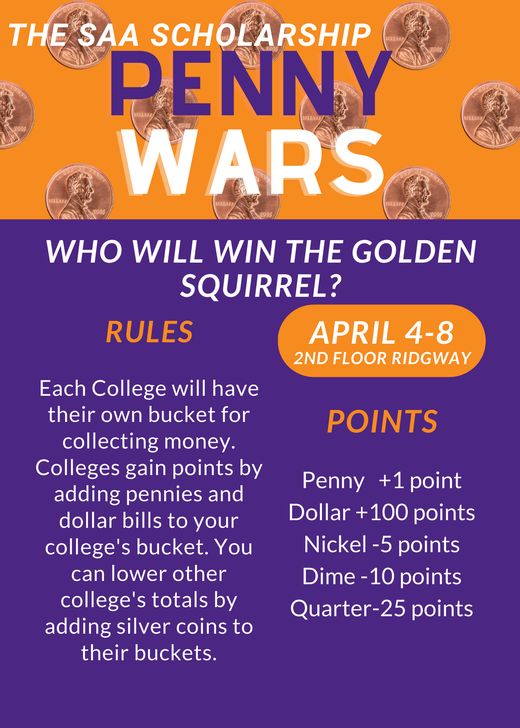 Start saving your pennies! Penny Wars will be held during Spirit Week, April 4-8 in Ridgway near the information desk from 11:00 a.m. - 1:00 p.m. Money raised supports the Staff and Administrators Assembly Scholarship. Each College as well as University Staff and Administrators are competing for the most points. You can earn points for your team by placing pennies and dollars in your bucket. You can subtract points from your opponents' total by placing silver coins in their bucket!
Points are awarded as follows:
Penny = +1 point
1 Dollar= +100 points
5 Dollars = +500 points
10 Dollars= +1,000 points
20 Dollars= +2,000 points
Nickel = -5 points
Dime= -10 points
Quarter = -25 points
Who will win the Golden Squirrel this year?
Department of Art presents the 60th Annual Undergraduate Student Exhibition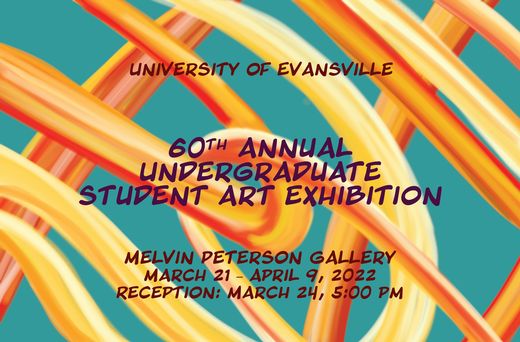 The Department of Art invites you to view the 60th Annual Undergraduate Student Exhibition in the Melvin Peterson Gallery from March 21- April 9, 2022. The Reception and Awards is March 24, 5-6:30 PM, with awards ceremony at 5:30. Please come visit the exhibition and celebrate the success of the students. You may also vote for the People's Choice Award which is awarded at the end of the exhibition. Hope to see you there.
2022 Health Careers Forum
UE EXSS Club and the Center for Career Development present the 2022 Health Careers Forum on March 30th from 6:00-8:00 PM in Eykamp Hall. Student attendees have the opportunity to ask questions to a diverse healthcare professional panel as a means to guide them on their future job outlook and search. Business casual attire is required, snacks will be provided, and name tags will be given to the registered attendees. You do not have to be a club member to participate, although attendance is mandatory for EXSS club members. Use the link below to register by Tuesday, March 29th at 8 PM!
Link to participate and register:
https://forms.gle/wmvQUasS6NMx6P4x9


Registration Week 2022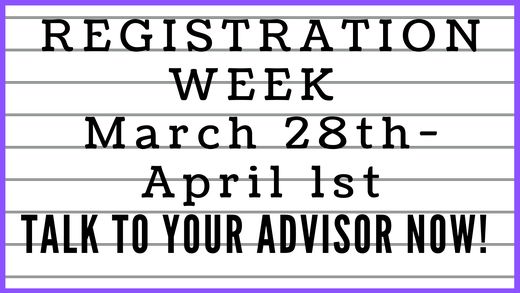 Registration Week is right around the corner! Are you ready?
Registration begins March 28th. Make sure to meet with your advisor to have your classes approved before registration. If you have questions about registration, email academicservices@evansville.edu or come visit us in Olmstead Hall, Rm 116.
The Center for Innovation & Change is Hosting Scholars for Syria THIS Thursday, March 31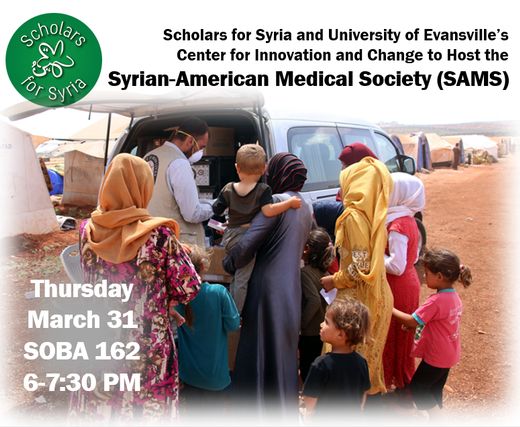 Please join us THIS Thursday, March 31st from 6-7:30 pm at the University of Evansville (SOBA 162) as we welcome local Syrian physician Dr. Bashar Mourad (Ohio Valley Nephrology Associates) of the Syrian American Medical Society. Dr. Mourad will be presenting photos from SAMS missions, discussing the healthcare crisis both inside and outside Syria, and highlighting the current work SAMS is engaging in to ensure healthcare development for refugees and displaced people. The SAMS mission is to save lives and work to ensure healthcare development on behalf of Syrian American healthcare professionals. It is a leading humanitarian organization, harnessing the talents of Syrian American healthcare professionals, and channeling them toward medical relief for the people of Syria and the United States. This presentation and fundraiser is co-sponsored by the University of Evansville Center for Innovation and Change and Scholars for Syria, with the goal that our community be educated about how connecting cultures serves a critical role in good healthcare and global citizenship.
VOICE: Your Vision. Your Voice. Shaping Our Region's Future.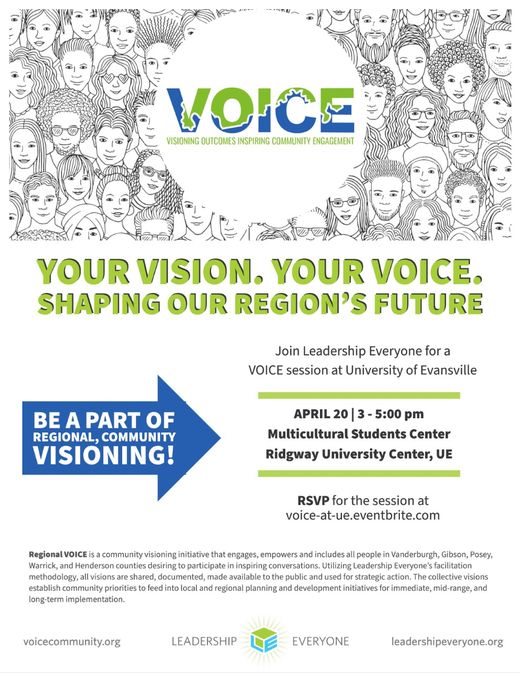 The UE Center for Innovation & Change and Leadership Everyone are partnering to bring VOICE to UE Campus on April 20th from 3:00pm to 5:00pm in the Multicultural Commons Area, 2nd Floor in Ridgway University Center.
Regional VOICE is an initiative by Leadership Everyone to bring together diverse groups of people to envision a preferred future for our region. While RSVPs are appreciated, if you don't know until the last minute, come anyway! We can't wait to vision with you.
RSVP here: https://voice-at-ue.eventbrite.com
Make a positive change in the world with Changelab!

Are you looking at the world around you and asking, "What if"?
Are you interested in helping the community to innovate for a more just, prosperous, and sustainable world?
Do you need to add a course and not sure what to take?
ChangeLab is for YOU!
All ChangeLab Students receive presentation coaching workshops, team building guided by expert coaches and project management resume building skills!
Here are just a few of the ChangeLabs YOU can choose from for Fall 2022!
Uganda Project- Through research and comprehensive brand development strategies students, students will design and implement marketing initiatives in Uganda.
Professional Drone Photography/Videography- Students will explore the current market for professional drone photography and videography, and explore how a student-run agency at the University of Evansville can help fill the needs of that market.
Equitable and Nourishing Food System for All- Students will collaborate with Urban Seeds, a not-for-profit organization advocating for a quality, equitable, and robust food system.
Increasing Adult Literacy- Students make a positive impact in Vanderburgh County by working directly with the Evansville Literacy Center to improve adult literacy.
Ethics and Social Change- Students take on a project that impacts real change on campus and in our community.
A complete list can be found here.
CHEM118 is offered in summer 1
CHEM118 will be offered in summer 1 session. Self-service incorrectly lists that the course is offered at Harlaxton. It will be offered at UE campus in Evansville in a hybrid format. If you have questions please contact Dr. Tod at tt92@evansville.edu
Ascension St. Vincent Mobile Mammography bus will be on campus April 12th from 9:00 a.m 2:00 p.m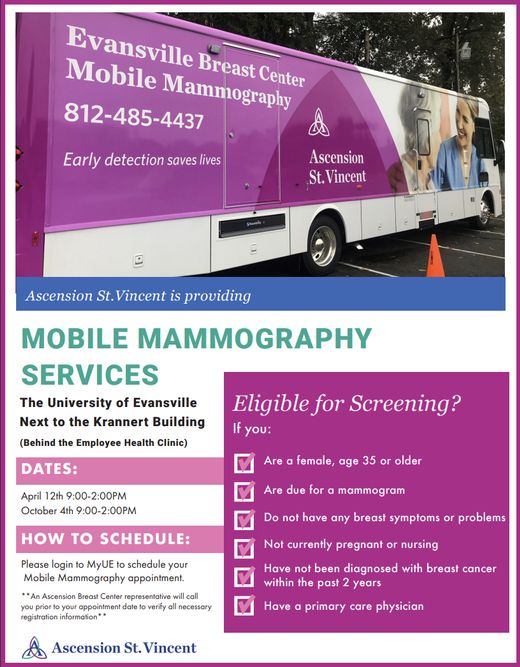 The Mobile Mammography services will take place next to the Krannert Fine Arts building, behind the Employee Health Clinic on April 12th from 9 a.m. until 2 p.m. Appointments are available every 20 minutes.
Those who are eligible:
-Females, age 35 or older
-Are due for a mammogram
-Do not have any breast symptoms or problems
-Not currently pregnant or nursing
-Have not been diagnosed with breast cancer in the past
-Have a primary care physician
*As a reminder, your health insurance card and information will be collected for this service.
SAB 2022-2023 Appointed Positions Applications Open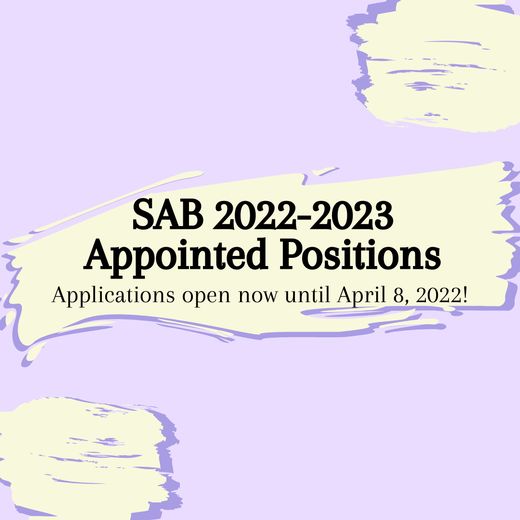 SAB Appointed Applications are open until Friday, April 8th! Applications are open to all students and we'd love to see what you can bring to our organization next year!
A little bit about each of the positions:
Treasurer: Responsibilities include managing SAB's budget and creating a budget proposal to submit to SGA for the following year.
Marketing Chair: Responsibilities include running SAB's social media pages (which includes creating a schedule to sufficiently advertise for events), creating advertising for events, and marketing SAB's events in a variety of ways (AceNotes, hanging up posters, chalking, etc.)
Sound Chair: Responsibilities include running sound trainings and managing sound setups.
Trivia Chair: Responsibilities include creating and running weekly trivia nights.
Recruitment and Outreach Chair: Responsibilities include heading the recruitment of new members and reaching out to other organizations to promote collaboration.
How to apply:
Go to UEngage
Go to the Forms Tab
Scroll down and click the "SAB Appointed Position Application" Form
Submit your application by April 8th!
You will receive an email asking you to sign up for an interview time slot with our executive board
Nutrition 304 offering -Summer session 1
NUTR-304 Nutritn Concepts-Controversies (3 Credits)- meets requirements for outcome 5 Will be offered as an asynchronous course, that will use several different, self- paced learning modalities. Focuses on basic nutrient requirements and how they are used by the human body throughout the life cycle. A holistic approach with emphasis on physiological factors influencing eating habits (social, economic, cultural, etc.). Current controversies in the field of nutrition discussed and class activities are coordinated to stimulate thought and judgment on selected topics. Provides a basic understanding of nutrition for application to one's own lifestyle. Meets the general education health and wellness requirement.
Volunteers Needed for International Food Festival
International Food Festival is coming up on Friday, April 1 from 5 to 7 pm, and we need your help! We are looking for volunteers to help with decoration, setup, and food service. Get a free T-shirt and voucher for dinner! View opportunities and sign up here.
Contact Jon at kh436 with any questions about volunteering!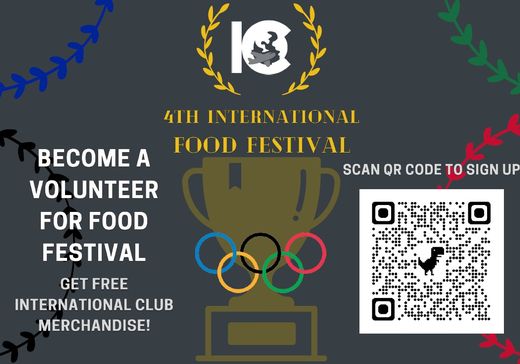 Employee Volunteers Needed for CDEI Prom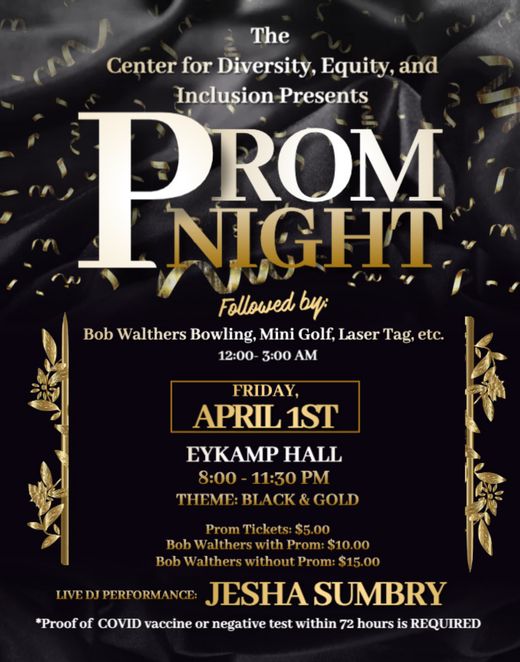 Hello everyone! As some of you may know, the CDEI in collaboration with SAB is holding a Prom on April 1st, 2022! This collaboration came together as restrictions are lessening and we realized many of our students were not able to attend an actual in-person, high school Prom! So, we decided to throw one for all students!
Prom will be held on April 1st in Eykamp Hall from 8:00pm- 11:30pm! Following Prom we will be shuttling students to Bob Walthers, where we have rented the space from 12:00am- 3:00am! Students will have access to inside and outside mini-golf, karaoke, bingo, mini-bowling, laser tag, and so much more!
Since this is a Prom for our students, I want to keep student volunteers at a minimum if not a complete zero for the night of and that means I need employee volunteers! Volunteer needs are listed below!
Prom 8-11:30pm
Bartenders (we will have a mocktail bar with sparkling juice, soda and water)
Photo Booth Attendants (we will have two photo drops with Ipad stations for photos)
Check-In Attendants (will need ticket/ guest list checkers)
Security (we will need additional people to check/ be stationed at specific doors to ensure no one is sneaking in or bringing any beverages into Prom)
Bob Walthers 12-3:00am
Shuttle Ticket Checkers (we will need individuals at UE checking tickets before students board the shuttle to ensure they have an actual ticket to attend Bob Walthers after party)
Bob Walthers Ticket Checkers (we will need individuals stationed at Bob Walther's checking tickets from people who may be electing to drive themselves over and not taking the shuttle)
Karaoke Attendant/ MC (we will be purchasing/ renting a Karaoke Machine and running Karaoke ourselves, and need individuals willing to help MC/ run this fun activity)
Food Attendants (in addition to Bob Walther's cafe being open, we will be purchasing and bringing in pizza and beverages and will need individuals willing to help set-up and monitor food rooms)
If you are interested, able and willing to volunteer for Prom, please reach out by email Abagail Catania at ac532@evansville.edu and indicate which (if any) specific volunteer opportunities you are interested in!
Thank you in advance! I know our students are really excited about this night! :)
Apply to Be A Summer Assistant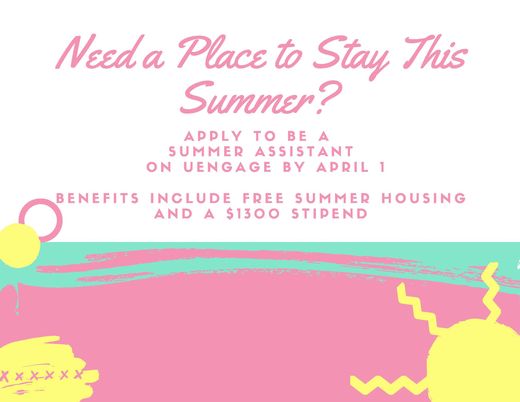 Need a place to stay this summer? Apply to be a summer assistant on UEngage by April 1! Benefits include free summer housing and a $1300 stipend!
Summer Sessions Payment Plan
Summer session courses can be added to your monthly payment plan now with no additional set-up fee. If your student is enrolling in summer courses, anticipated summer charges can be included in the spring semester payment plan and the plan extended through May (for Summer 1 charges) or June (Summer 2 charges). The undergraduate tuition rate for Summer 2022 is $580 per credit hour. Fees per summer term include a $50 registration fee and a $40 technology fee. Online courses are assessed a $50 online course fee. Payment arrangements are due prior to the start of the summer term.
Students should contact the Office of Student Financial Services no later than Reading/Study Day, April 28, 2022 to determine if financial aid is available for their summer courses.
To modify your current payment plan to include summer, contact the cashiers in the Office of Student Financial Services at 812-488-2565.
Submitted by Amy Sowders as560@evansville.edu
The deadline to apply for the 2022-2023 Dr. Marvin E. Hartig Memorial Scholarship has been extended to May 6th
Family, friends and loved ones of the late Dr. Marvin E. Hartig are pleased to announce the application process for the Dr. Marvin E. Hartig Memorial Scholarship. This scholarship is dedicated to the loving memory of Dr. Hartig, Dean of Evansville College's Evening College in 1967, and administrator for the Center for Advanced Study, director of the Evansville chapter of the American Institute of Banking (AIB), and the international student advisor. In 1974, Dr. Hartig was appointed Dean of Academic Services. He retired in 1984 after serving his alma mater for thirty-five years and passed away in 2007.
This scholarship will be awarded annually to a deserving sophomore student. Preference will be given to a student working while being enrolled as a full-time student. International students are encouraged to apply.
Eligible students for the 2022-2023 Hartig Memorial Scholarship will be sophomores in the 2022-2023 academic year.
Apply for the 2022-2023 Hartig Memorial Scholarship
Deadline: Please return all materials to the Office of Student Financial Services by April 22, 2022. The decision will be announced by May 27, 2022.
Questions: Amber Chandler, Administrative Assistant to the Office of Student Financial Services, at ac547@evansville.edu or 812-488-2364
Submitted by Amber Chandler ac547@evansville.edu
Writing Professor Has Short Story Picked Up
Professor Katie Darby Mullins has a short story forthcoming at Zone 3. The story, "Game Theory," is about the way people manipulate their lives on Instagram and how seeing images of each other creates false intimacy.
Women's golf improves in second round
In the second round of the Golfweek/Any Given Tuesday Intercollegiate, the University of Evansville women's golf team improved in the standings at True Blue Golf Resort.
As a team, the Purple Aces tentatively stand in the 15th position. All individual and team standings are tentative with four teams who need to finish the second round.
Magdalena Borisova had another impressive outing, carding a 5-over 77. Holes 1-9 saw Borisova finish at 1-over, which set the stage for a solid round. She is tied for 31st with a 10-over 154. The second-best score of the day for UE belonged to Carly Frazier. Playing as an individual, Frazier improved by seven strokes between the first and second rounds. After opening with an 85, Frazier finished round two with a 78.
Mallory Russell completed the second 18 holes with an 80. That matched her effort from Monday and she is tied for 60th with a 160. Allison Enchelmayer and Alyssa McMinn stand with scores of 162 following two rounds. Enchelmayer registered an 82 on Tuesday while McMinn finished with an 85. Caitlin O'Donnell shot an 83 and has a score of 165 entering the third and final round.
As a team, UE is in the 15th spot with a 636. UE is just two behind Appalachian State and trails Marshall University by eight. With four teams set to finish round two, the full team and individual standings are not accurate this time.
On Wednesday, the teams will play a final round of 18.
Nine-run third inning delivers 10th win for Aces
Buoyed by a nine-run third inning, the University of Evansville baseball team captured a 10-5 midweek victory over Austin Peay on Tuesday evening at German American Bank Field in Charles H. Braun Stadium in Evansville.

"It was nice to be back home and get a win," said Aces head baseball coach Wes Carroll. "Mark Shallenberger had a monster day as he continues to stay hot. We grinded out some at bats to have a big nine-run inning. Pitchers did enough to fight off a comeback with Kieren Hall making some big pitches. We need to have a couple days of good practices to clean up some things and get ready for Michigan State."

The early advantage was secured by Austin Peay, who scored one in the top of the first, recording three hits and grabbing the early lead. In the first two innings, as Evansville attempted to answer quickly, the Aces earned a walk in each, but were unable to get a hit or push a run across.

Evansville's breakthrough came in a big way in the third inning to the tune of nine runs. A pair of walks and a base hit from Shallenberger loaded the bases with no outs and a run scored as Simon Scherry reached on a fielder's choice. A single from Brent Widder pushed Evansville in front in the next at bat, scoring Shallenberger. After a pitching change, Evan Berkey and Danny Borgstrom combined to cushion the Aces lead with three combined RBI, lifting UE to a 5-1 lead. Batting around, Ty Rumsey drew his second walk of the inning, loading the bases for Shallenberger. The St. Louis native stepped to the plate and promptly drove the ball to right center field, evading a leaping attempt by the Governors right fielder and clearing the wall for a grand slam, pushing the Aces in front, 9-1.

Austin Peay attempted to cut into its deficit with two runs in the fourth, but Evansville answered as Widder lasered a solo homer down the left field line to keep a seven-run lead for UE.

Later in the contest, the Governors would again plate two runs, doing so in the eighth inning, but Evansville reliever Kieren Hall slammed the door on any further comeback as the Aces captured the 10-5 win.

On his big day at the plate, Shallenberger moved above .400 on the season, now batting .404, and recording the first grand slam for Evansville since Eric Roberts did so against South Dakota State on April 4, 2021. Widder also recorded an impressive day at the dish, going two-for-four on the evening with two runs and two RBI. On the mound, lefty Tyler Denu earned the victory, pitching 2.1 innings of relief, allowing two hits and one run, while striking-out a pair.

Evansville's homestand continues this weekend with a three-game set against Michigan State, beginning on Friday night at 6 PM at German American Bank Field in Evansville.
Isaac Rohleder shoots even par in final day at Butler
Leading the University of Evansville men's golf team in the final day of the Butler Spring Invitational was Isaac Rohleder, who recorded an even round of 70 to lead the Purple Aces.
Rohleder got off to a strong start, finishing the front nine holes at 1-under. He completed the day with a 70 to improve to a tie for 8th in the final individual standings with a 2-round tally of 142. Dallas Koth and Caleb Wassmer tied for 34th on the final leaderboard with totals of 148. Koth recorded a 77 on Tuesday while Wassmer carded a 78.
Henry Kiel and Carson Parker both made a large jump in the final round. After scoring an 80 on Monday, Kiel scored a 74 and finished with a total of 154 strokes. Parker made a 10-stroke jump, dropping his score from an 85 to a 75. He finished with a 160. Nicholas Gushrowski improved on the individual side, going from an 81 to a 77 to score a 157.
Valparaiso took the team title with a 569, defeating Butler by six strokes. The Beacons finished at 10-over on Tuesday, but their commanding lead following the opening round was enough to clinch the victory. Evansville and Green Bay tied for the 8th position. Both had scores of 589. Following a scorecard playoff to break a 3-way tie for the individual medalist, it was James Hill of Detroit Mercy earning the win.
UE will be back in action on April 11 at the Big Blue Intercollegiate in Nashville.
Contribute to AceNotes
To have content considered for inclusion in AceNotes, please submit a Marketing Request Form. Deadline for submission to AceNotes is 10:00 a.m. on the requested date of publication. Only articles concerning UE related/sponsored activities will be accepted. Articles submitted to AceNotes may be edited for length and clarity. Submitter contact information is at the end of each article.