| | |
| --- | --- |
| AceNotes Today | Tuesday, March 29, 2022 |
Pep and Vim Virtual 5K Registration Deadline Extended
UE Alumni and Engagement has extended the deadline for the virtual 5K run/walk which can be completed indoors or outdoors between April 3 and April 8 during Pep and Vim's Spirit Week.
For $35, you will receive your race registration, a t-shirt and support the UEvansville Fund which will count towards the 1,854 gifts needed to unlock the Alumni Board's $25,000 Pep and Vim Challenge Gift!
On Friday, April 8, Day of Giving, post a video or picture wearing your Pep and Vim t-shirt on social media using #AcesGiveBack and #FORWARD to help spread the word.
To register, please click here.
If you have any questions, please contact alumni@evansville.edu.
Go Aces!
This Week in Music
This week, the UE Music Conservatory presents the Eykamp String Quartet in a free concert on Tuesday, March 29 at 7:30 p.m. in Neu Chapel. This concert is free and open to the public. The resident professional string quartet of the University of Evansville, the Eykamp String Quartet will present an eclectic program of music by Hamza El Din, Missy Mazzoli, and Fanny Mendelssohn Hensel. The Eykamp String Quartet is made possible by the special underwriting of Rita, Richard, and Dorothy Eykamp, friends of the University of Evansville, and the Evansville Philharmonic Orchestra.
Then, on Friday April 1, the Schmidt Opera Series will present DIVAS AND DUETS An Opera Gala at 7:30 p.m. in Neu Chapel. Funded by the William E. Schmidt Foundation, the UE's Opera program features UE students performing scenes from great operas at a professional level. The concert is free and open to the public.
WACKY OLYMPICS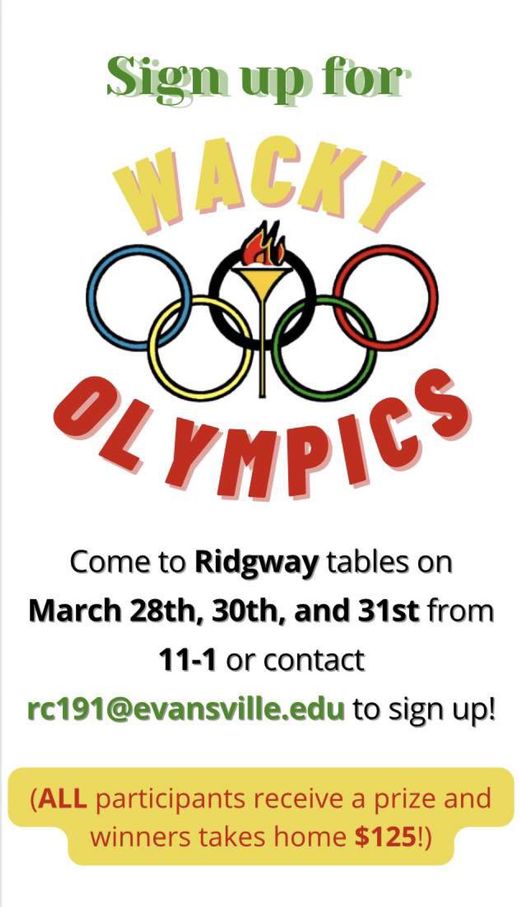 Join Lead Forward for a fun field day filled with Wacky Olympic games! $20 per team (4 people per team)
International Club Flag Parade
The International Club is holding the Flag Parade on March 31st from 4:00 to 4:30 PM to promote the IC Food Festival on April 1st! We are celebrating the diversity of UE and the world by parading flags around campus. You can hold flags of any country you choose! Also, participants will receive a free IC shirt! The route of the parade is below.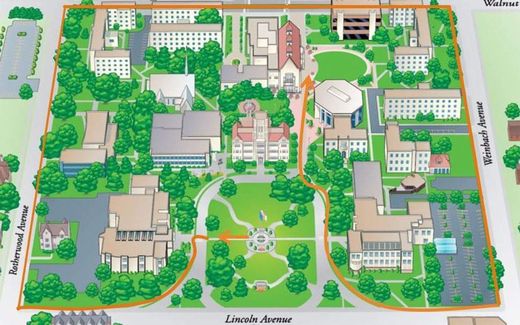 We kindly ask all participants to meet 1st floor Ridgway first to pick up a flag from 3:30 PM to 3:55 PM and then meet at the Oval in front of Olmsted. If you are unable to pick up your flag at this time but would still like to participate in the parade, please let us know and we will bring your flag directly to the Oval!
If you are interested in participating, then please fill out the following Google Form: https://forms.gle/Sgngv6GVZ1KftWxK6
Thank you for supporting International Club!
If you have any questions, then please email Akane Suzuki at as972@evansville.edu or Sylvia Lu at ll148@evansville.edu. Another email will be sent out shortly to those who fill out the Google Form with additional details.
SafeZone LGTBQ+ Ally Training: Student Session!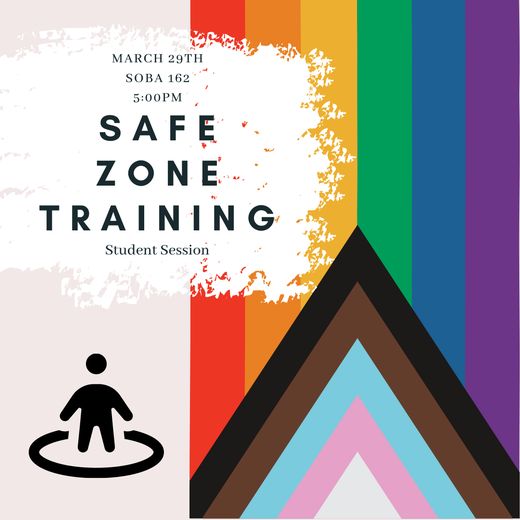 Join the Center for Diversity Equity and Inclusion for Safe Zone LGBTQ+ Ally Training on March 29 beginning at 5 p.m. in SOBA 162! Safe Zone Training is a training that will provide participants with the knowledge and skills to ensure their 'zone' is a safe place for members of the LGBTQ+ community. Your 'zone' is anything from student orgs, your dorm, classrooms, your work, etc.
Join us in ensuring every zone is a Safe Zone!

Prom Night!
The Center for Diversity, Equity, and Inclusion & Student Activities Board are proud to present PROM NIGHT on Friday, April 1st from 8:00-11:30 pm in Eykamp Hall! All UE students, UE student guests and USI students are invited to dance the night away at this free event!
Attire for Prom is semi-formal. No blue jeans allowed!
Following Prom we will shuttle students to Walthers Golf and Fun for mini-golf, mini-bowling, karaoke, and much more for the After Party from 12-3:00am! The after party is $8 for UE students and $10 for UE student guests and USI students! Tickets for the afterparty can also be purchased separately, meaning you do not have to attend Prom in order to attend the after party.
To successfully attend, ALL students must RSVP. UE students, please RSVP on UEngage here: https://uengage.evansville.edu/event/7943276. Outside guest and USI students can RSVP here: https://www.eventbrite.com/e/university-of-evansville-prom-tickets-303232234777?ref=estw
If you plan on inviting a USI student or outside guest, please have them register using the correct link above. All outside guests must be affiliated with a UE student, unless they are a USI student. State and student IDs will be required during check-in for outside guests. UE students must only bring student IDs.
After party payment can be made at the door or during the week leading up to Prom. If utilizing cash, please have exact change. We will be tabling during the week, so be on the look out for our table in Ridgway and for information through our Instagram account @uediversity!
If you have any questions, please contact Center4DEI@evansville.edu.
Let's party!!
UE Theatre Presents HEROES OF THE FOURTH TURNING
The University of Evansville Theatre closes their spring 2022 season with Will Arbery's HEROES OF THE FOURTH TURNING. A 2020 Pulitzer Prize Finalist in Drama, this haunting play is a meticulously crafted story centering on four alumni of a conservative college whose reunion spirals into chaos over spirituality, politics, and a nearly fanatical desire to be understood. This production opens on Friday, April 8, at 7:30 p.m., in Shanklin Theatre. Additional performances are 7:30 p.m. on April 9, 21, 22, 23, and at 2:00 p.m., on April 24.
HEROES OF THE FOURTH TURNING is guest-directed by Dylan Frederick, a 2014 alumnus of UE. Joy Weidenhamer, a senior theatre studies major from Omaha, Neb., serves as the associate director; Robert Tintoc, a 2006 alumnus, serves as the guest scenic designer; Assistant Professor Sarah J. Smith is the costume designer; Associate Professor Stephen Boulmetis is the lighting designer; Araceli Ramirez serves as the guest sound designer; Professor Diane Brewer is the dramaturg; Moira Cassiday, a senior stage management major from Nashville, Ind., is the stage manager, and Assistant Professor Mitchell L. Critel serves as the technical director.
The cast features Delaney Ross, a first-year performance major from Keller, Texas as Emily; Gabriel Smothers, a junior performance major from Casper, Wyo., as Kevin; Becky Rusch, a senior performance major from Newark, Del., as Teresa; McAllister Reed Stowell, a junior performance major from Lakewood, Colo., as Justin; and Delanie Kitzman, a senior performance major from Tomball, Texas, as Gina.
In following industry standards, as established by the Broadway League, all audience members must show proof of COVID–19 vaccination or a negative test result, taken within 48-hours of the date on their ticket, and remain masked during the performance. It is our hope that these restrictions will allow our student actors to safely perform unmasked.
Adult ticket prices are $20, and $18 for senior adults, non-UE students, and UE employees. UE students may obtain one free student rush ticket beginning at 12 p.m. on the day of the performance they wish to attend. Tickets are available by calling 812.488.2031, Monday through Friday, 12:00 to 5:00 p.m.
Registration Week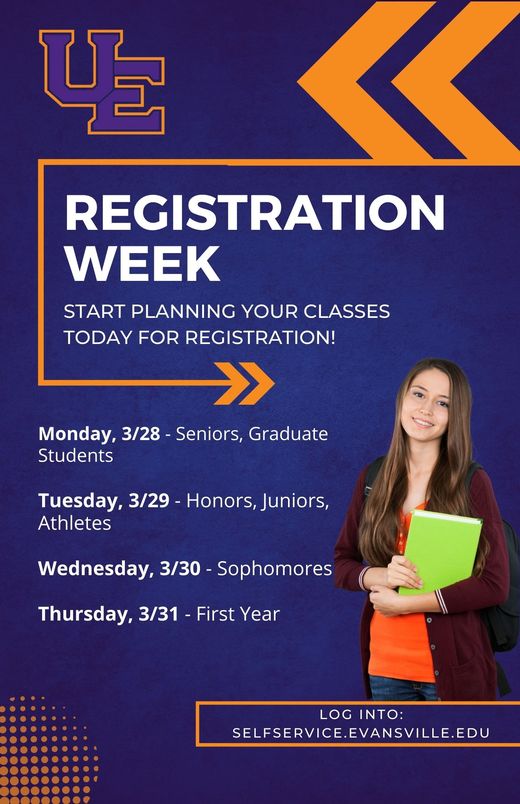 Registration week is the week of March 28th. Know exactly when to register for your classes in the Summer and Fall!
Department of Art presents the 60th Annual Undergraduate Student Exhibition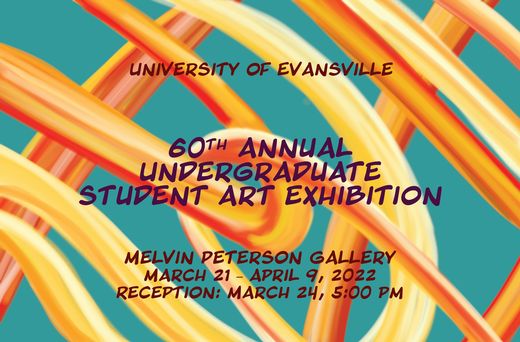 The Department of Art invites you to view the 60th Annual Undergraduate Student Exhibition in the Melvin Peterson Gallery from March 21- April 9, 2022. The Reception and Awards is March 24, 5-6:30 PM, with awards ceremony at 5:30. Please come visit the exhibition and celebrate the success of the students. You may also vote for the People's Choice Award which is awarded at the end of the exhibition. Hope to see you there.
2022 Health Careers Forum
UE EXSS Club and the Center for Career Development present the 2022 Health Careers Forum on March 30th from 6:00-8:00 PM in Eykamp Hall. Student attendees have the opportunity to ask questions to a diverse healthcare professional panel as a means to guide them on their future job outlook and search. Business casual attire is required, snacks will be provided, and name tags will be given to the registered attendees. You do not have to be a club member to participate, although attendance is mandatory for EXSS club members. Use the link below to register by Tuesday, March 29th at 8 PM!
Link to participate and register:
https://forms.gle/wmvQUasS6NMx6P4x9


Pep and Vim, UE's Annual Day of Giving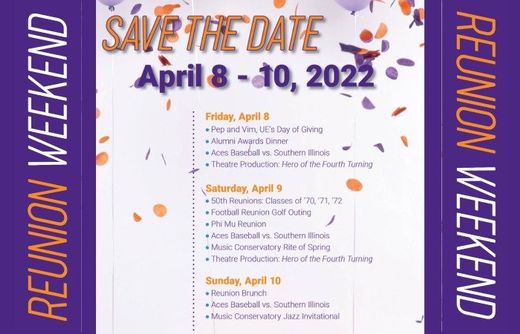 Save the date for UE's Annual Day of Giving, Pep and Vim! This year's Pep and Vim will be held Friday, April 8, 2022.
Spirit Week activities, like Penny Wars, will be held the week leading up to Pep and Vim. Penny Wars is a competition between each of the colleges to win the Golden Squirrel for the year. Save your change to help your college win the highly sought after squirrel and help UE at the same time!
Pep and Vim 5K Registration is Open
UE Alumni and Engagement is hosting a virtual 5K run/walk to promote a healthy lifestyle. The 5K can be completed indoors or outdoors between April 3 and April 8. Participants will enter their times online. All participants will receive an exclusive Pep and Vim t-shirt if registered by March 25*. The race fee is $35 and $20 for students.
On Friday, April 8, Day of Giving, post a video or picture wearing your Pep and Vim t-shirt on social media using #AcesGiveBack and #FORWARD to help spread the word. If you have any questions, please contact alumni@evansville.edu.
Go Aces!
*Registrations will be accepted after March 25, but we cannot guarantee the arrival of the Pep and Vim t-shirt by April 8.
VOICE: Your Vision. Your Voice. Shaping Our Region's Future.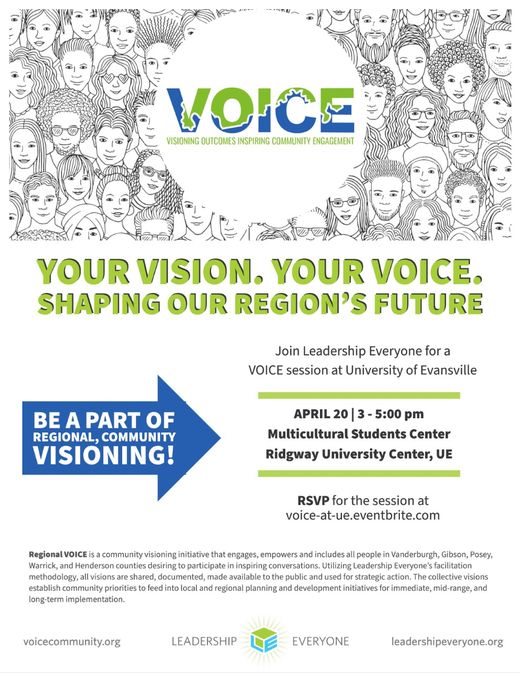 The UE Center for Innovation & Change and Leadership Everyone are partnering to bring VOICE to UE Campus on April 20th from 3:00pm to 5:00pm in the Multicultural Commons Area, 2nd Floor in Ridgway University Center.
Regional VOICE is an initiative by Leadership Everyone to bring together diverse groups of people to envision a preferred future for our region. While RSVPs are appreciated, if you don't know until the last minute, come anyway! We can't wait to vision with you.
RSVP here: https://voice-at-ue.eventbrite.com
Make a positive change in the world with Changelab!

Are you looking at the world around you and asking, "What if"?
Are you interested in helping the community to innovate for a more just, prosperous, and sustainable world?
Do you need to add a course and not sure what to take?
ChangeLab is for YOU!
All ChangeLab Students receive presentation coaching workshops, team building guided by expert coaches and project management resume building skills!
Here are just a few of the ChangeLabs YOU can choose from for Fall 2022!
Uganda Project- Through research and comprehensive brand development strategies students, students will design and implement marketing initiatives in Uganda.
Professional Drone Photography/Videography- Students will explore the current market for professional drone photography and videography, and explore how a student-run agency at the University of Evansville can help fill the needs of that market.
Equitable and Nourishing Food System for All- Students will collaborate with Urban Seeds, a not-for-profit organization advocating for a quality, equitable, and robust food system.
Increasing Adult Literacy- Students make a positive impact in Vanderburgh County by working directly with the Evansville Literacy Center to improve adult literacy.
Ethics and Social Change- Students take on a project that impacts real change on campus and in our community.
A complete list can be found here.
Ascension St. Vincent Mobile Mammography bus will be on campus April 12th from 9:00 a.m 2:00 p.m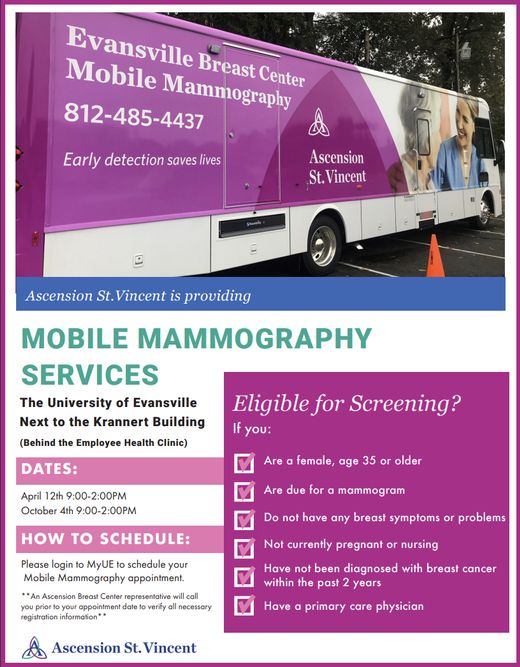 The Mobile Mammography services will take place next to the Krannert Fine Arts building, behind the Employee Health Clinic on April 12th from 9 a.m. until 2 p.m. Appointments are available every 20 minutes.
Those who are eligible:
-Females, age 35 or older
-Are due for a mammogram
-Do not have any breast symptoms or problems
-Not currently pregnant or nursing
-Have not been diagnosed with breast cancer in the past
-Have a primary care physician
*As a reminder, your health insurance card and information will be collected for this service.
SAB 2022-2023 Appointed Positions Applications Open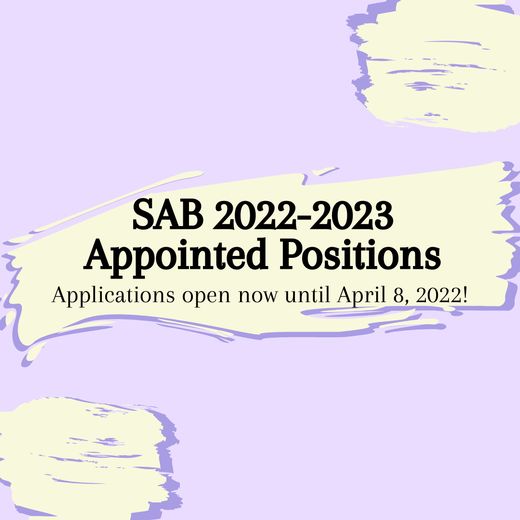 SAB Appointed Applications are open until Friday, April 8th! Applications are open to all students and we'd love to see what you can bring to our organization next year!
A little bit about each of the positions:
Treasurer: Responsibilities include managing SAB's budget and creating a budget proposal to submit to SGA for the following year.
Marketing Chair: Responsibilities include running SAB's social media pages (which includes creating a schedule to sufficiently advertise for events), creating advertising for events, and marketing SAB's events in a variety of ways (AceNotes, hanging up posters, chalking, etc.)
Sound Chair: Responsibilities include running sound trainings and managing sound setups.
Trivia Chair: Responsibilities include creating and running weekly trivia nights.
Recruitment and Outreach Chair: Responsibilities include heading the recruitment of new members and reaching out to other organizations to promote collaboration.
How to apply:
Go to UEngage
Go to the Forms Tab
Scroll down and click the "SAB Appointed Position Application" Form
Submit your application by April 8th!
You will receive an email asking you to sign up for an interview time slot with our executive board
Nutrition 304 offering -Summer session 1
NUTR-304 Nutritn Concepts-Controversies (3 Credits)- meets requirements for outcome 5 Will be offered as an asynchronous course, that will use several different, self- paced learning modalities. Focuses on basic nutrient requirements and how they are used by the human body throughout the life cycle. A holistic approach with emphasis on physiological factors influencing eating habits (social, economic, cultural, etc.). Current controversies in the field of nutrition discussed and class activities are coordinated to stimulate thought and judgment on selected topics. Provides a basic understanding of nutrition for application to one's own lifestyle. Meets the general education health and wellness requirement.
Creativity Survey for Research Methods
Hello Aces!
My name is Shraya Rao. I'm a senior Psychology major. My research partner, Sadie Scovern, and I are conducting a survey for Research Methods this semester. Our research is regarding the impact of listening to music on creativity, and we are looking to recruit college students across different majors. Most of the students who have participated, thus far, are within the Psychology department, and we really need more music students. If you are a music major, would you please consider taking our survey? Participation should take approximately 5-10 minutes. Some professors are offering 1 point of extra credit for filling out the survey, so ask them, if you're interested.
Here is the link to our survey: https://uoebusiness.co1.qualtrics.com/jfe/form/SV_6x2pAdgkF2D8r66
Thank you!
Sincerely,
Shraya Rao

Employee Volunteers Needed for CDEI Prom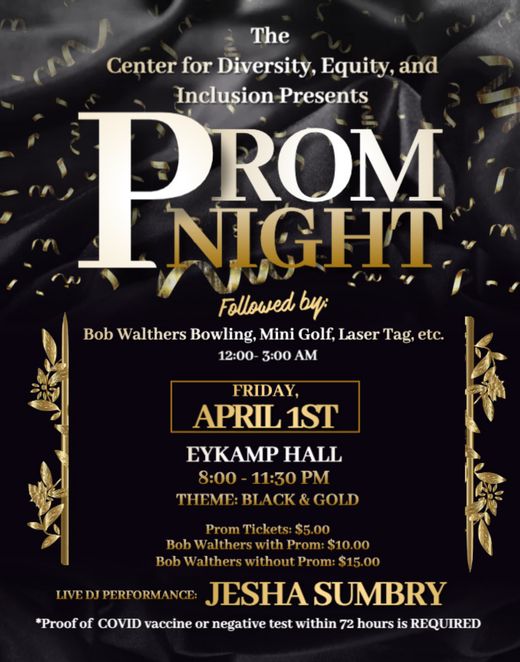 Hello everyone! As some of you may know, the CDEI in collaboration with SAB is holding a Prom on April 1st, 2022! This collaboration came together as restrictions are lessening and we realized many of our students were not able to attend an actual in-person, high school Prom! So, we decided to throw one for all students!
Prom will be held on April 1st in Eykamp Hall from 8:00pm- 11:30pm! Following Prom we will be shuttling students to Bob Walthers, where we have rented the space from 12:00am- 3:00am! Students will have access to inside and outside mini-golf, karaoke, bingo, mini-bowling, laser tag, and so much more!
Since this is a Prom for our students, I want to keep student volunteers at a minimum if not a complete zero for the night of and that means I need employee volunteers! Volunteer needs are listed below!
Prom 8-11:30pm
Bartenders (we will have a mocktail bar with sparkling juice, soda and water)
Photo Booth Attendants (we will have two photo drops with Ipad stations for photos)
Check-In Attendants (will need ticket/ guest list checkers)
Security (we will need additional people to check/ be stationed at specific doors to ensure no one is sneaking in or bringing any beverages into Prom)
Bob Walthers 12-3:00am
Shuttle Ticket Checkers (we will need individuals at UE checking tickets before students board the shuttle to ensure they have an actual ticket to attend Bob Walthers after party)
Bob Walthers Ticket Checkers (we will need individuals stationed at Bob Walther's checking tickets from people who may be electing to drive themselves over and not taking the shuttle)
Karaoke Attendant/ MC (we will be purchasing/ renting a Karaoke Machine and running Karaoke ourselves, and need individuals willing to help MC/ run this fun activity)
Food Attendants (in addition to Bob Walther's cafe being open, we will be purchasing and bringing in pizza and beverages and will need individuals willing to help set-up and monitor food rooms)
If you are interested, able and willing to volunteer for Prom, please reach out by email Abagail Catania at ac532@evansville.edu and indicate which (if any) specific volunteer opportunities you are interested in!
Thank you in advance! I know our students are really excited about this night! :)
Apply to Be A Summer Assistant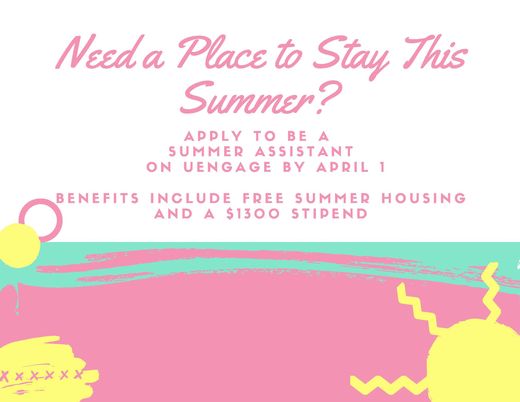 Need a place to stay this summer? Apply to be a summer assistant on UEngage by April 1! Benefits include free summer housing and a $1300 stipend!
Call for Nominations: Dean of Students Leadership Awards
Nominations are now being accepted for consideration of The Howard S. Rosenblatt "Dean of Students Leadership Awards." These awards will be presented at the 29th Annual Leadership Awards Reception scheduled for April 20, 2022. Invitations will be prepared by the Center for Student Engagement.
Awards are presented in the following categories:
Student Organization Advisor of the Year
Student Organization of the Year
Student Leader of the Year
Over 80% of UE students participate in at least one student organization or program. These organizations are successful because of the commitment of the student leaders and the advisors who give freely of their time and support. The recipients of these awards are selected based on their commitment to the University of Evansville as well as the development and success of their efforts within their chosen student organization.
The deadline for nominations is March 29, 2022. Click on this link to submit your nomination:
https://www.surveymonkey.com/r/HowardSRosenblattDeanofStudentsLeadershipAwards2022
If you have any questions, please contact the Vice President for Student Affairs/Dean of Students office at 812-488-2500 or by e-mail via js944@evansville.edu.
Thank you in advance for celebrating our student leaders' achievements!
MSC: McGary Middle School Art Showcase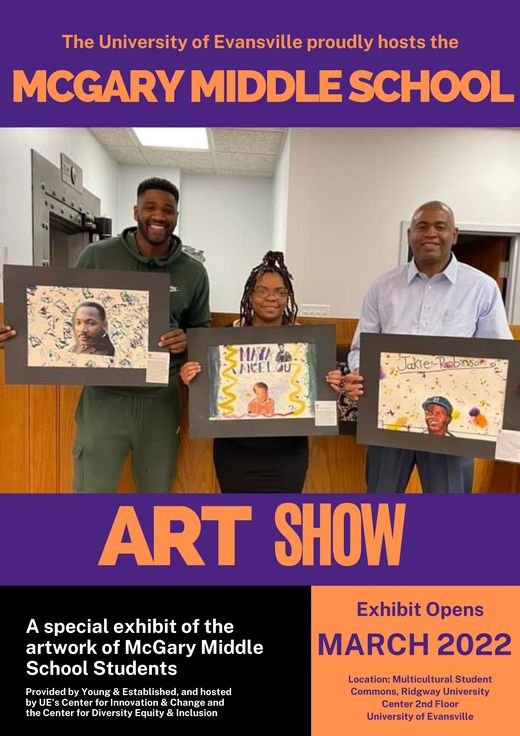 The Center for Innovation & Change and the Center for Diversity Equity and Inclusion are proud to host a McGary Middle School Art Showcase sponsored by Young & Established! The students at the McGary Middle School worked hard to create art for Black History Month and we are bringing them right here to our campus!
You can find their art showcased in the Multicultural Student Commons (2nd Floor of Ridgway University Center) starting on March 1st and running throughout the rest of the month! Head over to Ridgway and come see what these amazing students have put together!

PSYC246 Survey Participation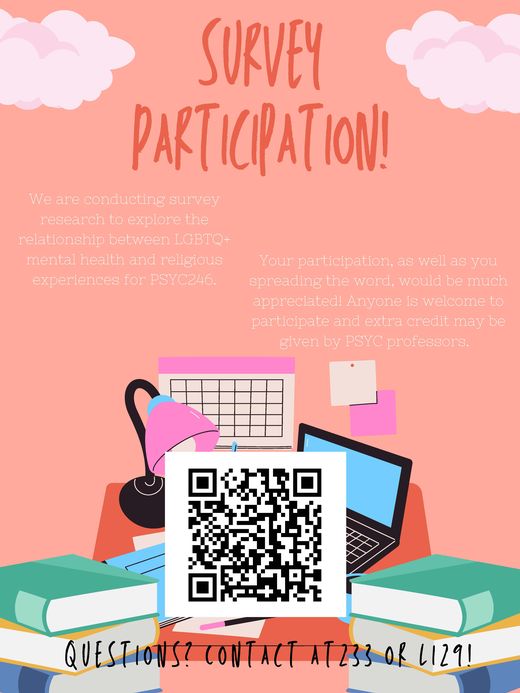 We are exploring the relationship between LGBTQ+ mental health and religious experiences, your participation would be much appreciated!
Caleb Wassmer paces UE men at Butler
Caleb Wassmer finished Monday's opening round of the Butler Spring Invitational with an even 70 to pace the University of Evansville men's golf team.
Originally scheduled for two rounds, Monday was limited to one round of 18 due to the weather at Highland Country Club.
Wassmer birdied two holes on the back nine to clinch the even par round. He is tied for the 8th position. Finishing the day at 1-over was Dallas Koth. Birdies on the 17th and 18th holes saw him card a 71 to rank in a tie for 11th.
Third on the team and sitting in an 18th-place tie is Isaac Rohleder. He carded a 2-over 72. Henry Kiel completed the day with an 80 and was followed by Nicholas Gushrowski and Carson Parker. They completed the day with rounds of 81 and 85, respectively.
Sitting at 1-under for the tournament, Valparaiso leads the team standings. As a team, the Beacons posted a 279 and enters the final day with a 7-shot lead over Butler. Youngstown State and Green Bay are tied for third with a 290.
Evansville is right in the thick of the battle, ranking 8th with a 293. The Purple Aces are just three out of third place. Two players are tied atop the leaderboard with a 2-under 68. On Tuesday, the teams will play the final round.
Borisova and McMinn lead women's golf in day one
Alyssa McMinn and Magdalena Borisova were the leaders for the University of Evansville women's golf team in Monday's opening round of the Golfweek/Any Given Tuesday Intercollegiate.
Individual and team standings are unavailable at this time as four teams did not complete the opening round at True Blue Golf Club.
McMinn and Borisova completed the opening 18 holes with rounds of 77, coming in at 5-over. Borisova wrapped up the opening nine holes at 1-over with a pair of birdies while McMinn birdied the 17th hole to lower her tally.
Mallory Russell and Allison Enchelmayer carded rounds of 80 on Monday while Caitlin O'Donnell checked in with an 82. Playing as an individual, Carly Frazier registered an 85.
On Tuesday, the opening round will finish up before the teams embark on the second 18 holes.
Contribute to AceNotes
To have content considered for inclusion in AceNotes, please submit a Marketing Request Form. Deadline for submission to AceNotes is 10:00 a.m. on the requested date of publication. Only articles concerning UE related/sponsored activities will be accepted. Articles submitted to AceNotes may be edited for length and clarity. Submitter contact information is at the end of each article.