| | |
| --- | --- |
| AceNotes Today | Monday, March 28, 2022 |
WACKY OLYMPICS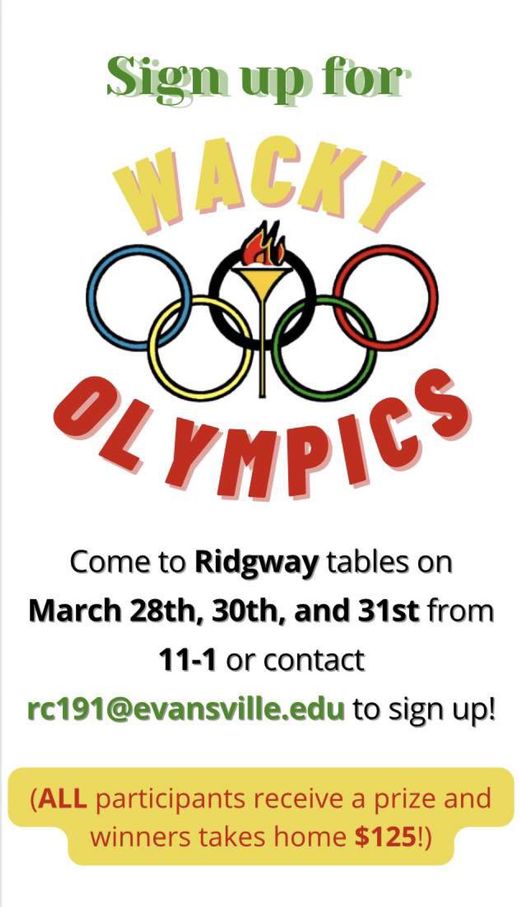 Join Lead Forward for a fun field day filled with Wacky Olympic games! $20 per team (4 people per team)
International Club Flag Parade
The International Club is holding the Flag Parade on March 31st from 4:00 to 4:30 PM to promote the IC Food Festival on April 1st! We are celebrating the diversity of UE and the world by parading flags around campus. You can hold flags of any country you choose! Also, participants will receive a free IC shirt! The route of the parade is below.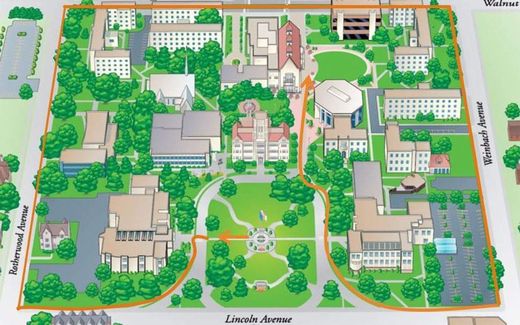 We kindly ask all participants to meet 1st floor Ridgway first to pick up a flag from 3:30 PM to 3:55 PM and then meet at the Oval in front of Olmsted. If you are unable to pick up your flag at this time but would still like to participate in the parade, please let us know and we will bring your flag directly to the Oval!
If you are interested in participating, then please fill out the following Google Form: https://forms.gle/Sgngv6GVZ1KftWxK6
Thank you for supporting International Club!
If you have any questions, then please email Akane Suzuki at as972@evansville.edu or Sylvia Lu at ll148@evansville.edu. Another email will be sent out shortly to those who fill out the Google Form with additional details.
SafeZone LGTBQ+ Ally Training: Student Session!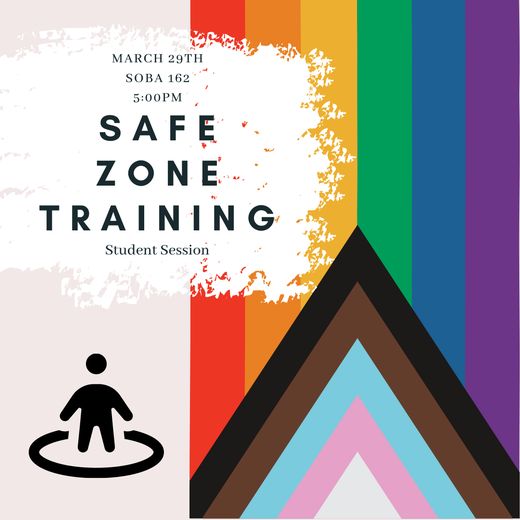 Join the Center for Diversity Equity and Inclusion for Safe Zone LGBTQ+ Ally Training on March 29 beginning at 5 p.m. in SOBA 162! Safe Zone Training is a training that will provide participants with the knowledge and skills to ensure their 'zone' is a safe place for members of the LGBTQ+ community. Your 'zone' is anything from student orgs, your dorm, classrooms, your work, etc.
Join us in ensuring every zone is a Safe Zone!

Diverse Excellence Series Segment #2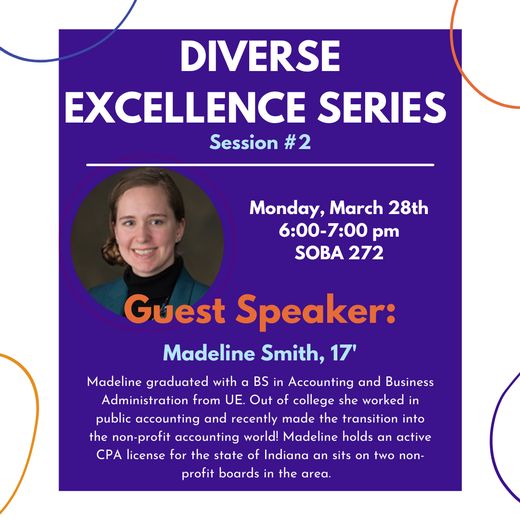 The Wom_n's History Month and Disability Awareness Month celebration continues!
The Center for Diversity, Equity, and Inclusion is proud to host its second segment of the Diverse Excellence Series! Guest speaker, and UE Alum, Madeline Smith recently entered the non-profit accounting world and sits on two non-profit boards in the area. Join us on Monday, March 28th at 6:00 pm in SOBA 272 as Madeline discusses her background and life trajectory.

Prom Night!
The Center for Diversity, Equity, and Inclusion & Student Activities Board are proud to present PROM NIGHT on Friday, April 1st from 8:00-11:30 pm in Eykamp Hall! All UE students, UE student guests and USI students are invited to dance the night away at this free event!
Attire for Prom is semi-formal. No blue jeans allowed!
Following Prom we will shuttle students to Walthers Golf and Fun for mini-golf, mini-bowling, karaoke, and much more for the After Party from 12-3:00am! The after party is $8 for UE students and $10 for UE student guests and USI students! Tickets for the afterparty can also be purchased separately, meaning you do not have to attend Prom in order to attend the after party.
To successfully attend, ALL students must RSVP. UE students, please RSVP on UEngage here: https://uengage.evansville.edu/event/7943276. Outside guest and USI students can RSVP here: https://www.eventbrite.com/e/university-of-evansville-prom-tickets-303232234777?ref=estw
If you plan on inviting a USI student or outside guest, please have them register using the correct link above. All outside guests must be affiliated with a UE student, unless they are a USI student. State and student IDs will be required during check-in for outside guests. UE students must only bring student IDs.
After party payment can be made at the door or during the week leading up to Prom. If utilizing cash, please have exact change. We will be tabling during the week, so be on the look out for our table in Ridgway and for information through our Instagram account @uediversity!
If you have any questions, please contact Center4DEI@evansville.edu.
Let's party!!
Pep and Vim Penny Wars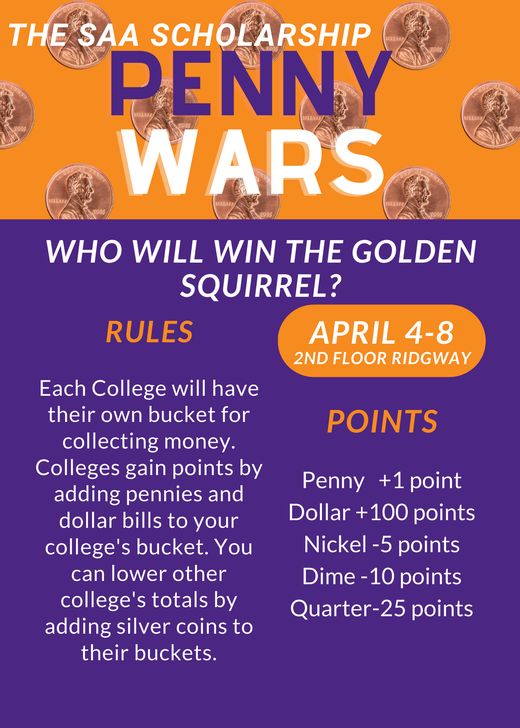 Start saving your pennies! Penny Wars will be held during Spirit Week, April 4-8 in Ridgway near the information desk from 11:00 a.m. - 1:00 p.m. Money raised supports the Staff and Administrators Assembly Scholarship. Each College as well as University Staff and Administrators are competing for the most points. You can earn points for your team by placing pennies and dollars in your bucket. You can subtract points from your opponents' total by placing silver coins in their bucket!
Points are awarded as follows:
Penny = +1 point
1 Dollar= +100 points
5 Dollars = +500 points
10 Dollars= +1,000 points
20 Dollars= +2,000 points
Nickel = -5 points
Dime= -10 points
Quarter = -25 points
Who will win the Golden Squirrel this year?
Chasing Water Falls and Zip Lining with the Crew April 2nd and 3rd
Join us April 2nd and 3rd as the UE Venturing Crew makes our way across Southern Illinois visiting some of the Midwest's best water falls.
We will leave campus Saturday morning April 2nd to Zip Line through 83 acres of Southern Illinois' and then start our water fall tour of what is called 5 of the best water falls in the Midwest: Jackson Falls, Burden Falls, Bork Falls, Cedar Falls and Ferne Clyffe.
We will see 4 different water falls on Saturday, stay in a tree house village at Camp Ondessonk Saturday night while sitting around the campfire playing games and making Smores.
At Camp Ondessonk, there are 2 water falls that we will explore as we leave camp Sunday morning.
We'll stop at another water fall on the way back to campus and should be back by 2pm on Sunday.
Food and transportation will be provided and a sleeping bag can be borrowed from the crew as well.
Space for this trip is limited to 20 people with the cost of $10 and can be paid with cash, check, Square or Venmo
Please email venturing@evansville.edu to reserve your spot and arrange payment.
Complete the University safety waiver at: UE self service >UE forms > Students > Student Club Activities > select the event to register
Department of Art presents the 60th Annual Undergraduate Student Exhibition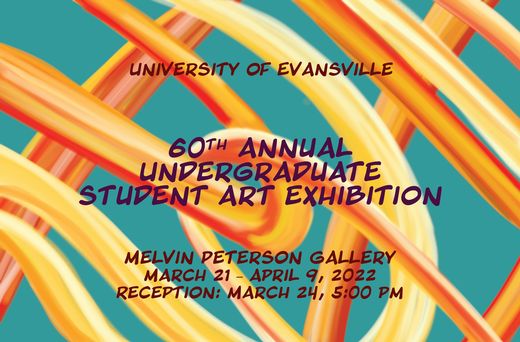 The Department of Art invites you to view the 60th Annual Undergraduate Student Exhibition in the Melvin Peterson Gallery from March 21- April 9, 2022. The Reception and Awards is March 24, 5-6:30 PM, with awards ceremony at 5:30. Please come visit the exhibition and celebrate the success of the students. You may also vote for the People's Choice Award which is awarded at the end of the exhibition. Hope to see you there.
2022 Health Careers Forum
UE EXSS Club and the Center for Career Development present the 2022 Health Careers Forum on March 30th from 6:00-8:00 PM in Eykamp Hall. Student attendees have the opportunity to ask questions to a diverse healthcare professional panel as a means to guide them on their future job outlook and search. Business casual attire is required, snacks will be provided, and name tags will be given to the registered attendees. You do not have to be a club member to participate, although attendance is mandatory for EXSS club members. Use the link below to register by Tuesday, March 29th at 8 PM!
Link to participate and register:
https://forms.gle/wmvQUasS6NMx6P4x9


Registration Week 2022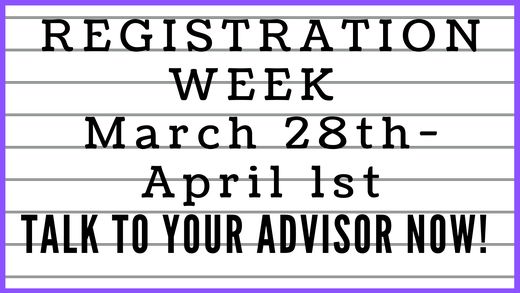 Registration Week is right around the corner! Are you ready?
Registration begins March 28th. Make sure to meet with your advisor to have your classes approved before registration. If you have questions about registration, email academicservices@evansville.edu or come visit us in Olmstead Hall, Rm 116.
WE DID IT! THANK YOU to our UE Campus Community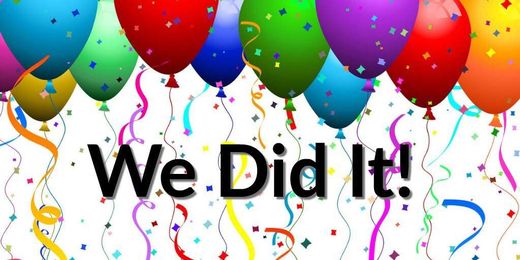 Our Red Cross Blood Drive Goal was achieved 100% within 7 days!! THANK YOU to our UE Campus Community- Students, Staff, Faculty and Administration- in teaming up and meeting this desperate need in our community.
The UE Center for Innovation & Change partnered with the Red Cross and Alpha Phi Omega, our Co-Ed Service Fraternity, for an on-campus blood drive set for Monday, March 28 from 10 a.m. to 3:00p.m. Eykamp Hall, Ridgway University Center.
VOICE: Your Vision. Your Voice. Shaping Our Region's Future.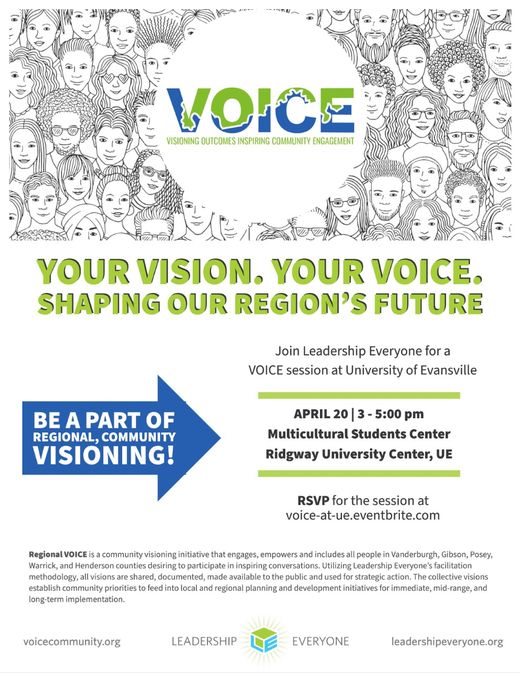 The UE Center for Innovation & Change and Leadership Everyone are partnering to bring VOICE to UE Campus on April 20th from 3:00pm to 5:00pm in the Multicultural Commons Area, 2nd Floor in Ridgway University Center.
Regional VOICE is an initiative by Leadership Everyone to bring together diverse groups of people to envision a preferred future for our region. While RSVPs are appreciated, if you don't know until the last minute, come anyway! We can't wait to vision with you.
RSVP here: https://voice-at-ue.eventbrite.com
Make a positive change in the world with Changelab!

Are you looking at the world around you and asking, "What if"?
Are you interested in helping the community to innovate for a more just, prosperous, and sustainable world?
Do you need to add a course and not sure what to take?
ChangeLab is for YOU!
All ChangeLab Students receive presentation coaching workshops, team building guided by expert coaches and project management resume building skills!
Here are just a few of the ChangeLabs YOU can choose from for Fall 2022!
Uganda Project- Through research and comprehensive brand development strategies students, students will design and implement marketing initiatives in Uganda.
Professional Drone Photography/Videography- Students will explore the current market for professional drone photography and videography, and explore how a student-run agency at the University of Evansville can help fill the needs of that market.
Equitable and Nourishing Food System for All- Students will collaborate with Urban Seeds, a not-for-profit organization advocating for a quality, equitable, and robust food system.
Increasing Adult Literacy- Students make a positive impact in Vanderburgh County by working directly with the Evansville Literacy Center to improve adult literacy.
Ethics and Social Change- Students take on a project that impacts real change on campus and in our community.
A complete list can be found here.
Nutrition 304 offering -Summer session 1
NUTR-304 Nutritn Concepts-Controversies (3 Credits)- meets requirements for outcome 5 Will be offered as an asynchronous course, that will use several different, self- paced learning modalities. Focuses on basic nutrient requirements and how they are used by the human body throughout the life cycle. A holistic approach with emphasis on physiological factors influencing eating habits (social, economic, cultural, etc.). Current controversies in the field of nutrition discussed and class activities are coordinated to stimulate thought and judgment on selected topics. Provides a basic understanding of nutrition for application to one's own lifestyle. Meets the general education health and wellness requirement.
Volunteers Needed for International Food Festival
International Food Festival is coming up on Friday, April 1 from 5 to 7 pm, and we need your help! We are looking for volunteers to help with decoration, setup, and food service. Get a free T-shirt and voucher for dinner! View opportunities and sign up here.
Contact Jon at kh436 with any questions about volunteering!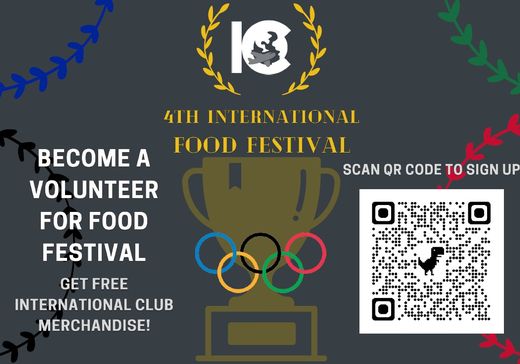 Creativity Survey for Research Methods
Hello Aces!
My name is Shraya Rao. I'm a senior Psychology major. My research partner, Sadie Scovern, and I are conducting a survey for Research Methods this semester. Our research is regarding the impact of listening to music on creativity, and we are looking to recruit college students across different majors. Most of the students who have participated, thus far, are within the Psychology department, and we really need more music students. If you are a music major, would you please consider taking our survey? Participation should take approximately 5-10 minutes. Some professors are offering 1 point of extra credit for filling out the survey, so ask them, if you're interested.
Here is the link to our survey: https://uoebusiness.co1.qualtrics.com/jfe/form/SV_6x2pAdgkF2D8r66
Thank you!
Sincerely,
Shraya Rao

Employee Volunteers Needed for CDEI Prom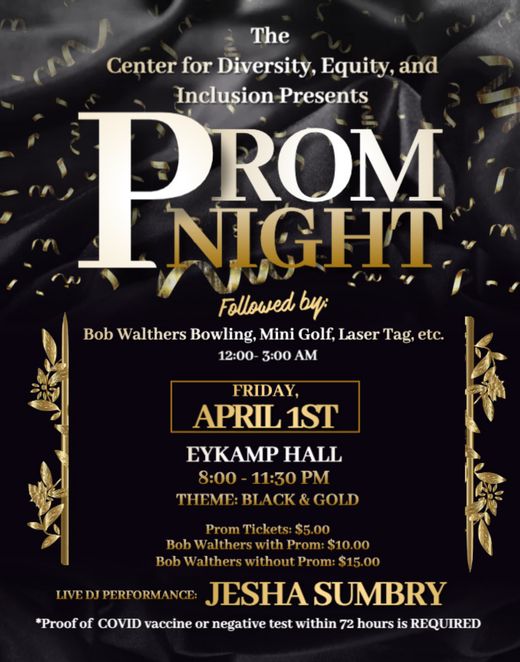 Hello everyone! As some of you may know, the CDEI in collaboration with SAB is holding a Prom on April 1st, 2022! This collaboration came together as restrictions are lessening and we realized many of our students were not able to attend an actual in-person, high school Prom! So, we decided to throw one for all students!
Prom will be held on April 1st in Eykamp Hall from 8:00pm- 11:30pm! Following Prom we will be shuttling students to Bob Walthers, where we have rented the space from 12:00am- 3:00am! Students will have access to inside and outside mini-golf, karaoke, bingo, mini-bowling, laser tag, and so much more!
Since this is a Prom for our students, I want to keep student volunteers at a minimum if not a complete zero for the night of and that means I need employee volunteers! Volunteer needs are listed below!
Prom 8-11:30pm
Bartenders (we will have a mocktail bar with sparkling juice, soda and water)
Photo Booth Attendants (we will have two photo drops with Ipad stations for photos)
Check-In Attendants (will need ticket/ guest list checkers)
Security (we will need additional people to check/ be stationed at specific doors to ensure no one is sneaking in or bringing any beverages into Prom)
Bob Walthers 12-3:00am
Shuttle Ticket Checkers (we will need individuals at UE checking tickets before students board the shuttle to ensure they have an actual ticket to attend Bob Walthers after party)
Bob Walthers Ticket Checkers (we will need individuals stationed at Bob Walther's checking tickets from people who may be electing to drive themselves over and not taking the shuttle)
Karaoke Attendant/ MC (we will be purchasing/ renting a Karaoke Machine and running Karaoke ourselves, and need individuals willing to help MC/ run this fun activity)
Food Attendants (in addition to Bob Walther's cafe being open, we will be purchasing and bringing in pizza and beverages and will need individuals willing to help set-up and monitor food rooms)
If you are interested, able and willing to volunteer for Prom, please reach out by email Abagail Catania at ac532@evansville.edu and indicate which (if any) specific volunteer opportunities you are interested in!
Thank you in advance! I know our students are really excited about this night! :)
Save the Date for Benefit Open Enrollment
During the period of April 4 through April 15, benefit-eligible employees may enroll or make changes in the University's health, life, long term disability, and dental insurance, and ACES flexible spending account benefit plans. It is the only chance for benefit-eligible employees to enroll or make changes until the next open enrollment period unless you have a qualifying change in status.
More information will be available next week.
Employees will have the opportunity to learn more about these benefit changes or to speak with a plan representative at one of the following in-person events in Eykamp Center room 251:
• Tuesday, March 29, 9:00 AM – 10:00 AM
• Tuesday, March 29, 11:00 AM – 12:00 PM
• Tuesday, March 29, 1:30 PM – 2:30 PM
• Wednesday, March 30, 9:00 AM – 10:00 AM
• Wednesday, March 30, 11:00 AM – 12:00 PM
We will offer one virtual opportunity to learn about benefit changes via Zoom:
• Wednesday, March 30, 2:30 PM – 3:30 PM
Please contact the Office of Human Resources at ext. 5045 with any questions.
Apply to Be A Summer Assistant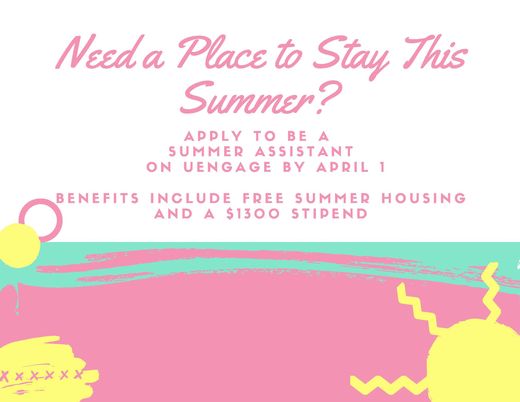 Need a place to stay this summer? Apply to be a summer assistant on UEngage by April 1! Benefits include free summer housing and a $1300 stipend!
Summer Sessions Payment Plan
Summer session courses can be added to your monthly payment plan now with no additional set-up fee. If your student is enrolling in summer courses, anticipated summer charges can be included in the spring semester payment plan and the plan extended through May (for Summer 1 charges) or June (Summer 2 charges). The undergraduate tuition rate for Summer 2022 is $580 per credit hour. Fees per summer term include a $50 registration fee and a $40 technology fee. Online courses are assessed a $50 online course fee. Payment arrangements are due prior to the start of the summer term.
Students should contact the Office of Student Financial Services no later than Reading/Study Day, April 28, 2022 to determine if financial aid is available for their summer courses.
To modify your current payment plan to include summer, contact the cashiers in the Office of Student Financial Services at 812-488-2565.
Submitted by Amy Sowders as560@evansville.edu
Outstanding Senior Service Award Nomination
Do you know a senior deserving of the highest award given by UE? Ten finalists will be selected, and one student will be presented this award at Commencement. Selection is based on academic achievement, demonstrated leadership, and community and campus engagement.
The Guthrie May and Mabel Dillingham Nenneker Outstanding Senior Service Award nominations will be accepted March 14 – March 28, 2022.
You can nominate deserving seniors here: 2021-22 Outstanding Senior Service Award Nomination
Applications must be submitted to the Office of the Dean of Students by March 28, 2022.
Questions can be referred to:
Dr. Rob Shelby, Interim Vice President for Student Affairs/Chief Diversity Officer
Michael Tessier, Interim Dean of Students
DeanofStudents@evansville.edu
812-488-2500
Call for Nominations: Dean of Students Leadership Awards
Nominations are now being accepted for consideration of The Howard S. Rosenblatt "Dean of Students Leadership Awards." These awards will be presented at the 29th Annual Leadership Awards Reception scheduled for April 20, 2022. Invitations will be prepared by the Center for Student Engagement.
Awards are presented in the following categories:
Student Organization Advisor of the Year
Student Organization of the Year
Student Leader of the Year
Over 80% of UE students participate in at least one student organization or program. These organizations are successful because of the commitment of the student leaders and the advisors who give freely of their time and support. The recipients of these awards are selected based on their commitment to the University of Evansville as well as the development and success of their efforts within their chosen student organization.
The deadline for nominations is March 29, 2022. Click on this link to submit your nomination:
https://www.surveymonkey.com/r/HowardSRosenblattDeanofStudentsLeadershipAwards2022
If you have any questions, please contact the Vice President for Student Affairs/Dean of Students office at 812-488-2500 or by e-mail via js944@evansville.edu.
Thank you in advance for celebrating our student leaders' achievements!
The deadline to apply for the 2022-2023 Dr. Marvin E. Hartig Memorial Scholarship has been extended to May 6th
Family, friends and loved ones of the late Dr. Marvin E. Hartig are pleased to announce the application process for the Dr. Marvin E. Hartig Memorial Scholarship. This scholarship is dedicated to the loving memory of Dr. Hartig, Dean of Evansville College's Evening College in 1967, and administrator for the Center for Advanced Study, director of the Evansville chapter of the American Institute of Banking (AIB), and the international student advisor. In 1974, Dr. Hartig was appointed Dean of Academic Services. He retired in 1984 after serving his alma mater for thirty-five years and passed away in 2007.
This scholarship will be awarded annually to a deserving sophomore student. Preference will be given to a student working while being enrolled as a full-time student. International students are encouraged to apply.
Eligible students for the 2022-2023 Hartig Memorial Scholarship will be sophomores in the 2022-2023 academic year.
Apply for the 2022-2023 Hartig Memorial Scholarship
Deadline: Please return all materials to the Office of Student Financial Services by April 22, 2022. The decision will be announced by May 27, 2022.
Questions: Amber Chandler, Administrative Assistant to the Office of Student Financial Services, at ac547@evansville.edu or 812-488-2364
Submitted by Amber Chandler ac547@evansville.edu
50 Years of Title IX: Mythbuster Monday
On June 23, 1972, Title IX of the education amendments was enacted into law. This important piece of legislation has now supported gender equity for 50 years. During the month of March, which is also Women's History Month, UE will share Mythbuster Mondays to bring greater awareness to Title IX and both its purpose and benefits.
Myth: Title IX reduces opportunities for men, and/or male identifying individuals.
Fact: Title IX does not require institutions to reduce the number of opportunities available to men. It requires institutions to increase the number of opportunities available to women and women identifying individuals to be equitable to the opportunities available to men.
Barela's walk-off home run clinches 6-3 win
With one out in a 3-3 game in the bottom of the ninth, Alyssa Barela launched a 3-run walk-off home run to give the University of Evansville softball team a 6-3 victory over UNI on Sunday at Cooper Stadium.
UE (18-10, 3-3 MVC) scored three runs in the first before Northern Iowa (13-11, 5-1 MVC) tied it with two runs in the fourth and one in the fifth. Pitchers Izzy Vetter and Kailyn Packard took over at that point, keeping the opposition scoreless until Barela's homer in the ninth. Alexa Davis recorded two of the six UE hits and scored twice.
It was a quick start for the Purple Aces, who scored three times in the first. Jessica Fehr led off with a walk before advancing to third on a double by Marah Wood. Fehr scored the first run of the game on a wild pitch before Wood stole home on a double steal with Alexa Davis, who reached on a walk. Davis made it 3-0 when she scored on a passed ball. Originally called out, the call was overturned.
Northern Iowa chipped away at the lead, scoring two runs in the fourth on a Taylor Hogan double. They tied the game at 3-3 in the fifth when Kamryn Shaffer hit a solo home run to left. Both pitchers came up big for their respective squads over the next three innings. Evansville put its first two runners on in the sixth before coming up empty while the Panthers stranded a pair in the top half of the seventh.
UNI led the 9th off with a single and had two runners in scoring position before Vetter recorded her sixth strikeout of the afternoon to send it to the bottom of the ninth. Alexa Davis led the inning off with a double before a sacrifice bunt by Hannah Hood advanced her to third. Sydney Weatherford reached on a fielder's choice and proceeded to steal second to bring up Barela with one out. Barela took the second pitch that she saw and sent it over the right field wall to clinch the victory. It was her second home run of 2022.
Both pitchers threw the entire game. Vetter earned her 13th win of the year, allowing three runs on seven hits in nine frames. Packard threw 8 1/3 innings and fanned 12 batters.
Evansville takes to the road next weekend for a 3-game set at Loyola.
Aces fall in narrow Sunday twin bill at Indiana
Generating opportunities to win each game, the University of Evansville baseball team was unable to get timely hits when it needed it, falling by twin 6-5 scores in a Sunday doubleheader at Indiana in Bloomington, Ind.
"We battled today and had chances to win both games. Really competed but didn't do enough to win," said Aces head baseball coach Wes Carroll. "Proud of how we battled in the elements but we didn't capture the opportunity. Ready to get back home for a good stretch."
Game One: Indiana 6, Evansville 5
Much like Friday night, the runs came early, but they only were marked on the home half of the scoreboard. The Hoosiers struck for four in the opening inning, magnified by a pair of Evansville errors. Following the opening inning, Aces starter Shane Gray settled in, firing five-straight strikeouts split between the third and fourth innings, holding Indiana to just a 4-0 lead.
Evansville's offense created opportunities, but did so without a hit. After Indiana added two more runs in the fourth, Evansville would mount a comeback, beginning with its first hit of the contest in the sixth with a double down the left field line that broke the seal for later innings.
In the eighth, the Aces began their comeback, scoring five in the penultimate inning. It began with a two-run homer by Tanner Craig that ricocheted off the scoreboard for his 39th career blast. Three batters later and with two more runners on base, Evan Berkey smashed the second home run of the inning, slicing on down the right-field line that got out and pushed the Aces within one at 6-5 heading into the ninth.
The Aces brought their three, four, and five batters to the plate in the ninth, but Indiana reliever Grant Holderfield ended Evansville's threat to secure the 6-5 win for the Hoosiers.
Game Two: Indiana 6, Evansville 5
Evansville's offense got going much sooner in the second game of the doubleheader as the Aces scored their first run of the game on aa fielder's choice in the top of the first. Indiana quickly answered, scoring a run on a groundout to tie the game at one.
An RBI base hit from Shallenberger gave the Aces the lead back in the top of the second as the junior scored Hord. The lead was owned by the Aces until the bottom of the third when the Hoosiers tallied an RBI single of their own to re-tie the game.
A key moment in the contest occurred in the fifth as Evansville looked poised to limit Indiana to just one run, but an error allowed two runs to score, handing the Hoosiers a 5-2 lead.
As has been true of the Aces all season, Evansville mounted a comeback, beginning with a solo home run from Shallenberger in the sixth and followed by an RBI single from Simon Scherry in the seventh to get within a run. Later in the seventh, a wild pitch tied the game as Ty Rumsey came home.
In the next half inning, Indiana retook the lead, doing so for good with an RBI base hit of their own by Glasser. The key to the night was Evansville's inability to score runners on base as the Aces stranded 16 runners in game two of the doubleheader, falling to Indiana by a 6-5 score.
The Aces will return home for the first time in nearly a month, beginning an eight-game homestand on Tuesday when Evansville hosts Austin Peay at German American Bank Field at 6 PM.
Panthers sweep softball in Saturday doubleheader
On a crisp and windy day at Cooper Stadium, the University of Evansville softball team dropped a pair of games to Northern Iowa. The Panthers began the day with an 8-2 win before finishing with a 10-0 victory to complete the day.
Game 1 – Northern Iowa 8, UE 2
Three runs in the fourth and four more in the sixth inning lifted UNI to an 8-2 victory in the opener. Evansville took the early lead in the first inning when Jessica Fehr scored on a Marah Wood single. Wood's hit caromed off second base to help the run score. Izzy Vetter kept the Panthers off the board until the top half of the fourth when three runs scored. Kylee Sanders tripled to right field to knot the game at 1-1 before two runs crossed the plate later in the frame.
In the ensuing half inning, UE got one of those runs right back when a Zoe Frossard single scored Hannah Hood, who reached on an error. The Panthers plated four in the sixth inning to break the game open and would pull away to take the 8-2 decision. Sanders led the Panthers offense with three hits and three RBI. Mya Dodge added three RBI of her own. UE had four hits in the contest. Samantha Heyer pitched 3 2/3 innings of relief on the way to her third win of 2022. She allowed just one hit. Izzy Vetter suffered her fourth loss of the season, giving up six runs on eight hits in 5 1/3 frames.
Game 2 – Northern Iowa 10, UE 0 (5)
UNI pitcher Kailyn Packard allowed just one hit in five innings while the Panther offense erupted for 10 runs on eight hits to earn the doubleheader sweep. Using the long ball, the Panthers grabbed a 5-0 lead in the second. Mya Dodge belted a leadoff home run in the first before Brooke Snider hit a 2-run shot in the second. Sammy Moss capped off the inning with a 2-run double with all four runs in the frame coming with two outs.
UNI put the finishing touch on the game with a 5-run fifth inning that saw Daryn Lamprecht hit a 3-run homer. Hannah Hood recorded a single in the bottom of the fifth to break up the no-hitter, but UNI finished with the 10-0 win.
Evansville will look to salvage a victory on Sunday with the series finale set for a 12 p.m. first pitch.
UE Track & Field Captures A Pair of Podiums On Day Two At Margaret Simmons Invite
University of Evansville senior Joey Rucinski (Ft. Wayne, Ind./Concordia Lutheran) and the Purple Aces' 4x100-meter relay team both posted third-place finishes on the final day of the Margaret Simmons Invitational in Murray, Kentucky on Saturday afternoon.
Rucinski, who finished second in the pole vault on Friday evening, placed third overall in the javelin throw with a personal-best mark of 44.09 meters (144'8"). Rucinski's toss ranks as the eighth-best mark in school history, with the top seven belonging to senior teammate and school record holder Justus Donaldson (Mattoon, Ill./Mattoon).
"Joey had a tremendous weekend this weekend," said UE head track and field coach Don Walters. "Like I said yesterday, every time that he goes out to compete, he is always trying to get better. And, it seems like every week, he sets a new PR in some event. He has been locked in all season."
UE's 4x100-meter relay team of Brendon Smith (Newburgh, Ind./Castle), Geordan Blades (Avon, Ind./Avon), Greg King (Indianapolis, Ind.), and Giovanni Purser (Port Maria, Jamaica) also posted a podium finish, placing third overall with a time of 42.95. Like Rucinski, the quartet was able to crack UE's career top 10 in the 4x1 event, as it currently ranks as the tenth-fastest time in school history.
"The 4x1 team ran really well today, but the scary thing is, there were still a few small mistakes that were made there and they can still go even faster as a group," said Walters. "We'll definitely take it today, but I am really looking forward to seeing what that group can do together this year."
Individually, Evansville posted five top 10 finishes on the day. Rucinski was joined in the javelin's top 10 by junior Zach Dove (Princeton, Ind./Princeton Community), who placed sixth overall in his first-ever collegiate javelin competition with a toss of 34.55 meters (113'4"). Senior Trey Riggs (Ft. Branch, Ind./Gibson Southern) placed sixth in the 110-meter hurdles with a time of 15.28. Blades posted a ninth-place finish in the 100-meter dash with a time of 11.017, while senior Taiza Alexander (Berea, Ky./Berea Community) placed ninth in the women's long jump with a mark of 5.20 meters (17'0.75").
UE also posted five personal-best marks on the afternoon. Rucinski not only PR'd in the javelin, but also set a new personal standard in the 110-meter hurdles with a time of 17.20. Freshman Preston Riggs (Ft. Branch, Ind./Gibson Southern) set a personal-best mark in the high jump with a leap of 1.75 meters (5'8.75"). And, on the women's side, juniors Mariah Schaefer (Columbia City, Ind./Columbia City) and Claire Griffy set personal-best marks in the 100-meter hurdles and the 1,500-meters, respectively.
"Overall, that's what it is all about – setting new personal-best marks," said Walters. "For our first time outside this year, we'll take the effort this weekend, and hope to build on it next week with a short week of practice coming up."
As a team, Evansville placed sixth on the men's side and 21st on the women's out of 23 competing teams. Evansville will have a short week of practice this week, as the Purple Aces will travel to Charleston, Illinois on Friday to take part in the EIU Big Blue Classic.
Offense continues to roll, racking-up 17 runs as Aces top Hoosiers
In a back-and-forth contest, the University of Evansville baseball team's offense and timely pitching prevailed in a 17-14 win over Indiana on Friday night in Bloomington, Ind.
"Great win to start the weekend. Our offense really kept putting together big innings when needed," said Aces head baseball coach Wes Caroll. "Berkey had a big day for us at the plate with six RBI. We did enough out of the bullpen and Rumsey made the big defensive play in center field for us to win."
It was an offensive exhibition from the start with Mark Shallenberger opening the game with a leadoff home run for his second-straight contest, sending a shot to left field on the second pitch he saw. Indiana responded with a pair of runs in the bottom half of the inning. The big numbers started hanging in the second inning as the Aces cashed-in for six runs in the top half of the inning, opened with another home run, this one coming off the bat of Eric Roberts. Evansville capped-off its half of the inning with a three-run double from Evan Berkey, part of a huge day at the plate for the third baseman.
In the bottom half of the second, Indiana got back within a run, pushing across four runs to narrow Evansville's advantage to 7-6. The Hoosiers would retake the lead in the bottom of the third, scratching three runs on a pair of homers, to go in front, 9-7. Continuing an impressive stretch over the last few weeks, Chase Hug tied the game for Evansville in the fourth, doubling to bring in a pair of runners in Brent Widder and Tanner Craig.
As was true all night, see-saw tipped again, moving back in Indiana's favor in the fifth as the Aces ran into trouble, loading the bases with a pair of outs. Evansville was able to work through on the shoulders of Drew Dominik, but not before IU scored three times to open up a 12-9 lead.
Beginning with the top of the sixth inning, momentum swung back in Evansville's favor and would stay there. Continuing the trend of leadoff dingers, Tanner Craig smashed a towering home run up and over the scoreboard in left field. The home run was Craig's 38th of his career, putting him alone in second in career homers at Evansville, just two back of tying the all-time record. Later in the sixth, Berkey added to the home run fest, going to left field with a three-run blast that recaptured the lead for Evansville, 13-12, a lead UE would hold onto for good.
An impressive effort on the mound from the Aces relievers helped keep a hot Hoosier offense off the board in the sixth and seventh as Dominik turned-in 3.1 innings of work, allowing just one run and striking-out three. To aid the effort, UE added four more runs in the top of the eighth. With the bases loaded and two outs, Shallenberger drew a hit-by-pitch that scored one and then Simon Scherry ripped a double down the left field line, clearing the bases and boosting the Aces advantage to 17-12.
Indiana threatened in the bottom half of the eighth, scoring one run and looking poised for more. With two outs and a runner on third, Carter Mathison looked as if he had scored another with a laser to right center field, but Ty Rumsey made a long run and dove, extending fully to make a diving grab to end the inning.
In the bottom of the ninth, Evansville brought in Nate Hardman, who allowed a run, but settled in and induced a groundout to end the contest as the Aces captured the 17-14 win.
The Aces and Hoosiers are set to continue their series on Saturday with a single game at 1 PM (CT) in Bloomington, Ind.
UE Track's Lasam, Rucinski Place Second At Murray State's Margaret Simmons Invite
University of Evansville senior Joey Rucinski (Ft. Wayne, Ind./Concordia Lutheran) and freshman Denzel Lasam (St. Louis, Mo./De Smet Jesuit) placed second in the pole vault and triple jump events respectively on Friday to lead the Purple Aces' track and field teams at the Margaret Simmons Invitational in Murray, Kentucky.
Rucinski finished second in the pole vault event with a height of 4.05 meters (13'3"). Lasam, meanwhile, posted a personal-best mark of 13.75 meters (45'1.5") to place second in the triple jump. Lasam's triple jump mark ranks him as the fourth-best student-athlete in UE history in the outdoor triple jump, as he tied Jerry Knight's jump from 1972 in the Evansville record book.
"Both Joey and Denzel are two of the hardest workers that we have in our program," said UE head track and field coach Don Walters. "Every time they go out, they expect to get better, so I am not surprised at all that they were able to place second today. Joey will always give you everything he has when he competes, and Denzel just has a tremendous attitude and is always striving to be better."
With only 11 members of the team competing on the first day of events, Evansville posted four personal-best marks, including Lasam's triple jump distance. Rucinski also set a new personal-best mark in the discus with a distance of 37.86 meters (124'2"). Fellow senior Andrew Schuler (Ferdinand, Ind./Forest Park) also set a personal-best mark in the hammer throw with a toss of 38.89 meters (127'7"), while junior Zach Dove (Princeton, Ind./Princeton Community) destroyed his personal standard in the hammer toss with a throw of 45.25 meters (148'5") to place eighth overall. Dove's toss was more than four meters further than his previous-best mark.
Place-wise, senior Mike Boots (Evansville, Ind./Mater Dei) finished sixth in the discus with a team-best toss of 45.77 meters (150'2"), while Dove placed seventh with a throw of 45.51 meters (149'3"). Senior McKenna Sapp (Bloomington, Ill./University) also placed seventh in the women's pole vault event with a height of 3.05 meters (10'0").
The Margaret Simmons Invitational will continue on Saturday at 11:30 a.m. with field events. Track events will begin at noon. Saturday's action can be seen live on ESPN+.
Preseason MVC favorites up next for UE softball
Another big weekend is on the docket for the University of Evansville softball team when the Purple Aces welcome preseason Missouri Valley Conference favorite Northern Iowa to Cooper Stadium. Saturday opens with a 12 p.m. doubleheader before Sunday's finale will get underway with a noon start time.
Last Time Out
- For the first time since 2010, the Aces defeated Drake in a home series, taking two out of three games against the Bulldogs to open league play
- After falling by a 10-1 final in Saturdays series opener, UE stormed back with a 5-3 win to begin Sundays doubleheader before recording a 12-3 win in six innings to seal the series win
- Sydney Weatherford started Sundays opener and after allowing two runs in the first inning, she allowed just one more over the remainder of the contest to help the Aces even the weekend series
- Jenna Lis hit a 2-run homer while Alexa Davis added a solo shot in the game...Mackenzie McFeron had the game-winning hit, plating Haley Woolf on a triple in the 6th
- Evansville led game two by a 6-0 score following three innings before a 5-run 6th clinched the 12-3 win with McFeron coming through in the clutch once again, hitting a walk-off bases-clearing double
What a Day
- Senior Mackenzie McFeron currently has nine RBI in her UE career...four of those came in Sundays doubleheader sweep over Drake
- In game one, her triple in the sixth inning proved to be the game-winner in a 5-3 UE win that evened the weekend series
- McFeron did even better in the finale, belting a base-clearing walk-off double to seal a 12-3 victory and a series win
- She carries a career-best 4-game hit streak into the UNI series
Heating Up
- Jessica Fehr continues to swing a hot bat, adding three hits in six at-bats to help the Aces sweep Sundays doubleheader versus Drake
- Picking up a hit in 11 of her last 13 games, Fehr leads UE and ranks 8th in the MVC with a .355 average
- She is the MVC leader with 14 walks while ranking fourth with 18 runs scored - over the last 15 games, she has scored 13 runs
- After starting the season with two hits in 17 at-bats, Fehr has recorded 25 hits in her last 59 AB's while batting .424 over that span
Dual Threat
- Freshman Sydney Weatherford is off to an impressive start to her college career, ranking second in the MVC with 19 RBI while sitting third with her season ERA of 2.11
- Weatherford is on a roll in the circle, tossing three complete games in a row while allowing just five earned runs over her last 21 innings
- Despite a 3-for-23 skid at the plate, Weatherford is batting .258 while tying for the Valley lead with four triples along with her 19 RBI, which ranks second
Turning Point?
- Jenna Lis approached the plate in the March 20 doubleheader opener against Drake stuck in a 1-for-21 slump at the plate while her team trailed the Bulldogs by a 1-0 margin the weekend series and a 2-0 score in the game
- What may have been a turning point in the season for Lis and her team, she connected on a 2-run home run, her first of the season, to tie the game with the Aces taking both ends of the doubleheader
- She added a 2-for-4 effort with a run and RBI in game two
Butler Spring Invitational up next for men's golf
Highland Country Club will be the scene of next week's Butler Spring Invitational, which will see the University of Evansville men's golf team compete on Monday and Tuesday.
Play opens with a shotgun start on Monday at 9 a.m. ET with two rounds being played. The final 18 holes gets underway Tuesday at 9 a.m. Par is set for 70 with the yardage coming in at 6,551.
Full teams in the event include Butler, Bellarmine, Bradley, Detroit Mercy, Evansville, Green Bay, Indian Hills, Morehead State, Purdue Fort Wayne, Valparaiso and Youngstown State. Ball State, Illinois, Indianapolis, Indiana, IUPUI and West Virginia will be sending individuals.
Last time out, the Purple Aces recorded a 6th place finish at the Sacred Heart Spring Invite in Daytona Beach, Fla. UE was just five strokes outside of the top five. Leading the Aces on the individual side were Carson Parker and Michael Ikejiani, who tied for the 14th position with 2-round scores of 152.
In the final day of the event, Nicholas Gushrowski led the way with a 4-over 76 to earn a 19th-place finish with a 153.
Women's golf treks to Pawley's Island for next tournament
On the heels of a strong home match victory over UIC on Monday, the University of Evansville women's golf team travels to Pawley's Island, S.C. for the Golfweek Any Given Tuesday Intercollegiate.
Three rounds of 18 will be played Monday through Wednesday at the True Blue Golf Resort. A large field will be on hand for the tournament including Charleston Southern, Coastal Carolina, Gardner-Webb, Jacksonville, Missouri, Morehead State, North Dakota State, SMU, St. Thomas, UNC Greensboro, Incarnate Word, Marshall, Ohio U. and Appalachian State.
Monday's match against UIC saw the Purple Aces finish with a 4-3 victory. Facing the Flames at Evansville Country Club, Mallory Russell, Allison Enchelmayer, Carly Frazier and Magdalena Borisova were victorious.
Evansville's last tournament was the Sacred Heart University Spring Break Invitational two weeks ago where three Purple Aces came home in the top 25 with Alyssa McMinn leading the way. She recorded a 79 on the final day to complete the tournament with a final tally of 155. McMinn finished in a tie for 15th. Mallory Russell and Allison Enchelmayer tied for 24th with scores of 159. Russelll followed up Friday's 77 with an 82 while Enchelmayer had a team-low 78 in the final 18.
Contribute to AceNotes
To have content considered for inclusion in AceNotes, please submit a Marketing Request Form. Deadline for submission to AceNotes is 10:00 a.m. on the requested date of publication. Only articles concerning UE related/sponsored activities will be accepted. Articles submitted to AceNotes may be edited for length and clarity. Submitter contact information is at the end of each article.