| | |
| --- | --- |
| AceNotes Today | Friday, March 25, 2022 |
International Club Flag Parade
The International Club is holding the Flag Parade on March 31st from 4:00 to 4:30 PM to promote the IC Food Festival on April 1st! We are celebrating the diversity of UE and the world by parading flags around campus. You can hold flags of any country you choose! Also, participants will receive a free IC shirt! The route of the parade is below.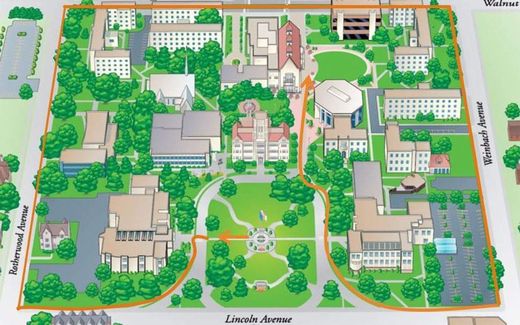 We kindly ask all participants to meet 1st floor Ridgway first to pick up a flag from 3:30 PM to 3:55 PM and then meet at the Oval in front of Olmsted. If you are unable to pick up your flag at this time but would still like to participate in the parade, please let us know and we will bring your flag directly to the Oval!
If you are interested in participating, then please fill out the following Google Form: https://forms.gle/Sgngv6GVZ1KftWxK6
Thank you for supporting International Club!
If you have any questions, then please email Akane Suzuki at as972@evansville.edu or Sylvia Lu at ll148@evansville.edu. Another email will be sent out shortly to those who fill out the Google Form with additional details.
Cornhole with Chi O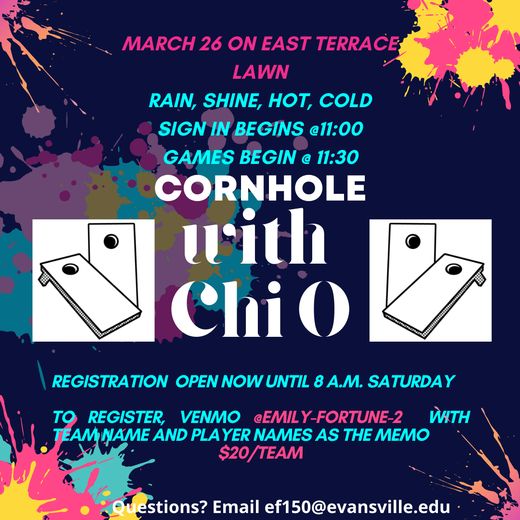 This is an event sponsored by Chi Omega Fraternity to raise awareness and funds for Albion Fellows Bacon Center, the only rape crisis center in Evansville. 100% of the proceeds will benefit the women and children suffering from domestic violence that are seeking aid at the center. There will be concessions available and door prizes, as well as prizes for the winning and runner-up team. Any questions can be directed to ef150@evansville.edu. Registration is currently open and will close at 8:00 a.m. on Saturday, March 26.
SafeZone LGTBQ+ Ally Training: Student Session!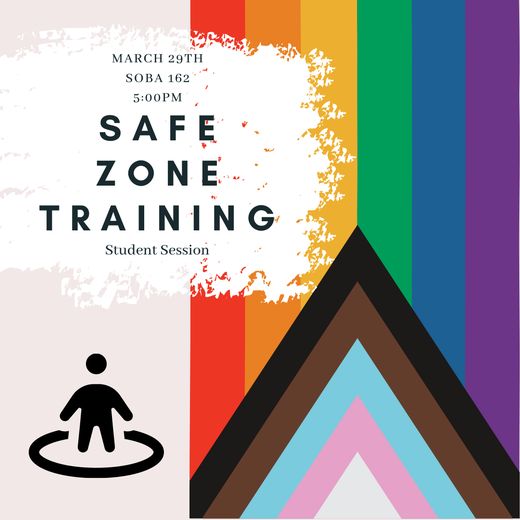 Join the Center for Diversity Equity and Inclusion for Safe Zone LGBTQ+ Ally Training on March 29 beginning at 5 p.m. in SOBA 162! Safe Zone Training is a training that will provide participants with the knowledge and skills to ensure their 'zone' is a safe place for members of the LGBTQ+ community. Your 'zone' is anything from student orgs, your dorm, classrooms, your work, etc.
Join us in ensuring every zone is a Safe Zone!

Diverse Excellence Series Segment #2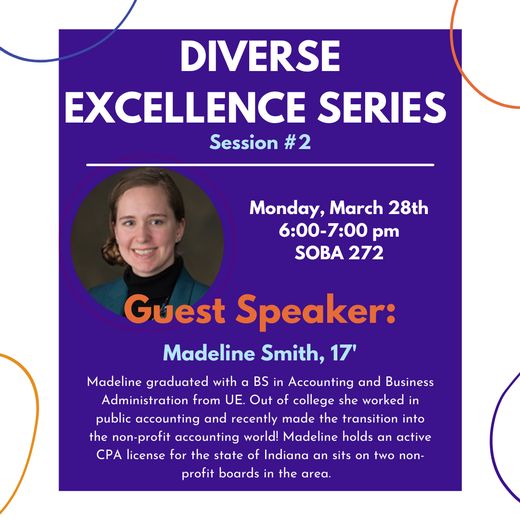 The Wom_n's History Month and Disability Awareness Month celebration continues!
The Center for Diversity, Equity, and Inclusion is proud to host its second segment of the Diverse Excellence Series! Guest speaker, and UE Alum, Madeline Smith recently entered the non-profit accounting world and sits on two non-profit boards in the area. Join us on Monday, March 28th at 6:00 pm in SOBA 272 as Madeline discusses her background and life trajectory.

Prom Night!
The Center for Diversity, Equity, and Inclusion & Student Activities Board are proud to present PROM NIGHT on Friday, April 1st from 8:00-11:30 pm in Eykamp Hall! All UE students, UE student guests and USI students are invited to dance the night away at this free event!
Attire for Prom is semi-formal. No blue jeans allowed!
Following Prom we will shuttle students to Walthers Golf and Fun for mini-golf, mini-bowling, karaoke, and much more for the After Party from 12-3:00am! The after party is $8 for UE students and $10 for UE student guests and USI students! Tickets for the afterparty can also be purchased separately, meaning you do not have to attend Prom in order to attend the after party.
To successfully attend, ALL students must RSVP. UE students, please RSVP on UEngage here: https://uengage.evansville.edu/event/7943276. Outside guest and USI students can RSVP here: https://www.eventbrite.com/e/university-of-evansville-prom-tickets-303232234777?ref=estw
If you plan on inviting a USI student or outside guest, please have them register using the correct link above. All outside guests must be affiliated with a UE student, unless they are a USI student. State and student IDs will be required during check-in for outside guests. UE students must only bring student IDs.
After party payment can be made at the door or during the week leading up to Prom. If utilizing cash, please have exact change. We will be tabling during the week, so be on the look out for our table in Ridgway and for information through our Instagram account @uediversity!
If you have any questions, please contact Center4DEI@evansville.edu.
Let's party!!
WRA presents: Vagina Monologues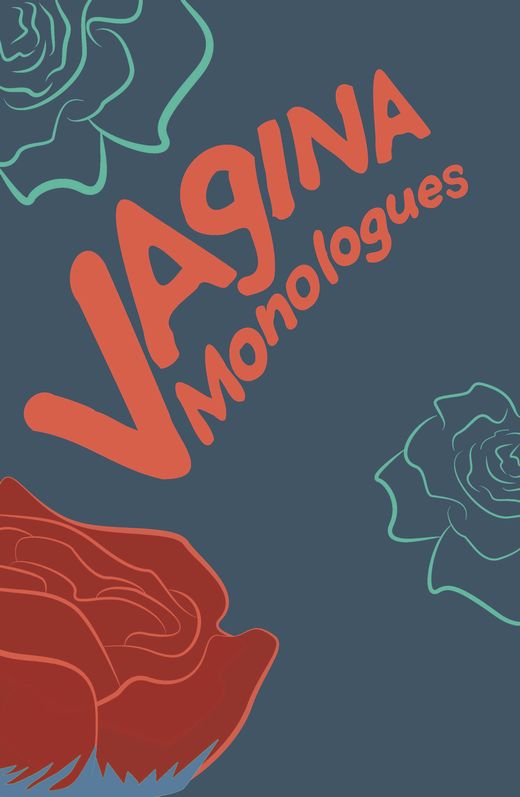 Come join WRA for the Vagina Monologues! Members of the UE community will present a series of monologues from the Eve Ensler play about vaginas and overcoming the stigmas attached to them. There will be tables during and after the performance with art from UE students for purchase. Tickets are $2 for members of the UE community and $5 for others. Join us on March 26th in Eykamp 251 to talk about vaginas! Doors open at 6:30 p.m. and event starts at 7 p.m.
UE Theatre Presents HEROES OF THE FOURTH TURNING
The University of Evansville Theatre closes their spring 2022 season with Will Arbery's HEROES OF THE FOURTH TURNING. A 2020 Pulitzer Prize Finalist in Drama, this haunting play is a meticulously crafted story centering on four alumni of a conservative college whose reunion spirals into chaos over spirituality, politics, and a nearly fanatical desire to be understood. This production opens on Friday, April 8, at 7:30 p.m., in Shanklin Theatre. Additional performances are 7:30 p.m. on April 9, 21, 22, 23, and at 2:00 p.m., on April 24.
HEROES OF THE FOURTH TURNING is guest-directed by Dylan Frederick, a 2014 alumnus of UE. Joy Weidenhamer, a senior theatre studies major from Omaha, Neb., serves as the associate director; Robert Tintoc, a 2006 alumnus, serves as the guest scenic designer; Assistant Professor Sarah J. Smith is the costume designer; Associate Professor Stephen Boulmetis is the lighting designer; Araceli Ramirez serves as the guest sound designer; Professor Diane Brewer is the dramaturg; Moira Cassiday, a senior stage management major from Nashville, Ind., is the stage manager, and Assistant Professor Mitchell L. Critel serves as the technical director.
The cast features Delaney Ross, a first-year performance major from Keller, Texas as Emily; Gabriel Smothers, a junior performance major from Casper, Wyo., as Kevin; Becky Rusch, a senior performance major from Newark, Del., as Teresa; McAllister Reed Stowell, a junior performance major from Lakewood, Colo., as Justin; and Delanie Kitzman, a senior performance major from Tomball, Texas, as Gina.
In following industry standards, as established by the Broadway League, all audience members must show proof of COVID–19 vaccination or a negative test result, taken within 48-hours of the date on their ticket, and remain masked during the performance. It is our hope that these restrictions will allow our student actors to safely perform unmasked.
Adult ticket prices are $20, and $18 for senior adults, non-UE students, and UE employees. UE students may obtain one free student rush ticket beginning at 12 p.m. on the day of the performance they wish to attend. Tickets are available by calling 812.488.2031, Monday through Friday, 12:00 to 5:00 p.m.
Chasing Water Falls and Zip Lining with the Crew April 2nd and 3rd
Join us April 2nd and 3rd as the UE Venturing Crew makes our way across Southern Illinois visiting some of the Midwest's best water falls.
We will leave campus Saturday morning April 2nd to Zip Line through 83 acres of Southern Illinois' and then start our water fall tour of what is called 5 of the best water falls in the Midwest: Jackson Falls, Burden Falls, Bork Falls, Cedar Falls and Ferne Clyffe.
We will see 4 different water falls on Saturday, stay in a tree house village at Camp Ondessonk Saturday night while sitting around the campfire playing games and making Smores.
At Camp Ondessonk, there are 2 water falls that we will explore as we leave camp Sunday morning.
We'll stop at another water fall on the way back to campus and should be back by 2pm on Sunday.
Food and transportation will be provided and a sleeping bag can be borrowed from the crew as well.
Space for this trip is limited to 20 people with the cost of $10 and can be paid with cash, check, Square or Venmo
Please email venturing@evansville.edu to reserve your spot and arrange payment.
Complete the University safety waiver at: UE self service >UE forms > Students > Student Club Activities > select the event to register
Department of Art presents the 60th Annual Undergraduate Student Exhibition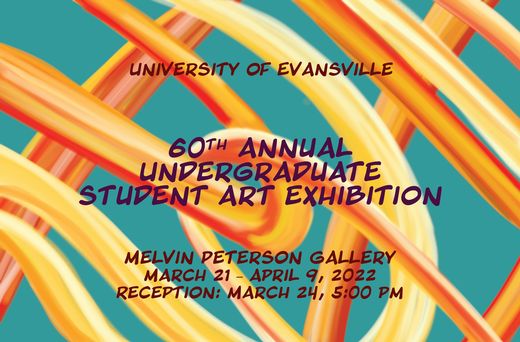 The Department of Art invites you to view the 60th Annual Undergraduate Student Exhibition in the Melvin Peterson Gallery from March 21- April 9, 2022. The Reception and Awards is March 24, 5-6:30 PM, with awards ceremony at 5:30. Please come visit the exhibition and celebrate the success of the students. You may also vote for the People's Choice Award which is awarded at the end of the exhibition. Hope to see you there.
Tie-Dye with Phi Mu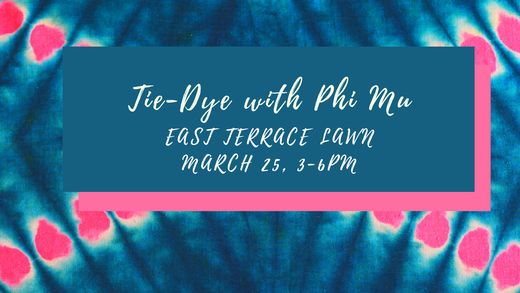 This is an event for anyone who may be interesting in joining Phi Mu and wants to speak with our sisters/siblings. If they are interested in attending the event, please RSVP on UEngage.
2022 Health Careers Forum
UE EXSS Club and the Center for Career Development present the 2022 Health Careers Forum on March 30th from 6:00-8:00 PM in Eykamp Hall. Student attendees have the opportunity to ask questions to a diverse healthcare professional panel as a means to guide them on their future job outlook and search. Business casual attire is required, snacks will be provided, and name tags will be given to the registered attendees. You do not have to be a club member to participate, although attendance is mandatory for EXSS club members. Use the link below to register by Tuesday, March 29th at 8 PM!
Link to participate and register:
https://forms.gle/wmvQUasS6NMx6P4x9


Pep and Vim, UE's Annual Day of Giving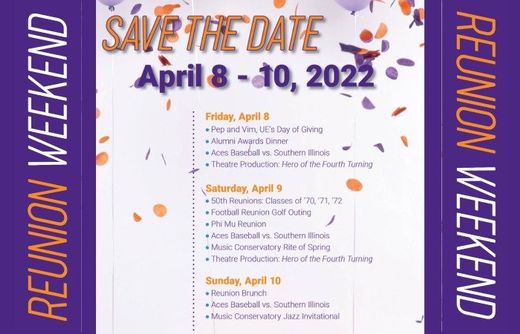 Save the date for UE's Annual Day of Giving, Pep and Vim! This year's Pep and Vim will be held Friday, April 8, 2022.
Spirit Week activities, like Penny Wars, will be held the week leading up to Pep and Vim. Penny Wars is a competition between each of the colleges to win the Golden Squirrel for the year. Save your change to help your college win the highly sought after squirrel and help UE at the same time!
Pep and Vim 5K Registration is Open
UE Alumni and Engagement is hosting a virtual 5K run/walk to promote a healthy lifestyle. The 5K can be completed indoors or outdoors between April 3 and April 8. Participants will enter their times online. All participants will receive an exclusive Pep and Vim t-shirt if registered by March 25*. The race fee is $35 and $20 for students.
On Friday, April 8, Day of Giving, post a video or picture wearing your Pep and Vim t-shirt on social media using #AcesGiveBack and #FORWARD to help spread the word. If you have any questions, please contact alumni@evansville.edu.
Go Aces!
*Registrations will be accepted after March 25, but we cannot guarantee the arrival of the Pep and Vim t-shirt by April 8.
UE Employee Photo Exhibit
We are pleased to announce the UE Employee Photo Exhibit will be held April 3 – May 8 in the Krannert Gallery. All active and retired University of Evansville employees are invited to submit their work.
Images of all sizes are welcome, though 16" x 20" would be the maximum size for display cases. Photographs should be framed and suitable for hanging in the Krannert Gallery. Entries will be returned at the end of the exhibition.
On the back of each framed photograph, please provide:
• Your name, current/former department, and email address
• A title for your image
• Details such as location or meaning/memory attached to photo
• Approximate worth of image (most photographers assess value at $25)
Please bring your work to Carol McCraney in the Art Department (FA 212) between Monday March 28 and Thursday March 31.
The UE campus community (and guests) are invited to a reception in the Krannert Gallery on Thursday, April 21 at 5:00 p.m. Please plan to join us to celebrate the tradition of displaying meaningful work created by our own UE community.
If you have questions, please contact Carol at cm177@evansville.edu.
Registration Week 2022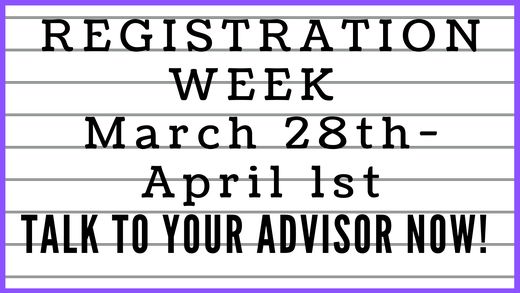 Registration Week is right around the corner! Are you ready?
Registration begins March 28th. Make sure to meet with your advisor to have your classes approved before registration. If you have questions about registration, email academicservices@evansville.edu or come visit us in Olmstead Hall, Rm 116.
Krannert Gallery Exhibit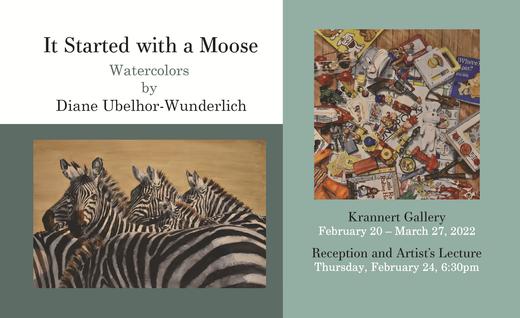 The Department of Art invites you to the Krannert Gallery for the exhibit It Started with a Moose: Watercolors by Diane Ubelhor-Wunderlich. The artist exhibition will be open February 20 - March 27, 2022.
WE DID IT! THANK YOU to our UE Campus Community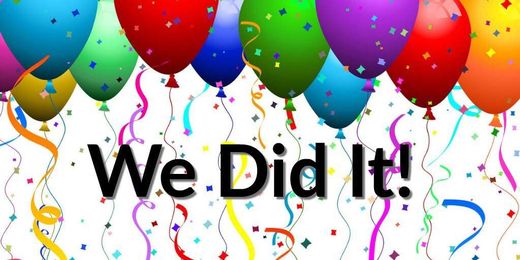 Our Red Cross Blood Drive Goal was achieved 100% within 7 days!! THANK YOU to our UE Campus Community- Students, Staff, Faculty and Administration- in teaming up and meeting this desperate need in our community.
The UE Center for Innovation & Change partnered with the Red Cross and Alpha Phi Omega, our Co-Ed Service Fraternity, for an on-campus blood drive set for Monday, March 28 from 10 a.m. to 3:00p.m. Eykamp Hall, Ridgway University Center.
VOICE: Your Vision. Your Voice. Shaping Our Region's Future.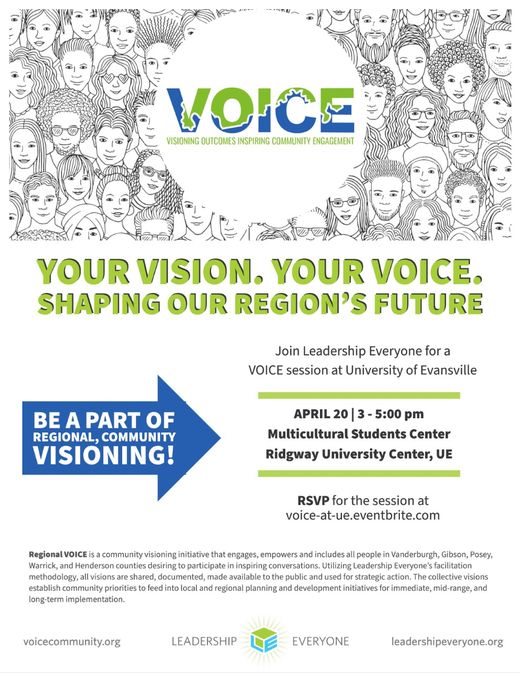 The UE Center for Innovation & Change and Leadership Everyone are partnering to bring VOICE to UE Campus on April 20th from 3:00pm to 5:00pm in the Multicultural Commons Area, 2nd Floor in Ridgway University Center.
Regional VOICE is an initiative by Leadership Everyone to bring together diverse groups of people to envision a preferred future for our region. While RSVPs are appreciated, if you don't know until the last minute, come anyway! We can't wait to vision with you.
RSVP here: https://voice-at-ue.eventbrite.com
Make a positive change in the world with Changelab!

Are you looking at the world around you and asking, "What if"?
Are you interested in helping the community to innovate for a more just, prosperous, and sustainable world?
Do you need to add a course and not sure what to take?
ChangeLab is for YOU!
All ChangeLab Students receive presentation coaching workshops, team building guided by expert coaches and project management resume building skills!
Here are just a few of the ChangeLabs YOU can choose from for Fall 2022!
Uganda Project- Through research and comprehensive brand development strategies students, students will design and implement marketing initiatives in Uganda.
Professional Drone Photography/Videography- Students will explore the current market for professional drone photography and videography, and explore how a student-run agency at the University of Evansville can help fill the needs of that market.
Equitable and Nourishing Food System for All- Students will collaborate with Urban Seeds, a not-for-profit organization advocating for a quality, equitable, and robust food system.
Increasing Adult Literacy- Students make a positive impact in Vanderburgh County by working directly with the Evansville Literacy Center to improve adult literacy.
Ethics and Social Change- Students take on a project that impacts real change on campus and in our community.
A complete list can be found here.
The Center for Innovation & Change is Hosting Scholars for Syria on March 31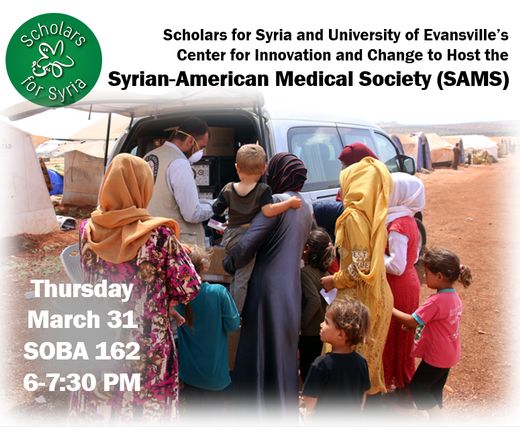 Please join us on Thursday, March 31st from 6-7:30 pm at the University of Evansville (SOBA 162) as we welcome local Syrian physician Dr. Bashar Mourad (Ohio Valley Nephrology Associates) of the Syrian American Medical Society. Dr. Mourad will be presenting photos from SAMS missions, discussing the healthcare crisis both inside and outside Syria, and highlighting the current work SAMS is engaging in to ensure healthcare development for refugees and displaced people. The SAMS mission is to save lives and work to ensure healthcare development on behalf of Syrian American healthcare professionals. It is a leading humanitarian organization, harnessing the talents of Syrian American healthcare professionals, and channeling them toward medical relief for the people of Syria and the United States. This presentation and fundraiser is co-sponsored by the University of Evansville Center for Innovation and Change and Scholars for Syria, with the goal that our community be educated about how connecting cultures serves a critical role in good healthcare and global citizenship.
Save the Date: October 1. The UE Center for Innovation and Change hosts New York Time's Best Selling Author, Dr. Doug Tallamy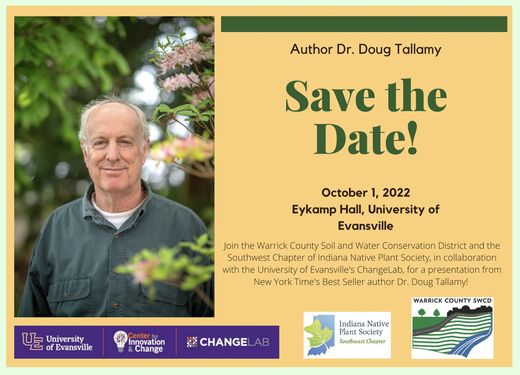 Save the Date October 1, 2022! The UE Center for Innovation and Change in conjunction with Dr. Cris Hochwender, the Warrick County Soil and Water Conservation District and the Southwest Chapter of Indiana Native Plant Society, are teaming up to host New York Time's Best Selling Author, Dr. Doug Tallamy! Dr. Tallamy is the biggest name in the business of native plants/insects/bird and the public, so it will be a very big deal. Students with the ECO and BiSci Clubs will also be active participants. This is a kickoff event for the Spring 2023 'Build Back Better Pollinator Plan' ChangeLab with Dr. Cris Hochwender.
Meet the Challenge! CIC & Alpha Phi Omega Blood Drive March 28th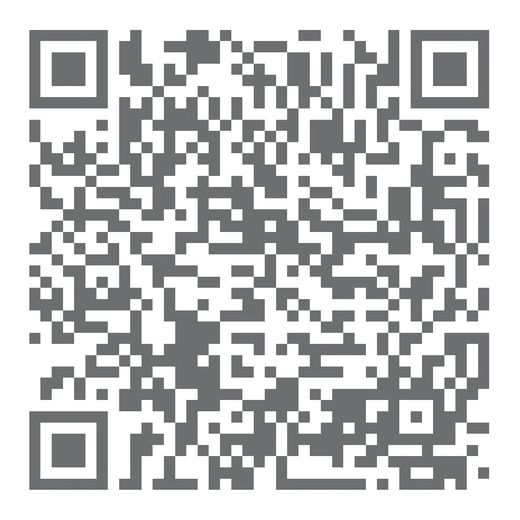 Meet the Challenge!
CIC & Alpha Phi Omega Blood Drive March 28th
The UE Center for Innovation & Change has Partnered with the Red Cross and Alpha Phi Omega, our Co-Ed Service Fraternity, to help meet desperate need for blood in our community. Make plans now to donate blood on Monday, March 28 anytime between 10 a.m. and 3:00p.m.!
UE Student Organization Challenge!
Any student organization- fraternity, sorority, club, council, ect...- that has the most participants will win a PIZZA PARTY for their organization!
UE Department Challenge!
All employees- staff, faculty, administrators- that give blood will be entered into a drawing for a FREE Department Lunch at Turnoi's!! The more individuals in your department that participate, the more chances you have at winning! Go Department TEAM!!
UE Athletics Teams Challenge!
Any Athletics Team that has the most participants will win a PIZZA PARY for their TEAM!!
It is SUPER EASY to Register! Just scan the QR Code below!
Registration tables will also be set up on the first floor in the Ridgway University Center on March 17th, 21st, and 23rd!
We've Got This!!
Nutrition 304 offering -Summer session 1
NUTR-304 Nutritn Concepts-Controversies (3 Credits)- meets requirements for outcome 5 Will be offered as an asynchronous course, that will use several different, self- paced learning modalities. Focuses on basic nutrient requirements and how they are used by the human body throughout the life cycle. A holistic approach with emphasis on physiological factors influencing eating habits (social, economic, cultural, etc.). Current controversies in the field of nutrition discussed and class activities are coordinated to stimulate thought and judgment on selected topics. Provides a basic understanding of nutrition for application to one's own lifestyle. Meets the general education health and wellness requirement.
Volunteers Needed for International Food Festival
International Food Festival is coming up on Friday, April 1 from 5 to 7 pm, and we need your help! We are looking for volunteers to help with decoration, setup, and food service. Get a free T-shirt and voucher for dinner! View opportunities and sign up here.
Contact Jon at kh436 with any questions about volunteering!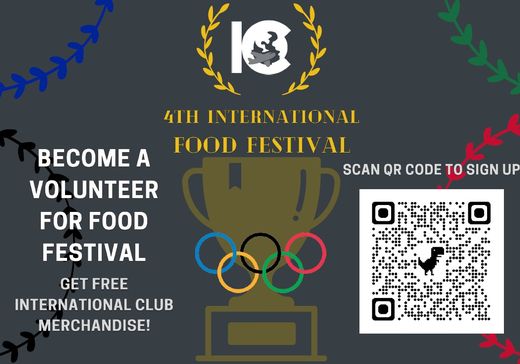 Creativity Survey for Research Methods
Hello Aces!
My name is Shraya Rao. I'm a senior Psychology major. My research partner, Sadie Scovern, and I are conducting a survey for Research Methods this semester. Our research is regarding the impact of listening to music on creativity, and we are looking to recruit college students across different majors. Most of the students who have participated, thus far, are within the Psychology department, and we really need more music students. If you are a music major, would you please consider taking our survey? Participation should take approximately 5-10 minutes. Some professors are offering 1 point of extra credit for filling out the survey, so ask them, if you're interested.
Here is the link to our survey: https://uoebusiness.co1.qualtrics.com/jfe/form/SV_6x2pAdgkF2D8r66
Thank you!
Sincerely,
Shraya Rao

BIOL 107 (GEN ED Lab Science) Offered Summer 1
Biology 107 (4 cr) will be offered online this summer session 1. The lab component will be online as well utilizing web-based simulations. This course satisfies lab science General Education credit (Outcome 8). All majors are welcome! If you have any questions, please contact Dr. Gordon at ng62@evansville.edu.
Employee Volunteers Needed for CDEI Prom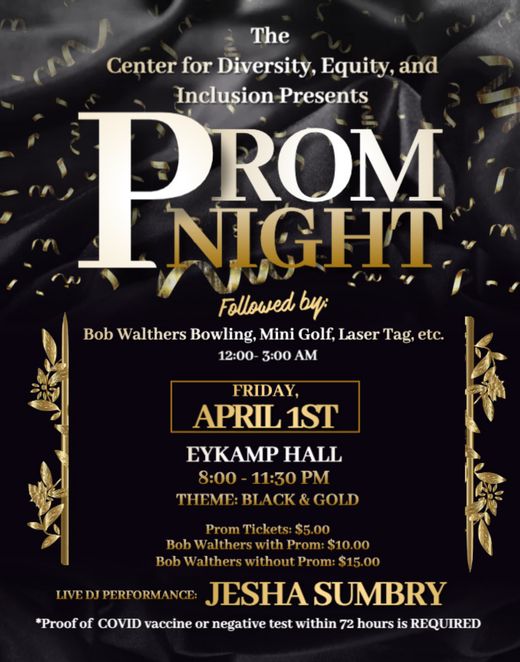 Hello everyone! As some of you may know, the CDEI in collaboration with SAB is holding a Prom on April 1st, 2022! This collaboration came together as restrictions are lessening and we realized many of our students were not able to attend an actual in-person, high school Prom! So, we decided to throw one for all students!
Prom will be held on April 1st in Eykamp Hall from 8:00pm- 11:30pm! Following Prom we will be shuttling students to Bob Walthers, where we have rented the space from 12:00am- 3:00am! Students will have access to inside and outside mini-golf, karaoke, bingo, mini-bowling, laser tag, and so much more!
Since this is a Prom for our students, I want to keep student volunteers at a minimum if not a complete zero for the night of and that means I need employee volunteers! Volunteer needs are listed below!
Prom 8-11:30pm
Bartenders (we will have a mocktail bar with sparkling juice, soda and water)
Photo Booth Attendants (we will have two photo drops with Ipad stations for photos)
Check-In Attendants (will need ticket/ guest list checkers)
Security (we will need additional people to check/ be stationed at specific doors to ensure no one is sneaking in or bringing any beverages into Prom)
Bob Walthers 12-3:00am
Shuttle Ticket Checkers (we will need individuals at UE checking tickets before students board the shuttle to ensure they have an actual ticket to attend Bob Walthers after party)
Bob Walthers Ticket Checkers (we will need individuals stationed at Bob Walther's checking tickets from people who may be electing to drive themselves over and not taking the shuttle)
Karaoke Attendant/ MC (we will be purchasing/ renting a Karaoke Machine and running Karaoke ourselves, and need individuals willing to help MC/ run this fun activity)
Food Attendants (in addition to Bob Walther's cafe being open, we will be purchasing and bringing in pizza and beverages and will need individuals willing to help set-up and monitor food rooms)
If you are interested, able and willing to volunteer for Prom, please reach out by email Abagail Catania at ac532@evansville.edu and indicate which (if any) specific volunteer opportunities you are interested in!
Thank you in advance! I know our students are really excited about this night! :)
Save the Date for Benefit Open Enrollment
During the period of April 4 through April 15, benefit-eligible employees may enroll or make changes in the University's health, life, long term disability, and dental insurance, and ACES flexible spending account benefit plans. It is the only chance for benefit-eligible employees to enroll or make changes until the next open enrollment period unless you have a qualifying change in status.
More information will be available next week.
Employees will have the opportunity to learn more about these benefit changes or to speak with a plan representative at one of the following in-person events in Eykamp Center room 251:
• Tuesday, March 29, 9:00 AM – 10:00 AM
• Tuesday, March 29, 11:00 AM – 12:00 PM
• Tuesday, March 29, 1:30 PM – 2:30 PM
• Wednesday, March 30, 9:00 AM – 10:00 AM
• Wednesday, March 30, 11:00 AM – 12:00 PM
We will offer one virtual opportunity to learn about benefit changes via Zoom:
• Wednesday, March 30, 2:30 PM – 3:30 PM
Please contact the Office of Human Resources at ext. 5045 with any questions.
ES 103 Offered During Summer Session 2
ES 103 (Fundamentals of Environmental Science), which fulfills the non-lab science General Education credit (Outcome 8), will be offered during Summer Session 2 as an online, asynchronous class. If you have questions about this 3 credit hour course, which will run from June 20-July 22, please contact Dr. Aldred via email - ka59@evansville.edu
BIOL 107 Offered During Summer Session 2
Biol 107 (General Biology), which fulfills the lab science General Education credit (Outcome 8), will be offered during Summer Session 2 as an online, asynchronous class. Although it is generally intended for those majoring in EXSS, public health, and similar, all majors are welcome! The lab portion of the course will be completed via Labster, an exciting virtual lab simulator! If you have questions about this 4 credit hour course, which will run from June 20-July 22, please contact Dr. Aldred via email - ka59@evansville.edu
Apply to Be A Summer Assistant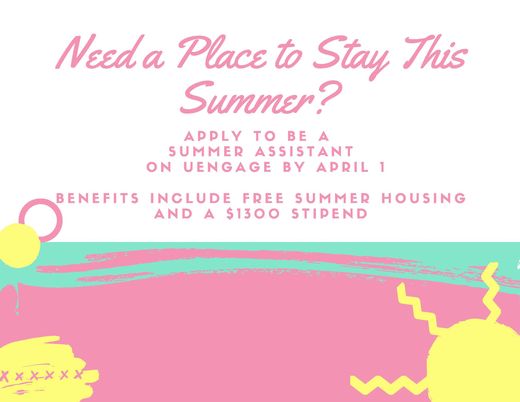 Need a place to stay this summer? Apply to be a summer assistant on UEngage by April 1! Benefits include free summer housing and a $1300 stipend!
Financial Aid for Summer Courses
UE students seeking financial aid or intending to use loan funds for summer courses at UE, please complete a Summer Financial Aid Application and return to the Office of Student Financial Services (Olmsted 105) however is most convenient. The application will allow our office to assess your aid and loan eligibility.
Work-Study:
On-campus jobs are available for continuing UE students during the summer. You do not need to be eligible for need-based Federal Work-Study during the academic year in order to apply. You may also apply regardless of your enrollment in summer courses. Applications will be available within the Student Employment area of WebAdvisor.
Submitted by Amy Sowders as560@evansville.edu
Summer Sessions Payment Plan
Summer session courses can be added to your monthly payment plan now with no additional set-up fee. If your student is enrolling in summer courses, anticipated summer charges can be included in the spring semester payment plan and the plan extended through May (for Summer 1 charges) or June (Summer 2 charges). The undergraduate tuition rate for Summer 2022 is $580 per credit hour. Fees per summer term include a $50 registration fee and a $40 technology fee. Online courses are assessed a $50 online course fee. Payment arrangements are due prior to the start of the summer term.
Students should contact the Office of Student Financial Services no later than Reading/Study Day, April 28, 2022 to determine if financial aid is available for their summer courses.
To modify your current payment plan to include summer, contact the cashiers in the Office of Student Financial Services at 812-488-2565.
Submitted by Amy Sowders as560@evansville.edu
BIOL 100 Summer Online Course
Are you interested in taking a non-majors biology course with a lab this summer to fulfill one of your scientific literacy general education requirements (Outcome 8 with a lab)? If so, then take BIOL-100-D01 – Fundamentals of Biology during Summer I (May 16 to June 17). Please contact Dale Edwards (de3) for more details.
Call for Nominations: Dean of Students Leadership Awards
Nominations are now being accepted for consideration of The Howard S. Rosenblatt "Dean of Students Leadership Awards." These awards will be presented at the 29th Annual Leadership Awards Reception scheduled for April 20, 2022. Invitations will be prepared by the Center for Student Engagement.
Awards are presented in the following categories:
Student Organization Advisor of the Year
Student Organization of the Year
Student Leader of the Year
Over 80% of UE students participate in at least one student organization or program. These organizations are successful because of the commitment of the student leaders and the advisors who give freely of their time and support. The recipients of these awards are selected based on their commitment to the University of Evansville as well as the development and success of their efforts within their chosen student organization.
The deadline for nominations is March 29, 2022. Click on this link to submit your nomination:
https://www.surveymonkey.com/r/HowardSRosenblattDeanofStudentsLeadershipAwards2022
If you have any questions, please contact the Vice President for Student Affairs/Dean of Students office at 812-488-2500 or by e-mail via js944@evansville.edu.
Thank you in advance for celebrating our student leaders' achievements!
MSC: McGary Middle School Art Showcase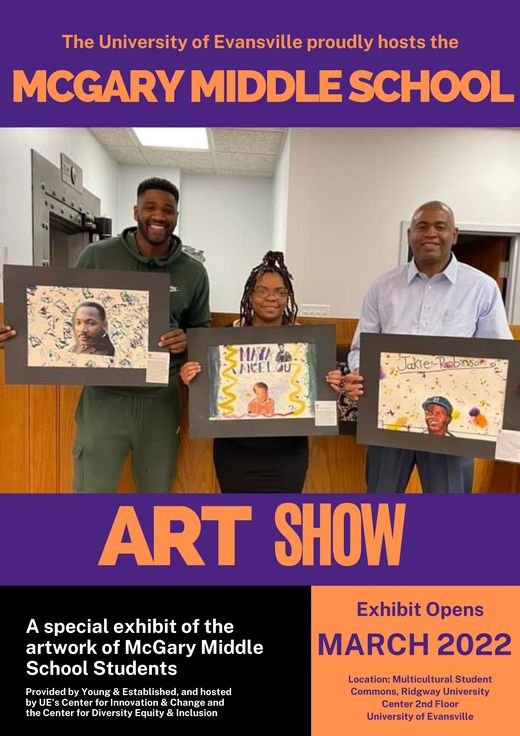 The Center for Innovation & Change and the Center for Diversity Equity and Inclusion are proud to host a McGary Middle School Art Showcase sponsored by Young & Established! The students at the McGary Middle School worked hard to create art for Black History Month and we are bringing them right here to our campus!
You can find their art showcased in the Multicultural Student Commons (2nd Floor of Ridgway University Center) starting on March 1st and running throughout the rest of the month! Head over to Ridgway and come see what these amazing students have put together!

Aces and Hoosiers set for three-game series in Bloomington
Coming off a come-from-behind win over WKU on Tuesday night, the University of Evansville baseball team team travels to Bloomington, Ind. for a three-game series with Indiana on Friday, Saturday, and Sunday.

Previewing the Matchup: Indiana
• The Aces and Hoosiers are meeting for the 48th time when the two sides battle on Friday evening with Indiana owning a 29-18 advantage in the all-time series.
• The last time the two sides met, Evansville captured a 5-4 win over Indiana on opening night of German American Bank Field on March 10, 2020 in the last game before the COVID-19 pandemic for both teams.
• Both sides enter the weekend series with 8-12 records as the Aces captured a come-from behind 9-8 victory over WKU on Tuesday night on the road and Indiana dropped three of four to Xavier last weekend.

Comeback Win
• On Wednesday night, Evansville battled back from a late 7-4 deficit on the road at Western Kentucky.
• The Aces scored five runs in the ninth, capped-off by a three-run go-ahead homer from Chase Hug, helping UE capture a 9-8 win.

Rumsey on the Charge
• A highly coveted addition to the Aces roster this season, freshman outfielder Ty Rumsey has begun to find his footing.
• After getting his rhythm, Rumsey has begun to show his potential, sitting fourth on the team with a .283 average and generating seven walks.

Craig Eyes Career Record
• In his four seasons with the Aces, Tanner Craig has proven to be one of the most impactful hitters in the MVC.
• Craig enters the week just three home runs shy of the Evansville program record, set by Jeff Starks in 1982 with 40 homers.
• Craig currently sits in a tie for second in program history with 37 homers, hitting seven so far this season.
Diving's Maggie Franz Named UE's State Farm MVC Good Neighbor Award Recipient For Winter 2022
University of Evansville senior diver Maggie Franz (Mundelein, Ill/Mundelein) has been named the school's recipient of the State Farm MVC Good Neighbor Award for Winter 2022 thanks to her work both in the classroom and in the community.
In the classroom, Franz is one of UE's best, as she has made the Dean's list six semesters at UE, while boasting a 3.67 cumulative grade point average in Exercise Science. She is a two-time MVC Swimming & Diving Scholar-Athlete Team selection and has earned the MVC Commissioner's Academic Excellence Award.
In the community, Franz has been just as good during her time at Evansville. She has been actively involved in community service activities involving the Evansville Soup Kitchen, the WNIN PBS Kids Fest, the Evansville Half Marathon and YMCA, the Aces Diving Clinic, and Habitat for Humanity's Barn Blitz.
Franz recently wrapped up her diving career at Evansville by earning honorable mention all-Missouri Valley Conference honors at the MVC Championships in mid-February. She was a three-time honorable mention all-Valley diver during her four years at UE.
Contribute to AceNotes
To have content considered for inclusion in AceNotes, please submit a Marketing Request Form. Deadline for submission to AceNotes is 10:00 a.m. on the requested date of publication. Only articles concerning UE related/sponsored activities will be accepted. Articles submitted to AceNotes may be edited for length and clarity. Submitter contact information is at the end of each article.