| | |
| --- | --- |
| AceNotes Today | Tuesday, March 22, 2022 |
Indoor Event Guidelines Lifted Beginning March 21
On February 24, the Coronavirus Healthcare Task Force announced that restrictions for outdoor events would be lifted, including the requirement of capacity limits/attendance maximums and social distancing. Effective Monday, March 21, the University will also lift restrictions for indoor events. This means that attendance will no longer be limited for any indoor event, regardless of whether the space has fixed or moveable seating. Events will no longer need approval from the Coronavirus Task Force.
Prom Night!
The Center for Diversity, Equity, and Inclusion & Student Activities Board are proud to present PROM NIGHT on Friday, April 1st from 8:00-11:30 pm in Eykamp Hall! All UE students, UE student guests and USI students are invited to dance the night away at this free event!
Attire for Prom is semi-formal. No blue jeans allowed!
Following Prom we will shuttle students to Walthers Golf and Fun for mini-golf, mini-bowling, karaoke, and much more for the After Party from 12-3:00am! The after party is $8 for UE students and $10 for UE student guests and USI students! Tickets for the afterparty can also be purchased separately, meaning you do not have to attend Prom in order to attend the after party.
To successfully attend, ALL students must RSVP. UE students, please RSVP on UEngage here: https://uengage.evansville.edu/event/7943276. Outside guest and USI students can RSVP here: https://www.eventbrite.com/e/university-of-evansville-prom-tickets-303232234777?ref=estw
If you plan on inviting a USI student or outside guest, please have them register using the correct link above. All outside guests must be affiliated with a UE student, unless they are a USI student. State and student IDs will be required during check-in for outside guests. UE students must only bring student IDs.
After party payment can be made at the door or during the week leading up to Prom. If utilizing cash, please have exact change. We will be tabling during the week, so be on the look out for our table in Ridgway and for information through our Instagram account @uediversity!
If you have any questions, please contact Center4DEI@evansville.edu.
Let's party!!
WRA presents: Vagina Monologues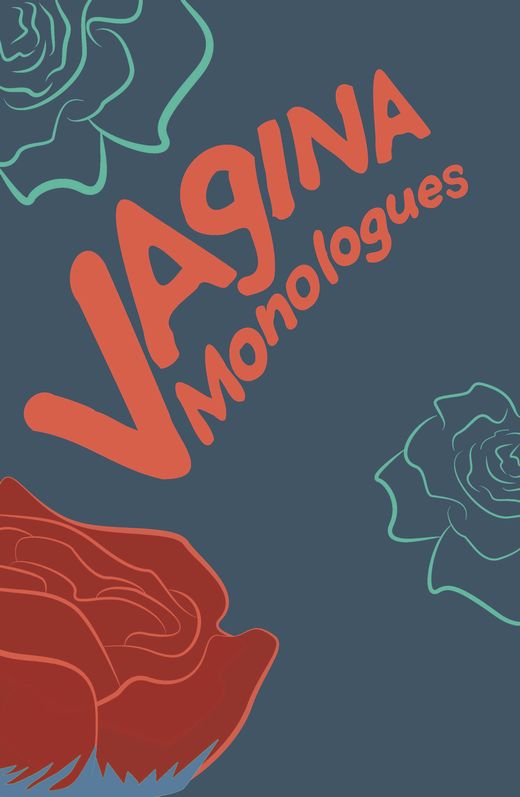 Come join WRA for the Vagina Monologues! Members of the UE community will present a series of monologues from the Eve Ensler play about vaginas and overcoming the stigmas attached to them. There will be tables during and after the performance with art from UE students for purchase. Tickets are $2 for members of the UE community and $5 for others. Join us on March 26th in Eykamp 251 to talk about vaginas! Doors open at 6:30 p.m. and event starts at 7 p.m.
Pep and Vim Penny Wars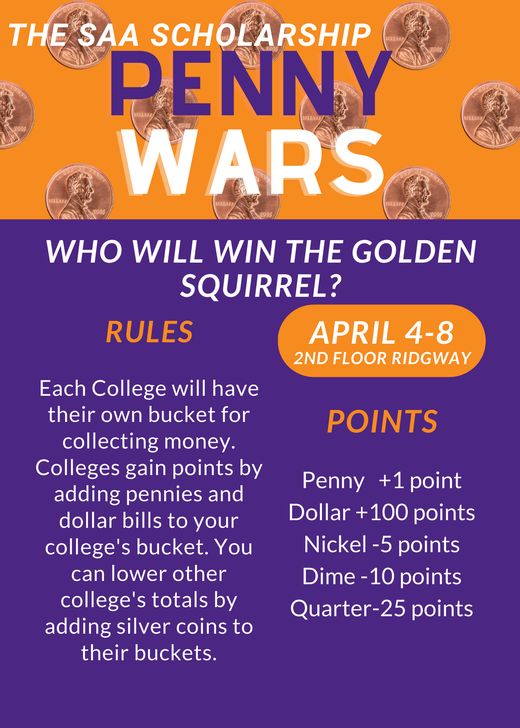 Start saving your pennies! Penny Wars will be held during Spirit Week, April 4-8 in Ridgway near the information desk from 11:00 a.m. - 1:00 p.m. Money raised supports the Staff and Administrators Assembly Scholarship. Each College as well as University Staff and Administrators are competing for the most points. You can earn points for your team by placing pennies and dollars in your bucket. You can subtract points from your opponents' total by placing silver coins in their bucket!
Points are awarded as follows:
Penny = +1 point
1 Dollar= +100 points
5 Dollars = +500 points
10 Dollars= +1,000 points
20 Dollars= +2,000 points
Nickel = -5 points
Dime= -10 points
Quarter = -25 points
Who will win the Golden Squirrel this year?
CDEI Presents: IHouse Disabilities Background and Culture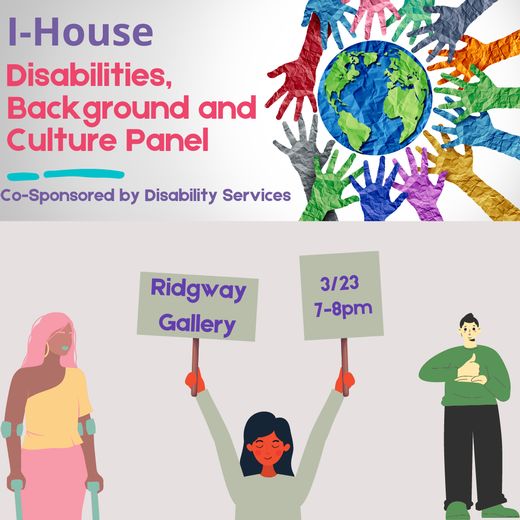 Join the CDEI and Disability Services next week as we continue to spotlight and celebrate Disability Awareness Month!
This week's IHouse is co-sponsored by Disability Services. We will have a student panel that discusses how their backgrounds and cultures have impacted their identities and experiences of having disabilities!
RSVP on UEngage today!
This Week in Music
The UE Music Conservatory presents "Tempo Giusto" on Tuesday, March 22 at 7:30 p.m. in Neu Chapel. Featuring Consortium Instructor of Horn and guest pianist Stephanie Pestana, the program will include works by the American composer Paul Basler as well as works by Clara Schumann, Gustav Mahler and others. The concert is free and open to the public. Live-stream is available: https://www.evansville.edu/majors/music/calendar.cfm
Chasing Water Falls and Zip Lining with the Crew April 2nd and 3rd
Join us April 2nd and 3rd as the UE Venturing Crew makes our way across Southern Illinois visiting some of the Midwest's best water falls.
We will leave campus Saturday morning April 2nd to Zip Line through 83 acres of Southern Illinois' and then start our water fall tour of what is called 5 of the best water falls in the Midwest: Jackson Falls, Burden Falls, Bork Falls, Cedar Falls and Ferne Clyffe.
We will see 4 different water falls on Saturday, stay in a tree house village at Camp Ondessonk Saturday night while sitting around the campfire playing games and making Smores.
At Camp Ondessonk, there are 2 water falls that we will explore as we leave camp Sunday morning.
We'll stop at another water fall on the way back to campus and should be back by 2pm on Sunday.
Food and transportation will be provided and a sleeping bag can be borrowed from the crew as well.
Space for this trip is limited to 20 people with the cost of $10 and can be paid with cash, check, Square or Venmo
Please email venturing@evansville.edu to reserve your spot and arrange payment.
Complete the University safety waiver at: UE self service >UE forms > Students > Student Club Activities > select the event to register
Registration Week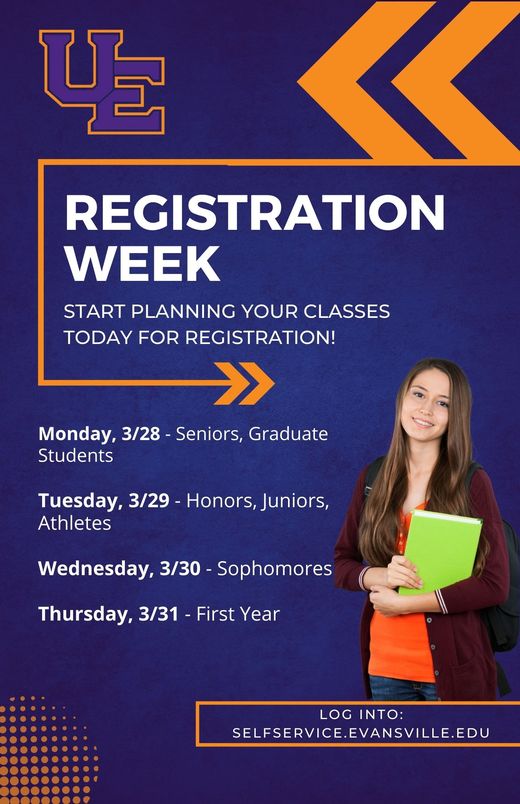 Registration week is the week of March 28th. Know exactly when to register for your classes in the Summer and Fall!
Tie-Dye with Phi Mu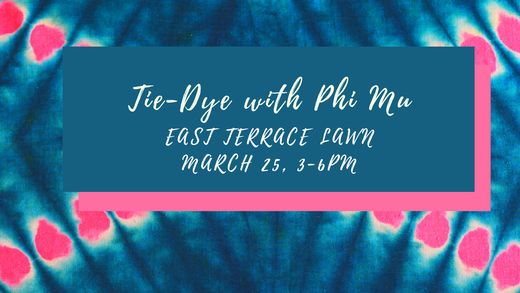 This is an event for anyone who may be interesting in joining Phi Mu and wants to speak with our sisters/siblings. If they are interested in attending the event, please RSVP on UEngage.
GPS Smash Bros. Ultimate Tournament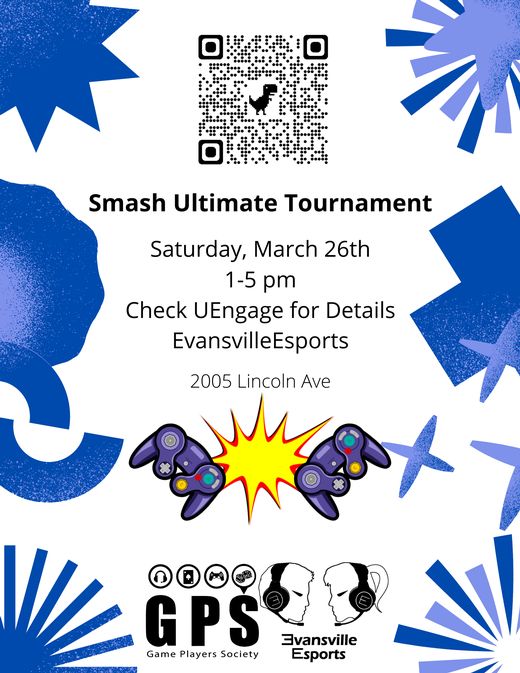 The Game Players Society is hosting its annual Smash Ultimate Tournament on Saturday, March 26th from 1-5 pm. Everyone is welcome to participate, those who want to play for cash prizes must bring $5, and the top 8 are eligible for winnings. RSVP to attend at Evansville Esports, 2005 Lincoln Ave on Saturday!
Email Cam at cc346 if you have any questions. Join our Discord server! ---> https://discord.gg/VYXzVWsYfG
UE Employee Photo Exhibit
We are pleased to announce the UE Employee Photo Exhibit will be held April 3 – May 8 in the Krannert Gallery. All active and retired University of Evansville employees are invited to submit their work.
Images of all sizes are welcome, though 16" x 20" would be the maximum size for display cases. Photographs should be framed and suitable for hanging in the Krannert Gallery. Entries will be returned at the end of the exhibition.
On the back of each framed photograph, please provide:
• Your name, current/former department, and email address
• A title for your image
• Details such as location or meaning/memory attached to photo
• Approximate worth of image (most photographers assess value at $25)
Please bring your work to Carol McCraney in the Art Department (FA 212) between Monday March 28 and Thursday March 31.
The UE campus community (and guests) are invited to a reception in the Krannert Gallery on Thursday, April 21 at 5:00 p.m. Please plan to join us to celebrate the tradition of displaying meaningful work created by our own UE community.
If you have questions, please contact Carol at cm177@evansville.edu.
SafeZone Training- Student Session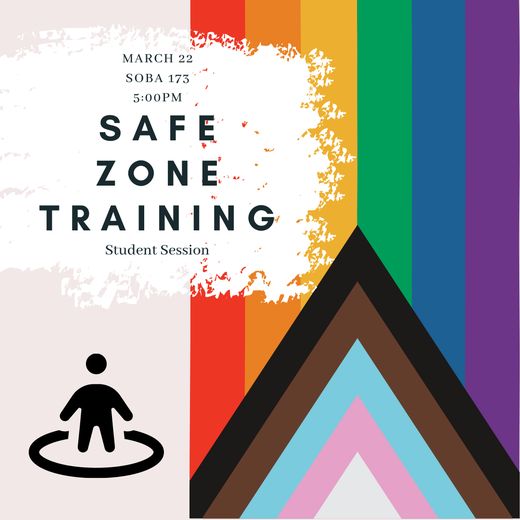 Join the Center for Diversity Equity and Inclusion and facilitator, Dr. Curran, in Safe Zone Training on March 22nd beginning at 5pm! Safe Zone Training is a training that will provide participants with the knowledge and skills to ensure their 'zone' is a safe place for members of the LGBTQ+ community. Your 'zone' is anything from student orgs, your dorm, classrooms, your work, etc.
Join us in ensuring every zone is a Safe Zone!
The Center for Innovation & Change is Hosting Scholars for Syria on March 31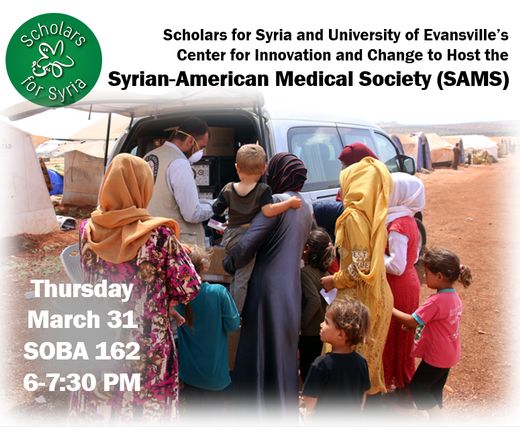 Please join us on Thursday, March 31st from 6-7:30 pm at the University of Evansville (SOBA 162) as we welcome local Syrian physician Dr. Bashar Mourad (Ohio Valley Nephrology Associates) of the Syrian American Medical Society. Dr. Mourad will be presenting photos from SAMS missions, discussing the healthcare crisis both inside and outside Syria, and highlighting the current work SAMS is engaging in to ensure healthcare development for refugees and displaced people. The SAMS mission is to save lives and work to ensure healthcare development on behalf of Syrian American healthcare professionals. It is a leading humanitarian organization, harnessing the talents of Syrian American healthcare professionals, and channeling them toward medical relief for the people of Syria and the United States. This presentation and fundraiser is co-sponsored by the University of Evansville Center for Innovation and Change and Scholars for Syria, with the goal that our community be educated about how connecting cultures serves a critical role in good healthcare and global citizenship.
Save the Date: October 1. The UE Center for Innovation and Change hosts New York Time's Best Selling Author, Dr. Doug Tallamy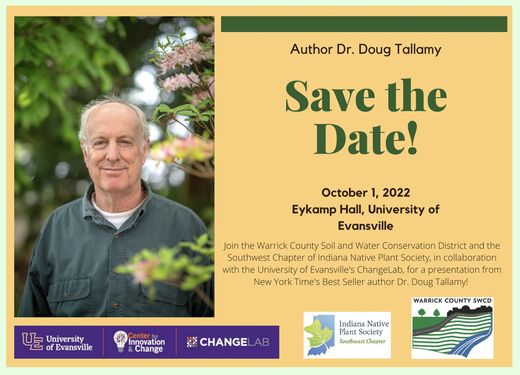 Save the Date October 1, 2022! The UE Center for Innovation and Change in conjunction with Dr. Cris Hochwender, the Warrick County Soil and Water Conservation District and the Southwest Chapter of Indiana Native Plant Society, are teaming up to host New York Time's Best Selling Author, Dr. Doug Tallamy! Dr. Tallamy is the biggest name in the business of native plants/insects/bird and the public, so it will be a very big deal. Students with the ECO and BiSci Clubs will also be active participants. This is a kickoff event for the Spring 2023 'Build Back Better Pollinator Plan' ChangeLab with Dr. Cris Hochwender.
Meet the Challenge! CIC & Alpha Phi Omega Blood Drive March 28th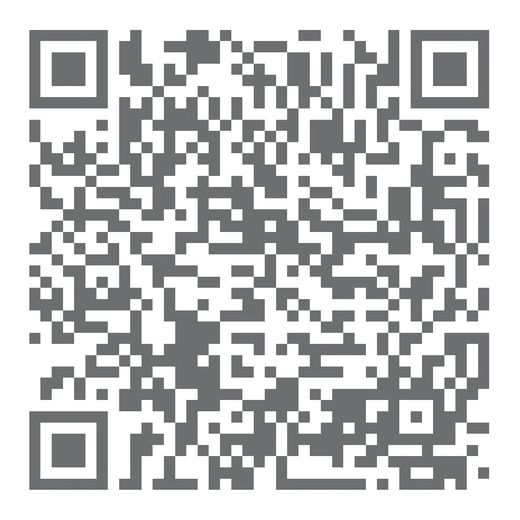 Meet the Challenge!
CIC & Alpha Phi Omega Blood Drive March 28th
The UE Center for Innovation & Change has Partnered with the Red Cross and Alpha Phi Omega, our Co-Ed Service Fraternity, to help meet desperate need for blood in our community. Make plans now to donate blood on Monday, March 28 anytime between 10 a.m. and 3:00p.m.!
UE Student Organization Challenge!
Any student organization- fraternity, sorority, club, council, ect...- that has the most participants will win a PIZZA PARTY for their organization!
UE Department Challenge!
All employees- staff, faculty, administrators- that give blood will be entered into a drawing for a FREE Department Lunch at Turnoi's!! The more individuals in your department that participate, the more chances you have at winning! Go Department TEAM!!
UE Athletics Teams Challenge!
Any Athletics Team that has the most participants will win a PIZZA PARY for their TEAM!!
It is SUPER EASY to Register! Just scan the QR Code below!
Registration tables will also be set up on the first floor in the Ridgway University Center on March 17th, 21st, and 23rd!
We've Got This!!
BIOL 107 (GEN ED Lab Science) Offered Summer 1
Biology 107 (4 cr) will be offered online this summer session 1. The lab component will be online as well utilizing web-based simulations. This course satisfies lab science General Education credit (Outcome 8). All majors are welcome! If you have any questions, please contact Dr. Gordon at ng62@evansville.edu.
Employee Volunteers Needed for CDEI Prom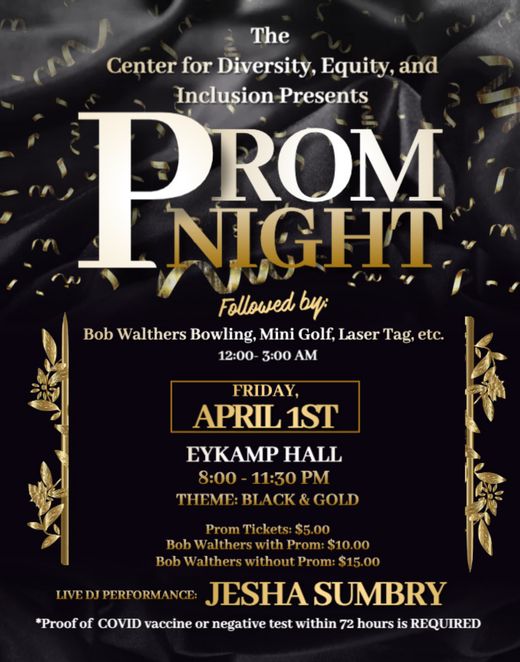 Hello everyone! As some of you may know, the CDEI in collaboration with SAB is holding a Prom on April 1st, 2022! This collaboration came together as restrictions are lessening and we realized many of our students were not able to attend an actual in-person, high school Prom! So, we decided to throw one for all students!
Prom will be held on April 1st in Eykamp Hall from 8:00pm- 11:30pm! Following Prom we will be shuttling students to Bob Walthers, where we have rented the space from 12:00am- 3:00am! Students will have access to inside and outside mini-golf, karaoke, bingo, mini-bowling, laser tag, and so much more!
Since this is a Prom for our students, I want to keep student volunteers at a minimum if not a complete zero for the night of and that means I need employee volunteers! Volunteer needs are listed below!
Prom 8-11:30pm
Bartenders (we will have a mocktail bar with sparkling juice, soda and water)
Photo Booth Attendants (we will have two photo drops with Ipad stations for photos)
Check-In Attendants (will need ticket/ guest list checkers)
Security (we will need additional people to check/ be stationed at specific doors to ensure no one is sneaking in or bringing any beverages into Prom)
Bob Walthers 12-3:00am
Shuttle Ticket Checkers (we will need individuals at UE checking tickets before students board the shuttle to ensure they have an actual ticket to attend Bob Walthers after party)
Bob Walthers Ticket Checkers (we will need individuals stationed at Bob Walther's checking tickets from people who may be electing to drive themselves over and not taking the shuttle)
Karaoke Attendant/ MC (we will be purchasing/ renting a Karaoke Machine and running Karaoke ourselves, and need individuals willing to help MC/ run this fun activity)
Food Attendants (in addition to Bob Walther's cafe being open, we will be purchasing and bringing in pizza and beverages and will need individuals willing to help set-up and monitor food rooms)
If you are interested, able and willing to volunteer for Prom, please reach out by email Abagail Catania at ac532@evansville.edu and indicate which (if any) specific volunteer opportunities you are interested in!
Thank you in advance! I know our students are really excited about this night! :)
Seniors Invited to Submit Essays for Klinger Essay Award
Seniors are invited to submit essays for the George Klinger Memorial Prize for Excellence in Writing Academic Essays. There is no length requirement for essay submissions, and research papers and scholarly analyses are equally appropriate. Essays should demonstrate excellence in scholarly writing. Seniors from every major are eligible.
Format: All entries are to be printed on one side of 8 ½ x 11 sheets, double-spaced. Each is to have a title, and pages are to be numbered. The writer's name is not to appear on the work, but each submission is to have an attached (stapled) cover page (8 ½ x 11) listing: the title, author, the UE ID number, class rank, and the name of any teacher who has read or heard the work. PLEASE NOTE: NO SUBMISSIONS WILL BE RETURNED
Entries must be submitted to Michelle Lehman (administrative assistant for Department of English & Creative Writing) in Room 320, Olmsted Administration Hall. All entries must be received by Friday, April 1, 2022, at 4:00 p.m.
Save the Date for Benefit Open Enrollment
During the period of April 4 through April 15, benefit-eligible employees may enroll or make changes in the University's health, life, long term disability, and dental insurance, and ACES flexible spending account benefit plans. It is the only chance for benefit-eligible employees to enroll or make changes until the next open enrollment period unless you have a qualifying change in status.
More information will be available next week.
Employees will have the opportunity to learn more about these benefit changes or to speak with a plan representative at one of the following in-person events in Eykamp Center room 251:
• Tuesday, March 29, 9:00 AM – 10:00 AM
• Tuesday, March 29, 11:00 AM – 12:00 PM
• Tuesday, March 29, 1:30 PM – 2:30 PM
• Wednesday, March 30, 9:00 AM – 10:00 AM
• Wednesday, March 30, 11:00 AM – 12:00 PM
We will offer one virtual opportunity to learn about benefit changes via Zoom:
• Wednesday, March 30, 2:30 PM – 3:30 PM
Please contact the Office of Human Resources at ext. 5045 with any questions.
ES 103 Offered During Summer Session 2
ES 103 (Fundamentals of Environmental Science), which fulfills the non-lab science General Education credit (Outcome 8), will be offered during Summer Session 2 as an online, asynchronous class. If you have questions about this 3 credit hour course, which will run from June 20-July 22, please contact Dr. Aldred via email - ka59@evansville.edu
BIOL 107 Offered During Summer Session 2
Biol 107 (General Biology), which fulfills the lab science General Education credit (Outcome 8), will be offered during Summer Session 2 as an online, asynchronous class. Although it is generally intended for those majoring in EXSS, public health, and similar, all majors are welcome! The lab portion of the course will be completed via Labster, an exciting virtual lab simulator! If you have questions about this 4 credit hour course, which will run from June 20-July 22, please contact Dr. Aldred via email - ka59@evansville.edu
UE Receives $1 Million from Lilly Endowment Inc. for Youth Programs
The University of Evansville has received a grant of $1 million from Lilly Endowment Inc. to support the establishment of camps and afterschool programs for youth outreach in the Evansville community and beyond.
With the grant, UE will also establish a new Office of Youth Programs. This department will develop and oversee PathFinder programs, which are designed to create a spark youth to consider and obtain a college education. With PathFinder, middle and high school students will explore various disciplines and engage in activities to help them intentionally design the future they want for themselves, their families, and their communities. Some of the initial PathFinder programs will include Springboard, STEM, Wesley Shepherd Music, UE Dance Company, and UE Explorers.
Lilly Endowment made the grant through its initiative, Indiana Youth Programs on Campus, which is helping colleges and universities across Indiana develop new and strengthen existing efforts to provide enriching campus-based programs for students, ages 5 to 18.
Here are some of the camps UE will offer in the coming months and years:
Springboard
In partnership with Black Lemonade, a non-profit organization, Springboard is designed to prepare and empower high school students of color and those from economically disadvantaged backgrounds for life beyond grade 12. Guided by UE faculty, staff, and students, youth in this summer program will create positive change through the studying of various cultures and creation of podcasts, news stories, articles, and social media posts.
Wesley Shepherd Music
This week-long summer music camp, hosted by the UE Music Conservatory, will be designed for grades 6-12. It will include performances, instrument and vocal lessons, music theory, and more. Wesley Shepherd Music will be led by full-time faculty from the Conservatory, and current music students will also assist and mentor the youth.
STEM Camp
STEM (science, technology, engineering, and math) is comprised of growing academic fields, and this camp is designed to increase youth interest in them. Heavy emphasis will be given to natural sciences and mathematics, and career options will be discussed for each field. Students entering grades 9-11 will engage in hands-on activities, experiments, and data analyses across chemistry, biology, and mathematics. Camp students will also shadow current UE students conducting undergraduate research projects.
UE Dance Company
Modeled after the nationally acclaimed Mad Hot Ballroom program, this five-day summer camp will be available for students entering grades 8-10. Each day, students will learn a new dance, such as the Rumba and Tango, and they will prepare for a showcase at the end of the week. Selected dancers at the camp will be invited to join a newly established Junior Aces Performance team, which performs at UE basketball games and other campus events.
UE Explorers
UE Explorers is an afterschool program that will debut in the fall of 2022. Each month, a rotating UE faculty member will lead middle school students in the exploration of a new academic area. This program will be delivered in partnership with local youth-serving agencies Dream Center Evansville, Potter's Wheel, and the YCMA.
About Lilly Endowment Inc.
Lilly Endowment Inc. is an Indianapolis-based, private philanthropic foundation created in 1937 by J.K. Lilly, Sr. and his sons Eli and J.K. Jr. through gifts of stock in their pharmaceutical business, Eli Lilly and Company. Although the gifts of stock remain a financial bedrock of the Endowment, it is a separate entity from the company, with a distinct governing board, staff and location. In keeping with the founders' wishes, the Endowment supports the causes of community development, education and religion and maintains a special commitment to its hometown, Indianapolis, and home state, Indiana.
Apply to Be A Summer Assistant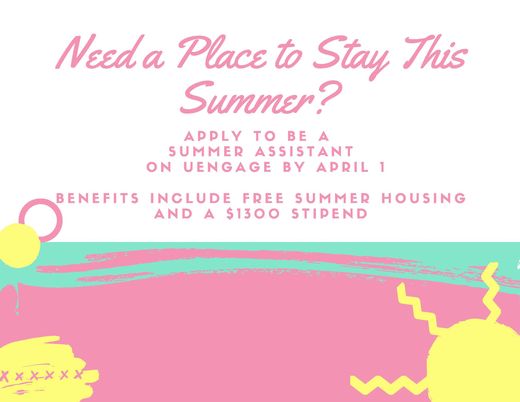 Need a place to stay this summer? Apply to be a summer assistant on UEngage by April 1! Benefits include free summer housing and a $1300 stipend!
Financial Aid for Summer Courses
UE students seeking financial aid or intending to use loan funds for summer courses at UE, please complete a Summer Financial Aid Application and return to the Office of Student Financial Services (Olmsted 105) however is most convenient. The application will allow our office to assess your aid and loan eligibility.
Work-Study:
On-campus jobs are available for continuing UE students during the summer. You do not need to be eligible for need-based Federal Work-Study during the academic year in order to apply. You may also apply regardless of your enrollment in summer courses. Applications will be available within the Student Employment area of WebAdvisor.
Submitted by Amy Sowders as560@evansville.edu
BIOL 100 Summer Online Course
Are you interested in taking a non-majors biology course with a lab this summer to fulfill one of your scientific literacy general education requirements (Outcome 8 with a lab)? If so, then take BIOL-100-D01 – Fundamentals of Biology during Summer I (May 16 to June 17). Please contact Dale Edwards (de3) for more details.
Outstanding Senior Service Award Nomination
Do you know a senior deserving of the highest award given by UE? Ten finalists will be selected, and one student will be presented this award at Commencement. Selection is based on academic achievement, demonstrated leadership, and community and campus engagement.
The Guthrie May and Mabel Dillingham Nenneker Outstanding Senior Service Award nominations will be accepted March 14 – March 28, 2022.
You can nominate deserving seniors here: 2021-22 Outstanding Senior Service Award Nomination
Applications must be submitted to the Office of the Dean of Students by March 28, 2022.
Questions can be referred to:
Dr. Rob Shelby, Interim Vice President for Student Affairs/Chief Diversity Officer
Michael Tessier, Interim Dean of Students
DeanofStudents@evansville.edu
812-488-2500
Call for Nominations: Dean of Students Leadership Awards
Nominations are now being accepted for consideration of The Howard S. Rosenblatt "Dean of Students Leadership Awards." These awards will be presented at the 29th Annual Leadership Awards Reception scheduled for April 20, 2022. Invitations will be prepared by the Center for Student Engagement.
Awards are presented in the following categories:
Student Organization Advisor of the Year
Student Organization of the Year
Student Leader of the Year
Over 80% of UE students participate in at least one student organization or program. These organizations are successful because of the commitment of the student leaders and the advisors who give freely of their time and support. The recipients of these awards are selected based on their commitment to the University of Evansville as well as the development and success of their efforts within their chosen student organization.
The deadline for nominations is March 29, 2022. Click on this link to submit your nomination:
https://www.surveymonkey.com/r/HowardSRosenblattDeanofStudentsLeadershipAwards2022
If you have any questions, please contact the Vice President for Student Affairs/Dean of Students office at 812-488-2500 or by e-mail via js944@evansville.edu.
Thank you in advance for celebrating our student leaders' achievements!
The deadline to apply for the 2022-2023 Dr. Marvin E. Hartig Memorial Scholarship has been extended to May 6th
Family, friends and loved ones of the late Dr. Marvin E. Hartig are pleased to announce the application process for the Dr. Marvin E. Hartig Memorial Scholarship. This scholarship is dedicated to the loving memory of Dr. Hartig, Dean of Evansville College's Evening College in 1967, and administrator for the Center for Advanced Study, director of the Evansville chapter of the American Institute of Banking (AIB), and the international student advisor. In 1974, Dr. Hartig was appointed Dean of Academic Services. He retired in 1984 after serving his alma mater for thirty-five years and passed away in 2007.
This scholarship will be awarded annually to a deserving sophomore student. Preference will be given to a student working while being enrolled as a full-time student. International students are encouraged to apply.
Eligible students for the 2022-2023 Hartig Memorial Scholarship will be sophomores in the 2022-2023 academic year.
Apply for the 2022-2023 Hartig Memorial Scholarship
Deadline: Please return all materials to the Office of Student Financial Services by April 22, 2022. The decision will be announced by May 27, 2022.
Questions: Amber Chandler, Administrative Assistant to the Office of Student Financial Services, at ac547@evansville.edu or 812-488-2364
Submitted by Amber Chandler ac547@evansville.edu
PSYC246 Survey Participation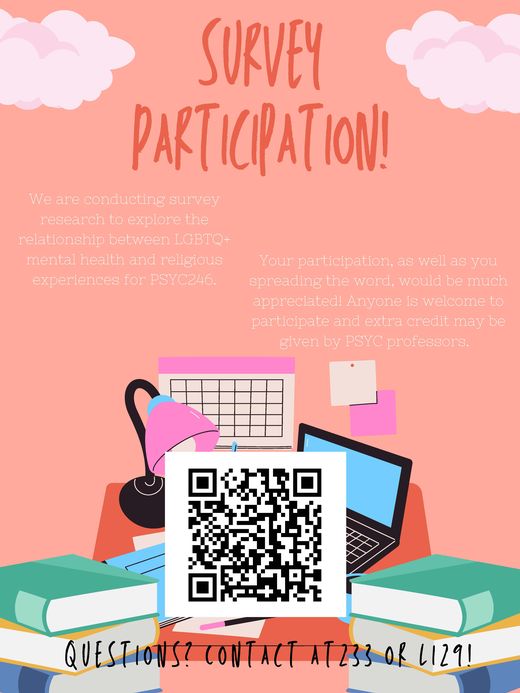 We are exploring the relationship between LGBTQ+ mental health and religious experiences, your participation would be much appreciated!
Professor Evan McCracken and Psychology Student Liliana Inderstrodt Present Research at Annual American Psychology-Law Society Conference
Evan McCracken, Visiting Assistant Professor in the Department of Psychology and Behavioral Sciences, presented his law review titled, "Reforming virtual child pornography: Insights from dehumanization and international human rights law" at the American Psychology-Law Society Annual Conference in Denver, Colorado. He was also a co-author of another talk with Dr. Margaret Stevenson titled, "A content analysis of juror's deliberation statements and attributions about a defendant's coerced confessed" presented at the conference.
Liliana Inderstrodt, psychology major, presented a poster presentation with co-author Evan McCracken titled, "Depression status and participant gender on perceptions of an alleged rape victim."
Liliana was also presented with the Access Path to Psychology and Law Experience (APPLE) award for her original research proposal, "Do dehumanization effects linger? Exploring shooter and child witness race effects during police interactions" - presented from the Broadening Representation, Inclusions, Diversity, and Global Equity (BRIDGE) subcommittee of the American Psychology-Law Society.
Writing Professor in "March Madness" Style Writing Competition
Professor Katie Darby Mullins will be going up against esteemed poet and writer Erin Belieu in this year's "March Xness" competition, in which each writer has written an essay about a cover song. Professor Mullins substituted in and wrote about The Cardigans' "Iron Man," and Belieu wrote about Devi's "Satisfaction." This is the Sweet Sixteen round, so they've narrowed the field from 64 to 16 essays. Check out both and vote for your favorite on Tuesday, March 22! The link won't be live until 9 AM Tuesday, but then you can access it here: http://marchxness.com/sweet16-devovscardigans/
Ace CARE Board Presents at National Pro Bono Conference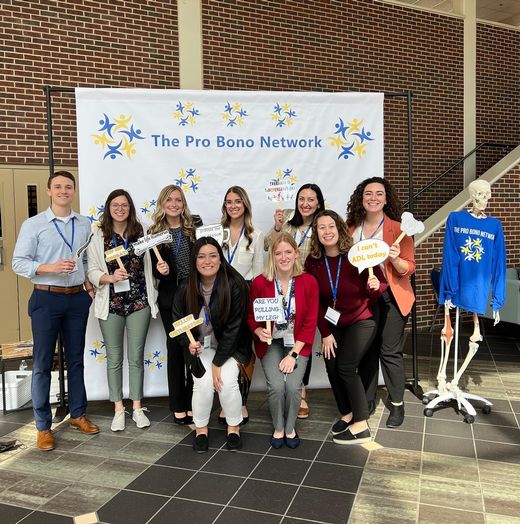 UE PT students who serve on the Ace CARE board represented our organization recently at the Widener Pro-Bono Conference in Philadelphia! The students presented ways to integrate the community and expand outreach within pro-bono clinics. Additionally, they shared initiatives implemented this year, including the 1st Ace CARE Gala, the addition of the External Advocacy Position, and the beginning of our Ace CARE van operations!!
If you are interested in learning more and how to support Ace CARE and the important outreach in the Evansville community, view our webpage at https://www.evansville.edu/majors/physicaltherapy/acecare.cfm.
UE Residency Programs, Faculty, & Graduates Assist with Performance Testing at St. Louis Cardinals Organization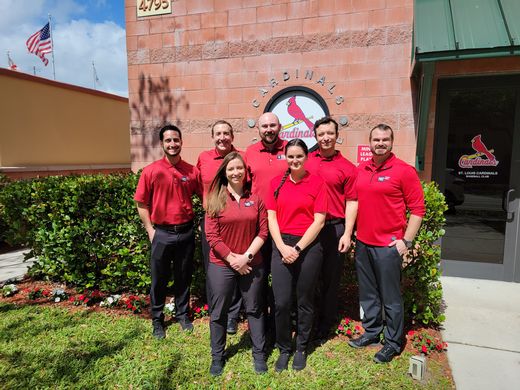 University of Evansville Residency Programs Faculty & Graduates recently completed performance testing at the preseason screening of the St. Louis Cardinals Minor League Baseball players in Jupiter, Florida.
Dr. Phil Plisky '98 led the team, Associate Professor of Physical Therapy and Director of Residency Programs and Associate Professor of Physical Therapy and Director of the ProRehab/UE Sports Residency Program Dr. Kyle Matsel '11. The team also included Dr. Jenna Gourlay of the RPI & University of Evansville & Orthopedic Residency Program (Sports Residency' 14) and current and former ProRehab/UE sports residents Dr. Rolando J Rodriguez, Dr. Tessa Netelbeek, Dr. Ervin Velic, and Dr. AJ Hermann '18. This testing aims to guide the optimization of player health and performance.
Dr. Kyle Matsel, Associate Professor of Physical Therapy presents at Combined Sections Meeting 2022
Dr. Kyle Matsel, Eykamp Center for Teaching Excellence Director and Associate Professor of Physical Therapy presented his research, "The Reliability of an Arm Care Screening Tool in High School Baseball Coaches" and "A Field Expedient Arm Care Screening Tool Can Identify Musculoskeletal Risk Factors in Baseball Players" at the Combined Sections Meeting virtually this March. His research is an essential step to continually improving injury risk assessment and prevention in baseball players.
Women's golf defeats UIC in 7-of-7 match
Women's golf defeats UIC in 7-of-7 match
Aces win by a final of 4-3
In a 7-on-7 match on Monday at Evansville Country Club, the University of Evansville women's golf team defeated UIC by a final of 4-3.
A near perfect weather day saw the Purple Aces edge the flames in the match. In match play, each hole in the head-to-head contest counted as one point. Each individual match-up was decided when one player led their opponent by more holes than the number left to play.
Mallory Russell battled to the finish, taking a 1 up decision over Megan Tang. Allison Enchelmayer defeated Brooke Beyer, finishing up three holes with two to play. Carly Frazier and Magdalena Borisova both picked up big wins, holding a 5-hole lead with four to play. Full results are below.
UE 4, UIC 3
UE Mallory Russell 1 up UIC Megan Tang
UIC Grace Szklarek 4&3 UE Alyssa McMinn
UE Allison Enchelmayer 3&2 UIC Brooke Beyer
UIC Lia Thomas 1 up UE Caitlin O'Donnell
UE Carly Frazier 5&4 UIC Adrienne Montalone
UE Magdalena Borisova 5&4 UIC Emma Hayes
UIC Stephanie Mroz 3&2 UE Taylor Keating
The ladies open next week at the Any Given Tuesday Intercollegiate in Pawley's Island, S.C.
Pair of midweek contests open busy week for Aces
A busy week beings for the University of Evansville baseball team with a pair of midweek contests beginning at Western Kentucky on Tuesday afternoon in Bowling Green, Ky., followed by a matchup with SIUE on the road on Wednesday in Edwardsville, Ill.

Previewing the Matchups: WKU and SIUE
• The Aces and Hilltoppers are meeting for the 60th time in series history with Evansville owning a 29-28-2 advantage in a very competitive all-time series.
• For Wednesday's contest, UE and SIUE will meet for the 32nd time with the Aces owning a 17-15 advantage in the series.
• Both WKU and SIUE enter the week with records right around .500 as the Hilltoppers are 9-10 and the Cougars come into the week at 10-8.
• Each side Evansville faces in the midweek comes off a series loss last weekend against good competition. SIUE dropped a three-game set to Memphis and WKU fell in a three-game swing to Charlotte.
Mark's Streak Continues
• Over a strong start to his junior campaign, Mark Shallenberger has racked-up an impressive streak.
• Following last week's three contest, Shallenberger pushed his reached base streak to 18 games.
• Shallenberger has gotten a hit in all but two games this season and leads the team with a .384 batting average.
Meyer Continues Spotless Spring
• Junior Jakob Meyer heads into the fifth week of the season in impressive form.
• In nine innings of work, Meyer has yet to allow a run this season.
• The Columbus, Ind. native has allowed just three hits and struck-out 15 batters, while recording a pair of saves.
Contribute to AceNotes
To have content considered for inclusion in AceNotes, please submit a Marketing Request Form. Deadline for submission to AceNotes is 10:00 a.m. on the requested date of publication. Only articles concerning UE related/sponsored activities will be accepted. Articles submitted to AceNotes may be edited for length and clarity. Submitter contact information is at the end of each article.