| | |
| --- | --- |
| AceNotes Today | Monday, March 21, 2022 |
Indoor Event Guidelines Lifted Beginning March 21
On February 24, the Coronavirus Healthcare Task Force announced that restrictions for outdoor events would be lifted, including the requirement of capacity limits/attendance maximums and social distancing. Effective Monday, March 21, the University will also lift restrictions for indoor events. This means that attendance will no longer be limited for any indoor event, regardless of whether the space has fixed or moveable seating. Events will no longer need approval from the Coronavirus Task Force.
UE Theatre Presents HEROES OF THE FOURTH TURNING
The University of Evansville Theatre closes their spring 2022 season with Will Arbery's HEROES OF THE FOURTH TURNING. A 2020 Pulitzer Prize Finalist in Drama, this haunting play is a meticulously crafted story centering on four alumni of a conservative college whose reunion spirals into chaos over spirituality, politics, and a nearly fanatical desire to be understood. This production opens on Friday, April 8, at 7:30 p.m., in Shanklin Theatre. Additional performances are 7:30 p.m. on April 9, 21, 22, 23, and at 2:00 p.m., on April 24.
HEROES OF THE FOURTH TURNING is guest-directed by Dylan Frederick, a 2014 alumnus of UE. Joy Weidenhamer, a senior theatre studies major from Omaha, Neb., serves as the associate director; Robert Tintoc, a 2006 alumnus, serves as the guest scenic designer; Assistant Professor Sarah J. Smith is the costume designer; Associate Professor Stephen Boulmetis is the lighting designer; Araceli Ramirez serves as the guest sound designer; Professor Diane Brewer is the dramaturg; Moira Cassiday, a senior stage management major from Nashville, Ind., is the stage manager, and Assistant Professor Mitchell L. Critel serves as the technical director.
The cast features Delaney Ross, a first-year performance major from Keller, Texas as Emily; Gabriel Smothers, a junior performance major from Casper, Wyo., as Kevin; Becky Rusch, a senior performance major from Newark, Del., as Teresa; McAllister Reed Stowell, a junior performance major from Lakewood, Colo., as Justin; and Delanie Kitzman, a senior performance major from Tomball, Texas, as Gina.
In following industry standards, as established by the Broadway League, all audience members must show proof of COVID–19 vaccination or a negative test result, taken within 48-hours of the date on their ticket, and remain masked during the performance. It is our hope that these restrictions will allow our student actors to safely perform unmasked.
Adult ticket prices are $20, and $18 for senior adults, non-UE students, and UE employees. UE students may obtain one free student rush ticket beginning at 12 p.m. on the day of the performance they wish to attend. Tickets are available by calling 812.488.2031, Monday through Friday, 12:00 to 5:00 p.m.
Chasing Water Falls and Zip Lining with the Crew April 2nd and 3rd
Join us April 2nd and 3rd as the UE Venturing Crew makes our way across Southern Illinois visiting some of the Midwest's best water falls.
We will leave campus Saturday morning April 2nd to Zip Line through 83 acres of Southern Illinois' and then start our water fall tour of what is called 5 of the best water falls in the Midwest: Jackson Falls, Burden Falls, Bork Falls, Cedar Falls and Ferne Clyffe.
We will see 4 different water falls on Saturday, stay in a tree house village at Camp Ondessonk Saturday night while sitting around the campfire playing games and making Smores.
At Camp Ondessonk, there are 2 water falls that we will explore as we leave camp Sunday morning.
We'll stop at another water fall on the way back to campus and should be back by 2pm on Sunday.
Food and transportation will be provided and a sleeping bag can be borrowed from the crew as well.
Space for this trip is limited to 20 people with the cost of $10 and can be paid with cash, check, Square or Venmo
Please email venturing@evansville.edu to reserve your spot and arrange payment.
Complete the University safety waiver at: UE self service >UE forms > Students > Student Club Activities > select the event to register
Department of Art presents the 60th Annual Undergraduate Student Exhibition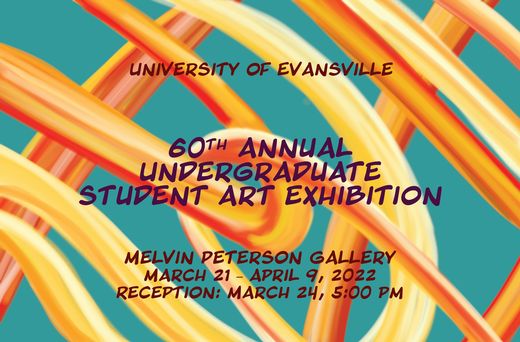 The Department of Art invites you to view the 60th Annual Undergraduate Student Exhibition in the Melvin Peterson Gallery from March 21- April 9, 2022. The Reception and Awards is March 24, 5-6:30 PM, with awards ceremony at 5:30. Please come visit the exhibition and celebrate the success of the students. You may also vote for the People's Choice Award which is awarded at the end of the exhibition. Hope to see you there.
Tie-Dye with Phi Mu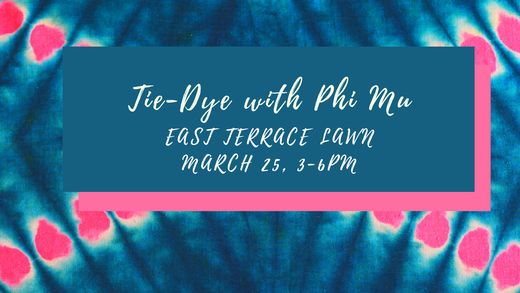 This is an event for anyone who may be interesting in joining Phi Mu and wants to speak with our sisters/siblings. If they are interested in attending the event, please RSVP on UEngage.
GPS Smash Bros. Ultimate Tournament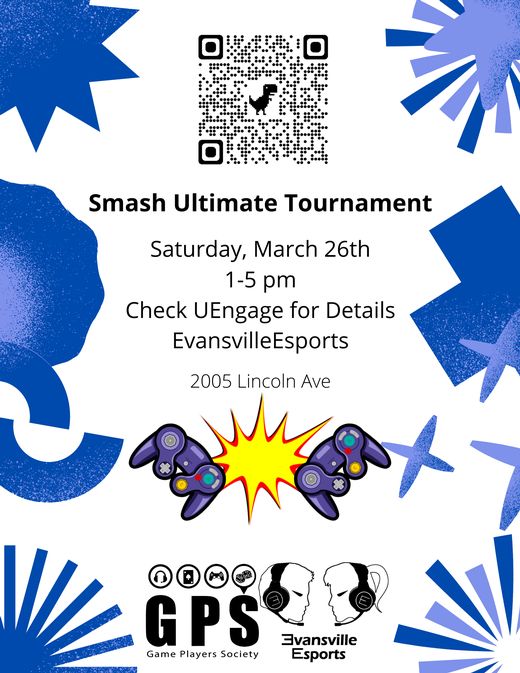 The Game Players Society is hosting its annual Smash Ultimate Tournament on Saturday, March 26th from 1-5 pm. Everyone is welcome to participate, those who want to play for cash prizes must bring $5, and the top 8 are eligible for winnings. RSVP to attend at Evansville Esports, 2005 Lincoln Ave on Saturday!
Email Cam at cc346 if you have any questions. Join our Discord server! ---> https://discord.gg/VYXzVWsYfG
2022 Health Careers Forum
UE EXSS Club and the Center for Career Development present the 2022 Health Careers Forum on March 30th from 6:00-8:00 PM in Eykamp Hall. Student attendees have the opportunity to ask questions to a diverse healthcare professional panel as a means to guide them on their future job outlook and search. Business casual attire is required, snacks will be provided, and name tags will be given to the registered attendees. You do not have to be a club member to participate, although attendance is mandatory for EXSS club members. Use the link below to register by Tuesday, March 29th at 8 PM!
Link to participate and register:
https://forms.gle/wmvQUasS6NMx6P4x9


Pep and Vim, UE's Annual Day of Giving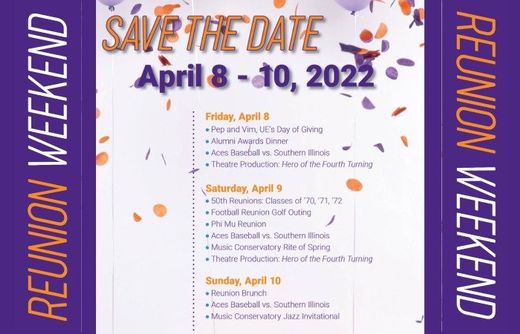 Save the date for UE's Annual Day of Giving, Pep and Vim! This year's Pep and Vim will be held Friday, April 8, 2022.
Spirit Week activities, like Penny Wars, will be held the week leading up to Pep and Vim. Penny Wars is a competition between each of the colleges to win the Golden Squirrel for the year. Save your change to help your college win the highly sought after squirrel and help UE at the same time!
Pep and Vim 5K Registration is Open
UE Alumni and Engagement is hosting a virtual 5K run/walk to promote a healthy lifestyle. The 5K can be completed indoors or outdoors between April 3 and April 8. Participants will enter their times online. All participants will receive an exclusive Pep and Vim t-shirt if registered by March 25*. The race fee is $35 and $20 for students.
On Friday, April 8, Day of Giving, post a video or picture wearing your Pep and Vim t-shirt on social media using #AcesGiveBack and #FORWARD to help spread the word. If you have any questions, please contact alumni@evansville.edu.
Go Aces!
*Registrations will be accepted after March 25, but we cannot guarantee the arrival of the Pep and Vim t-shirt by April 8.
UE Employee Photo Exhibit
We are pleased to announce the UE Employee Photo Exhibit will be held April 3 – May 8 in the Krannert Gallery. All active and retired University of Evansville employees are invited to submit their work.
Images of all sizes are welcome, though 16" x 20" would be the maximum size for display cases. Photographs should be framed and suitable for hanging in the Krannert Gallery. Entries will be returned at the end of the exhibition.
On the back of each framed photograph, please provide:
• Your name, current/former department, and email address
• A title for your image
• Details such as location or meaning/memory attached to photo
• Approximate worth of image (most photographers assess value at $25)
Please bring your work to Carol McCraney in the Art Department (FA 212) between Monday March 28 and Thursday March 31.
The UE campus community (and guests) are invited to a reception in the Krannert Gallery on Thursday, April 21 at 5:00 p.m. Please plan to join us to celebrate the tradition of displaying meaningful work created by our own UE community.
If you have questions, please contact Carol at cm177@evansville.edu.
Registration Week 2022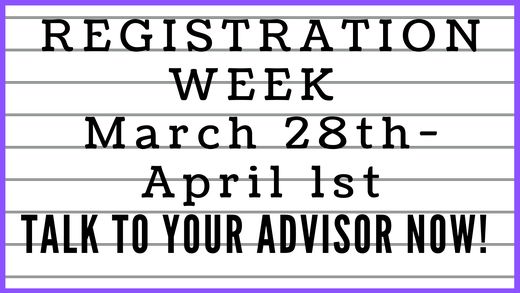 Registration Week is right around the corner! Are you ready?
Registration begins March 28th. Make sure to meet with your advisor to have your classes approved before registration. If you have questions about registration, email academicservices@evansville.edu or come visit us in Olmstead Hall, Rm 116.
UE Employee Wellness Step Challenge~ Earn $150 in Health Behavior Credits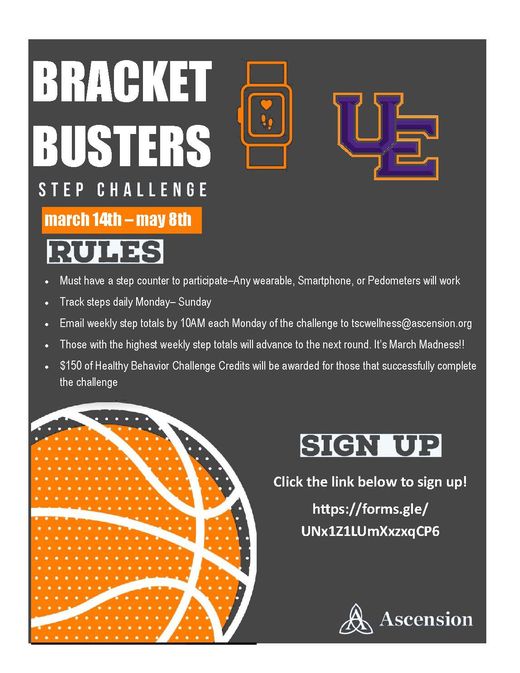 Join Bracket Busters Today!
This step challenge is modeled after the NCAA's March Madness tournament.
Track your steps each day.
Those with the highest step counts at the end of the week will advance to the next round.
March 14-May 8th
To sign up click the following link and enter your information: https://forms.gle/xZq88hveCeDsig8r7
Challenge participants will earn $150 in Healthy Behavior Credits (if not already earned in the 2021-2022 benefit plan year)
All employees are welcome to participate, only those with the HRA Health Plan can be awarded the healthy behavior credit
Krannert Gallery Exhibit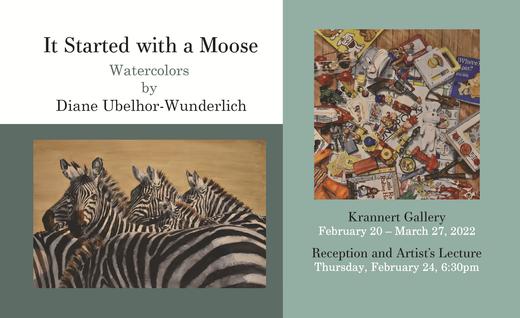 The Department of Art invites you to the Krannert Gallery for the exhibit It Started with a Moose: Watercolors by Diane Ubelhor-Wunderlich. The artist exhibition will be open February 20 - March 27, 2022.
SafeZone Training- Student Session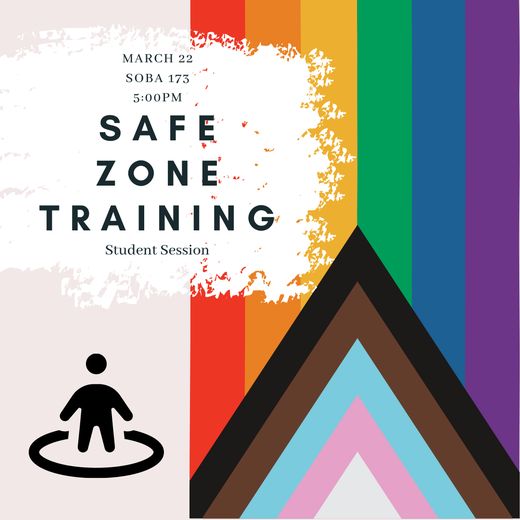 Join the Center for Diversity Equity and Inclusion and facilitator, Dr. Curran, in Safe Zone Training on March 22nd beginning at 5pm! Safe Zone Training is a training that will provide participants with the knowledge and skills to ensure their 'zone' is a safe place for members of the LGBTQ+ community. Your 'zone' is anything from student orgs, your dorm, classrooms, your work, etc.
Join us in ensuring every zone is a Safe Zone!
The Center for Innovation & Change is Hosting Scholars for Syria on March 31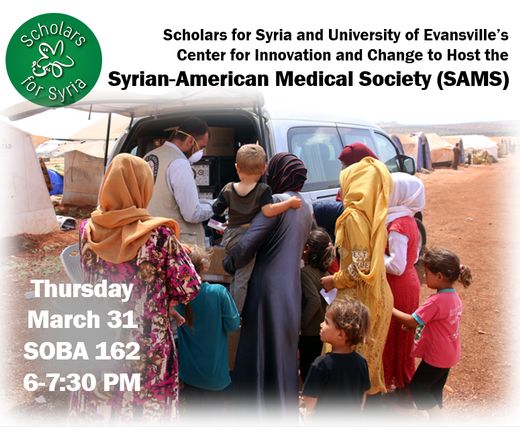 Please join us on Thursday, March 31st from 6-7:30 pm at the University of Evansville (SOBA 162) as we welcome local Syrian physician Dr. Bashar Mourad (Ohio Valley Nephrology Associates) of the Syrian American Medical Society. Dr. Mourad will be presenting photos from SAMS missions, discussing the healthcare crisis both inside and outside Syria, and highlighting the current work SAMS is engaging in to ensure healthcare development for refugees and displaced people. The SAMS mission is to save lives and work to ensure healthcare development on behalf of Syrian American healthcare professionals. It is a leading humanitarian organization, harnessing the talents of Syrian American healthcare professionals, and channeling them toward medical relief for the people of Syria and the United States. This presentation and fundraiser is co-sponsored by the University of Evansville Center for Innovation and Change and Scholars for Syria, with the goal that our community be educated about how connecting cultures serves a critical role in good healthcare and global citizenship.
Save the Date: October 1. The UE Center for Innovation and Change hosts New York Time's Best Selling Author, Dr. Doug Tallamy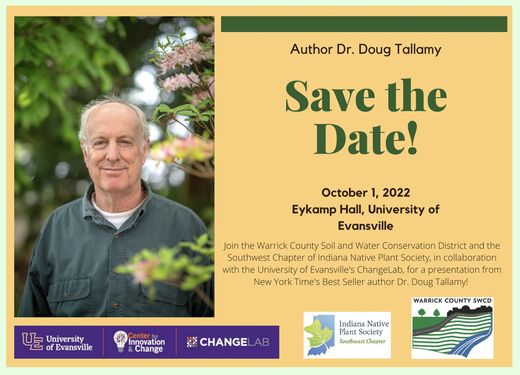 Save the Date October 1, 2022! The UE Center for Innovation and Change in conjunction with Dr. Cris Hochwender, the Warrick County Soil and Water Conservation District and the Southwest Chapter of Indiana Native Plant Society, are teaming up to host New York Time's Best Selling Author, Dr. Doug Tallamy! Dr. Tallamy is the biggest name in the business of native plants/insects/bird and the public, so it will be a very big deal. Students with the ECO and BiSci Clubs will also be active participants. This is a kickoff event for the Spring 2023 'Build Back Better Pollinator Plan' ChangeLab with Dr. Cris Hochwender.
Meet the Challenge! CIC & Alpha Phi Omega Blood Drive March 28th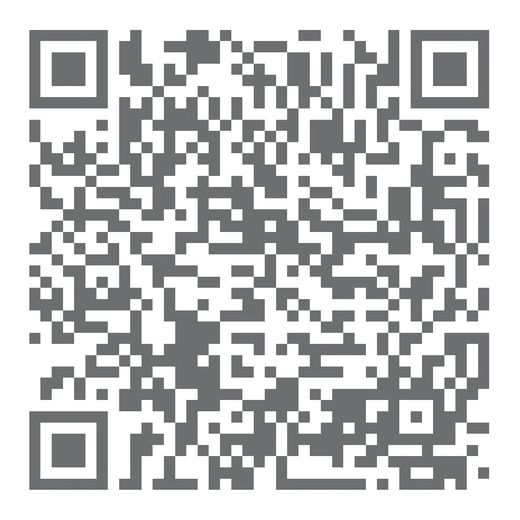 Meet the Challenge!
CIC & Alpha Phi Omega Blood Drive March 28th
The UE Center for Innovation & Change has Partnered with the Red Cross and Alpha Phi Omega, our Co-Ed Service Fraternity, to help meet desperate need for blood in our community. Make plans now to donate blood on Monday, March 28 anytime between 10 a.m. and 3:00p.m.!
UE Student Organization Challenge!
Any student organization- fraternity, sorority, club, council, ect...- that has the most participants will win a PIZZA PARTY for their organization!
UE Department Challenge!
All employees- staff, faculty, administrators- that give blood will be entered into a drawing for a FREE Department Lunch at Turnoi's!! The more individuals in your department that participate, the more chances you have at winning! Go Department TEAM!!
UE Athletics Teams Challenge!
Any Athletics Team that has the most participants will win a PIZZA PARY for their TEAM!!
It is SUPER EASY to Register! Just scan the QR Code below!
Registration tables will also be set up on the first floor in the Ridgway University Center on March 17th, 21st, and 23rd!
We've Got This!!
Employee Volunteers Needed for CDEI Prom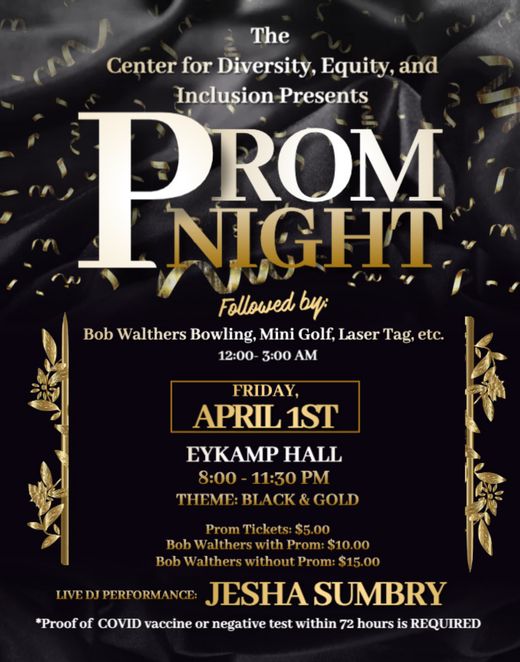 Hello everyone! As some of you may know, the CDEI in collaboration with SAB is holding a Prom on April 1st, 2022! This collaboration came together as restrictions are lessening and we realized many of our students were not able to attend an actual in-person, high school Prom! So, we decided to throw one for all students!
Prom will be held on April 1st in Eykamp Hall from 8:00pm- 11:30pm! Following Prom we will be shuttling students to Bob Walthers, where we have rented the space from 12:00am- 3:00am! Students will have access to inside and outside mini-golf, karaoke, bingo, mini-bowling, laser tag, and so much more!
Since this is a Prom for our students, I want to keep student volunteers at a minimum if not a complete zero for the night of and that means I need employee volunteers! Volunteer needs are listed below!
Prom 8-11:30pm
Bartenders (we will have a mocktail bar with sparkling juice, soda and water)
Photo Booth Attendants (we will have two photo drops with Ipad stations for photos)
Check-In Attendants (will need ticket/ guest list checkers)
Security (we will need additional people to check/ be stationed at specific doors to ensure no one is sneaking in or bringing any beverages into Prom)
Bob Walthers 12-3:00am
Shuttle Ticket Checkers (we will need individuals at UE checking tickets before students board the shuttle to ensure they have an actual ticket to attend Bob Walthers after party)
Bob Walthers Ticket Checkers (we will need individuals stationed at Bob Walther's checking tickets from people who may be electing to drive themselves over and not taking the shuttle)
Karaoke Attendant/ MC (we will be purchasing/ renting a Karaoke Machine and running Karaoke ourselves, and need individuals willing to help MC/ run this fun activity)
Food Attendants (in addition to Bob Walther's cafe being open, we will be purchasing and bringing in pizza and beverages and will need individuals willing to help set-up and monitor food rooms)
If you are interested, able and willing to volunteer for Prom, please reach out by email Abagail Catania at ac532@evansville.edu and indicate which (if any) specific volunteer opportunities you are interested in!
Thank you in advance! I know our students are really excited about this night! :)
Seniors Invited to Submit Essays for Klinger Essay Award
Seniors are invited to submit essays for the George Klinger Memorial Prize for Excellence in Writing Academic Essays. There is no length requirement for essay submissions, and research papers and scholarly analyses are equally appropriate. Essays should demonstrate excellence in scholarly writing. Seniors from every major are eligible.
Format: All entries are to be printed on one side of 8 ½ x 11 sheets, double-spaced. Each is to have a title, and pages are to be numbered. The writer's name is not to appear on the work, but each submission is to have an attached (stapled) cover page (8 ½ x 11) listing: the title, author, the UE ID number, class rank, and the name of any teacher who has read or heard the work. PLEASE NOTE: NO SUBMISSIONS WILL BE RETURNED
Entries must be submitted to Michelle Lehman (administrative assistant for Department of English & Creative Writing) in Room 320, Olmsted Administration Hall. All entries must be received by Friday, April 1, 2022, at 4:00 p.m.
Save the Date for Benefit Open Enrollment
During the period of April 4 through April 15, benefit-eligible employees may enroll or make changes in the University's health, life, long term disability, and dental insurance, and ACES flexible spending account benefit plans. It is the only chance for benefit-eligible employees to enroll or make changes until the next open enrollment period unless you have a qualifying change in status.
More information will be available next week.
Employees will have the opportunity to learn more about these benefit changes or to speak with a plan representative at one of the following in-person events in Eykamp Center room 251:
• Tuesday, March 29, 9:00 AM – 10:00 AM
• Tuesday, March 29, 11:00 AM – 12:00 PM
• Tuesday, March 29, 1:30 PM – 2:30 PM
• Wednesday, March 30, 9:00 AM – 10:00 AM
• Wednesday, March 30, 11:00 AM – 12:00 PM
We will offer one virtual opportunity to learn about benefit changes via Zoom:
• Wednesday, March 30, 2:30 PM – 3:30 PM
Please contact the Office of Human Resources at ext. 5045 with any questions.
ES 103 Offered During Summer Session 2
ES 103 (Fundamentals of Environmental Science), which fulfills the non-lab science General Education credit (Outcome 8), will be offered during Summer Session 2 as an online, asynchronous class. If you have questions about this 3 credit hour course, which will run from June 20-July 22, please contact Dr. Aldred via email - ka59@evansville.edu
BIOL 107 Offered During Summer Session 2
Biol 107 (General Biology), which fulfills the lab science General Education credit (Outcome 8), will be offered during Summer Session 2 as an online, asynchronous class. Although it is generally intended for those majoring in EXSS, public health, and similar, all majors are welcome! The lab portion of the course will be completed via Labster, an exciting virtual lab simulator! If you have questions about this 4 credit hour course, which will run from June 20-July 22, please contact Dr. Aldred via email - ka59@evansville.edu
Apply to Be A Summer Assistant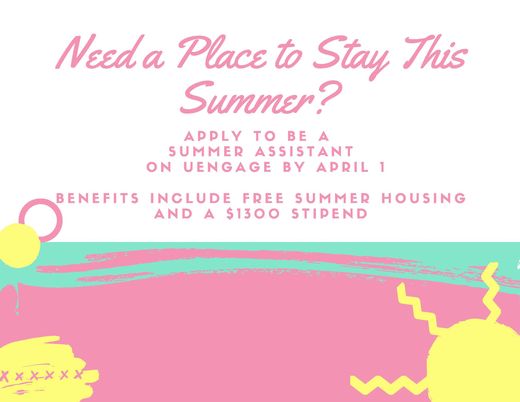 Need a place to stay this summer? Apply to be a summer assistant on UEngage by April 1! Benefits include free summer housing and a $1300 stipend!
Financial Aid for Summer Courses
UE students seeking financial aid or intending to use loan funds for summer courses at UE, please complete a Summer Financial Aid Application and return to the Office of Student Financial Services (Olmsted 105) however is most convenient. The application will allow our office to assess your aid and loan eligibility.
Work-Study:
On-campus jobs are available for continuing UE students during the summer. You do not need to be eligible for need-based Federal Work-Study during the academic year in order to apply. You may also apply regardless of your enrollment in summer courses. Applications will be available within the Student Employment area of WebAdvisor.
Submitted by Amy Sowders as560@evansville.edu
Summer Sessions Payment Plan
Summer session courses can be added to your monthly payment plan now with no additional set-up fee. If your student is enrolling in summer courses, anticipated summer charges can be included in the spring semester payment plan and the plan extended through May (for Summer 1 charges) or June (Summer 2 charges). The undergraduate tuition rate for Summer 2022 is $580 per credit hour. Fees per summer term include a $50 registration fee and a $40 technology fee. Online courses are assessed a $50 online course fee. Payment arrangements are due prior to the start of the summer term.
Students should contact the Office of Student Financial Services no later than Reading/Study Day, April 28, 2022 to determine if financial aid is available for their summer courses.
To modify your current payment plan to include summer, contact the cashiers in the Office of Student Financial Services at 812-488-2565.
Submitted by Amy Sowders as560@evansville.edu
BIOL 100 Summer Online Course
Are you interested in taking a non-majors biology course with a lab this summer to fulfill one of your scientific literacy general education requirements (Outcome 8 with a lab)? If so, then take BIOL-100-D01 – Fundamentals of Biology during Summer I (May 16 to June 17). Please contact Dale Edwards (de3) for more details.
Outstanding Senior Service Award Nomination
Do you know a senior deserving of the highest award given by UE? Ten finalists will be selected, and one student will be presented this award at Commencement. Selection is based on academic achievement, demonstrated leadership, and community and campus engagement.
The Guthrie May and Mabel Dillingham Nenneker Outstanding Senior Service Award nominations will be accepted March 14 – March 28, 2022.
You can nominate deserving seniors here: 2021-22 Outstanding Senior Service Award Nomination
Applications must be submitted to the Office of the Dean of Students by March 28, 2022.
Questions can be referred to:
Dr. Rob Shelby, Interim Vice President for Student Affairs/Chief Diversity Officer
Michael Tessier, Interim Dean of Students
DeanofStudents@evansville.edu
812-488-2500
Call for Nominations: Dean of Students Leadership Awards
Nominations are now being accepted for consideration of The Howard S. Rosenblatt "Dean of Students Leadership Awards." These awards will be presented at the 29th Annual Leadership Awards Reception scheduled for April 20, 2022. Invitations will be prepared by the Center for Student Engagement.
Awards are presented in the following categories:
Student Organization Advisor of the Year
Student Organization of the Year
Student Leader of the Year
Over 80% of UE students participate in at least one student organization or program. These organizations are successful because of the commitment of the student leaders and the advisors who give freely of their time and support. The recipients of these awards are selected based on their commitment to the University of Evansville as well as the development and success of their efforts within their chosen student organization.
The deadline for nominations is March 29, 2022. Click on this link to submit your nomination:
https://www.surveymonkey.com/r/HowardSRosenblattDeanofStudentsLeadershipAwards2022
If you have any questions, please contact the Vice President for Student Affairs/Dean of Students office at 812-488-2500 or by e-mail via js944@evansville.edu.
Thank you in advance for celebrating our student leaders' achievements!
50 Years of Title IX: Mythbuster Monday
On June 23, 1972, Title IX of the education amendments was enacted into law. This important piece of legislation has now supported gender equity for 50 years. During the month of March, which is also Women's History Month, UE will share Mythbuster Mondays to bring greater awareness to Title IX and both its purpose and benefits.
Myth: According to Title IX, all educational activities and programs must be co-ed and open to both men and women.
Fact: Title IX specifically allows for, or has been interpreted to allow for, single-sex programs in a number of categories. Included among those are: religious schools, traditional men's/women's colleges, social fraternities/sororities, youth service organizations such as the Boy/Girl Scouts of America, and beauty pageants.
MSC: McGary Middle School Art Showcase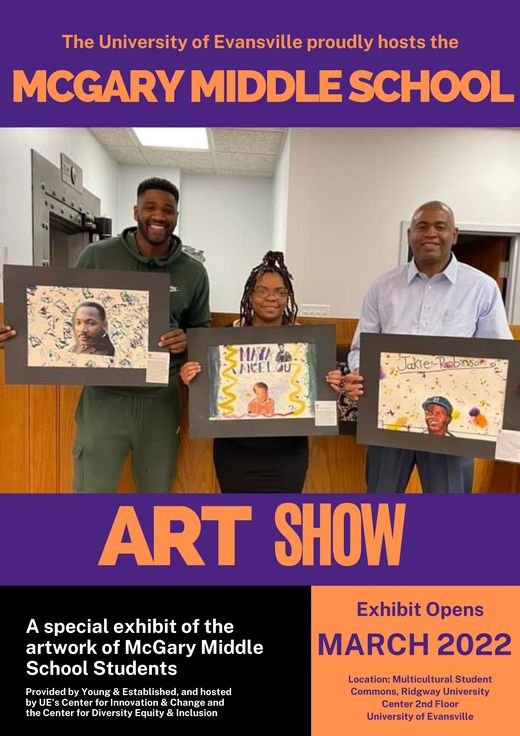 The Center for Innovation & Change and the Center for Diversity Equity and Inclusion are proud to host a McGary Middle School Art Showcase sponsored by Young & Established! The students at the McGary Middle School worked hard to create art for Black History Month and we are bringing them right here to our campus!
You can find their art showcased in the Multicultural Student Commons (2nd Floor of Ridgway University Center) starting on March 1st and running throughout the rest of the month! Head over to Ridgway and come see what these amazing students have put together!

Writing Professor in "March Madness" Style Writing Competition
Professor Katie Darby Mullins will be going up against esteemed poet and writer Erin Belieu in this year's "March Xness" competition, in which each writer has written an essay about a cover song. Professor Mullins substituted in and wrote about The Cardigans' "Iron Man," and Belieu wrote about Devi's "Satisfaction." This is the Sweet Sixteen round, so they've narrowed the field from 64 to 16 essays. Check out both and vote for your favorite on Tuesday, March 22! The link won't be live until 9 AM Tuesday, but then you can access it here: http://marchxness.com/sweet16-devovscardigans/
Ace CARE Board Presents at National Pro Bono Conference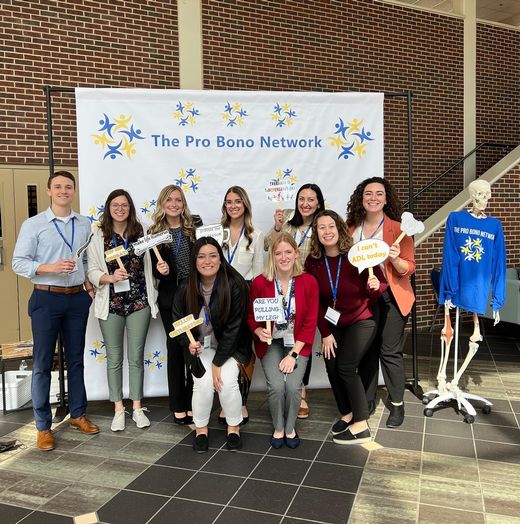 UE PT students who serve on the Ace CARE board represented our organization recently at the Widener Pro-Bono Conference in Philadelphia! The students presented ways to integrate the community and expand outreach within pro-bono clinics. Additionally, they shared initiatives implemented this year, including the 1st Ace CARE Gala, the addition of the External Advocacy Position, and the beginning of our Ace CARE van operations!!
If you are interested in learning more and how to support Ace CARE and the important outreach in the Evansville community, view our webpage at https://www.evansville.edu/majors/physicaltherapy/acecare.cfm.
UE Residency Programs, Faculty, & Graduates Assist with Performance Testing at St. Louis Cardinals Organization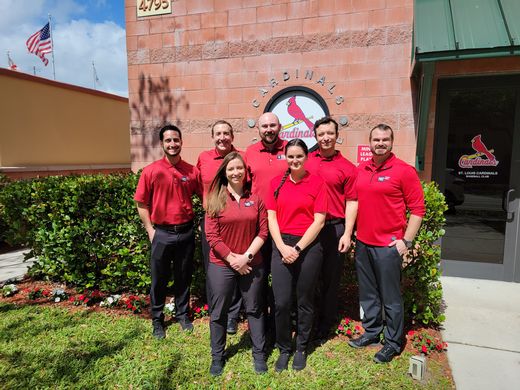 University of Evansville Residency Programs Faculty & Graduates recently completed performance testing at the preseason screening of the St. Louis Cardinals Minor League Baseball players in Jupiter, Florida.
Dr. Phil Plisky '98 led the team, Associate Professor of Physical Therapy and Director of Residency Programs and Associate Professor of Physical Therapy and Director of the ProRehab/UE Sports Residency Program Dr. Kyle Matsel '11. The team also included Dr. Jenna Gourlay of the RPI & University of Evansville & Orthopedic Residency Program (Sports Residency' 14) and current and former ProRehab/UE sports residents Dr. Rolando J Rodriguez, Dr. Tessa Netelbeek, Dr. Ervin Velic, and Dr. AJ Hermann '18. This testing aims to guide the optimization of player health and performance.
Dr. Kyle Matsel, Associate Professor of Physical Therapy presents at Combined Sections Meeting 2022
Dr. Kyle Matsel, Eykamp Center for Teaching Excellence Director and Associate Professor of Physical Therapy presented his research, "The Reliability of an Arm Care Screening Tool in High School Baseball Coaches" and "A Field Expedient Arm Care Screening Tool Can Identify Musculoskeletal Risk Factors in Baseball Players" at the Combined Sections Meeting virtually this March. His research is an essential step to continually improving injury risk assessment and prevention in baseball players.
Tuesday doubleheader canceled due to weather
With the anticipated rain in the forecast for Tuesday, the University of Evansville softball team has canceled its doubleheader that was set to take place against Tennessee Tech.
No make-up date has been announced at this time, however, the teams will work to make the games up if there is a window later in the season.
Evansville will be back at Cooper Stadium this weekend, welcoming UNI for a 3-game set with a noon doubleheader getting things started on Saturday.
Softball sweeps Bulldogs to clinch series
An exciting day of action at Cooper Stadium saw the University of Evansville softball team sweep Drake to clinch the first Missouri Valley Conference series of the season.
UE (17-8, 2-1 MVC) defeated the Bulldogs (6-15, 1-2 MVC) by finals of 5-3 and 12-3. Over the course of the doubleheader, Haley Woolf had three hits, two runs and two RBI while Mackenzie McFeron registered four RBI in the two games. Jenna Lis and Jessica Fehr picked up three hits and three RBI apiece.
Game One – UE 5, Drake 3
Just as they did in Saturdays series opener, Drake came out swinging, scoring twice in the first inning. Jessica Fehr picked up the Aces first hit of the day to lead off the game and Evansville would have runners on second and third with one out before a pair of strikeouts ended the threat.
Two innings later, the Aces would cash in. Fehr doubled to center field for her second hit of the day. Following two quick outs, Jenna Lis came to the plate and delivered her first home run of the season to tie the game. Alexa Davis made it back-to-back, picking up her second dinger of the year to put the Aces on top, 3-2. Lis came up big in the top of the fourth, throwing baserunner out at second on a stolen base attempt.
Paige Bedsworth singled up the middle to score the tying run in the top of the fifth and it would remain that way until the sixth when the Aces retook control. Haley Woolf led off with a pinch hit single before Hannah Hood returned to run. After stealing second, Hood crossed the plate on a triple to deep center field from Mackenzie McFeron. McFeron made it a 5-3 game when she scored on a sacrifice fly by Fehr.
Sydney Weatherford got the job done in the seventh to cement her fourth win of the season. Her third consecutive complete game saw her allow three runs on five hits. After the first inning, she gave up just one run. Evansville finished with seven hits as Fehr and McFeron recorded two apiece.
Game Two – UE 12, Drake 3
Jessica Fehr followed up her 2-hit performance in game one with a quick strike in the finale. With Haley Woolf and Zoe Frossard on second and third with two outs, Fehr belted a single to score both and give Evansville a 2-0 advantage.
Four more runs crossed the plate in the third. Woolf hit a 2-RBI double to deep left field to plate Sydney Weatherford and Alexa Davis. Woolf came home on a single to left by Hannah Hood for the fifth run before Hood scored on an error to extend the advantage to 6-0. In the fourth, the Bulldogs got two of those runs back when Delaney Taylor homered to left.
Davis singled in the fourth to score Marah Wood, marking the third frame in a row that the Aces were on the board. Never giving up, the Bulldogs did their best to claw back. Haylee Lehman recorded the second long ball of the game to lead off the fifth, but the Aces were not going to be denied. A 5-run sixth inning capped off the 12-3 win. McFeron finished the day in walk-off style, hitting a 3-run double to clinch the win. Evansville had 12 hits in the game with Woolf, Wood, Lis and Alyssa Barela picking up two apiece. Izzy Vetter scattered six hits and three runs in six innings of work on the way to win #12 of the season.
On Tuesday, the Aces are set to face Tennessee Tech in a 2 p.m. doubleheader at Cooper Stadium.
UE Softball Update
The University of Evansville softball team will play a revised schedule this weekend in the conference-opening series against Drake. With the weather in the Evansville area, Saturday's action will consist of a single game starting a 3 p.m. at Cooper Stadium. A doubleheader will be played on Sunday with the start time TBA.
Aces fall to Bulldogs in Valley opener
Drake scored five runs in the third inning before pulling away for a 10-1 win over the University of Evansville softball team on Saturday afternoon at Cooper Stadium.
Due to the weather on Saturday morning, a single game was played with Sunday turning into a doubleheader that will begin at 10 a.m.
Evansville had a chance in the opening frame, putting runners on first and third with one out. Drake was able to get out of the inning unscathed and would open the scoring with a run in the third. Macy Johnson singled up the middle to score Libby Ryan. Addie Lightner would hit a grand slam later in the inning to make it a 5-0 game.
The Bulldogs plated two runs in the fourth before scoring three times in the fifth to go up 10-0. UE scored its first run in the bottom half of the fifth when a sacrifice fly by Sydney Weatherford brought in Mackenzie McFeron.
Izzy Vetter made the start, allowing seven runs in three innings. She suffered just her second loss of the season. Nicole Timmons recorded the win for the Bulldogs, allowing one hit in four shutout innings. UE had two hits with McFeron and Alyssa Barela recording one apiece. Lightner led Drake with four RBI while Macy Johnson had two hits, two walks, two RBI and three runs scored.
Women's golf to face UIC on Monday in Evansville
On Monday, the University of Evansville golf team is set to face UIC in a 7-on-7 match at Evansville Country Club.
Play will get underway at 2 p.m. and will be open to the public.
Last week, the ladies wrapped up the SHU Spring Invitational in Daytona Beach, Fla. with a fifth-place finish. Alyssa McMinn led three Purple Aces who finished in the top 25. Her 2-round tally of 155 tied her for 15th.
Mallory Russell and Allison Enchelmayer tied for the 24th position with scores of 159. Caitlin O'Donnell was four behind the duo with a 163.
Contribute to AceNotes
To have content considered for inclusion in AceNotes, please submit a Marketing Request Form. Deadline for submission to AceNotes is 10:00 a.m. on the requested date of publication. Only articles concerning UE related/sponsored activities will be accepted. Articles submitted to AceNotes may be edited for length and clarity. Submitter contact information is at the end of each article.