| | |
| --- | --- |
| AceNotes Today | Monday, March 14, 2022 |
2022 Graduates - Order your Regalia and Announcements by March 20
March 20, 2022 - Last day to order regalia for in-store pickup (guaranteed to arrive by the ceremony). For students who miss the March 20 deadline, the bookstore will have a limited number of packages available for purchase in-store beginning on April 25, 2022.
April 6, 2022 - Late day to order regalia for ship-to-home (these are not guaranteed to arrive before the ceremony)
April 25 - May 6, 2022 - Pickup/payment in-store for online orders
All candidates are required to wear regulation cap and gown.
Deadline is April 5.
Changes to Commencement Guidelines
Because the mask mandate will be lifted on campus beginning March 21, masks will no longer be required for Commencement. Those who still prefer to wear a mask during the ceremony are welcome to do so. Additionally, there will be no distance requirements for graduate seating.
Graduates were first told that each person would receive 10 tickets to share with friends and family. Because of the COVID-19 guideline updates, tickets will no longer be required, and there will be unlimited seating for guests.
Please visit Commencement Central for full details of that weekend, including Baccalaureate, parking, the live stream, and more. The new guidelines are aligned with the current COVID-19 data. Should the pandemic change directions between now and May 7, restrictions may be reinstated.
As a reminder, graduates must order their cap and gown for in-store pickup by Sunday, March 20. Please place orders here. After this date, the bookstore will only have a select number of packages available for in-store purchase. Announcements must also be ordered by April 5.
Updates to Mask/Face Covering Policy
On March 2, the Indiana State Department of Health (ISDH) changed Vanderburgh County's advisory status to yellow on its statewide COVID-19 map. Current guidelines state that if all the relevant metrics remain below the targets for two weeks after this date, mask restrictions will be lifted. Due to the travel of many students for spring break, the University will extend this timeline and will lift the mask mandate beginning Monday, March 21.

With the mask mandate lifted, masks or face coverings will not be required on campus, but individuals can make a personal choice to continue wearing masks or face coverings.

Classrooms/Departments
Individual departments and administrative units may require masks in their private offices and departmental/administrative spaces.

Faculty may choose to require masks in their instructional spaces (i.e. classrooms and labs) and during research activities. Faculty who choose this option should communicate information to students before March 21 and inform Catie Taylor in the Office of Admission of visitor restrictions.

Signs may be placed in these and other areas indicating that masks or face coverings are required. Signs may be requested through the Office of Publications.

Mask Mandate Reinstitution
If any of the following conditions are met, the mask mandate will be reinstituted and will remain in place until all three metrics are below the targets for two consecutive weeks:
1. The ISDH alert status for Vanderburgh County rises to a status of orange or red
2. More than 20 active cases of COVID-19 on campus
3. A decrease in the campus vaccination rate to lower than 80%

Continued Random Testing
The Random COVID-19 Testing Program will continue for those who are unvaccinated. The Coronavirus Task Force will continue to look at metrics to determine when this program will be discontinued.
Inaugural Statham Sociology Lecture on Tuesday, March 15 at 5:30pm
On Tuesday, March 15th at 5:30pm, the inaugural Bettye A. Statham Sociology Forum Lecture will be held in Eykamp Hall. Our speaker is Dr. Tauna Starbuck Sisco, Professor and Chair of Sociology at Saint Anselm College in New Hampshire, who will present on "The Value of Teaching and Researching Gender through a Sociological Lens." This lecture series was funded with a generous gift from the estate of Bettye A. Statham, an Evansville College sociology alumna ('47), who was dedicated to empowering women through her lifelong commitment to service. Please join us in honoring Mrs. Statham and celebrating the newest lecture series on campus.
CANCELED: CDEI Presents: IHouse- Intl Religion
This event has been canceled.
Unfortunately, our speaker for this week's IHouse is ill and cannot attend.
We will be rescheduling this topic for later in the semester and canceling IHouse this week!
Please send her all of your thoughts, prayers, and vibes to feel better soon!
Speed Networking Event
Want practice and constructive tips to improve your interviewing, networking and business etiquette?
This event is for you, register here: https://evansville.joinhandshake.com/edu/events/962888
Help us celebrate National Disability Month during March 2022. Join ABLE student organization, Office of Disability Services, Evansville office of Vocational Rehabilitation Services and the Center for Career Development for a Speed Networking Event.
Thursday, March 17 from 6pm-8:30pm
Eykamp Hall, Ridgway University Center
Open to all students, however space is limited. Register today!
For more information or questions, contact the Center for Career Development at career@evansville.edu or 812-488-1083.
Journey to Justice - July 16-23, 2022
From July 16-23, 2022, the University of Evansville will lead an 8-day Journey to Justice bus tour. Travelers will venture through cities of the South to explore the history of the Civil Rights Movement. Students on this journey will learn important, valuable lessons at each stop for an impactful experience of personal reflection and application within their own community.
Earn College Credit
Through this opportunity, students can earn three college credits. While the Journey to Justice bus tour will be an exciting trip, it will also be an interactive experience as part of Social Justice Movements, an ethics course. Students who register can apply this towards the Ethics & Social Change major or a general education requirement. Some assignments will be completed during the trip, while others will be given before and after returning.
Site Visits
Journey to Justice will include site visits at Evansville, Indiana; Montgomery, Birmingham, and Selma, Alabama; Memphis, Tennessee; and Louisville, Kentucky. Popular attractions will include the National Voting Rights Museum, Beale Street, Edmund Pettus Bridge, Rosa Parks Museum, and more. Please note: the subject is schedule to change.
Students are required to receive an approved COVID-19 vaccine prior to Journey to Justice.
Registration details and tuition costs are available at the Journey to Justice webpage, evansville.edu/J2J.
A limited number of scholarships are available for high school students. Journey to Justice is made possible through the generous support of Lilly Endowment Inc.
UE T-Shirt Exchange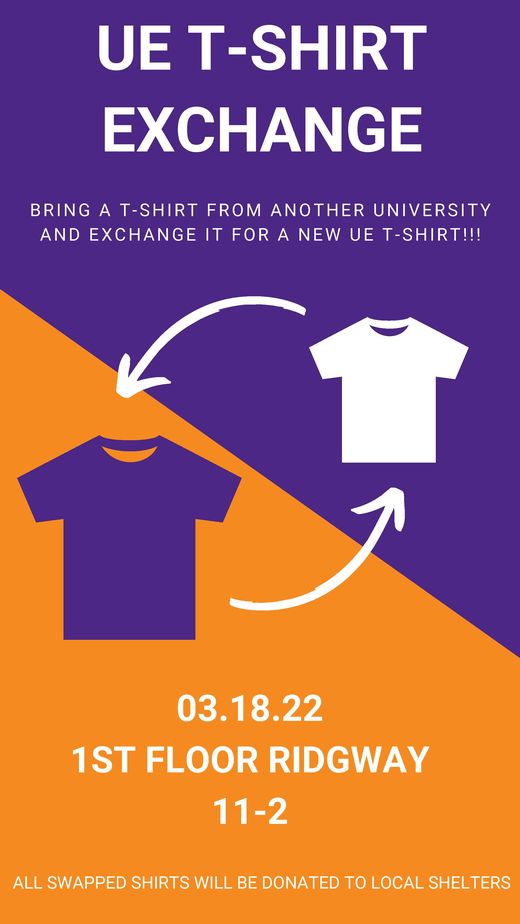 Friday, March 18th from 11 am-2 pm at Ridgway
Need more UE apparel in your closet? Bring a t-shirt from another college to the Collegiate Alumni Board table and swap it for a UE t-shirt! All collected shirts will be donated.
Sign up for UE GIVES BACK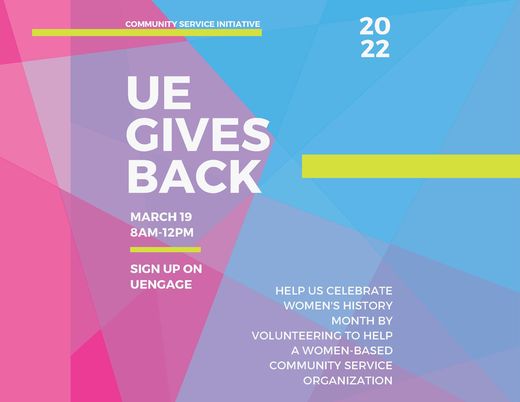 Sign-up to help serve the community on March 19, 2022 from 8am-12pm! Pick one of a few women-based community organizations to help out our community and celebrate Women's History Month! Use the following link to sign up and choose your organization: https://www.signupgenius.com/go/8050a45acaf2aaafc1-uegives1 Participants with photographic evidence of their participation will receive a free t-shirt!
Registration Week 2022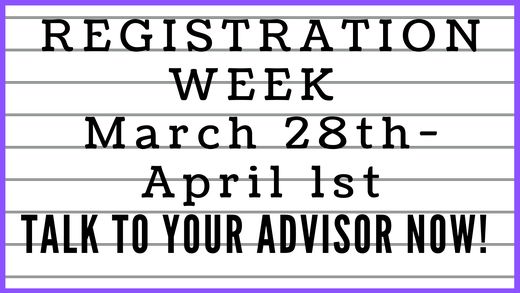 Registration Week is right around the corner! Are you ready?
Registration begins March 28th. Make sure to meet with your advisor to have your classes approved before registration. If you have questions about registration, email academicservices@evansville.edu or come visit us in Olmstead Hall, Rm 116.
UE Employee Wellness Step Challenge~ Earn $150 in Health Behavior Credits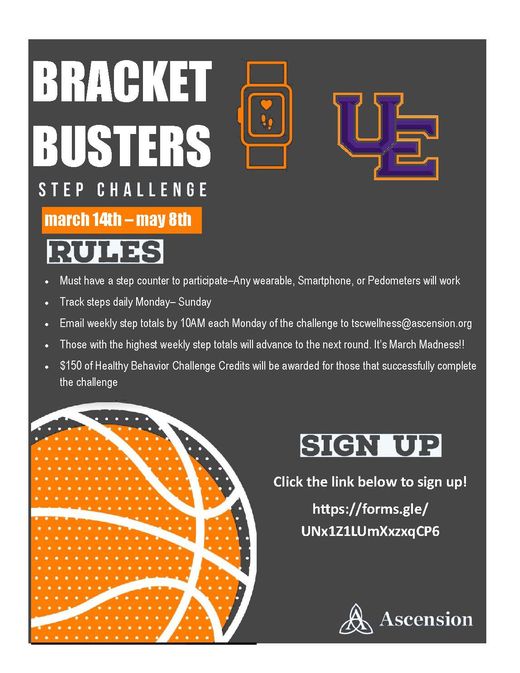 Join Bracket Busters Today!
This step challenge is modeled after the NCAA's March Madness tournament.
Track your steps each day.
Those with the highest step counts at the end of the week will advance to the next round.
March 14-May 8th
To sign up click the following link and enter your information: https://forms.gle/xZq88hveCeDsig8r7
Challenge participants will earn $150 in Healthy Behavior Credits (if not already earned in the 2021-2022 benefit plan year)
All employees are welcome to participate, only those with the HRA Health Plan can be awarded the healthy behavior credit
Krannert Gallery Exhibit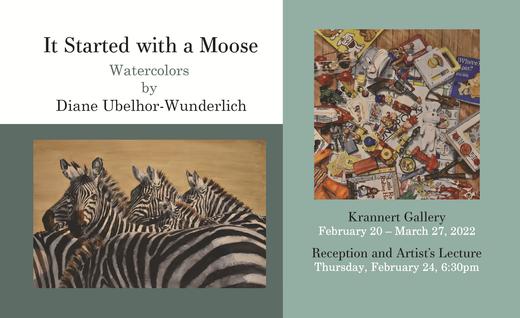 The Department of Art invites you to the Krannert Gallery for the exhibit It Started with a Moose: Watercolors by Diane Ubelhor-Wunderlich. The artist exhibition will be open February 20 - March 27, 2022.
Calling All Changemakers! 1st Annual Adaptive Watersports Row a Thon on April 23 Challenge by the CIC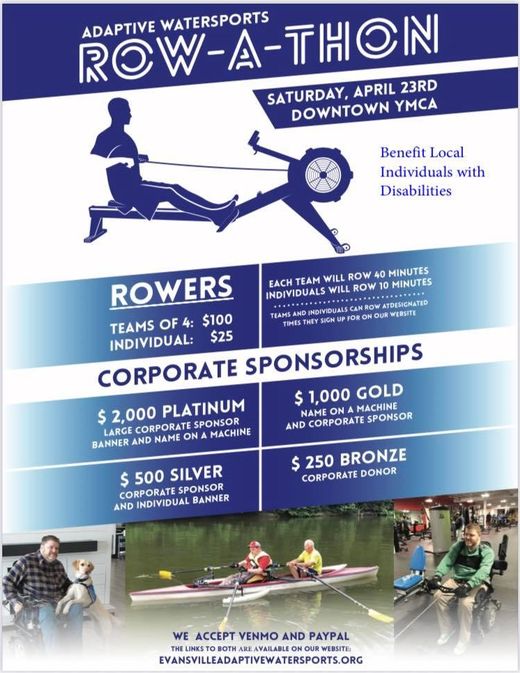 The UE Center for Innovation and Change is challenging ALL Student and Faculty organizations to a row off! This row off benefits local para-athletes by participating in the 1st Annual Adaptive Watersports Row a Thon on April 23, in person at the Evansville, IN downtown YMCA or remotely. You may participate as an individual, or as team of 4. Sign up through the link on their webpage, evansvilleadaptivewatersports.org
Evansville Adaptive Watersports was the 2019 UE Community Changemaker Challenge $10,000 recipient.
Their goal is to create a place where all individuals can participate in non-motorized watersports. This program is open to EVERYONE. They intentionally reach out to people across a range of disabilities, ages, ethnicities, nationalities, walks of life, and professions. They believe EVERYONE can make a difference. Empathy, teamwork and distributed leadership are encouraged. The result is the creation of a space where EVERYONE is a Changemaker.
SAB Weeklong St. Patrick's Day Scavenger Hunt | Day 1 Clue
Hello Aces! This week from Monday to Friday, SAB will be hosting a weeklong scavenger hunt around campus! We'll post a clue each day on the SAB social media pages and AceNotes which will hint to a certain location on campus. There will be something in that location for you to take a picture with and you can either send your picture to the @uesab Instagram account in DMs or email your submission to ag334 or sv93. Each day you send a picture at that day's scavenger hunt location = 1 entry into our giveaway at the end of the week! (So you can get up to 5 entries in our giveaway if you find every location!) While you are allowed to work in groups to search for each location, each person in the group will need to submit their own individual photo at each location for your submissions to count! Happy hunting!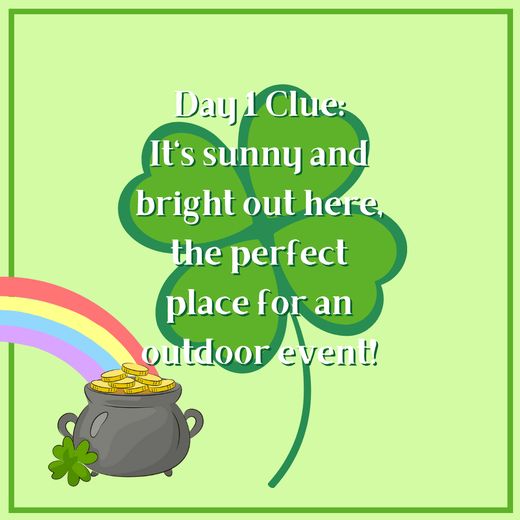 Day 1 Clue:
It's sunny and bright out here, the perfect place for an outdoor event!
Residence Hall Sign-Ups
Students - Do you still need housing for next year? Information meetings about signing up for a room in Hale, Powell, Moore, or Schroeder Halls will be on Wednesday, March 16 at 4:00pm and 9:00pm. These meetings will be held in Eykamp 252. If you need housing for next year and have not received an assignment in New Hall or the Villages, you should plan to attend. Additional information can be found on the Residence Life website at https://www.evansville.edu/residencelife/housingapplyreturn/calendar.cfm. If you have specific questions, email Brian Conner at bc32@evansville.edu.
The deadline to apply for the 2022-2023 Dr. Marvin E. Hartig Memorial Scholarship has been extended to May 6th
Family, friends and loved ones of the late Dr. Marvin E. Hartig are pleased to announce the application process for the Dr. Marvin E. Hartig Memorial Scholarship. This scholarship is dedicated to the loving memory of Dr. Hartig, Dean of Evansville College's Evening College in 1967, and administrator for the Center for Advanced Study, director of the Evansville chapter of the American Institute of Banking (AIB), and the international student advisor. In 1974, Dr. Hartig was appointed Dean of Academic Services. He retired in 1984 after serving his alma mater for thirty-five years and passed away in 2007.
This scholarship will be awarded annually to a deserving sophomore student. Preference will be given to a student working while being enrolled as a full-time student. International students are encouraged to apply.
Eligible students for the 2022-2023 Hartig Memorial Scholarship will be sophomores in the 2022-2023 academic year.
Apply for the 2022-2023 Hartig Memorial Scholarship
Deadline: Please return all materials to the Office of Student Financial Services by April 22, 2022. The decision will be announced by May 27, 2022.
Questions: Amber Chandler, Administrative Assistant to the Office of Student Financial Services, at ac547@evansville.edu or 812-488-2364
Submitted by Amber Chandler ac547@evansville.edu
New Community Sponsorship Form
Due to an increase in requests for community sponsorships and contribution to community activities, a web form has been developed for external organizations to use when submitting requests to the University. The goal is to have a consistent process for our community partners when seeking sponsorships. This will also allow for greater collaboration and efficiency across the University. If you or your department receives a sponsorship request, please direct them to the form, located at https://www.evansville.edu/aboutue/sponsorships.cfm.
50 Years of Title IX: Mythbuster Monday
On June 23, 1972, Title IX of the education amendments was enacted into law. This important piece of legislation has now supported gender equity for 50 years. During the month of March, which is also Women's History Month, UE will share Mythbuster Mondays to bring greater awareness to Title IX and both its purpose and benefits.
Myth: Title IX only applies to women.
Fact: Title IX applies to anyone, regardless of gender or gender identity, who is experiencing harassment, discrimination, or assault based on sex or gender. One in six men report experiencing sexual assaults in their lifetime. On college campuses, approximately 6% of men experience a sexual assault. The rate is higher for individuals who are transgender or LGBTQ+.
Softball drops Sunday games at Racer Classic
It was a day highlighted by pitching at the Racer Classic with the University of Evansville softball team falling in games against St. Thomas and Western Illinois.
Game One – St. Thomas 5, UE 4 (9 innings)
St. Thomas scored a pair of runs in the ninth inning to rally for a 5-4 win. The Tommies started off strong, scoring twice in the first inning before extending the lead to 3-0 in the bottom of the fourth.
After a hitless four innings, the Purple Aces stormed back in the top half of the fifth with Alexa Davis picking up the hit that her team needed. With the first two batters striking out, Bella Coffey stepped to the plate and delivered the first hit of the game. Pinch hitter Jenna Lis and Jessica Fehr followed with singles of their own to load the bases for Davis. She came through with a bases-clearing triple to tie the game.
Neither team would score until the ninth, Jenna Nink gave UE its first lead of the day, crossing home on an error. Unfortunately, St Thomas countered with two quick runs in the ninth to clinch the 5-4 win. Izzy Vetter suffered the loss, pitching 4 1/3 innings and giving up just one earned run. She struck out 11.
Game Two – Western Illinois 2, UE 0
In the second game of the day, the pitchers had the upper hand through the first half with the game staying scoreless after four innings. That is when the Leathernecks got on the board, scoring the first run in the top of the fifth.
Western Illinois added a second run in the seventh to double its lead. Evansville tallied just one hit through the first six frames before Alyssa Barela recorded a pinch-hit single in the seventh. With the tying run at the plate, WIU forced a pair of flyouts to clinch the 2-0 shutout win.
Sydney Weatherford had a strong start for UE, going the distance allowing two runs on seven hits.
On Monday, the Aces take on St. Thomas and Western Illinois once again. UE faces the Tommies at 10 a.m. before squaring off against WIU at 2:30 p.m.
UE Swimming Posts Two Top 10 Finishes Saturday At National Invitational Championships
The University of Evansville swimming and diving teams wrapped up their 2022 season in fine fashion on Saturday, as the Purple Aces posted a pair of Top 10 finishes at the CSCAA National Invitational Championships in Elkhart, Indiana.
"This weekend was a great ending to a great season by both the men and women," said UE head swimming coach Stuart Wilson. "They have set the bar high for future classes, and we will continue to improve as a team as we get even stronger. I expect 'baby steps' to turn into 'big accomplishments' for both the men and the women going forward. I could not be prouder of both teams right now."
Sophomore Alon Baer (Gesher Haziv, Israel) qualified individually for the 'A Final' in the 200-yard Breaststroke and finished ninth out of 36 swimmers in the event with a final time of 2:00.88. His final time ranked as the fourth-fastest 200 Breaststroke time ever at UE, and he has set all four of those top times during the month of March for UE.
UE then placed 10th overall in the men's 400-yard Freestyle Relay to end the meet. The quartet of senior Oskar Menkhaus (Davidson, N.C./William A. Hough), junior Riccardo Di Domenico (Johannesburg, South Africa), and freshmen Jakob Grundbacher (Long Beach, Calif.) and Daniel Santos Lopez (Madrid, Spain) teamed up to post a time of 2:59.64, just 0.08 seconds off of the school record time set at the Mid-American Conference Championships last weekend.
Freshman Patrik Vilbergsson (Kopavogur, Iceland) also was able to place 16th overall in the men's 200-yard Backstroke, as he made the 'B Final' and posted a time of 1:49.56 to rank as the fifth-fastest male swimmer in UE history in the event. Senior Zeke Metz (Topeka, Kan./Seaman) also narrowly missed the 'B Final' in the 200-yard Butterfly, as he placed 22nd overall with a time of 1:52.43.
On the women's side, senior Jessie Steele (Houston, Texas/Klein) wrapped up a strong sprint freestyle career at UE by posting a time of 52.02 in the 100-yard Freestyle. She will leave UE ranked in Evansville's career top five in terms of fastest swimmers in both the 50- and 100-yard Freestyle events. Junior Sage Moore (Lexington, Ohio/Lexington) also wrapped up her 2022 season on Saturday with a time of 2:21.37 in the 200-yard Breaststroke.
The CSCAA National Invitational Championships featured over 56 schools, including various "Power Five" conference teams. The UE men finished 15th as a team, scoring just ahead of Virginia Tech and UNLV in the team standings. The UE women, meanwhile, placed 41st overall. Tennessee's men and Ohio State's women won the overall team scoring titles.
The NIC meet concluded a record season for Evansville, which broke school records on 25 different occasions throughout the course of the year on both the men's and women's sides. Evansville will return 26 swimmers and divers next season, including 14 on the men's side and 12 on the women's.
Aces sweep doubleheader and secure series win over No. 18 Tulane
Doing something they have not done since 2006, the University of Evansville baseball team captured a doubleheader sweep of No. 18 Tulane, 5-3 and 5-1, on Saturday in New Orleans, La.
The last time Evansville captured consecutive victories over top 25 opponents came on April 8, 2006 when the Aces defeated No. 21 Wichita State, 2-1 and 7-5.
"Great overall team baseball for 18 innings. It started on the mound with great performances from Shane Gray and Nick Smith," said Aces head baseball coach Wes Carroll. "The bullpen kept the lead while we were able to tack on runs late. Offense had a great plan and delivered with runners in scoring position. Great day to be an Ace."
On the day, starters Shane Gray and Nick Smith combined to allow just four combined runs and throw 16 strikeouts in their wins. Offensively, the Aces pounded out 20 hits, scoring 10 runs, while defensively, Evansville played flawless ball, going without an error in the 18 innings of the doubleheader.
Game One: Evansville 5, Tulane 3
Evansville fans have been treated to a plethora of impressive performances from Shane Gray in his four seasons as an Ace, but Saturday against the Green Wave might have been one of Gray's finest in the white and purple. Gray dominated across seven innings of work, allowing just six hits and striking-out nine batters. Until the eighth inning, Gray did not allow a runner to advance past first base.
A patient and calculated approach at the plate paid dividends for Evansville as runs came in spurts and at opportune times for the Aces. Evansville grabbed their first two runs of the day in the third as doubles from Mark Shallenberger and Tanner Craig each drove in a run. Just two innings later, a similar story unfolded with a double from Simon Scherry and a base hit from Brent Widder again providing single runs each for the Aces to double Evansville's lead to 4-0.
After getting another run in the eighth on an RBI single from Brendan Hord, Gray came back out for his eighth inning of work and ran into trouble for the first time. Tulane would score five runs as Nate Hardman and Jakob Meyer came in and got out of the inning.
In the ninth with Meyer on the mound, the Aces locked down the win as the closer sat the Wave down in order, ending the game with a strikeout looking to secure the 5-3 win.
Game Two: Evansville 5, Tulane 1
The story of game two began much as it did for game one with Evansville riding the momentum earned by its starter on the mound and its stellar defensive effort. Sophomore Nick Smith was dominant on the mound, pitching the first 6.1 innings, allowing six hits and just one run, while punching-out seven.
Much of the Aces offense in game two came from good early inning at bats. Evansville picked-up an early run in the second innings as Danny Borgstrom grounded out, scoring Chase Hug. In the fifth, Evansville added another single run on a sacrifice fly RBI from Craig. Continuing the trend, the Aces grabbed another run on a sac fly RBI from Scherry in the seventh as UE owned a 3-0 lead.
Tulane scratched across its first, and what would be its only, run of the game in the seventh. As the game moved into the ninth, Evansville got a crucial boost it needed with Rumsey scoring on a wild pitch on a strikeout of Craig that prolonged the inning and Widder ripping a double down the line, scoring Scherry to add some insurance and pump the Aces lead to 5-1.
In the bottom of the ninth, Drew Dominik matched the efforts of his teammate Jakob Meyer, striking-out a pair in the final frame and ending the game with a strikeout looking in the 5-1 win.
Evansville closes its road series at No. 18 Tulane with a final game on Sunday at 1 PM in New Orleans, La.
Aces bring home top five at SHU Spring Invitational
Finishing with a team score of 324, the University of Evansville women's golf team earned a fifth-place finish in the SHU Spring Invitational at LPGA International – Jones Course.
Three Purple Aces came home in the top 25 with Alyssa McMinn leading the way. She recorded a 79 on Saturday to complete the tournament with a final tally of 155. McMinn finished in a tie for 15th. Mallory Russell and Allison Enchelmayer tied for 24th with scores of 159. Russelll followed up Friday's 77 with an 82 while Enchelmayer had a team-low 78 in the final 18.
Tying for 31st was Caitlin O'Donnell. Her Saturday score of 75 gave her a final total of 163 while Carly Frazier registered a 167 after shooting an 86 in the final round. Magdalena Borisova carded scores of 78 and 86 to tie for 36th with a 164.
Evansville edged Fairfield for the 5th position. UE had a 636 to finish four ahead of the sixth position. Sacred Heart clinched the team and individual victories. The Pioneers' team score of 309 gave them a two-round tally of 600. They defeated Seton Hall by four strokes with Lehigh finishing 21 behind. Chantal El Chaib of SHU was the medalist, completing the two rounds with a 141. She was three in front of her nearest competition.
Up next for the Aces will be the Any Given Tuesday Intercollegiate at Pawley's Island, S.C. It will take place from March 28-30.
Parker and Ikejiani tie for 14th in Daytona Beach
Carson Parker and Michael Ikejhiani tied for 14th as the University of Evansville men's golf team finished in 7th place at the Sacred Heart Spring Invite at LPGA International – Hills Course.
Saturday's final round of the tournament saw the Purple Aces come hone just five shots out of the top five. Parker carded a 5-over 77 in the final round to complete the event with a 152. Ikejiani matched Parker's final to lead UE's individuals. Both wrapped up the two rounds of play with a 152.
Nicholas Gushrowski had the low round of the day for UE, firing off a 4-over 76 to score a 153. He tied for 19th. Third on the UE team was Caleb Wassmer, who registered a 157. He finished the last 18 holes with an 83. Henry Kiel and Dallas Koth followed with final totals of 158 and 159. Both completed Saturday's round with an 80.
On the individual side, Masatoyo Kato came in three behind Ikejiani. Katoshot an 81 on Saturday to complete the tournament with a 155. He tied for 23rd. Isaac Rohleder totaled an 83 in the final 18 to finish with a 163 while Eli Rohleder checked in with a 171.
Sacred Heart University picked up the team and individual wins. The Pioneers had three finishers in the top nine to clinch the team win with a 591. They were seven in front of Stetson. Marcus Lim was medalist, defeating Stetson's Truman Keppy by two shots. Lim had a 68 on Friday before recording a 73 in the final 18 to shoot a 141. Evansville took 7th with a 617, two behind Fairfield.
UE returns to the course on March 28 for the Butler Spring Invitational in Indianapolis.
UE Swimming Continues Strong Showing At National Invitational Championships
The University of Evansville men's swimming team scored in three different events on Friday to continue a strong effort at the CSCAA National Invitational Championships in Elkhart, Indiana.
Evansville's 200-yard Medley Relay team and 800-yard Freestyle Relay team both finished in the top 20 at the NIC meet to place in the scoring. Sophomore Alon Baer (Gesher Haziv, Israel) also advanced to the consolation finals in the 100-yard Breaststroke and placed 17th overall in a field of 48 competitors with a finals time of 54.94. The UE men find themselves in 15th place overall, just 25 points back of Virginia Tech and nine points ahead of UNLV in the team standings.
"Overall, I was really pleased with how all of the swimmers competed today," said UE head swimming coach Stuart Wilson. "Once again, our relay teams really swam their hearts out and showed really well against some very good competition.
"One more day of competition and then we can finally rest. Hopefully, we can finish on a high note tomorrow!"
The men's 200 Medley Relay team of Baer, junior Riccardo Di Domenico (Johannesburg, South Africa) and freshmen Patrik Vilbergsson (Kopavogur, Iceland) and Daniel Santos Lopez (Madrid, Spain) clocked in with a time of 1:30.12 to place 12th overall. Vilbergsson then teamed up with senior Zeke Metz (Topeka, Kan./Seaman), sophomore Grant Kay (Ellicott City, Md./Hebron), and freshman Carlos Souto Vilas (A Coruna, Spain) in the 800 Free Relay to place 16th overall with a time of 6:48.78.
Individually, Vilbergsson also placed 25th in the preliminary rounds of the 100-yard Backstroke, with a time of 50.21, which ranks him as the sixth-fastest swimmer in UE history in the event. Santos Lopez also placed 23rd individually in the prelims of the 100-yard Butterfly with a time of 48.99.
On the women's side, UE competed in two events on Friday, as sophomore Iryna Tsesiul (Minsk, Belarus) clocked in with a time of 56.65 in the women's 100-yard Backstroke, a day after placing 16th overall in the 50-yard Backstroke. Tsesiul also teamed with senior Jessie Steele (Houston, Texas/Klein), junior Sage Moore (Lexington, Ohio/Lexington) and freshman Sveva Brugnoli (Rome, Italy) to post a time of 1:46.78 in the women's 200-yard Medley Relay.
The CSCAA National Invitational Championships are college swimming's equivalent to the NIT in basketball, and currently features athletes from over 56 schools, including many "Power Five" schools. The meet will conclude on Saturday, with preliminary swims beginning at 8:30 a.m. central time in the 100-yard IM, the 200-yard Backstroke, the 100-yard Freestyle, the 200-yard Breaststroke and Butterfly, and the 1,650-yard Freestyle. The finals for all of those individual events, as well as the 400-yard Freestyle Relay will take place Saturday night at 5:00 p.m.
McMinn in top 15 following opening round in Daytona
Alyssa McMinn shot a 4-over 76 to pace the University of Evansville women's golf team on Friday in the opening round of the SHU Spring Invitational.
McMinn led the Purple Aces with her 4-over-par at LPGA International Jones Course. She is currently tied for 14th entering Saturday's round. Mallory Russell was one behind with a 77. Her score puts her in a tie for 18th.
Caitlin O'Donnell is third for UE and tied for 22nd on the team side following the opening 18. Her score finished at a 6-over 78. Allison Enchelmayer and Carly Frazier carded scores of 81 to rank in a tie for the 39th position. Ranking second among the individuals and tied for 22nd overall is Magdalena Borisova. Her round on Friday finished at a 78.
Tournament host Sacred Heart holds the lead in both the team and individual standings. With a team score of 291, the Pioneers lead Seton Hall by five strokes. Long Island is third with a 309 while Lehigh and Purdue Fort Wayne are tied for fourth with a 310. Evansville is just two behind that duo with a 312.
UE men complete opening round of Sacred Heart Spring Invite
Finishing with a 1-over 73, Michael Ikejiani was the low scorer for the University of Evansville men's golf team in Friday's opening round of the Sacred Heart Spring Invite.
Ikejiani, playing as an individual, is currently tied for the 8th position, however, final position rankings are incomplete as two teams have not completed their opening rounds at LPGA International – Hills Course. Masatoyo Kato who is also playing as an individual carded a 74 for the Purple Aces. Tying him was Caleb Wassmer, who led Evansville's team efforts. Both were 2-over for the day.
Carson Parker was next for UE, finishing with a 75 while Nicholas Gushrowski recorded a 77. Rounding out the team was Henry Kiel and Dallas Koth. They finished the day with scores of 78 and 79, respectively. The individuals for UE were rounded out by Isaac Rohleder (80) and Eli Rohleder (86).
UE holds the sixth position at the completion of the day with two squads set to finish round one on Saturday morning.
Current team standings and live results are available here: bit.ly/3J4ZhaZ.
Mark Spencer steps down as UE Director of Athletics
University of Evansville Director of Athletics Mark D. Spencer announced on Friday that he is stepping down to pursue other opportunities after eight years of leading the Purple Aces. Spencer has served as athletic director at UE since September 2014.
"I am very proud of what I was able to accomplish during my tenure at the University of Evansville," Spencer said. "The commitment, dedication and collaboration of the entire athletic department led to incredible growth and numerous memorable accomplishments during my tenure. With that said, it is time for a new voice to lead UE Athletics, and time for a new opportunity for my family and me. I look forward to being a fan and supporting Purple Aces Athletics as they are poised for great success."
While at the University of Evansville, Spencer's accomplishments included:
• The women's golf team winning its' first ever Missouri Valley Conference championship and advancing to the NCAA tournament for the first time, the women's volleyball program advancing to the 2021 NIVC Quarterfinals, marking the programs first post-season appearance ever, the men's basketball team winning at Rupp Arena against #1 UK and the 2015 Collegeinsider.com post-season tournament, which is the first men's basketball post-season tournament championship since the 1971 NCAA College Division National Championship, and adding the men's and women's indoor and outdoor track and field programs.
• An unwavering commitment for Purple Aces student-athletes to fulfill the University's academic mission. During the 2020-21 academic year, 55% of all student athletes made the Dean's List and all seventeen of UE's Division I sports teams earning a GPA over 3.0. UE was recognized for having the highest Graduation Success Rate of any school in the Missouri Valley Conference.
• Facility and rebranding of athletic and University marks, transforming the Meek's Family Fieldhouse for women's basketball and volleyball, including an Olympic grade TaraFlex volleyball competition floor. The installation of new scoreboards and sound systems for the baseball, softball and soccer facilities as well as a state-of-the-art Field Turf on German American Bank Field at Charles H. Braun stadium.
• Negotiating the University's beverage provider agreement with Pepsi, as well as the multi-year Learfield IMG College and Nike/BSN Sports athletic department contracts generating significant revenues and cost savings across the University and athletic department.
"I greatly appreciate Mark's contributions to the University of Evansville and UE Athletics, especially as colleges navigate all of the changes to higher education and collegiate athletics," UE President Christopher M. Pietruszkiewicz said. "The department has seen a tremendous transformation during his tenure, and we are enormously grateful for his dedication, hard work, and teamwork. I wish Mark well in his future endeavors and am eager to watch his success."
A national search for the next director of athletics will begin immediately.
Racer Classic up next for UE softball
Off to its best start since 2007, the University of Evansville softball team makes the short trip to Murray, Kentucky to take part in the Racer Classic. Originally set to take place Friday through Sunday, the Purple Aces will now play on Sunday and Monday due to the anticipated weather with the final two games set to air on ESPN+.
UE Weekend Schedule
- Evansville's updated schedule for the weekend includes:
3/13 - vs. St. Thomas - 10:00 a.m.
3/13 - vs. Western Illinois - 12:15 p.m.
3/14 - vs. St. Thomas - 10:00 a.m.
3/14 - vs. Western Illinois - 2:30 p.m.
Last Time Out
- It was a perfect home-opening weekend for the Aces, who won all four games last weekend at the UE Softball Invitational
- Friday saw the Aces defeat Oakland (9-1) and Green Bay (6-4) before UE defeated Morehead State (11-0) on Saturday and finished with a 2-0 shutout over Creighton on Sunday
- Izzy Vetter added two more no-hitters to her season tally against Morehead State and Creighton on the way to her third MVC Pitcher of the Week honor
- Marah Wood led the team with a .500 average last week, going 4-8 from the plate while adding five walks
- Alyssa Barela finished at .444 while Jessica Fehr batted .385 to open home play
- Freshman Dori Brown had what may have been the biggest play of the weekend, stealing home against the Bluejays in the fourth inning of a scoreless contest
Two more no-no's
- An unbelievable stretch has seen Izzy Vetter win six-consecutive appearances while racking up two more no-hitters last weekend against Morehead State and Creighton
- The senior is a 3-time MVC Pitcher of the Week this season and has won the honor in each of the last two weeks
- She stands at 12 hitless innings in a row and has struck out 25 in those frames
- Vetter is the MVC leader in ERA (.45), opposing batting average (.140), innings pitched (62.2), strikeouts (94), strikeouts looking (20) and wins (10) while her 94 K's is 13th in the nation while her 10.5 strikeouts per seven innings pitched is 26th
Longest Streak
- Entering the Racer Classic, Marah Wood has a team-best hitting streak that has reached eight games
- Over that time, Wood has seen her average rise from .233 to .308
- Wood scored six runs at the UE Softball Invitational including two in the wins over Green Bay and Morehead State before belting her third home run of the year to add some insurance in the 2-0 triumph over Creighton
- She is tied for MVC lead with six doubles, has the fourth-highest run tally in the league (12), third-highest RBI total (12) and is tied for second with three home runs
Not a bad way to start
- Freshman Dori Brown has made seven appearances in 2022 and has scored three runs in her last four games
- What may have been the biggest play of the home-opening weekend came when Brown stole home in the fourth inning of a scoreless game versus Creighton
- Her run helped UE take a 2-0 win with Izzy Vetter tossing the no-hitter
- The play was the first steal of Brown's collegiate career
Success at Cooper Stadium
- Alyssa Barela entered the UE Softball Invitational with just four hits in her first 30 at-bats of the season
- In four home games, Barela batted .444 with four hits in nine at-bats while reaching base with three walks
- She reached base 58.3% of the time and picked up two RBI in the win over Morehead State
Contribute to AceNotes
To have content considered for inclusion in AceNotes, please submit a Marketing Request Form. Deadline for submission to AceNotes is 10:00 a.m. on the requested date of publication. Only articles concerning UE related/sponsored activities will be accepted. Articles submitted to AceNotes may be edited for length and clarity. Submitter contact information is at the end of each article.