| | |
| --- | --- |
| AceNotes Today | Friday, March 11, 2022 |
Supplemental Pay Request Forms Changing to Electronic Version
Supplemental Pay Request Forms for Payroll will now be accepted electronically. The link to the new electronic form and instructions can be found on the Accounting and Audit page on the UE portal.
The Supplemental Pay Request Form requires the same information that you are accustomed to but will submit your requests and automatically flow to the next person for approvals. Please note the requirements for approvals indicated on the form and attach any supporting documents. Approvals can be made through Microsoft Teams or an automated email by clicking "Approved" and then "Submit". The link to managing approvals in Microsoft Teams can also be found on the Accounting and Audit page on the UE portal.
Deadlines: Approved Supplemental Pay Request Forms must be received by 12:00 noon on the Friday of a non-pay week to be included in the next payroll processing. Incomplete forms or incorrect information will delay processing.
Emailed PDFs and Paper Forms will not be accepted after March 12, 2022.
Changes to Commencement Guidelines
Because the mask mandate will be lifted on campus beginning March 21, masks will no longer be required for Commencement. Those who still prefer to wear a mask during the ceremony are welcome to do so. Additionally, there will be no distance requirements for graduate seating.
Graduates were first told that each person would receive 10 tickets to share with friends and family. Because of the COVID-19 guideline updates, tickets will no longer be required, and there will be unlimited seating for guests.
Please visit Commencement Central for full details of that weekend, including Baccalaureate, parking, the live stream, and more. The new guidelines are aligned with the current COVID-19 data. Should the pandemic change directions between now and May 7, restrictions may be reinstated.
As a reminder, graduates must order their cap and gown for in-store pickup by Sunday, March 20. Please place orders here. After this date, the bookstore will only have a select number of packages available for in-store purchase. Announcements must also be ordered by April 5.
Inaugural Statham Sociology Lecture on Tuesday, March 15 at 5:30pm
On Tuesday, March 15th at 5:30pm, the inaugural Bettye A. Statham Sociology Forum Lecture will be held in Eykamp Hall. Our speaker is Dr. Tauna Starbuck Sisco, Professor and Chair of Sociology at Saint Anselm College in New Hampshire, who will present on "The Value of Teaching and Researching Gender through a Sociological Lens." This lecture series was funded with a generous gift from the estate of Bettye A. Statham, an Evansville College sociology alumna ('47), who was dedicated to empowering women through her lifelong commitment to service. Please join us in honoring Mrs. Statham and celebrating the newest lecture series on campus.
CANCELED: CDEI Presents: IHouse- Intl Religion
This event has been canceled.
Unfortunately, our speaker for this week's IHouse is ill and cannot attend.
We will be rescheduling this topic for later in the semester and canceling IHouse this week!
Please send her all of your thoughts, prayers, and vibes to feel better soon!
Speed Networking Event
Want practice and constructive tips to improve your interviewing, networking and business etiquette?
This event is for you, register here: https://evansville.joinhandshake.com/edu/events/962888
Help us celebrate National Disability Month during March 2022. Join ABLE student organization, Office of Disability Services, Evansville office of Vocational Rehabilitation Services and the Center for Career Development for a Speed Networking Event.
Thursday, March 17 from 6pm-8:30pm
Eykamp Hall, Ridgway University Center
Open to all students, however space is limited. Register today!
For more information or questions, contact the Center for Career Development at career@evansville.edu or 812-488-1083.
UE T-Shirt Exchange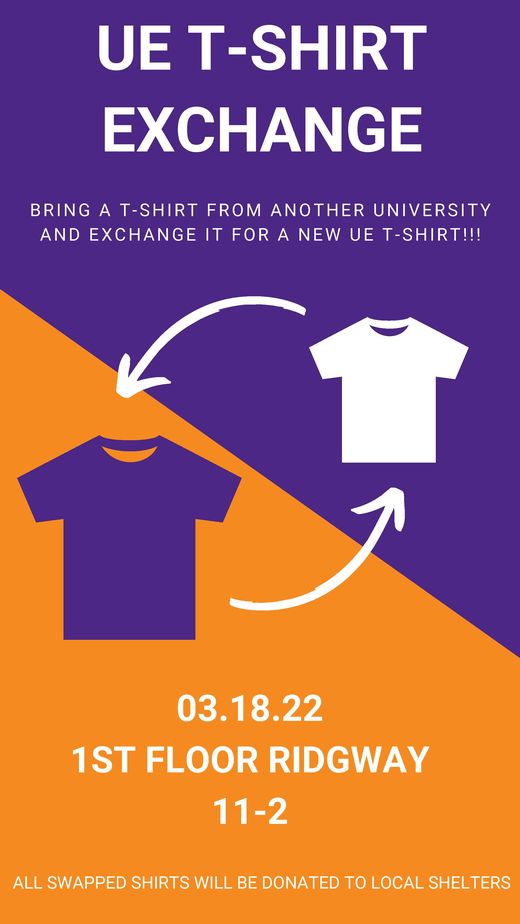 Friday, March 18th from 11 am-2 pm at Ridgway
Need more UE apparel in your closet? Bring a t-shirt from another college to the Collegiate Alumni Board table and swap it for a UE t-shirt! All collected shirts will be donated.
Sign up for UE GIVES BACK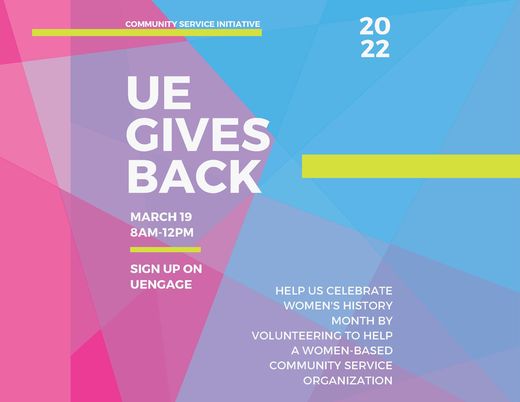 Sign-up to help serve the community on March 19, 2022 from 8am-12pm! Pick one of a few women-based community organizations to help out our community and celebrate Women's History Month! Use the following link to sign up and choose your organization: https://www.signupgenius.com/go/8050a45acaf2aaafc1-uegives1 Participants with photographic evidence of their participation will receive a free t-shirt!
Registration Week 2022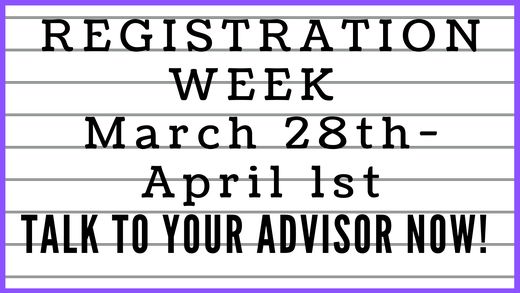 Registration Week is right around the corner! Are you ready?
Registration begins March 28th. Make sure to meet with your advisor to have your classes approved before registration. If you have questions about registration, email academicservices@evansville.edu or come visit us in Olmstead Hall, Rm 116.
Krannert Gallery Exhibit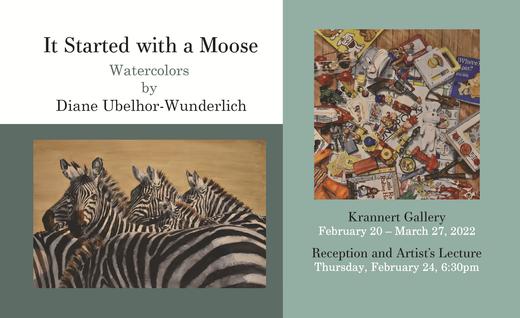 The Department of Art invites you to the Krannert Gallery for the exhibit It Started with a Moose: Watercolors by Diane Ubelhor-Wunderlich. The artist exhibition will be open February 20 - March 27, 2022.
Calling All Changemakers! 1st Annual Adaptive Watersports Row a Thon on April 23 Challenge by the CIC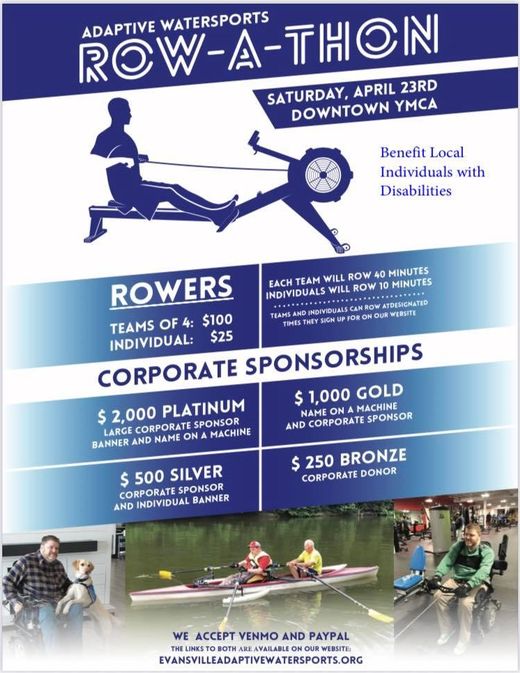 The UE Center for Innovation and Change is challenging ALL Student and Faculty organizations to a row off! This row off benefits local para-athletes by participating in the 1st Annual Adaptive Watersports Row a Thon on April 23, in person at the Evansville, IN downtown YMCA or remotely. You may participate as an individual, or as team of 4. Sign up through the link on their webpage, evansvilleadaptivewatersports.org
Evansville Adaptive Watersports was the 2019 UE Community Changemaker Challenge $10,000 recipient.
Their goal is to create a place where all individuals can participate in non-motorized watersports. This program is open to EVERYONE. They intentionally reach out to people across a range of disabilities, ages, ethnicities, nationalities, walks of life, and professions. They believe EVERYONE can make a difference. Empathy, teamwork and distributed leadership are encouraged. The result is the creation of a space where EVERYONE is a Changemaker.
Now Hiring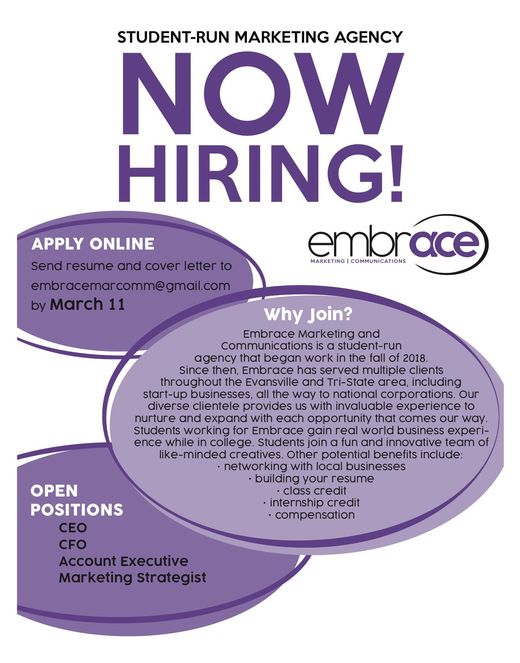 Embrace Marketing and Communications is looking to hire new friendly faces to join our team. As part of the Center for Innovation and Change, Embrace allows students to get real world experience, internship credit, class credit, and compensation! Resume and cover letter can be sent to embracemarcomm@gmail.com. Please email Es206@evansville.edu if you have questions
Off-campus login to library resources being updated
During spring break, the library will update and modernize the login process for off-campus access to library resources. Currently, a user's last name and a barcode number (added to the campus ID at the Information Desk) are used to provide access. This system will be modernized to use the same login as WebMail and the MyUE Campus Portal. This will make online access more convenient for all library users and will eliminate the need to barcode campus IDs to enable off-campus access.
For on-campus access to database resources, nothing will change. (Our "campus" consists of the main campus, Stone Family Center for Health Sciences, and the Harlaxton campus, all of which are currently provided access using campus network IP ranges that the library provides to database vendors.
Beginning next week (at the latest March 11), when off-campus users select a database on the
Databases by Name page (https://www.evansville.edu/libraries/databasesByName.cfm)
Or Databases by Subject page (https://www.evansville.edu/libraries/databasesBySubject.cfm)
they will be prompted to login using the new method.
Reminder: only current students, faculty, and staff may access the library's licensed resources from off-campus and remote locations due to contractual "Terms of Use."
The library wishes to express its thanks to OTS staff who assisted with the project by creating a process which will allow this enhanced form of access to function--Bob Szurgot, Robert Birkle, and Josh Norrick.
If you have questions or need help as the transition progresses, please email library@evansville.edu.
New Community Sponsorship Form
Due to an increase in requests for community sponsorships and contribution to community activities, a web form has been developed for external organizations to use when submitting requests to the University. The goal is to have a consistent process for our community partners when seeking sponsorships. This will also allow for greater collaboration and efficiency across the University. If you or your department receives a sponsorship request, please direct them to the form, located at https://www.evansville.edu/aboutue/sponsorships.cfm.
MSC: McGary Middle School Art Showcase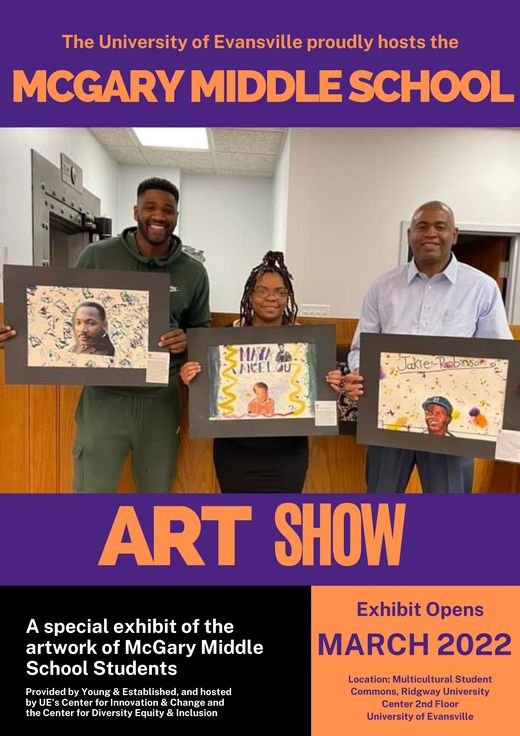 The Center for Innovation & Change and the Center for Diversity Equity and Inclusion are proud to host a McGary Middle School Art Showcase sponsored by Young & Established! The students at the McGary Middle School worked hard to create art for Black History Month and we are bringing them right here to our campus!
You can find their art showcased in the Multicultural Student Commons (2nd Floor of Ridgway University Center) starting on March 1st and running throughout the rest of the month! Head over to Ridgway and come see what these amazing students have put together!

Eykamp Prize: Call for Nominations
The Eykamp Prize was established by Richard and Rita Eykamp in 2015 to honor Faculty Achievement at the University of Evansville. Recipients of the prize will receive a one-time award of $10,000 in recognition of extraordinary contributions to the University of Evansville as University Citizens. Examples of such contributions include deep and successful involvement in recruiting students; expanding the number, scope, and competitiveness of grant funding for their department; bringing positive public awareness to the University through scholarship, knowledge, and understanding of their discipline.
Nominations for the Eykamp Prize may come from any member of the University of Evansville Community. Nominees should be tenured or tenure-track faculty members at the University of Evansville who have not received the award in the previous five years. Nominations can be submitted in writing or via e-mail to Michael Austin, Executive Vice President for Academic Affairs/Provost, at ma352@evansville.edu by March 11, 2022. Nominations should include the name of the faculty member and a brief statement of the reasons that he or she is being nominated.
Recipients of the Eykamp Prize will be selected by an Award Committee, appointed by the EVPAA/Provost that includes members of the faculty, staff, administrators, and a member of the Board of Trustees. Awards will be announced and presented at the May Commencement Ceremony.
Recipients in the previous five years: 2017 – Dr. Lora Becker; 2018 – Dr. David Dwyer; 2019 – Dr. Kristy Miller; 2020 – Dr. Jerrilee LaMar; 2021 – Dr. Joyce Stamm
UE Men's Swimming Breaks Another Record At National Invitational Championships
The University of Evansville men's swimming team broke the school's oldest relay record on Thursday night, as the Purple Aces had a strong showing on the first day at the CSCAA National Invitational Championships in Elkhart, Indiana.
The UE quartet of senior Oskar Menkhaus (Davidson, N.C./William A. Hough), junior Riccardo Di Domenico (Johannesburg, South Africa), and freshmen Daniel Santos Lopez (Madrid, Spain) and Jakob Grundbacher (Long Beach, Calif.) teamed up to break the school record in the 200-yard Freestyle Relay with a time of 1:21.63 to place 10th out of 27 scoring teams at the NIC meet. The time broke a more than 21-year-old school record in the 200-yard Freestyle Relay, previously held by Scott Hobson, Darko Kermiciev and UE Hall of Fame swimmers Dave Nel and Nikola Kalabic. It marked the 14th time in the last two weeks in which the UE men have broken a school record, and overall, both the UE men and women have broken school records 25 different times this year.
"I thought that the swimmers did a great job today, especially on the relays, as they really raced their hearts out," said UE head swimming coach Stuart Wilson. "It's not always easy to come back after a big championship meet a few weeks back and still be competitive against top-flight competition. But, we were able to do that today, and I was really proud of the effort.
"I thought that Iryna (Tsesiul) did a great job this morning and improved her standings in the finals, and I am really proud of her. All in all, our swimmers looked like they were having fun, and that is huge right now."
Evansville was also able to score points in the men's 400-yard Medley Relay, as UE placed 11th overall with a time of 3:16.22 to edge teams from West Virginia and Virginia Tech. UE sophomore Iryna Tsesiul (Minsk, Belarus) also scored five points in the women's 50-yard backstroke, as she qualified for the consolation finals in a field of 53 swimmers and placed 16th overall with a finals time of 25.89. Santos Lopez has a strong showing in the men's 50-yard Butterfly event, placing 22nd overall with a time of 22.36.
The CSCAA National Invitational Championships are college swimming's equivalent to the NIT in basketball, and currently features athletes from over 56 schools, including many "Power Five" schools. The UE men currently find themselves in 13th place after the first day of competition, while the UE women are in 33rd. The meet will continue on Friday at 8:30 a.m. central time with preliminary swims in the 400-yard IM, the 100-yard Butterfly, the 200-yard Freestyle, the 100-yard Breaststroke and Backstroke, and the 800-yard Freestyle Relay. The finals for all of those individual events, as well as the 200-yard Medley Relay will take place Friday night at 5:00 p.m.
Contribute to AceNotes
To have content considered for inclusion in AceNotes, please submit a Marketing Request Form. Deadline for submission to AceNotes is 10:00 a.m. on the requested date of publication. Only articles concerning UE related/sponsored activities will be accepted. Articles submitted to AceNotes may be edited for length and clarity. Submitter contact information is at the end of each article.