| | |
| --- | --- |
| AceNotes Today | Thursday, March 10, 2022 |
Changes to Commencement Guidelines
Because the mask mandate will be lifted on campus beginning March 21, masks will no longer be required for Commencement. Those who still prefer to wear a mask during the ceremony are welcome to do so. Additionally, there will be no distance requirements for graduate seating.
Graduates were first told that each person would receive 10 tickets to share with friends and family. Because of the COVID-19 guideline updates, tickets will no longer be required, and there will be unlimited seating for guests.
Please visit Commencement Central for full details of that weekend, including Baccalaureate, parking, the live stream, and more. The new guidelines are aligned with the current COVID-19 data. Should the pandemic change directions between now and May 7, restrictions may be reinstated.
As a reminder, graduates must order their cap and gown for in-store pickup by Sunday, March 20. Please place orders here. After this date, the bookstore will only have a select number of packages available for in-store purchase. Announcements must also be ordered by April 5.
CANCELED: CDEI Presents: IHouse- Intl Religion
This event has been canceled.
Unfortunately, our speaker for this week's IHouse is ill and cannot attend.
We will be rescheduling this topic for later in the semester and canceling IHouse this week!
Please send her all of your thoughts, prayers, and vibes to feel better soon!
Speed Networking Event
Want practice and constructive tips to improve your interviewing, networking and business etiquette?
This event is for you, register here: https://evansville.joinhandshake.com/edu/events/962888
Help us celebrate National Disability Month during March 2022. Join ABLE student organization, Office of Disability Services, Evansville office of Vocational Rehabilitation Services and the Center for Career Development for a Speed Networking Event.
Thursday, March 17 from 6pm-8:30pm
Eykamp Hall, Ridgway University Center
Open to all students, however space is limited. Register today!
For more information or questions, contact the Center for Career Development at career@evansville.edu or 812-488-1083.
Late Start Classes Now Available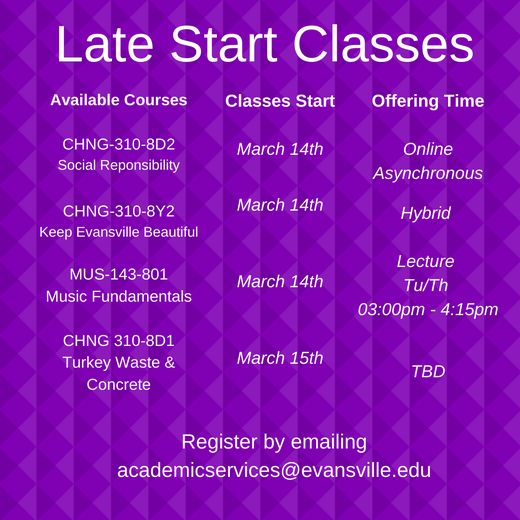 Are you looking to add a late start class this semester?
Can't figure out which ones are being offered?
THE LIST IS NOW AVAILABLE!
Registration for Late Start courses is open NOW!
***The last day to register for a late start class is March 17, 2022, so don't miss out.***
UE Employee Wellness Step Challenge~ Earn $150 in Health Behavior Credits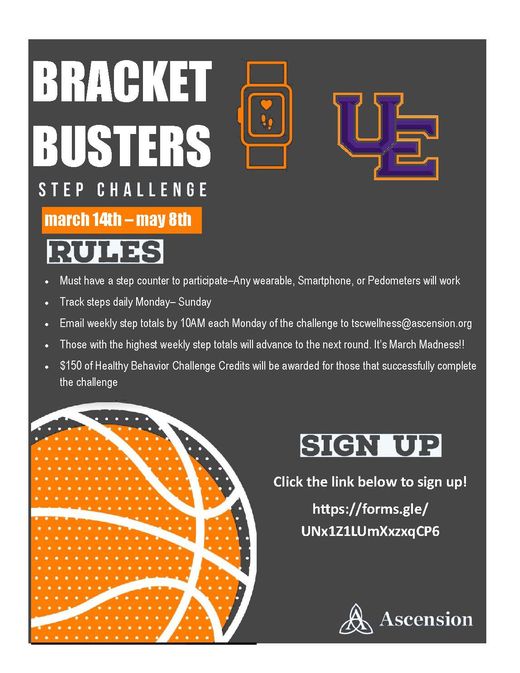 Join Bracket Busters Today!
This step challenge is modeled after the NCAA's March Madness tournament.
Track your steps each day.
Those with the highest step counts at the end of the week will advance to the next round.
March 14-May 8th
To sign up click the following link and enter your information: https://forms.gle/xZq88hveCeDsig8r7
Challenge participants will earn $150 in Healthy Behavior Credits (if not already earned in the 2021-2022 benefit plan year)
All employees are welcome to participate, only those with the HRA Health Plan can be awarded the healthy behavior credit
Now Hiring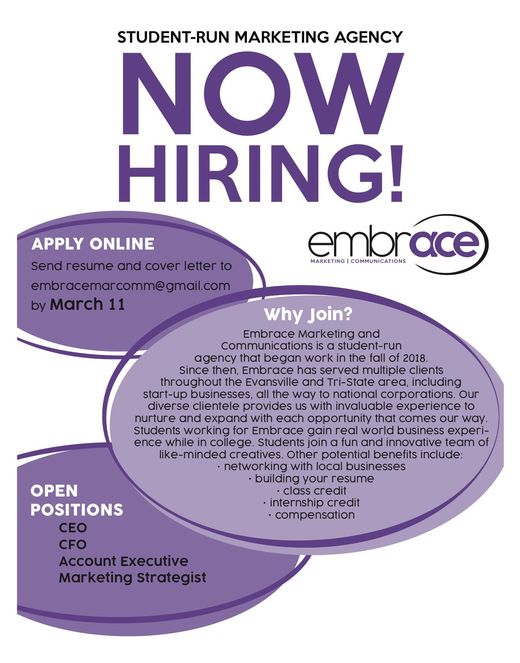 Embrace Marketing and Communications is looking to hire new friendly faces to join our team. As part of the Center for Innovation and Change, Embrace allows students to get real world experience, internship credit, class credit, and compensation! Resume and cover letter can be sent to embracemarcomm@gmail.com. Please email Es206@evansville.edu if you have questions
The deadline to apply for the 2022-2023 Dr. Marvin E. Hartig Memorial Scholarship has been extended to May 6th
Family, friends and loved ones of the late Dr. Marvin E. Hartig are pleased to announce the application process for the Dr. Marvin E. Hartig Memorial Scholarship. This scholarship is dedicated to the loving memory of Dr. Hartig, Dean of Evansville College's Evening College in 1967, and administrator for the Center for Advanced Study, director of the Evansville chapter of the American Institute of Banking (AIB), and the international student advisor. In 1974, Dr. Hartig was appointed Dean of Academic Services. He retired in 1984 after serving his alma mater for thirty-five years and passed away in 2007.
This scholarship will be awarded annually to a deserving sophomore student. Preference will be given to a student working while being enrolled as a full-time student. International students are encouraged to apply.
Eligible students for the 2022-2023 Hartig Memorial Scholarship will be sophomores in the 2022-2023 academic year.
Apply for the 2022-2023 Hartig Memorial Scholarship
Deadline: Please return all materials to the Office of Student Financial Services by April 22, 2022. The decision will be announced by May 27, 2022.
Questions: Amber Chandler, Administrative Assistant to the Office of Student Financial Services, at ac547@evansville.edu or 812-488-2364
Submitted by Amber Chandler ac547@evansville.edu
Off-campus login to library resources being updated
During spring break, the library will update and modernize the login process for off-campus access to library resources. Currently, a user's last name and a barcode number (added to the campus ID at the Information Desk) are used to provide access. This system will be modernized to use the same login as WebMail and the MyUE Campus Portal. This will make online access more convenient for all library users and will eliminate the need to barcode campus IDs to enable off-campus access.
For on-campus access to database resources, nothing will change. (Our "campus" consists of the main campus, Stone Family Center for Health Sciences, and the Harlaxton campus, all of which are currently provided access using campus network IP ranges that the library provides to database vendors.
Beginning next week (at the latest March 11), when off-campus users select a database on the
Databases by Name page (https://www.evansville.edu/libraries/databasesByName.cfm)
Or Databases by Subject page (https://www.evansville.edu/libraries/databasesBySubject.cfm)
they will be prompted to login using the new method.
Reminder: only current students, faculty, and staff may access the library's licensed resources from off-campus and remote locations due to contractual "Terms of Use."
The library wishes to express its thanks to OTS staff who assisted with the project by creating a process which will allow this enhanced form of access to function--Bob Szurgot, Robert Birkle, and Josh Norrick.
If you have questions or need help as the transition progresses, please email library@evansville.edu.
PSYC246 Survey Participation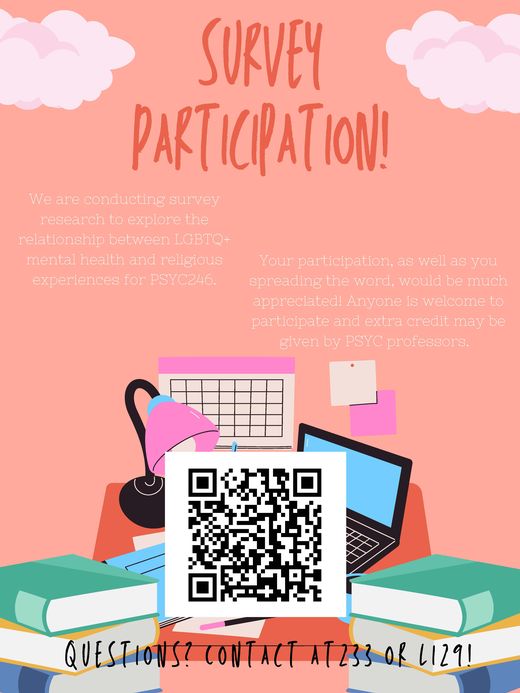 We are exploring the relationship between LGBTQ+ mental health and religious experiences, your participation would be much appreciated!
Baseball falls in midweek clash with Belmont
Battling back from an early deficit, the University of Evansville baseball team came up just short in a 7-4 loss to Belmont on Wednesday night in Nashville, Tenn.
"We really struggled hitting with runners in scoring position as we created many opportunities, but couldn't cash in," said Aces head baseball coach Wes Carroll. "Belmont go the big 2 out RBI hits that we couldn't. We need to start playing better overall baseball as we start this 14 game road trip."
After trailing 4-0 following the second inning, Evansville fought its way back, beginning with a two-run no-doubt homer from junior Mark Shallenberger in the third that halved the Bruins advantage. Two innings later, the Aces pushed across a pair of runs to knot the contest at four. As has troubled the Aces this season, Belmont answered right back with a single run in the bottom half of the fifth before sealing the win with a two-run homer in the sixth.
Evansville had one last opportunity in the top of the ninth, loading the bases with just one out, but left the bases loaded with a strikeout and groundout.
The Aces continue their road trip with a three-game set at No. 18 Tulane beginning at 6:30 PM on Friday in New Orleans.
Aces open postseason on Thursday afternoon against No. 8 seed Indiana State
Following its best regular season in five years, the University of Evansville women's basketball team opens the postseason in Hoops in the Heartland against No. 8 seed Indiana State at 4 PM on Thursday afternoon inside the TaxSlayer Center in Moline, Ill.
Previewing the Matchup: No. 8 Indiana State
• Evansville and Indiana State are meeting for the 63rd time in series history with the Sycamores owning a 42-20 advantage in the all-time series.
• The Aces and Sycamores have only ever met once in postseason play, last meeting in the tournament in 2006 when top-seeded Indiana State topped No. 4 seed Evansville, 81-65 in the semifinals.
• Evansville has a history of success as the No. 9 seed in the MVC Tournament. Since the tournament expanded to 10 teams, the Aces have twice been the nine seed prior to this season, including 2009, when Evansville became the lowest-seeded team to ever win the MVC Tournament.
• The nine seed is the best for the Aces since the 2016-17 season after earning the 10 seed for four-straight seasons from 2017-18 to 2020-21.
• Head coach Robyn Scherr-Wells enters Hoops in the Heartland with plenty of success in conference tournaments in her coaching career. Scherr-Wells is 9-2 all-time in conference tournaments, capturing the tournament championship in both the WHAC and CCAC a combined three times.
Playing with Pace
• One of the hallmarks of head coach Robyn Scherr-Wells system at UE has been playing fast.
Installing a new system, Scherr-Wells has achieved her goal of getting the Aces to play fast as Evansville enters postseason play 35th in the nation with 74.4 possessions per 40 minutes
O Captain! My Captain!
• A leader for the Aces for four seasons, senior Anna Newman has blossomed in her final season.
• The team captain has commanded the court and operated head coach Robyn Scherr-Wells' new offense, leading to 92 assists on the season, a team-high, and 3.4 assists per game, the fifth-best average in the MVC.
Newcomer Guard Duo
• A pair of impactful transfers have transformed Evansville's backcourt and the team as a whole.
• Senior Myia Clark and junior Je'Naiya Davis are averaging a combined 27.6 points on the season with Davis finishing the regular season in fourth in the league in scoring and Clark finishing in 12th.
Contribute to AceNotes
To have content considered for inclusion in AceNotes, please submit a Marketing Request Form. Deadline for submission to AceNotes is 10:00 a.m. on the requested date of publication. Only articles concerning UE related/sponsored activities will be accepted. Articles submitted to AceNotes may be edited for length and clarity. Submitter contact information is at the end of each article.