| | |
| --- | --- |
| AceNotes Today | Tuesday, March 8, 2022 |
New Stationery Ordering Process

Marketing and Communications is launching a new stationery ordering system called Marcom on March 5 for placing orders for business cards, letterhead, envelopes, and more. The system will link from the same marketing request form or you can access the Marcom website directly. Once you land on the page, click on "Register New User" and create a username and password.
Once you are granted access, you will then login and create a profile for ordering.
The system is much like any online ordering system, but the new site will allow you to see a proof real-time and immediately approve the design and information. We are hopeful this new system will be a seamless transition and allow for expediting of orders.
If you have questions regarding or would like additional training, please contact Holly Smith at hh98@evansville.edu.


ResHall Sneak Peek: Tuesday, March 8
Have you been curious about the new residence hall? Want to get a glimpse of the inside?
Join us for the ResHall Sneak Peek, a social media tour, on Tuesday, March 8! Beginning at 3:30PM, we'll lead a group of community members through the first and second floors and share all about the construction, floor plans, student life, and more. Follow along on our Instagram (@UEvansville), Facebook (facebook.com/UniversityofEvansville), and Twitter (@UEvansville) channels as we share photo and video content from our participants!
Community members/organizations touring with us will include:
Courtney Johnson, Young and Established
Ashley Riester, Evansville Regional Economic Partnership (E-REP)
Crayton Chesnut, senior UE student
Honey Moon Coffee Co.
Jodi Keen and Dallas Carter, Evansville Living
Late Start Classes Now Available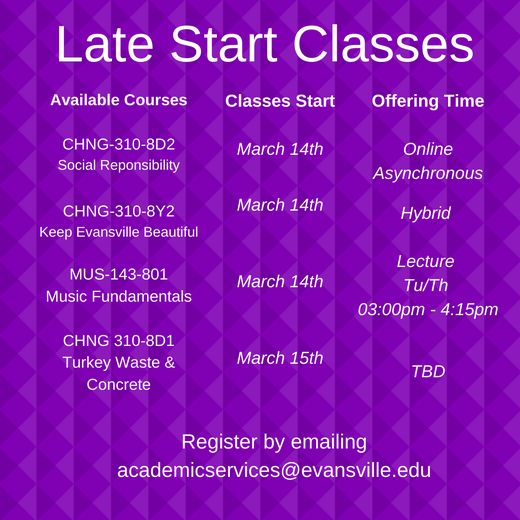 Are you looking to add a late start class this semester?
Can't figure out which ones are being offered?
THE LIST IS NOW AVAILABLE!
Registration for Late Start courses is open NOW!
***The last day to register for a late start class is March 17, 2022, so don't miss out.***
UE Employee Wellness Step Challenge~ Earn $150 in Health Behavior Credits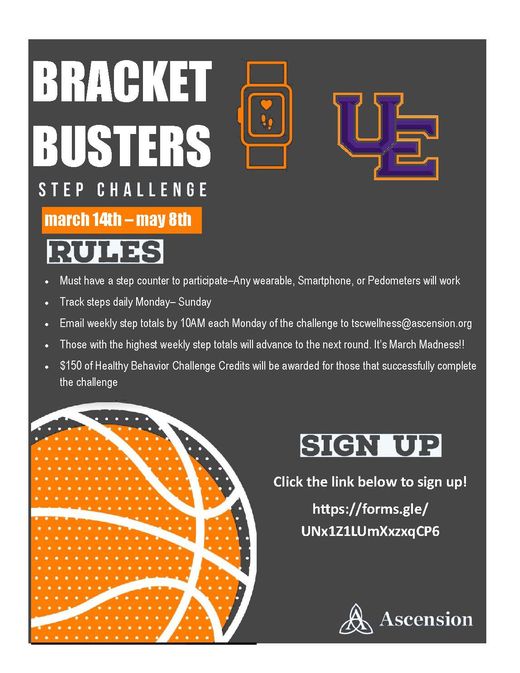 Join Bracket Busters Today!
This step challenge is modeled after the NCAA's March Madness tournament.
Track your steps each day.
Those with the highest step counts at the end of the week will advance to the next round.
March 14-May 8th
To sign up click the following link and enter your information: https://forms.gle/xZq88hveCeDsig8r7
Challenge participants will earn $150 in Healthy Behavior Credits (if not already earned in the 2021-2022 benefit plan year)
All employees are welcome to participate, only those with the HRA Health Plan can be awarded the healthy behavior credit
SafeZone Training- Employee Session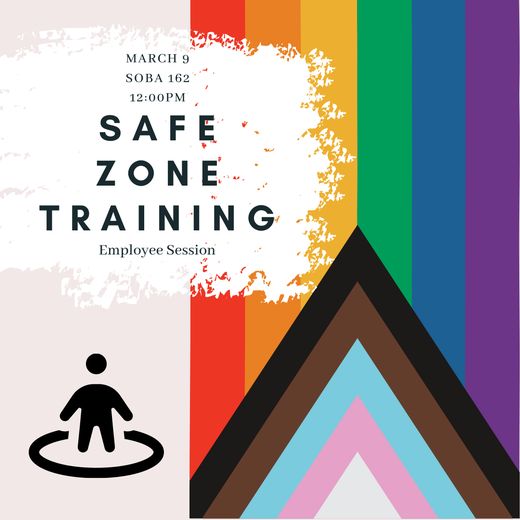 Join the Center for Diversity Equity and Inclusion in Safe Zone Training on March 9th beginning at 12pm! Safe Zone Training is a training that will provide participants with the knowledge and skills to ensure their 'zone' is a safe place for members of the LGBTQ+ community. Your 'zone' is anything from your classroom and your office to any space you are in!
Join us in ensuring every zone is a Safe Zone!
The deadline to apply for the 2022-2023 Dr. Marvin E. Hartig Memorial Scholarship has been extended to May 6th
Family, friends and loved ones of the late Dr. Marvin E. Hartig are pleased to announce the application process for the Dr. Marvin E. Hartig Memorial Scholarship. This scholarship is dedicated to the loving memory of Dr. Hartig, Dean of Evansville College's Evening College in 1967, and administrator for the Center for Advanced Study, director of the Evansville chapter of the American Institute of Banking (AIB), and the international student advisor. In 1974, Dr. Hartig was appointed Dean of Academic Services. He retired in 1984 after serving his alma mater for thirty-five years and passed away in 2007.
This scholarship will be awarded annually to a deserving sophomore student. Preference will be given to a student working while being enrolled as a full-time student. International students are encouraged to apply.
Eligible students for the 2022-2023 Hartig Memorial Scholarship will be sophomores in the 2022-2023 academic year.
Apply for the 2022-2023 Hartig Memorial Scholarship
Deadline: Please return all materials to the Office of Student Financial Services by April 22, 2022. The decision will be announced by May 27, 2022.
Questions: Amber Chandler, Administrative Assistant to the Office of Student Financial Services, at ac547@evansville.edu or 812-488-2364
Submitted by Amber Chandler ac547@evansville.edu
Off-campus login to library resources being updated
During spring break, the library will update and modernize the login process for off-campus access to library resources. Currently, a user's last name and a barcode number (added to the campus ID at the Information Desk) are used to provide access. This system will be modernized to use the same login as WebMail and the MyUE Campus Portal. This will make online access more convenient for all library users and will eliminate the need to barcode campus IDs to enable off-campus access.
For on-campus access to database resources, nothing will change. (Our "campus" consists of the main campus, Stone Family Center for Health Sciences, and the Harlaxton campus, all of which are currently provided access using campus network IP ranges that the library provides to database vendors.
Beginning next week (at the latest March 11), when off-campus users select a database on the
Databases by Name page (https://www.evansville.edu/libraries/databasesByName.cfm)
Or Databases by Subject page (https://www.evansville.edu/libraries/databasesBySubject.cfm)
they will be prompted to login using the new method.
Reminder: only current students, faculty, and staff may access the library's licensed resources from off-campus and remote locations due to contractual "Terms of Use."
The library wishes to express its thanks to OTS staff who assisted with the project by creating a process which will allow this enhanced form of access to function--Bob Szurgot, Robert Birkle, and Josh Norrick.
If you have questions or need help as the transition progresses, please email library@evansville.edu.
Scheduled Website Maintenance on March 9
There will be a scheduled maintenance on the UE website (evansville.edu) on March 9. The marketing team will manage this so there is minimal downtime, but there may be intermittent times the website is not available to campus and/or the general public. If you have any questions, feel free to contact the Web Team at web@evansville.edu.
UE Reports Stellar Career Outcomes for the Class of 2021
UE is pleased to report stellar outcomes for 2021 graduates:
95 percent were employed or pursuing further education within six months of graduation
The median salary of those employed full-time was $50,000
Survey information was collected from 93 percent of graduates. This is an annual, collaborative effort between the Center for Career Development, Office of Institutional Effectiveness, Office of Alumni and Parent Relations, and academic departments.
Outcomes improved from the previous year, which saw slightly lower rates due to the pandemic's effect on the economy. Those outcomes included 91 percent of graduates employed or in graduate school within six months of graduating, as well as a median salary of $47,500.
Congratulations to our class of 2021 for these excellent outcomes, and a job well done for every department on campus that makes these outcomes possible!
For nearly a decade, the Center for Career Development has implemented an "end to end" approach to career success. From prospective students to alums, the Center assists our Aces every step of the way. Services offered include:
Assistance with resume and cover letter preparation
Mock interviews
Career advising
Free career assessments
Job fairs throughout the year, which connect students with local and regional employers
PSYC246 Survey Participation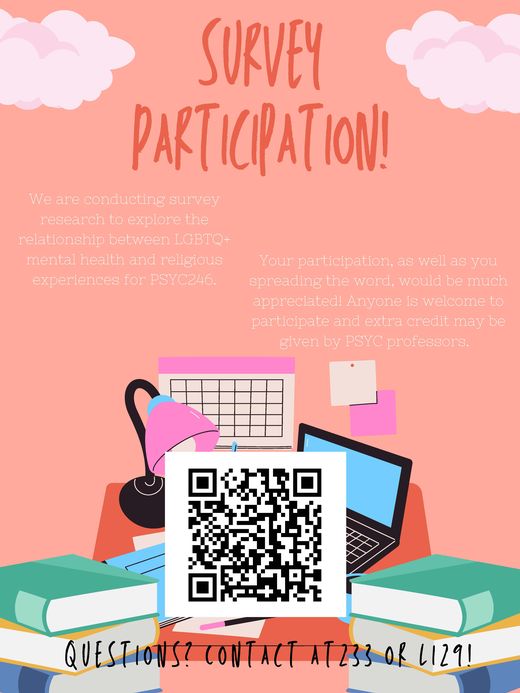 We are exploring the relationship between LGBTQ+ mental health and religious experiences, your participation would be much appreciated!
Abby Feit named to MVC Scholar-Athlete Second Team
For the second time in her career, University of Evansville women's basketball's Abby Feit has been recognized by the Missouri Valley Conference for her academic efforts, this time earning a spot on the conference's scholar-athlete second team, it was announced in a release from the conference office on Tuesday morning.
A clinical laboratory science major, Feit holds a 3.61 GPA and was recognized as an honorable mention scholar-athlete selection a year ago. Feit also got the job done on the court this season, where she finished fifth in the conference in scoring average, pouring-in 14.8 points per game, and second in rebounding, finishing the season just shy of averaging a double-double with 8.9 boards per contest.
The criteria for the scholar-athlete team balloting parallels the CoSIDA (College Sports Information Directors of America) standards for the Academic All-America voting. Nominees must be starters or important reserves, have played at least 75-percent of a team's games, and must carry at least a 3.30 GPA (on a 4.0 scale).

Student-athletes must also have reached sophomore athletic and academic standing at their institution (true and redshirt freshmen are not eligible) and must have completed at least one full academic year at the institution.
A total of 33 Valley student-athletes met the nomination criteria for scholar-athlete honors in 2022.
Craig, Gray help Aces sweep MVC weekly awards
After a pair of impressive weeks, University of Evansville baseball seniors Tanner Craig and Shane Gray have been named Missouri Valley Conference Player and Pitcher of the Week, respectively, it was announced in a release from the conference office.
More of the norm than not, Craig put on a show last week at the plate. On the week in four games, Craig hit well for average, finish 9-for-20 on the weekend with a .450 batting average, while blasting four home runs, including three in one day in Saturday's doubleheader against Ohio and UIC. Craig also tallied 10 RBIs on the week, helping the Aces pick up a pair of wins. The senior now leads the Aces in average, hitting .319 on the season.
Continuing to produce impressive performances on the mound, Gray was lights out for the Aces on Friday night. Facing UIC, Gray lasted 6.2 innings, allowing two runs and striking-out 10 batters in the 4-2 win. Gray's 19 strikeouts on the season are third-most in the MVC.
The honor is the third in the career of both Craig and Gray and the first that either member of the duo has earned in 2022.
Evansville returns to the field on Wednesday with a midweek matchup at Belmont before traveling to New Orleans, La. for a three-game set with Tulane this weekend.
UE golf teams open Benbow Invitational
Round one of the Benbow Invitational was completed on Monday for the University of Evansville men's and women's golf teams at Jacksonville Beach Golf Club. Caleb Wassmer was the top performer for the guys while Mallory Russell led the women in the opening 18 holes.
Wassmer completed the first round in a tie for 5th place with a 2-over 73. Three behind him was Nicholas Gushrowski, who carded a 76. He is tied for 16th. Dallas Koth also finished in the 70's, posting a 7-over 78 and us tied for 19th.
Isaac Rohleder finished the day with an 84 while Michael Ikejiani scored an 86. They rank 33rd and 35th, respectively. Four individuals are playing for UE with Carson Parker and Henry Kiel each registering a 74 on Monday. The 3-over-par has the duo tied for the 9th spot. Masatoyo Kato finished the opening round with a 79 while Eli Rohleder had an 83.
Purdue Fort Wayne leads the field by six strokes following a 293. Butler is second with a 299 while Eastern Illinois ranks third with a 308. Evansville is tied for fourth with a 311. Tyler Green of PFW and teammate Reece Compton (playing as an individual) lead the individuals with even scores of 71.
Mallory Russell paced the women with a 79 in the opening 18. Her scored has her in a tie for 14th entering the final round. Caitlin O'Donnell was next for the Aces firing off an 82. She is tied for 39th. Two behind her was Allison Enchelmayer, who carded an 84. Her round has her tied for 51st.
Rounding out the UE squad were Alyssa McMinn and Carly Frazier. McMinn posted an 88 while Frazier was one behind her with an 89. Magdalena Borisova was UE's individual and completed the opening 18 holes with an 81. She is tied for the 37th position.
Eastern Michigan leads the women's field with a 309 and sit two shots ahead of a 3-way tie for second between IUPUI, Butler and Indiana State. Evansville is 11th with a 333. Ally Ross of Butler holds the individual lead with a 1-under 70.
On Tuesday, the teams will play the final round of the tournament.
Contribute to AceNotes
To have content considered for inclusion in AceNotes, please submit a Marketing Request Form. Deadline for submission to AceNotes is 10:00 a.m. on the requested date of publication. Only articles concerning UE related/sponsored activities will be accepted. Articles submitted to AceNotes may be edited for length and clarity. Submitter contact information is at the end of each article.