| | |
| --- | --- |
| AceNotes Today | Monday, March 7, 2022 |
New Stationery Ordering Process

Marketing and Communications is launching a new stationery ordering system called Marcom on March 5 for placing orders for business cards, letterhead, envelopes, and more. The system will link from the same marketing request form or you can access the Marcom website directly. Once you land on the page, click on "Register New User" and create a username and password.
Once you are granted access, you will then login and create a profile for ordering.
The system is much like any online ordering system, but the new site will allow you to see a proof real-time and immediately approve the design and information. We are hopeful this new system will be a seamless transition and allow for expediting of orders.
If you have questions regarding or would like additional training, please contact Holly Smith at hh98@evansville.edu.


Supplemental Pay Request Forms Changing to Electronic Version
Supplemental Pay Request Forms for Payroll will now be accepted electronically. The link to the new electronic form and instructions can be found on the Accounting and Audit page on the UE portal.
The Supplemental Pay Request Form requires the same information that you are accustomed to but will submit your requests and automatically flow to the next person for approvals. Please note the requirements for approvals indicated on the form and attach any supporting documents. Approvals can be made through Microsoft Teams or an automated email by clicking "Approved" and then "Submit". The link to managing approvals in Microsoft Teams can also be found on the Accounting and Audit page on the UE portal.
Deadlines: Approved Supplemental Pay Request Forms must be received by 12:00 noon on the Friday of a non-pay week to be included in the next payroll processing. Incomplete forms or incorrect information will delay processing.
Emailed PDFs and Paper Forms will not be accepted after March 12, 2022.
Updates to Mask/Face Covering Policy
On March 2, the Indiana State Department of Health (ISDH) changed Vanderburgh County's advisory status to yellow on its statewide COVID-19 map. Current guidelines state that if all the relevant metrics remain below the targets for two weeks after this date, mask restrictions will be lifted. Due to the travel of many students for spring break, the University will extend this timeline and will lift the mask mandate beginning Monday, March 21.

With the mask mandate lifted, masks or face coverings will not be required on campus, but individuals can make a personal choice to continue wearing masks or face coverings.

Classrooms/Departments
Individual departments and administrative units may require masks in their private offices and departmental/administrative spaces.

Faculty may choose to require masks in their instructional spaces (i.e. classrooms and labs) and during research activities. Faculty who choose this option should communicate information to students before March 21 and inform Catie Taylor in the Office of Admission of visitor restrictions.

Signs may be placed in these and other areas indicating that masks or face coverings are required. Signs may be requested through the Office of Publications.

Mask Mandate Reinstitution
If any of the following conditions are met, the mask mandate will be reinstituted and will remain in place until all three metrics are below the targets for two consecutive weeks:
1. The ISDH alert status for Vanderburgh County rises to a status of orange or red
2. More than 20 active cases of COVID-19 on campus
3. A decrease in the campus vaccination rate to lower than 80%

Continued Random Testing
The Random COVID-19 Testing Program will continue for those who are unvaccinated. The Coronavirus Task Force will continue to look at metrics to determine when this program will be discontinued.
UE T-Shirt Exchange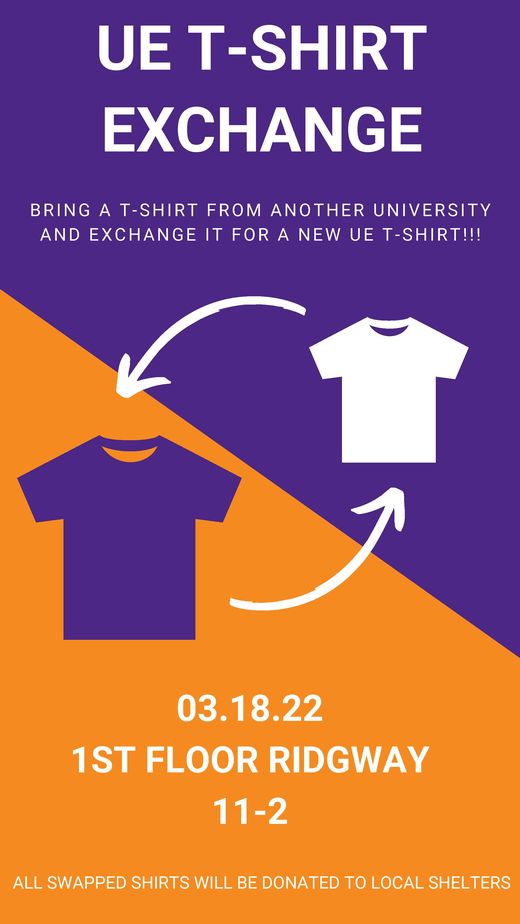 Friday, March 18th from 11 am-2 pm at Ridgway
Need more UE apparel in your closet? Bring a t-shirt from another college to the Collegiate Alumni Board table and swap it for a UE t-shirt! All collected shirts will be donated.
Sign up for UE GIVES BACK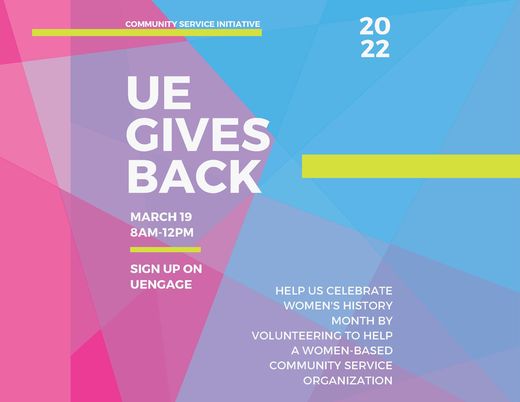 Sign-up to help serve the community on March 19, 2022 from 8am-12pm! Pick one of a few women-based community organizations to help out our community and celebrate Women's History Month! Use the following link to sign up and choose your organization: https://www.signupgenius.com/go/8050a45acaf2aaafc1-uegives1 Participants with photographic evidence of their participation will receive a free t-shirt!
ResHall Sneak Peek: Tuesday, March 8
Have you been curious about the new residence hall? Want to get a glimpse of the inside?
Join us for the ResHall Sneak Peek, a social media tour, on Tuesday, March 8! Beginning at 3:30PM, we'll lead a group of community members through the first and second floors and share all about the construction, floor plans, student life, and more. Follow along on our Instagram (@UEvansville), Facebook (facebook.com/UniversityofEvansville), and Twitter (@UEvansville) channels as we share photo and video content from our participants!
Community members/organizations touring with us will include:
Courtney Johnson, Young and Established
Ashley Riester, Evansville Regional Economic Partnership (E-REP)
Crayton Chesnut, senior UE student
Honey Moon Coffee Co.
Jodi Keen and Dallas Carter, Evansville Living
The CDEI & SAB Presents: Prom Night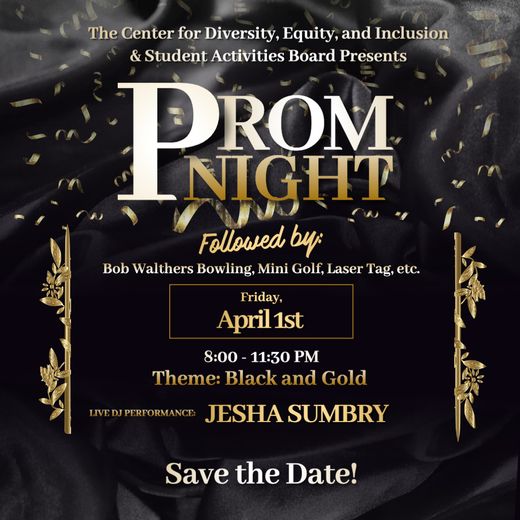 The Center for Diversity, Equity, and Inclusion & the Student Activities Board are proud to present PROM NIGHT! All students are invited to dance the night away at an event that you don't want to miss! Be on the lookout for additional details coming soon.
Until then, SAVE THE DATE!
Registration Week 2022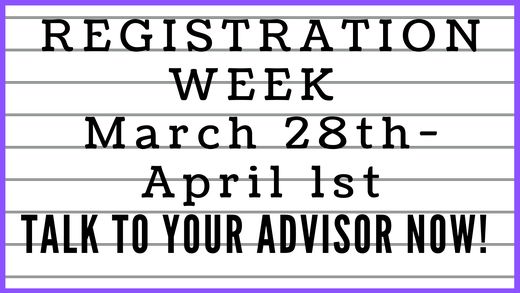 Registration Week is right around the corner! Are you ready?
Registration begins March 28th. Make sure to meet with your advisor to have your classes approved before registration. If you have questions about registration, email academicservices@evansville.edu or come visit us in Olmstead Hall, Rm 116.
Krannert Gallery Exhibit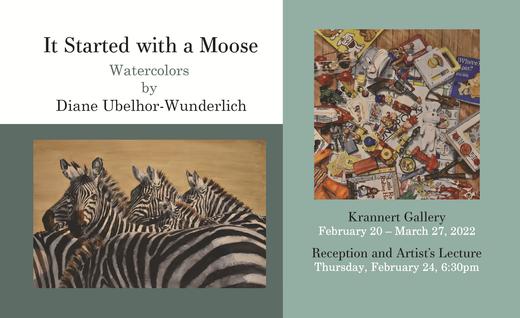 The Department of Art invites you to the Krannert Gallery for the exhibit It Started with a Moose: Watercolors by Diane Ubelhor-Wunderlich. The artist exhibition will be open February 20 - March 27, 2022.
SafeZone Training- Employee Session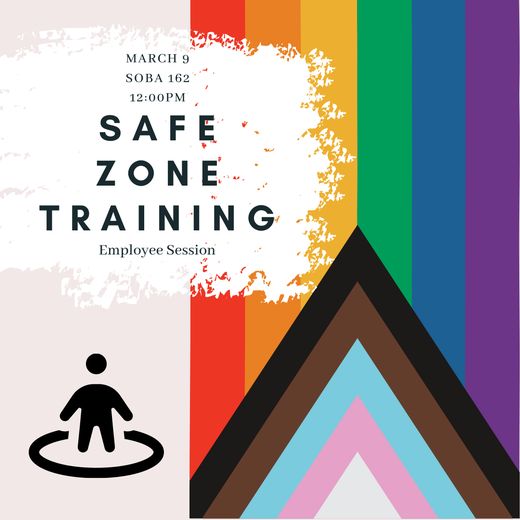 Join the Center for Diversity Equity and Inclusion in Safe Zone Training on March 9th beginning at 12pm! Safe Zone Training is a training that will provide participants with the knowledge and skills to ensure their 'zone' is a safe place for members of the LGBTQ+ community. Your 'zone' is anything from your classroom and your office to any space you are in!
Join us in ensuring every zone is a Safe Zone!
Calling All Changemakers! 1st Annual Adaptive Watersports Row a Thon on April 23 Challenge by the CIC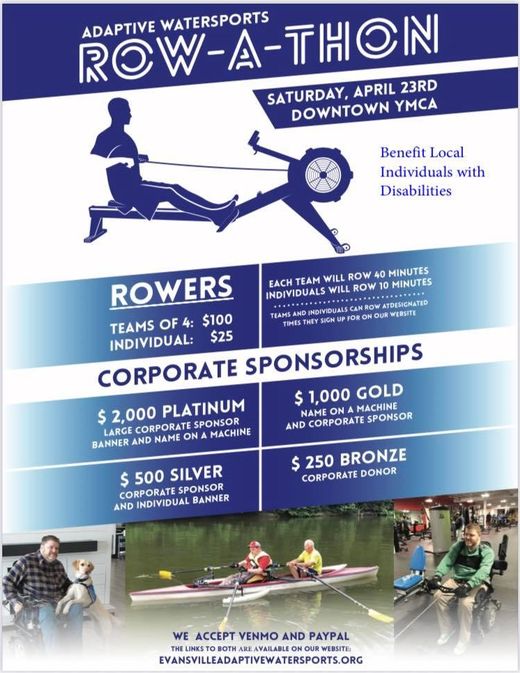 The UE Center for Innovation and Change is challenging ALL Student and Faculty organizations to a row off! This row off benefits local para-athletes by participating in the 1st Annual Adaptive Watersports Row a Thon on April 23, in person at the Evansville, IN downtown YMCA or remotely. You may participate as an individual, or as team of 4. Sign up through the link on their webpage, evansvilleadaptivewatersports.org
Evansville Adaptive Watersports was the 2019 UE Community Changemaker Challenge $10,000 recipient.
Their goal is to create a place where all individuals can participate in non-motorized watersports. This program is open to EVERYONE. They intentionally reach out to people across a range of disabilities, ages, ethnicities, nationalities, walks of life, and professions. They believe EVERYONE can make a difference. Empathy, teamwork and distributed leadership are encouraged. The result is the creation of a space where EVERYONE is a Changemaker.
Off-campus login to library resources being updated
During spring break, the library will update and modernize the login process for off-campus access to library resources. Currently, a user's last name and a barcode number (added to the campus ID at the Information Desk) are used to provide access. This system will be modernized to use the same login as WebMail and the MyUE Campus Portal. This will make online access more convenient for all library users and will eliminate the need to barcode campus IDs to enable off-campus access.
For on-campus access to database resources, nothing will change. (Our "campus" consists of the main campus, Stone Family Center for Health Sciences, and the Harlaxton campus, all of which are currently provided access using campus network IP ranges that the library provides to database vendors.
Beginning next week (at the latest March 11), when off-campus users select a database on the
Databases by Name page (https://www.evansville.edu/libraries/databasesByName.cfm)
Or Databases by Subject page (https://www.evansville.edu/libraries/databasesBySubject.cfm)
they will be prompted to login using the new method.
Reminder: only current students, faculty, and staff may access the library's licensed resources from off-campus and remote locations due to contractual "Terms of Use."
The library wishes to express its thanks to OTS staff who assisted with the project by creating a process which will allow this enhanced form of access to function--Bob Szurgot, Robert Birkle, and Josh Norrick.
If you have questions or need help as the transition progresses, please email library@evansville.edu.
Scheduled Website Maintenance on March 9
There will be a scheduled maintenance on the UE website (evansville.edu) on March 9. The marketing team will manage this so there is minimal downtime, but there may be intermittent times the website is not available to campus and/or the general public. If you have any questions, feel free to contact the Web Team at web@evansville.edu.
UE Reports Stellar Career Outcomes for the Class of 2021
UE is pleased to report stellar outcomes for 2021 graduates:
95 percent were employed or pursuing further education within six months of graduation
The median salary of those employed full-time was $50,000
Survey information was collected from 93 percent of graduates. This is an annual, collaborative effort between the Center for Career Development, Office of Institutional Effectiveness, Office of Alumni and Parent Relations, and academic departments.
Outcomes improved from the previous year, which saw slightly lower rates due to the pandemic's effect on the economy. Those outcomes included 91 percent of graduates employed or in graduate school within six months of graduating, as well as a median salary of $47,500.
Congratulations to our class of 2021 for these excellent outcomes, and a job well done for every department on campus that makes these outcomes possible!
For nearly a decade, the Center for Career Development has implemented an "end to end" approach to career success. From prospective students to alums, the Center assists our Aces every step of the way. Services offered include:
Assistance with resume and cover letter preparation
Mock interviews
Career advising
Free career assessments
Job fairs throughout the year, which connect students with local and regional employers
50 Years of Title IX: Mythbuster Monday
On June 23, 1972, Title IX of the education amendments was enacted into law. This important piece of legislation has now supported gender equity for 50 years. During the month of March, which is also Women's History Month, UE will share Mythbuster Mondays to bring greater awareness to Title IX and both its purpose and benefits.
Myth: Title IX only applies to athletic programs.
Fact: While gender equity in athletics was the initial catalyst of Title IX, Title IX protects individuals from gender-based harassment, discrimination, and misconduct as it relates to recruitment, admissions, counseling, financial assistance, athletics, sexual harassment/violence, treatment of pregnant/parenting students/employees, discipline, single sex education, and employment in any educational institution that receives federal funding.
MSC: McGary Middle School Art Showcase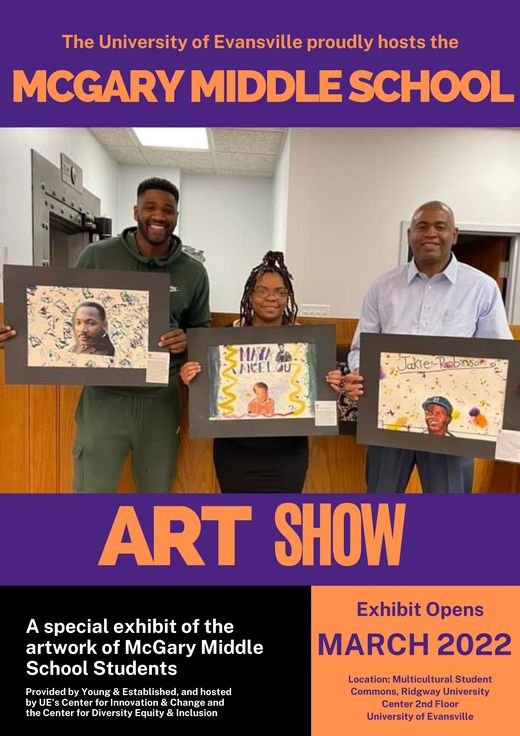 The Center for Innovation & Change and the Center for Diversity Equity and Inclusion are proud to host a McGary Middle School Art Showcase sponsored by Young & Established! The students at the McGary Middle School worked hard to create art for Black History Month and we are bringing them right here to our campus!
You can find their art showcased in the Multicultural Student Commons (2nd Floor of Ridgway University Center) starting on March 1st and running throughout the rest of the month! Head over to Ridgway and come see what these amazing students have put together!

Eykamp Prize: Call for Nominations
The Eykamp Prize was established by Richard and Rita Eykamp in 2015 to honor Faculty Achievement at the University of Evansville. Recipients of the prize will receive a one-time award of $10,000 in recognition of extraordinary contributions to the University of Evansville as University Citizens. Examples of such contributions include deep and successful involvement in recruiting students; expanding the number, scope, and competitiveness of grant funding for their department; bringing positive public awareness to the University through scholarship, knowledge, and understanding of their discipline.
Nominations for the Eykamp Prize may come from any member of the University of Evansville Community. Nominees should be tenured or tenure-track faculty members at the University of Evansville who have not received the award in the previous five years. Nominations can be submitted in writing or via e-mail to Michael Austin, Executive Vice President for Academic Affairs/Provost, at ma352@evansville.edu by March 11, 2022. Nominations should include the name of the faculty member and a brief statement of the reasons that he or she is being nominated.
Recipients of the Eykamp Prize will be selected by an Award Committee, appointed by the EVPAA/Provost that includes members of the faculty, staff, administrators, and a member of the Board of Trustees. Awards will be announced and presented at the May Commencement Ceremony.
Recipients in the previous five years: 2017 – Dr. Lora Becker; 2018 – Dr. David Dwyer; 2019 – Dr. Kristy Miller; 2020 – Dr. Jerrilee LaMar; 2021 – Dr. Joyce Stamm
UE Men's Swimming Breaks Records Six Times On Final Day At MAC Championships
University of Evansville swimmers Alon Baer (Gesher Haziv, Israel), Patrik Vilbergsson (Kopavogur, Iceland) and Jackson Caudill (Mount Sterling, Ky./Montgomery County) combined to break parts of three individual school records five total times on the final day of competition at the 2022 Mid-American Conference Championships on Saturday in Carbondale, Illinois. UE also bested a more than 20-year-old school record in the 400-yard Freestyle Relay to cap the meet.
"This was an incredible week for the men's program," said UE head swimming coach Stuart Wilson. "It's hard to list all of the things we have accomplished this week, but one thing that this team has shown is heart!
"You can see their confidence growing each day, believing that anything is possible. They earned it this week, and I couldn't be prouder of them."
Baer became the first male swimmer in UE history to go under two minutes in the 200-yard Breaststroke, as he broke the mark with a time of 1:59.81 in the preliminary round in the afternoon. He then lowered that mark to 1:58.70 while placing second overall in the MAC in the 'A Finals.' It marked his second podium finish of the meet, after earning an NCAA 'B Cut' in the 100-yard Breaststroke on Friday with a second-place finish.
Vilbergsson then lowered the UE school records in both the 1,000- and 1,650-yard Freestyle events in the same swim, as he posted a 1,000-yard Free split of 9:30.95 on his way to a 1,650-yard Free time of 15.41.87, to lower the UE school record by over 15 seconds. Vilbergsson's record in the 1,000 Free would not last long though, as Caudill lowered that mark with a split time of 9:26.07 on his way to a 1,650 Free mark of 15:52.40. Vilbergsson placed fourth, while Caudill finished sixth in the MAC with those times.
Evansville then broke the 20-year-old record in the 400-yard Freestyle Relay with a combined time of 2:59.56 by senior Oskar Menkhaus (Davidson, N.C./William A. Hough), junior Riccardo Di Domenico (Johannesburg, South Africa), and freshmen Jakob Grundbacher (Long Beach, Calif.) and Daniel Santos Lopez (Madrid, Spain). The previous school mark was 3:00.71, set by Scott Hobson, Dave Nel, Darko Kermiciev and Nikola Kalabic in 2002.
Vilbergsson and Baer both earned second-team All-MAC honors, after both scoring 37 points in the championships for UE. Overall, Evansville finished fifth as a team, with its highest team score in MAC Championship history of 354.0. UE set new school records 13 different times over the course of the four-day meet.
Izzy Vetter throws no-hitter against Creighton
Senior Izzy Vetter threw her second no-hitter of the weekend on Sunday to clinch a 2-0 win over Creighton inside Cooper Stadium.
It was the third no-hitter of the season for Vetter and fourth of her career. The senior struck out 13 batters and walked just four on the way to her 10th victory of the spring. In 17 innings of work over the weekend, Vetter allowed just two hits and one earned run while striking out 32 batters. Evansville finished with three hits including the third home run of the season from Marah Wood.
A pair of runners were stranded in the first inning for UE and it looked like Creighton would take advantage in the top of the second, putting runners on first and third with no outs. Vetter had other ideas and proceeded to strike out the side to keep things scoreless. She racked up eight strikeouts in the opening four frames before the offense scored the first run of the game in the bottom of the inning.
Jenna Nink singled to lead the inning off with Dori Brown coming in to pinch run. Productive outs saw Brown advance to third where the freshman proceeded to steal home for the first run of the game. Marah Wood added a huge insurance run in the sixth, hitting a homer to right field. In the seventh, Vetter took care of business, adding two more strikeouts to her tally to finish the victory.
Sunday's finale against Bowling Green was called a no contest due to the rain and lightning in the area. UE will be in action next weekend at the Racer Classic, which will be hosted by Murray State.
UE's Baer Breaks School Record, Reaches NCAA 'B Cut' At MAC Swimming Championships
University of Evansville sophomore Alon Baer (Gesher Haziv, Israel) made history on Friday, as he not only broke UE's school record in the 100-yard Breaststroke event, but he also achieved an NCAA 'B Cut' in the event at the 2022 Mid-American Conference Championships in Carbondale, Illinois.
Baer finished second in the event – one of two second-place finishes on the night for the Purple Aces – with a school-record time of 54.11. He had previously lowered the school record by 1.49 seconds in the 100 Breaststroke in the preliminary round early in the day. The time of 54.11 was faster than the NCAA's "B Cut" time of 54.27 for the NCAA Championships. Baer is believed to be the first male swimmer in UE's Division I history to achieve an NCAA Championship standard time.
"What an incredible night!" said UE head swimming coach Stuart Wilson. "Two all-conference swims by Alon and Daniel, three team records, the first-time ever to have a male swimmer get an NCAA 'B Cut' in program history, and the relay swim to finish off the night…I couldn't be prouder!
"Let's keep it going tomorrow!"
Baer was not the only Purple Ace who broke a record and earned a podium finish on Friday night, as freshman Daniel Santos Lopez (Madrid, Spain) finished second in the 100-yard Butterfly with a school-record time of 48.29. For Santos Lopez, it marked the third consecutive day in which he has either tied or broken a school record at the MAC Championships, as he helped lower the school record in the 200-yard Medley Relay on Thursday (alongside Baer), while tying the school mark in the 50-yard Freestyle on Thursday.
The duo also teamed with junior Riccardo Di Domenico (Johannesburg, South Africa) and freshman Patrik Vilbergsson (Kopavogur, Iceland) at the end of the meet to smash the school record in the 400-yard Medley Relay by over four seconds. Evansville was edged out for third place by just 0.03 seconds, but still posted a time of 3:15.19 to break the previous school mark of 3:19.96.
Di Domenico also joined Santos Lopez in the scoring in the 'A Final' of the 100-yard Butterfly, as he placed sixth in the conference with a time of 48.63. Meanwhile, freshman Carlos Souto Vilas (A Coruna, Spain) placed seventh overall in the MAC in the 100-yard Breaststroke with a time of 55.30.
The MAC Championships will conclude on Saturday, with both preliminary and finals swims in the 100-yard Freestyle, 200-yard Backstroke, Breaststroke and Butterfly, the 1,650-yard Freestyle, and the 400-yard Freestyle Relay. Preliminary round swims will begin at 10:30 a.m., with the finals beginning at 6:30 p.m.
Vetter tosses third no-hitter in win over Morehead State
For the third time in her career and second instance this season, Izzy Vetter tossed a no-hitter to lead the University of Evansville softball team to an 11-0 victory over Morehead State on Saturday afternoon.
Vetter struck out 12 MSU batters in the win and allowed just one baserunner in five innings of work. She picked up her 9th win of 2022.
Evansville improved to 12-5 with the win and scored 11 runs on 11 hits. Alyssa Barela, Haley Woolf, Hannah Hood and Zoe Frossard recorded two hits apiece. Hood paced the team with three RBI with Barela and Bella Coffey adding two apiece. Marah Wood, Barela and Woolf scored two runs each.
Vetter set the early tone, recording the first six outs of the day via the strikeout. Barela and Woolf got the offense going in the second inning, hitting back-to-back singles to bring up Hood. Her single to center plated the first run of the game. Woolf scored later in the inning on a double steal. UE doubled its advantage in the third when Barela connected on a 2-RBI single. Wood and Jessica Fehr scored on the play.
Eleven batters stepped to the plate in a 7-run fourth inning that cemented the win. Zoe Frossard doubled to center to bring in Dori Brown before the final six runs came with two outs. Hood and Coffey picked up 2-run knocks to highlight the inning.
Needing just three more outs to clinch the victory, Vetter retired the Eagles in order to finish off the fifth and pick up the 11-0 shutout. On Sunday, the Aces are set to face Creighton (11:30 a.m.) and Bowling Green (4:30 p.m.).
Clark tallies 18 in regular-season finale, Aces secure 9 seed in Hoops in the Heartland
In its final home game of the 2021-22 season, the University of Evansville women's basketball team had three players finish in double-figures in an 83-56 loss to Northern Iowa on Saturday afternoon inside Meeks Family Fieldhouse.
The aforementioned three in double-figures were led by senior Myia Clark, who recorded a game-high 18 points, scoring in the second half. Clark was joined by juniors Abby Feit (12 points) and A'Niah Griffin (11) to lead Evansville. For the Panthers, Nicole Kroeger and Maya McDermott each tallied 14 points as UNI shot nearly 50% (33-67) from the field on the afternoon.
Evansville controlled UNI's advantage for much of the opening quarter, but were haunted by missed shots at the charity stripe, where the Aces went just 2-of-6 from in the opening quarter. The Aces deficit was just nine as the game appeared headed for the second quarter, but McDermott got a steal and knocked-down a half-court shot at the buzzer to lift the lead to 12 at 20-8 for UNI
A 60% (9-15) shooting effort in the opening 10 minutes from the Panthers continued into the second quarter, where UNI scored 25 points. Evansville's offense got kickstarted in the second, as the Aces scored 16 points, powered by 10 points from Griffin as UE trailed heading to the half.
Clark's performance was a highlight of the second half as the senior continued her impressive first season in white and purple. In the final contest of the regular season, seniors Anna Newman and NaTaya Partee exited with minutes left in the contest to ceremonious applause, capping-off their home careers inside Meeks Family Fieldhouse.
Evansville secures the No. 9 seed in Hoops in the Heartland, its highest seed since 2016-17, setting-up a matchup with eighth-seeded Indiana State on Thursday at 4 PM inside the TaxSlayer Center in Moline, Ill.
Regular season comes to a close on Saturday against UNI
Following an impressive showing against Drake, the University of Evansville women's basketball team closes-out the regular season on Saturday afternoon against Northern Iowa at 1 PM inside Meeks Family Fieldhouse in Evansville.
Previewing the Matchup: UNI
• Evansville and UNI are meeting for the 61st time in series history with the Panthers owning a 41-19 advantage in the all-time series.
• Northern Iowa captured the last meeting between the two sides on Feb. 8 in Cedar Falls, Iowa, 78-58.
• UNI enters Saturday's contest on a three-game win streak, including a come-from-behind win over Indiana State on Thursday.
• There is still plenty to be decided in terms of seeding for Hoops in the Heartland. A win for Evansville would lock the Aces in to the No. 9 seed, its best seed since the 2016-17 season. For the Panthers, there is no surprise with seeding as UNI is locked in to the No. 3 seed.
• The Valley indeed runs deep this season as four MVC teams sit inside the top 100 in NET rankings, including UNI who is 54, marking the fifth-straight opponent for Evansville who is inside the top 112 in NCAA NET rankings.
Feit's Big Performance
• On Thursday night against Drake, junior Abby Feit lit up the scoreboard with one of her best single-game performances as an Ace.
• Falling just one point shy of tying her career-high, Feit racked-up 28 points and added 11 rebounds for her 12th double-double of the season.
• Feit knocked-down a career-high six triples on the night, the most by an Ace since the 2018-19 season.
Hoops in the Heartland
• Tickets are still available to catch the Aces at Hoops in the Heartland from March 10-13 in Moline, Ill.
• To purchase tickets, call the UE Ticket Office at 812-488-2237.
Aces sweep opening day at Cooper Stadium
Opening day at Cooper Stadium saw the University of Evansville softball team pick up a pair of victories, defeating Oakland by a 9-1 final before hanging on to defeat Green Bay, 6-4.
Game One – UE 9, Oakland 1
Alexa Davis hit her first home run of the season to highlight a 9-1 win over Oakland on Friday morning. She had four RBI and scored twice. Jenna Nink also added a pair of scores in the 5-inning win.
Things got off to a fast start for the Aces, who scored five times in the first inning. Jessica Fehr led off with a single before a Marah Wood walk and a Nink single loaded the bases with one out. Alyssa Barela picked up the first RBI of the day with the first of four bases loaded walks in the frame. Hannah Hood picked up the other RBI in the inning when she was hit by a pitch with the bases loaded. Nink scored on a passed ball in the second to extend the lead to 6-0.
Oakland came through with a run in the fourth, but Izzy Vetter limited the damage on the way to her 8th win of the spring. The UE offense got back to work in the fifth, recording three more runs to clinch the win. All three runs came from the bat of Davis, who launched her first career homer to bring in Barela and Elyse Hickey. After allowing a single to open the fifth, Vetter recorded the final three outs to finish the win. She gave up one run on two hits and struck out seven.
Game Two – UE 6, Green Bay 4
In the nightcap, the Aces fended off a furious rally by the Phoenix to take a 6-4 win. Jessica Fehr and Alexa Davis recorded two hits apiece while earn scoring a run. Marah Wood scored twice.
Following a scoreless three innings, both teams scored a run in the fourth. The Phoenix took a 1-0 lead before the Aces got the run right back when Marah Wood singled through the left side before Jenna Nink brought her home with a double down the right field line.
UE erupted for four runs in the bottom of the fifth with Zoe Frossard scoring the first run of her career on a Davis single. Nink added a sacrifice fly for the second run before Davis came home on a wild pitch. Alyssa Barela singled up the middle to cap off the rally and make it a 5-1 game.
Green Bay chopped the lead in half when Alicia Peters hit a home run to right in the top of the sixth before Davis added another RBI in the bottom of the inning to give Evansville a 6-3 edge. The Phoenix took one last crack at it in the seventh, adding a run while loading the bases, but a pop out to first ended the threat and gave the Aces the win.
Sydney Weatherford made the start and recorded the second win of her career. She threw 5 1/3 innings. Paige McAllister tossed the final 1 2/3 on the way to the first save of her career. On Saturday, the Aces will take on Morehead State at 11:30 a.m.
Benbow Invitational up next for men's golf
In the second tournament of the spring, the University of Evansville men's golf team travels to Florida for a pair of tournaments that begin on Monday with the Benbow Invitational.
Jacksonville Beach Golf Club in Jacksonville, Fla. will be the host course for the opening event with a single round taking place on both Monday and Tuesday. Par is set for 71 with the yardage from the gold tees set for 6,750.
Joining the Purple Aces in the tournament will be Butler, Eastern Illinois, Purdue Fort Wayne, Savannah State and Western Illinois.
The men opened the season in February at the ASU Spring Classic. Led by Nicholas Gushrowski, the Aces came home in third place in the team standings. Gushrowski carded a 79 in the second and final round to tie for 5th place on the leaderboard with a 154.
Carson Parker and Michael Ikejiani tied for 16th with each completing the two rounds with a 160. Parker wrapped up his rounds with 78 and 82 strokes while Ikejiani recorded scores of 83 and 77.
Rounding out the team were Isaac Rohleder and Masatoyo Kato. Rohleder scored a 165 while Kato was one behind with a 166. Individual Henry Kiel played very well, earning a 15th-place finish with a 159. His scores checked in at 79 and 80.
UE women set to open spring season
With their sights set on defending the Missouri Valley Conference Championship, the University of Evansville women's golf team will begin its spring schedule next week at the Benbow Invitational.
Set for Monday and Tuesday, the tournament will feature 18 holes each day. Jacksonville Beach Golf Club in Jacksonville, Fla. will host the event with par set for 71 and the yardage coming in at 5,913.
It will be a full field for the ladies with 13 other teams set to play including: Butler, Eastern Illinois, Eastern Michigan, Indiana State, IUPUI, Monmouth, Purdue Fort Wayne, Radford, Savannah State, Troy, Valparaiso, Western Illinois and Western Michigan.
Evansville had a strong fall campaign, earning top five team finishes in three of its five events including a tie for fourth place at the Roseann Schwartz Invite. Mallory Russell completed the fall with the lowest stroke average on the team, averaging 77.20 strokes over 10 rounds. She shot a season-low 73 in the opening round of the Butler Fall Invitational while her top finish was a tie for sixth at the Briar Ridge Invitational.
Caitlin O'Donnell was second on the team with a 79.33 average and tied for UE's low round of the year – a 72 in round one at Butler. Her performance at the Butler Fall Invitational was one of the best in her career with her rounds finishing at 72-75-73 on her way to a 7th out of 82 participants. Just behind O'Donnell was Alyssa McMinn. She finished the fall with a 79.54 average and opened the season with a tie for 10th at the Roseann Schwartz Invite. The final round of the event saw her shoot a season-low 74.
Allison Enchelmayer finished with a 79.69 mark. She matched O'Donnell's low score of 72 in the fall. That also came in the same tournament and round as O'Donnell – at the Butler Fall Invitational. Her top finish was a tie for 14th at the Briar Ridge Invitational.
Contribute to AceNotes
To have content considered for inclusion in AceNotes, please submit a Marketing Request Form. Deadline for submission to AceNotes is 10:00 a.m. on the requested date of publication. Only articles concerning UE related/sponsored activities will be accepted. Articles submitted to AceNotes may be edited for length and clarity. Submitter contact information is at the end of each article.