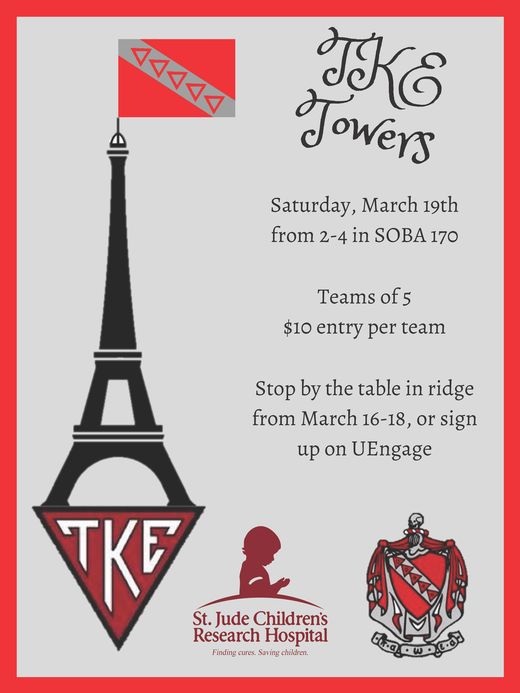 The brothers of the Zeta-Beta chapter of Tau Kappa Epsilon would like to formally invite you to our flagship Philanthropy event of the year: TKE Towers!
The event will be held on Saturday, March 19th from 2-4 in SOBA 170.
What is TKE Towers, you may ask? It's a competition in which teams of 5 compete to build towers out of marshmallows and raw spaghetti sticks. More supplies/materials can be bought with donations, and obstacles for other teams can also be bought to help your team succeed. Over the course of three rounds, teams' structures will be judged on height, sturdiness, and design.
The winning three teams will come away with a Visa gift card of varying amount depending on where they place ($40 for first, $30 for 2nd, $20 for 3rd).
There is a $10 entry fee for all teams ($2 per person since we are having teams of 5). All proceeds go towards our Philanthropy, St. Jude's Children's Research Hospital. With your help and donations, we ensure that no child has to suffer from cancer, and that no family will have to pay for their child's treatment. Every cent counts, so by taking part in TKE Towers, you are making a difference in the lives of many.
Please email our Philanthropy Chair, Sam Tarter at st238@evansville.edu with your team members and organization you represent. Additionally, if you could have each member of your team RSVP at the UEngage link below, that would help us make this event Covid safe.
Payment can be done at the tables in Ridgway the week of the event, or you can Venmo the chapter @TKE-Zeta-Beta.
We hope to see you all there!
Sincerely,
The Brothers of the Zeta Beta Chapter of Tau Kappa Epsilon.