| | |
| --- | --- |
| AceNotes Today | Friday, March 4, 2022 |
2022 Graduates - Order your Regalia and Announcements by March 20
March 20, 2022 - Last day to order regalia for in-store pickup (guaranteed to arrive by the ceremony). For students who miss the March 20 deadline, the bookstore will have a limited number of packages available for purchase in-store beginning on April 25, 2022.
April 6, 2022 - Late day to order regalia for ship-to-home (these are not guaranteed to arrive before the ceremony)
April 25 - May 6, 2022 - Pickup/payment in-store for online orders
All candidates are required to wear regulation cap and gown.
Deadline is April 5.
New Stationery Ordering Process

Marketing and Communications is launching a new stationery ordering system called Marcom on March 5 for placing orders for business cards, letterhead, envelopes, and more. The system will link from the same marketing request form or you can access the Marcom website directly. Once you land on the page, click on "Register New User" and create a username and password.
Once you are granted access, you will then login and create a profile for ordering.
The system is much like any online ordering system, but the new site will allow you to see a proof real-time and immediately approve the design and information. We are hopeful this new system will be a seamless transition and allow for expediting of orders.
If you have questions regarding or would like additional training, please contact Holly Smith at hh98@evansville.edu.


Supplemental Pay Request Forms Changing to Electronic Version
Supplemental Pay Request Forms for Payroll will now be accepted electronically. The link to the new electronic form and instructions can be found on the Accounting and Audit page on the UE portal.
The Supplemental Pay Request Form requires the same information that you are accustomed to but will submit your requests and automatically flow to the next person for approvals. Please note the requirements for approvals indicated on the form and attach any supporting documents. Approvals can be made through Microsoft Teams or an automated email by clicking "Approved" and then "Submit". The link to managing approvals in Microsoft Teams can also be found on the Accounting and Audit page on the UE portal.
Deadlines: Approved Supplemental Pay Request Forms must be received by 12:00 noon on the Friday of a non-pay week to be included in the next payroll processing. Incomplete forms or incorrect information will delay processing.
Emailed PDFs and Paper Forms will not be accepted after March 12, 2022.
Updates to Mask/Face Covering Policy
On March 2, the Indiana State Department of Health (ISDH) changed Vanderburgh County's advisory status to yellow on its statewide COVID-19 map. Current guidelines state that if all the relevant metrics remain below the targets for two weeks after this date, mask restrictions will be lifted. Due to the travel of many students for spring break, the University will extend this timeline and will lift the mask mandate beginning Monday, March 21.

With the mask mandate lifted, masks or face coverings will not be required on campus, but individuals can make a personal choice to continue wearing masks or face coverings.

Classrooms/Departments
Individual departments and administrative units may require masks in their private offices and departmental/administrative spaces.

Faculty may choose to require masks in their instructional spaces (i.e. classrooms and labs) and during research activities. Faculty who choose this option should communicate information to students before March 21 and inform Catie Taylor in the Office of Admission of visitor restrictions.

Signs may be placed in these and other areas indicating that masks or face coverings are required. Signs may be requested through the Office of Publications.

Mask Mandate Reinstitution
If any of the following conditions are met, the mask mandate will be reinstituted and will remain in place until all three metrics are below the targets for two consecutive weeks:
1. The ISDH alert status for Vanderburgh County rises to a status of orange or red
2. More than 20 active cases of COVID-19 on campus
3. A decrease in the campus vaccination rate to lower than 80%

Continued Random Testing
The Random COVID-19 Testing Program will continue for those who are unvaccinated. The Coronavirus Task Force will continue to look at metrics to determine when this program will be discontinued.
Outdoor Event Guidelines Update
Outdoor events may operate at full capacity and without attendance maximums. It is expected of event hosts and organization leaders to continue to be mindful of social distancing and other best practices at events such as hand sanitizing availability. In event settings, a 6-foot distancing guideline is still used when contact tracing is needed.
UE T-Shirt Exchange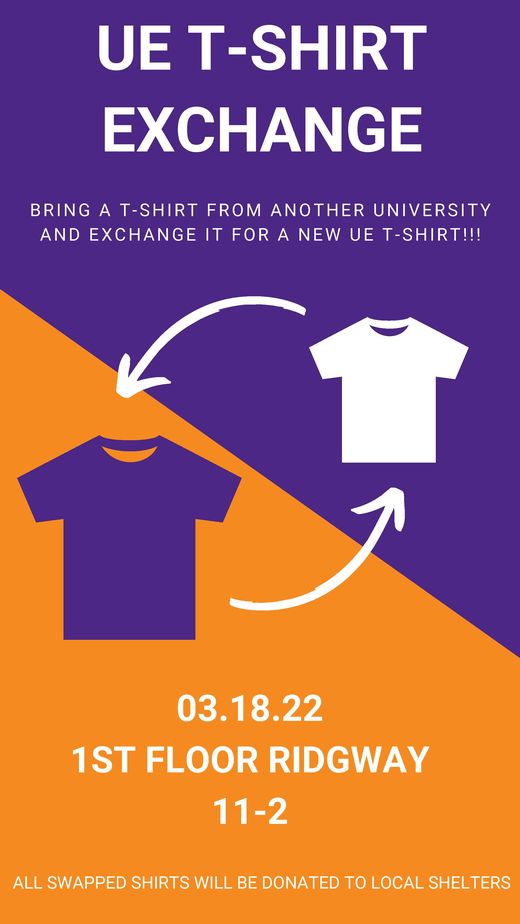 Friday, March 18th from 11 am-2 pm at Ridgway
Need more UE apparel in your closet? Bring a t-shirt from another college to the Collegiate Alumni Board table and swap it for a UE t-shirt! All collected shirts will be donated.
Sign up for UE GIVES BACK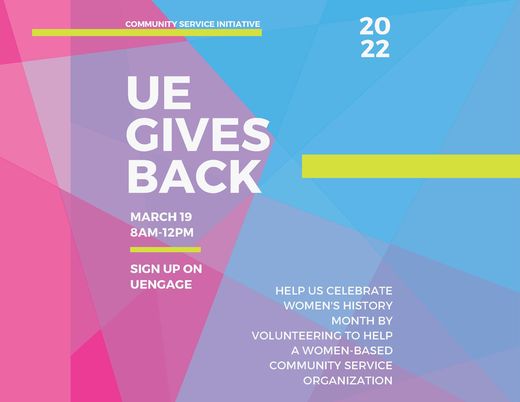 Sign-up to help serve the community on March 19, 2022 from 8am-12pm! Pick one of a few women-based community organizations to help out our community and celebrate Women's History Month! Use the following link to sign up and choose your organization: https://www.signupgenius.com/go/8050a45acaf2aaafc1-uegives1 Participants with photographic evidence of their participation will receive a free t-shirt!
ResHall Sneak Peek: Tuesday, March 8
Have you been curious about the new residence hall? Want to get a glimpse of the inside?
Join us for the ResHall Sneak Peek, a social media tour, on Tuesday, March 8! Beginning at 3:30PM, we'll lead a group of community members through the first and second floors and share all about the construction, floor plans, student life, and more. Follow along on our Instagram (@UEvansville), Facebook (facebook.com/UniversityofEvansville), and Twitter (@UEvansville) channels as we share photo and video content from our participants!
Community members/organizations touring with us will include:
Courtney Johnson, Young and Established
Ashley Riester, Evansville Regional Economic Partnership (E-REP)
Crayton Chesnut, senior UE student
Honey Moon Coffee Co.
Jodi Keen and Dallas Carter, Evansville Living
UE Employee Photo Exhibit
We are pleased to announce the UE Employee Photo Exhibit will be held April 3 – May 8 in the Krannert Gallery. All active and retired University of Evansville employees are invited to submit their work.
Images of all sizes are welcome, though 16" x 20" would be the maximum size for display cases. Photographs should be framed and suitable for hanging in the Krannert Gallery. Entries will be returned at the end of the exhibition.
On the back of each framed photograph, please provide:
• Your name, current/former department, and email address
• A title for your image
• Details such as location or meaning/memory attached to photo
• Approximate worth of image (most photographers assess value at $25)
Please bring your work to Carol McCraney in the Art Department (FA 212) between Monday March 28 and Thursday March 31.
The UE campus community (and guests) are invited to a reception in the Krannert Gallery on Thursday, April 21 at 5:00 p.m. Please plan to join us to celebrate the tradition of displaying meaningful work created by our own UE community.
If you have questions, please contact Carol at cm177@evansville.edu.
The CDEI & SAB Presents: Prom Night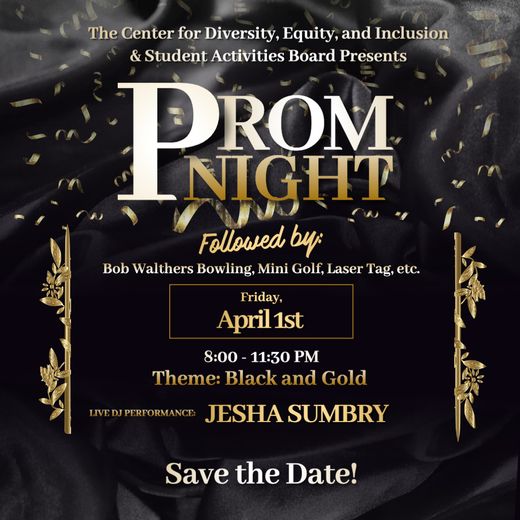 The Center for Diversity, Equity, and Inclusion & the Student Activities Board are proud to present PROM NIGHT! All students are invited to dance the night away at an event that you don't want to miss! Be on the lookout for additional details coming soon.
Until then, SAVE THE DATE!
UE Employee Wellness Step Challenge~ Earn $150 in Health Behavior Credits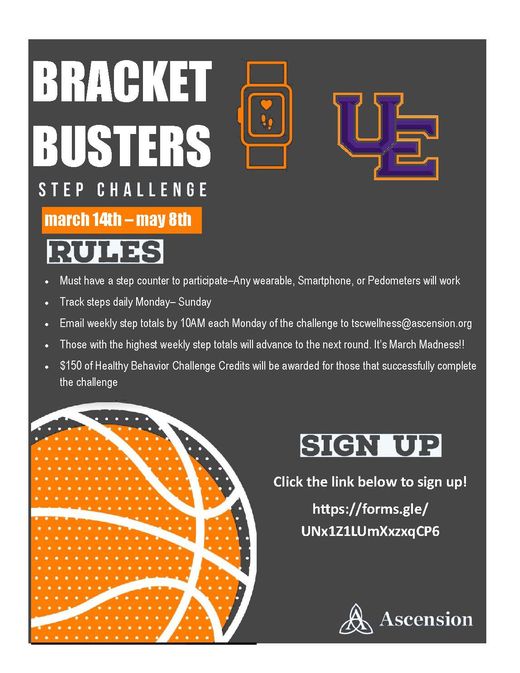 Join Bracket Busters Today!
This step challenge is modeled after the NCAA's March Madness tournament.
Track your steps each day.
Those with the highest step counts at the end of the week will advance to the next round.
March 14-May 8th
To sign up click the following link and enter your information: https://forms.gle/xZq88hveCeDsig8r7
Challenge participants will earn $150 in Healthy Behavior Credits (if not already earned in the 2021-2022 benefit plan year)
All employees are welcome to participate, only those with the HRA Health Plan can be awarded the healthy behavior credit
Krannert Gallery Exhibit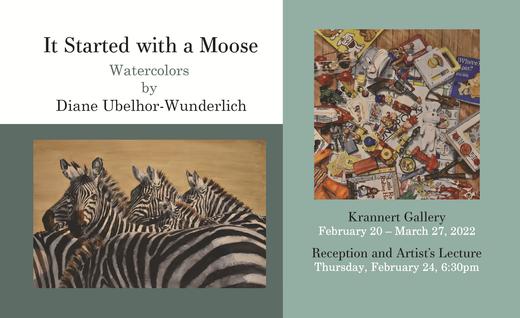 The Department of Art invites you to the Krannert Gallery for the exhibit It Started with a Moose: Watercolors by Diane Ubelhor-Wunderlich. The artist exhibition will be open February 20 - March 27, 2022.
SafeZone Training- Employee Session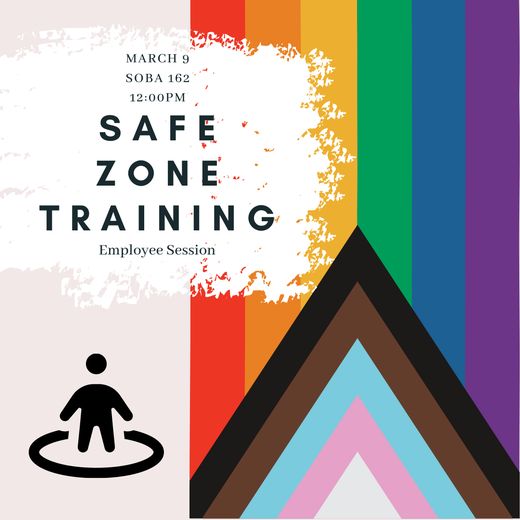 Join the Center for Diversity Equity and Inclusion in Safe Zone Training on March 9th beginning at 12pm! Safe Zone Training is a training that will provide participants with the knowledge and skills to ensure their 'zone' is a safe place for members of the LGBTQ+ community. Your 'zone' is anything from your classroom and your office to any space you are in!
Join us in ensuring every zone is a Safe Zone!
Off-campus login to library resources being updated
During spring break, the library will update and modernize the login process for off-campus access to library resources. Currently, a user's last name and a barcode number (added to the campus ID at the Information Desk) are used to provide access. This system will be modernized to use the same login as WebMail and the MyUE Campus Portal. This will make online access more convenient for all library users and will eliminate the need to barcode campus IDs to enable off-campus access.
For on-campus access to database resources, nothing will change. (Our "campus" consists of the main campus, Stone Family Center for Health Sciences, and the Harlaxton campus, all of which are currently provided access using campus network IP ranges that the library provides to database vendors.
Beginning next week (at the latest March 11), when off-campus users select a database on the
Databases by Name page (https://www.evansville.edu/libraries/databasesByName.cfm)
Or Databases by Subject page (https://www.evansville.edu/libraries/databasesBySubject.cfm)
they will be prompted to login using the new method.
Reminder: only current students, faculty, and staff may access the library's licensed resources from off-campus and remote locations due to contractual "Terms of Use."
The library wishes to express its thanks to OTS staff who assisted with the project by creating a process which will allow this enhanced form of access to function--Bob Szurgot, Robert Birkle, and Josh Norrick.
If you have questions or need help as the transition progresses, please email library@evansville.edu.
UE Reports Stellar Career Outcomes for the Class of 2021
UE is pleased to report stellar outcomes for 2021 graduates:
95 percent were employed or pursuing further education within six months of graduation
The median salary of those employed full-time was $50,000
Survey information was collected from 93 percent of graduates. This is an annual, collaborative effort between the Center for Career Development, Office of Institutional Effectiveness, Office of Alumni and Parent Relations, and academic departments.
Outcomes improved from the previous year, which saw slightly lower rates due to the pandemic's effect on the economy. Those outcomes included 91 percent of graduates employed or in graduate school within six months of graduating, as well as a median salary of $47,500.
Congratulations to our class of 2021 for these excellent outcomes, and a job well done for every department on campus that makes these outcomes possible!
For nearly a decade, the Center for Career Development has implemented an "end to end" approach to career success. From prospective students to alums, the Center assists our Aces every step of the way. Services offered include:
Assistance with resume and cover letter preparation
Mock interviews
Career advising
Free career assessments
Job fairs throughout the year, which connect students with local and regional employers
Summer 10-Day Harlaxton course on health systems for all majors
All majors are welcome to apply for a 10-day course, May 20-29, focused on a comparison of health care systems in Great Britain and the United States. Students enrolled in HSA 499 will visit historical and modern health care sites. More information is at hsanews.evansville.edu. The tentative schedule includes visits to Stamford, Lincoln, Eyam, Grantham and London. Group discussions with British citizens concerning the consumer's view of the British health care system are also scheduled. The course concludes with three nights in London. Please contact Professor Bill Stroube at bs52@evansville.edu for more information. Priority application date is March 15 and deposit due on March 29.
Harlaxton Fall 2022 deadline approaching
Spend your Fall semester at Harlaxton! Applications and deposits for Harlaxton Fall 2022 are due by Spring Break, March 7! If you have an interest in going to Harlaxton in Fall, make sure to check out the course options and apply online as soon as possible at https://harlaxton.evansville.edu/accepted/semester.cfm. Then, your $100 deposit for Harlaxton Fall 2022 can be paid to Student Accounts at their office in Olmsted Hall or by calling 812-488-2565.
If you have questions or want to learn more about Harlaxton, feel free to email harlaxton@evansville.edu or come see Kaylynn McCalister in the Harlaxton office in Ridgway 220, by student engagement!
Village Request Cards Available
Students interested in living in the Villages for 2022-23 should pick up Village request cards in the Office of Residence Life.
The Villages are reserved primarily for students with 60 plus credit hours. In order to apply to live in the Villages, each person in your group must have at least 44 credit hours on file with the University by the end of the Fall 2021 semester.
Village request cards are due back to the Office of Residence Life by 5:00 p.m., Friday, March 4.
More information on the housing assignments process can be found on the residence life section of the University website at https://www.evansville.edu/residencelife/housingapplyreturn/calendar.cfm.


Eykamp Prize: Call for Nominations
The Eykamp Prize was established by Richard and Rita Eykamp in 2015 to honor Faculty Achievement at the University of Evansville. Recipients of the prize will receive a one-time award of $10,000 in recognition of extraordinary contributions to the University of Evansville as University Citizens. Examples of such contributions include deep and successful involvement in recruiting students; expanding the number, scope, and competitiveness of grant funding for their department; bringing positive public awareness to the University through scholarship, knowledge, and understanding of their discipline.
Nominations for the Eykamp Prize may come from any member of the University of Evansville Community. Nominees should be tenured or tenure-track faculty members at the University of Evansville who have not received the award in the previous five years. Nominations can be submitted in writing or via e-mail to Michael Austin, Executive Vice President for Academic Affairs/Provost, at ma352@evansville.edu by March 11, 2022. Nominations should include the name of the faculty member and a brief statement of the reasons that he or she is being nominated.
Recipients of the Eykamp Prize will be selected by an Award Committee, appointed by the EVPAA/Provost that includes members of the faculty, staff, administrators, and a member of the Board of Trustees. Awards will be announced and presented at the May Commencement Ceremony.
Recipients in the previous five years: 2017 – Dr. Lora Becker; 2018 – Dr. David Dwyer; 2019 – Dr. Kristy Miller; 2020 – Dr. Jerrilee LaMar; 2021 – Dr. Joyce Stamm
UE team won the second position in the Investment Research Competition
The UE Purple Aces Investment research team won second prize in the 2021/2022 regional competition organized by CFA Louisville Chapter on February 24. The subject company was Kroger. Quantitative analyses based on valuation models showed the stock is undervalued (Buy). However, putting qualitative and quantitative analyses together the team offered the final recommendation of "Hold." The team consisted of the following members: Aly Cerne, Alexis Nunn, Rhea Rajam, Sarah Vreeland, and Logan Replogle. Professor Khan served as mentor.
"The CFA Institute Research Challenge is an annual global competition that provides university students with hands-on mentoring and intensive training in financial analysis and professional ethics. Each student will be tested on their analytical, valuation, report writing, and presentation skills. They gain real-world experience as they assume the role of a research analyst."
Robert Coulter announced as 2022 Recipient of the Ernie Jones Memorial Civil Engineering Scholarship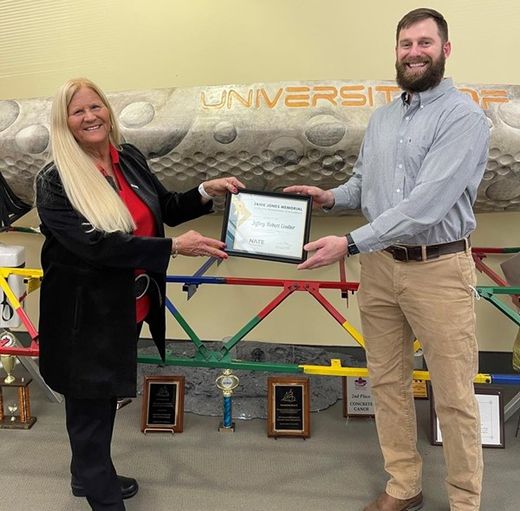 University of Evansville Civil Engineering Scholarship is Funded Annually by NATE; Honors Jones' Legacy as a Structural Engineer, Industry Icon
(Las Vegas, Nevada) - NATE: The Communications Infrastructure Contractors Association today announced that Robert Coulter, a junior Civil Engineering major from Henderson Kentucky, has been named as the 2022 recipient of the Ernie Jones Memorial Civil Engineering Scholarship at the University of Evansville in Evansville, Indiana. The official announcement was made at the NATE Awards Luncheon on Wednesday, February 23 during the annual NATE UNITE 2022 Conference in Las Vegas, Nevada.
Coulter is a veteran of the United States Coast Guard where he was stationed in San Juan, Puerto Rico and Tybee Island, Georgia. After 4 years of service, he decided to pursue his Civil Engineering degree at the University of Evansville. While attending college, Robert has had internships with E&B Paving and Keystone Construction. After graduation he has aspirations to work in the construction industry. In his free time, Coulter likes to play golf, basketball, and softball. Robert is also engaged to his fiancé Michaela.
"Robert is a dedicated civil engineering student who has plenty of construction experience through his internships and other jobs," stated Dr. Suresh Immanuel, Associate Dean, School of Engineering and Computer Science at the University of Evansville. "Robert is a well-deserved recipient for this scholarship whose experience and work ethic we believe best epitomizes the awards namesake, Ernie Jones."
Ernie Jones was a structural engineer who worked in the broadcast tower industry for 30 years. During his career, Mr. Jones served as a Professional Engineer and President of Consolidated Engineering, Inc. and a Vice-President of Structural Engineering at Electronics Research, Inc. Ernie was also a participating member of the TR-14.7 Committee of the Telecommunications Industry Association and Electronics Industry Association since 1986 where he assisted with writing and approving the ANSI-TIA/EIA 222 Standard which is the American National Standard for Steel Antenna Towers and Antenna Supporting Structures.
The Ernie Jones Memorial Civil Engineering Scholarship awards a $2,500 NATE-funded scholarship annually to a junior or senior level civil engineering student at the University of Evansville's College of Engineering and Computer Science.
For more information on NATE, visit www.natehome.com.
UE falls to Valpo in Arch Madness opener
Fifth-year players Noah Frederking and Evan Kuhlman recorded 13 points apiece in Thursday's Arch Madness game that saw the University of Evansville men's basketball team fall to Valparaiso by a final of 81-59 inside the Enterprise Center.
Freshman Blake Sisley matched the team-high with 13 tallies while Shamar Givance finished the night with 10 for the Purple Aces. Frederking led the team with six rebounds while Givance dished out a game-high six assists. Valparaiso was led by 18-point efforts from Kobe King and Sheldon Edwards.
"Valpo moved the ball very well in the first half and made us pay for not getting to the shooters," UE head coach Todd Lickliter said after the contest. "To our guys credit, we came out in the second half and cut the deficit to four. It was one of those games that we did not have enough to make the run."
After Valparaiso jumped out to an 8-2 lead, Noah Frederking knocked down a triple to make it a 3-point game. The Beacons knocked down their first four outside attempts to take a 16-7 advantage at the first media time out of the night. At the 9:05 mark, the Valpo lead reached its highest of the half at 28-13 on a dunk by Ben Krikke.
Evansville responded with an 11-5 stretch that cut the gap down to nine points with Shamar Givance and Blaise Beauchamp supplying 3-pointers. Over the last six minutes of the period, the Beacons added a pair to the lead and took a 43-32 advantage into the break.
Blake Sisley opened the second half with a hook shot to mark the start of a 7-0 UE run, which chopped the VU lead to just four points. Evan Kuhlman knocked down a 3-pointer before Givance forced a steal and turned it into another field goal to make it a 43-39 game just over two minutes into the final half.
Six in a row from Valparaiso pushed their lead back to 10 and they would stretch it out to 13 points when a Thomas Kithier layup made it a 65-52 game with 7:15 remaining. Four minutes later, Valpo's 10th triple of the game gave them their largest lead at 16 points (73-57) before finishing the evening with the 81-59 victory.
Valparaiso shot 58.3% on the night with the Aces finishing at 44.2%. The Beacons completed the game with a 31-20 edge on the boards.
Jawaun Newton made his return to the floor after missing the last eight games and played seven minutes. He hit a free throw and grabbed a rebound.
UE's Menkhaus, Santos Lopez Tie 50 Free School Record At MAC Championships
University of Evansville senior Oskar Menkhaus (Davidson, N.C./William A. Hough) and freshman Daniel Santos Lopez (Madrid, Spain) each tied the school record in the 50-yard Freestyle event on Thursday, with Santos Lopez reaching the mark twice, at the 2022 Mid-American Conference Championships in Carbondale, Illinois.
Menkhaus tied Dave Nel's 2001 school record in the 50 Free with time of 20.51 in the preliminary round on Thursday afternoon. Santos Lopez tied the mark himself in a swim-off for place at the end of the prelim swims. Santos Lopez then came back to tie the 50 Free mark again as the lead leg of the 200-yard Freestyle Relay. Nel's record is the third-oldest men's swimming record currently at UE.
"Today was a good day for the team," said UE head swimming coach Stuart Wilson. "Obviously, having a three-way tie for one of the oldest school records is pretty special. But, Jackson (Caudill) started off the night with a great 500 Free by getting his best time, and the IM'ers did a good job as well.
"All in all, it was a very good day to build on."
Caudill opened Thursday night's finals with a 500-yard Freestyle time of 4:32.77, the third-fastest time in school history, to place third in the "B Finals." Freshman Patrik Vilbergsson (Kopavogur, Iceland) also placed eighth in the "A Finals" in the 500-yard Freestyle, after ranking fourth-fastest in school history with a time of 4:33.07 in the prelims.
Sophomore Alon Baer (Gesher Haziv, Israel), freshman Carlos Souto Vilas (A Coruna, Spain), and senior Zeke Metz (Topeka, Kan./Seaman) then posted three of the top five times in UE history in the 200-yard IM, as they finished with marks of 1:52.07, 1:52.08, and 1:52.10, respectively, in the "B Finals."
The MAC Championships will continue Friday morning at 10:30 a.m. with preliminary swims in the 100-yard Butterfly, 100-yard Breaststroke, 100-yard Backstroke, 200-yard Freestyle, and the 400 IM. The finals in those events will be contested at 6:30 p.m. on Friday, along with the 400-yard Medley Relay.
Impressive effort for Aces ends in overtime loss to Drake
Continuing its string of close contests, the University of Evansville women's basketball team took Drake to overtime before falling, 80-71, on Thursday evening inside Meeks Family Fieldhouse in Evansville.
There's on fire and then there's junior Abby Feit on Thursday night. Feit recorded a game-high 28 points, falling just one point shy of tying her career high, hitting a career-best six three-pointers. Feit also finished with 11 boards for her 12th double-double of the season. Junior Je'Naiya Davis joined Feit in double-figures, tallying 19 points to go along with seven boards. For the Bulldogs, Grace Berg eclipsed the 20-point mark and Megan Meyer also reached double-figures with 17 points.
Perserverence is a trait the Aces have built on all season and it paid off against the Bulldogs. Evansville trailed by as many as 12 late in the first quarter before ultimately heading into the second period down 20-9. It was still a nine-point deficit at the half, but as Evansville has done on multiple occasions this season, the Aces turned-it around in the second half.
A quick 8-2 run out of the break in just over two minutes got Evansville within a possession of the Bulldogs in the third, but it took further work to cut even further into Drake's advantage. Pushing to get even closer, Evansville utilized an 8-0 run minutes later to not only narrow the Bulldogs' lead, but take a one-point lead at 48-47 with 4:03 left in the quarter. Both sides tussled back and forth over the final four minutes of the period with a last second layup from Davis grabbing a one-point lead for the Aces heading into the fourth.
Drake opened the fourth with a 6-0 run, grabbing a five-point lead, but Evansville answered with a 5-0 run of its own to tie the game at 58. There were four lead changes and four ties in the quarter with a split pair of free throws from Celine Dupont securing the final tie of the period with 1:30 remaining. With plenty of opportunities for either side over the final 90 seconds, neither side could find the basket as the contest ticked into overtime.
After going just 5-20 from three during the 40 minutes of regulation, the shots began to fall from beyond the arc in overtime. Drake hit three triples in the extra five minutes and Evansville's offense could not hit at the rate it did in regulation as the Bulldogs earned the 80-71 win.
Evansville wraps-up the regular season on Saturday, hosting Northern Iowa inside Meeks Family Fieldhouse for a 1 PM tip.
Softball opens home slate with weekend tournament
Home action begins this weekend for the University of Evansville softball team with the UE Softball Invitational set to run from Friday through Sunday.
UE Weekend Schedule
- Evansville's 5-game schedule this weekend will be:
3/4 - vs. Oakland - 11:30 a.m.
3/4 - vs. Green Bay - 4:30 p.m.
3/5 - vs. Morehead State - 11:30 a.m.
3/6 - vs. Creighton - 11:30 a.m.
3/6 - vs. Bowling Green - 4:30 p.m.
Last Time Out
- Clutch hitting and efficient pitching saw the Purple Aces finish last weekend's Hub City Challenge with a 3-1 record
- Friday's opener saw Jenna Nink hit a game-winning single in a 5-4 win over Alcorn State before the Aces erupted for 11 runs on Saturday to defeat the Braves by an 11-0 final in five innings...Marah Wood and Nink recorded three RBI apiece
- After dropping a 7-2 game to Southern Miss on Saturday, the Aces completed the weekend with a 3-1 win on Sunday with Izzy Vetter throwing a gem and Bella Coffey hitting a 2-run double in the seventh, which proved to be the game-winner
Three more wins
- Last weekend's Hub City Challenge saw Izzy Vetter add three more wins to her tally while allowing just two earned runs in 13.2 innings and was recognized with her second MVC Pitcher of the Week award this season
- Vetter is the MVC leader in opposing batting average (.175), innings pitched (45.2), strikeouts (62), strikeouts looking (13) and wins (7)...her 1.84 ERA is 4th in the league
- Her 62 K's in 2022 is 22nd in the nation
Heating Up
- After starting the season with two hits in 17 at-bats, Jessica Fehr has been on a roll, recording 13 hits in her last 26 AB's
- Fehr paces the MVC with 10 walks in 2022 while ranking in a tie for third with 10 runs scored, tied for fourth with 15 hits and fifth with an on-base percentage of 0.481
- She led the team with a .545 average at the Hub City Challenge and reached base 64.3% of the time...highlighting the weekend was a 3-3 game in the opener against Alcorn State where she was 3-3 with two runs, two RBI and a walk
Clutch Performances
- After picking up two game-winning hits in the opening weekend, Alexa Davis scored the game-winning run on Feb. 19 versus MTSU
- Hitting a 2-out triple in the 9th, Davis scored on a hit by Jenna Nink
- Davis batted .750 in the opening weekend of play and currently has a team-high .382 average, which is 9th in the MVC
- With a total of 10 runs scored in 2022, Davis is 5th in the conference
Contribute to AceNotes
To have content considered for inclusion in AceNotes, please submit a Marketing Request Form. Deadline for submission to AceNotes is 10:00 a.m. on the requested date of publication. Only articles concerning UE related/sponsored activities will be accepted. Articles submitted to AceNotes may be edited for length and clarity. Submitter contact information is at the end of each article.