| | |
| --- | --- |
| AceNotes Today | Wednesday, March 2, 2022 |
Supplemental Pay Request Forms Changing to Electronic Version
Supplemental Pay Request Forms for Payroll will now be accepted electronically. The link to the new electronic form and instructions can be found on the Accounting and Audit page on the UE portal.
The Supplemental Pay Request Form requires the same information that you are accustomed to but will submit your requests and automatically flow to the next person for approvals. Please note the requirements for approvals indicated on the form and attach any supporting documents. Approvals can be made through Microsoft Teams or an automated email by clicking "Approved" and then "Submit". The link to managing approvals in Microsoft Teams can also be found on the Accounting and Audit page on the UE portal.
Deadlines: Approved Supplemental Pay Request Forms must be received by 12:00 noon on the Friday of a non-pay week to be included in the next payroll processing. Incomplete forms or incorrect information will delay processing.
Emailed PDFs and Paper Forms will not be accepted after March 12, 2022.
Outdoor Event Guidelines Update
Outdoor events may operate at full capacity and without attendance maximums. It is expected of event hosts and organization leaders to continue to be mindful of social distancing and other best practices at events such as hand sanitizing availability. In event settings, a 6-foot distancing guideline is still used when contact tracing is needed.
Get your Booster!
You won't need to quarantine if:
You have no symptoms AND
You have been fully vaccinated with:
• the Pfizer or Moderna less than 5 months ago
• or the J&J/Janssen less than 2 months ago
– or –
• You have received your booster.
Learn more and find access to booster locations at www.evansville.edu/YourShot
UE T-Shirt Exchange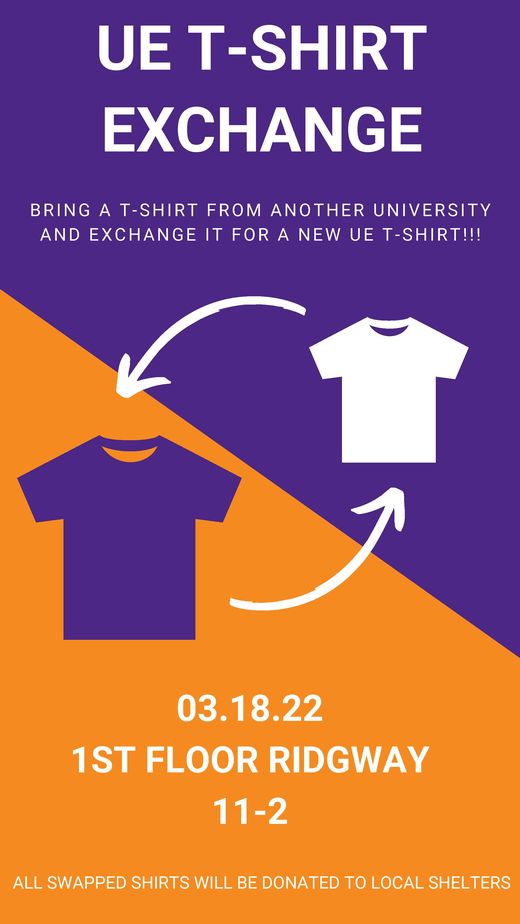 Friday, March 18th from 11 am-2 pm at Ridgway
Need more UE apparel in your closet? Bring a t-shirt from another college to the Collegiate Alumni Board table and swap it for a UE t-shirt! All collected shirts will be donated.
Sign up for UE GIVES BACK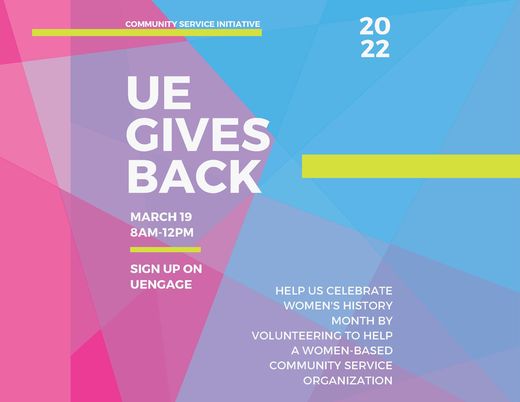 Sign-up to help serve the community on March 19, 2022 from 8am-12pm! Pick one of a few women-based community organizations to help out our community and celebrate Women's History Month! Use the following link to sign up and choose your organization: https://www.signupgenius.com/go/8050a45acaf2aaafc1-uegives1 Participants with photographic evidence of their participation will receive a free t-shirt!
ResHall Sneak Peek: Tuesday, March 8
Have you been curious about the new residence hall? Want to get a glimpse of the inside?
Join us for the ResHall Sneak Peek, a social media tour, on Tuesday, March 8! Beginning at 3:30PM, we'll lead a group of community members through the first and second floors and share all about the construction, floor plans, student life, and more. Follow along on our Instagram (@UEvansville), Facebook (facebook.com/UniversityofEvansville), and Twitter (@UEvansville) channels as we share photo and video content from our participants!
Community members/organizations touring with us will include:
Courtney Johnson, Young and Established
Ashley Riester, Evansville Regional Economic Partnership (E-REP)
Crayton Chesnut, senior UE student
Honey Moon Coffee Co.
Jodi Keen and Dallas Carter, Evansville Living
UE Employee Photo Exhibit
We are pleased to announce the UE Employee Photo Exhibit will be held April 3 – May 8 in the Krannert Gallery. All active and retired University of Evansville employees are invited to submit their work.
Images of all sizes are welcome, though 16" x 20" would be the maximum size for display cases. Photographs should be framed and suitable for hanging in the Krannert Gallery. Entries will be returned at the end of the exhibition.
On the back of each framed photograph, please provide:
• Your name, current/former department, and email address
• A title for your image
• Details such as location or meaning/memory attached to photo
• Approximate worth of image (most photographers assess value at $25)
Please bring your work to Carol McCraney in the Art Department (FA 212) between Monday March 28 and Thursday March 31.
The UE campus community (and guests) are invited to a reception in the Krannert Gallery on Thursday, April 21 at 5:00 p.m. Please plan to join us to celebrate the tradition of displaying meaningful work created by our own UE community.
If you have questions, please contact Carol at cm177@evansville.edu.
ECTE Lunch and Learn - 3/3
Join us on March 3rd in the Philips Alcove in Ridgeway Center from 12:15-1:00 pm for a great Lunch and Learn Discussion with Dr. Thomas Josenhans regarding Creative Uses of Audio Technology: Heartbeat Songs.
The presentation will explore the use of audio technology to support learning and practice in music therapy settings, focusing on the use of Digital Stethoscopes, the audio editing software, and heartbeat songs.
Pizza and salad will be provided and a short discussion on MIT scheduling will follow.
Hope to see everyone there!
The CDEI & SAB Presents: Prom Night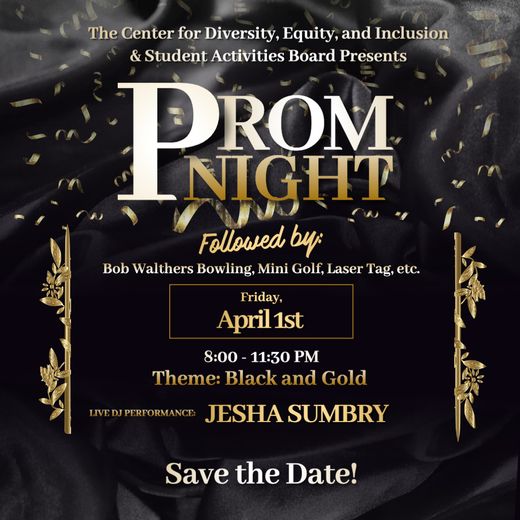 The Center for Diversity, Equity, and Inclusion & the Student Activities Board are proud to present PROM NIGHT! All students are invited to dance the night away at an event that you don't want to miss! Be on the lookout for additional details coming soon.
Until then, SAVE THE DATE!
Ash Wednesday Celebration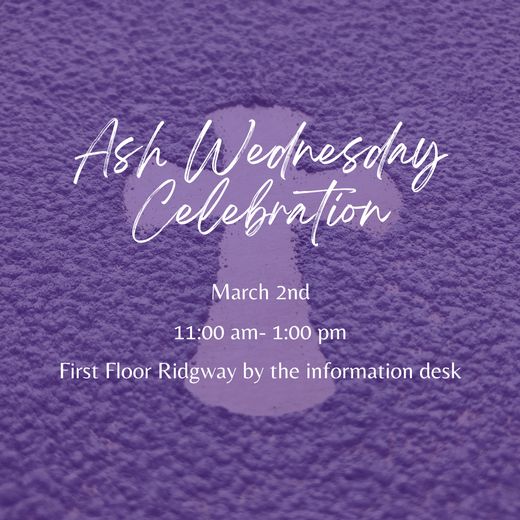 On Ash Wednesday, March 2nd, the Center for Diversity, Equity, and Inclusion will be administering ashes and offering prayers to students who wish to celebrate the beginning of Lenten season. We will also have prayers and devotions for students to take with them. Please join us anytime between 11:00 am and 1:00 pm by the information desk on the first floor of Ridgway to participate in the celebration!
CDEI Presents... I-House: Volunteer Tourism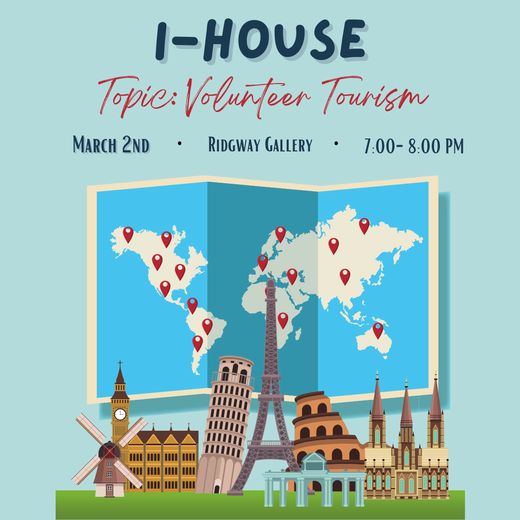 The Center for Diversity, Equity, and Inclusion is hosting its fifth I-House of the semester on Wednesday, March 2nd. Join us from 7:00-8:00 pm in the Ridgway Gallery as we discuss volunteer tourism and all the possibilities that come with it!
We hope to see you there!
Spring Break plans
It's not too late to join the Venturing Crew for Spring Break.
We will be backpacking Red River Gorge, staying in a luxury cabin and climbing Via Farratta.
All of this only costs you as a participant $25. The Crew has gear you can borrow and we will leave Saturday morning and be back to campus Tuesday evening so you can study or plan another trip for the rest of spring break.
Due to scheduling conflicts, we're unable to host tables in Ridgway but you can email us at venturing@evansville.edu and we will work out the details to get you sign up.
The deadline for sign-ups will be Wednesday March 2nd via Email to venturing@evansville.edu
Hope to see you on the trails!
UE Employee Wellness Step Challenge~ Earn $150 in Health Behavior Credits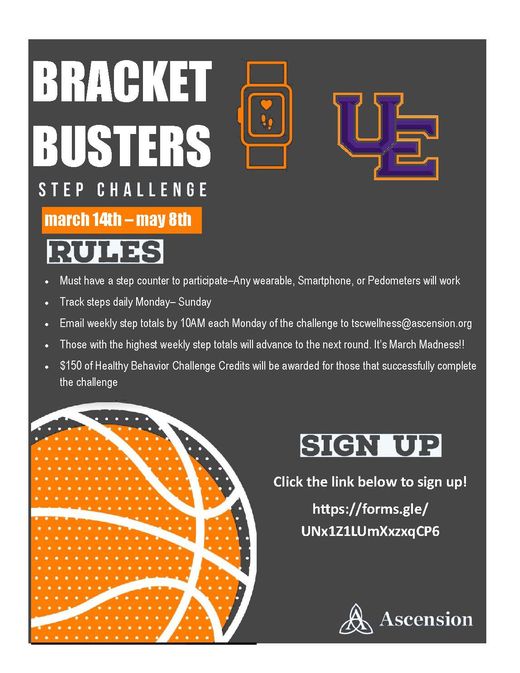 Join Bracket Busters Today!
This step challenge is modeled after the NCAA's March Madness tournament.
Track your steps each day.
Those with the highest step counts at the end of the week will advance to the next round.
March 14-May 8th
To sign up click the following link and enter your information: https://forms.gle/xZq88hveCeDsig8r7
Challenge participants will earn $150 in Healthy Behavior Credits (if not already earned in the 2021-2022 benefit plan year)
All employees are welcome to participate, only those with the HRA Health Plan can be awarded the healthy behavior credit
Intro to Python, and Intro to SQL Workshops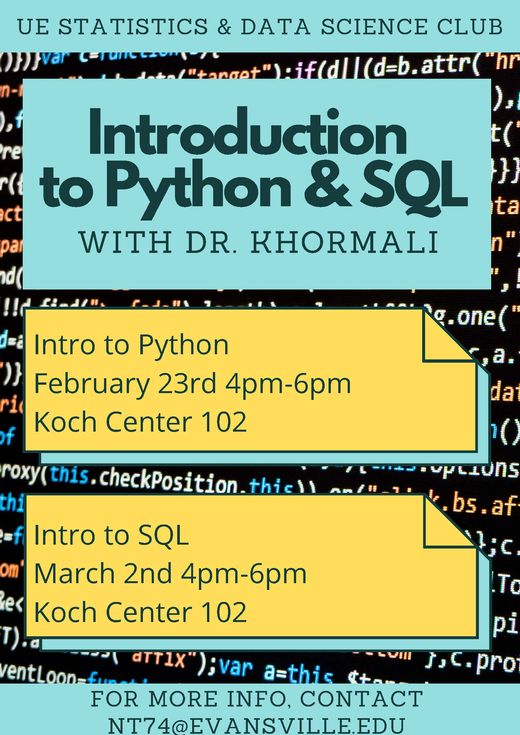 The UE Statistics and Data Science Club have arranged the following workshops:
Intro to Python
Presented by Dr. Omid Khormali
KC 102
February 23
4:00 p.m. to 6:00 p.m.
Intro to SQL
Presented by Dr. Omid Khormali
KC 102
March 2
4:00 p.m. to 6:00 p.m.
For more information, please contact nt74@evansville.edu.
Krannert Gallery Exhibit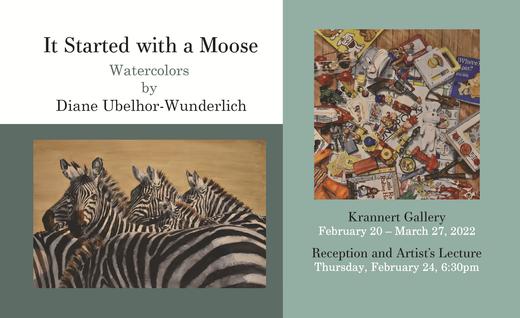 The Department of Art invites you to the Krannert Gallery for the exhibit It Started with a Moose: Watercolors by Diane Ubelhor-Wunderlich. The artist exhibition will be open February 20 - March 27, 2022.
SafeZone Training- Employee Session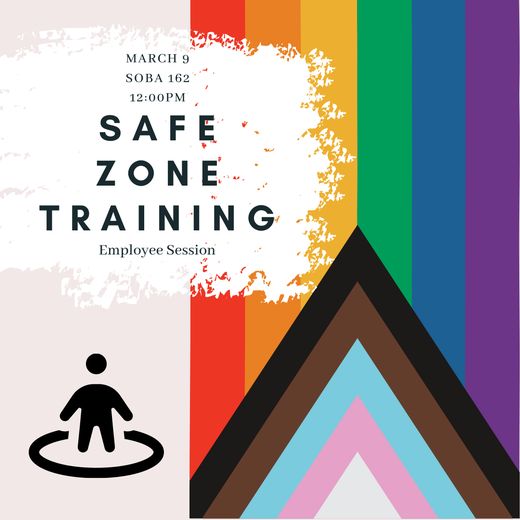 Join the Center for Diversity Equity and Inclusion in Safe Zone Training on March 9th beginning at 12pm! Safe Zone Training is a training that will provide participants with the knowledge and skills to ensure their 'zone' is a safe place for members of the LGBTQ+ community. Your 'zone' is anything from your classroom and your office to any space you are in!
Join us in ensuring every zone is a Safe Zone!
Summer 10-Day Harlaxton course on health systems for all majors
All majors are welcome to apply for a 10-day course, May 20-29, focused on a comparison of health care systems in Great Britain and the United States. Students enrolled in HSA 499 will visit historical and modern health care sites. More information is at hsanews.evansville.edu. The tentative schedule includes visits to Stamford, Lincoln, Eyam, Grantham and London. Group discussions with British citizens concerning the consumer's view of the British health care system are also scheduled. The course concludes with three nights in London. Please contact Professor Bill Stroube at bs52@evansville.edu for more information. Priority application date is March 15 and deposit due on March 29.
Welcome to the University of Evansville - Mike Averett
THE OFFICE OF FACILITIES MANAGEMENT AND PLANNING WELCOMES MIKE AVERETT, AS OUR NEW EXECUTIVE DIRECTOR OF FACILITIES MANAGEMENT AND PLANNING. Mike began his duties on February 7th, and comes to the University with over 15 years experience in higher education facilities service, proven leadership and training abilities.
Harlaxton Fall 2022 deadline approaching
Spend your Fall semester at Harlaxton! Applications and deposits for Harlaxton Fall 2022 are due by Spring Break, March 7! If you have an interest in going to Harlaxton in Fall, make sure to check out the course options and apply online as soon as possible at https://harlaxton.evansville.edu/accepted/semester.cfm. Then, your $100 deposit for Harlaxton Fall 2022 can be paid to Student Accounts at their office in Olmsted Hall or by calling 812-488-2565.
If you have questions or want to learn more about Harlaxton, feel free to email harlaxton@evansville.edu or come see Kaylynn McCalister in the Harlaxton office in Ridgway 220, by student engagement!
Village Request Cards Available
Students interested in living in the Villages for 2022-23 should pick up Village request cards in the Office of Residence Life.
The Villages are reserved primarily for students with 60 plus credit hours. In order to apply to live in the Villages, each person in your group must have at least 44 credit hours on file with the University by the end of the Fall 2021 semester.
Village request cards are due back to the Office of Residence Life by 5:00 p.m., Friday, March 4.
More information on the housing assignments process can be found on the residence life section of the University website at https://www.evansville.edu/residencelife/housingapplyreturn/calendar.cfm.


Eykamp Prize: Call for Nominations
The Eykamp Prize was established by Richard and Rita Eykamp in 2015 to honor Faculty Achievement at the University of Evansville. Recipients of the prize will receive a one-time award of $10,000 in recognition of extraordinary contributions to the University of Evansville as University Citizens. Examples of such contributions include deep and successful involvement in recruiting students; expanding the number, scope, and competitiveness of grant funding for their department; bringing positive public awareness to the University through scholarship, knowledge, and understanding of their discipline.
Nominations for the Eykamp Prize may come from any member of the University of Evansville Community. Nominees should be tenured or tenure-track faculty members at the University of Evansville who have not received the award in the previous five years. Nominations can be submitted in writing or via e-mail to Michael Austin, Executive Vice President for Academic Affairs/Provost, at ma352@evansville.edu by March 11, 2022. Nominations should include the name of the faculty member and a brief statement of the reasons that he or she is being nominated.
Recipients of the Eykamp Prize will be selected by an Award Committee, appointed by the EVPAA/Provost that includes members of the faculty, staff, administrators, and a member of the Board of Trustees. Awards will be announced and presented at the May Commencement Ceremony.
Recipients in the previous five years: 2017 – Dr. Lora Becker; 2018 – Dr. David Dwyer; 2019 – Dr. Kristy Miller; 2020 – Dr. Jerrilee LaMar; 2021 – Dr. Joyce Stamm
UE team won the second position in the Investment Research Competition
The UE Purple Aces Investment research team won second prize in the 2021/2022 regional competition organized by CFA Louisville Chapter on February 24. The subject company was Kroger. Quantitative analyses based on valuation models showed the stock is undervalued (Buy). However, putting qualitative and quantitative analyses together the team offered the final recommendation of "Hold." The team consisted of the following members: Aly Cerne, Alexis Nunn, Rhea Rajam, Sarah Vreeland, and Logan Replogle. Professor Khan served as mentor.
"The CFA Institute Research Challenge is an annual global competition that provides university students with hands-on mentoring and intensive training in financial analysis and professional ethics. Each student will be tested on their analytical, valuation, report writing, and presentation skills. They gain real-world experience as they assume the role of a research analyst."
Robert Coulter announced as 2022 Recipient of the Ernie Jones Memorial Civil Engineering Scholarship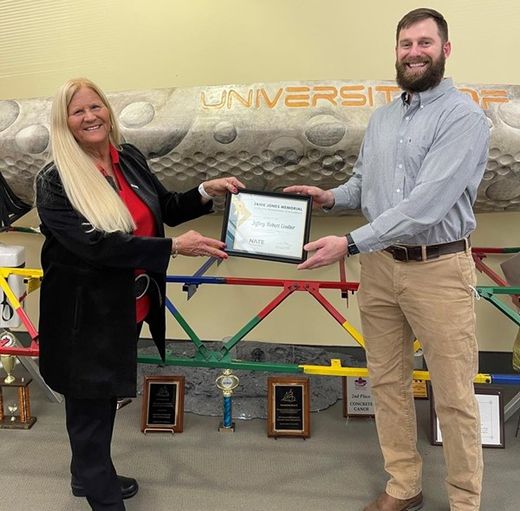 University of Evansville Civil Engineering Scholarship is Funded Annually by NATE; Honors Jones' Legacy as a Structural Engineer, Industry Icon
(Las Vegas, Nevada) - NATE: The Communications Infrastructure Contractors Association today announced that Robert Coulter, a junior Civil Engineering major from Henderson Kentucky, has been named as the 2022 recipient of the Ernie Jones Memorial Civil Engineering Scholarship at the University of Evansville in Evansville, Indiana. The official announcement was made at the NATE Awards Luncheon on Wednesday, February 23 during the annual NATE UNITE 2022 Conference in Las Vegas, Nevada.
Coulter is a veteran of the United States Coast Guard where he was stationed in San Juan, Puerto Rico and Tybee Island, Georgia. After 4 years of service, he decided to pursue his Civil Engineering degree at the University of Evansville. While attending college, Robert has had internships with E&B Paving and Keystone Construction. After graduation he has aspirations to work in the construction industry. In his free time, Coulter likes to play golf, basketball, and softball. Robert is also engaged to his fiancé Michaela.
"Robert is a dedicated civil engineering student who has plenty of construction experience through his internships and other jobs," stated Dr. Suresh Immanuel, Associate Dean, School of Engineering and Computer Science at the University of Evansville. "Robert is a well-deserved recipient for this scholarship whose experience and work ethic we believe best epitomizes the awards namesake, Ernie Jones."
Ernie Jones was a structural engineer who worked in the broadcast tower industry for 30 years. During his career, Mr. Jones served as a Professional Engineer and President of Consolidated Engineering, Inc. and a Vice-President of Structural Engineering at Electronics Research, Inc. Ernie was also a participating member of the TR-14.7 Committee of the Telecommunications Industry Association and Electronics Industry Association since 1986 where he assisted with writing and approving the ANSI-TIA/EIA 222 Standard which is the American National Standard for Steel Antenna Towers and Antenna Supporting Structures.
The Ernie Jones Memorial Civil Engineering Scholarship awards a $2,500 NATE-funded scholarship annually to a junior or senior level civil engineering student at the University of Evansville's College of Engineering and Computer Science.
For more information on NATE, visit www.natehome.com.
Congratulations to our mechanical engineering alumnus, Mr. Costas Theofylaktos
Congratulations to our mechanical engineering alumnus, Mr. Costas Theofylaktos (BS, 1985, MS 1987) on the publication of the present edition of the book titled, SE Europe Energy Outlook 2021/22. He coauthored this book with other distinguished experts in this field. Mr. Theofylaktos received his Bachelor of Science degree in mechanical engineering from the University of Evansville in 1985 and his Master of Science in mechanical engineering 1987. He has more than 30 years' experience in the energy sector. Costas's special interests include energy efficiency, cogeneration and RES. He was the chairman of Hellenic Association for CHP and also member of the executive committee of COGEN Europe. He has served as chairman and CEO of the Athens based Centre of Renewable Energy Sources and Saving (CRES). He has worked globally as a senior consultant for several organizations including the EU, World Bank, EBRD, the Energy Community. He is a Partner and Member of the Board of Governors of IENE where he is Secretary General of the Institute and also chairs the Energy Efficiency Committee. We are proud of his accomplishments. Congratulations, Mr. Costas Theofylaktos!
Dr. Tamara Wandel Publishes Short Story
Dr. Tamara Wandel, Professor of Communication, published a short story titled "The Vineyard's Voice" for Ability Magazine's writers café column. Ability Magazine is an award-winning publication consistently ranked in the Top 50 Magazines in the World. Dr. Wandel's story was inspired by a Deaf individual, now UE alumnus, she had the opportunity to teach in a media writing class years ago.
Izzy Vetter earns second MVC Pitcher of the Week award
Racking up three more wins in the Hub City Challenge, University of Evansville senior Izzy Vetter was named the Missouri Valley Conference Pitcher of the Week for the second time this season.
Vetter enjoyed another strong week in the circle for UE, earning three victories while accumulating 19 strikeouts against five walks in 13.2 innings of work. She gave up just seven hits and allowed two earned runs, finishing with a 1.02 ERA. The opposition batted just .152 against her.
She opened the week tossing the final two innings against Alcorn State on Friday. She fanned five batters on the way to a walk-off win. She threw 4.2 innings in a brilliant effort on Saturday versus Alcorn. She struck out 10 batters while giving up one hit. Vetter did not allow a walk as she won her second game of the weekend. Sunday's rematch against Southern Miss saw Vetter at her best once again, throwing a complete game while allowing just one run on four hits. She allowed just one hit through the opening five frames.
Through the opening weeks of the season, Vetter is the MVC leader in opposing batting average (.175), innings pitched (45.2), strikeouts (62), strikeouts looking (13) and wins (7). Her 1.84 ERA is 4th in the league while her 62 strikeouts is 22nd nationally.
On Friday, the Aces will open the home schedule with the UE Softball Invitational. A total of 14 games will be played between Friday and Sunday.
MAC Championships Up Next For UE Men's Swimming
After a month off from competition, the University of Evansville men's swimming team will return to the pool this week beginning on Wednesday night, as the Purple Aces will take part in the 2022 Mid-American Conference Swimming & Diving Championships in Carbondale, Illinois.
UE last competed on January 28, when the Purple Aces traveled to Bloomington, Indiana to battle the fifth-ranked Hoosiers of Indiana University. Now, after over a month of training, UE will compete in its biggest meet of the year.
"The guys are ready for this week's challenge," said UE head swimming coach Stuart Wilson. "They have had a good month of training, and I really like where we are at right now heading into the MAC Championships.
"Now, it is just about focusing on the task at hand, and doing the job that we have trained all year for."
Evansville will be returning to a pool at Southern Illinois which treated the Purple Aces well in November, when UE took part in the A3 Performance Invitational hosted by SIU. The UE men broke three school records at the A3 Performance Invitational, as sophomore Jackson Caudill (Mount Sterling, Ky./Montgomery County) broke both the 1,000- and 1,650-yard Freestyle records, while freshman Carlos Souto Vilas (A Coruna, Spain) and sophomore Alon Baer (Gesher Haziv, Israel) both topped the previous school record in the 100-yard Breaststroke. In all, the UE men posted 13 program top ten times at the A3 Invitational.
"The pool in Carbondale is a very fast pool, and we should feel very comfortable competing there," said Wilson. "Like I said, now is the time where we just need to focus on the task at hand, and let all of our hard work in training pay off."
The 2022 MAC Championships will feature men's teams from UE, SIU, Missouri State, Valparaiso, Ball State and Miami (OH). The meet will begin Wednesday night at 6:30 p.m. with finals in both the 200-yard Medley Relay and the 800-yard Freestyle Relay.
Contribute to AceNotes
To have content considered for inclusion in AceNotes, please submit a Marketing Request Form. Deadline for submission to AceNotes is 10:00 a.m. on the requested date of publication. Only articles concerning UE related/sponsored activities will be accepted. Articles submitted to AceNotes may be edited for length and clarity. Submitter contact information is at the end of each article.