| | |
| --- | --- |
| AceNotes Today | Tuesday, March 1, 2022 |
Purple Patrollers Needed This Friday!
Would you like to help with Purple Patrol and hand out giveaways across campus this Friday, March 4? Grab your team or department coworkers and sign up to help!
To sign up, email Julie Bryant, university relations coordinator, at jb855@evansville.edu. This is the only spot open the remainder of the semester and will be filled on a first-come, first-serve basis.
Outdoor Event Guidelines Update
Outdoor events may operate at full capacity and without attendance maximums. It is expected of event hosts and organization leaders to continue to be mindful of social distancing and other best practices at events such as hand sanitizing availability. In event settings, a 6-foot distancing guideline is still used when contact tracing is needed.
Get your Booster!
You won't need to quarantine if:
You have no symptoms AND
You have been fully vaccinated with:
• the Pfizer or Moderna less than 5 months ago
• or the J&J/Janssen less than 2 months ago
– or –
• You have received your booster.
Learn more and find access to booster locations at www.evansville.edu/YourShot
UE Employee Photo Exhibit
We are pleased to announce the UE Employee Photo Exhibit will be held April 3 – May 8 in the Krannert Gallery. All active and retired University of Evansville employees are invited to submit their work.
Images of all sizes are welcome, though 16" x 20" would be the maximum size for display cases. Photographs should be framed and suitable for hanging in the Krannert Gallery. Entries will be returned at the end of the exhibition.
On the back of each framed photograph, please provide:
• Your name, current/former department, and email address
• A title for your image
• Details such as location or meaning/memory attached to photo
• Approximate worth of image (most photographers assess value at $25)
Please bring your work to Carol McCraney in the Art Department (FA 212) between Monday March 28 and Thursday March 31.
The UE campus community (and guests) are invited to a reception in the Krannert Gallery on Thursday, April 21 at 5:00 p.m. Please plan to join us to celebrate the tradition of displaying meaningful work created by our own UE community.
If you have questions, please contact Carol at cm177@evansville.edu.
This Week in Music
The UE Music Conservatory presents UE's two largest instrumental ensembles, the Symphony Orchestra and the Wind Ensemble, in a concert at 7:30 p.m., Tuesday, March 1, 2022 at Old National Events Plaza, 715 Locust St, in downtown Evansville. The concert is free and open to the public. Come hear the talented wind, brass, percussion, and string players of these ensembles.
ECTE Lunch and Learn - 3/3
Join us on March 3rd in the Philips Alcove in Ridgeway Center from 12:15-1:00 pm for a great Lunch and Learn Discussion with Dr. Thomas Josenhans regarding Creative Uses of Audio Technology: Heartbeat Songs.
The presentation will explore the use of audio technology to support learning and practice in music therapy settings, focusing on the use of Digital Stethoscopes, the audio editing software, and heartbeat songs.
Pizza and salad will be provided and a short discussion on MIT scheduling will follow.
Hope to see everyone there!
Ash Wednesday Celebration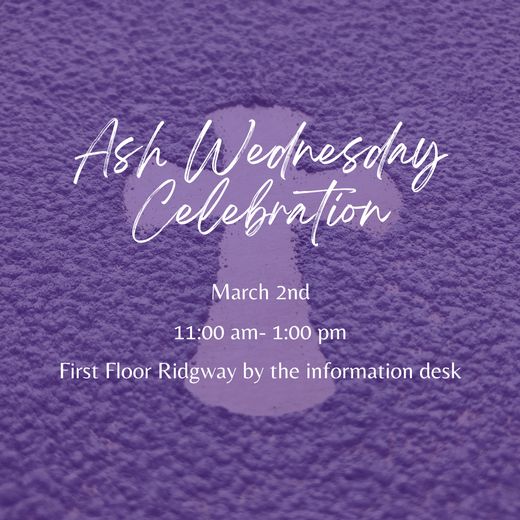 On Ash Wednesday, March 2nd, the Center for Diversity, Equity, and Inclusion will be administering ashes and offering prayers to students who wish to celebrate the beginning of Lenten season. We will also have prayers and devotions for students to take with them. Please join us anytime between 11:00 am and 1:00 pm by the information desk on the first floor of Ridgway to participate in the celebration!
CDEI Presents... I-House: Volunteer Tourism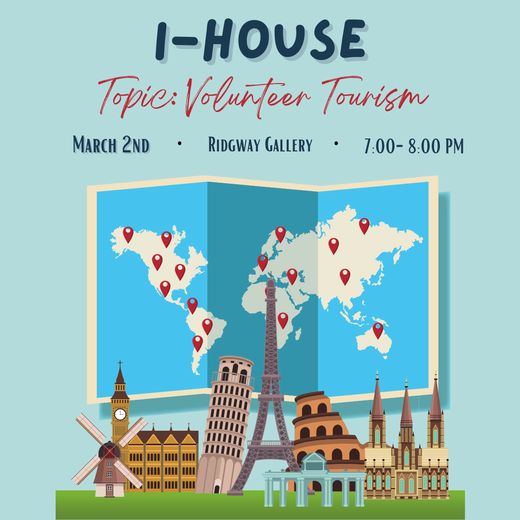 The Center for Diversity, Equity, and Inclusion is hosting its fifth I-House of the semester on Wednesday, March 2nd. Join us from 7:00-8:00 pm in the Ridgway Gallery as we discuss volunteer tourism and all the possibilities that come with it!
We hope to see you there!
Spring Break plans
It's not too late to join the Venturing Crew for Spring Break.
We will be backpacking Red River Gorge, staying in a luxury cabin and climbing Via Farratta.
All of this only costs you as a participant $25. The Crew has gear you can borrow and we will leave Saturday morning and be back to campus Tuesday evening so you can study or plan another trip for the rest of spring break.
Due to scheduling conflicts, we're unable to host tables in Ridgway but you can email us at venturing@evansville.edu and we will work out the details to get you sign up.
The deadline for sign-ups will be Wednesday March 2nd via Email to venturing@evansville.edu
Hope to see you on the trails!
Late Start Classes Now Available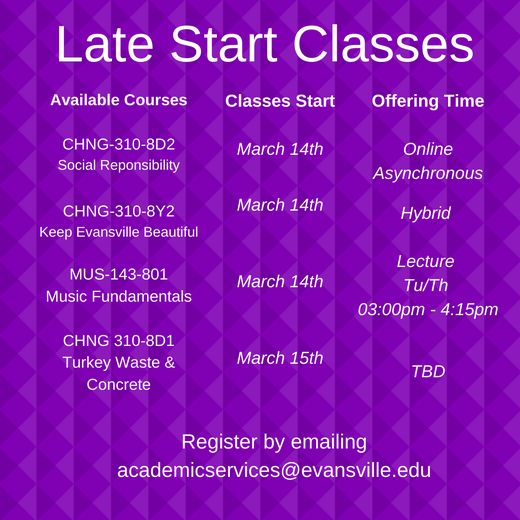 Are you looking to add a late start class this semester?
Can't figure out which ones are being offered?
THE LIST IS NOW AVAILABLE!
Registration for Late Start courses is open NOW!
***The last day to register for a late start class is March 17, 2022, so don't miss out.***
Coming Up In Religious Life
Please join Newman Club for Ash Wednesday Mass, March 2, with Bishop Siegel at 5:00 pm in Neu Chapel.
Dinner will follow Mass in Grabill lounge.
Intro to Python, and Intro to SQL Workshops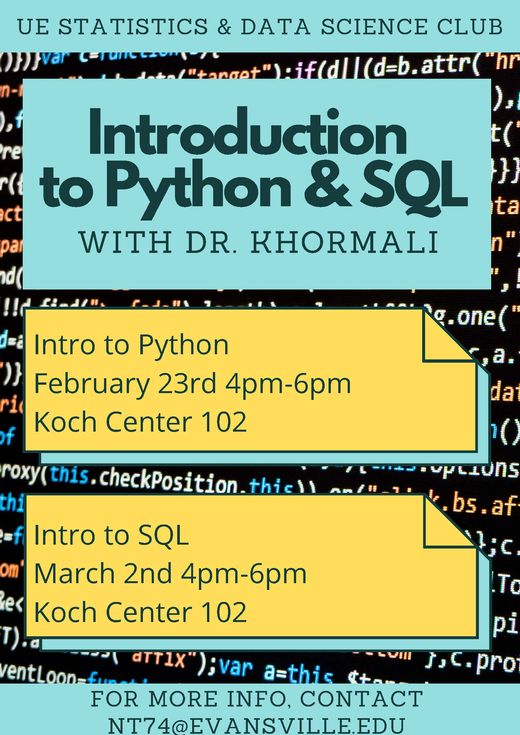 The UE Statistics and Data Science Club have arranged the following workshops:
Intro to Python
Presented by Dr. Omid Khormali
KC 102
February 23
4:00 p.m. to 6:00 p.m.
Intro to SQL
Presented by Dr. Omid Khormali
KC 102
March 2
4:00 p.m. to 6:00 p.m.
For more information, please contact nt74@evansville.edu.
Summer 10-Day Harlaxton course on health systems for all majors
All majors are welcome to apply for a 10-day course, May 20-29, focused on a comparison of health care systems in Great Britain and the United States. Students enrolled in HSA 499 will visit historical and modern health care sites. More information is at hsanews.evansville.edu. The tentative schedule includes visits to Stamford, Lincoln, Eyam, Grantham and London. Group discussions with British citizens concerning the consumer's view of the British health care system are also scheduled. The course concludes with three nights in London. Please contact Professor Bill Stroube at bs52@evansville.edu for more information. Priority application date is March 15 and deposit due on March 29.
Welcome to the University of Evansville - Mike Averett
THE OFFICE OF FACILITIES MANAGEMENT AND PLANNING WELCOMES MIKE AVERETT, AS OUR NEW EXECUTIVE DIRECTOR OF FACILITIES MANAGEMENT AND PLANNING. Mike began his duties on February 7th, and comes to the University with over 15 years experience in higher education facilities service, proven leadership and training abilities.
Harlaxton Fall 2022 deadline approaching
Spend your Fall semester at Harlaxton! Applications and deposits for Harlaxton Fall 2022 are due by Spring Break, March 7! If you have an interest in going to Harlaxton in Fall, make sure to check out the course options and apply online as soon as possible at https://harlaxton.evansville.edu/accepted/semester.cfm. Then, your $100 deposit for Harlaxton Fall 2022 can be paid to Student Accounts at their office in Olmsted Hall or by calling 812-488-2565.
If you have questions or want to learn more about Harlaxton, feel free to email harlaxton@evansville.edu or come see Kaylynn McCalister in the Harlaxton office in Ridgway 220, by student engagement!
MSC: McGary Middle School Art Showcase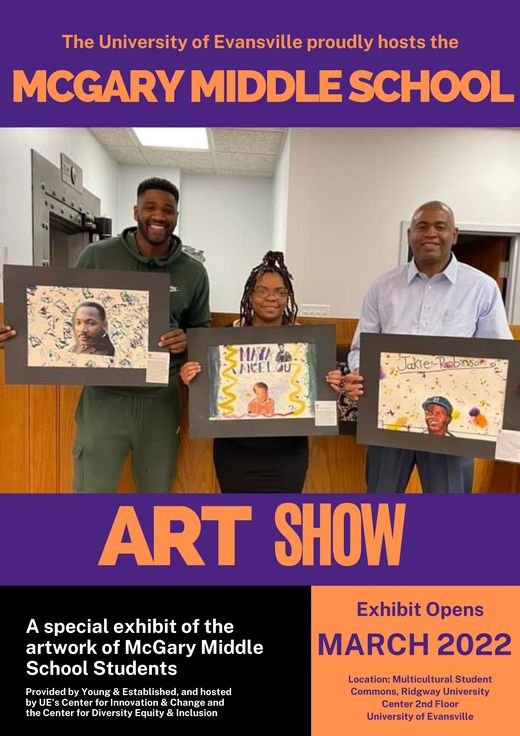 The Center for Innovation & Change and the Center for Diversity Equity and Inclusion are proud to host a McGary Middle School Art Showcase sponsored by Young & Established! The students at the McGary Middle School worked hard to create art for Black History Month and we are bringing them right here to our campus!
You can find their art showcased in the Multicultural Student Commons (2nd Floor of Ridgway University Center) starting on March 1st and running throughout the rest of the month! Head over to Ridgway and come see what these amazing students have put together!

PSYC246 Survey Participation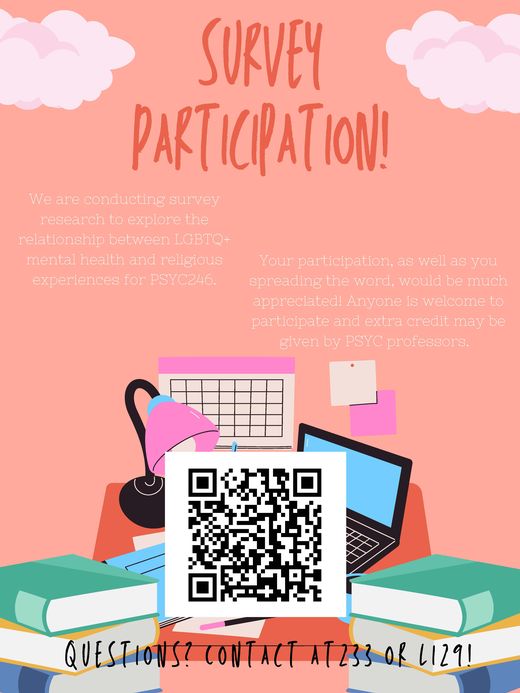 We are exploring the relationship between LGBTQ+ mental health and religious experiences, your participation would be much appreciated!
Village Request Cards Available
Students interested in living in the Villages for 2022-23 should pick up Village request cards in the Office of Residence Life.
The Villages are reserved primarily for students with 60 plus credit hours. In order to apply to live in the Villages, each person in your group must have at least 44 credit hours on file with the University by the end of the Fall 2021 semester.
Village request cards are due back to the Office of Residence Life by 5:00 p.m., Friday, March 4.
More information on the housing assignments process can be found on the residence life section of the University website at https://www.evansville.edu/residencelife/housingapplyreturn/calendar.cfm.


UE team won the second position in the Investment Research Competition
The UE Purple Aces Investment research team won second prize in the 2021/2022 regional competition organized by CFA Louisville Chapter on February 24. The subject company was Kroger. Quantitative analyses based on valuation models showed the stock is undervalued (Buy). However, putting qualitative and quantitative analyses together the team offered the final recommendation of "Hold." The team consisted of the following members: Aly Cerne, Alexis Nunn, Rhea Rajam, Sarah Vreeland, and Logan Replogle. Professor Khan served as mentor.
"The CFA Institute Research Challenge is an annual global competition that provides university students with hands-on mentoring and intensive training in financial analysis and professional ethics. Each student will be tested on their analytical, valuation, report writing, and presentation skills. They gain real-world experience as they assume the role of a research analyst."
Robert Coulter announced as 2022 Recipient of the Ernie Jones Memorial Civil Engineering Scholarship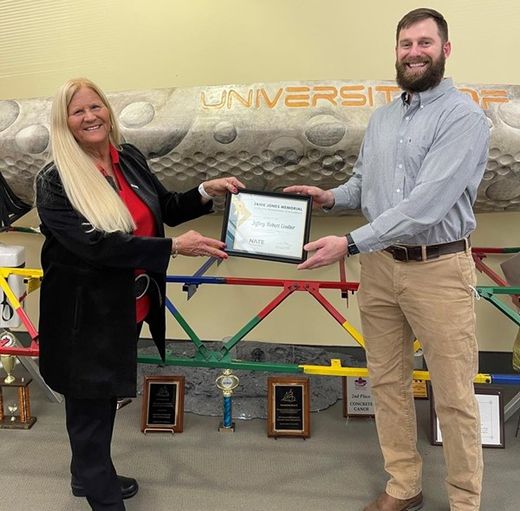 University of Evansville Civil Engineering Scholarship is Funded Annually by NATE; Honors Jones' Legacy as a Structural Engineer, Industry Icon
(Las Vegas, Nevada) - NATE: The Communications Infrastructure Contractors Association today announced that Robert Coulter, a junior Civil Engineering major from Henderson Kentucky, has been named as the 2022 recipient of the Ernie Jones Memorial Civil Engineering Scholarship at the University of Evansville in Evansville, Indiana. The official announcement was made at the NATE Awards Luncheon on Wednesday, February 23 during the annual NATE UNITE 2022 Conference in Las Vegas, Nevada.
Coulter is a veteran of the United States Coast Guard where he was stationed in San Juan, Puerto Rico and Tybee Island, Georgia. After 4 years of service, he decided to pursue his Civil Engineering degree at the University of Evansville. While attending college, Robert has had internships with E&B Paving and Keystone Construction. After graduation he has aspirations to work in the construction industry. In his free time, Coulter likes to play golf, basketball, and softball. Robert is also engaged to his fiancé Michaela.
"Robert is a dedicated civil engineering student who has plenty of construction experience through his internships and other jobs," stated Dr. Suresh Immanuel, Associate Dean, School of Engineering and Computer Science at the University of Evansville. "Robert is a well-deserved recipient for this scholarship whose experience and work ethic we believe best epitomizes the awards namesake, Ernie Jones."
Ernie Jones was a structural engineer who worked in the broadcast tower industry for 30 years. During his career, Mr. Jones served as a Professional Engineer and President of Consolidated Engineering, Inc. and a Vice-President of Structural Engineering at Electronics Research, Inc. Ernie was also a participating member of the TR-14.7 Committee of the Telecommunications Industry Association and Electronics Industry Association since 1986 where he assisted with writing and approving the ANSI-TIA/EIA 222 Standard which is the American National Standard for Steel Antenna Towers and Antenna Supporting Structures.
The Ernie Jones Memorial Civil Engineering Scholarship awards a $2,500 NATE-funded scholarship annually to a junior or senior level civil engineering student at the University of Evansville's College of Engineering and Computer Science.
For more information on NATE, visit www.natehome.com.
Congratulations to our mechanical engineering alumnus, Mr. Costas Theofylaktos
Congratulations to our mechanical engineering alumnus, Mr. Costas Theofylaktos (BS, 1985, MS 1987) on the publication of the present edition of the book titled, SE Europe Energy Outlook 2021/22. He coauthored this book with other distinguished experts in this field. Mr. Theofylaktos received his Bachelor of Science degree in mechanical engineering from the University of Evansville in 1985 and his Master of Science in mechanical engineering 1987. He has more than 30 years' experience in the energy sector. Costas's special interests include energy efficiency, cogeneration and RES. He was the chairman of Hellenic Association for CHP and also member of the executive committee of COGEN Europe. He has served as chairman and CEO of the Athens based Centre of Renewable Energy Sources and Saving (CRES). He has worked globally as a senior consultant for several organizations including the EU, World Bank, EBRD, the Energy Community. He is a Partner and Member of the Board of Governors of IENE where he is Secretary General of the Institute and also chairs the Energy Efficiency Committee. We are proud of his accomplishments. Congratulations, Mr. Costas Theofylaktos!
Dr. Tamara Wandel Publishes Short Story
Dr. Tamara Wandel, Professor of Communication, published a short story titled "The Vineyard's Voice" for Ability Magazine's writers café column. Ability Magazine is an award-winning publication consistently ranked in the Top 50 Magazines in the World. Dr. Wandel's story was inspired by a Deaf individual, now UE alumnus, she had the opportunity to teach in a media writing class years ago.
Counseling Services to Host Farewell Reception for Karen Stenstrom
The Office of Counseling Services invites you to attend a farewell reception in honor of our Director, Karen Stenstrom, as she celebrates more than two decades of service to the University of Evansville! The reception will be held on Tuesday, March 1st, in the Multicultural Student Commons Alcove (across from the Center for Diversity, Equity, and Inclusion) from 3-4:30pm. Light refreshments will be available during the celebration. We hope to see you there!
Blake Sisley named to MVC All-Freshman Team
Playing his best basketball as the regular season came to a close, University of Evansville forward Blake Sisley was recognized with a spot on the Missouri Valley Conference All-Freshman Team. The league announced its awards on Tuesday.
Sisley is UE's first to make the All-Freshman Team since Dru Smith in 2017. He has played the best basketball of his freshman season down the stretch, scoring 7 or more points in seven of the last eight games while averaging 11.3 points per game over that span.
On Feb. 21, Sisley reset his career scoring mark with 18 points at Valparaiso. The effort saw him knock down six of his nine field goal tries and four of his six 3-point attempts. His outside shooting has been off the charts over the last three games, hitting 9 of his 16 outside attempts.
He finished the regular season on a high note, scoring 14 on Saturday versus Missouri State. He added three rebounds, two steals and a block. Sisley and the Aces are preparing for Thursday's Arch Madness opener against Valparaiso, which is set for 8:30 p.m. at the Enterprise Center in St. Louis.
Another Record, Four More PRs Fall For UE Track & Field At MVC Championships
The University of Evansville track and field team broke another school record and set four more personal records on Monday at the 2022 Missouri Valley Conference Indoor Championships at Gately Park Track & Field Center in Chicago, Illinois.
Senior Joey Rucinski (Ft. Wayne, Ind./Concordia Lutheran) broke Evansville's scoring record in the heptathlon with a total of 4,377 points to place eighth overall. Rucinski set personal-best marks in both the 60-meter hurdles (9.34) and the 1,000-meter race (2:47.71) of the heptathlon on the afternoon. Rucinski blew away the field by over 13 seconds in the 1,000-meters, while also placing fourth in the pole vault event on Monday to record the points necessary to break the UE record.
Freshman Denzel Lasam (St. Louis, Mo./De Smet Jesuit) also set a personal-best mark in the triple jump, as he recorded a mark of 13.31 meters. The four PR marks on the day capped a Valley Championship performance by Evansville in which UE set five total school records and 20 personal-best marks.
"I could not be prouder of how hard the team competed this weekend," said UE track and field head coach Don Walters. "Up and down the roster, we had people set PRs, which was our focus going into the meet.
"But, the thing that I was even more proud about was the togetherness and the fight that we showed for each other during the meet. In every event, we had teammates really cheering on other teammates, and it helped produce the results that we did this weekend.
"Now, we move on to the outdoor season, and I am really looking forward to the results that we will be able to produce outdoors."
Senior Trey Riggs (Ft. Branch, Ind./Gibson Southern) posted an eighth place finish in the finals of the 60-meter hurdles with a time of 8.36 seconds. Evansville also placed eighth overall in both the men's and women's 4x400-meter relay events.
Overall, Evansville finished ninth as a team on both the men's and women's sides. The Purple Aces will now take two weeks off before heading outdoors to compete in the Blizzard Buster Meet at Miami University of Ohio on Friday, March 18.
Contribute to AceNotes
To have content considered for inclusion in AceNotes, please submit a Marketing Request Form. Deadline for submission to AceNotes is 10:00 a.m. on the requested date of publication. Only articles concerning UE related/sponsored activities will be accepted. Articles submitted to AceNotes may be edited for length and clarity. Submitter contact information is at the end of each article.