| | |
| --- | --- |
| AceNotes Today | Friday, February 25, 2022 |
Supplemental Pay Request Forms Changing to Electronic Version
Supplemental Pay Request Forms for Payroll will now be accepted electronically. The link to the new electronic form and instructions can be found on the Accounting and Audit page on the UE portal.
The Supplemental Pay Request Form requires the same information that you are accustomed to but will submit your requests and automatically flow to the next person for approvals. Please note the requirements for approvals indicated on the form and attach any supporting documents. Approvals can be made through Microsoft Teams or an automated email by clicking "Approved" and then "Submit". The link to managing approvals in Microsoft Teams can also be found on the Accounting and Audit page on the UE portal.
Deadlines: Approved Supplemental Pay Request Forms must be received by 12:00 noon on the Friday of a non-pay week to be included in the next payroll processing. Incomplete forms or incorrect information will delay processing.
Emailed PDFs and Paper Forms will not be accepted after March 12, 2022.
HEERF Grant Distribution Authorization for Spring 2022 Open for All Students
HEERF III Grant funding is available for spring 2022.
New students are required to authorize distribution of HEERF grant funds.
Previous recipients who wish to alter prior authorization must resubmit distribution authorization.
All educationally related expenses are eligible for HEERF III funding and may be applied to current and/or future student account balances. Please be aware that funding is limited. Grant recipients requesting a refund must have bank information on file as refunds will be issued electronically via direct deposit.
Submit/Review: HEERF Grant Authorization
For those who didn't meet the previous deadline, the next round of spring 2022 HEERF grants will be processed in mid-March, and the deadline to submit or change authorization for the next round of disbursements is February 25, 2022.
Outdoor Event Guidelines Update
Outdoor events may operate at full capacity and without attendance maximums. It is expected of event hosts and organization leaders to continue to be mindful of social distancing and other best practices at events such as hand sanitizing availability. In event settings, a 6-foot distancing guideline is still used when contact tracing is needed.
Get your Booster!
You won't need to quarantine if:
You have no symptoms AND
You have been fully vaccinated with:
• the Pfizer or Moderna less than 5 months ago
• or the J&J/Janssen less than 2 months ago
– or –
• You have received your booster.
Learn more and find access to booster locations at www.evansville.edu/YourShot
Ash Wednesday Celebration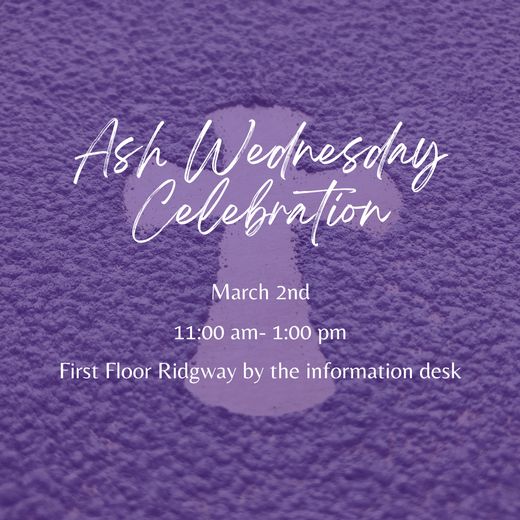 On Ash Wednesday, March 2nd, the Center for Diversity, Equity, and Inclusion will be administering ashes and offering prayers to students who wish to celebrate the beginning of Lenten season. We will also have prayers and devotions for students to take with them. Please join us anytime between 11:00 am and 1:00 pm by the information desk on the first floor of Ridgway to participate in the celebration!
CDEI Presents... I-House: Volunteer Tourism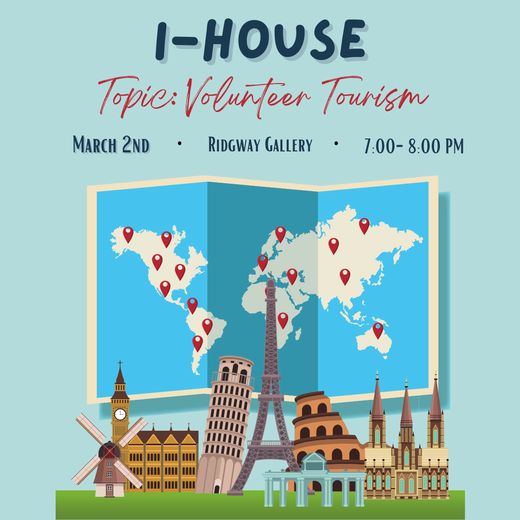 The Center for Diversity, Equity, and Inclusion is hosting its fifth I-House of the semester on Wednesday, March 2nd. Join us from 7:00-8:00 pm in the Ridgway Gallery as we discuss volunteer tourism and all the possibilities that come with it!
We hope to see you there!
Spring Break plans
It's not too late to join the Venturing Crew for Spring Break.
We will be backpacking Red River Gorge, staying in a luxury cabin and climbing Via Farratta.
All of this only costs you as a participant $25. The Crew has gear you can borrow and we will leave Saturday morning and be back to campus Tuesday evening so you can study or plan another trip for the rest of spring break.
Due to scheduling conflicts, we're unable to host tables in Ridgway but you can email us at venturing@evansville.edu and we will work out the details to get you sign up.
The deadline for sign-ups will be Wednesday March 2nd via Email to venturing@evansville.edu
Hope to see you on the trails!
IPCA Presents: Roe v. Wade Lecture
Join IPCA for a night of rights awareness and education. Pam Lockhard will be lecturing on topics such as Roe v. Wade, importance of bodily autonomy, and the right to make decisions about oneself.
Topic: Pam Locker Lecture
Time: Feb 28, 2022 05:00 PM Central Time (US and Canada)
Join Zoom Meeting
https://evansville-edu.zoom.us/j/6342331702
Meeting ID: 634 233 1702
One tap mobile
+16465588656,,6342331702# US (New York)
+13017158592,,6342331702# US (Washington DC)
Dial by your location
+1 646 558 8656 US (New York)
+1 301 715 8592 US (Washington DC)
+1 312 626 6799 US (Chicago)
+1 669 900 9128 US (San Jose)
+1 253 215 8782 US (Tacoma)
+1 346 248 7799 US (Houston)
Meeting ID: 634 233 1702
Find your local number: https://evansville-edu.zoom.us/u/ab1wbiSap
Join by SIP
6342331702@zoomcrc.com
Join by H.323
162.255.37.11 (US West)
162.255.36.11 (US East)
115.114.131.7 (India Mumbai)
115.114.115.7 (India Hyderabad)
213.19.144.110 (Amsterdam Netherlands)
213.244.140.110 (Germany)
103.122.166.55 (Australia Sydney)
103.122.167.55 (Australia Melbourne)
149.137.40.110 (Singapore)
64.211.144.160 (Brazil)
149.137.68.253 (Mexico)
69.174.57.160 (Canada Toronto)
65.39.152.160 (Canada Vancouver)
207.226.132.110 (Japan Tokyo)
149.137.24.110 (Japan Osaka)
Meeting ID: 634 233 1702
Advising Week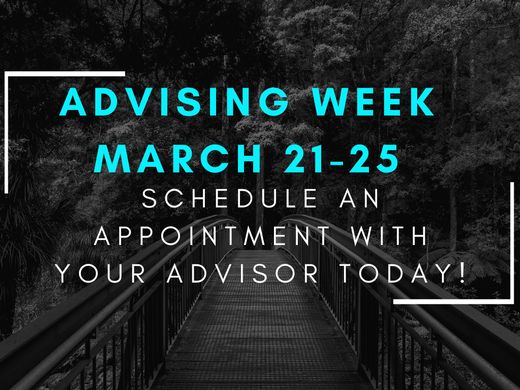 Advising Week is fast approaching and begins March 21st. Make sure to meet with your advisor to prepare yourself for registration for the Fall and Summer terms.
Coming Up In Religious Life
Please join Newman Club for Ash Wednesday Mass, March 2, with Bishop Siegel at 5:00 pm in Neu Chapel.
Dinner will follow Mass in Grabill lounge.
CDEI Presents: Diverse Excellence Series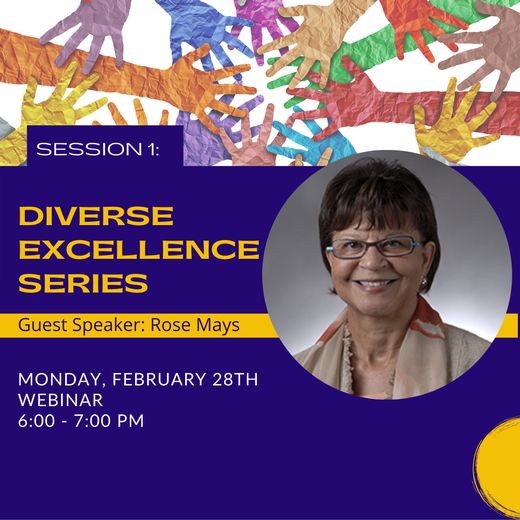 The Center for Diversity, Equity, and Inclusion is proud to announce its first segment of the Diverse Excellence Series! Guest speaker, Rose Mays is professor emeritus at the IU School of Nursing at IUPUI and former associate dean for community and international affairs. Join us as we learn about Mays' cultural background and life trajectory.
Please use the link below or head over to UEngage to successfully pre-register for this event!
We hope to virtually see you on February 28th from 6:00-7:00 pm!
Register in advance for this meeting:
https://evansville-edu.zoom.us/meeting/register/tJcvce2urTwrGdwWUzZ3ZJMX8c6pNE5RHfxz
After registering, you will receive a confirmation email containing information about joining the meeting.
Wear the Culture Day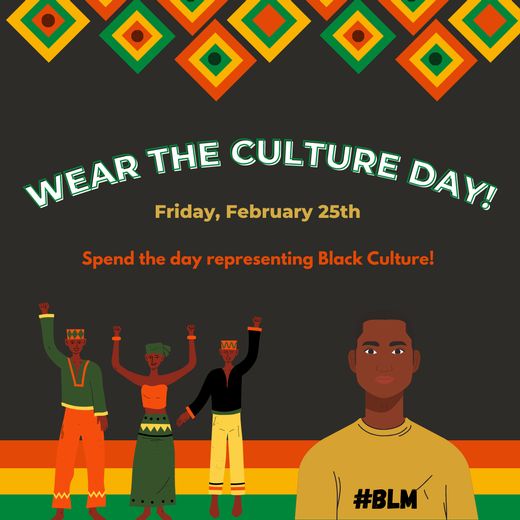 Happy Black History Month!
Join the Center for Diversity Equity and Inclusion for 'Wear the Culture Day' on Friday, February 25th! Regardless of what your background culture is, we want to see you representing Black culture (appropriately)! So, dig out those #BLM and social justice t-shirts and lets show out for the culture! If you are Black and want to wear something specific to your ethnic/national background, please do it! We want to see it all!
We can't wait to see what gets represented! Make sure to share on social media and tag us!
If you have any questions regarding what is considered appropriate, please reach out to the CDEI at Center4DEI@evansville.edu
UE Theatre Presents THE CAUCASIAN CHALK CIRCLE
The University of Evansville Theatre continues their spring 2022 season with Bertolt Brecht's THE CAUCASIAN CHALK CIRCLE, English version by Eric Bentley. Teeming with political overtones and a sharp look at human nature, this play, written at the end of WWII, retells the story of an innocent child claimed and fought over by two mothers, resulting in one of the most riveting trials ever staged. This production opens on Thursday, Feb. 24, at 7:30 p.m. in the May Studio Theatre. Additional performances are 7:30 p.m. on Feb. 25 and 26, and at 2:00 p.m. on Feb. 26 and 27.
THE CAUCASIAN CHALK CIRCLE is directed by Obi Roberts, a senior theatre performance major from Arvada, Colo. Angus Creech, a senior theatre studies major from Brooklyn, N.Y., serves as the scenic designer; Sara Mathew, a junior design & technology major from Union, Ky., is the costume designer; Stephen Boulmetis, associate professor of lighting design, serves as the lighting designer; guest artist Araceli Ramirez serves as the sound designer; Rebecca Conaway, a junior theatre studies major from Wellsburg, W.Va., is the dramaturg; Madison Wilson, a junior stage management major from Fort Worth, Texas, is the stage manager, and Blake Cooper, assistant technical director and scene shop manager, serves as the technical director.
The cast features Jake Conrad, a junior performance major from Olympia, Wash., as the singer; Kayleigh Doyle, a senior performance major from McKinney, Texas, as Grusha; Aivelyn Karsten, a junior performance major from Clackamas, Ore., as Simon; Josh Gelman, a senior performance major from Denver, Colo., as Azdak; Ben Bravard, a junior performance major from Batavia, Ohio, as Governor and others; Liv Campbell, a senior performance major from Kingwood, Texas, as Delegate and others; Jack Cory, a junior performance major from Southlake, Texas, as Fat Prince and others; and Bryce Galvan, a junior performance major from West Carrollton, Ohio, as Adjutant and others; Lillie Kolich, a senior performance major from Albuquerque, N.M., as Governor's wife and others; Kirkland Long, a senior performance major from Canal Winchester, Ohio, as Corporal and others; Jeff Parkinson, a junior performance major from Mercer Island, Wash., as Lavrenti and others; Lindsay Perr, a first-year performance major from Medford, N.J., as Sister-in-law and others; and Brynna Waters, a first-year performance major from Brownsburg, Ind., as Shauwa and others.
In following industry standards, as established by the Broadway League, all audience members must show proof of COVID–19 vaccination or a negative test result taken within 48-hours of the date on their ticket. Upon arrival at the theatre, proof of vaccination/negative test result and an ID will be checked before each performance. In compliance with the UE Coronavirus Task Force guidelines, all audience members must remain masked when indoors on campus. Additionally, both Shanklin Theatre and the May Studio Theatre will be seated at no more than 50% capacity. It is our hope that these restrictions will allow our student actors to safely perform unmasked in both spaces.
Ticket prices are $12. UE students may obtain one free student rush ticket beginning at 12 p.m. on the day of the performance they wish to attend. Seating is limited and tickets are available by calling 812.488.2031.
David Gamble Reception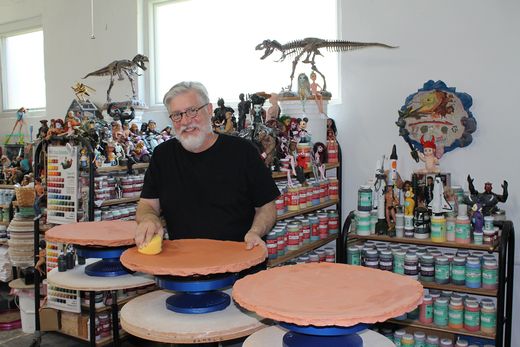 The Department of Art is pleased to announce that the reception for David Gamble has been rescheduled for Friday, February 25 6:30 pm-8:30 pm in the Melvin Peterson Gallery. Please join us for light refreshments and the opportunity to meet the artist behind the exhibit "David Unsupervised".
Intro to Python, and Intro to SQL Workshops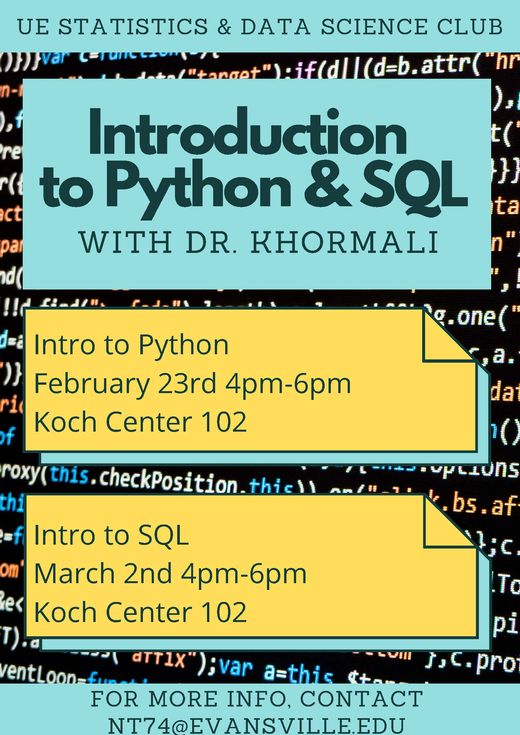 The UE Statistics and Data Science Club have arranged the following workshops:
Intro to Python
Presented by Dr. Omid Khormali
KC 102
February 23
4:00 p.m. to 6:00 p.m.
Intro to SQL
Presented by Dr. Omid Khormali
KC 102
March 2
4:00 p.m. to 6:00 p.m.
For more information, please contact nt74@evansville.edu.
Krannert Gallery Exhibit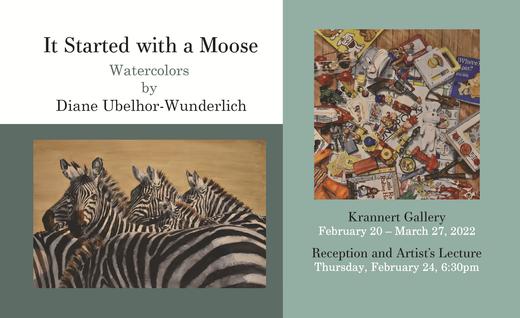 The Department of Art invites you to the Krannert Gallery for the exhibit It Started with a Moose: Watercolors by Diane Ubelhor-Wunderlich. The artist exhibition will be open February 20 - March 27, 2022.
Black History Month Challenge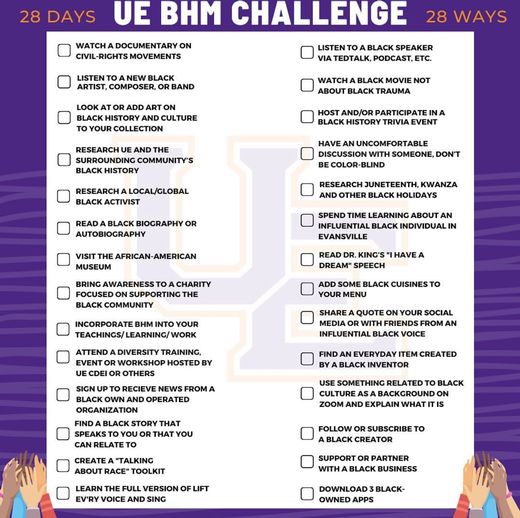 During Black History Month join the UE BHM Challenge sponsored by the Center for Diversity, Equity, and Inclusion! In this challenge you will find 28 ways for 28 days of Black History Month to actively learn, engage, support, and uplift Black culture from Evansville and around the world. Items listed in the challenge can be done personally or in a social group! Do some personal research on Juneteenth or grab a friend and some popcorn and watch Just Mercy. Either way you do it, #BHMChallenge yourself! Happy Black History Month!
1. Watch a documentary on civil-rights movements
2. Listen to a new Black artist, composer, or band
3. Look at or add art on Black history and culture to your collection
4. Research UE and the surrounding community's Black history
5. Research a local/global Black activist
6. Read a Black biography or autobiography
7. Visit the African-American museum
8. Bring awareness to a charity focused on supporting the Black community
9. Incorporate BHM into your Teachings/ Learning/ Work
10. Attend a diversity training, event or workshop hosted by UE CDEI or others
11. Sign up to receive news from a Black own and operated organization
12. Find a Black story that speaks to you or that you can relate to
13. Create a "Talking about Race" Toolkit
14. Learn the full version of Lift Ev'ry Voice and Sing
15. Listen to a Black speaker via TedTalk, PodCast, etc.
16. Watch a Black movie not about Black trauma
17. Host and/or participate in a Black history trivia event
18. Have an uncomfortable discussion with someone, don't be color-blind
19. Research Juneteenth, Kwanza and other Black holidays
20. Spend time learning about an influential Black individual in Evansville
21. Read Dr. King's "I Have a Dream" speech
22. Add some Black cuisines to your menu
23. Share a quote on your social media or with friends from an influential Black Voice
24. Find an everyday item created by a Black inventor
25. Use something related to Black culture as a background on zoom and explain what it is
26. Follow or Subscribe to a Black creator
27. Support or partner with a Black business
28. Download 3 Black-owned apps
Last Chance to Register for Nerd Wars
Don't miss out on this year's Nerd Wars trivia competition! The deadline to register your team is Friday, February 25. Nerd Wars will take place on Wednesday, March 30 at 6:00pm in various classrooms in Koch and over Zoom. Gather your team of up to 5 participants (students, faculty, staff, or administrators) and join us for the trivia battle of the year, complete with Nerdiest Dressed contest, snacks/giveaways, and the chance to win fabulous prizes.
Registration this year is FREE. Register online now at this link: https://forms.gle/4YKs4vp9CW4HrRH28
Please contact Connor Luebbehusen (cl196) or Pranav Haran (ph100) with any questions.
Please participate in this survey for PSYC 246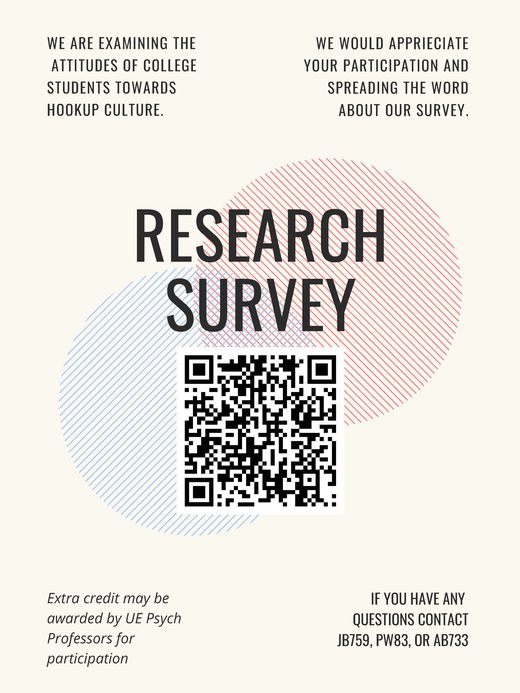 Hello! We are Jared Bailey, Ashley Barnett, and Paige Webster. We are reaching out to ask you to participate in our Research Methods (Psyc 246) study and to encourage others to participate as well. We are examining the attitudes of college students towards hookup culture. Participation in this study will take approximately 15 minutes and would be greatly appreciated.
Welcome Karen Eskridge to the Office of Marketing & Communications!
Please join the Office of Marketing and Communications in welcoming Karen Eskridge to the University of Evansville! Karen is the department's newest senior graphic designer, and she began her duties on Monday, February 21. She will succeed Susan Heathcott who is retiring after more than three decades of service.
Karen is an established graphic designer and brings more than 20 years of design experience to the University. Before UE, she was a senior graphic designer at Ascension. She also worked at Welborn Clinic and 14 News earlier in her career. Karen holds a Bachelor of Fine Arts in graphic design and illustration from Middle Tennessee State University (Murfreesburo, TN).
Black History Icon #18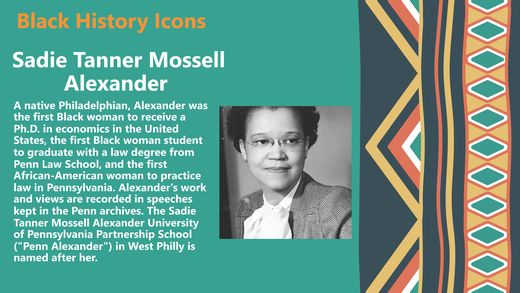 To celebrate Black History Month, we're sending out daily posts to honor icons whose selfless contributions through out history, continue to inspire growth in our various communities. Today's icon is Sadie Tanner Mossell Alexander and you can find more information in the attached poster. You can follow BSU @UEBlackStudentU, @uevansville for more programming during BHM.
Have you applied for graduation?
Seniors,
If you have not applied for graduation, please make sure you do so. You can do this through the Self-Service Graduation Overview tab. You must apply for graduation even if you do not plan on attending Commencement.
Questions, please contact Ashley Nels at an89@evansville.edu
Eykamp Prize: Call for Nominations
The Eykamp Prize was established by Richard and Rita Eykamp in 2015 to honor Faculty Achievement at the University of Evansville. Recipients of the prize will receive a one-time award of $10,000 in recognition of extraordinary contributions to the University of Evansville as University Citizens. Examples of such contributions include deep and successful involvement in recruiting students; expanding the number, scope, and competitiveness of grant funding for their department; bringing positive public awareness to the University through scholarship, knowledge, and understanding of their discipline.
Nominations for the Eykamp Prize may come from any member of the University of Evansville Community. Nominees should be tenured or tenure-track faculty members at the University of Evansville who have not received the award in the previous five years. Nominations can be submitted in writing or via e-mail to Michael Austin, Executive Vice President for Academic Affairs/Provost, at ma352@evansville.edu by March 11, 2022. Nominations should include the name of the faculty member and a brief statement of the reasons that he or she is being nominated.
Recipients of the Eykamp Prize will be selected by an Award Committee, appointed by the EVPAA/Provost that includes members of the faculty, staff, administrators, and a member of the Board of Trustees. Awards will be announced and presented at the May Commencement Ceremony.
Recipients in the previous five years: 2017 – Dr. Lora Becker; 2018 – Dr. David Dwyer; 2019 – Dr. Kristy Miller; 2020 – Dr. Jerrilee LaMar; 2021 – Dr. Joyce Stamm
Dr. Hyunsoung Park publishes a journal paper in the Journal of Building Engineering
Dr. Hyunsoung Park, Visiting Assistant Professor of Civil Engineering from the School of Engineering and Computer Science and his co-authors have published a journal paper titled "A deep learning algorithm-driven approach to predicting repair costs associated with natural disaster indicators: The case of accommodation facilities" in the Journal of Building Engineering. Congratulations, Dr. Park!
Counseling Services to Host Farewell Reception for Karen Stenstrom
The Office of Counseling Services invites you to attend a farewell reception in honor of our Director, Karen Stenstrom, as she celebrates more than two decades of service to the University of Evansville! The reception will be held on Tuesday, March 1st, in the Multicultural Student Commons Alcove (across from the Center for Diversity, Equity, and Inclusion) from 3-4:30pm. Light refreshments will be available during the celebration. We hope to see you there!
Softball travels to Hub City Challenge
Week three of the season will see the University of Evansville softball team travel to Hattiesburg, Mississippi for the Hub City Challenge. A revised schedule will see the Purple Aces take on Alcorn State in its first two games before taking on Southern Mississippi in the final two contests. CUSA.TV will have a live stream of all games this weekend with live stats also being available.
Last Time Out
- Three games against top 10 opponents highlighted Evansville's trip to the Easton Bama Bash last weekend
- UE took on #2 Alabama on Friday before facing #8 Virginia Tech in a single game on Saturday and Sunday; the Aces hung tough against the competition throughout the entire weekend
- Jessica Fehr led the team with a .467 average on the trip - she recorded seven hits in 15 at-bats while walking three times
- Alexa Davis hit .286 with four hits and two triples - she scored the winning run versus Middle Tennessee State after hitting a 2-out triple in the 9th
- Jenna Nink had the game-winning hit on Saturday against MTSU, bringing in Davis
Week Two Rebound
- Jessica Fehr led the Aces with a .467 average in the Easton Bama Bash, registering seven hits, two doubles, three walks and a pair of RBI
- Her on-base tally of .556 was also the team-high in Tuscaloosa
- Last spring, Fehr recorded a hit in 15 of the final 19 games on her way to a final season average of .318, which was second on the team
- She added 18 runs, 18 RBI and three home runs and was named to the All-MVC Second Team
- Fehr completed the season with 22 hits in her final 59 at-bats
Clutch Performances
- After picking up two game-winning hits in the opening weekend, Alexa Davis scored the game-winning run on Feb. 19 versus MTSU
- Hitting a 2-out triple in the 9th, Davis scored on a hit by Jenna Nink
- Davis batted .750 in the opening weekend of play and currently has a .455 average
- Davis broke a scoreless tie against Morehead State on Feb. 11, hitting an RBI double in the 9th inning of a 4-0 win before coming through a day later against Southern
- With the score tied at 8-8 in the bottom of the 7th, Davis hit a walk-off single
- Davis has scored six times while picking up five RBI
Contribute to AceNotes
To have content considered for inclusion in AceNotes, please submit a Marketing Request Form. Deadline for submission to AceNotes is 10:00 a.m. on the requested date of publication. Only articles concerning UE related/sponsored activities will be accepted. Articles submitted to AceNotes may be edited for length and clarity. Submitter contact information is at the end of each article.