| | |
| --- | --- |
| AceNotes Today | Thursday, February 24, 2022 |
HEERF Grant Distribution Authorization for Spring 2022 Open for All Students
HEERF III Grant funding is available for spring 2022.
New students are required to authorize distribution of HEERF grant funds.
Previous recipients who wish to alter prior authorization must resubmit distribution authorization.
All educationally related expenses are eligible for HEERF III funding and may be applied to current and/or future student account balances. Please be aware that funding is limited. Grant recipients requesting a refund must have bank information on file as refunds will be issued electronically via direct deposit.
Submit/Review: HEERF Grant Authorization
For those who didn't meet the previous deadline, the next round of spring 2022 HEERF grants will be processed in mid-March, and the deadline to submit or change authorization for the next round of disbursements is February 25, 2022.
Get your Booster!
You won't need to quarantine if:
You have no symptoms AND
You have been fully vaccinated with:
• the Pfizer or Moderna less than 5 months ago
• or the J&J/Janssen less than 2 months ago
– or –
• You have received your booster.
Learn more and find access to booster locations at www.evansville.edu/YourShot
Spring Break plans
It's not too late to join the Venturing Crew for Spring Break.
We will be backpacking Red River Gorge, staying in a luxury cabin and climbing Via Farratta.
All of this only costs you as a participant $25. The Crew has gear you can borrow and we will leave Saturday morning and be back to campus Tuesday evening so you can study or plan another trip for the rest of spring break.
Due to scheduling conflicts, we're unable to host tables in Ridgway but you can email us at venturing@evansville.edu and we will work out the details to get you sign up.
The deadline for sign-ups will be Wednesday March 2nd via Email to venturing@evansville.edu
Hope to see you on the trails!
IPCA Presents: Roe v. Wade Lecture
Join IPCA for a night of rights awareness and education. Pam Lockhard will be lecturing on topics such as Roe v. Wade, importance of bodily autonomy, and the right to make decisions about oneself.
Topic: Pam Locker Lecture
Time: Feb 28, 2022 05:00 PM Central Time (US and Canada)
Join Zoom Meeting
https://evansville-edu.zoom.us/j/6342331702
Meeting ID: 634 233 1702
One tap mobile
+16465588656,,6342331702# US (New York)
+13017158592,,6342331702# US (Washington DC)
Dial by your location
+1 646 558 8656 US (New York)
+1 301 715 8592 US (Washington DC)
+1 312 626 6799 US (Chicago)
+1 669 900 9128 US (San Jose)
+1 253 215 8782 US (Tacoma)
+1 346 248 7799 US (Houston)
Meeting ID: 634 233 1702
Find your local number: https://evansville-edu.zoom.us/u/ab1wbiSap
Join by SIP
6342331702@zoomcrc.com
Join by H.323
162.255.37.11 (US West)
162.255.36.11 (US East)
115.114.131.7 (India Mumbai)
115.114.115.7 (India Hyderabad)
213.19.144.110 (Amsterdam Netherlands)
213.244.140.110 (Germany)
103.122.166.55 (Australia Sydney)
103.122.167.55 (Australia Melbourne)
149.137.40.110 (Singapore)
64.211.144.160 (Brazil)
149.137.68.253 (Mexico)
69.174.57.160 (Canada Toronto)
65.39.152.160 (Canada Vancouver)
207.226.132.110 (Japan Tokyo)
149.137.24.110 (Japan Osaka)
Meeting ID: 634 233 1702
Late Start Classes Now Available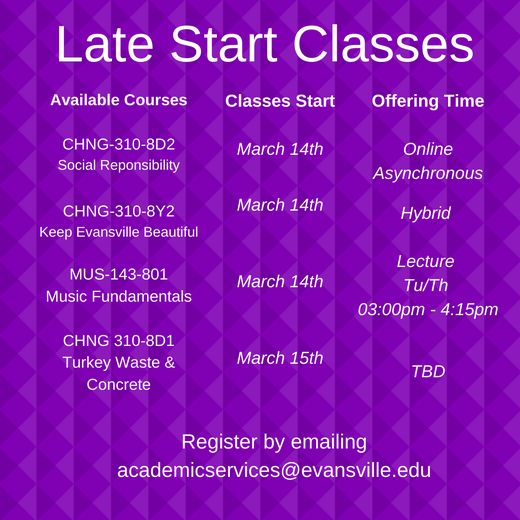 Are you looking to add a late start class this semester?
Can't figure out which ones are being offered?
THE LIST IS NOW AVAILABLE!
Registration for Late Start courses is open NOW!
***The last day to register for a late start class is March 17, 2022, so don't miss out.***
Advising Week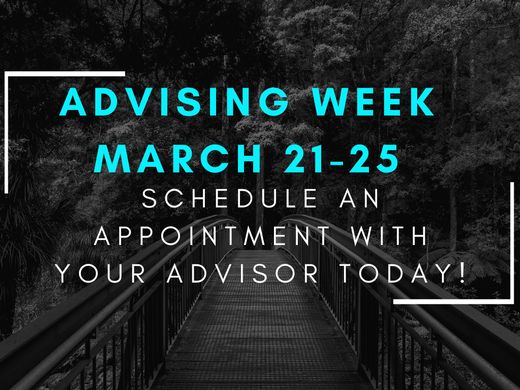 Advising Week is fast approaching and begins March 21st. Make sure to meet with your advisor to prepare yourself for registration for the Fall and Summer terms.
Coming Up In Religious Life
Please join Newman Club for Ash Wednesday Mass, March 2, with Bishop Siegel at 5:00 pm in Neu Chapel.
Dinner will follow Mass in Grabill lounge.
CDEI Presents: Diverse Excellence Series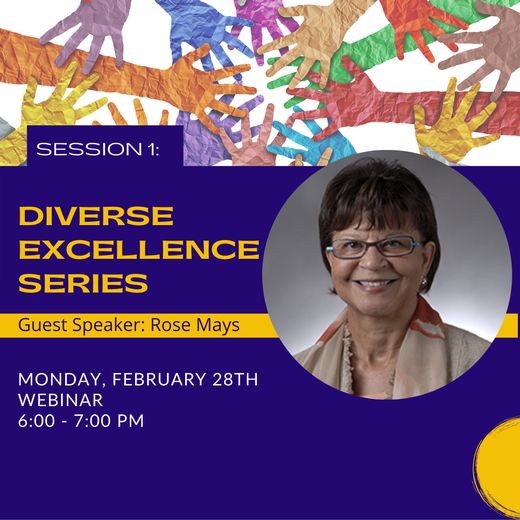 The Center for Diversity, Equity, and Inclusion is proud to announce its first segment of the Diverse Excellence Series! Guest speaker, Rose Mays is professor emeritus at the IU School of Nursing at IUPUI and former associate dean for community and international affairs. Join us as we learn about Mays' cultural background and life trajectory.
Please use the link below or head over to UEngage to successfully pre-register for this event!
We hope to virtually see you on February 28th from 6:00-7:00 pm!
Register in advance for this meeting:
https://evansville-edu.zoom.us/meeting/register/tJcvce2urTwrGdwWUzZ3ZJMX8c6pNE5RHfxz
After registering, you will receive a confirmation email containing information about joining the meeting.
Wear the Culture Day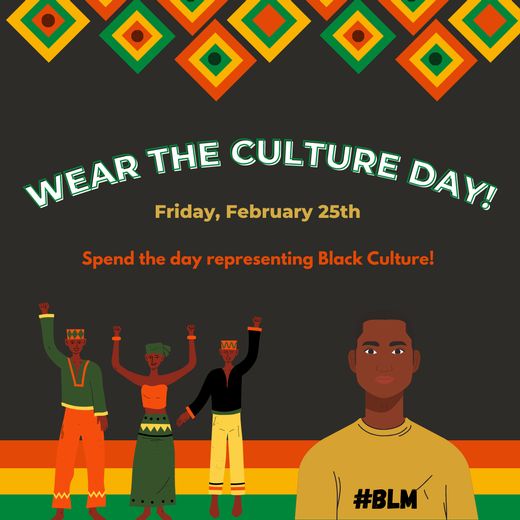 Happy Black History Month!
Join the Center for Diversity Equity and Inclusion for 'Wear the Culture Day' on Friday, February 25th! Regardless of what your background culture is, we want to see you representing Black culture (appropriately)! So, dig out those #BLM and social justice t-shirts and lets show out for the culture! If you are Black and want to wear something specific to your ethnic/national background, please do it! We want to see it all!
We can't wait to see what gets represented! Make sure to share on social media and tag us!
If you have any questions regarding what is considered appropriate, please reach out to the CDEI at Center4DEI@evansville.edu
UE Theatre Presents THE CAUCASIAN CHALK CIRCLE
The University of Evansville Theatre continues their spring 2022 season with Bertolt Brecht's THE CAUCASIAN CHALK CIRCLE, English version by Eric Bentley. Teeming with political overtones and a sharp look at human nature, this play, written at the end of WWII, retells the story of an innocent child claimed and fought over by two mothers, resulting in one of the most riveting trials ever staged. This production opens on Thursday, Feb. 24, at 7:30 p.m. in the May Studio Theatre. Additional performances are 7:30 p.m. on Feb. 25 and 26, and at 2:00 p.m. on Feb. 26 and 27.
THE CAUCASIAN CHALK CIRCLE is directed by Obi Roberts, a senior theatre performance major from Arvada, Colo. Angus Creech, a senior theatre studies major from Brooklyn, N.Y., serves as the scenic designer; Sara Mathew, a junior design & technology major from Union, Ky., is the costume designer; Stephen Boulmetis, associate professor of lighting design, serves as the lighting designer; guest artist Araceli Ramirez serves as the sound designer; Rebecca Conaway, a junior theatre studies major from Wellsburg, W.Va., is the dramaturg; Madison Wilson, a junior stage management major from Fort Worth, Texas, is the stage manager, and Blake Cooper, assistant technical director and scene shop manager, serves as the technical director.
The cast features Jake Conrad, a junior performance major from Olympia, Wash., as the singer; Kayleigh Doyle, a senior performance major from McKinney, Texas, as Grusha; Aivelyn Karsten, a junior performance major from Clackamas, Ore., as Simon; Josh Gelman, a senior performance major from Denver, Colo., as Azdak; Ben Bravard, a junior performance major from Batavia, Ohio, as Governor and others; Liv Campbell, a senior performance major from Kingwood, Texas, as Delegate and others; Jack Cory, a junior performance major from Southlake, Texas, as Fat Prince and others; and Bryce Galvan, a junior performance major from West Carrollton, Ohio, as Adjutant and others; Lillie Kolich, a senior performance major from Albuquerque, N.M., as Governor's wife and others; Kirkland Long, a senior performance major from Canal Winchester, Ohio, as Corporal and others; Jeff Parkinson, a junior performance major from Mercer Island, Wash., as Lavrenti and others; Lindsay Perr, a first-year performance major from Medford, N.J., as Sister-in-law and others; and Brynna Waters, a first-year performance major from Brownsburg, Ind., as Shauwa and others.
In following industry standards, as established by the Broadway League, all audience members must show proof of COVID–19 vaccination or a negative test result taken within 48-hours of the date on their ticket. Upon arrival at the theatre, proof of vaccination/negative test result and an ID will be checked before each performance. In compliance with the UE Coronavirus Task Force guidelines, all audience members must remain masked when indoors on campus. Additionally, both Shanklin Theatre and the May Studio Theatre will be seated at no more than 50% capacity. It is our hope that these restrictions will allow our student actors to safely perform unmasked in both spaces.
Ticket prices are $12. UE students may obtain one free student rush ticket beginning at 12 p.m. on the day of the performance they wish to attend. Seating is limited and tickets are available by calling 812.488.2031.
UE Employee Wellness Step Challenge~ Earn $150 in Health Behavior Credits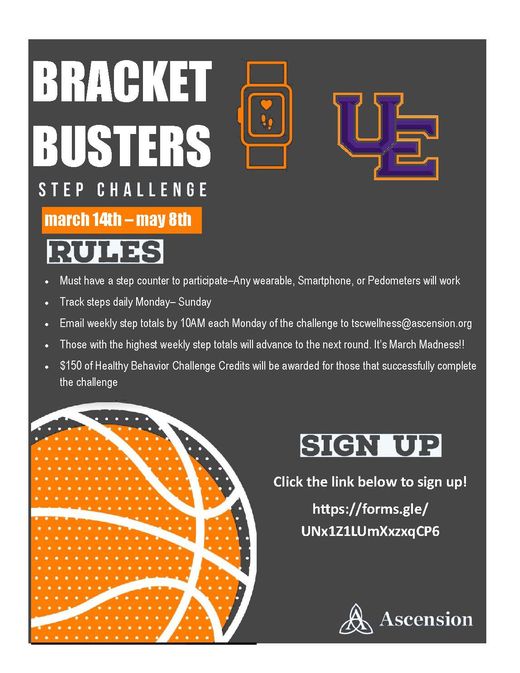 Join Bracket Busters Today!
This step challenge is modeled after the NCAA's March Madness tournament.
Track your steps each day.
Those with the highest step counts at the end of the week will advance to the next round.
March 14-May 8th
To sign up click the following link and enter your information: https://forms.gle/xZq88hveCeDsig8r7
Challenge participants will earn $150 in Healthy Behavior Credits (if not already earned in the 2021-2022 benefit plan year)
All employees are welcome to participate, only those with the HRA Health Plan can be awarded the healthy behavior credit
David Gamble Reception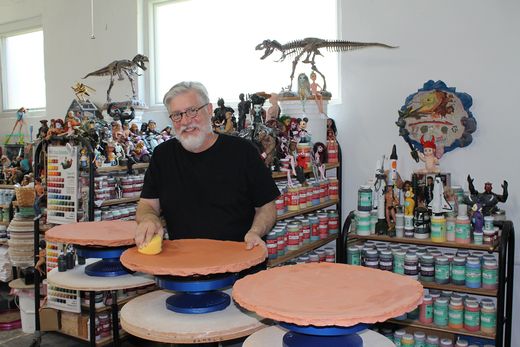 The Department of Art is pleased to announce that the reception for David Gamble has been rescheduled for Friday, February 25 6:30 pm-8:30 pm in the Melvin Peterson Gallery. Please join us for light refreshments and the opportunity to meet the artist behind the exhibit "David Unsupervised".
Intro to Python, and Intro to SQL Workshops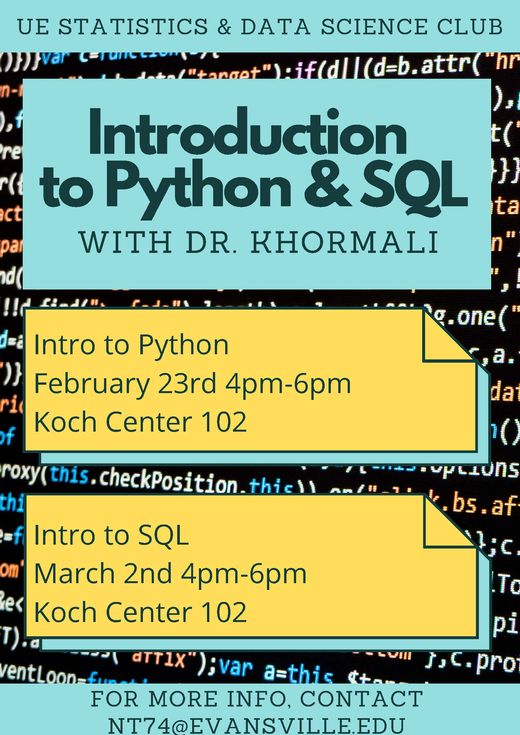 The UE Statistics and Data Science Club have arranged the following workshops:
Intro to Python
Presented by Dr. Omid Khormali
KC 102
February 23
4:00 p.m. to 6:00 p.m.
Intro to SQL
Presented by Dr. Omid Khormali
KC 102
March 2
4:00 p.m. to 6:00 p.m.
For more information, please contact nt74@evansville.edu.
SafeZone Training- Employee Session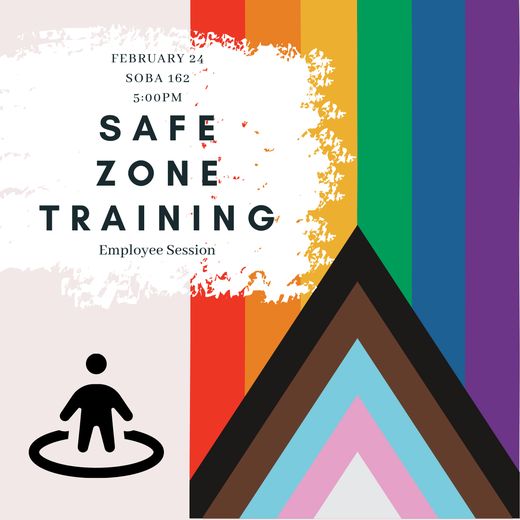 Join the Center for Diversity Equity and Inclusion and facilitator, Dr. Curran, in Safe Zone Training on February 24th beginning at 5pm! Safe Zone Training is a training that will provide participants with the knowledge and skills to ensure their 'zone' is a safe place for members of the LGBTQ+ community. Your 'zone' is anything from your classroom and your office to any space you are in!
Join us in ensuring every zone is a Safe Zone!
Last Chance to Register for Nerd Wars
Don't miss out on this year's Nerd Wars trivia competition! The deadline to register your team is Friday, February 25. Nerd Wars will take place on Wednesday, March 30 at 6:00pm in various classrooms in Koch and over Zoom. Gather your team of up to 5 participants (students, faculty, staff, or administrators) and join us for the trivia battle of the year, complete with Nerdiest Dressed contest, snacks/giveaways, and the chance to win fabulous prizes.
Registration this year is FREE. Register online now at this link: https://forms.gle/4YKs4vp9CW4HrRH28
Please contact Connor Luebbehusen (cl196) or Pranav Haran (ph100) with any questions.
Please participate in this survey for PSYC 246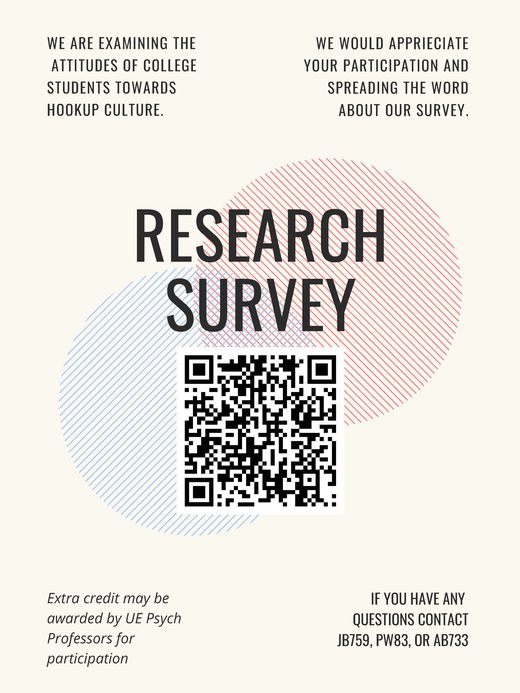 Hello! We are Jared Bailey, Ashley Barnett, and Paige Webster. We are reaching out to ask you to participate in our Research Methods (Psyc 246) study and to encourage others to participate as well. We are examining the attitudes of college students towards hookup culture. Participation in this study will take approximately 15 minutes and would be greatly appreciated.
Welcome Karen Eskridge to the Office of Marketing & Communications!
Please join the Office of Marketing and Communications in welcoming Karen Eskridge to the University of Evansville! Karen is the department's newest senior graphic designer, and she began her duties on Monday, February 21. She will succeed Susan Heathcott who is retiring after more than three decades of service.
Karen is an established graphic designer and brings more than 20 years of design experience to the University. Before UE, she was a senior graphic designer at Ascension. She also worked at Welborn Clinic and 14 News earlier in her career. Karen holds a Bachelor of Fine Arts in graphic design and illustration from Middle Tennessee State University (Murfreesburo, TN).
Textbook Purchase Pick-ups Due and Student Accounts Closed for Bookstore
Textbook orders you have placed are ready for pick-up in the bookstore. Any books you need will be mailed back to the publisher at midterms so the pick-up and ordering deadline is ending very soon. If you need to place a textbook order, please remember that student accounts for the bookstore have closed so any future orders placed for Spring 2022 with the student account will be cancelled immediately. If you have any questions, contact the bookstore manager or assistant store manager at (812) 488-2678. Thank you.
Black History Icon #17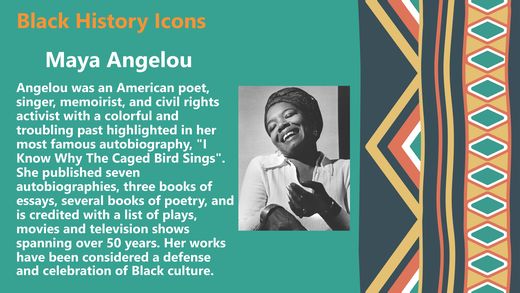 To celebrate Black History Month, we're sending out daily posts to honor icons whose selfless contributions through out history, continue to inspire growth in our various communities. Today's icon is Maya Angelou and you can find more information in the attached poster. You can follow BSU @UEBlackStudentU, @uevansville for more programming during BHM.
PSYC246 Survey Participation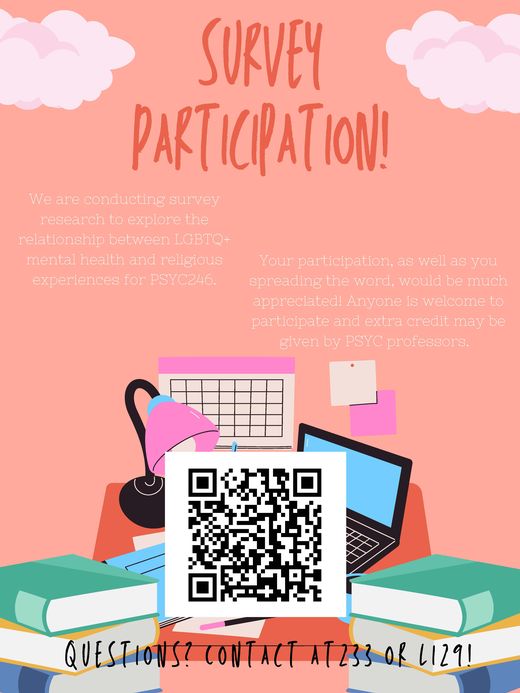 We are exploring the relationship between LGBTQ+ mental health and religious experiences, your participation would be much appreciated!
Slips, Trips & Falls: Risk Management Tip
Slips, trips, and falls are a major cause of injury that occurs to both visitors and employees. They can occur in any business, but are of particular concern to businesses with considerable public and employee foot traffic such as those in retail, higher education, medical, and service industries.
What can you do to make a positive impact?
1) Be aware of your immediate surroundings
2) Wear comfortable, properly fitting non-slip shoes
3) Be aware of the type of surface you are walking on and its condition
4) Adjust to environmental and walking surface conditions
5) Pay attention to "Wet Floor" warning signs to warn of known hazards
6) Practice Good Housekeeping
7) Keep walkways and hallways free of debris, clutter and obstacles
8) Only carry items that allow you to see clearly where you are going
9) Use handrails when going up or down stairs and not skip steps
10) Eliminate or minimize distractions while walking, such as looking at your cell phone
Report unsafe conditions to Office of Public Safety at 812-488-2051.
Be Safe With Each Step!
Black History Month @ UE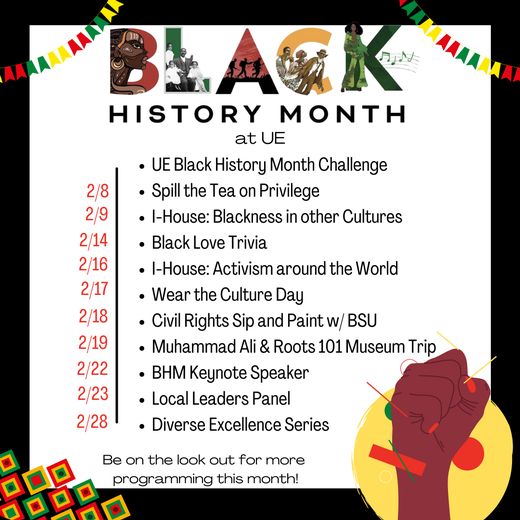 Happy Black History Month!
This Black History Month the Center for Diversity Equity and Inclusion has a number of amazing programs scheduled for the campus and Evansville community! Keep an eye out on Acenotes, UEngage, and our social media for more specific information related to each program and how to RSVP if necessary!
In addition to Black History Month programming the CDEI will also be hosting other programs this month! Be on the look out for these, as well!
If you have any questions about the programming hosted by the CDEI, please send us an email at Center4DEI@evansville.edu
Black History Month @ UE
UE Black History Month Challenge
2/8....................Spill the Tea on Privilege
2/9.....................I-House: Blackness in other Cultures
2/14..................Black Love Trivia
2/16...................I-House: Activism around the World
2/17..................Wear the Culture Day
2/18..................Civil Rights Sip and Paint w/ BSU
2/19..................Muhammad Ali & Roots 101 Museum Trip
2/22..................BHM Keynote Speaker
2/23..................Local Leaders Panel @ Young and Established
2/28..................Diverse Excellence Series
Dr. Hyunsoung Park publishes a journal paper in the Journal of Building Engineering
Dr. Hyunsoung Park, Visiting Assistant Professor of Civil Engineering from the School of Engineering and Computer Science and his co-authors have published a journal paper titled "A deep learning algorithm-driven approach to predicting repair costs associated with natural disaster indicators: The case of accommodation facilities" in the Journal of Building Engineering. Congratulations, Dr. Park!
Counseling Services to Host Farewell Reception for Karen Stenstrom
The Office of Counseling Services invites you to attend a farewell reception in honor of our Director, Karen Stenstrom, as she celebrates more than two decades of service to the University of Evansville! The reception will be held on Tuesday, March 1st, in the Multicultural Student Commons Alcove (across from the Center for Diversity, Equity, and Inclusion) from 3-4:30pm. Light refreshments will be available during the celebration. We hope to see you there!
Shorthanded Aces fall in road finale at Loyola
Facing Missouri Valley Conference leader Loyola on its senior night, the University of Evansville men's basketball team fell to the Ramblers by a final of 82-31 on Wednesday evening inside Gentile Arena.
Loyola (22-6, 13-4 MVC) led by a 41-12 margin at halftime and pulled away in the second half to earn the win. Evansville (6-22, 2-15 MVC) was led by Blake Sisley's nine points. He knocked down three of his six outside tries. Emmette Paige matched his career mark with six points. He has hit that tally in two of the last three games.
Aher Uguak led the Ramblers with 13 points while Lucas Williamson scored 11 and Keith Clemons added 10.
Over the opening minutes, the teams combined to start 1-of-10 from the field with the Ramblers taking a 2-0 lead. Blake Sisley hit UE's first 3-pointer to give the Aces a 3-2 edge before Loyola countered with a 13-0 run. Knocking down five of their next six attempts, LUC went up 15-3. Emmette Page ended a 1-for-10 start from the field with a drive to the basket.
Loyola continued to add to its lead, taking a 41-12 lead at the half. They were 18-of-28 from the field. Evansville shot 18.2% in the opening stanza.
Things continued to go Loyola's way in the second half as they added to the lead before finishing the night with the win. The Ramblers shot 62.0% on the night with the Aces finishing at 25.6%.
The regular season comes to a conclusion on Saturday when the Aces welcome Missouri State to the Ford Center for a 4 p.m. game.
Seven Purple Aces Named To MVC Swimming & Diving Scholar-Athlete Team
Seven members of the University of Evansville women's swimming and diving team have been named to the Missouri Valley Conference's Scholar-Athlete Team for their performances both in the pool and the classroom this year.
Seniors Emily Vasquez (Huntsville, Ala./St. John Paul II), Sarah Kempf (Greenwood, Ind./Center Grove), Maggie Franz (Mundelein, Ill./Mundelein), and Alexa Markl (Scottsdale, Ariz./Notre Dame Prep), juniors Sonsoles Aquayo (Jerez, Spain) and Allison McDonald (Cape Girardeau, Mo./Cape Central), and sophomore Iryna Tsesiul (Minsk, Belarus) all were named to the Valley's Scholar-Athlete Team on Wednesday. To earn MVC Scholar-Athlete Team honors in swimming, it is based on both athletic and academic performance.
A student-athlete must be a sophomore both athletically and academically and meet one of the following criteria:
a.) 3.3 GPA and a member of the MVC All-Conference Team (top 8 finish), or
b.) 3.5 GPA and a top sixteen finish in an individual championship event, or
c.) 3.8 GPA and participation in the MVC Swimming & Diving Championships.
Evansville's seven MVC Scholar-Athlete Team selections come on the heels of nine Purple Aces earning all-conference honors at the 2022 MVC Swimming & Diving Championships.
Contribute to AceNotes
To have content considered for inclusion in AceNotes, please submit a Marketing Request Form. Deadline for submission to AceNotes is 10:00 a.m. on the requested date of publication. Only articles concerning UE related/sponsored activities will be accepted. Articles submitted to AceNotes may be edited for length and clarity. Submitter contact information is at the end of each article.