| | |
| --- | --- |
| AceNotes Today | Wednesday, February 16, 2022 |
HEERF Grant Distribution Authorization for Spring 2022 Now Open for All Students
HEERF III Grant funding is now available for spring 2022.
New students are required to authorize distribution of HEERF grant funds.
Previous recipients who wish to alter prior authorization must resubmit distribution authorization.
All educationally related expenses are eligible for HEERF III funding and may be applied to current and/or future student account balances. Please be aware that funding is limited. Grant recipients requesting a refund must have bank information on file as refunds will be issued electronically via direct deposit.
Submit/Review: HEERF Grant Authorization
The deadline to submit or change authorization for the first round of disbursements is February 18, 2022.
UE Student and Employee Vaccine and Booster Clinic
The University of Evansville has partnered with Tri-State Community Clinics and Ascension St. Vincent to provide a UE Student and Employee Vaccination and a Booster Clinic on Monday, February 28, from 3:00 p.m. - 6:00 p.m. CST.
REGISTRATION IS REQUIRED BY FEBRUARY 21 AT 5:00 P.M. CST.
Students who are taking their first vaccine dose of the 2-dose protocol will make their second dose appointment (minimum of 21 days) at the vaccine clinic after they receive their first dose of vaccine.
The vaccines and boosters are available to all students regardless of residency or citizenship status. If you are receiving a booster or a second dose, make sure to bring your existing vaccination card with you to your appointment. You are eligible for a booster if you are over 12 years old and the date of your 2nd dose is on or before:
Pfizer or Moderna - September 28, 2021 (5 months prior)
Johnson & Johnson - December 28, 2021 (2 months prior)
If you do not meet these criteria, please do not register for an appointment for a booster shot at this time.
Learn more and register today at www.evansville.edu/YourShot
Transportation is available from the UE Campus to Ascension St. Vincent Evansville. Information will be included through the registration process.
Village Housing Information Meetings
Students interested in living in Village housing (Jones Hall, Townhouses, Apartments, or Houses) next year should plan to attend an information meeting. The Villages are reserved primarily for students with 60 plus credit hours. In order to apply to live in the Villages, each person in your group must have at least 44 credit hours on file with the University by the end of the Fall 2021 semester.
Information meetings will be Tuesday, February 22, at 6:00pm and 9:00pm in Eykamp Hall, Room 252, Ridgway University Center. During the meetings, we will discuss how you can apply for Village housing for 2022-23.
If you have questions, please contact Residence Life or email Brian Conner at bc32.
Save the Date: Commencement 2022
Save the Date!
Commencement for the Class of 2022 will be held on Saturday, May 7, 2022 at 1:30 p.m. The ceremony will be held at the Ford Center in downtown Evansville. Guest seating will be limited, with each graduate receiving 10 general admission tickets. The event will follow campus COVID-19 guidelines.
Register TODAY- Career Expo 2022
Join us in Indianapolis on Thursday, February 24, 2022 for the Career Expo. More than 84 top employers from Indiana and beyond will be available offering full-time, summer, internship and co-op positions. Students in all class years and all majors are encouraged to attend. See Handshake for a complete list of employers and to register for this event.
This event is held in Indianapolis, IN and UE will provide FREE transportation and lunch. To reserve your seat on the bus, see link in Handshake or in your email. If you have any questions, contact the Center for Career Development at career@evansville.edu or 812-488-1083.
Calling all gamers! NIRSA Sponsored eSports Rocket League Tournament
NIRSA Championship Series eSports Tournament | Rocket League
Dates: Thursday, February 24th - Saturday, February 26th
Leagues:
3v3 Competitive
3v3 Recreational
3v3 Unified
1v1 Competitive
1v1 Recreational
Registration Information
Opens: Monday, January 17th
Closes: Thursday, February 17th
Cost:
3v3 Teams: $75, all divisions
1v1 Teams: $25, all divisions
Location: NIRSA IMLeagues
If additional questions arise contact Nikki Vance or Zach Gentz at esports@nirsaleaders.org
UE students contact Drew @ah519 to possibly receive funding and registering your team as an official UE Club E-Sport
Black History Month Keynote Speaker: Anthony Murdock II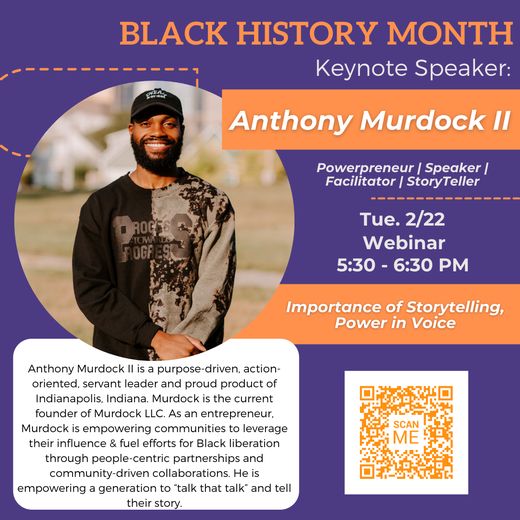 The Center for Diversity, Equity, and Inclusion is pleased to host a Black History Month Keynote Speaker. Join us as we hear from Anthony Murdock II, an Indiana native and the founder of Murdock LLC. to learn about the importance of storytelling and the power in voice.
As an entrepreneur, Murdock is empowering communities to leverage their influence & fuel efforts for Black liberation through people-centric partnerships and community-driven collaborations. He is empowering a generation to "talk that talk" and tell their story.
Please scan the QR Code on the flyer above to successfully register for this virtual event.
We look forward to seeing you on February 22nd from 5:30-6:30 pm!
Black History Month Sip and Paint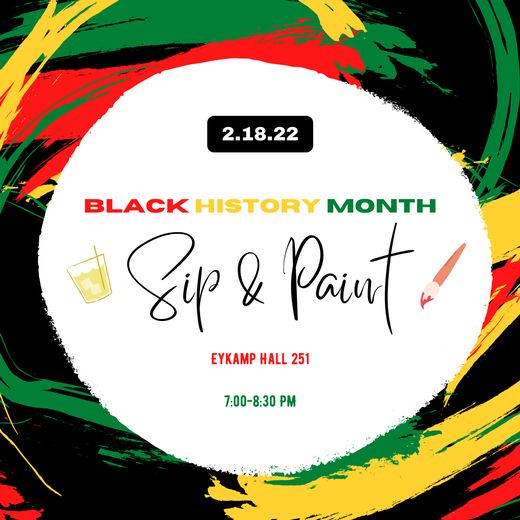 Happy Black History Month!
The Center for Diversity, Equity, and Inclusion invites you to participate in Back History Month Sip and Paint! This event will be held on Friday, February 18th, in Eykamp Hall from 7:00-8:30 PM. Come out and show off your amazing artistic skills as we recreate images from the Civil Rights Movement!
We look forward to seeing you there!
*Alcohol not allowed. Non-alcoholic juice will be provided to participants!
Black History Month Local Leaders Panel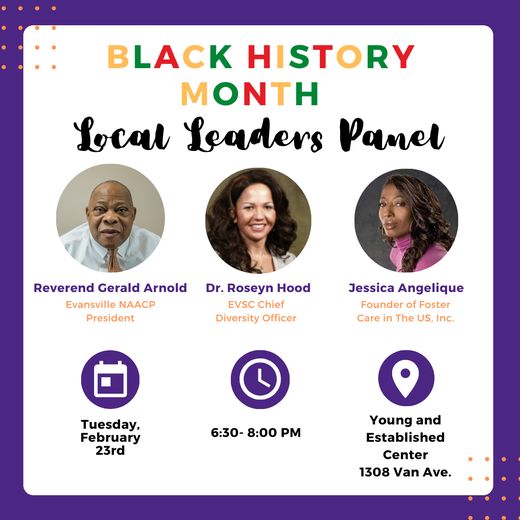 As part of Black History Month, we invite you to join the Center for Diversity, Equity, and Inclusion for a Local Leaders Panel! This event will be held on Tuesday, February 23rd from 6:30-8:00 pm at the Young and Established Center (1308 Van Avenue) here in Evansville.
The panelists, Reverend Gerald Arnold, Dr. Roseyn Hood, and Jessica Angelique will share their experiences, knowledge, and answer any questions that you may have.
We hope to see you there!
Engineers Week Speaker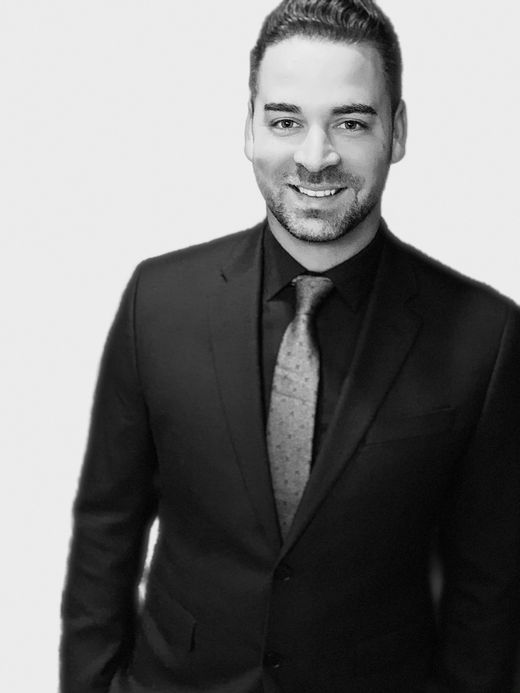 Custom Engineered Equipment - Where Business and Technical Applications of Engineering Converge
February 23, 2022
12 - 1 pm CST via Zoom
https://www.evansville.edu/engineering/engineers-week.cfm
Please join the School of Engineering and Computer Science as we explore the synergies between a technical engineering education and the broad world of project management and business development. Join UE Alumnus Jesse Schneider (Mechanical Engineering '06) as he delves into his pathway through career development and continuous education. This presentation will discuss opportunities and challenges facing both current students and alumni. Q&A to follow.
Jesse is currently serving as the Director of Engineering for Kelley Engineered Equipment, LLC after working as a Project Engineer & Engineering Manager at Frontier-Kemper Constructors for 10 years. Since moving to KEE in May 2016 to further his career in mechanical design specializing in custom tunneling equipment, Jesse has led multiple projects through to completion. He earned a B.S in Mechanical Engineering from the University of Evansville in 2006, his MBA from the University of Southern Indiana in 2020, and is a registered Professional Engineer in the states of Indiana, Nevada, New York, and Washington. In his spare time, Jesse enjoys spending time with his wife and two kids by either mountain biking or snow skiing.
Zoom info found at web address listed above.
$25 Spring Break adventure
What are you doing for Spring Break? Are you interested in having an amazing adventure for only $25?
Join the UE Venturing Crew from March 5th thru the 8th as we backpack Red River Gorge, (an area of absolutely incredible beauty in Daniel Boone National Forest), stay at a luxurious cabin and on the last day, we will be doing a climbing experience like no other, Via Farrata.
We will leave campus early Saturday Morning.
Arriving at Red River Gorge around lunch time where we will eat at the trail head before beginning our trek.
We will spend Saturday night under the stars (in tents) and then wake up Sunday to see one of the most amazing views in the Gorge.
Sunday night we will be under the stars again and will work our way back to the vehicles Monday to have dinner at Miguel's Pizza.
We will spend Monday night at a luxurious cabin reserved just for us.
Tuesday morning we will fill our tummies with a home cooked meal at the cabin before heading to do a Via Farrata style climbing adventure.
We will be returning back to campus Tuesday evening.
The price for this trip is only $25.
Don't have the gear? The Crew has you covered from backpacks, sleeping bags to tents and cooking utensils.
Can't afford $25, borrow it from a friend, check the couch cushions, anything, you need to go on this trip.
The $25 includes all fees, and food (except for 1 dinner at Miguel's Pizza on your own).
Sign-ups will start the end of next week (02/17) so keep an eye open for emails, Acenotes and on UEngage.
You must sign up at the tables in Ridgway or email venturing@evansville.edu to schedule a time and place to sign up.
Again, this trip is only $25.
Muhammad Ali Center & Roots 101 Museum Day Trip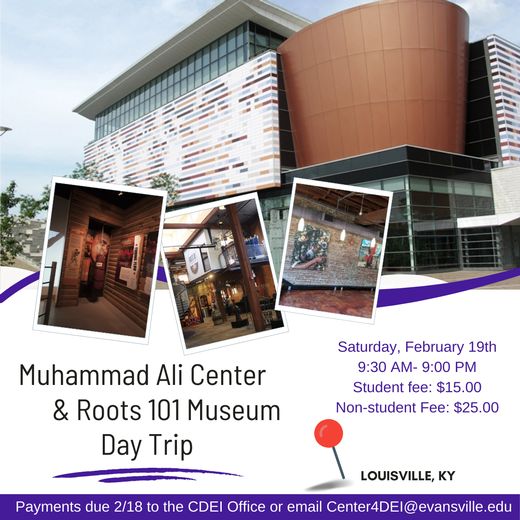 Join the Center for Diversity, Equity and Inclusion on a day trip to Louisville, Kentucky to the Muhammad Ali Center and Roots 101 Museum. We will spend the day immersed in Black history and culture at these two amazing centers in Louisville. After our time at each location there will be time to grab dinner at a local restaurant before hopping on the bus and heading back to Evansville. Sign-up in advance is required! Please find more information below regarding the trip!
Saturday, February 19th
9:30am- 9:00pm
Student fees: $15.00
Non-Student fees: $25.00
Payments will need to be brought to the CDEI no later than 5pm on 2/18. Please email the CDEI for digital payment options.
On Saturday, 2/19 we will load the bus at 9:30am and head towards Louisville. It is suggested to have a large breakfast and bring snacks for the bus as there will not be time for lunch! After the last museum you will have some free time to grab dinner and explore Louisville before re-loading the bus at 7:00pm.
This is sure to be an amazing day and you do not want to miss out!
For any questions reach out to the CDEI at Center4DEI@evansville.edu
I-House: Activism Around the World
The Centers for Diversity, Equity, & Inclusion and Innovation & Change are pleased to announce I-House: Activism Around the World. Join us on Wednesday, February 16th at 7:00 PM in the Ridgway Gallery (2nd floor), as we hear from Vipin Thekk, Senior Director of Ashoka's Youth Venture regarding how activism plays a role in our global landscape.
UE is one of 50 Ashoka Changemaker campuses around the world. Ashoka works to identify and support the world's leading social entrepreneurs, learns from the patterns in their innovations, and mobilizes a global community that embraces these new frameworks to build an "everyone a changemaker world." As a UE community member, you are already a changemaker! Come learn more about changemaking go hand in hand with activism around the world.
There will be a virtual option for those who cannot attend in person, but we do ask that you RSVP.
Student Leadership Conference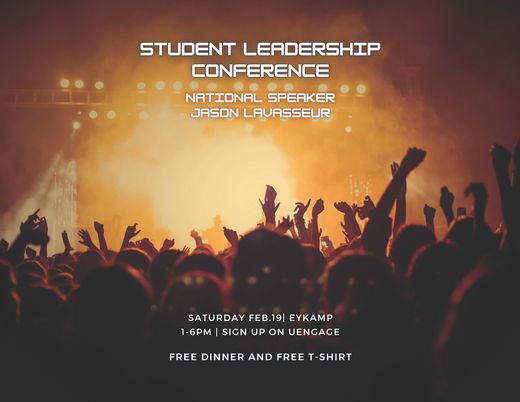 Sign-up for the Student Leadership Conference on Feb.19 from 1-6pm for a day of learning with Jason Lavasseur, national collegiate speaker, a FREE T SHIRT AND A FREE MEAL!
Vagina Monologues Auditions
Audition for the Vagina Monologues! This year WRA will be hosting TVM on March 26th, and we're looking for participants to read one or more monologues. If you're interested in auditioning, email aj154@evansville.edu to schedule an audition date during the week of February 14. If you're uncomfortable meeting in person, video auditions are possible.
ZOOM!! *~* TONIGHT *~* Activism Around the World with Vipin Thekk
Greetings, Changemakers!
Due to high demand, we are moving the Activism Around the World with Vipin Thekk event to Zoom!
Anyone, and everyone, may join us from their comfortable space.
Tonight, February 16th
7p.m.
Join Zoom Meeting
https://evansville-edu.zoom.us/j/5728318957
About Vipin Thekk:
I am an experienced facilitator, coach, design consultant, and entrepreneur. Over the last decade, I have designed and led over 20 transformational journeys for families, school districts, non-profits, cities, and faith institutions, toward creating a culture of innovation, agency, and empathy. I am also an assistant faculty member of Generating Transformational Change at the Pacific Integral Institute, a unique nine-month program to develop human consciousness and leadership. I have a Master's in Social Work and am an Integral Life Coach, a Kundalini Yoga teacher, and a seasoned facilitator, having led transformation-based work for groups and institutions in Asia, Europe, and the United States. Read more at www.changemakercommunities.org
CFIC + IHouse = Activism Around the World with Vipin Thekk THIS Wednesday, February 16th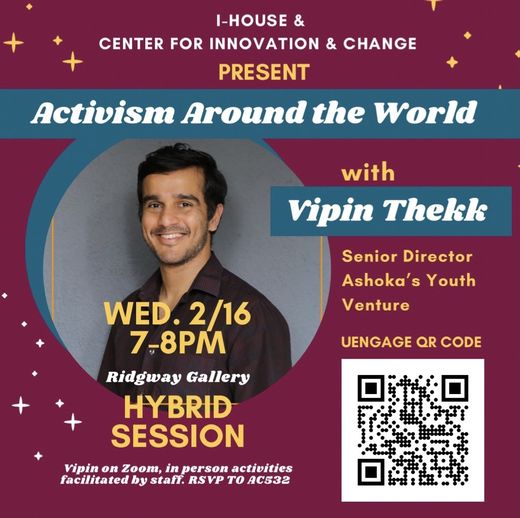 Due to high demand, we are moving the Activism Around the World with Vipin Thekk event to Zoom!
Anyone, and everyone, may join us from their comfortable space.
Tonight, February 16th
7p.m.
Join Zoom Meeting
https://evansville-edu.zoom.us/j/5728318957
About Vipin Thekk:
I am an experienced facilitator, coach, design consultant, and entrepreneur. Over the last decade, I have designed and led over 20 transformational journeys for families, school districts, non-profits, cities, and faith institutions, toward creating a culture of innovation, agency, and empathy. Read more at www.changemakercommunities.org
My passion to unleash human potential has inspired me to launch wide-ranging initiatives that are all underpinned by a desire to see our institutions evolve to meet the urgent needs of our times. At Ashoka, I lead the Your Kids initiative which is designed to equip parents to raise changemaker families. I also lead our work in the US on building innovative collaborations among national unions, publishers, media and government to support students to become powerful changemakers.
I am also an assistant faculty member of Generating Transformational Change at the Pacific Integral Institute, a unique nine-month program to develop human consciousness and leadership. I have a Master's in Social Work and am an Integral Life Coach, a Kundalini Yoga teacher, and a seasoned facilitator, having led transformation-based work for groups and institutions in Asia, Europe, and the United States.
Please register at: https://uengage.evansville.edu/event/7856167/rsvp
Black History Icon #11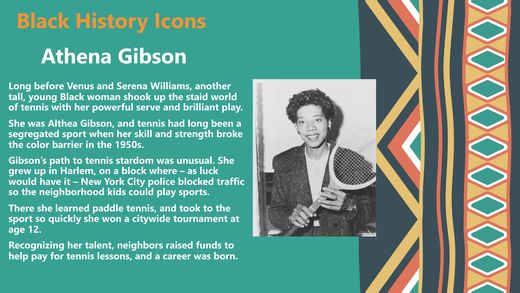 To celebrate Black History Month, we're sending out daily posts to honor icons whose selfless contributions through out history, continue to inspire growth in our various communities. Today's icon is Athena Gibson and you can find more information in the attached poster. You can follow BSU @UEBlackStudentU, @uevansville for more programming during BHM.
Register for Nerd Wars by Wednesday, February 16
Don't forget to register for this year's Nerd Wars trivia competition! Nerd Wars will take place on Wednesday, March 30 at 6:00pm in various classrooms in Koch and over Zoom. In addition to the trivia battle, Nerd Wars will feature the Nerdiest Dressed competition, snacks/giveaways, and the chance to win fabulous prizes. Form your team of up to 5 participants (students, faculty, administrators and staff are welcome to participate) and join us to compete for prizes, bragging rights, and the coveted Nerd Wars trophy.
Register online now at this link: https://forms.gle/4YKs4vp9CW4HrRH28
Registration this year is FREE. The deadline to register is Wednesday, February 16.
Please contact Connor Luebbehusen (cl196) or Pranav Haran (ph100) with any questions.
Have you applied for graduation?
Seniors,
If you have not applied for graduation, please make sure you do so. You can do this through the Self-Service Graduation Overview tab. You must apply for graduation even if you do not plan on attending Commencement.
Questions, please contact Ashley Nels at an89@evansville.edu
Slips, Trips & Falls: Risk Management Tip
Slips, trips, and falls are a major cause of injury that occurs to both visitors and employees. They can occur in any business, but are of particular concern to businesses with considerable public and employee foot traffic such as those in retail, higher education, medical, and service industries.
What can you do to make a positive impact?
1) Be aware of your immediate surroundings
2) Wear comfortable, properly fitting non-slip shoes
3) Be aware of the type of surface you are walking on and its condition
4) Adjust to environmental and walking surface conditions
5) Pay attention to "Wet Floor" warning signs to warn of known hazards
6) Practice Good Housekeeping
7) Keep walkways and hallways free of debris, clutter and obstacles
8) Only carry items that allow you to see clearly where you are going
9) Use handrails when going up or down stairs and not skip steps
10) Eliminate or minimize distractions while walking, such as looking at your cell phone
Report unsafe conditions to Office of Public Safety at 812-488-2051.
Be Safe With Each Step!
Black History Month @ UE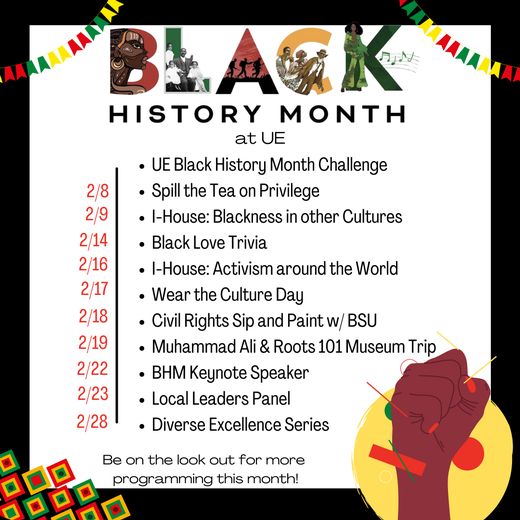 Happy Black History Month!
This Black History Month the Center for Diversity Equity and Inclusion has a number of amazing programs scheduled for the campus and Evansville community! Keep an eye out on Acenotes, UEngage, and our social media for more specific information related to each program and how to RSVP if necessary!
In addition to Black History Month programming the CDEI will also be hosting other programs this month! Be on the look out for these, as well!
If you have any questions about the programming hosted by the CDEI, please send us an email at Center4DEI@evansville.edu
Black History Month @ UE
UE Black History Month Challenge
2/8....................Spill the Tea on Privilege
2/9.....................I-House: Blackness in other Cultures
2/14..................Black Love Trivia
2/16...................I-House: Activism around the World
2/17..................Wear the Culture Day
2/18..................Civil Rights Sip and Paint w/ BSU
2/19..................Muhammad Ali & Roots 101 Museum Trip
2/22..................BHM Keynote Speaker
2/23..................Local Leaders Panel @ Young and Established
2/28..................Diverse Excellence Series
Eykamp Prize: Call for Nominations
The Eykamp Prize was established by Richard and Rita Eykamp in 2015 to honor Faculty Achievement at the University of Evansville. Recipients of the prize will receive a one-time award of $10,000 in recognition of extraordinary contributions to the University of Evansville as University Citizens. Examples of such contributions include deep and successful involvement in recruiting students; expanding the number, scope, and competitiveness of grant funding for their department; bringing positive public awareness to the University through scholarship, knowledge, and understanding of their discipline.
Nominations for the Eykamp Prize may come from any member of the University of Evansville Community. Nominees should be tenured or tenure-track faculty members at the University of Evansville who have not received the award in the previous five years. Nominations can be submitted in writing or via e-mail to Michael Austin, Executive Vice President for Academic Affairs/Provost, at ma352@evansville.edu by March 11, 2022. Nominations should include the name of the faculty member and a brief statement of the reasons that he or she is being nominated.
Recipients of the Eykamp Prize will be selected by an Award Committee, appointed by the EVPAA/Provost that includes members of the faculty, staff, administrators, and a member of the Board of Trustees. Awards will be announced and presented at the May Commencement Ceremony.
Recipients in the previous five years: 2017 – Dr. Lora Becker; 2018 – Dr. David Dwyer; 2019 – Dr. Kristy Miller; 2020 – Dr. Jerrilee LaMar; 2021 – Dr. Joyce Stamm
Tanner Craig named to second straight Bobby Bragan Collegiate Slugger Award watch list
For the second-straight season, University of Evansville first baseman Tanner Craig has been named to the Bobby Bragan Collegiate Slugger Award watch list, it was announced in a release from the organization on Tuesday afternoon.

The award, created by the Bobby Bragan Youth Foundation, was open to nominations from all Division I baseball programs in the country. The BBCSA is based on performance at the plate, academics and personal integrity. This year's watch list consists of 44 players representing 18 conferences around the country, including all five power conferences. Craig is joined by Dallas Baptist sophomore Jace Grady as the only two representatives of the Missouri Valley Conference on the watch list. Craig is also one of six nominees who have made the list more than once.

It was another standout year at the plate for the Scottsburg, Ind. native, who put on a power hitting clinic as a senior, hitting a team-best 12 home runs, vaulting himself into a tie for fourth in program history with 30 homers. Craig played and started in 54 of 55 games in 2021, leading the Aces with 47 RBI, while slugging a team-best .547 on the season.

The winner of the BBCSA will be announced in June and honored at a gala in the fall at the Fort Worth Club. Texas Tech's Hunter Hargrove won the initial BBCSA in 2017. Dallas Baptist's Devlin Granberg took home the honor in 2018 with Texas Tech's Josh Jung winning the award in 2019.
UE Women's Swimming & Diving Heads To MVC Championships Wednesday
The University of Evansville women's swimming and diving will head to Iowa City, Iowa on Wednesday to take part in the 2022 Missouri Valley Conference Swimming & Diving Championships, hosted by the University of Northern Iowa. The Valley Championships will begin Wednesday at 6 p.m. and continue through Saturday night.
The UE women will enter the league championships off of a regular-season which saw the Purple Aces go 5-2 in dual meet action and pick up a second-place finish at the A3 Performance Invitational in Carbondale, Illinois back in November. Evansville set three school records during the course of the regular-season, and will be looking to take down more at the Valley Championships.
"The ladies are ready," said UE head swimming coach Stuart Wilson. "They were pretty relaxed and confident after leaving campus for Iowa. They have been training well and I expect to see some great performances from the ladies this week."
Junior Sarah Jahns (Lilburn, Ga./Parkview) lowered UE's record in the 200-yard backstroke back in November, and will attempt to lower it even further this week. Fellow junior Maya Cunningham (Yakima, Wash./Eisenhower) will also try to lower her own school records in both the 200-yard butterfly and 400-yard IM this weekend. Freshman Sveva Brugnoli (Rome, Italy) made history in November by breaking a more than 20-year-old record in the 200 IM, and will look to better that and the record in the 100-yard butterfly as well.
In all, UE's roster features six women who currently own school records at Evansville. That group includes the quartet of Cunningham, junior Sage Moore (Lexington, Ohio/Lexington), senior Jessie Steele (Houston, Texas/Klein) and sophomore Iryna Tsesiul (Minsk, Belarus), who set the school record in the 400-yard Medley Relay at the 2021 Valley Championships. UE also features a group of nine women who have earned honorable mention all-MVC honors in the past, including three divers in seniors Maggie Franz (Mundelein, Ill./Mundelein), Fae Keighley (Johannesburg, South Africa) and Sarah Kempf (Greenwood, Ind./Center Grove).
Vetter and Weatherford earn MVC awards
After leading the University of Evansville softball team to a perfect 5-0 record to open the 2022 season, Izzy Vetter and Sydney Weatherford were recognized by the Missouri Valley Conference on Tuesday. Vetter was named the MVC Pitcher of the Week while Weatherford opened her career as the league's Newcomer of the Week.
"Congratulations to Izzy and Sydney. Izzy came out on fire this season in the circle. She was in total control this weekend of her pitches and really dominated," UE head softball coach Mat Mundell said. "Sydney got off to an amazing start to her career both in the circle and at the plate. We hoped that she would be able to come in and help us in both areas and she really did that in week one."

"It was such a great team weekend all-around on the diamond and was really neat to see both a senior and freshman lead this team opening weekend. It gives our program some real excitement for the year."
Izzy Vetter could not have had a better start to her season in the Best on the Bayou Classic. The senior picked up a no-hitter, three victories, 30 strikeouts and did not allow a single earned run over the course of 17 innings pitched. Taking on defending Southland Conference regular season champion Stephen F. Austin in the opener, Vetter threw a complete game 1-hitter and struck out 10.
Vetter came close to perfection on Saturday against Mississippi Valley State, tossing the second no-hitter of her career. In five frames in the circle, Vetter struck out 11 batters and allowed just one baserunner. She capped off the weekend with win #3 over SIU Edwardsville. In five innings, she struck out nine batters and allowed three unearned runs.

In her first weekend of collegiate action, Sydney Weatherford made an impact at the plate and in the circle. Offensively, Weatherford batted .400 with an unreal three triples, a home run, 10 RBI and four runs scored. After going 2-8 in Friday's doubleheader, Weatherford came through in a big way in the final three games, combining to go 6-for-12 with 10 RBI. Against Southern, she had a triple and three RBI before adding two more RBI, a triple and homer against Mississippi Valley State.
Weatherford added triple #3 on Sunday along with five runs batted in. On the pitching side, she threw seven scoreless innings on Friday against Morehead State and fanned six batters while allowing just four hits. Her efforts helped UE earn the win in nine innings. On Saturday, she picked up the first win of her career against Southern. She gave up three unearned runs in 3 2/3 innings. For the week, she did not allow an earned run over the course of 10 2/3 innings while allowing nine hits and striking out nine betters.
Men's basketball travels to Des Moines to face Drake
Looking for its first win in the State of Iowa since 2016, the University of Evansville men's basketball team travels to Des Moines for a 7 p.m. contest on Wednesday at Drake. ESPN+ and the Purple Aces Radio Network will have the coverage.
Schedule Update
- Schedule adjustments have been set following last week's postponement
- UE will face the Beacons on Feb. 19 at the Ford Center with a new start time of 1 p.m.
- The road game is set for Monday, Feb. 21 at 7 p.m.
In a Zone
- Entering Thursday's game against Indiana State, Blaise Beauchamp 6.0 points per game, but a huge spurt saw him raise his season mark by 1.5 points in a 2-game stretch that saw him average 24 PPG
- He had the top game of his career on Thursday, scoring 29 in the double overtime game vs. INS, going 8-for-15 from the field while hitting six triples
- Beauchamp followed that up with 19 points at SIU on a 7-of-13 shooting performance and 3/4 finish from 3-point distance
- His effectiveness has been better when he is in the starting lineup with his scoring average in four starts sitting at 15.5 PPG...in games he comes off the bench, his scoring checks in at 5.9 PPG
Finding his Consistency
- In a 5-game stretch between 1/21 and 2/5, Shamar Givance scored six or few points in three of those contests
- Over the last three outings, Givance has scored at least 17 points in each game while averaging 6.0 rebounds & 4.7 assists
- He has averaged 40.9 minutes over that time while tallying 14 helpers and 7 TO's
- The latest streak raised his season average to a team-best 14.1 PPG, which ranks 11th in the MVC
- At SIU, Givance added six assists, marking the 7th time in eight games that he has had at least four helpers...his season mark of 3.8 ast/gm is 5th in the Valley
Trending Upward
- Over the last three games, Evansville has averaged 68.0 points per game in a strong offensive turnaround
- The nine games between 1/2 and 2/5 saw UE post 53.9 PPG while scoring 61 or fewer in each contest
- As a team, the Aces are shooting 43.5% in the last three while hitting 41.4% of their 3-point tries...in the 9-game stretch, UE shot 36.7% overall and 30.1% from long range
- Evansville was outscored by just 0.3 PPG in the last three while that number rose to 19.2 points in the nine prior
Finishing Strong
- An 18-point game at SIU marked Evan Kuhlman's top performance since his career game against DePauw in November
- Kuhlman was 5-of-9 from the field on his way to the 18-point game vs. the Salukis
- He continued his strong 3-point shooting going 3-of-6 in the game and has knocked down 12 of his last 26 beyond the arc
- Over the last seven games, Kuhlman has recorded an average of 9.6 points per game while improving his season tally to 7.0 PPG
Scouting the Opponent
- Drake comes into Wednesday's contest having lost three in a row to fall to 17-9 and 8-5 in the MVC
- On Saturday, the Bulldogs dropped a 68-59 game at Bradley and fell to Missouri State (62-66) and UNI (69-74 OT) prior to that
- Freshman Tucker DeVries continues to lead the team with 13.6 points per game
- He was the leading scorer in the first meeting this season against the Aces, scoring 15
- Garrett Sturtz checks in with a team-high 7.6 rebounds per game while ranking second with 11.0 PPG
- Roman Penn and D.J. Wilkins average 10.6 and 10.5 PPG, respectively
Contribute to AceNotes
To have content considered for inclusion in AceNotes, please submit a Marketing Request Form. Deadline for submission to AceNotes is 10:00 a.m. on the requested date of publication. Only articles concerning UE related/sponsored activities will be accepted. Articles submitted to AceNotes may be edited for length and clarity. Submitter contact information is at the end of each article.