| | |
| --- | --- |
| AceNotes Today | Tuesday, February 15, 2022 |
HEERF Grant Distribution Authorization for Spring 2022 Now Open for All Students
HEERF III Grant funding is now available for spring 2022.
New students are required to authorize distribution of HEERF grant funds.
Previous recipients who wish to alter prior authorization must resubmit distribution authorization.
All educationally related expenses are eligible for HEERF III funding and may be applied to current and/or future student account balances. Please be aware that funding is limited. Grant recipients requesting a refund must have bank information on file as refunds will be issued electronically via direct deposit.
Submit/Review: HEERF Grant Authorization
The deadline to submit or change authorization for the first round of disbursements is February 18, 2022.
UE Student and Employee Vaccine and Booster Clinic
The University of Evansville has partnered with Tri-State Community Clinics and Ascension St. Vincent to provide a UE Student and Employee Vaccination and a Booster Clinic on Monday, February 28, from 3:00 p.m. - 6:00 p.m. CST.
REGISTRATION IS REQUIRED BY FEBRUARY 21 AT 5:00 P.M. CST.
Students who are taking their first vaccine dose of the 2-dose protocol will make their second dose appointment (minimum of 21 days) at the vaccine clinic after they receive their first dose of vaccine.
The vaccines and boosters are available to all students regardless of residency or citizenship status. If you are receiving a booster or a second dose, make sure to bring your existing vaccination card with you to your appointment. You are eligible for a booster if you are over 12 years old and the date of your 2nd dose is on or before:
Pfizer or Moderna - September 28, 2021 (5 months prior)
Johnson & Johnson - December 28, 2021 (2 months prior)
If you do not meet these criteria, please do not register for an appointment for a booster shot at this time.
Learn more and register today at www.evansville.edu/YourShot
Transportation is available from the UE Campus to Ascension St. Vincent Evansville. Information will be included through the registration process.
Save the Date: Commencement 2022
Save the Date!
Commencement for the Class of 2022 will be held on Saturday, May 7, 2022 at 1:30 p.m. The ceremony will be held at the Ford Center in downtown Evansville. Guest seating will be limited, with each graduate receiving 10 general admission tickets. The event will follow campus COVID-19 guidelines.
Register TODAY- Career Expo 2022
Join us in Indianapolis on Thursday, February 24, 2022 for the Career Expo. More than 84 top employers from Indiana and beyond will be available offering full-time, summer, internship and co-op positions. Students in all class years and all majors are encouraged to attend. See Handshake for a complete list of employers and to register for this event.
This event is held in Indianapolis, IN and UE will provide FREE transportation and lunch. To reserve your seat on the bus, see link in Handshake or in your email. If you have any questions, contact the Center for Career Development at career@evansville.edu or 812-488-1083.
Calling all gamers! NIRSA Sponsored eSports Rocket League Tournament
NIRSA Championship Series eSports Tournament | Rocket League
Dates: Thursday, February 24th - Saturday, February 26th
Leagues:
3v3 Competitive
3v3 Recreational
3v3 Unified
1v1 Competitive
1v1 Recreational
Registration Information
Opens: Monday, January 17th
Closes: Thursday, February 17th
Cost:
3v3 Teams: $75, all divisions
1v1 Teams: $25, all divisions
Location: NIRSA IMLeagues
If additional questions arise contact Nikki Vance or Zach Gentz at esports@nirsaleaders.org
UE students contact Drew @ah519 to possibly receive funding and registering your team as an official UE Club E-Sport
Black History Month Keynote Speaker: Anthony Murdock II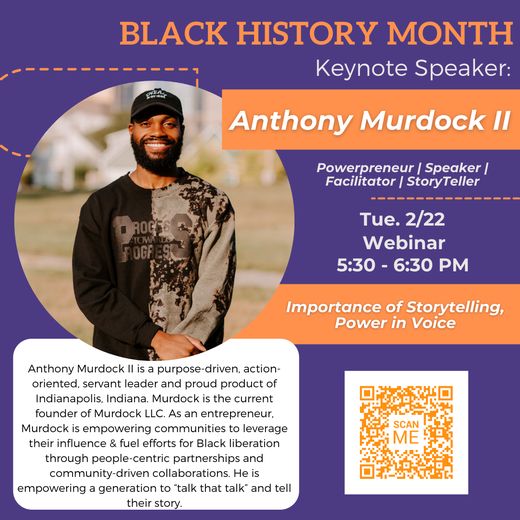 The Center for Diversity, Equity, and Inclusion is pleased to host a Black History Month Keynote Speaker. Join us as we hear from Anthony Murdock II, an Indiana native and the founder of Murdock LLC. to learn about the importance of storytelling and the power in voice.
As an entrepreneur, Murdock is empowering communities to leverage their influence & fuel efforts for Black liberation through people-centric partnerships and community-driven collaborations. He is empowering a generation to "talk that talk" and tell their story.
Please scan the QR Code on the flyer above to successfully register for this virtual event.
We look forward to seeing you on February 22nd from 5:30-6:30 pm!
Black History Month Sip and Paint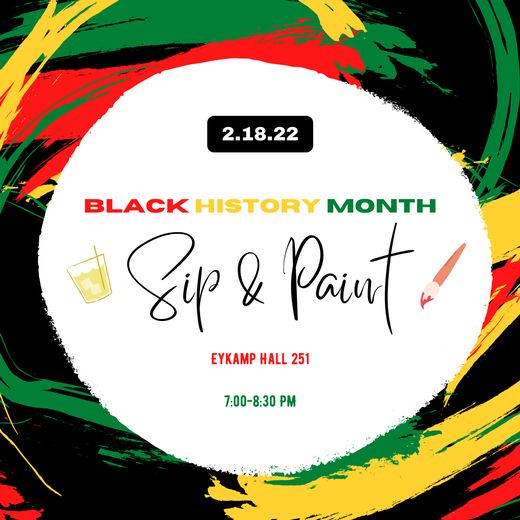 Happy Black History Month!
The Center for Diversity, Equity, and Inclusion invites you to participate in Back History Month Sip and Paint! This event will be held on Friday, February 18th, in Eykamp Hall from 7:00-8:30 PM. Come out and show off your amazing artistic skills as we recreate images from the Civil Rights Movement!
We look forward to seeing you there!
*Alcohol not allowed. Non-alcoholic juice will be provided to participants!
Black History Month Local Leaders Panel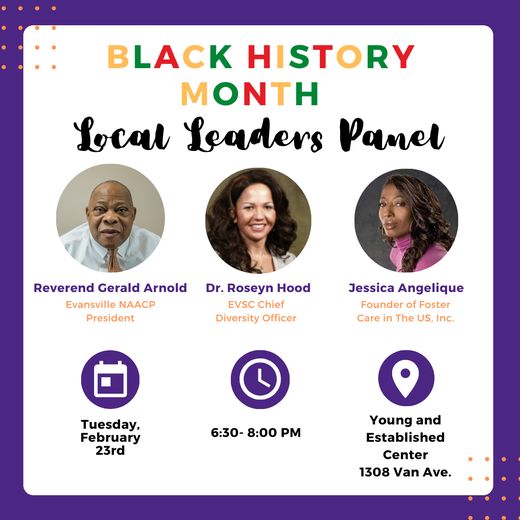 As part of Black History Month, we invite you to join the Center for Diversity, Equity, and Inclusion for a Local Leaders Panel! This event will be held on Tuesday, February 23rd from 6:30-8:00 pm at the Young and Established Center (1308 Van Avenue) here in Evansville.
The panelists, Reverend Gerald Arnold, Dr. Roseyn Hood, and Jessica Angelique will share their experiences, knowledge, and answer any questions that you may have.
We hope to see you there!
$25 Spring Break adventure
What are you doing for Spring Break? Are you interested in having an amazing adventure for only $25?
Join the UE Venturing Crew from March 5th thru the 8th as we backpack Red River Gorge, (an area of absolutely incredible beauty in Daniel Boone National Forest), stay at a luxurious cabin and on the last day, we will be doing a climbing experience like no other, Via Farrata.
We will leave campus early Saturday Morning.
Arriving at Red River Gorge around lunch time where we will eat at the trail head before beginning our trek.
We will spend Saturday night under the stars (in tents) and then wake up Sunday to see one of the most amazing views in the Gorge.
Sunday night we will be under the stars again and will work our way back to the vehicles Monday to have dinner at Miguel's Pizza.
We will spend Monday night at a luxurious cabin reserved just for us.
Tuesday morning we will fill our tummies with a home cooked meal at the cabin before heading to do a Via Farrata style climbing adventure.
We will be returning back to campus Tuesday evening.
The price for this trip is only $25.
Don't have the gear? The Crew has you covered from backpacks, sleeping bags to tents and cooking utensils.
Can't afford $25, borrow it from a friend, check the couch cushions, anything, you need to go on this trip.
The $25 includes all fees, and food (except for 1 dinner at Miguel's Pizza on your own).
Sign-ups will start the end of next week (02/17) so keep an eye open for emails, Acenotes and on UEngage.
You must sign up at the tables in Ridgway or email venturing@evansville.edu to schedule a time and place to sign up.
Again, this trip is only $25.
SafeZone Training- Student Session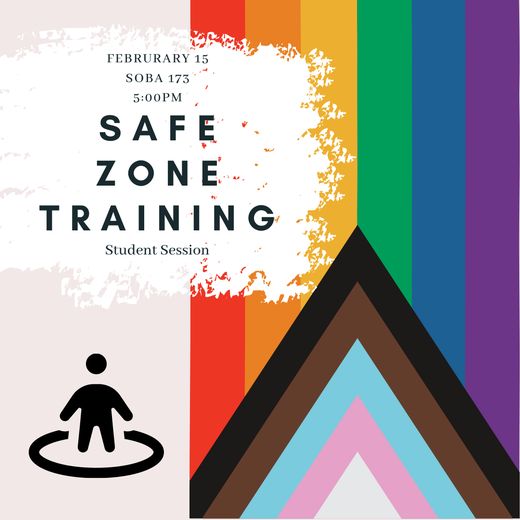 Join the Center for Diversity Equity and Inclusion and facilitator, Dr. Curran, in Safe Zone Training on February 15th beginning at 5pm! Safe Zone Training is a training that will provide participants with the knowledge and skills to ensure their 'zone' is a safe place for members of the LGBTQ+ community. Your 'zone' is anything from student orgs, your dorm, classrooms, your work, etc.
Join us in ensuring every zone is a Safe Zone!
Black History Month Challenge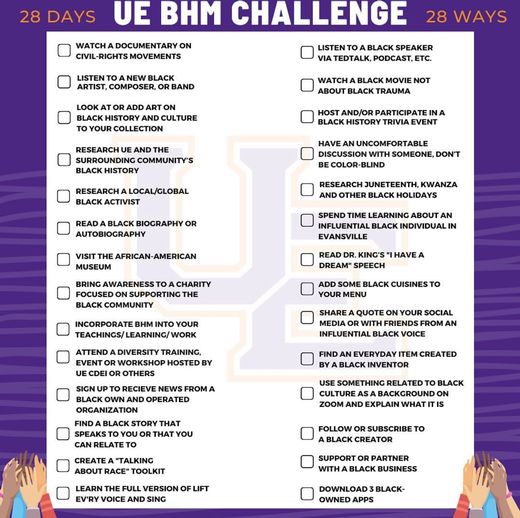 During Black History Month join the UE BHM Challenge sponsored by the Center for Diversity, Equity, and Inclusion! In this challenge you will find 28 ways for 28 days of Black History Month to actively learn, engage, support, and uplift Black culture from Evansville and around the world. Items listed in the challenge can be done personally or in a social group! Do some personal research on Juneteenth or grab a friend and some popcorn and watch Just Mercy. Either way you do it, #BHMChallenge yourself! Happy Black History Month!
1. Watch a documentary on civil-rights movements
2. Listen to a new Black artist, composer, or band
3. Look at or add art on Black history and culture to your collection
4. Research UE and the surrounding community's Black history
5. Research a local/global Black activist
6. Read a Black biography or autobiography
7. Visit the African-American museum
8. Bring awareness to a charity focused on supporting the Black community
9. Incorporate BHM into your Teachings/ Learning/ Work
10. Attend a diversity training, event or workshop hosted by UE CDEI or others
11. Sign up to receive news from a Black own and operated organization
12. Find a Black story that speaks to you or that you can relate to
13. Create a "Talking about Race" Toolkit
14. Learn the full version of Lift Ev'ry Voice and Sing
15. Listen to a Black speaker via TedTalk, PodCast, etc.
16. Watch a Black movie not about Black trauma
17. Host and/or participate in a Black history trivia event
18. Have an uncomfortable discussion with someone, don't be color-blind
19. Research Juneteenth, Kwanza and other Black holidays
20. Spend time learning about an influential Black individual in Evansville
21. Read Dr. King's "I Have a Dream" speech
22. Add some Black cuisines to your menu
23. Share a quote on your social media or with friends from an influential Black Voice
24. Find an everyday item created by a Black inventor
25. Use something related to Black culture as a background on zoom and explain what it is
26. Follow or Subscribe to a Black creator
27. Support or partner with a Black business
28. Download 3 Black-owned apps
Vagina Monologues Auditions
Audition for the Vagina Monologues! This year WRA will be hosting TVM on March 26th, and we're looking for participants to read one or more monologues. If you're interested in auditioning, email aj154@evansville.edu to schedule an audition date during the week of February 14. If you're uncomfortable meeting in person, video auditions are possible.
CFIC + IHouse = Activism Around the World with Vipin Thekk THIS Wednesday, February 16th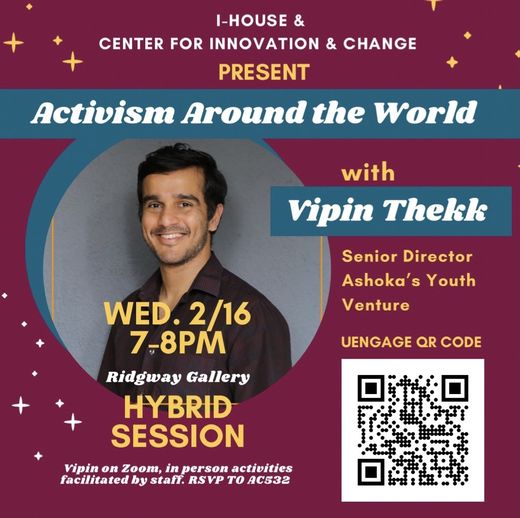 Due to high demand, we are moving the Activism Around the World with Vipin Thekk event to Zoom!
Anyone, and everyone, may join us from their comfortable space.
Tonight, February 16th
7p.m.
Join Zoom Meeting
https://evansville-edu.zoom.us/j/5728318957
About Vipin Thekk:
I am an experienced facilitator, coach, design consultant, and entrepreneur. Over the last decade, I have designed and led over 20 transformational journeys for families, school districts, non-profits, cities, and faith institutions, toward creating a culture of innovation, agency, and empathy. Read more at www.changemakercommunities.org
My passion to unleash human potential has inspired me to launch wide-ranging initiatives that are all underpinned by a desire to see our institutions evolve to meet the urgent needs of our times. At Ashoka, I lead the Your Kids initiative which is designed to equip parents to raise changemaker families. I also lead our work in the US on building innovative collaborations among national unions, publishers, media and government to support students to become powerful changemakers.
I am also an assistant faculty member of Generating Transformational Change at the Pacific Integral Institute, a unique nine-month program to develop human consciousness and leadership. I have a Master's in Social Work and am an Integral Life Coach, a Kundalini Yoga teacher, and a seasoned facilitator, having led transformation-based work for groups and institutions in Asia, Europe, and the United States.
Please register at: https://uengage.evansville.edu/event/7856167/rsvp
Black History Icon #10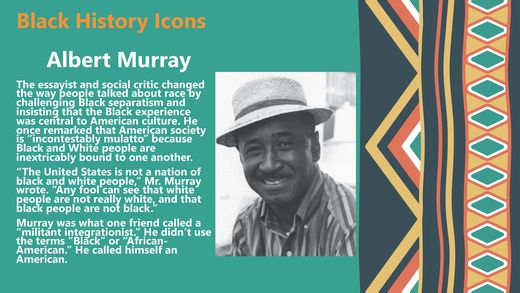 To celebrate Black History Month, we're sending out daily posts to honor icons whose selfless contributions through out history, continue to inspire growth in our various communities. Today's icon is Albert Murray and you can find more information in the attached poster. You can follow BSU @UEBlackStudentU, @uevansville for more programming during BHM.
Register for Nerd Wars by Wednesday, February 16
Don't forget to register for this year's Nerd Wars trivia competition! Nerd Wars will take place on Wednesday, March 30 at 6:00pm in various classrooms in Koch and over Zoom. In addition to the trivia battle, Nerd Wars will feature the Nerdiest Dressed competition, snacks/giveaways, and the chance to win fabulous prizes. Form your team of up to 5 participants (students, faculty, administrators and staff are welcome to participate) and join us to compete for prizes, bragging rights, and the coveted Nerd Wars trophy.
Register online now at this link: https://forms.gle/4YKs4vp9CW4HrRH28
Registration this year is FREE. The deadline to register is Wednesday, February 16.
Please contact Connor Luebbehusen (cl196) or Pranav Haran (ph100) with any questions.
Contribute to AceNotes
To have content considered for inclusion in AceNotes, please submit a Marketing Request Form. Deadline for submission to AceNotes is 10:00 a.m. on the requested date of publication. Only articles concerning UE related/sponsored activities will be accepted. Articles submitted to AceNotes may be edited for length and clarity. Submitter contact information is at the end of each article.