| | |
| --- | --- |
| AceNotes Today | Monday, February 14, 2022 |
UE Student and Employee Vaccine and Booster Clinic
The University of Evansville has partnered with Tri-State Community Clinics and Ascension St. Vincent to provide a UE Student and Employee Vaccination and a Booster Clinic on Monday, February 28, from 3:00 p.m. - 6:00 p.m. CST.
REGISTRATION IS REQUIRED BY FEBRUARY 21 AT 5:00 P.M. CST.
Students who are taking their first vaccine dose of the 2-dose protocol will make their second dose appointment (minimum of 21 days) at the vaccine clinic after they receive their first dose of vaccine.
The vaccines and boosters are available to all students regardless of residency or citizenship status. If you are receiving a booster or a second dose, make sure to bring your existing vaccination card with you to your appointment. You are eligible for a booster if you are over 12 years old and the date of your 2nd dose is on or before:
Pfizer or Moderna - September 28, 2021 (5 months prior)
Johnson & Johnson - December 28, 2021 (2 months prior)
If you do not meet these criteria, please do not register for an appointment for a booster shot at this time.
Learn more and register today at www.evansville.edu/YourShot
Transportation is available from the UE Campus to Ascension St. Vincent Evansville. Information will be included through the registration process.
Black History Month Keynote Speaker: Anthony Murdock II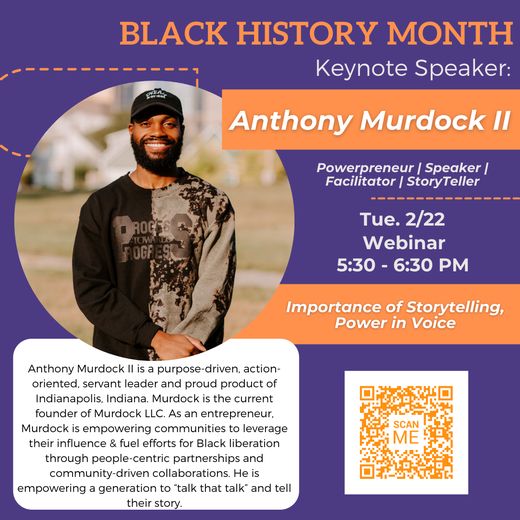 The Center for Diversity, Equity, and Inclusion is pleased to host a Black History Month Keynote Speaker. Join us as we hear from Anthony Murdock II, an Indiana native and the founder of Murdock LLC. to learn about the importance of storytelling and the power in voice.
As an entrepreneur, Murdock is empowering communities to leverage their influence & fuel efforts for Black liberation through people-centric partnerships and community-driven collaborations. He is empowering a generation to "talk that talk" and tell their story.
Please scan the QR Code on the flyer above to successfully register for this virtual event.
We look forward to seeing you on February 22nd from 5:30-6:30 pm!
Black History Month Sip and Paint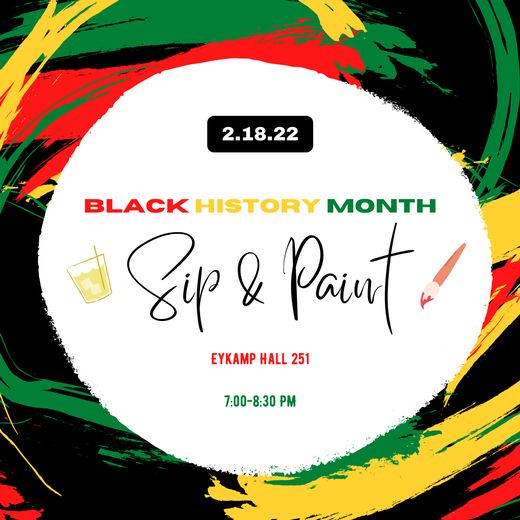 Happy Black History Month!
The Center for Diversity, Equity, and Inclusion invites you to participate in Back History Month Sip and Paint! This event will be held on Friday, February 18th, in Eykamp Hall from 7:00-8:30 PM. Come out and show off your amazing artistic skills as we recreate images from the Civil Rights Movement!
We look forward to seeing you there!
*Alcohol not allowed. Non-alcoholic juice will be provided to participants!
Black History Month Local Leaders Panel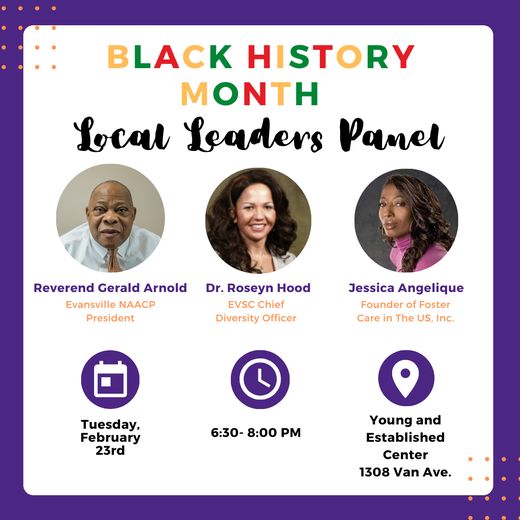 As part of Black History Month, we invite you to join the Center for Diversity, Equity, and Inclusion for a Local Leaders Panel! This event will be held on Tuesday, February 23rd from 6:30-8:00 pm at the Young and Established Center (1308 Van Avenue) here in Evansville.
The panelists, Reverend Gerald Arnold, Dr. Roseyn Hood, and Jessica Angelique will share their experiences, knowledge, and answer any questions that you may have.
We hope to see you there!
$25 Spring Break adventure
What are you doing for Spring Break? Are you interested in having an amazing adventure for only $25?
Join the UE Venturing Crew from March 5th thru the 8th as we backpack Red River Gorge, (an area of absolutely incredible beauty in Daniel Boone National Forest), stay at a luxurious cabin and on the last day, we will be doing a climbing experience like no other, Via Farrata.
We will leave campus early Saturday Morning.
Arriving at Red River Gorge around lunch time where we will eat at the trail head before beginning our trek.
We will spend Saturday night under the stars (in tents) and then wake up Sunday to see one of the most amazing views in the Gorge.
Sunday night we will be under the stars again and will work our way back to the vehicles Monday to have dinner at Miguel's Pizza.
We will spend Monday night at a luxurious cabin reserved just for us.
Tuesday morning we will fill our tummies with a home cooked meal at the cabin before heading to do a Via Farrata style climbing adventure.
We will be returning back to campus Tuesday evening.
The price for this trip is only $25.
Don't have the gear? The Crew has you covered from backpacks, sleeping bags to tents and cooking utensils.
Can't afford $25, borrow it from a friend, check the couch cushions, anything, you need to go on this trip.
The $25 includes all fees, and food (except for 1 dinner at Miguel's Pizza on your own).
Sign-ups will start the end of next week (02/17) so keep an eye open for emails, Acenotes and on UEngage.
You must sign up at the tables in Ridgway or email venturing@evansville.edu to schedule a time and place to sign up.
Again, this trip is only $25.
SafeZone Training- Student Session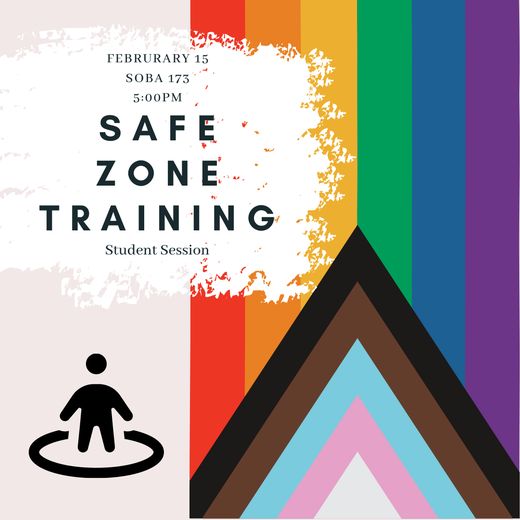 Join the Center for Diversity Equity and Inclusion and facilitator, Dr. Curran, in Safe Zone Training on February 15th beginning at 5pm! Safe Zone Training is a training that will provide participants with the knowledge and skills to ensure their 'zone' is a safe place for members of the LGBTQ+ community. Your 'zone' is anything from student orgs, your dorm, classrooms, your work, etc.
Join us in ensuring every zone is a Safe Zone!
Muhammad Ali Center & Roots 101 Museum Day Trip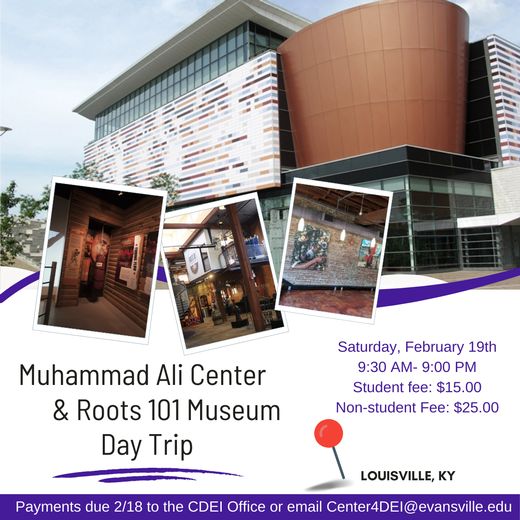 Join the Center for Diversity, Equity and Inclusion on a day trip to Louisville, Kentucky to the Muhammad Ali Center and Roots 101 Museum. We will spend the day immersed in Black history and culture at these two amazing centers in Louisville. After our time at each location there will be time to grab dinner at a local restaurant before hopping on the bus and heading back to Evansville. Sign-up in advance is required! Please find more information below regarding the trip!
Saturday, February 19th
9:30am- 9:00pm
Student fees: $15.00
Non-Student fees: $25.00
Payments will need to be brought to the CDEI no later than 5pm on 2/18. Please email the CDEI for digital payment options.
On Saturday, 2/19 we will load the bus at 9:30am and head towards Louisville. It is suggested to have a large breakfast and bring snacks for the bus as there will not be time for lunch! After the last museum you will have some free time to grab dinner and explore Louisville before re-loading the bus at 7:00pm.
This is sure to be an amazing day and you do not want to miss out!
For any questions reach out to the CDEI at Center4DEI@evansville.edu
CDEI Presents: Black Love Trivia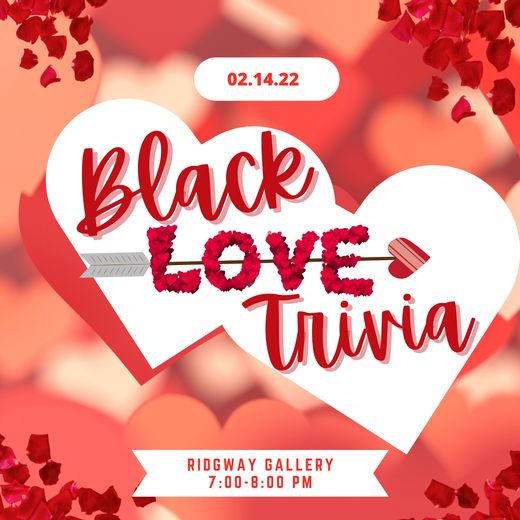 Happy Black History Month and Happy Valentines Day!
As part of Black History Month, the Center for Diversity Equity and Inclusion invites you to participate in Black Love Trivia! It is not your ordinary trivia, the theme will cover Black love from those represented in the movies to real-life celebrity love stories.
Come out and show your knowledge of Black Love! You might even win some prizes ;)
I-House: Activism Around the World
The Centers for Diversity, Equity, & Inclusion and Innovation & Change are pleased to announce I-House: Activism Around the World. Join us on Wednesday, February 16th at 7:00 PM in the Ridgway Gallery (2nd floor), as we hear from Vipin Thekk, Senior Director of Ashoka's Youth Venture regarding how activism plays a role in our global landscape.
UE is one of 50 Ashoka Changemaker campuses around the world. Ashoka works to identify and support the world's leading social entrepreneurs, learns from the patterns in their innovations, and mobilizes a global community that embraces these new frameworks to build an "everyone a changemaker world." As a UE community member, you are already a changemaker! Come learn more about changemaking go hand in hand with activism around the world.
There will be a virtual option for those who cannot attend in person, but we do ask that you RSVP.
Student Leadership Conference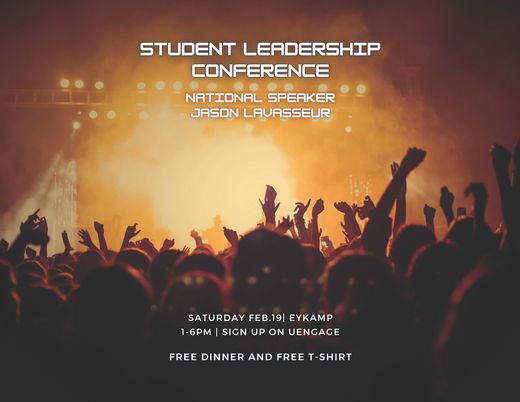 Sign-up for the Student Leadership Conference on Feb.19 from 1-6pm for a day of learning with Jason Lavasseur, national collegiate speaker, a FREE T SHIRT AND A FREE MEAL!
Vagina Monologues Auditions
Audition for the Vagina Monologues! This year WRA will be hosting TVM on March 26th, and we're looking for participants to read one or more monologues. If you're interested in auditioning, email aj154@evansville.edu to schedule an audition date during the week of February 14. If you're uncomfortable meeting in person, video auditions are possible.
CFIC + IHouse = Activism Around the World with Vipin Thekk THIS Wednesday, February 16th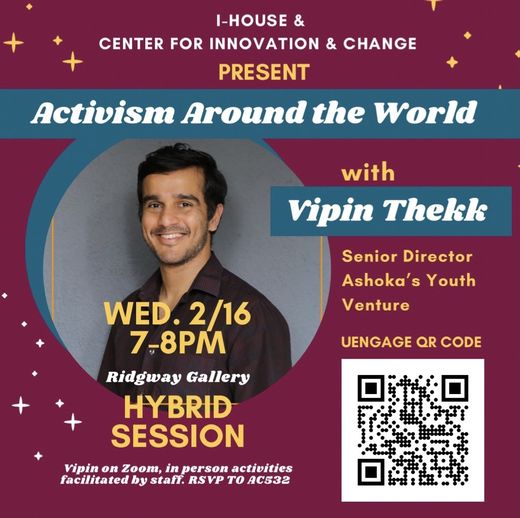 Due to high demand, we are moving the Activism Around the World with Vipin Thekk event to Zoom!
Anyone, and everyone, may join us from their comfortable space.
Tonight, February 16th
7p.m.
Join Zoom Meeting
https://evansville-edu.zoom.us/j/5728318957
About Vipin Thekk:
I am an experienced facilitator, coach, design consultant, and entrepreneur. Over the last decade, I have designed and led over 20 transformational journeys for families, school districts, non-profits, cities, and faith institutions, toward creating a culture of innovation, agency, and empathy. Read more at www.changemakercommunities.org
My passion to unleash human potential has inspired me to launch wide-ranging initiatives that are all underpinned by a desire to see our institutions evolve to meet the urgent needs of our times. At Ashoka, I lead the Your Kids initiative which is designed to equip parents to raise changemaker families. I also lead our work in the US on building innovative collaborations among national unions, publishers, media and government to support students to become powerful changemakers.
I am also an assistant faculty member of Generating Transformational Change at the Pacific Integral Institute, a unique nine-month program to develop human consciousness and leadership. I have a Master's in Social Work and am an Integral Life Coach, a Kundalini Yoga teacher, and a seasoned facilitator, having led transformation-based work for groups and institutions in Asia, Europe, and the United States.
Please register at: https://uengage.evansville.edu/event/7856167/rsvp
Have you applied for graduation?
Seniors,
If you have not applied for graduation, please make sure you do so. You can do this through the Self-Service Graduation Overview tab. You must apply for graduation even if you do not plan on attending Commencement.
Questions, please contact Ashley Nels at an89@evansville.edu
Slips, Trips & Falls: Risk Management Tip
Slips, trips, and falls are a major cause of injury that occurs to both visitors and employees. They can occur in any business, but are of particular concern to businesses with considerable public and employee foot traffic such as those in retail, higher education, medical, and service industries.
What can you do to make a positive impact?
1) Be aware of your immediate surroundings
2) Wear comfortable, properly fitting non-slip shoes
3) Be aware of the type of surface you are walking on and its condition
4) Adjust to environmental and walking surface conditions
5) Pay attention to "Wet Floor" warning signs to warn of known hazards
6) Practice Good Housekeeping
7) Keep walkways and hallways free of debris, clutter and obstacles
8) Only carry items that allow you to see clearly where you are going
9) Use handrails when going up or down stairs and not skip steps
10) Eliminate or minimize distractions while walking, such as looking at your cell phone
Report unsafe conditions to Office of Public Safety at 812-488-2051.
Be Safe With Each Step!
Black History Icon #9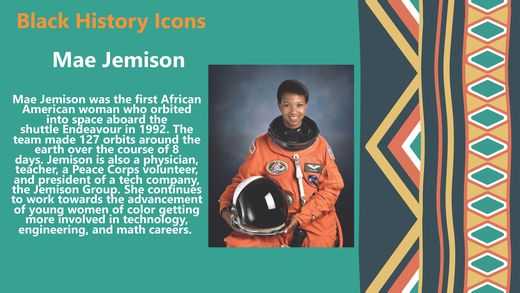 To celebrate Black History Month, we're sending out daily posts to honor icons whose selfless contributions through out history, continue to inspire growth in our various communities. Today's icon is Mae Jemison and you can find more information in the attached poster. You can follow BSU @UEBlackStudentU, @uevansville for more programming during BHM.
Black History Month @ UE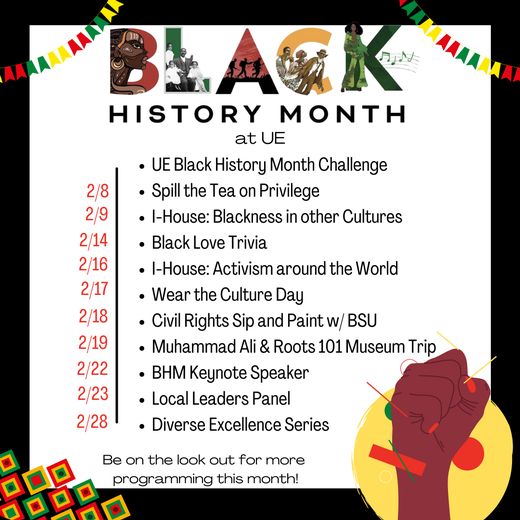 Happy Black History Month!
This Black History Month the Center for Diversity Equity and Inclusion has a number of amazing programs scheduled for the campus and Evansville community! Keep an eye out on Acenotes, UEngage, and our social media for more specific information related to each program and how to RSVP if necessary!
In addition to Black History Month programming the CDEI will also be hosting other programs this month! Be on the look out for these, as well!
If you have any questions about the programming hosted by the CDEI, please send us an email at Center4DEI@evansville.edu
Black History Month @ UE
UE Black History Month Challenge
2/8....................Spill the Tea on Privilege
2/9.....................I-House: Blackness in other Cultures
2/14..................Black Love Trivia
2/16...................I-House: Activism around the World
2/17..................Wear the Culture Day
2/18..................Civil Rights Sip and Paint w/ BSU
2/19..................Muhammad Ali & Roots 101 Museum Trip
2/22..................BHM Keynote Speaker
2/23..................Local Leaders Panel @ Young and Established
2/28..................Diverse Excellence Series
Eykamp Prize: Call for Nominations
The Eykamp Prize was established by Richard and Rita Eykamp in 2015 to honor Faculty Achievement at the University of Evansville. Recipients of the prize will receive a one-time award of $10,000 in recognition of extraordinary contributions to the University of Evansville as University Citizens. Examples of such contributions include deep and successful involvement in recruiting students; expanding the number, scope, and competitiveness of grant funding for their department; bringing positive public awareness to the University through scholarship, knowledge, and understanding of their discipline.
Nominations for the Eykamp Prize may come from any member of the University of Evansville Community. Nominees should be tenured or tenure-track faculty members at the University of Evansville who have not received the award in the previous five years. Nominations can be submitted in writing or via e-mail to Michael Austin, Executive Vice President for Academic Affairs/Provost, at ma352@evansville.edu by March 11, 2022. Nominations should include the name of the faculty member and a brief statement of the reasons that he or she is being nominated.
Recipients of the Eykamp Prize will be selected by an Award Committee, appointed by the EVPAA/Provost that includes members of the faculty, staff, administrators, and a member of the Board of Trustees. Awards will be announced and presented at the May Commencement Ceremony.
Recipients in the previous five years: 2017 – Dr. Lora Becker; 2018 – Dr. David Dwyer; 2019 – Dr. Kristy Miller; 2020 – Dr. Jerrilee LaMar; 2021 – Dr. Joyce Stamm
Aces softball completes opening weekend with 5-0 mark
Sydney Weatherford went 2-4 with five RBI on Sunday to help the University of Evansville softball team finish the Best on the Bayou Classic with a perfect 5-0 record with an 11-3 victory over SIU Edwardsville.
After the Cougars scored once in the first and twice in the fourth to take a 3-0 lead, the Purple Aces stormed back with five in the fourth and six in the fifth to cement the win.
With her team trailing in the fourth, Alexa Davis got Evansville on the board with a 2-RBI single. Her hit scored Alyssa Barela and Hannah Hood. Later in the frame, it was Weatherford picking up UE's second 2-RBI knock, plating Davis and Jenna Nink. Mackenzie McFeron scored the final run of the fourth on an error.
Izzy Vetter returned to the circle with the first lead of the day and set the Cougars down in order in the top of the fifth before the offense put the finishing touches on the weekend in the bottom of the inning.
Nink got the offense rolling with an RBI double before Weatherford struck again with a bases-clearing triple to score Davis, Nink and Jenna Lis. Weatherford crossed the plate on a wild pitch before a single by Hood ended the contest.
Hood completed the game with three hits in four trips to the plate while scoring twice. Davis was a perfect 2-for-2 with a pair of runs while McFeron and Nink each scored twice. Vetter earned her third win of the tournament, giving up three unearned runs while striking out nine.
Next weekend, UE travels to Tuscaloosa, Alabama for the Easton Bama Bash where they will face Middle Tennessee State, Alabama and Virginia Tech.
Aces put up furious battle in close road loss at SIU
Blaise Beauchamp, Evan Kuhlman and Shamar Givance combined for 54 out of the University of Evansville's 62 points on Saturday as the Purple Aces dopped a hard-fought 69-62 game against Southern Illinois at the Banterra Center.
Two days after recording a career-high 29 points, Beauchamp scored 19 on Saturday for UE (6-18, 2-11 MVC). He was 7-of-13 from the field and connected on three of his four outside tries. Kuhlman finished with 18 points with 5 of his 9 attempts finding the bottom of the net. Givance added 17 points and led the team with 8 rebounds and 6 assists. Four Salukis (13-13, 6-8 MVC) reached double figures, led by Kyler Filewich's 12 points.
SIU got an early jump posting the first four points of the evening before Blaise Beauchamp connected from downtown to get UE on the board. Evan Kuhlman was true from outside shortly after to cut the Saluki advantage to 7-6. Beauchamp struck again just over four minutes in, hitting a layup to give Evansville its first lead at 8-7.
Shamar Givance knocked down a free throw to make it a 9-7 game before Southern Illinois stormed back with 12 in a row. They drained five shots while taking a 19-9 lead at the 11:05 mark. Givance got UE back on the board with a layup on the ensuing possession. SIU continued their torrid pace, doubling up the Aces to the tune of a 26-13 edge with 8:15 showing in the half.
Kuhlman's second long ball of the game cut the gap back to single digits before a Beauchamp triple and Givance field goal capped off eight in a row to make it a 26-21 game entering the final six minutes. The Salukis fended off the challenge and finished the half by adding five more to their lead as they finished the opening 20 minutes with a 36-26 advantage.
After SIU scored to open the final period, Evansville stormed back with a 14-3 run with Givance, Kuhlman and Beauchamp doing all of the damage. Givance recorded the first five points in the rally while Beauchamp finished it off with a layup at the 14:07 point to get UE within just one point – 41-40. UE had a chance to jump in front, but SIU answered with six in a row to go back up by seven.
Gage Bobe registered five points in the next stretch with the Aces looking to close the gap. Another Givance basket made it a 50-47 game with 8:42 showing on the clock and the game was once again trimmed to three thanks to a pair of Kuhlman free throws entering the final four minutes. SIU responded by taking a 63-56 lead with 1:54 left and just when it looked like they landed the final punch, Beauchamp hit his third triple and gave UE a chance, trailing by three with the ball in the final minute. A 3-point attempt came up short and SIU was able to escape with the 69-62 win.
SIU shot 45.1% in the win while the Aces completed the night at 41.7%. The rebounding battle also went the Salukis way, 35-27.
On Wednesday, the Aces will be in Des Moines to take on Drake in a 7 p.m. game.
Aces overcome late 18-point deficit to take down Indiana State
Battling back from an 18-point deficit, the University of Evansville women's basketball team captured a come-from-behind win over Indiana State, 58-56, on Saturday night inside Meeks Family Fieldhouse in Evansville.
Three Aces finished in double-figures to power Evansville in the comeback victory, led by senior Myia Clark (20 points) and junior Je'Naiya Davis (19 points) who combined for 39 of the team's 58 points in the win. Senior Anna Newman reached double-digits for the fourth time this season, recording 10 points, with the bulk of the points coming at the charity stripe where Newman was 8-for-8 on the night. Del'Janae Williams led Indiana State with 15 points, while two other Sycamores recorded double-figure boards, as Tonysha Curry (13 boards) and Arianna Smith (11 boards) each eclipsed the 10-rebound plateau.
Despite trailing 50-32 with 43 seconds left in the third quarter, Evansville put together one of its best final quarters in recent memory. Doing so in chunks, Evansville out-scored the Sycamores 24-6 in the fourth, including a 16-2 run that pushed the Aces within two with three-and-a-half minutes remaining in the contest. After a pair of free throws pushed the Sycamores lead to two possessions, a quick 7-0 run in response from the Aces put UE in front for the first time since the first quarter. The run was keyed by a triple by Davis that got UE within one, followed by two free throws from Newman and a layup from Clark that forced an Indiana State timeout.
On the other end, Williams got to the rim, hitting the shot and drawing a foul, but missed the subsequent free-throw that would tie the game. On the miss, Indiana State tipped the rebound out and secured the ball. After another Sycamore shot was missed and the offensive rebound was grabbed with eight seconds left, Indiana State took a timeout. Out of the timeout, Newman's defense was on display, tying the ball up and earning a jump ball with the possession arrow in the Aces favor. Forced to commit a foul, Indiana State fouled Clark who went to the line and split a pair with 2.1 seconds remaining. The Sycamores advanced the ball with their final timeout and on the in-bounds, got the ball into the paint. As Arianna Smith went up for the close-range shot, her shot was altered by junior Jossie Hudson as the ball sailed up over the rim and over harmless as Evansville captured the 58-56 win. After shooting 55.6% (10-18) in the third quarter en route to a 24-10 scoring advantage in the period, Indiana State was limited to just 2-14 (14.3%) shooting in the final 10 minutes. Evansville on the other hand shot 35.3% (6-17) from the field in the fourth and excelled in one of its team strengths, getting to the basket and drawing fouls, to the tune of 13 attempts in the final period, of whiche UE converted 11.
Both sides had their struggles on the evening. The Aces did what they do best and forced 22 Sycamore turnovers, including eight in the opening quarter. Indiana State took advantage of one of its strengths, out-rebounding the Aces, 50-32, including a 19-8 edge on the offensive glass.The Sycamores would turn those offensive rebounds into 19 second-chance points, while UE converted the Indiana State turnovers into 18 points.
The win moves Evansville into sole possession of ninth in the Conference standings and just two games back of Drake in eighth. The Aces get six days away from competition before returning to Meeks Family Fieldhouse on Friday, February 18 to take on Valparaiso at 6 PM before closing the three-game homestand on Sunday, February 20 against Loyola at 1 PM for Senior Day.
Men's basketball completes busy week at SIU
It has been over two months since the University of Evansville and Southern Illinois met at the Ford Center and on Saturday, the teams will complete the regular season series with a 7 p.m. game at the Banterra Center in Carbondale, Ill. ESPN+ and the Purple Aces Radio Network will have the coverage.
Last Time Out
- In a wild contest at the Ford Center on Thursday, Indiana State hung on for an 80-77 win over UE in double overtime
- Blaise Beauchamp posted the top game of his UE career, scoring 29 points on 8-of-15 shooting and a 6-for-10 finish from outside
- Shamar Givance finished with 18 points while Blake Sisley had his top game, scoring 17 points while knocking down six of his eight attempts
- ISU had a chance to win in regulation at the buzzer when a last-second attempt was halfway down the net before bouncing out; the Sycamores started each OT period on a 5-0 run before holding on in the second OT
"Blaise-ing the Nets"
- Almost everything Blaise Beauchamp shot on Feb. 10 against Indiana State found the bottom of the net as he set his career-high with 29 points
- Beauchamp connected on 8 of his 15 attempts while going 6-of-10 from outside and a perfect 7-7 from the line
- His effectiveness has been better when he is in the starting lineup with his scoring average in three starts sitting at 14.3 PPG...in games he comes off the bench, his scoring checks in at 5.9 PPG
- His previous high of 14 points came in the road contest at Northern Iowa and in two games versus UNI this season, he averaged 13.5 points per game
Finding His Efficiency
- Freshman Blake Sisley posted a pair of impressive efforts in the home-and-home with Indiana State
- In the two contests, Sisley averaged 13 points while hitting 10 of his 14 attempts
- He connected on six of his eight shots on Feb. 10 at the Ford Center on his way to a career-high 17 points...his high mark of 5 rebounds also came in that contest
- Sisley was 4-of-6 from the floor on his way to 9 points in the victory in Terre Haute
- He has seen his playing time go up as the season has moved along with his top tally of 28:32 coming against the Sycamores...he has played at least 10 minutes in each of the last 13 games after averaging just over six minutes in his first six games as a freshman
Taking Control
- Senior Shamar Givance had his top offensive contest in two months, scoring 19 points while leading UE to a road win at Indiana State on Feb. 8 before following that up with 18 tallies two days later
- It was his best performance since his career game against SIU on Dec. 1 where he scored 31
- Givance added four assists in the win while playing over 38 out of 40 minutes before adding four helpers in the rematch against ISU while playing over 47 minutes
- He continues to lead the team with 14.0 PPG, which ranks 12th in the MVC
Scouting the Opponent
- Southern Illinois enters Saturday's contest with a 12-13 record and sit at 5-8 in league play
- The Salukis are 2-5 in their last seven games, including a 53-44 loss at Northern Iowa on Wednesday evening
- Last weekend, SIU picked up a 75-69 road win art Illinois State for their second MVC road win of the season
- Lance Jones paces the Salukis with 14.7 points per game while accumulating a total of 47 steals
- Marcus Domask is just behind him with 14.4 PPG and leads the way with an average of 5.2 rebounds per game
- Rounding out the double figure scorers for the Salukis is Ben Coupet Jr. with 10.2 PPG
Pitching dominates in opening day victories
Pitching was the dominant force for the University of Evansville softball team, who opened its 2022 campaign with a pair of victories on Friday in the Best of the Bayou Classic.
UE started the day with a 5-0 win over Stephen F. Austin before shutting down Morehead State in a 4-0 victory. Izzy Vetter struck out 10 batters in the opener, tossing the full seven innings while allowing just one hit. Sydney Weatherford was the starter in game two, tossing seven scoreless frames before giving way to Paige McAllister. Weatherford struck out six MSU batters while allowing four hits. McAllister threw two scoreless innings of relief to pick up the win. In 16 innings of play on Friday, the Aces pitching staff allowed just five hits.
Alyssa Barela belted her first home run of the season to lead off the bottom of the second in Friday's opener versus SFA. After Vetter sat the Jacks down in order in the third, the Evansville offense added two more ruins in the bottom half of the inning. Marah Wood belted a 2-RBI double to score Weatherford and Jessica Fehr to push the lead to 3-0.
After the offense gave her some breathing room, Vetter mowed through the SFA lineup, retiring 12 batters in a row between the 2nd and 6th frames. Two more runs crossed the plate in the bottom half of the 6th when Jenna Nink and Hannah Hood scored with two outs when Fehr reached on an error. Vetter took care of business in the 7th and clinched the shutout win.
Game two saw Morehead State put a pair of runners on in the first before UE recorded two hits in the second, but neither team could get the first run across home plate. With two outs in the 2nd, Jenna Lis singled before advancing to third on a double by Hood, but a strikeout ended the threat. Evansville put runners in scoring position on two occasions with the Eagles shutting down the threat both times.
In the circle, Weatherford was stellar in her Aces debut. Seven scoreless frames gave her squad a chance and in the 9th inning, UE broke through. Wood began the inning on second base and moved to third when Barela reached on a passed ball. After Hood reached on an error, Alexa Davis had the big hit, doubling in the first run of the game to break the tie. Mackenzie McFeron followed up with a single that plated Davis and Hood before Fehr belted a 2-out double to score McFeron and push the lead to 4-0.
McAllister returned to the circle in the bottom half of the 9th and kept the shutout intact while clinching the 4-0 decision. On Saturday, the Aces open the day with a 10 a.m. game versus Southern before taking on Mississippi Valley State.
Live stats will not be available this weekend. For live updates, follow the UE softball team on Twitter - @UEAthletics_SB and check out GoPurpleAces.com for full recaps after each day of action.
Beauchamp and Sisley post career efforts for Aces
Career efforts by Blaise Beauchamp and Blake Sisley highlighted a wild game at the Ford Center on Thursday, which saw Indiana State finish with an 80-77 double overtime win against the University of Evansville men's basketball team.
Beauchamp erupted for 29 points in a game that saw him drill six triple for the Purple Aces (6-17, 2-10 MVC). Sisley finished with a career-best 17 points in an efficient 6-for-8 shooting performance. He added five rebounds. Shamar Givance finished the night with 18 points while Evan Kuhlman set a career mark with 7 assists. Cooper Neese paced the Sycamores (10-14, 3-9 MVC) with 35 points. He converted 12 of his 24 field goal tries.
"We had some good production from a lot of our guys. Our younger guys got some valuable experience and really raised their level of play," Aces head coach Todd Lickliter said. "The ball really moved around a lot better in the second half and was similar to how we played up at their place. Indiana State made a few runs on us and we found ways to get stops and come back. We're right there; we just needed one more stop or one more basket."
Over the first 20 minutes, it was runs by both teams that highlighted the action. After Evansville posted the opening three points on free throws by Shamar Givance, Indiana State scored nine in a row to take their first edge of the night. UE started the game just 1-of-11 from the field, but got on track after ISU extended the lead to 15-6.
Givance got things rolling with a layup before Blake Sisley connected from downtown to cut the deficit to four. Evan Kuhlman continued the run with a free throw before Givance found Sisley open for the second long ball of the night to tie the score at 15-15 just past the halfway point. Following a Sycamore turnover, Sisley converted his third field goal of the night to put UE back on top at 17-15.
Making his second start in a row, Blaise Beauchamp found the scoresheet with back-to-back triples to push the lead to 23-16. The first was a shot that he launched right at the end of the shot clock. Beauchamp made it eight points in a row with a layup at the 5:15 mark to make it a 25-18 game.
Indiana State responded by scoring the final eight points of the period to jump back in front at 26-25 entering halftime. Evansville missed its final six attempts of the half as the Sycamores made their comeback.
ISU's run continued in the early moments of the second half as they extended the lead back to seven points at 37-30 with the game entering the final 14 minutes of regulation. Just as they did in the opening stanza, the Aces responded with a 12-4 stretch to go back on top. Five in a row by Sisley cut the deficit to a pair before Beauchamp hit a triple with 10:42 remaining to give Evansville its first lead of the second half.
Beauchamp's career night continued when a pair of free throws at the 5:02 mark solidified a 54-50 advantage. With UE holding onto a 56-53 lead a minute later, the Sycamores rallied, scoring the next five to go up 58-56 with under two minutes on the clock. After a Givance free throw, Beauchamp drained a triple with 56 ticks showing to put UE back in front at 60-58, but a pair of ISU free throws knotted the score. A blocked shot with 30 seconds left gave the Sycamores the final shot and a 3-point try by Cooper Neese hit every part of the rim before bouncing out, forcing overtime.
Right out of the gate, ISU posted five points to take the early OT advantage. ISU remained on top by four with 2:17 showing before rallied once again. Preston Phillips dunked it with 26 seconds left to tie it up and a Sycamore miss forced a second extra period knotted at 69-69. Just as they did in the first OT, ISU reeled off five in a row to go in front. It took just over four minutes, but the Aces clawed their way back to tie it at 74-74 with 58 seconds left on a Sisley free throw. The teams swapped layups to make it a 76-76 contest before a pair of ISU free throws with 10 second left gave them the lead for good before finishing with the 80-77 win.
Evansville's busy stretch comes to a close on Saturday with a 7 p.m. game at Southern Illinois.
Men's Soccer releases spring slate featuring five games
University of Evansville head men's soccer coach, Marshall Ray, announced the 2022 spring schedule for the Purple Aces. The season will culminate with the Annual Mayor's Cup against USI, which returns after 2 years off due to the pandemic. The Aces will also play 2 NCAA tournament teams in their respective divisions, University of Indianapolis and Lipscomb University.
The Purple Aces will travel to University of Indianapolis on February 26th to kick off the spring slate. U Indy is coming off back-to-back Final Four DII appearances and two straight GLVC Championships.
On March 19th, Bowling Green FC comes to Evansville. BGFC is the defending Mid-South Conference champs in the UPSL (an amateur division in US Soccer) and is the newest member of NISA Nation, which is the league below the professional NISA league.
Evansville will stay at home for their next match and host Brescia College. Brescia, an NAIA program out of Owensboro, KY, finished 9-7-1 in the River States Conference and is coming off a conference tournament appearance.
On April 9th, UE travels to the Music City to face familiar foe, Lipscomb University. Lipscomb won the ASUN regular season and conference tournament championships. Lipscomb appeared in the NCAA tournament against Hofstra.
The Annual Mayor's Cup versus cross town rival, University of Southern Indiana, will be April 13th at home. This will be the final rendition of the Cup before USI transitions to Division I at the end of the academic year. The match operates as a fundraiser for Evansville's YMCA, donating balls and gear to young soccer players.
Fernando Morales inks contract extension
In just over two years at the helm of the University of Evansville volleyball program, Fernando Morales has transformed it into a power in the Missouri Valley Conference and was rewarded on Thursday as UE Director of Athletics Mark Spencer announced that he signed a multiyear extension with the university.
"The job Fernando has done since taking over the program is remarkable. He has generated a new level of excitement within our university and community," Spencer explained. "His teams have performed well inside the classroom and on the floor and we are excited to have him leading our program."
Morales directed the Purple Aces to 21 wins in the fall, its first 20-win season since 1988. It was also the first time UE has won 20 matches since joining the MVC. The team was invited to the National Invitational Volleyball Championship, marking the first postseason appearance since the early 1980's.
"I am happy to know that I will be here to see the future of the great things that we have started to do," Morales said. "We have a great group starting with the student-athletes, my staff, the entire athletic staff and the university administration. I am very excited knowing that I will be working with this great group of people for many years to come."
On top of the team accolades, Morales and his staff have coached their players to record-breaking accomplishments while gaining increased visibility and respect around the league. Alondra Vazquez finished the 2021 season with a program record 494 kills while leading the Valley for the second season in a row. The season performance saw her earn All-MVC First Team accolades for the second time.
Melanie Feliciano joined Vazquez on the First Team, marking the first time UE has had two players on the squad in the same season. She played her best volleyball during the conference portion of the season before finishing the year with 3.28 kills and 2.52 digs per set. Giulia Cardona enjoyed the best freshman season in program history, eclipsing Feliciano's freshman kills record. The 2021 MVC Freshman of the Year completed the season with 3.99 kills per set, ranking second in the conference behind Vazquez. She led the MVC in service aces on her way to a spot on the All-Conference Second Team.
UE Women's Soccer Adds Three To 2022 Roster
University of Evansville head women's soccer coach Chris Pfau continued to add talented pieces to his 2022 recruiting class on Thursday, as he announced the signing of Chrysta Vasquez (Henderson, Nev./Coronado HS), Kathryn Tyler (Lantana, Texas/Liberty Christian HS), and Joelle Haines (Jacksonville, Fla./IMG Academy) to letters of intent.
Vasquez recently helped lead Coronado High School to a Class 5A state championship in Nevada in the fall, while also playing club soccer for the Nevada club powerhouse Heat FC. Vasquez was named to the 2021 Nevada Preps All-Southern Nevada first team. She earned Defensive Player of the Year honors for her high school side, while playing in an attacking role for Heat FC.
"Chrysta is a player that can play anywhere on the field and change the game," said Pfau. "She is technical and loves to run at defenders. Her ability within our program to play wide as an attacking player, but also to move into an attacking center mid position will really help create more opportunities to score."
Tyler is a two-time co-captain of the Liberty Christian School soccer team, while playing club soccer for FC Dallas. She earned first team all-district honors as a junior in the Texas Association of Private and Parochial Schools (TAPPS), while also earning academic all-state honors. Tyler was named the team's Defensive MVP as a junior, and has the Lady Warriors currently 11-5 on the season, which will conclude with the playoffs later this month.
"Kathryn is another player that can not only play anywhere in the defense, but I also believe could play anywhere on the field," said Pfau. "She is a great defender and a great 1-v-1 defender. She has good skill coming out of the back, and also has great vision."
Haines comes to UE from IMG Academy in Florida, where she was a part of a club program which finished at the top of its league at three different age levels, including finishing atop the U19 league this fall. Haines also played volleyball and basketball in high school, and chose UE for the "great academic program and soccer program."
"I am excited about Joelle becoming a member of our family," said Pfau. "She comes from an incredible background, being able to play and train at IMG Academy. The players and coaches she has been able to learn from will really help her at UE. She is extremely smart and a very technical player with a great work rate, and I really expect good things from Joelle."
Vasquez, Tyler and Haines join Isabel Valdez (Phoenix, Ariz./Desert Vista HS), Amy Velazquez (Avon, Ind./Avon HS), Kaylee Woosley (Evansville, Ind./North) and Ella McAndrew (Greendale, Ind./Lawrenceburg HS) in UE's 2022 recruiting class. Evansville is coming off of a season in which the Purple Aces began with the best start in program history, ranked as high as #5 in the United Soccer Coaches Midwest Region poll, and earned a spot in the Missouri Valley Conference Tournament finals.
Contribute to AceNotes
To have content considered for inclusion in AceNotes, please submit a Marketing Request Form. Deadline for submission to AceNotes is 10:00 a.m. on the requested date of publication. Only articles concerning UE related/sponsored activities will be accepted. Articles submitted to AceNotes may be edited for length and clarity. Submitter contact information is at the end of each article.