| | |
| --- | --- |
| AceNotes Today | Thursday, February 10, 2022 |
Wellness Day is Friday
Just a reminder that Friday, February 11, 2022 is a Wellness Day! This Wellness Day is for both employees and students. For students and faculty it will be a non-instructional day during which there will be no classes, assignments due, or exams scheduled.
UE Student and Employee Vaccine and Booster Clinic
The University of Evansville has partnered with Tri-State Community Clinics and Ascension St. Vincent to provide a UE Student and Employee Vaccination and a Booster Clinic on Monday, February 28, from 3:00 p.m. - 6:00 p.m. CST.
REGISTRATION IS REQUIRED BY FEBRUARY 21 AT 5:00 P.M. CST.
Students who are taking their first vaccine dose of the 2-dose protocol will make their second dose appointment (minimum of 21 days) at the vaccine clinic after they receive their first dose of vaccine.
The vaccines and boosters are available to all students regardless of residency or citizenship status. If you are receiving a booster or a second dose, make sure to bring your existing vaccination card with you to your appointment. You are eligible for a booster if you are over 12 years old and the date of your 2nd dose is on or before:
Pfizer or Moderna - September 28, 2021 (5 months prior)
Johnson & Johnson - December 28, 2021 (2 months prior)
If you do not meet these criteria, please do not register for an appointment for a booster shot at this time.
Learn more and register today at www.evansville.edu/YourShot
Transportation is available from the UE Campus to Ascension St. Vincent Evansville. Information will be included through the registration process.
SafeZone Training- Student Session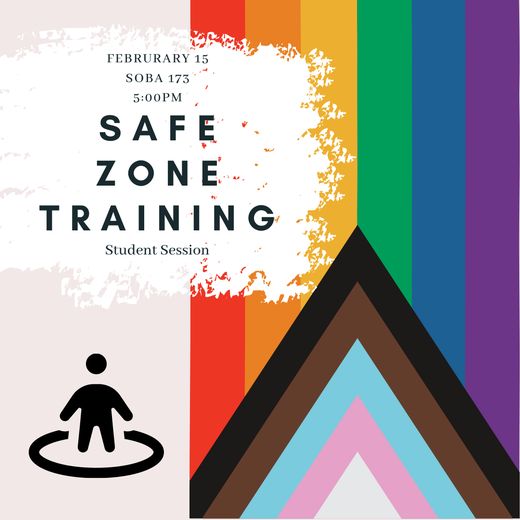 Join the Center for Diversity Equity and Inclusion and facilitator, Dr. Curran, in Safe Zone Training on February 15th beginning at 5pm! Safe Zone Training is a training that will provide participants with the knowledge and skills to ensure their 'zone' is a safe place for members of the LGBTQ+ community. Your 'zone' is anything from student orgs, your dorm, classrooms, your work, etc.
Join us in ensuring every zone is a Safe Zone!
BSU & UEAAA Potluck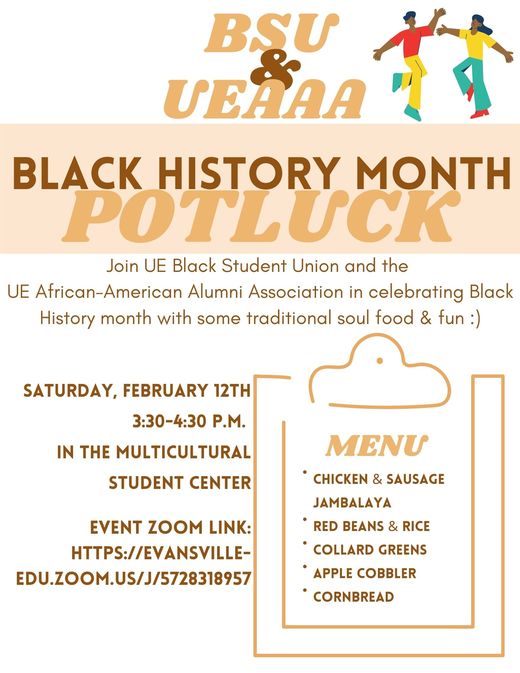 Join UE's BSU and UEAAA to this Black History Month to celebrate the evolution of UE's Black History over the years. Come catch a glimpse of the 'Our Story' documentary, learn about exhibits from the Evansville African American museum, while enjoying some light refreshments provided by UE's African American Alumni. We hope to see you there and have provided the zoom link below for those who can't make it physically but would still like to participate.
Zoom link: https://evansville-edu.zoom.us/j/5728318957
Nerd Wars is Coming - Register Soon
The Honors Program invites you to register for this year's Nerd Wars trivia competition, scheduled for Wednesday, March 30 at 6:00pm. To adhere with social distancing guidelines, Nerd Wars will be held this year in various classrooms in Koch and over Zoom, but will still feature many of its great traditions, including the Nerdiest Dressed competition, snacks/giveaways, and the chance to win fabulous prizes. Form your team of up to 5 participants (students, faculty, administrators and staff are welcome to participate) and join us in a trivia battle for prizes, bragging rights, and the coveted Nerd Wars trophy.
Register online now at this link: https://forms.gle/4YKs4vp9CW4HrRH28
Registration this year is FREE. The deadline to register is Wednesday, February 16.
Please contact Connor Luebbehusen (cl196) or Pranav Haran (ph100) with any questions.
UNIVERSITY OF EVANSVILLE THEATRE PRESENTS MAC BETH
The University of Evansville Theatre opens their spring 2022 season with Erica Schmidt's MAC BETH, adapted from William Shakespeare's MACBETH. This new take on Shakespeare's classic tale of bloody violence explores a symmetry with rebellious teenage girls meeting to stage the play in a parochial school's parking lot. The production opens on Thursday, Feb. 10, at 7:30 p.m. in the May Studio Theatre. Additional performances are 7:30 p.m. on Feb. 11, 12, and at 2:00 p.m. on Feb. 12, 13.
MAC BETH is directed by Claire Himstedt, a senior theatre studies major from St. Louis, Mo. Angus Creech, a senior theatre studies major from Brooklyn, N.Y., serves as the scenic designer; Delanie Kitzman, a senior performance major from Tomball, Texas., is the costume designer; Herbie Perlman, a senior design and technology major from Bethel, Conn., is the lighting designer; serves as the sound designer; Liv Darshani Pedersen, a senior theatre studies major from Chaska, Minn., is the dramaturg; Katie Lawhorn, a first-year stage management major from Louisville, Ky., is the stage manager, and Keegan Macaluso, a junior design and technology major from Georgetown, Texas., serves as the technical director.
The cast features Cassidy Rogers, a senior performance major from College Station, Texas, as Macbeth; Chloe Shrieves, a senior performance major from St. Cloud, Fla., as Lady Macbeth; Allie Forté, a senior performance major from New Albany, Ind., as Macduff; Cass Dunn, a senior performance major from Brattleboro, Vt., as Banquo; Eli Lomax, a senior performance major from Sellersburg, Ind., as Witch 1; Evelyn Hipp, a first-year theatre studies major from Nolensville, Tenn., as Witch 2; and Kyla Clift, a senior performance major from Arlington, Texas, as Witch 3.
In following industry standards, as established by the Broadway League, all audience members must show proof of COVID–19 vaccination or a negative test result taken within 48-hours of the date on their ticket. Upon arrival at the theatre, proof of vaccination/negative test result and an ID will be checked before each performance. In compliance with the UE Coronavirus Task Force guidelines, all audience members must remain masked when indoors on campus. Additionally, both Shanklin Theatre and the May Studio Theatre will be seated at no more than 50% capacity. It is our hope that these restrictions will allow our student actors to safely perform unmasked in both spaces.
Ticket prices are $12 for all patrons. UE students may obtain one free student rush ticket beginning at 12 p.m. on the day of the performance they wish to attend. Seating is limited and tickets are available by calling 812.488.2031.
Student Leadership Conference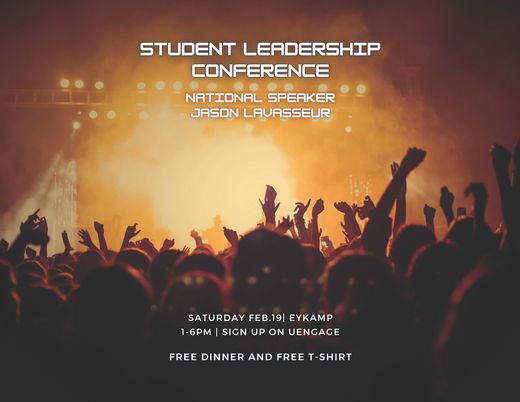 Sign-up for the Student Leadership Conference on Feb.19 from 1-6pm for a day of learning with Jason Lavasseur, national collegiate speaker, a FREE T SHIRT AND A FREE MEAL!
UE ChangeLabs and UE Changemaker Project Nominated for 27th Annual Celebration of Leadership Awards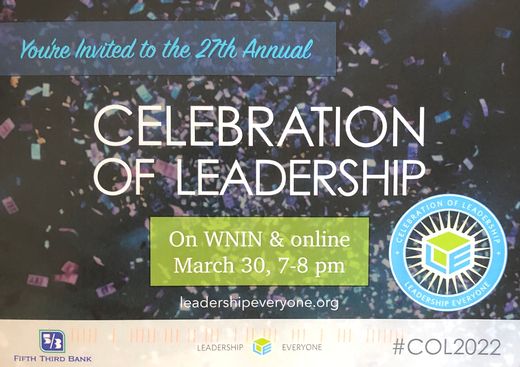 The UE nominations are: UE Theatre ChangeLab: Storytelling in Our Backyard, Prof Wes Grantom (Theatre); UE Latinx Community Health ChangeLab, Dr. Cindy Crowe (Spanish); UE/Harper Air Filter Changemaker Project, Dr. Jeff Braun (Physics), Dr. Derek Jones (CogSci), Dr. Mark Davis (Biology), and Dr. Jessie Lofton (Engineering), with a nice assist from Mr. Ray Niehaus and the students at Perry Central High School!!
Join us in cheering for all of them during the Celebration of Leadership Awards broadcast live on March 30th, from 7:00pm to 8:00pm on WNIN and online. #COL2022.org
Slips, Trips & Falls: Risk Management Tip
Slips, trips, and falls are a major cause of injury that occurs to both visitors and employees. They can occur in any business, but are of particular concern to businesses with considerable public and employee foot traffic such as those in retail, higher education, medical, and service industries.
What can you do to make a positive impact?
1) Be aware of your immediate surroundings
2) Wear comfortable, properly fitting non-slip shoes
3) Be aware of the type of surface you are walking on and its condition
4) Adjust to environmental and walking surface conditions
5) Pay attention to "Wet Floor" warning signs to warn of known hazards
6) Practice Good Housekeeping
7) Keep walkways and hallways free of debris, clutter and obstacles
8) Only carry items that allow you to see clearly where you are going
9) Use handrails when going up or down stairs and not skip steps
10) Eliminate or minimize distractions while walking, such as looking at your cell phone
Report unsafe conditions to Office of Public Safety at 812-488-2051.
Be Safe With Each Step!
Black History Icon #8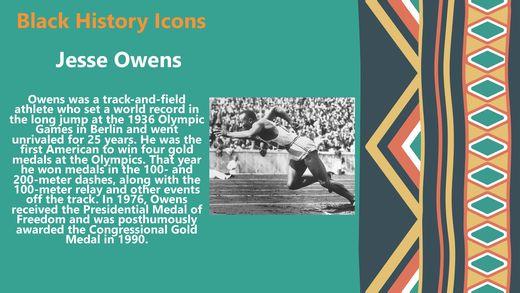 To celebrate Black History Month, we're sending out daily posts to honor icons whose selfless contributions through out history, continue to inspire growth in our various communities. Today's icon is Jesse Owens and you can find more information in the attached poster. You can follow BSU @UEBlackStudentU, @uevansville for more programming during BHM.
Black History Month @ UE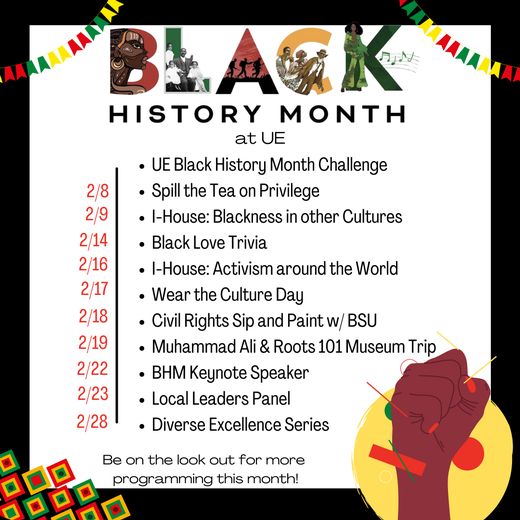 Happy Black History Month!
This Black History Month the Center for Diversity Equity and Inclusion has a number of amazing programs scheduled for the campus and Evansville community! Keep an eye out on Acenotes, UEngage, and our social media for more specific information related to each program and how to RSVP if necessary!
In addition to Black History Month programming the CDEI will also be hosting other programs this month! Be on the look out for these, as well!
If you have any questions about the programming hosted by the CDEI, please send us an email at Center4DEI@evansville.edu
Black History Month @ UE
UE Black History Month Challenge
2/8....................Spill the Tea on Privilege
2/9.....................I-House: Blackness in other Cultures
2/14..................Black Love Trivia
2/16...................I-House: Activism around the World
2/17..................Wear the Culture Day
2/18..................Civil Rights Sip and Paint w/ BSU
2/19..................Muhammad Ali & Roots 101 Museum Trip
2/22..................BHM Keynote Speaker
2/23..................Local Leaders Panel @ Young and Established
2/28..................Diverse Excellence Series
Bon Voyage Celebration for Jordan Mays
The Office of Academic Affairs invites you to a bon voyage reception for Jordan Mays on Thursday, February 10 from 3:30 to 4:30 p.m. in the Multicultural Student Commons (Phillips Alcove) in Ridgway University Center. Jordan has given us three years of extraordinary service and commitment as a data analyst in the Office of Institutional Effectiveness. We couldn't be prouder of him for landing his new position as Assistant Vice President at John A. Logan Community College in Carterville, Illinois. Please help us say goodbye to our treasured colleague as he begins the next leg of his journey.
UE Receives $1.9 Million Nancy Shepard Estate Gift
The University of Evansville has received a $1.9 million gift from the Nancy Shepard Estate, with designation to three separate areas within the UE Music Conservatory.
Nancy Shepard, who hailed from southern Illinois, attended Evansville College for elementary education. Halfway through college, she decided to change her major. In 1968, she graduated with a Bachelor of Music Education. After marrying her husband, Wesley, she earned a Master of Arts in 1971. She would spend the next three decades of her career as a band director for schools, instilling a love of music in thousands of students.
The gift will fund three areas: the Nancy L. Shepard Endowed Scholarship for Wind and Percussion Students, the O. Wesley Shepard Memorial Scholarship, and the Nancy L. and O. Wesley Shepard Endowed Guest Artist Series.
The Nancy L. Shepard Endowed Scholarship for Wind and Percussion Students will provide financial assistance for music education majors who wish to pursue a career as a band director. The O. Wesley Shepard Memorial Scholarship was established by his friends and former students upon his retirement in 1972. The scholarship supports students who are clarinet or music education majors and are part of the University band.
As husband and wife, Nancy and Wesley were deeply involved in music and saw its purpose in expanding the minds and talents of students. They believed guest artists could have a positive impact on college music programs. The Nancy L. and O. Wesley Shepard Endowed Guest Artist Series will be utilized annually to welcome guest artists of significant stature to UE. The artist will work with students in the classroom or through master classes, and they will hold a music performance available for the enjoyment of the local community.
Deadline to Sign up to be a Road Trip Host is February 11
The Office of Admission needs current UE students who live in the residence halls or Jones Hall to host prospective high school seniors for Road Trip February 25-27. If you are available, you can apply to host online or by emailing Heather Cook (hw30@evansville.edu) or Jill Fisher (jf223@evansville.edu), or stopping by the Office of Admission (OH 104). As a host, you get a FREE exclusive Road Trip t-shirt and access to all Road Trip activities. Deadline to sign up is Friday, February 11.
Please note that Road Trippers are required to follow the same COVID-19 precautions as current students. This includes being vaccinated or submitting a negative test prior to arriving on campus.
Eric Renschler appointed to City Commission
Associate Professor Eric Renschler was recently reappointed to the Evansville Historic Preservation Commission by Mayor Lloyd Winnecke. This marks his fifth commission appointment. The Historic Preservation Commission encourages the preservation, rehabilitation, and restoration of historic buildings and sites within the city and enforces the U.S. Secretary of Interior standards for historic structures in the Evansville's Historic Districts. Renschler has represented the Lincolnshire Historic District near the UE campus since 2008.
Aces Baseball promotes Kimbel and Dombrowski
Before the start of the 2022 season, University of Evansville baseball head coach Wes Carroll has announced the promotion of a pair of coaching staff members.

Carroll has promoted Keirce Kimbel to pitching coach and recruiting coordinator and Robbie Dombrowski to hitting coach.

"Losing an assistant coach at semester break is never ideal but I believe this will be a great opportunity for Aces baseball as we elevate from within," said Carroll. "Keirce Kimbel has made an enormous impact since he joined us a couple of years ago and has a bright future is this game. His ability to connect with student-athletes and future student- athletes is special. Keirce will help us compete in the MVC for years to come. Elevating Robert Dombrowski was an easy decision. We were fortunate to get RD last fall and he excelled in his role. He is so knowledgeable of the game and his overall approach to hitting. Going to be a great spring campaign with this staff that compliments each other well"

Kimbel is entering his third season with the Aces, while Dombrowski goes into his first season with Evansville.

The Aces open the 2022 campaign on Feb. 18-20 at NC State in Raleigh, N.C.
UE softball coach Mat Mundell receives extension
Set to begin his 8th season as head coach of the University of Evansville softball team, head coach Mat Mundell received a multiyear contract extension. UE Director of Athletics Mark Spencer made the announcement on Wednesday.
"I want to thank (UE) President (Christopher M.) Pietruszkiewicz and Mark Spencer for their renewed faith in me to continue leading this program," Mundell exclaimed. "I am extremely proud of what our ladies have been able to doåç on the field but more importantly – in the classroom and community. I have been blessed with great student-athletes here at UE."
"I am excited to continue building this program and know that some exciting things are coming."
Since arriving at UE in 2015, Mundell has taken the program to a new level on the field, in the classroom and within the Evansville community. His teams have posted consecutive .500+ seasons in 2020 and 2021 for the first time since 2007-08. He has directed his student-athletes to six appearances on the All-MVC First Team and three on the Second Team since 2016.
"We are excited to have Mat and his staff continue to lead our program in the future," Spencer said. "From the on-field results to the success in the classroom to the work in the community, he has done an excellent job with the UE softball program."
Last spring, the Aces won 23 games, which tied for the second-most for the program since 2008. Eryn Gould was recognized as a member of the All-MVC First Team for the third time in her career and broke the all-time program record for walks in her final game. On top of that, Gould set the UE single season records for batting average and on-base percentage in her senior campaign.
While a strong senior class graduated in 2021, the future for the team is even brighter. A trio of seniors will play a pivotal role in 2022. Haley Woolf earned a spot on the MVC Preseason Team while Jessica Fehr earned All-MVC Second Team accolades a season ago. Izzy Vetter is coming off of her top collegiate season as she struck out 199 batters, which was 28th in the nation. On May 2, 2021, Vetter tossed a no-hitter against Bradley. Sophomore Marah Wood burst onto the scene as a freshman last year, earning three MVC Newcomer of the Week awards while setting the program record for most home runs by a freshman with 11.
Mundell and the Purple Aces are set to begin the 2022 season on Friday on Monroe, Louisiana.
Aces look to sweep regular season series against Sycamores
Looking for its first regular season sweep over Indiana State in 11 years, the University of Evansville men's basketball team welcomes the Sycamores to the Ford Center on Thursday for a 6 p.m. contest. ESPN+ and the Purple Aces Radio Network will have the coverage.
Last Time Out
- Leading for a total of 31 minutes, the Purple Aces picked up their first road win over Indiana State since 2011 on Tuesday, taking down the Sycamores by a final of 65-56 at the Hulman Center
- Taking matters into his own hands, Shamar Givance scored 19 points while adding 4 assists, 3 rebounds and 2 steals
- Antoine Smith Jr. knocked down all three of his attempts to finish with 10 points while Evan Kuhlman and Blake Sisley scored 9 apiece with Preston Phillips and Noah Frederking each scoring 8 points
- UE led by 10 at the half before ISU rallied to take a 50-48 lead midway through the second half...the Aces countered with a 9-0 stretch on their way to the win
Notes from the W in Terre Haute
- UE ended a 10-game road skid against Indiana State on Feb. 8, finishing with a 65-56 win
- The last win prior to that came on Jan. 26, 2011 - 4,031 days in between wins at the Hulman Center
- Evansville's defense held Indiana State to 0-for-17 from 3-point range and was the first time since 2008 vs. DePauw that ISU did not hit a triple
- Neither team had an offensive rebound in the game and according to Ken Pomeroy - it is believed to be the first time this has happened in the NCAA since offensive rebounds became an official stat in the early 1990's that neither team was credited with one...the previous low was a combined two offensive rebounds (Columbia at Princeton - 2/18/06)
Making it Count
- Gage Bobe hit one shot in the win at Indiana State but it was a big one
- With UE up two with just over three minutes remaining, Bobe grabbed a ball after it was poked away from Shamar Givance and heaved up a shot at the buzzer to double the lead
- From there, the Aces held strong in the 9-point win
- Bobe played his top total of 35:24 in the victory
Taking Control
- Senior Shamar Givance had his top offensive contest in two months, scoring 19 points while leading UE to a road win at Indiana State on Feb. 8
- It was his best performance since his career game against SIU on Dec. 1 where he scored 31
- Givance added four assists in the win while playing over 38 out of 40 minutes
- Entering the game, Givance scored six points or fewer in three out of five games before erupting for 19
Big Buckets
- In the road win at Indiana State, Blake Sisley hit four of his six attempts on the way to nine points
- His hook shots in the second half of the contest were pivotal as they each broke a tie score
- Sisley has seen his playing time go up as the season has moved along with his top tally of 24:33 coming against Drake...he has played at least 10 minutes in each of the last 12 games after averaging just over six minutes in his first six games as a freshman
Scouting the Opponent
- Indiana State dropped a 65-56 decision to the Purple Aces on Tuesday in Terre Haute
- The Sycamores shot 46.8% from the field and 22-of-30 from inside, but were 0-for-17 from long range and failed to hit a 3-pointer for the first time since a contest against DePauw in 2008
- A 15-point effort by Cameron Henry on Tuesday led the Sycamores as his season average continues to stand at 15.0 PPG
- Henry, who is also their leading rebounder with 5.6 boards per game, scored a career-high 28 points last Saturday at Valparaiso
- Just behind him is Cooper Neese, who is averaging 14.3 points per contest
Contribute to AceNotes
To have content considered for inclusion in AceNotes, please submit a Marketing Request Form. Deadline for submission to AceNotes is 10:00 a.m. on the requested date of publication. Only articles concerning UE related/sponsored activities will be accepted. Articles submitted to AceNotes may be edited for length and clarity. Submitter contact information is at the end of each article.