| | |
| --- | --- |
| AceNotes Today | Wednesday, February 9, 2022 |
Wellness Day is Friday
Just a reminder that Friday, February 11, 2022 is a Wellness Day! This Wellness Day is for both employees and students. For students and faculty it will be a non-instructional day during which there will be no classes, assignments due, or exams scheduled.
BSU & UEAAA Potluck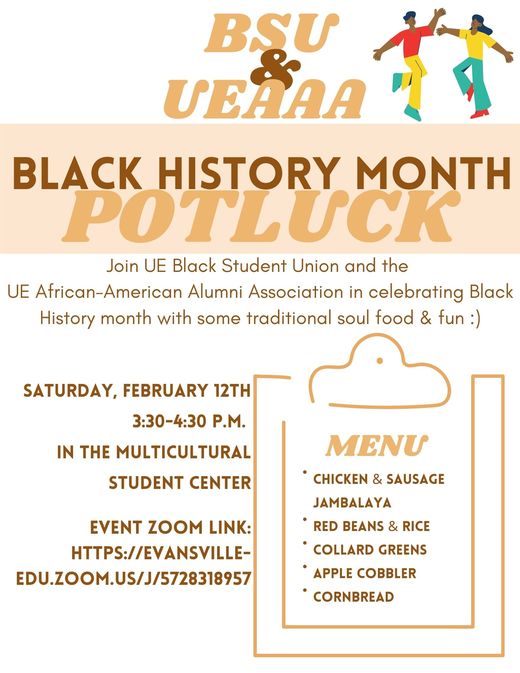 Join UE's BSU and UEAAA to this Black History Month to celebrate the evolution of UE's Black History over the years. Come catch a glimpse of the 'Our Story' documentary, learn about exhibits from the Evansville African American museum, while enjoying some light refreshments provided by UE's African American Alumni. We hope to see you there and have provided the zoom link below for those who can't make it physically but would still like to participate.
Zoom link: https://evansville-edu.zoom.us/j/5728318957
Nerd Wars is Coming - Register Soon
The Honors Program invites you to register for this year's Nerd Wars trivia competition, scheduled for Wednesday, March 30 at 6:00pm. To adhere with social distancing guidelines, Nerd Wars will be held this year in various classrooms in Koch and over Zoom, but will still feature many of its great traditions, including the Nerdiest Dressed competition, snacks/giveaways, and the chance to win fabulous prizes. Form your team of up to 5 participants (students, faculty, administrators and staff are welcome to participate) and join us in a trivia battle for prizes, bragging rights, and the coveted Nerd Wars trophy.
Register online now at this link: https://forms.gle/4YKs4vp9CW4HrRH28
Registration this year is FREE. The deadline to register is Wednesday, February 16.
Please contact Connor Luebbehusen (cl196) or Pranav Haran (ph100) with any questions.
Muhammad Ali Center & Roots 101 Museum Day Trip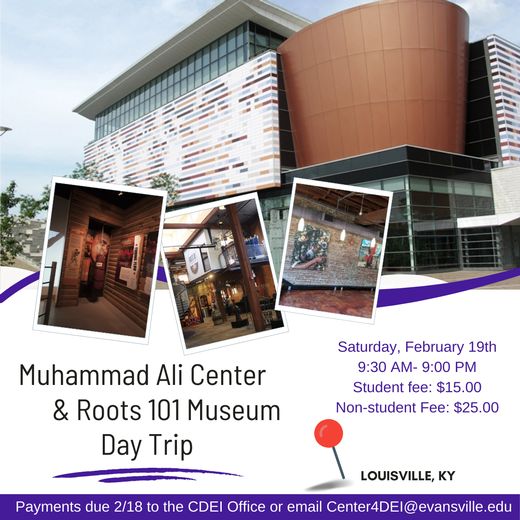 Join the Center for Diversity, Equity and Inclusion on a day trip to Louisville, Kentucky to the Muhammad Ali Center and Roots 101 Museum. We will spend the day immersed in Black history and culture at these two amazing centers in Louisville. After our time at each location there will be time to grab dinner at a local restaurant before hopping on the bus and heading back to Evansville. Sign-up in advance is required! Please find more information below regarding the trip!
Saturday, February 19th
9:30am- 9:00pm
Student fees: $15.00
Non-Student fees: $25.00
Payments will need to be brought to the CDEI no later than 5pm on 2/18. Please email the CDEI for digital payment options.
On Saturday, 2/19 we will load the bus at 9:30am and head towards Louisville. It is suggested to have a large breakfast and bring snacks for the bus as there will not be time for lunch! After the last museum you will have some free time to grab dinner and explore Louisville before re-loading the bus at 7:00pm.
This is sure to be an amazing day and you do not want to miss out!
For any questions reach out to the CDEI at Center4DEI@evansville.edu
Archaeology Alumna to Present on Photogrammetry in Cultural Heritage
The Department of Archaeology is proud to announce the next presenter in the UE Archaeology and Art History Alumni Lecture Series, Dr. Meg Hagseth (Archaeology '12). In her lecture, entitled "Crowd Sourcing Cultural Heritage: Photogrammetry as a Tool for Reconstructing Site and Artifact Ethos," Dr. Hagseth will discuss how photogrammetry can be used as a tool to preserve threatened artifacts and sites. Dr. Hagseth was recently awarded the PhD in Anthropology from Texas A&M University and is an alumna of the Jezreel Expedition; her photogrammetry work with artifacts in the collection of the Evansville Museum was featured in the Evansville Courier and Press in 2021. Please join us on Wednesday February 9 at 7:00 for this fascinating talk! www.uealumnionline.com/CrowdSourcing
CDEI Presents: Black Love Trivia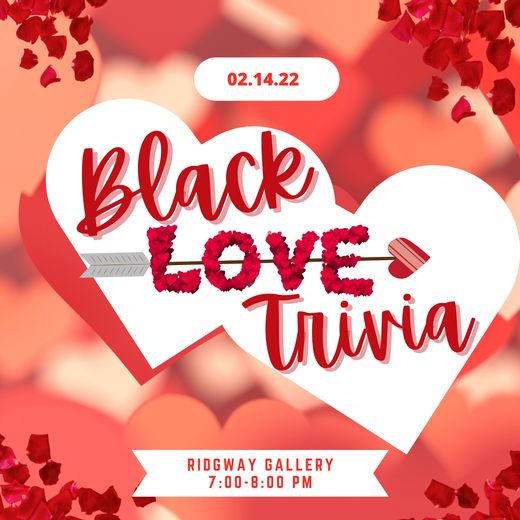 Happy Black History Month and Happy Valentines Day!
As part of Black History Month, the Center for Diversity Equity and Inclusion invites you to participate in Black Love Trivia! It is not your ordinary trivia, the theme will cover Black love from those represented in the movies to real-life celebrity love stories.
Come out and show your knowledge of Black Love! You might even win some prizes ;)
I-House: Activism Around the World
The Centers for Diversity, Equity, & Inclusion and Innovation & Change are pleased to announce I-House: Activism Around the World. Join us on Wednesday, February 16th at 7:00 PM in the Ridgway Gallery (2nd floor), as we hear from Vipin Thekk, Senior Director of Ashoka's Youth Venture regarding how activism plays a role in our global landscape.
UE is one of 50 Ashoka Changemaker campuses around the world. Ashoka works to identify and support the world's leading social entrepreneurs, learns from the patterns in their innovations, and mobilizes a global community that embraces these new frameworks to build an "everyone a changemaker world." As a UE community member, you are already a changemaker! Come learn more about changemaking go hand in hand with activism around the world.
There will be a virtual option for those who cannot attend in person, but we do ask that you RSVP.
UNIVERSITY OF EVANSVILLE THEATRE PRESENTS MAC BETH
The University of Evansville Theatre opens their spring 2022 season with Erica Schmidt's MAC BETH, adapted from William Shakespeare's MACBETH. This new take on Shakespeare's classic tale of bloody violence explores a symmetry with rebellious teenage girls meeting to stage the play in a parochial school's parking lot. The production opens on Thursday, Feb. 10, at 7:30 p.m. in the May Studio Theatre. Additional performances are 7:30 p.m. on Feb. 11, 12, and at 2:00 p.m. on Feb. 12, 13.
MAC BETH is directed by Claire Himstedt, a senior theatre studies major from St. Louis, Mo. Angus Creech, a senior theatre studies major from Brooklyn, N.Y., serves as the scenic designer; Delanie Kitzman, a senior performance major from Tomball, Texas., is the costume designer; Herbie Perlman, a senior design and technology major from Bethel, Conn., is the lighting designer; serves as the sound designer; Liv Darshani Pedersen, a senior theatre studies major from Chaska, Minn., is the dramaturg; Katie Lawhorn, a first-year stage management major from Louisville, Ky., is the stage manager, and Keegan Macaluso, a junior design and technology major from Georgetown, Texas., serves as the technical director.
The cast features Cassidy Rogers, a senior performance major from College Station, Texas, as Macbeth; Chloe Shrieves, a senior performance major from St. Cloud, Fla., as Lady Macbeth; Allie Forté, a senior performance major from New Albany, Ind., as Macduff; Cass Dunn, a senior performance major from Brattleboro, Vt., as Banquo; Eli Lomax, a senior performance major from Sellersburg, Ind., as Witch 1; Evelyn Hipp, a first-year theatre studies major from Nolensville, Tenn., as Witch 2; and Kyla Clift, a senior performance major from Arlington, Texas, as Witch 3.
In following industry standards, as established by the Broadway League, all audience members must show proof of COVID–19 vaccination or a negative test result taken within 48-hours of the date on their ticket. Upon arrival at the theatre, proof of vaccination/negative test result and an ID will be checked before each performance. In compliance with the UE Coronavirus Task Force guidelines, all audience members must remain masked when indoors on campus. Additionally, both Shanklin Theatre and the May Studio Theatre will be seated at no more than 50% capacity. It is our hope that these restrictions will allow our student actors to safely perform unmasked in both spaces.
Ticket prices are $12 for all patrons. UE students may obtain one free student rush ticket beginning at 12 p.m. on the day of the performance they wish to attend. Seating is limited and tickets are available by calling 812.488.2031.
CDEI Presents... I-House: Blackness in other Cultures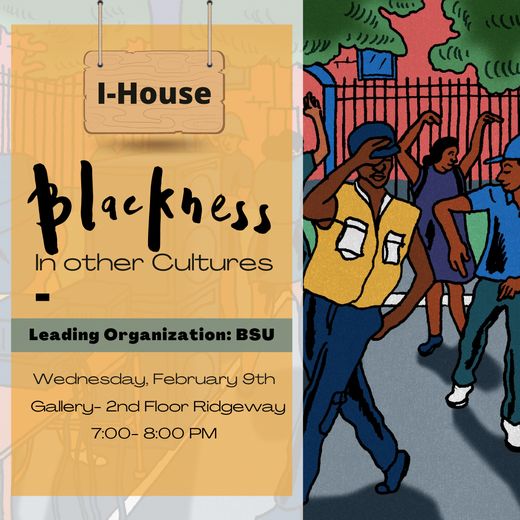 The CDEI is collaborating with BSU to hold its third I-House of the Semester! This event will be held in the Gallery (2nd floor Ridgway) on Wednesday, February 9th at 7:00 pm. Join us as we dive into a discussion about Blackness in other Cultures.
We hope to see you there!
Build-A-Buddy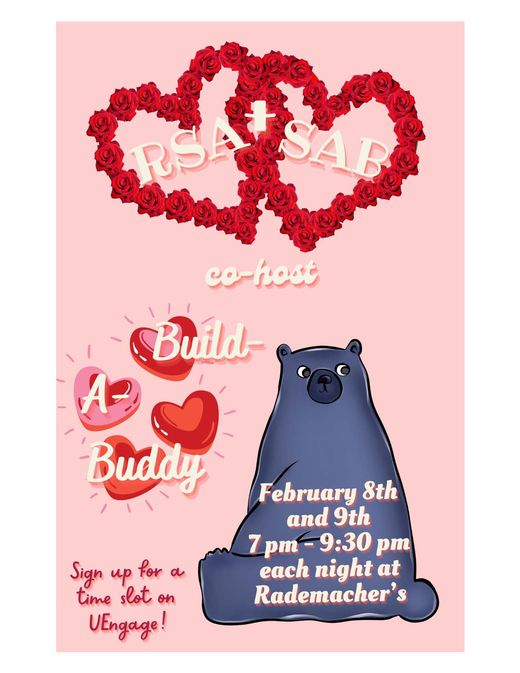 Join RSA and SAB for our yearly Build-A-Buddy! Sign up on UEngage for a free stuffed animal and some great desserts!
Black History Month Challenge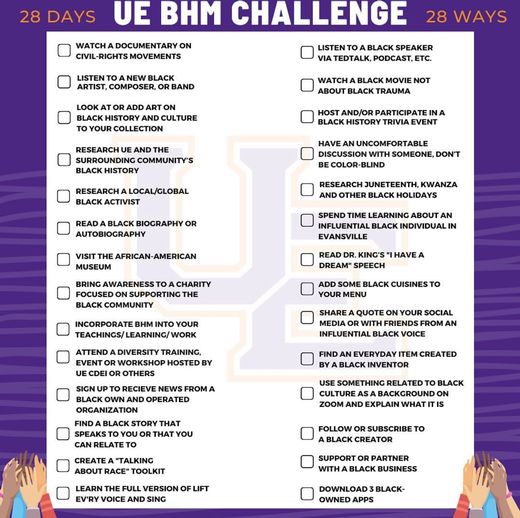 During Black History Month join the UE BHM Challenge sponsored by the Center for Diversity, Equity, and Inclusion! In this challenge you will find 28 ways for 28 days of Black History Month to actively learn, engage, support, and uplift Black culture from Evansville and around the world. Items listed in the challenge can be done personally or in a social group! Do some personal research on Juneteenth or grab a friend and some popcorn and watch Just Mercy. Either way you do it, #BHMChallenge yourself! Happy Black History Month!
1. Watch a documentary on civil-rights movements
2. Listen to a new Black artist, composer, or band
3. Look at or add art on Black history and culture to your collection
4. Research UE and the surrounding community's Black history
5. Research a local/global Black activist
6. Read a Black biography or autobiography
7. Visit the African-American museum
8. Bring awareness to a charity focused on supporting the Black community
9. Incorporate BHM into your Teachings/ Learning/ Work
10. Attend a diversity training, event or workshop hosted by UE CDEI or others
11. Sign up to receive news from a Black own and operated organization
12. Find a Black story that speaks to you or that you can relate to
13. Create a "Talking about Race" Toolkit
14. Learn the full version of Lift Ev'ry Voice and Sing
15. Listen to a Black speaker via TedTalk, PodCast, etc.
16. Watch a Black movie not about Black trauma
17. Host and/or participate in a Black history trivia event
18. Have an uncomfortable discussion with someone, don't be color-blind
19. Research Juneteenth, Kwanza and other Black holidays
20. Spend time learning about an influential Black individual in Evansville
21. Read Dr. King's "I Have a Dream" speech
22. Add some Black cuisines to your menu
23. Share a quote on your social media or with friends from an influential Black Voice
24. Find an everyday item created by a Black inventor
25. Use something related to Black culture as a background on zoom and explain what it is
26. Follow or Subscribe to a Black creator
27. Support or partner with a Black business
28. Download 3 Black-owned apps
UE ChangeLabs and UE Changemaker Project Nominated for 27th Annual Celebration of Leadership Awards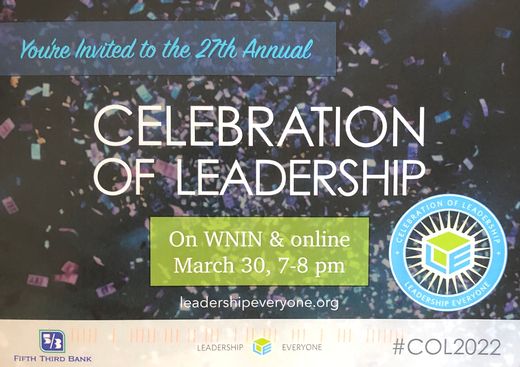 The UE nominations are: UE Theatre ChangeLab: Storytelling in Our Backyard, Prof Wes Grantom (Theatre); UE Latinx Community Health ChangeLab, Dr. Cindy Crowe (Spanish); UE/Harper Air Filter Changemaker Project, Dr. Jeff Braun (Physics), Dr. Derek Jones (CogSci), Dr. Mark Davis (Biology), and Dr. Jessie Lofton (Engineering), with a nice assist from Mr. Ray Niehaus and the students at Perry Central High School!!
Join us in cheering for all of them during the Celebration of Leadership Awards broadcast live on March 30th, from 7:00pm to 8:00pm on WNIN and online. #COL2022.org
Black History Icon #7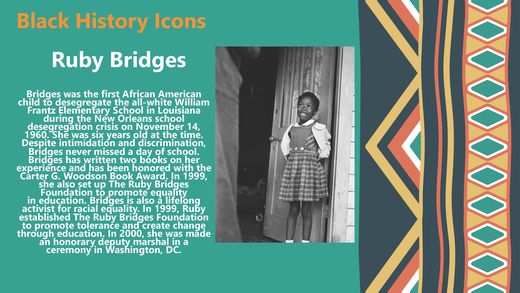 To celebrate Black History Month, we're sending out daily posts to honor icons whose selfless contributions through out history, continue to inspire growth in our various communities. Today's icon is Ruby Bridges and you can find more information in the attached poster. You can follow BSU @UEBlackStudentU, @uevansville for more programming during BHM.
Black History Month @ UE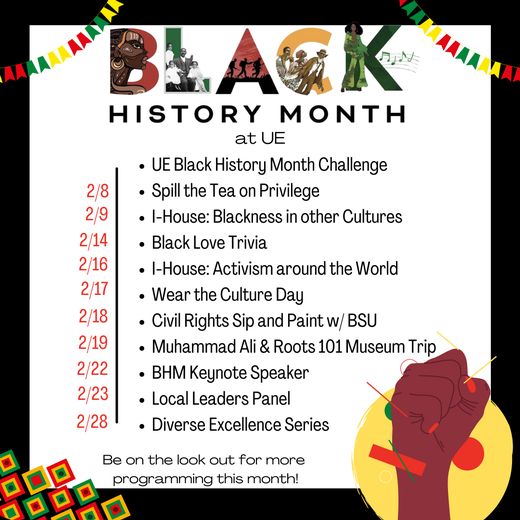 Happy Black History Month!
This Black History Month the Center for Diversity Equity and Inclusion has a number of amazing programs scheduled for the campus and Evansville community! Keep an eye out on Acenotes, UEngage, and our social media for more specific information related to each program and how to RSVP if necessary!
In addition to Black History Month programming the CDEI will also be hosting other programs this month! Be on the look out for these, as well!
If you have any questions about the programming hosted by the CDEI, please send us an email at Center4DEI@evansville.edu
Black History Month @ UE
UE Black History Month Challenge
2/8....................Spill the Tea on Privilege
2/9.....................I-House: Blackness in other Cultures
2/14..................Black Love Trivia
2/16...................I-House: Activism around the World
2/17..................Wear the Culture Day
2/18..................Civil Rights Sip and Paint w/ BSU
2/19..................Muhammad Ali & Roots 101 Museum Trip
2/22..................BHM Keynote Speaker
2/23..................Local Leaders Panel @ Young and Established
2/28..................Diverse Excellence Series
Bon Voyage Celebration for Jordan Mays
The Office of Academic Affairs invites you to a bon voyage reception for Jordan Mays on Thursday, February 10 from 3:30 to 4:30 p.m. in the Multicultural Student Commons (Phillips Alcove) in Ridgway University Center. Jordan has given us three years of extraordinary service and commitment as a data analyst in the Office of Institutional Effectiveness. We couldn't be prouder of him for landing his new position as Assistant Vice President at John A. Logan Community College in Carterville, Illinois. Please help us say goodbye to our treasured colleague as he begins the next leg of his journey.
UE Receives $1.9 Million Nancy Shepard Estate Gift
The University of Evansville has received a $1.9 million gift from the Nancy Shepard Estate, with designation to three separate areas within the UE Music Conservatory.
Nancy Shepard, who hailed from southern Illinois, attended Evansville College for elementary education. Halfway through college, she decided to change her major. In 1968, she graduated with a Bachelor of Music Education. After marrying her husband, Wesley, she earned a Master of Arts in 1971. She would spend the next three decades of her career as a band director for schools, instilling a love of music in thousands of students.
The gift will fund three areas: the Nancy L. Shepard Endowed Scholarship for Wind and Percussion Students, the O. Wesley Shepard Memorial Scholarship, and the Nancy L. and O. Wesley Shepard Endowed Guest Artist Series.
The Nancy L. Shepard Endowed Scholarship for Wind and Percussion Students will provide financial assistance for music education majors who wish to pursue a career as a band director. The O. Wesley Shepard Memorial Scholarship was established by his friends and former students upon his retirement in 1972. The scholarship supports students who are clarinet or music education majors and are part of the University band.
As husband and wife, Nancy and Wesley were deeply involved in music and saw its purpose in expanding the minds and talents of students. They believed guest artists could have a positive impact on college music programs. The Nancy L. and O. Wesley Shepard Endowed Guest Artist Series will be utilized annually to welcome guest artists of significant stature to UE. The artist will work with students in the classroom or through master classes, and they will hold a music performance available for the enjoyment of the local community.
Deadline to Sign up to be a Road Trip Host is February 11
The Office of Admission needs current UE students who live in the residence halls or Jones Hall to host prospective high school seniors for Road Trip February 25-27. If you are available, you can apply to host online or by emailing Heather Cook (hw30@evansville.edu) or Jill Fisher (jf223@evansville.edu), or stopping by the Office of Admission (OH 104). As a host, you get a FREE exclusive Road Trip t-shirt and access to all Road Trip activities. Deadline to sign up is Friday, February 11.
Please note that Road Trippers are required to follow the same COVID-19 precautions as current students. This includes being vaccinated or submitting a negative test prior to arriving on campus.
Eykamp Prize: Call for Nominations
The Eykamp Prize was established by Richard and Rita Eykamp in 2015 to honor Faculty Achievement at the University of Evansville. Recipients of the prize will receive a one-time award of $10,000 in recognition of extraordinary contributions to the University of Evansville as University Citizens. Examples of such contributions include deep and successful involvement in recruiting students; expanding the number, scope, and competitiveness of grant funding for their department; bringing positive public awareness to the University through scholarship, knowledge, and understanding of their discipline.
Nominations for the Eykamp Prize may come from any member of the University of Evansville Community. Nominees should be tenured or tenure-track faculty members at the University of Evansville who have not received the award in the previous five years. Nominations can be submitted in writing or via e-mail to Michael Austin, Executive Vice President for Academic Affairs/Provost, at ma352@evansville.edu by March 11, 2022. Nominations should include the name of the faculty member and a brief statement of the reasons that he or she is being nominated.
Recipients of the Eykamp Prize will be selected by an Award Committee, appointed by the EVPAA/Provost that includes members of the faculty, staff, administrators, and a member of the Board of Trustees. Awards will be announced and presented at the May Commencement Ceremony.
Recipients in the previous five years: 2017 – Dr. Lora Becker; 2018 – Dr. David Dwyer; 2019 – Dr. Kristy Miller; 2020 – Dr. Jerrilee LaMar; 2021 – Dr. Joyce Stamm
Eric Renschler appointed to City Commission
Associate Professor Eric Renschler was recently reappointed to the Evansville Historic Preservation Commission by Mayor Lloyd Winnecke. This marks his fifth commission appointment. The Historic Preservation Commission encourages the preservation, rehabilitation, and restoration of historic buildings and sites within the city and enforces the U.S. Secretary of Interior standards for historic structures in the Evansville's Historic Districts. Renschler has represented the Lincolnshire Historic District near the UE campus since 2008.
Three University of Evansville Civil Engineering Students Awarded Scholarships by the Asphalt Pavement Association of Indiana
The Asphalt Pavement Association of Indiana (APAI) has named Alex Marie Dodson (BSCE '21), Seth Mendel (BSCE '21), and Samantha Weldon (BSCE '23), as 2021 APAI Scholars. The Civil Engineering students were recognized as award winners during the Hall of Fame Induction Ceremony and Scholarship Awards Banquet, held in conjunction with the 2021 APAI Winter Conference and Expo on December 16th, 2021 at the Marriott East Hotel in Indianapolis.
Scholarships are awarded by the APAI Scholarship Committee to students studying construction management, civil engineering, and construction engineering and management at six nationally accredited Indiana universities, including the University of Evansville. Students must complete an in-person interview with members of the Scholarship Committee to receive an award. The total amount of scholarships awarded in 2021 by the association totaled $50,000 to deserving scholars, in anticipation that many recipients will remain in Indiana and seek employment opportunities with APAI's member contractors.
Complete team effort lifts UE to road win at Indiana State
For the first time since January 26, 2011, the University of Evansville men's basketball team picked up a road win over Indiana State, finishing with a 65-56 win over the Sycamores on Tuesday at the Hulman Center.
Evansville (6-16, 2-9 MVC) led by 10 points at the half before the Sycamores (9-14, 2-9 MVC) rallied to take a 50-48 lead in the second half. A 9-0 run by the Purple Aces made the difference with an incredible play by Gage Bobe highlighting the stretch.
"I am really proud of the way our guys responded tonight. Everyone really stepped up and did their job," Aces head coach Todd Lickliter said. "Shamar (Givance) hit some big shots for us and Gage gave us some really good minutes. When Indiana State made the run in the second half, I told our guys that we made a run of our own in the first half – let's do it again."
Givance led all players with 19 points with 7 of his 12 shots finding the bottom of the net. Antoine Smith Jr. finished the night with 10 and hit all three of his field goal tries. Evan Kuhlman and Blake Sisley recorded 9 points while Preston Phillips and Noah Frederking tallied eight. Bobe played a career-high 34 minutes and hit a huge shot inside of four minutes remaining to give UE a 4-point edge. Four Sycamores reached double figures, led by 15 from Cameron Henry.
After Indiana State scored the opening four points of the game, Evan Kuhlman found a cutting Shamar Givance to get UE on the board. Evansville scored four in a row before a triple from Kuhlman gave the team its first lead of the night at 7-6. Antoine Smith Jr., who scored 10 points in the first half, drained his first triple of the game to push the lead to 14-8 at the 14:39 mark.
Evansville continued to control the game for the duration of the half, with ISU getting as close as five points (21-16) inside of nine minutes remaining. Blake Sisley recorded a 3-pointer in a 10-3 run that extended the lead to 12. Smith scored five in a row before a turnaround jumper by Kuhlman made it a 31-19 Aces lead inside the final four minutes. The double-digit lead for Evansville was intact at the break with UE holding a 33-23 advantage. Smith led all players with 10 in the period.
Noah Frederking converted an outside attempt in the opening three minutes of the second half to solidify a 38-27 lead. Evansville continued to lead by a 43-33 margin before Indiana State stormed back. Hitting 9 out of 11 shots, the Sycamores went on a 17-6 run to take their first lead of the half. With 11:02 remaining, a 3-point play by Henry tied the game at 44-44. A pair of hook shots by Sisley put UE back in front, but with 7:18 showing on the clock, it was Julian Larry scoring on a drive to the basket to give ISU a 50-48 edge.
It was Givance tying it right up on the ensuing possession and starting a 9-0 run that would firm the grip UE had on the game. At the 3:39 mark, a wild shot by Gage Bobe was the game-changer. With the shot clock winding down, Bobe grabbed the loose ball and threw up a shot that pushed the lead to four.
The dagger came with 2:08 remaining when Givance was true from downtown to make it a 59-50 game. From there, the Aces cruised to the 65-56 win. Evansville shot 50% on the night with ISU finishing at 46.8%. Evansville hit six triples while ISU was held to 0-for-17. It was the first time the Sycamores did not hit a triple since 2008. Another unique stat is that neither team grabbed an offensive rebound.
In less than 48 hours, the teams will meet at the Ford Center with tip set for 6 p.m. on Thursday.
Contribute to AceNotes
To have content considered for inclusion in AceNotes, please submit a Marketing Request Form. Deadline for submission to AceNotes is 10:00 a.m. on the requested date of publication. Only articles concerning UE related/sponsored activities will be accepted. Articles submitted to AceNotes may be edited for length and clarity. Submitter contact information is at the end of each article.