| | |
| --- | --- |
| AceNotes Today | Tuesday, February 8, 2022 |
Nerd Wars is Coming - Register Soon
The Honors Program invites you to register for this year's Nerd Wars trivia competition, scheduled for Wednesday, March 30 at 6:00pm. To adhere with social distancing guidelines, Nerd Wars will be held this year in various classrooms in Koch and over Zoom, but will still feature many of its great traditions, including the Nerdiest Dressed competition, snacks/giveaways, and the chance to win fabulous prizes. Form your team of up to 5 participants (students, faculty, administrators and staff are welcome to participate) and join us in a trivia battle for prizes, bragging rights, and the coveted Nerd Wars trophy.
Register online now at this link: https://forms.gle/4YKs4vp9CW4HrRH28
Registration this year is FREE. The deadline to register is Wednesday, February 16.
Please contact Connor Luebbehusen (cl196) or Pranav Haran (ph100) with any questions.
Archaeology Alumna to Present on Photogrammetry in Cultural Heritage
The Department of Archaeology is proud to announce the next presenter in the UE Archaeology and Art History Alumni Lecture Series, Dr. Meg Hagseth (Archaeology '12). In her lecture, entitled "Crowd Sourcing Cultural Heritage: Photogrammetry as a Tool for Reconstructing Site and Artifact Ethos," Dr. Hagseth will discuss how photogrammetry can be used as a tool to preserve threatened artifacts and sites. Dr. Hagseth was recently awarded the PhD in Anthropology from Texas A&M University and is an alumna of the Jezreel Expedition; her photogrammetry work with artifacts in the collection of the Evansville Museum was featured in the Evansville Courier and Press in 2021. Please join us on Wednesday February 9 at 7:00 for this fascinating talk! www.uealumnionline.com/CrowdSourcing
UNIVERSITY OF EVANSVILLE THEATRE PRESENTS MAC BETH
The University of Evansville Theatre opens their spring 2022 season with Erica Schmidt's MAC BETH, adapted from William Shakespeare's MACBETH. This new take on Shakespeare's classic tale of bloody violence explores a symmetry with rebellious teenage girls meeting to stage the play in a parochial school's parking lot. The production opens on Thursday, Feb. 10, at 7:30 p.m. in the May Studio Theatre. Additional performances are 7:30 p.m. on Feb. 11, 12, and at 2:00 p.m. on Feb. 12, 13.
MAC BETH is directed by Claire Himstedt, a senior theatre studies major from St. Louis, Mo. Angus Creech, a senior theatre studies major from Brooklyn, N.Y., serves as the scenic designer; Delanie Kitzman, a senior performance major from Tomball, Texas., is the costume designer; Herbie Perlman, a senior design and technology major from Bethel, Conn., is the lighting designer; serves as the sound designer; Liv Darshani Pedersen, a senior theatre studies major from Chaska, Minn., is the dramaturg; Katie Lawhorn, a first-year stage management major from Louisville, Ky., is the stage manager, and Keegan Macaluso, a junior design and technology major from Georgetown, Texas., serves as the technical director.
The cast features Cassidy Rogers, a senior performance major from College Station, Texas, as Macbeth; Chloe Shrieves, a senior performance major from St. Cloud, Fla., as Lady Macbeth; Allie Forté, a senior performance major from New Albany, Ind., as Macduff; Cass Dunn, a senior performance major from Brattleboro, Vt., as Banquo; Eli Lomax, a senior performance major from Sellersburg, Ind., as Witch 1; Evelyn Hipp, a first-year theatre studies major from Nolensville, Tenn., as Witch 2; and Kyla Clift, a senior performance major from Arlington, Texas, as Witch 3.
In following industry standards, as established by the Broadway League, all audience members must show proof of COVID–19 vaccination or a negative test result taken within 48-hours of the date on their ticket. Upon arrival at the theatre, proof of vaccination/negative test result and an ID will be checked before each performance. In compliance with the UE Coronavirus Task Force guidelines, all audience members must remain masked when indoors on campus. Additionally, both Shanklin Theatre and the May Studio Theatre will be seated at no more than 50% capacity. It is our hope that these restrictions will allow our student actors to safely perform unmasked in both spaces.
Ticket prices are $12 for all patrons. UE students may obtain one free student rush ticket beginning at 12 p.m. on the day of the performance they wish to attend. Seating is limited and tickets are available by calling 812.488.2031.
CDEI Presents... I-House: Blackness in other Cultures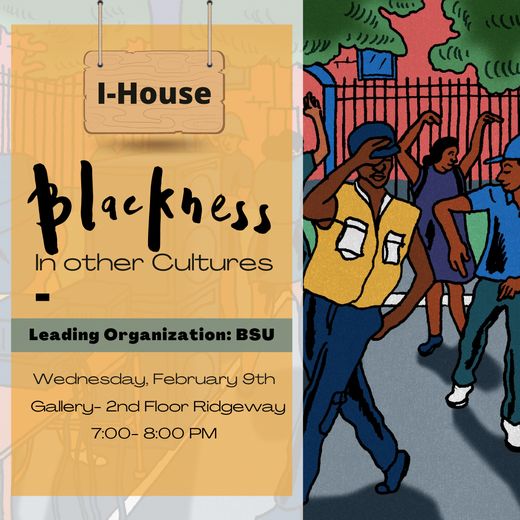 The CDEI is collaborating with BSU to hold its third I-House of the Semester! This event will be held in the Gallery (2nd floor Ridgway) on Wednesday, February 9th at 7:00 pm. Join us as we dive into a discussion about Blackness in other Cultures.
We hope to see you there!
Student Leadership Conference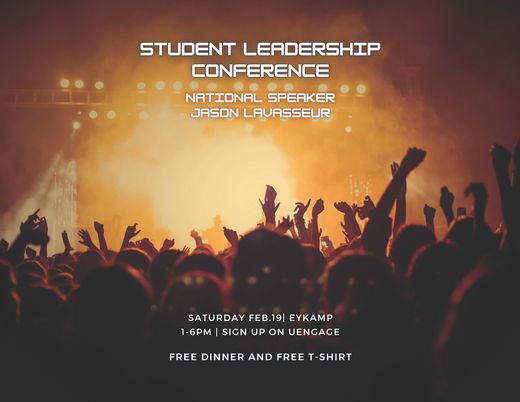 Sign-up for the Student Leadership Conference on Feb.19 from 1-6pm for a day of learning with Jason Lavasseur, national collegiate speaker, a FREE T SHIRT AND A FREE MEAL!
CDEI Presents: Spill the Tea on Privilege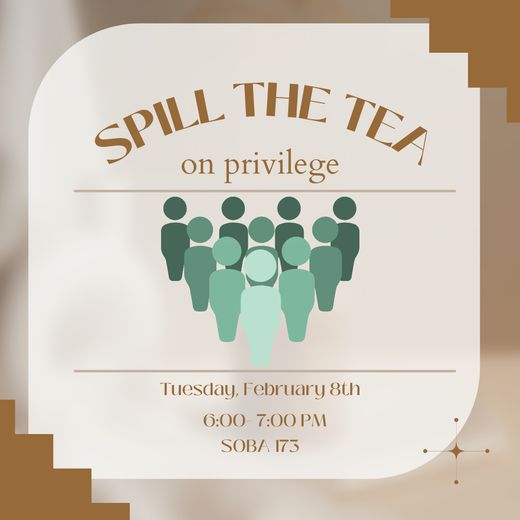 Join the Center for Diversity, Equity, and Inclusion on Tuesday, February 8th at 6:00 pm in SOBA 173 for the first segment of our Spill the Tea Series of the semester. This segment will open the floor for a discussion on privilege and the importance of being understood.
All are welcome!
Staging Solutions on February 9th
Staging Solutions will be an open forum for discovering constructive and inclusive solutions for a wide variety of campus issues, being hosted by WRA as a follow-up to last semester's Campus Culture Panel. In addition, this forum is part of the recent Passport to Inclusion initiative. Join us in Koch 100 from 5:30-7pm on Wednesday, February 9th to discuss problems brought up at the last panel including LGBTQ+ visibility, racial diversity, personal safety, and more. If you are unable to or uncomfortable with attending in person, a zoom link and form to sign-in are below. Hope to see you there! Feel free to reach out to aj154@evansville.edu with any questions.
Zoom link:
https://us04web.zoom.us/j/4569129105?pwd=VVRNNDk0QnZBZVh3KytpYWNoRVBDZz09
Meeting ID: 456 912 9105
Passcode: 400591
Sign in: https://forms.gle/txnHV8jckJT5BSGW6
UE ChangeLabs and UE Changemaker Project Nominated for 27th Annual Celebration of Leadership Awards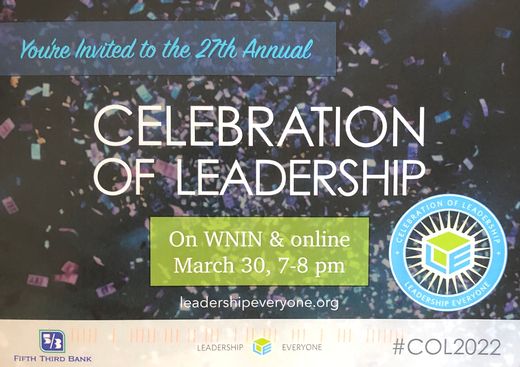 The UE nominations are: UE Theatre ChangeLab: Storytelling in Our Backyard, Prof Wes Grantom (Theatre); UE Latinx Community Health ChangeLab, Dr. Cindy Crowe (Spanish); UE/Harper Air Filter Changemaker Project, Dr. Jeff Braun (Physics), Dr. Derek Jones (CogSci), Dr. Mark Davis (Biology), and Dr. Jessie Lofton (Engineering), with a nice assist from Mr. Ray Niehaus and the students at Perry Central High School!!
Join us in cheering for all of them during the Celebration of Leadership Awards broadcast live on March 30th, from 7:00pm to 8:00pm on WNIN and online. #COL2022.org
Bon Voyage Celebration for Jordan Mays
The Office of Academic Affairs invites you to a bon voyage reception for Jordan Mays on Thursday, February 10 from 3:30 to 4:30 p.m. in the Multicultural Student Commons (Phillips Alcove) in Ridgway University Center. Jordan has given us three years of extraordinary service and commitment as a data analyst in the Office of Institutional Effectiveness. We couldn't be prouder of him for landing his new position as Assistant Vice President at John A. Logan Community College in Carterville, Illinois. Please help us say goodbye to our treasured colleague as he begins the next leg of his journey.
Black History Icon #6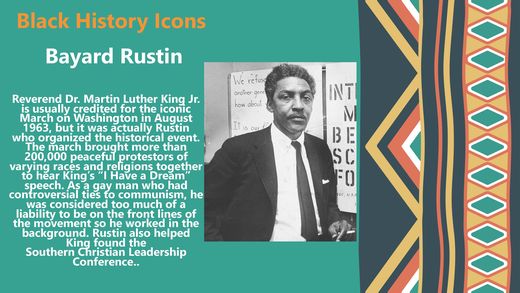 To celebrate Black History Month, we're sending out daily posts to honor icons whose selfless contributions through out history, continue to inspire growth in our various communities. Today's icon is Bayard Rustin and you can find more information in the attached poster. You can follow BSU @UEBlackStudentU, @uevansville for more programming during BHM.
UE Receives $1.9 Million Nancy Shepard Estate Gift
The University of Evansville has received a $1.9 million gift from the Nancy Shepard Estate, with designation to three separate areas within the UE Music Conservatory.
Nancy Shepard, who hailed from southern Illinois, attended Evansville College for elementary education. Halfway through college, she decided to change her major. In 1968, she graduated with a Bachelor of Music Education. After marrying her husband, Wesley, she earned a Master of Arts in 1971. She would spend the next three decades of her career as a band director for schools, instilling a love of music in thousands of students.
The gift will fund three areas: the Nancy L. Shepard Endowed Scholarship for Wind and Percussion Students, the O. Wesley Shepard Memorial Scholarship, and the Nancy L. and O. Wesley Shepard Endowed Guest Artist Series.
The Nancy L. Shepard Endowed Scholarship for Wind and Percussion Students will provide financial assistance for music education majors who wish to pursue a career as a band director. The O. Wesley Shepard Memorial Scholarship was established by his friends and former students upon his retirement in 1972. The scholarship supports students who are clarinet or music education majors and are part of the University band.
As husband and wife, Nancy and Wesley were deeply involved in music and saw its purpose in expanding the minds and talents of students. They believed guest artists could have a positive impact on college music programs. The Nancy L. and O. Wesley Shepard Endowed Guest Artist Series will be utilized annually to welcome guest artists of significant stature to UE. The artist will work with students in the classroom or through master classes, and they will hold a music performance available for the enjoyment of the local community.
Deadline to Sign up to be a Road Trip Host is February 11
The Office of Admission needs current UE students who live in the residence halls or Jones Hall to host prospective high school seniors for Road Trip February 25-27. If you are available, you can apply to host online or by emailing Heather Cook (hw30@evansville.edu) or Jill Fisher (jf223@evansville.edu), or stopping by the Office of Admission (OH 104). As a host, you get a FREE exclusive Road Trip t-shirt and access to all Road Trip activities. Deadline to sign up is Friday, February 11.
Please note that Road Trippers are required to follow the same COVID-19 precautions as current students. This includes being vaccinated or submitting a negative test prior to arriving on campus.
Paper Shortages – Plan for increased cost and a need to plan earlier for orders
Due to the pandemic, growing disruptions in the supply chain are affecting a range of paper products.
According to Today.com, "Labor shortages and major disruptions in the supply chain, worsened by the pandemic, have caused many businesses and consumers across to the country to see delays in their printing orders. What's more, many paper manufacturers have scaled back their operations due to the highly contagious delta variant. Some paper manufacturers have even shifted to producing cardboard boxes for online orders.
Costs for those who make paper have increased, too. Wood pulp, the raw material used in paper, has gone up 50.2% over the past year, according to the Bureau of Labor Statistics. The price of paper rose 14.2% in the same time period."
Some experts say the paper shortage could last at least through 2023.
What does this mean for you? Plan for increased expenses for envelopes, letterhead, business cards or any collateral orders. Also, plan a minimum of 12 weeks for orders.
Men's basketball set for three games in five days
Tuesday marks the beginning of a stretch of three games in five days for the University of Evansville men's basketball team who will face Indiana State in a 6 p.m. CT contest at the Hulman Center. ESPN+ and the Purple Aces Radio Network will have the coverage.
Schedule Update
- Schedule adjustments have been set following last week's postponement
- UE will face the Beacons on Feb. 19 at the Ford Center with a new start time of 1 p.m.
- The road game is set for Monday, Feb. 21 at 7 p.m.
Last Time Out
- Bradley led by 18 points at the break before pulling away for a 76-41 win over the Purple Aces on Saturday at the Ford Center
- Evansville finished with 41 points in the game, tying the lowest scoring output by the program inside the venue
- UE shot 27.1% with the Braves finishing at an even 50.0%
- Evan Kuhlman finished the game with 11 points hitting 4 of his 9 attempts, including a 3-for-7 showing from long range
- Shamar Givance led the team with five assists while tying Blaise Beauchamp for the teams top tally of four rebounds
Dialing it up
- Evan Kuhlman continues to make strides in his accuracy and has knocked down 8 of his last 15 attempts from outside
- Over the last four games, Kuhlman has recorded an average of 9.8 points per game while improving his season tally to 6.7 PPG
- The turnaround comes on the heels of a 9-game streak entering the Jan. 23 game against Illinois State that saw him reach double figures just one time while averaging 2.7 points
- The fifth year forward scored 12 in the win over Illinois State before registering 13 against Northern Iowa
- Kuhlman's assist numbers have gone up since December, finishing with multiple helpers in five of the last nine games
- After reaching double figures in the final six games last spring, Kuhlman has done so in 7 games thus far in 2021-22 (14 out of 25 overall)
Clutch Rebounds
- Preston Phillips has been making strides throughout his freshman season, which has seen him start 10 games
- Averaging 3.9 rebounds on the season, Phillips has seen that mark rise over the last four games where he has posted an average of 6.3 which includes a career-high of 12 in the road game at Missouri State
- Offensively, Phillips has posted 2.2 PPG overall, but he has scored 3 or more points in each of the last six games while averaging 3.8 points over that span
- Phillips has knocked down 8 of his last 12 attempts from the field
Scouting the Opponent
- Indiana State is coming off of a hard-fought 79-72 loss in double overtime at Valparaiso on Saturday that dropped the Sycamores to 9-13 on the season and 2-8 in the MVC
- Both MVC wins for the Sycamores have come at home with victories over Bradley and Missouri State
- ISU has won the last 10 home meetings against the Purple Aces
- Cameron Henry paces Indiana State with 15.0 points and 5.7 rebounds per game...he also leads the team with 12 blocked shots and is second with 57 assists
- Henry is coming off the top scoring effort of his career, finishing with 28 on Saturday at Valpo
- Cooper Neese checks in with 14.5 points per contest
Three-game road trip comes to a close for Aces on the road at UNI
Wrapping-up a three-game road trip, the University of Evansville women's basketball team heads to Cedar Falls, Iowa to take on Northern Iowa on Tuesday night at 6 PM.
Previewing the Matchup: Northern Iowa
• Evansville and UNI are meeting for the 60th time in series history with the Panthers owning a 40-19 advantage in the all-time series.
• Meeting towards the end of the regular season in 2020-21, the Panthers swept last season's series in Cedar Falls, Iowa.
• UNI is playing its fourth game in seven days and has won all three games this week after having to reschedule games against Indiana State and UE and playing the Loyola-Valparaiso series as scheduled. Sunday's contest wraps-up a six-day, three-game road trip featuring games at Illinois State, Bradley, and Northern Iowa.
• The Aces have continued to score points on this road trip, reaching the 60-point mark in games at Illinois State and Bradley, giving Evansville 60+ points in 16 games this season.
Improving at the Free-Throw Line
• Evansville has been a team that gets to the free-throw line at a high rate all season, but what has changed as of late is the rate at which the Aces are knocking-down their attempts at the charity stripe.
• On December 1st, Evansville was shooting just 65.9% from the line.
• Over the past two months, the Aces have greatly improved, now averaging 71.4% at the line, inside the top 150 in the nation in the category.

For the First Time in Seven Years
• This weekend, the Aces have achieved a feat they had not done in nearly seven years.
• Evansville combined for just 15 turnovers in its games against Illinois State and Bradley, keeping their giveaways in the single digits in both games.
• The last time UE recorded back-to-back games with single-digit turnovers was in Feb. 6 and 8, 2015.
Contribute to AceNotes
To have content considered for inclusion in AceNotes, please submit a Marketing Request Form. Deadline for submission to AceNotes is 10:00 a.m. on the requested date of publication. Only articles concerning UE related/sponsored activities will be accepted. Articles submitted to AceNotes may be edited for length and clarity. Submitter contact information is at the end of each article.