| | |
| --- | --- |
| AceNotes Today | Thursday, February 3, 2022 |
Meritain Coverage for At-Home COVID-19 Testing Kits
Under new federal guidelines, Meritain Health Insured members now have coverage for over -the -counter (OTC) COVID-19 tests. These tests can be used to help you diagnose a COVID-19 infection and limit its spread to your family and community.
This new benefit covers eight OTC COVID-19 tests (Up to $12.50/individual test) per member every 30 days without a physician's order. Eligible tests must be authorized, cleared and approved by the U.S. Food and Drug Administration. These tests can be purchased in store pharmacies by using your Meritain insurance card.
You can be reimbursed for OTC COVID-19 tests purchased on or after January 15, 2022 by logging into your Meritain Health member website. You will simply locate the Pharmacy Benefits Manager (PMB) and follow the claims submission instructions. Once your claim is approved, a check will be mailed to you.
Remember that you can also order four free OTC COVID-19 tests from www.covidtests.gov per residential address. There's no cost for shipping. Plus, you do not need to enter a credit card or insurance information.
Just check out the latest guidelines on OTC COVID-19 tests at https://www.meritain.com/covid-at-home-test-details/ or reach out to us at the number on your ID card.
UNIVERSITY OF EVANSVILLE THEATRE PRESENTS MAC BETH
The University of Evansville Theatre opens their spring 2022 season with Erica Schmidt's MAC BETH, adapted from William Shakespeare's MACBETH. This new take on Shakespeare's classic tale of bloody violence explores a symmetry with rebellious teenage girls meeting to stage the play in a parochial school's parking lot. The production opens on Thursday, Feb. 10, at 7:30 p.m. in the May Studio Theatre. Additional performances are 7:30 p.m. on Feb. 11, 12, and at 2:00 p.m. on Feb. 12, 13.
MAC BETH is directed by Claire Himstedt, a senior theatre studies major from St. Louis, Mo. Angus Creech, a senior theatre studies major from Brooklyn, N.Y., serves as the scenic designer; Delanie Kitzman, a senior performance major from Tomball, Texas., is the costume designer; Herbie Perlman, a senior design and technology major from Bethel, Conn., is the lighting designer; serves as the sound designer; Liv Darshani Pedersen, a senior theatre studies major from Chaska, Minn., is the dramaturg; Katie Lawhorn, a first-year stage management major from Louisville, Ky., is the stage manager, and Keegan Macaluso, a junior design and technology major from Georgetown, Texas., serves as the technical director.
The cast features Cassidy Rogers, a senior performance major from College Station, Texas, as Macbeth; Chloe Shrieves, a senior performance major from St. Cloud, Fla., as Lady Macbeth; Allie Forté, a senior performance major from New Albany, Ind., as Macduff; Cass Dunn, a senior performance major from Brattleboro, Vt., as Banquo; Eli Lomax, a senior performance major from Sellersburg, Ind., as Witch 1; Evelyn Hipp, a first-year theatre studies major from Nolensville, Tenn., as Witch 2; and Kyla Clift, a senior performance major from Arlington, Texas, as Witch 3.
In following industry standards, as established by the Broadway League, all audience members must show proof of COVID–19 vaccination or a negative test result taken within 48-hours of the date on their ticket. Upon arrival at the theatre, proof of vaccination/negative test result and an ID will be checked before each performance. In compliance with the UE Coronavirus Task Force guidelines, all audience members must remain masked when indoors on campus. Additionally, both Shanklin Theatre and the May Studio Theatre will be seated at no more than 50% capacity. It is our hope that these restrictions will allow our student actors to safely perform unmasked in both spaces.
Ticket prices are $12 for all patrons. UE students may obtain one free student rush ticket beginning at 12 p.m. on the day of the performance they wish to attend. Seating is limited and tickets are available by calling 812.488.2031.
CDEI Presents... I-House: Blackness in other Cultures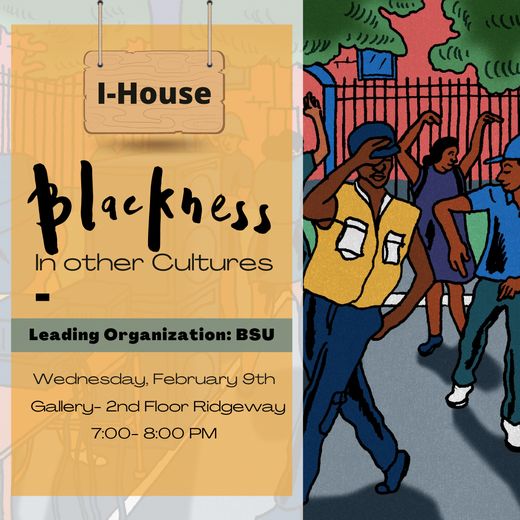 The CDEI is collaborating with BSU to hold its third I-House of the Semester! This event will be held in the Gallery (2nd floor Ridgway) on Wednesday, February 9th at 7:00 pm. Join us as we dive into a discussion about Blackness in other Cultures.
We hope to see you there!
Build-A-Buddy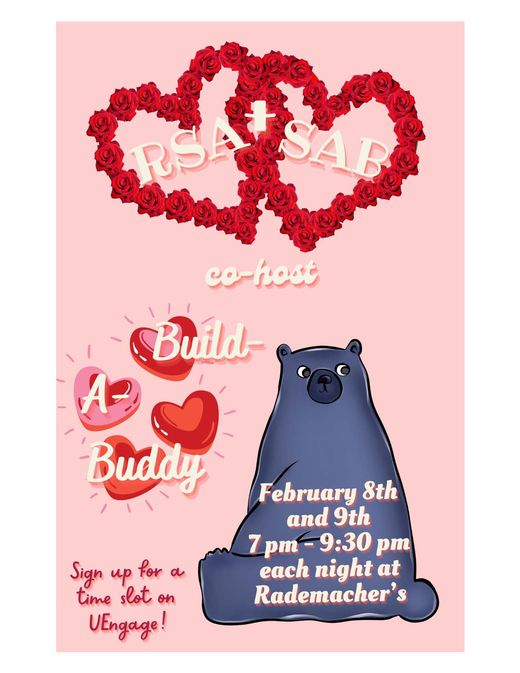 Join RSA and SAB for our yearly Build-A-Buddy! Sign up on UEngage for a free stuffed animal and some great desserts!
Register Now for Nerd Wars
The Honors Program invites you to register for this year's Nerd Wars trivia competition, scheduled for Wednesday, March 30 at 6:00pm. To adhere with social distancing guidelines, Nerd Wars will be held this year in various classrooms in Koch and over Zoom, but will still feature many of its great traditions, including the Nerdiest Dressed competition, snacks/giveaways, and the chance to win fabulous prizes. Form your team of up to 5 participants (students, faculty, administrators and staff are welcome to participate) and join us in a trivia battle for prizes, bragging rights, and the coveted Nerd Wars trophy.
Register online now at this link: https://forms.gle/4YKs4vp9CW4HrRH28
Registration this year is FREE. The deadline to register is Wednesday, February 16.
Please contact Connor Luebbehusen (cl196) or Pranav Haran (ph100) with any questions.
Black History Month Challenge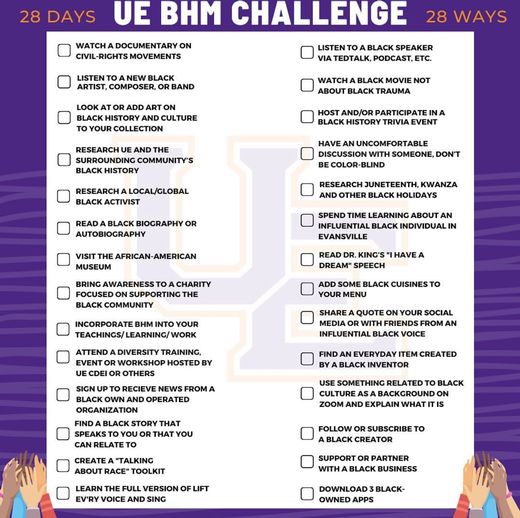 During Black History Month join the UE BHM Challenge sponsored by the Center for Diversity, Equity, and Inclusion! In this challenge you will find 28 ways for 28 days of Black History Month to actively learn, engage, support, and uplift Black culture from Evansville and around the world. Items listed in the challenge can be done personally or in a social group! Do some personal research on Juneteenth or grab a friend and some popcorn and watch Just Mercy. Either way you do it, #BHMChallenge yourself! Happy Black History Month!
1. Watch a documentary on civil-rights movements
2. Listen to a new Black artist, composer, or band
3. Look at or add art on Black history and culture to your collection
4. Research UE and the surrounding community's Black history
5. Research a local/global Black activist
6. Read a Black biography or autobiography
7. Visit the African-American museum
8. Bring awareness to a charity focused on supporting the Black community
9. Incorporate BHM into your Teachings/ Learning/ Work
10. Attend a diversity training, event or workshop hosted by UE CDEI or others
11. Sign up to receive news from a Black own and operated organization
12. Find a Black story that speaks to you or that you can relate to
13. Create a "Talking about Race" Toolkit
14. Learn the full version of Lift Ev'ry Voice and Sing
15. Listen to a Black speaker via TedTalk, PodCast, etc.
16. Watch a Black movie not about Black trauma
17. Host and/or participate in a Black history trivia event
18. Have an uncomfortable discussion with someone, don't be color-blind
19. Research Juneteenth, Kwanza and other Black holidays
20. Spend time learning about an influential Black individual in Evansville
21. Read Dr. King's "I Have a Dream" speech
22. Add some Black cuisines to your menu
23. Share a quote on your social media or with friends from an influential Black Voice
24. Find an everyday item created by a Black inventor
25. Use something related to Black culture as a background on zoom and explain what it is
26. Follow or Subscribe to a Black creator
27. Support or partner with a Black business
28. Download 3 Black-owned apps
CDEI Presents: Spill the Tea on Privilege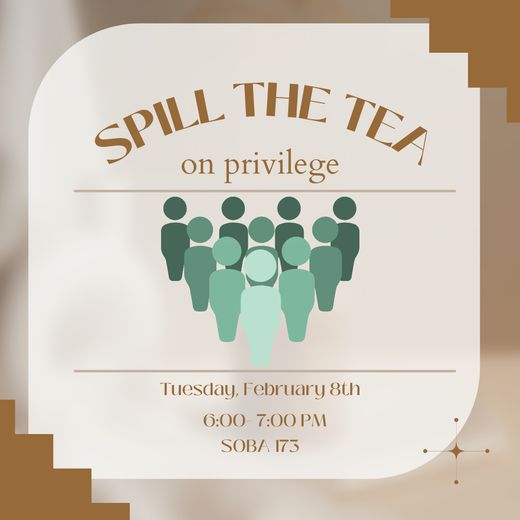 Join the Center for Diversity, Equity, and Inclusion on Tuesday, February 8th at 6:00 pm in SOBA 173 for the first segment of our Spill the Tea Series of the semester. This segment will open the floor for a discussion on privilege and the importance of being understood.
All are welcome!
Staging Solutions on February 9th
Staging Solutions will be an open forum for discovering constructive and inclusive solutions for a wide variety of campus issues, being hosted by WRA as a follow-up to last semester's Campus Culture Panel. In addition, this forum is part of the recent Passport to Inclusion initiative. Join us in Koch 100 from 5:30-7pm on Wednesday, February 9th to discuss problems brought up at the last panel including LGBTQ+ visibility, racial diversity, personal safety, and more. If you are unable to or uncomfortable with attending in person, a zoom link and form to sign-in are below. Hope to see you there! Feel free to reach out to aj154@evansville.edu with any questions.
Zoom link:
https://us04web.zoom.us/j/4569129105?pwd=VVRNNDk0QnZBZVh3KytpYWNoRVBDZz09
Meeting ID: 456 912 9105
Passcode: 400591
Sign in: https://forms.gle/txnHV8jckJT5BSGW6
BSU Presents: Black History Icon #3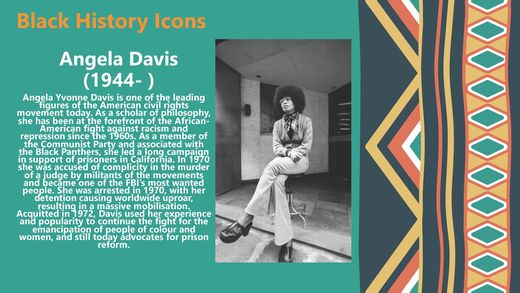 To celebrate Black History Month, we're sending out daily posts to honor icons whose selfless contributions through out history, continue to inspire growth in our various communities. Today's icon is Angela Davis and you can find more information in the attached poster. You can follow BSU @UEBlackStudentU, @uevansville for more programming during BHM.
Deadline to Sign up to be a Road Trip Host is February 11
The Office of Admission needs current UE students who live in the residence halls or Jones Hall to host prospective high school seniors for Road Trip February 25-27. If you are available, you can apply to host online or by emailing Heather Cook (hw30@evansville.edu) or Jill Fisher (jf223@evansville.edu), or stopping by the Office of Admission (OH 104). As a host, you get a FREE exclusive Road Trip t-shirt and access to all Road Trip activities. Deadline to sign up is Friday, February 11.
Please note that Road Trippers are required to follow the same COVID-19 precautions as current students. This includes being vaccinated or submitting a negative test prior to arriving on campus.
Peterson Gallery Reception Cancelled
Due to inclement weather, the David Gamble public lecture and reception scheduled for Thursday 2/3/2022 at 6:30 PM in the Melvin Peterson Gallery has been cancelled. Information will be published when the event is rescheduled.
2022 Food Festival Interest Survey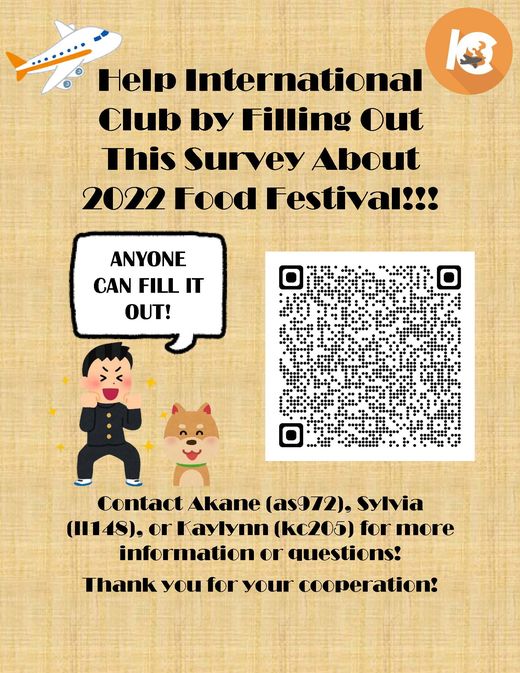 International Club is conducting a survey for Food Festival, and this will be used to figure out how many people are interested in participating in cooking for Food Festival, and how Food Festival should be run this year.
International Club will appreciate your participation in this survey very much!
Food Festival Date: April 1st, 2022
Duties for cooking will include submitting recipes of international food you are wanting to cook and going into cafe court on the week of the Food Festival to cook the food yourself with your helpers.
The deadline to fill out this survey is February 4th!
https://forms.office.com/r/kUVAy2bmcL
Thank you!
Intramural Intertube Bball, Floor Hockey, Volleyball Registration Open
Intramural's are set to begin the 2022 Spring Semester. Volleyball, Intertube Basketball, and Floor Hockey will be the first sports and registration is available on imleagues.com for students, faculty or staff to sign up a team!
If you have any questions feel free to reach out to Drew @ah519 !
Art Exhibit "David Unsupervised" on Display at Melvin Peterson Gallery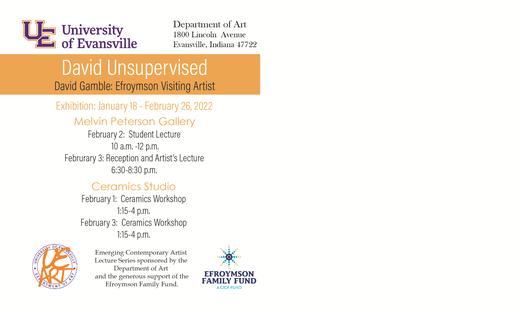 The University of Evansville presents "David Unsupervised," an exhibit by David Gamble, on display at the Melvin Peterson Gallery through Saturday, February 26.
The gallery is open to the campus community and public from noon until 3:00 p.m. on Mondays, Tuesdays, Fridays, and Saturdays; and from noon until 6:00 p.m. on Wednesdays and Thursdays.
A public reception for the artist will be held on Thursday, February 3, from 6:30-8:30 p.m. The reception will be held in the Melvin Peterson Gallery. Gamble will also conduct multiple workshops for art students while visiting.
The exhibit and reception are part of the Emerging Contemporary Artist Lecture Series, sponsored by the Efroymson Family Fund and the UE Department of Art.
The hours for the Melvin Peterson Gallery are Monday 12-3pm; Tuesday 12-3pm, Wednesday 12-6pm, Thursday 12-6pm, Friday 12-3 pm, and Saturday 12-3pm.
The public reception and lecture will take place on February 3 from 6:30-8:30pm in the Melvin Peterson Gallery.
These events are for students only:
Ceramic Workshops on Feb 1 and Feb 3 from 1:15-4pm in Ceramic Studio
Lecture Feb 2 10am-12pm in Melvin Peterson Gallery
Sculpture class on Feb 2 2-4:30pm
David Gamble will be conducting student workshops.
David Gamble has over four decades of balancing art and business in the ceramics industry. While making clay art and teaching, he also developed products and designed marketing campaigns. Gamble has conducted hundreds of workshops in North America, and he has participated in five clay symposiums in Eastern Europe. He holds a Master of Fine Arts degree and contributes an educational focus to the kilns and pottery wheels for Skutt Ceramic Products.
"The glaze surface has always interested me more than the sculptural possibilities in clay," said Gamble. "I layer and multi-fire glaze combinations as if I were using oil paints. I have found I am able to produce what many might consider glaze defects, with some control. This allows me to achieve interesting surfaces, depth, and imagery like I were painting."
For more information, email art@evansville.edu or visit the gallery's Facebook page.
Clark Kimberling publishes research article
Clark Kimberling, Professor of Mathematics at UE, has a research article on "Self-Containing Sequences, Fractal Sequences, Selection Functions, and Parasequences" in the current volume of Journal of Integer Sequences. The 17-page article introduces certain doubly infinite sequences as "parasequences", along with several related conjectures. Other subjects that are introduced and developed in the article are normalized fractal sequences and dense fractal sequences. You can download the article at
https://cs.uwaterloo.ca/journals/JIS/VOL25/Kimberling/kimber16.html . The article includes notes pertaining to sixty of the sequences in the Online Encyclopedia of Integer Sequences (https://oeis.org/)
Condolences to the family of Donald Richardson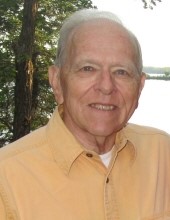 The University is saddened to learn of the passing of Donald Richardson, former UE faculty member. Don passed away in his home in Indianapolis on Friday, January 28, 2022. Don joined the UE English department in 1969. During his tenure, he was Chair of the University of Evansville Senate in 1975-76. He received the Outstanding Scholar Award in 1985 and the Outstanding Teacher of the Year Award in 1990. He was chair of the English Department from 1989 to 1995. He spent spring semester of 1973 in England with his family to teach at Harlaxton. He retired in May 1999, serving his final semester at Harlaxton.
In addition to papers, articles, speeches and conference presentations, Don was the author of four published books on themes of Greek mythology and religious experience. Our condolences go out to his wife, Verla, who also worked at UE, and his sons and family. More details can be found at https://www.tributearchive.com/obituaries/23876607/donald-richardson/indianapolis/indiana/indiana-funeral-care
Volleyball adds a pair to signing class
With the offseason in full swing, University of Evansville head volleyball coach Fernando Morales announced the addition of two student-athletes to join the Purple Aces in the fall of this year. Joining the UE squad will be Madelyn Hawkins and Emmie Tidwell. Both will be freshmen in the fall.
"We are excited to close the '22 class with these two great additions," Morales exclaimed. "They will add a lot to our program on and off the court. We are very excited about next season."
Madelyn Hawkins heads to UE from Lebanon, Ind. Where she played at Western Boone High School. The defensive specialist has a tie to the program as she played for Circle City Club, which is the same club that current UE player Blakeley Freeman played for prior to beginning her collegiate career. Hawkins is coming off a stellar 2021 season that saw her team finish as the IHSVCA 2A State Runner-up.
Named a 2021 IHSVCA Class A/2A Senior All-Star, Hawkins garnered IHSVCA 2A All-District recognition as a senior. Hawkins brings a strong academic pedigree that saw her earn IHSVCA Academic All-State honors last fall.
Emmie Tidwell is a native of Hoover, Alabama. The setter at Spain Park HS played club volleyball for Alabama Performance. Tidwell was named to the 2021 JVA Beach Watch List following a 3rd place finish in the Silver Division at the 2020 USA Volleyball Beach Nationals.
Contribute to AceNotes
To have content considered for inclusion in AceNotes, please submit a Marketing Request Form. Deadline for submission to AceNotes is 10:00 a.m. on the requested date of publication. Only articles concerning UE related/sponsored activities will be accepted. Articles submitted to AceNotes may be edited for length and clarity. Submitter contact information is at the end of each article.