| | |
| --- | --- |
| AceNotes Today | Wednesday, February 2, 2022 |
Postponed - UE Gospel Choir Interest Meeting
The Center for Diversity, Equity and Inclusion and the Office of Religious Life are postponing the UE Gospel Choir interest meeting scheduled for today. An announcement will be made when this meeting is rescheduled.
Children of Fallen Heroes Scholarship
On March 23, 2018, the President signed Public Law 115-141, the Consolidated Appropriations Act, 2018, which included an amendment to Section 473(b) of the Higher Education Act, authorizing the Children of Fallen Heroes Scholarship.
Under this scholarship, a Pell-eligible student whose parent or guardian died in the line of duty while performing as a public safety officer is eligible to receive a maximum Pell Grant for the award year for which the determination of eligibility is made.
Eligibility:
Student must be Pell-eligible and have a Pell-eligible EFC
Student must be less than 24 years of age or enrolled at an institution of higher education at the time of his or her parent's or guardian's death
For purposes of the Children of Fallen Heroes Scholarship, a public safety officer is:

As defined in section 1204 of title I of the Omnibus Crime Control and Safe Streets Act of 1968 (42 U.S.C. 3796b); or
A firefighter or police officer, defined as an individual who is serving in accordance with State or local law as an officially recognized or designated member of a legally organized public safety agency and provides scene security or directs traffic in response to any fire drill, fire call, or other fire, rescue, or police emergency, or at a planned special event.
If you believe you are eligible for this, please contact the Office of Student Financial Services.
Meritain Coverage for At-Home COVID-19 Testing Kits
Under new federal guidelines, Meritain Health Insured members now have coverage for over -the -counter (OTC) COVID-19 tests. These tests can be used to help you diagnose a COVID-19 infection and limit its spread to your family and community.
This new benefit covers eight OTC COVID-19 tests (Up to $12.50/individual test) per member every 30 days without a physician's order. Eligible tests must be authorized, cleared and approved by the U.S. Food and Drug Administration. These tests can be purchased in store pharmacies by using your Meritain insurance card.
You can be reimbursed for OTC COVID-19 tests purchased on or after January 15, 2022 by logging into your Meritain Health member website. You will simply locate the Pharmacy Benefits Manager (PMB) and follow the claims submission instructions. Once your claim is approved, a check will be mailed to you.
Remember that you can also order four free OTC COVID-19 tests from www.covidtests.gov per residential address. There's no cost for shipping. Plus, you do not need to enter a credit card or insurance information.
Just check out the latest guidelines on OTC COVID-19 tests at https://www.meritain.com/covid-at-home-test-details/ or reach out to us at the number on your ID card.
Build-A-Buddy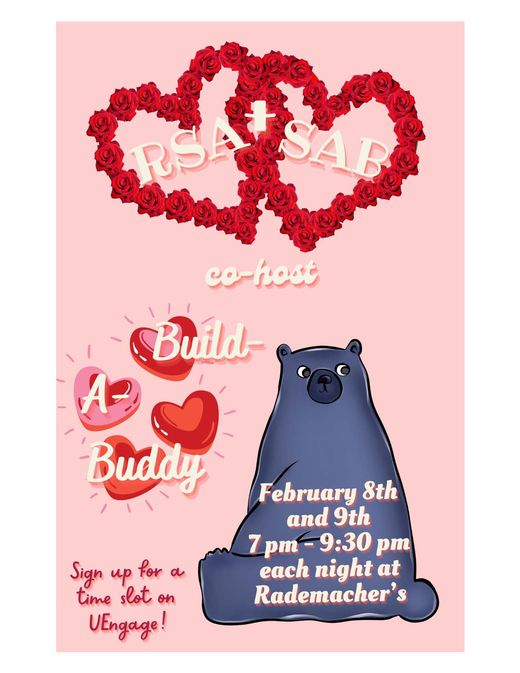 Join RSA and SAB for our yearly Build-A-Buddy! Sign up on UEngage for a free stuffed animal and some great desserts!
Student Leadership Conference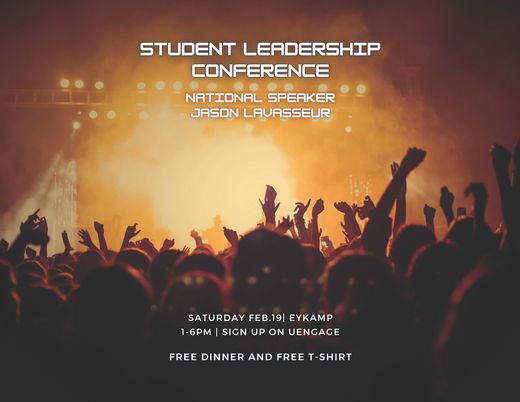 Sign-up for the Student Leadership Conference on Feb.19 from 1-6pm for a day of learning with Jason Lavasseur, national collegiate speaker, a FREE T SHIRT AND A FREE MEAL!
Register Now for Nerd Wars
The Honors Program invites you to register for this year's Nerd Wars trivia competition, scheduled for Wednesday, March 30 at 6:00pm. To adhere with social distancing guidelines, Nerd Wars will be held this year in various classrooms in Koch and over Zoom, but will still feature many of its great traditions, including the Nerdiest Dressed competition, snacks/giveaways, and the chance to win fabulous prizes. Form your team of up to 5 participants (students, faculty, administrators and staff are welcome to participate) and join us in a trivia battle for prizes, bragging rights, and the coveted Nerd Wars trophy.
Register online now at this link: https://forms.gle/4YKs4vp9CW4HrRH28
Registration this year is FREE. The deadline to register is Wednesday, February 16.
Please contact Connor Luebbehusen (cl196) or Pranav Haran (ph100) with any questions.
CDEI Presents: Spill the Tea on Privilege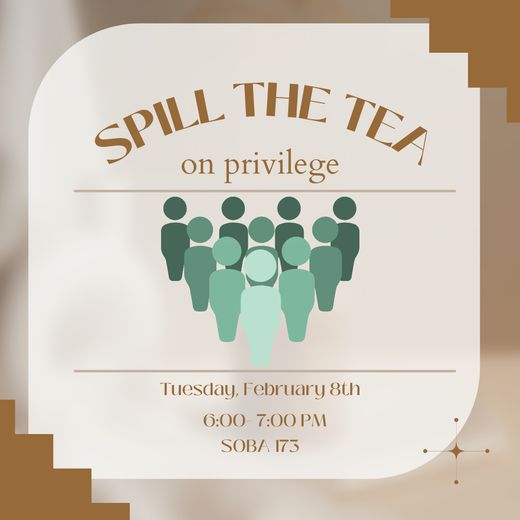 Join the Center for Diversity, Equity, and Inclusion on Tuesday, February 8th at 6:00 pm in SOBA 173 for the first segment of our Spill the Tea Series of the semester. This segment will open the floor for a discussion on privilege and the importance of being understood.
All are welcome!
Staging Solutions on February 9th
Staging Solutions will be an open forum for discovering constructive and inclusive solutions for a wide variety of campus issues, being hosted by WRA as a follow-up to last semester's Campus Culture Panel. In addition, this forum is part of the recent Passport to Inclusion initiative. Join us in Koch 100 from 5:30-7pm on Wednesday, February 9th to discuss problems brought up at the last panel including LGBTQ+ visibility, racial diversity, personal safety, and more. If you are unable to or uncomfortable with attending in person, a zoom link and form to sign-in are below. Hope to see you there! Feel free to reach out to aj154@evansville.edu with any questions.
Zoom link:
https://us04web.zoom.us/j/4569129105?pwd=VVRNNDk0QnZBZVh3KytpYWNoRVBDZz09
Meeting ID: 456 912 9105
Passcode: 400591
Sign in: https://forms.gle/txnHV8jckJT5BSGW6
New Hall Information Meetings

We are excited about New Hall and hope you are too! Students interested in living in New Hall for 2022-23 should plan to attend an information meeting on Wednesday February 2, 2022. Meetings will be held in Eykamp 252 at 4:00pm and 9:00pm.
New Hall is for new and returning students:
New Students: For incoming Freshmen, Freshmen Transfers, or Sophomore Transfers entering Fall 2022.
Returning Students: For current Freshmen or Freshmen Transfers who entered UE in Fall 2021 or Spring 2022.
Stop by the 2nd floor of Ridgway, outside Student Life to see some interior examples of New Hall. Plus you can explore all that New Hall has to offer here - https://www.evansville.edu/residencelife/campushousing/new-residence-hall.cfm
New Hall housing placements is just the fist part of the upcoming housing assignments process. Village and Residence Hall placements will take place after New Hall assignments.
Additional information on applying for Village and Residence Hall housing can be found here - https://www.evansville.edu/residencelife/housingapplyreturn/calendar.cfm
2022 Career Day- Register now
Early Registration has benefits!
- Nametag ready
- Access to résumé paper
- Follow favorite organizations
- Increase employer views of your Handshake Profile
- Develop Handshake Profile to 100%
Register in Handshake by Monday, February 7, for Career Day! If you are pursuing an internship, part time/summer, or full-time professional job opportunity, attend this event in Eykamp Hall, Ridgway University Center. There are 50 top organizations from Indiana and beyond. Student registration is NOT required to attend. Registration is helpful and has benefits for you!
Career Day
1:00 p.m.-4:00p.m. Central Time
Tuesday, February 8, 2022
Eykamp Hall/2nd Floor, Ridgway University Center
Full-time, internship and part-time positions available, so students in all class years are encouraged to attend. Don't miss your chance to find a great internship or professional position!
All majors are invited to explore Career Day.
Handshake link: https://evansville.joinhandshake.com/edu/career_fairs/28823. Students' preregistration recommended by Monday, February 7, 2022, by 5pm.
Make sure you have an up-to-date, approved résumé active in Handshake!
As always, you make seek assistance from the Center for Career Development.
2nd Floor | Ridgway University Center | career@evansville.edu | 812.488.1083
BSU Presents: Black History Icon #2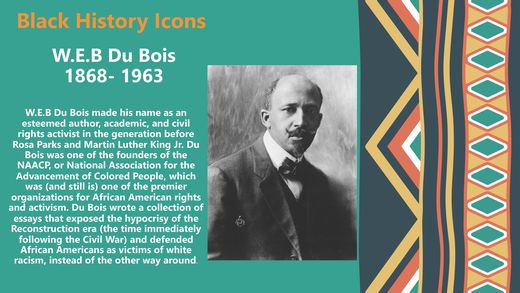 To celebrate Black History Month, we're sending out daily posts to honor icons whose selfless contributions through out history, continue to inspire growth in our various communities. Today's icon is W.E.B Du Bois and you can find more information in the attached poster. You can follow BSU @UEBlackStudentU, @uevansville for more programming during BHM.
2022 Food Festival Interest Survey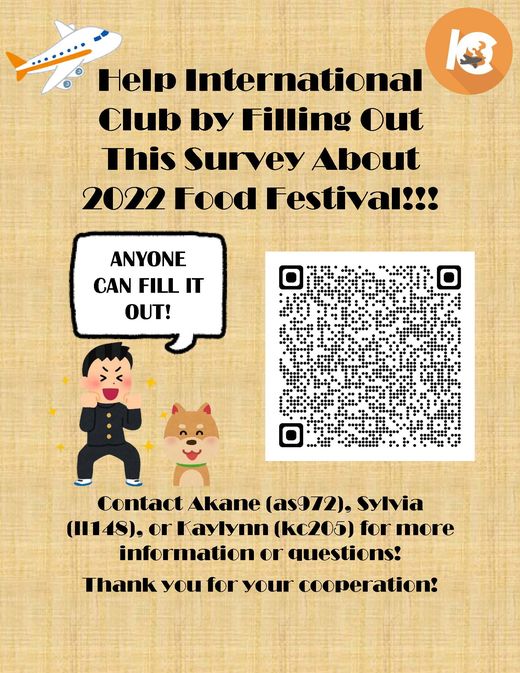 International Club is conducting a survey for Food Festival, and this will be used to figure out how many people are interested in participating in cooking for Food Festival, and how Food Festival should be run this year.
International Club will appreciate your participation in this survey very much!
Food Festival Date: April 1st, 2022
Duties for cooking will include submitting recipes of international food you are wanting to cook and going into cafe court on the week of the Food Festival to cook the food yourself with your helpers.
The deadline to fill out this survey is February 4th!
https://forms.office.com/r/kUVAy2bmcL
Thank you!
Eykamp Prize: Call for Nominations
The Eykamp Prize was established by Richard and Rita Eykamp in 2015 to honor Faculty Achievement at the University of Evansville. Recipients of the prize will receive a one-time award of $10,000 in recognition of extraordinary contributions to the University of Evansville as University Citizens. Examples of such contributions include deep and successful involvement in recruiting students; expanding the number, scope, and competitiveness of grant funding for their department; bringing positive public awareness to the University through scholarship, knowledge, and understanding of their discipline.
Nominations for the Eykamp Prize may come from any member of the University of Evansville Community. Nominees should be tenured or tenure-track faculty members at the University of Evansville who have not received the award in the previous five years. Nominations can be submitted in writing or via e-mail to Michael Austin, Executive Vice President for Academic Affairs/Provost, at ma352@evansville.edu by March 11, 2022. Nominations should include the name of the faculty member and a brief statement of the reasons that he or she is being nominated.
Recipients of the Eykamp Prize will be selected by an Award Committee, appointed by the EVPAA/Provost that includes members of the faculty, staff, administrators, and a member of the Board of Trustees. Awards will be announced and presented at the May Commencement Ceremony.
Recipients in the previous five years: 2017 – Dr. Lora Becker; 2018 – Dr. David Dwyer; 2019 – Dr. Kristy Miller; 2020 – Dr. Jerrilee LaMar; 2021 – Dr. Joyce Stamm
Intramural Intertube Bball, Floor Hockey, Volleyball Registration Open
Intramural's are set to begin the 2022 Spring Semester. Volleyball, Intertube Basketball, and Floor Hockey will be the first sports and registration is available on imleagues.com for students, faculty or staff to sign up a team!
If you have any questions feel free to reach out to Drew @ah519 !
Art Exhibit "David Unsupervised" on Display at Melvin Peterson Gallery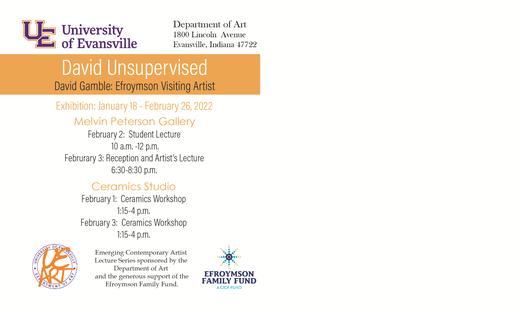 The University of Evansville presents "David Unsupervised," an exhibit by David Gamble, on display at the Melvin Peterson Gallery through Saturday, February 26.
The gallery is open to the campus community and public from noon until 3:00 p.m. on Mondays, Tuesdays, Fridays, and Saturdays; and from noon until 6:00 p.m. on Wednesdays and Thursdays.
A public reception for the artist will be held on Thursday, February 3, from 6:30-8:30 p.m. The reception will be held in the Melvin Peterson Gallery. Gamble will also conduct multiple workshops for art students while visiting.
The exhibit and reception are part of the Emerging Contemporary Artist Lecture Series, sponsored by the Efroymson Family Fund and the UE Department of Art.
The hours for the Melvin Peterson Gallery are Monday 12-3pm; Tuesday 12-3pm, Wednesday 12-6pm, Thursday 12-6pm, Friday 12-3 pm, and Saturday 12-3pm.
The public reception and lecture will take place on February 3 from 6:30-8:30pm in the Melvin Peterson Gallery.
These events are for students only:
Ceramic Workshops on Feb 1 and Feb 3 from 1:15-4pm in Ceramic Studio
Lecture Feb 2 10am-12pm in Melvin Peterson Gallery
Sculpture class on Feb 2 2-4:30pm
David Gamble will be conducting student workshops.
David Gamble has over four decades of balancing art and business in the ceramics industry. While making clay art and teaching, he also developed products and designed marketing campaigns. Gamble has conducted hundreds of workshops in North America, and he has participated in five clay symposiums in Eastern Europe. He holds a Master of Fine Arts degree and contributes an educational focus to the kilns and pottery wheels for Skutt Ceramic Products.
"The glaze surface has always interested me more than the sculptural possibilities in clay," said Gamble. "I layer and multi-fire glaze combinations as if I were using oil paints. I have found I am able to produce what many might consider glaze defects, with some control. This allows me to achieve interesting surfaces, depth, and imagery like I were painting."
For more information, email art@evansville.edu or visit the gallery's Facebook page.
Road Trip Hosts Needed
The Office of Admission needs current UE students who live in the residence halls or Jones Hall to host prospective high school seniors for Road Trip February 25-27. If you are available, you can apply to host online or by emailing Heather Cook (hw30@evansville.edu) or Jill Fisher (jf223@evansville.edu), or stopping by the Office of Admission (OH 104). Deadline to sign up is Friday, February 11.
Please note that Road Trippers are required to follow the same COVID-19 precautions as current students. This includes being vaccinated or submitting a negative test prior to arriving on campus.
Clark Kimberling publishes research article
Clark Kimberling, Professor of Mathematics at UE, has a research article on "Self-Containing Sequences, Fractal Sequences, Selection Functions, and Parasequences" in the current volume of Journal of Integer Sequences. The 17-page article introduces certain doubly infinite sequences as "parasequences", along with several related conjectures. Other subjects that are introduced and developed in the article are normalized fractal sequences and dense fractal sequences. You can download the article at
https://cs.uwaterloo.ca/journals/JIS/VOL25/Kimberling/kimber16.html . The article includes notes pertaining to sixty of the sequences in the Online Encyclopedia of Integer Sequences (https://oeis.org/)
Condolences to the family of Donald Richardson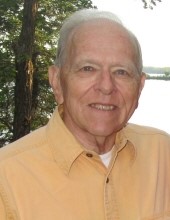 The University is saddened to learn of the passing of Donald Richardson, former UE faculty member. Don passed away in his home in Indianapolis on Friday, January 28, 2022. Don joined the UE English department in 1969. During his tenure, he was Chair of the University of Evansville Senate in 1975-76. He received the Outstanding Scholar Award in 1985 and the Outstanding Teacher of the Year Award in 1990. He was chair of the English Department from 1989 to 1995. He spent spring semester of 1973 in England with his family to teach at Harlaxton. He retired in May 1999, serving his final semester at Harlaxton.
In addition to papers, articles, speeches and conference presentations, Don was the author of four published books on themes of Greek mythology and religious experience. Our condolences go out to his wife, Verla, who also worked at UE, and his sons and family. More details can be found at https://www.tributearchive.com/obituaries/23876607/donald-richardson/indianapolis/indiana/indiana-funeral-care
Updates announced for men's basketball series against Valpo
The Missouri Valley Conference has postponed tomorrow's (Feb. 2) game between Evansville and Valparaiso due to impending inclement weather. The game was scheduled to be played at the ARC in Valparaiso, Ind., at 6 pm CT and air on ESPN+.
The game has been rescheduled for Monday, Feb. 21, in Valparaiso, Ind., at 7 pm CT. Additionally, the Valparaiso at Evansville game on Saturday, Feb. 19, will now be played at 1 pm CT at Ford Center in Evansville, Ind. (it was originally scheduled for 5 pm CT.) The Conference office will announce television network designations for the two games as soon as possible.
With the change, the Coaches Show originally scheduled for February 21 at Turoni's will NOT take place.
Contribute to AceNotes
To have content considered for inclusion in AceNotes, please submit a Marketing Request Form. Deadline for submission to AceNotes is 10:00 a.m. on the requested date of publication. Only articles concerning UE related/sponsored activities will be accepted. Articles submitted to AceNotes may be edited for length and clarity. Submitter contact information is at the end of each article.