| | |
| --- | --- |
| AceNotes Today | Tuesday, February 1, 2022 |
Children of Fallen Heroes Scholarship
On March 23, 2018, the President signed Public Law 115-141, the Consolidated Appropriations Act, 2018, which included an amendment to Section 473(b) of the Higher Education Act, authorizing the Children of Fallen Heroes Scholarship.
Under this scholarship, a Pell-eligible student whose parent or guardian died in the line of duty while performing as a public safety officer is eligible to receive a maximum Pell Grant for the award year for which the determination of eligibility is made.
Eligibility:
Student must be Pell-eligible and have a Pell-eligible EFC
Student must be less than 24 years of age or enrolled at an institution of higher education at the time of his or her parent's or guardian's death
For purposes of the Children of Fallen Heroes Scholarship, a public safety officer is:

As defined in section 1204 of title I of the Omnibus Crime Control and Safe Streets Act of 1968 (42 U.S.C. 3796b); or
A firefighter or police officer, defined as an individual who is serving in accordance with State or local law as an officially recognized or designated member of a legally organized public safety agency and provides scene security or directs traffic in response to any fire drill, fire call, or other fire, rescue, or police emergency, or at a planned special event.
If you believe you are eligible for this, please contact the Office of Student Financial Services.
Meritain Coverage for At-Home COVID-19 Testing Kits
Under new federal guidelines, Meritain Health Insured members now have coverage for over -the -counter (OTC) COVID-19 tests. These tests can be used to help you diagnose a COVID-19 infection and limit its spread to your family and community.
This new benefit covers eight OTC COVID-19 tests (Up to $12.50/individual test) per member every 30 days without a physician's order. Eligible tests must be authorized, cleared and approved by the U.S. Food and Drug Administration. These tests can be purchased in store pharmacies by using your Meritain insurance card.
You can be reimbursed for OTC COVID-19 tests purchased on or after January 15, 2022 by logging into your Meritain Health member website. You will simply locate the Pharmacy Benefits Manager (PMB) and follow the claims submission instructions. Once your claim is approved, a check will be mailed to you.
Remember that you can also order four free OTC COVID-19 tests from www.covidtests.gov per residential address. There's no cost for shipping. Plus, you do not need to enter a credit card or insurance information.
Just check out the latest guidelines on OTC COVID-19 tests at https://www.meritain.com/covid-at-home-test-details/ or reach out to us at the number on your ID card.
Black History Month Challenge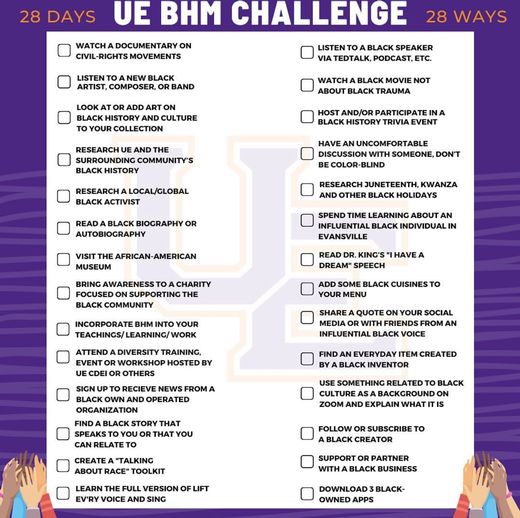 During Black History Month join the UE BHM Challenge sponsored by the Center for Diversity, Equity, and Inclusion! In this challenge you will find 28 ways for 28 days of Black History Month to actively learn, engage, support, and uplift Black culture from Evansville and around the world. Items listed in the challenge can be done personally or in a social group! Do some personal research on Juneteenth or grab a friend and some popcorn and watch Just Mercy. Either way you do it, #BHMChallenge yourself! Happy Black History Month!
1. Watch a documentary on civil-rights movements
2. Listen to a new Black artist, composer, or band
3. Look at or add art on Black history and culture to your collection
4. Research UE and the surrounding community's Black history
5. Research a local/global Black activist
6. Read a Black biography or autobiography
7. Visit the African-American museum
8. Bring awareness to a charity focused on supporting the Black community
9. Incorporate BHM into your Teachings/ Learning/ Work
10. Attend a diversity training, event or workshop hosted by UE CDEI or others
11. Sign up to receive news from a Black own and operated organization
12. Find a Black story that speaks to you or that you can relate to
13. Create a "Talking about Race" Toolkit
14. Learn the full version of Lift Ev'ry Voice and Sing
15. Listen to a Black speaker via TedTalk, PodCast, etc.
16. Watch a Black movie not about Black trauma
17. Host and/or participate in a Black history trivia event
18. Have an uncomfortable discussion with someone, don't be color-blind
19. Research Juneteenth, Kwanza and other Black holidays
20. Spend time learning about an influential Black individual in Evansville
21. Read Dr. King's "I Have a Dream" speech
22. Add some Black cuisines to your menu
23. Share a quote on your social media or with friends from an influential Black Voice
24. Find an everyday item created by a Black inventor
25. Use something related to Black culture as a background on zoom and explain what it is
26. Follow or Subscribe to a Black creator
27. Support or partner with a Black business
28. Download 3 Black-owned apps
CDEI Presents: Spill the Tea on Privilege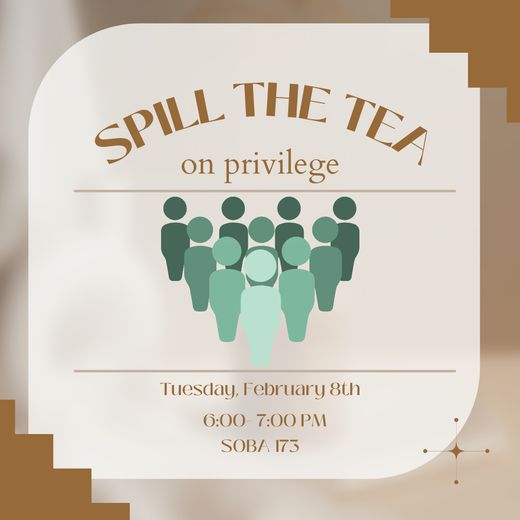 Join the Center for Diversity, Equity, and Inclusion on Tuesday, February 8th at 6:00 pm in SOBA 173 for the first segment of our Spill the Tea Series of the semester. This segment will open the floor for a discussion on privilege and the importance of being understood.
All are welcome!
This Week in Music
The UE Music Conservatory will be presenting a performance of the Faculty Chamber Players at 7:30 p.m. in Neu Chapel on Tuesday, February 1. Conducted by Chun-Ming Chen and featuring Alanna Keenan as soprano soloist, the ensemble of UE music faculty will be performing the Klus Simon chamber version of Gustav Mahler's monumental Symphony No. 4 in G Major. The concert is free and open to the public. Live-stream is available here: https://www.evansville.edu/majors/music/calendar.cfm
UE Gospel Choir Interest Meeting II
Come One, Come All!
Do you like to sing? Can you play a musical instrument (drums, bass/electric guitar, etc.)?
The Center for Diversity, Equity, and Inclusion and the Office of Religious Life are hosting an interest meeting for all UE campus members (students and employees) who are interested to learn about UE's new Gospel Choir.
Wednesday, February 2, 2022 at 1:00 pm
Zoom information:
https://evansville-edu.zoom.us/j/92727997998?from=addon
Meeting ID: 927 2799 7998
One tap mobile
+13017158592,,92727997998#,,,,*657249# US (Washington DC)
+13126266799,,92727997998#,,,,*657249# US (Chicago)
Submit advance inquiries to Center4DEI@evansville.edu
Staging Solutions on February 9th
Staging Solutions will be an open forum for discovering constructive and inclusive solutions for a wide variety of campus issues, being hosted by WRA as a follow-up to last semester's Campus Culture Panel. In addition, this forum is part of the recent Passport to Inclusion initiative. Join us in Koch 100 from 5:30-7pm on Wednesday, February 9th to discuss problems brought up at the last panel including LGBTQ+ visibility, racial diversity, personal safety, and more. If you are unable to or uncomfortable with attending in person, a zoom link and form to sign-in are below. Hope to see you there! Feel free to reach out to aj154@evansville.edu with any questions.
Zoom link:
https://us04web.zoom.us/j/4569129105?pwd=VVRNNDk0QnZBZVh3KytpYWNoRVBDZz09
Meeting ID: 456 912 9105
Passcode: 400591
Sign in: https://forms.gle/txnHV8jckJT5BSGW6
Save the Date: Nerd Wars 2022
Calling all nerds! The Honors Program invites you to save the date for this year's Nerd Wars competition on Wednesday, March 30 at 6:00pm. Teams of students, faculty, administrators, and staff are encouraged to battle it out in this year's trivia contest for prizes and more importantly, bragging rights. As was the case last year, Nerd Wars will be held in various classrooms in Koch Center and over Zoom and will feature our usual traditions, including the Nerdiest Dressed competition, snacks/giveaways, and the chance to win fabulous prizes.
Mark your calendars and be thinking about gathering your team. Be on the lookout in Acenotes for information about team sign-ups soon!
2022 Food Festival Interest Survey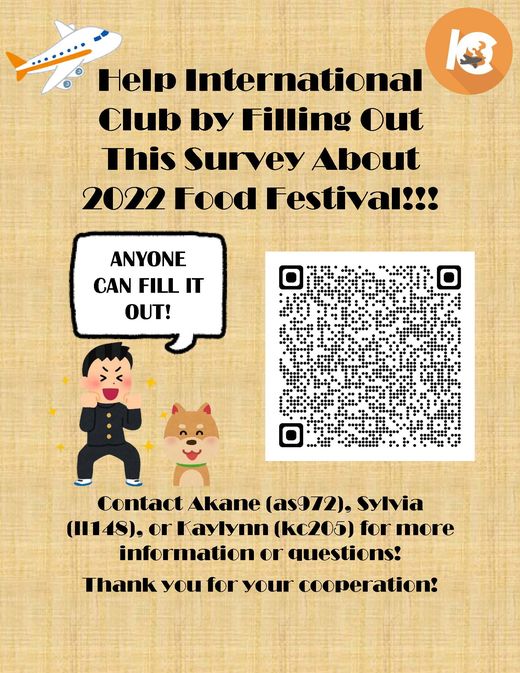 International Club is conducting a survey for Food Festival, and this will be used to figure out how many people are interested in participating in cooking for Food Festival, and how Food Festival should be run this year.
International Club will appreciate your participation in this survey very much!
Food Festival Date: April 1st, 2022
Duties for cooking will include submitting recipes of international food you are wanting to cook and going into cafe court on the week of the Food Festival to cook the food yourself with your helpers.
The deadline to fill out this survey is February 4th!
https://forms.office.com/r/kUVAy2bmcL
Thank you!
BSU Presents: Black History Icon #1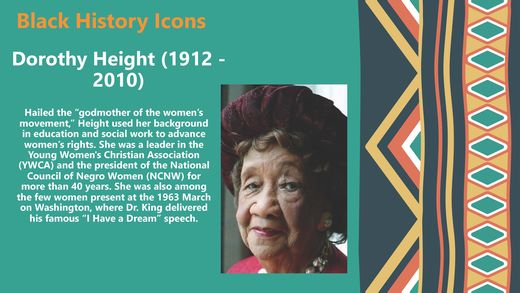 To celebrate Black History Month, we're sending out daily posts to honor icons whose selfless contributions through out history, continue to inspire growth in our various communities. Today's icon is Dorothy Height and you can find more information in the attached poster. You can follow BSU @UEBlackStudentU, @uevansville for more programming during BHM.
Intramural Intertube Bball, Floor Hockey, Volleyball Registration Open
Intramural's are set to begin the 2022 Spring Semester. Volleyball, Intertube Basketball, and Floor Hockey will be the first sports and registration is available on imleagues.com for students, faculty or staff to sign up a team!
If you have any questions feel free to reach out to Drew @ah519 !
Become An RA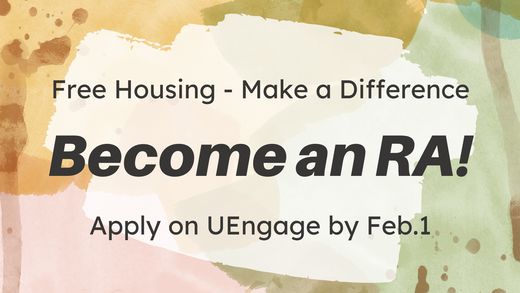 Interested in creating community? Getting involved? Free Housing? Apply to be an RA on UEngage by Feb.1! If you have question, email Lily Renfro (lr156) or Will McDonner (wm99) for more information.
Clark Kimberling publishes research article
Clark Kimberling, Professor of Mathematics at UE, has a research article on "Self-Containing Sequences, Fractal Sequences, Selection Functions, and Parasequences" in the current volume of Journal of Integer Sequences. The 17-page article introduces certain doubly infinite sequences as "parasequences", along with several related conjectures. Other subjects that are introduced and developed in the article are normalized fractal sequences and dense fractal sequences. You can download the article at
https://cs.uwaterloo.ca/journals/JIS/VOL25/Kimberling/kimber16.html . The article includes notes pertaining to sixty of the sequences in the Online Encyclopedia of Integer Sequences (https://oeis.org/)
Contribute to AceNotes
To have content considered for inclusion in AceNotes, please submit a Marketing Request Form. Deadline for submission to AceNotes is 10:00 a.m. on the requested date of publication. Only articles concerning UE related/sponsored activities will be accepted. Articles submitted to AceNotes may be edited for length and clarity. Submitter contact information is at the end of each article.