| | |
| --- | --- |
| AceNotes Today | Monday, January 31, 2022 |
2021 W-2s Are Ready
W-2 forms have been processed for all employees and student workers. If you have provided consent for electronic W-2s, you can view/print your W-2 now. Simply log into Self-Service https://selfservice.evansville.edu and go to "Tax Information". Click the option "W-2 Information" and then click on "2021 W-2 Statement".
W-2s will be mailed for those employees and student workers who did not provide their consent to electronic W-2s.
If you have any questions, please contact Dawn Bury at ext. 2159 or db287@evansville.edu
1098-Ts Have Been Processed
1098-T forms have been processed for students. By providing consent for electronic 1098-T, you can view/print your 1098-T now. Simply log into Self-Service, and go to "Tax Information". Click the option "1098 Information".
1098-T will be mailed to those students who do not provide their consent to electronic 1098-T.
View the 1098-T webpage for more information about how to use this informational tax document.
Children of Fallen Heroes Scholarship
On March 23, 2018, the President signed Public Law 115-141, the Consolidated Appropriations Act, 2018, which included an amendment to Section 473(b) of the Higher Education Act, authorizing the Children of Fallen Heroes Scholarship.
Under this scholarship, a Pell-eligible student whose parent or guardian died in the line of duty while performing as a public safety officer is eligible to receive a maximum Pell Grant for the award year for which the determination of eligibility is made.
Eligibility:
Student must be Pell-eligible and have a Pell-eligible EFC
Student must be less than 24 years of age or enrolled at an institution of higher education at the time of his or her parent's or guardian's death
For purposes of the Children of Fallen Heroes Scholarship, a public safety officer is:

As defined in section 1204 of title I of the Omnibus Crime Control and Safe Streets Act of 1968 (42 U.S.C. 3796b); or
A firefighter or police officer, defined as an individual who is serving in accordance with State or local law as an officially recognized or designated member of a legally organized public safety agency and provides scene security or directs traffic in response to any fire drill, fire call, or other fire, rescue, or police emergency, or at a planned special event.
If you believe you are eligible for this, please contact the Office of Student Financial Services.
This Week in Music
The UE Music Conservatory will be presenting a performance of the Faculty Chamber Players at 7:30 p.m. in Neu Chapel on Tuesday, February 1. Conducted by Chun-Ming Chen and featuring Alanna Keenan as soprano soloist, the ensemble of UE music faculty will be performing the Klus Simon chamber version of Gustav Mahler's monumental Symphony No. 4 in G Major. The concert is free and open to the public. Live-stream is available here: https://www.evansville.edu/majors/music/calendar.cfm
UE Gospel Choir Interest Meeting II
Come One, Come All!
Do you like to sing? Can you play a musical instrument (drums, bass/electric guitar, etc.)?
The Center for Diversity, Equity, and Inclusion and the Office of Religious Life are hosting an interest meeting for all UE campus members (students and employees) who are interested to learn about UE's new Gospel Choir.
Wednesday, February 2, 2022 at 1:00 pm
Zoom information:
https://evansville-edu.zoom.us/j/92727997998?from=addon
Meeting ID: 927 2799 7998
One tap mobile
+13017158592,,92727997998#,,,,*657249# US (Washington DC)
+13126266799,,92727997998#,,,,*657249# US (Chicago)
Submit advance inquiries to Center4DEI@evansville.edu
UE Theatre Announces Spring 2022 Season
The University of Evansville (UE) Department of Theatre proudly presents the Spring 2022 season with two student-directed productions in the May Studio Theatre and one guest-directed production in Shanklin Theatre.
The semester kicks off with MAC BETH, by Erica Schmidt, based on the play MACBETH, by William Shakespeare, in the May Studio Theatre. Directed by senior theatre studies major Claire Himstedt, from St. Louis, MO, this new take on Shakespeare's classic tale of bloody violence explores a symmetry with rebellious teenage girls meeting to stage the play in a parochial school's parking lot. MAC BETH runs at 7:30 pm, on Feb. 10, 11, 12, and at 2:00 pm, on Feb. 12 and 13.
Next up is Bertolt Brecht's THE CAUCASIAN CHALK CIRCLE, with an English version by Eric Bentley, in the May Studio Theatre, directed by senior performance major Obi Roberts, from Arvada, Colo. Originally written at the end of WWII, it retells the story of a child claimed and fought over by two mothers, resulting in one of the most riveting trials ever staged. Teeming with political overtones and a sharp look at human nature, this play runs at 7:30 pm, on Feb. 24, 25, 26, and at 2:00 pm, on Feb. 26 and 27.
The finale is HEROES OF THE FOURTH TURNING, by Will Arbery, in Shanklin Theatre.
Guest-directed by Dylan Frederick, a 2014 graduate of UE, this 2020 Pulitzer Prize Finalist in Drama is a meticulously fashioned story centering on four alumni of a conservative college whose reunion spirals into chaos over spirituality, politics, and a nearly fanatical desire to be understood. This haunting and brilliant play runs at 7:30 pm, on Apr. 8, 9, 21, 22, 23, and at 2:00 pm on Apr. 24.
Guest-director Dylan Frederick is a 2017 graduate of the Yale School of Drama and made his Broadway debut in the 2021 Tony Award-winning production of THE INHERITANCE, by Matthew López. Dylan will likely be remembered by UE audiences for playing the role of Master Harold in the 2011 smash-hit production of MASTER HAROLD…AND THE BOYS, by Athol Fugard, directed by John David Lutz. A native of Minnesota, Dylan returns to his alma mater to make his directing debut.
In following industry standards, as established by the Broadway League, all audience members must show proof of COVID–19 vaccination or a negative test result taken within 48-hours of the date on their ticket. Upon arrival at the theatre, proof of vaccination/negative test result and an ID will be checked before each performance. In compliance with the UE Coronavirus Task Force guidelines, all audience members must remain masked when indoors on campus. Additionally, both Shanklin Theatre and the May Studio Theatre will be seated at no more than 50% capacity. It is our hope that these restrictions will allow our student actors to safely perform unmasked in both spaces.
Single ticket prices for MAC BETH and THE CAUCASIAN CHALK CIRCLE are $12 for all patrons. HEROES OF THE FOURTH TURNING tickets are $20 for adults and $18 for senior adults, students, and UE employees. UE students may obtain one free student rush ticket beginning at 12:00 p.m. on the day of the performance they wish to attend. Tickets may be purchased by calling (812) 488–2031, Monday through Friday, 12:00 p.m.
to 5:00 p.m.
Save the Date: Nerd Wars 2022
Calling all nerds! The Honors Program invites you to save the date for this year's Nerd Wars competition on Wednesday, March 30 at 6:00pm. Teams of students, faculty, administrators, and staff are encouraged to battle it out in this year's trivia contest for prizes and more importantly, bragging rights. As was the case last year, Nerd Wars will be held in various classrooms in Koch Center and over Zoom and will feature our usual traditions, including the Nerdiest Dressed competition, snacks/giveaways, and the chance to win fabulous prizes.
Mark your calendars and be thinking about gathering your team. Be on the lookout in Acenotes for information about team sign-ups soon!
New Hall Information Meetings

We are excited about New Hall and hope you are too! Students interested in living in New Hall for 2022-23 should plan to attend an information meeting on Wednesday February 2, 2022. Meetings will be held in Eykamp 252 at 4:00pm and 9:00pm.
New Hall is for new and returning students:
New Students: For incoming Freshmen, Freshmen Transfers, or Sophomore Transfers entering Fall 2022.
Returning Students: For current Freshmen or Freshmen Transfers who entered UE in Fall 2021 or Spring 2022.
Stop by the 2nd floor of Ridgway, outside Student Life to see some interior examples of New Hall. Plus you can explore all that New Hall has to offer here - https://www.evansville.edu/residencelife/campushousing/new-residence-hall.cfm
New Hall housing placements is just the fist part of the upcoming housing assignments process. Village and Residence Hall placements will take place after New Hall assignments.
Additional information on applying for Village and Residence Hall housing can be found here - https://www.evansville.edu/residencelife/housingapplyreturn/calendar.cfm
2022 Career Day- Register now
Early Registration has benefits!
- Nametag ready
- Access to résumé paper
- Follow favorite organizations
- Increase employer views of your Handshake Profile
- Develop Handshake Profile to 100%
Register in Handshake by Monday, February 7, for Career Day! If you are pursuing an internship, part time/summer, or full-time professional job opportunity, attend this event in Eykamp Hall, Ridgway University Center. There are 50 top organizations from Indiana and beyond. Student registration is NOT required to attend. Registration is helpful and has benefits for you!
Career Day
1:00 p.m.-4:00p.m. Central Time
Tuesday, February 8, 2022
Eykamp Hall/2nd Floor, Ridgway University Center
Full-time, internship and part-time positions available, so students in all class years are encouraged to attend. Don't miss your chance to find a great internship or professional position!
All majors are invited to explore Career Day.
Handshake link: https://evansville.joinhandshake.com/edu/career_fairs/28823. Students' preregistration recommended by Monday, February 7, 2022, by 5pm.
Make sure you have an up-to-date, approved résumé active in Handshake!
As always, you make seek assistance from the Center for Career Development.
2nd Floor | Ridgway University Center | career@evansville.edu | 812.488.1083
Changemaker Challenge Winners Announced
Congratulations to the winning students of our seventh annual High School Changemaker Challenge! The top 20 teams and individuals competed in the final round on Tuesday, and first, second, and third place awards were presented at the end of the day.
UE has committed more than $1 million in scholarships to winners of this competition since its inception. Those who choose UE as their college destination will each receive 4-year scholarships as listed below: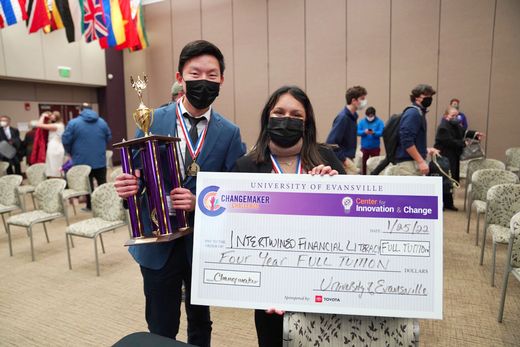 1st place team: Full tuition
Kerry Ao and Naina Muvva
Signature School (Evansville, IN)
Intertwined Financial Literacy - An online, interactive simulator used in schools to enhance students' understanding of finance through portfolios, stocks, and more
---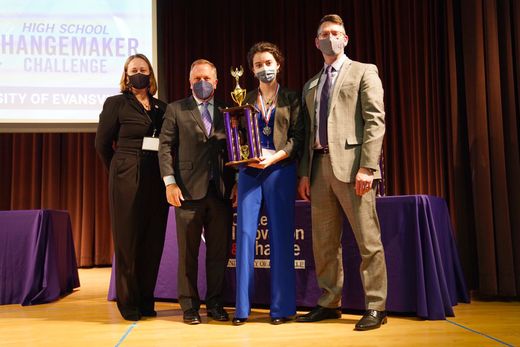 2nd place team: $23,000 per year
Neva Verbik
Avon High School (Avon, IN)
Uptown Gardens - Addresses solutions to the constant issues of pollution, increasingly less space for plants to grow, and global warming
---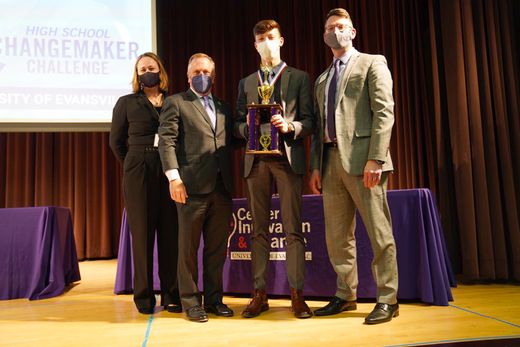 3rd place team: $18,000 per year
Jack Deig
Castle High School (Newburgh, IN)
The Hydration Station - Easily accessible water dispensing units placed throughout Evansville for a healthier, more hydrated community
---
The remaining students who placed in the top six included:
Tyler Myers
Evansville Day School (Evansville, IN)
Driving for Change, Sensory Inclusion – helping individuals with special needs by partnering with local agencies and offering sensory-friendly locations and items
Faith Field
Edgewood High School (Ellettsville, IN)
Restore and Rebuild – a nonprofit organization which would provide housing for the homeless population of Indiana and inspire them to find work they enjoy
Zeke Grant
Perry Central High School (Leopold, IN)
Additive Affordable Prosthetics – prosthetics and biological augmentations that have full range of motion and are truly affordable
Eykamp Prize: Call for Nominations
The Eykamp Prize was established by Richard and Rita Eykamp in 2015 to honor Faculty Achievement at the University of Evansville. Recipients of the prize will receive a one-time award of $10,000 in recognition of extraordinary contributions to the University of Evansville as University Citizens. Examples of such contributions include deep and successful involvement in recruiting students; expanding the number, scope, and competitiveness of grant funding for their department; bringing positive public awareness to the University through scholarship, knowledge, and understanding of their discipline.
Nominations for the Eykamp Prize may come from any member of the University of Evansville Community. Nominees should be tenured or tenure-track faculty members at the University of Evansville who have not received the award in the previous five years. Nominations can be submitted in writing or via e-mail to Michael Austin, Executive Vice President for Academic Affairs/Provost, at ma352@evansville.edu by March 11, 2022. Nominations should include the name of the faculty member and a brief statement of the reasons that he or she is being nominated.
Recipients of the Eykamp Prize will be selected by an Award Committee, appointed by the EVPAA/Provost that includes members of the faculty, staff, administrators, and a member of the Board of Trustees. Awards will be announced and presented at the May Commencement Ceremony.
Recipients in the previous five years: 2017 – Dr. Lora Becker; 2018 – Dr. David Dwyer; 2019 – Dr. Kristy Miller; 2020 – Dr. Jerrilee LaMar; 2021 – Dr. Joyce Stamm
Intramural Intertube Bball, Floor Hockey, Volleyball Registration Open
Intramural's are set to begin the 2022 Spring Semester. Volleyball, Intertube Basketball, and Floor Hockey will be the first sports and registration is available on imleagues.com for students, faculty or staff to sign up a team!
If you have any questions feel free to reach out to Drew @ah519 !
Road Trip Hosts Needed
The Office of Admission needs current UE students who live in the residence halls or Jones Hall to host prospective high school seniors for Road Trip February 25-27. If you are available, you can apply to host online or by emailing Heather Cook (hw30@evansville.edu) or Jill Fisher (jf223@evansville.edu), or stopping by the Office of Admission (OH 104). Deadline to sign up is Friday, February 11.
Please note that Road Trippers are required to follow the same COVID-19 precautions as current students. This includes being vaccinated or submitting a negative test prior to arriving on campus.
Aces give Bears all they can handle in road contest
A scrappy game by the University of Evansville men's basketball team saw them challenge Missouri State all evening before the Bears were able to take the game by a 72-58 final inside JQH Arena.
"To come out the way we did in the second half was great to see. Our guys chipped away and were able to take the lead in a tough road environment," UE head men's basketball coach Todd Lickliter exclaimed after the contest. "We have been executing much better over the last few games and look to continue to build on our positives."
Jawaun Newton finished with 18 points for the Purple Aces (5-15, 1-8 MVC) while Shamar Givance recorded 17. Preston Phillips set a new personal high with 12 rebounds. His mark ties Newton for the most by a UE player this season. Gaige Prim scored 23 points to lead the Bears (16-7, 7-3 MVC) while Isiaih Mosley registered 14. Donovan Clay had a double-double, finishing with 11 points and 13 caroms.
Defense was the name of the game in the first half with the Aces holding the Bears to 31% from the field while their offense finished at 33.3%. MSU scored the opening four points of the night before a nice finish by Antoine Smith Jr. got UE on the board. The Bears extended their lead to 10-2 through the opening seven minutes while the UE offense hit one of its first seven attempts.
Evan Kuhlman converted a 3-point play to get the Aces within five before Blake Sisley made it a 1-point game (12-11) at the 10:31 mark. Missouri State quickly rebounded and took their largest lead at 26-17 with the half entering the final three minutes. In the final possession of the period, Shamar Givance found Jawaun Newton cutting to the basket for a score that made it a 28-21 game in favor of the Bears at the break.
It took just a minute into the second half for the Bears to take the first double figure lead at 31-21, but a momentum changer occurred on the other end when Preston Phillips took it to the basket for a dunk. A Newton triple was followed by a Givance 3-point play that made it 33-29 game in favor of MSU. Isiaih Mosley scored five in a for the Bears to push the lead back to nine, but Evansville fought right back. Smith drained a triple to get UE within one at 38-37.
On the next offensive possession, it was Blaise Beauchamp knocking down a 3-pointer to give UE its first lead of the night. Following a miss by MSU, Givance took it the distance of the floor to cap off a 14-0 run and give the Aces a 42-38 lead with 12:08 remaining. Consecutive baskets by Gaige Prim put the lead back in the Bears hands at 45-44. Newton connected on a 3-point play to tie it back up at 47, but the Bears responded with 13 in a row to go up by a 60-47 margin inside of the 6-minute mark.
From that point, the Bears held strong as they would finish the night with the 72-58 win. MSU shot 39.7% for the night while the Aces shot 39.3%.
Next up for UE is a trip to Valparaiso for a contest on Wednesday evening.
Battling back, Evansville's late rally come up short versus SIU
After trailing by 17, the University of Evansville women's basketball team battled back, cutting its deficit as low as six before falling to Southern Illinois, 75-62, on Saturday afternoon inside Meeks Family Fieldhouse in Evansville.
Balanced scoring was the theme of the afternoon for the Aces as four of Evansville's five starters finished the game in double figures. Senior guard Myia Clark tallied a team-high 14 points, adding six boards and three assists, while Abby Feit (11 points), Anna Newman (10), and Je'Naiya Davis (10) all recorded 10-or-more in the scoring column. To go along with her 11 points, Feit recorded her 11th double-double of the season with 10 boards, and added three blocks, including two in back-to-back defensive possessions. For the visiting Salukis, Makenzie Silvey powered SIU with 23 points with 11 coming at the charity stripe, while Abby Brockmeyer had 19 points and 14 boards, and Gabby Walker reached double-digits with 17 points.
A back-and-forth early battle saw the Aces grab a 7-5 lead on a triple by Feit just 3:12 into the game. SIU would answer, building a 16-5 run, powered by a quick two buckets before the horn to grab a 21-12 lead after the opening quarter.
Both teams struggled to get much going offensively in the second period as the two sides combined for just 24 points in the period. SIU's lead grew as large as 16 in the quarter, but Evansville whittled its way back within 13 at 35-22 at the break.
The third quarter could not have been more different than its predecessor as both teams combined for 48 points with a strong rally from the Aces highlighting the period. After the Salukis pushed their lead to 17 inside the first two minutes of action, Evansville battled its way back from the deficit to cut within seven with 2:22 left in the quarter before the Salukis went on another run to rebuild a 58-47 lead.
Resilient until the end, the Aces showed fight. Chipping away point-by-point, Evansville gave themselves a chance with less than two minutes remaining. A layup by Davis got UE within eight and after creating a turnover, Clark got to the basket and made it just a six-point SIU lead with 1:41 remaining in the game. Over the final 100 seconds, Evansville had chances to cut its deficit further, but shots did not fall as SIU hit shots at the foul line to secure the 75-62 win.
Evansville goes back on the road next week for a rare three-game MVC road trip, beginning on Friday, February 4 at Illinois State, followed by Bradley on Sunday, February 6, and finishing with Northern Iowa on Tuesday, February 8.
Nationally-Ranked Hoosiers Top Swimming & Diving Aces
In the final dual meet of the season for both schools, the nationally-ranked Indiana University Hoosiers swept the visiting University of Evansville Purple Aces at the Counsilman-Billingsley Aquatic Center in Bloomington, Indiana on Friday.
The IU men, ranked fifth nationally in the latest College Swimming & Diving Coaches Association of America (CSCAA) top 25, recorded a 140-104 victory over the visiting Purple Aces. Meanwhile, the 13th-ranked IU women picked up a 148-111 win over UE.
"It was great to see the team race strong against a well-coached Indiana squad," said UE head swimming and diving coach Stuart Wilson. "Kudos to Maya (Cunningham), Mari (Mueller) and Alon (Baer) for winning their events.
"I also thought that the divers did a great job on the boards as well today."
On the men's side, sophomore Alon Baer (Gesher Haziv, Israel) picked up an individual victory in the 200-yard breaststroke with a time of 2:05.28 to out-touch IU's Rafael Miroslaw by 0.25 seconds. He also finished second in the scoring and third overall in the 100-yard breaststroke with a time of 57.03.
Junior Riccardo Di Domenico (Johannesburg, South Africa) also earned nine points for UE in the men's 100-yard butterfly with a time of 49.76, while also placing second in the scoring in the 50-yard freestyle with a time of 21.14.
On the women's side, junior Maya Cunningham (Yakima, Wash./Eisenhower HS) won the women's 200-yard butterfly event with a time of 2:07.66, while also placing second in the 200-yard IM with a time of 2:08.81. Freshman Marianne Mueller (Aschaffenburg, Switzerland) also picked up an individual victory in the 200-yard breaststroke (2:24.93) after finishing second behind Cunningham in the 200-yard butterfly earlier in the meet.
On the diving boards, UE senior Maggie Franz (Mundelein, Ill./Mundelein HS) placed second in the scoring in the three-meter competition with a score of 245.48. Meanwhile, fellow senior Fae Keighley (Johannesburg, South Africa) finished second in the scoring in the one-meter competition with a score of 233.85.
After Friday's meet, Evansville finished the dual-meet portion of its schedule with a 4-1 record on the men's side and 5-2 record on the women's side. The UE women will return to action next on February 16-19 when Evansville competes in the Missouri Valley Conference Swimming & Diving Championships. The UE men, meanwhile, will next compete on March 2-5 at the Mid-American Conference Championships.
Haley Woolf earns preseason MVC recognition
A member of this year's senior class was recognized when the Missouri Valley Conference announced its 2022 Preseason Softball Poll on Friday.
Haley Woolf was named to the 2022 MVC Preseason All-Conference Team as she begins her fourth season with the Purple Aces. One of the top sluggers in the conference, Woolf finished the 2021 campaign with five home runs, 20 RBI and 15 walks. The MVC Player of the Week on May 3 hit three homers and tallied nine RBI in a sweep over Bradley last spring.
The Blue Springs, Mo. native played in 39 games as a junior, making 38 starts with the majority coming at first base. In the shortened 2020 season, she tied for 5th in the conference in home runs while finishing fourth with 18 RBI.
Along with the preseason all-conference team, the league revealed the preseason poll, which saw the Purple Aces tabbed to finish 8th in the conference, just three points behind Bradley and eight behind 6th place Illinois State.
Evansville will begin the 2022 campaign in just two weeks with a trip to Monroe, Louisiana for the Best on the Bayou Classic.
Contribute to AceNotes
To have content considered for inclusion in AceNotes, please submit a Marketing Request Form. Deadline for submission to AceNotes is 10:00 a.m. on the requested date of publication. Only articles concerning UE related/sponsored activities will be accepted. Articles submitted to AceNotes may be edited for length and clarity. Submitter contact information is at the end of each article.