| | |
| --- | --- |
| AceNotes Today | Thursday, January 27, 2022 |
2021 W-2s Are Ready
W-2 forms have been processed for all employees and student workers. If you have provided consent for electronic W-2s, you can view/print your W-2 now. Simply log into Self-Service https://selfservice.evansville.edu and go to "Tax Information". Click the option "W-2 Information" and then click on "2021 W-2 Statement".
W-2s will be mailed for those employees and student workers who did not provide their consent to electronic W-2s.
If you have any questions, please contact Dawn Bury at ext. 2159 or db287@evansville.edu
1098-Ts Have Been Processed
1098-T forms have been processed for students. By providing consent for electronic 1098-T, you can view/print your 1098-T now. Simply log into Self-Service, and go to "Tax Information". Click the option "1098 Information".
1098-T will be mailed to those students who do not provide their consent to electronic 1098-T.
View the 1098-T webpage for more information about how to use this informational tax document.
UE Theatre Announces Spring 2022 Season
The University of Evansville (UE) Department of Theatre proudly presents the Spring 2022 season with two student-directed productions in the May Studio Theatre and one guest-directed production in Shanklin Theatre.
The semester kicks off with MAC BETH, by Erica Schmidt, based on the play MACBETH, by William Shakespeare, in the May Studio Theatre. Directed by senior theatre studies major Claire Himstedt, from St. Louis, MO, this new take on Shakespeare's classic tale of bloody violence explores a symmetry with rebellious teenage girls meeting to stage the play in a parochial school's parking lot. MAC BETH runs at 7:30 pm, on Feb. 10, 11, 12, and at 2:00 pm, on Feb. 12 and 13.
Next up is Bertolt Brecht's THE CAUCASIAN CHALK CIRCLE, with an English version by Eric Bentley, in the May Studio Theatre, directed by senior performance major Obi Roberts, from Arvada, Colo. Originally written at the end of WWII, it retells the story of a child claimed and fought over by two mothers, resulting in one of the most riveting trials ever staged. Teeming with political overtones and a sharp look at human nature, this play runs at 7:30 pm, on Feb. 24, 25, 26, and at 2:00 pm, on Feb. 26 and 27.
The finale is HEROES OF THE FOURTH TURNING, by Will Arbery, in Shanklin Theatre.
Guest-directed by Dylan Frederick, a 2014 graduate of UE, this 2020 Pulitzer Prize Finalist in Drama is a meticulously fashioned story centering on four alumni of a conservative college whose reunion spirals into chaos over spirituality, politics, and a nearly fanatical desire to be understood. This haunting and brilliant play runs at 7:30 pm, on Apr. 8, 9, 21, 22, 23, and at 2:00 pm on Apr. 24.
Guest-director Dylan Frederick is a 2017 graduate of the Yale School of Drama and made his Broadway debut in the 2021 Tony Award-winning production of THE INHERITANCE, by Matthew López. Dylan will likely be remembered by UE audiences for playing the role of Master Harold in the 2011 smash-hit production of MASTER HAROLD…AND THE BOYS, by Athol Fugard, directed by John David Lutz. A native of Minnesota, Dylan returns to his alma mater to make his directing debut.
In following industry standards, as established by the Broadway League, all audience members must show proof of COVID–19 vaccination or a negative test result taken within 48-hours of the date on their ticket. Upon arrival at the theatre, proof of vaccination/negative test result and an ID will be checked before each performance. In compliance with the UE Coronavirus Task Force guidelines, all audience members must remain masked when indoors on campus. Additionally, both Shanklin Theatre and the May Studio Theatre will be seated at no more than 50% capacity. It is our hope that these restrictions will allow our student actors to safely perform unmasked in both spaces.
Single ticket prices for MAC BETH and THE CAUCASIAN CHALK CIRCLE are $12 for all patrons. HEROES OF THE FOURTH TURNING tickets are $20 for adults and $18 for senior adults, students, and UE employees. UE students may obtain one free student rush ticket beginning at 12:00 p.m. on the day of the performance they wish to attend. Tickets may be purchased by calling (812) 488–2031, Monday through Friday, 12:00 p.m.
to 5:00 p.m.
New Hall Information Meetings

We are excited about New Hall and hope you are too! Students interested in living in New Hall for 2022-23 should plan to attend an information meeting on Wednesday February 2, 2022. Meetings will be held in Eykamp 252 at 4:00pm and 9:00pm.
New Hall is for new and returning students:
New Students: For incoming Freshmen, Freshmen Transfers, or Sophomore Transfers entering Fall 2022.
Returning Students: For current Freshmen or Freshmen Transfers who entered UE in Fall 2021 or Spring 2022.
Stop by the 2nd floor of Ridgway, outside Student Life to see some interior examples of New Hall. Plus you can explore all that New Hall has to offer here - https://www.evansville.edu/residencelife/campushousing/new-residence-hall.cfm
New Hall housing placements is just the fist part of the upcoming housing assignments process. Village and Residence Hall placements will take place after New Hall assignments.
Additional information on applying for Village and Residence Hall housing can be found here - https://www.evansville.edu/residencelife/housingapplyreturn/calendar.cfm
2022 Career Day- Register now
Early Registration has benefits!
- Nametag ready
- Access to résumé paper
- Follow favorite organizations
- Increase employer views of your Handshake Profile
- Develop Handshake Profile to 100%
Register in Handshake by Monday, February 7, for Career Day! If you are pursuing an internship, part time/summer, or full-time professional job opportunity, attend this event in Eykamp Hall, Ridgway University Center. There are 50 top organizations from Indiana and beyond. Student registration is NOT required to attend. Registration is helpful and has benefits for you!
Career Day
1:00 p.m.-4:00p.m. Central Time
Tuesday, February 8, 2022
Eykamp Hall/2nd Floor, Ridgway University Center
Full-time, internship and part-time positions available, so students in all class years are encouraged to attend. Don't miss your chance to find a great internship or professional position!
All majors are invited to explore Career Day.
Handshake link: https://evansville.joinhandshake.com/edu/career_fairs/28823. Students' preregistration recommended by Monday, February 7, 2022, by 5pm.
Make sure you have an up-to-date, approved résumé active in Handshake!
As always, you make seek assistance from the Center for Career Development.
2nd Floor | Ridgway University Center | career@evansville.edu | 812.488.1083
Writing Center Opens Thursday
The Writing Center will be open starting Thursday, January 27th. There will be a mix of hours and each tutor has decided whether they will be working online or in person. Please make note of what kind of appointment you've scheduled. There will be some hours on Sunday as well as hours throughout the week, though they won't be solid blocks like normal. You can find the time that suits you and your schedule best at Evansville.MyWCOnline.com.
This Week in Religious Life
Monday = Engage Community Group @ 8pm (Grabill Lounge)
Weekly Community Bible Study focusing on how the Bible interacts with us as Christians and within our cultural context. We will be jumping into all kinds of issues and looking to see what scripture says about them!
Tuesday = TotalFit @ 7:30pm (Carson Center)
• Group workout focusing on holistic health by incorporating exercises to grow the Body, Mind, and Spirit!
Wednesday = Prayer Group @ 6pm (Upstairs Ridgway)
TotalFit @ 7:30pm (Carson Center)
Thursday = Prayer Group @ 6pm (Upstairs Ridgway)
Friday = Common Table @ 5:30 & 6:30pm (Neu Chapel & Grabill Lounge)
• Come worship with us for a quick devotional thought and song from 5:30-6pm in Neu Chapel.
• At 6:30pm, Everyone is invited to share a FREE meal with us as we simply practice the lost art of hospitality and sharing a meal!
You're Invited! Coffee, Cocoa, and Cupcakes with Dean Clayton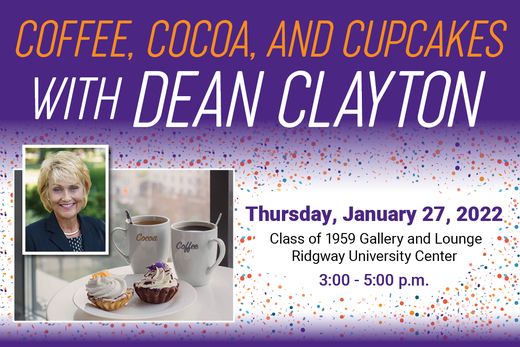 After 32 years of extraordinary service, Dr. Dana Clayton will retire at the end of January as Vice President for Student Affairs and Dean of Students for the University of Evansville.
To celebrate her remarkable contributions and legacy as an advocate, mentor, and friend to countless individuals, the entire campus community is invited to Coffee, Cocoa and Cupcakes with Dean Clayton on Thursday, January 27, from 3:00-5:00 p.m. in the Class of '59 Gallery and Lounge (located on the second floor of Ridgway University Center).
Please contact Alexandra Cooper, Administrative Assistant and Events Coordinator in the Office of the President, by email at aa308@evansville.edu if you have any questions.
Changemaker Challenge Winners Announced
Congratulations to the winning students of our seventh annual High School Changemaker Challenge! The top 20 teams and individuals competed in the final round on Tuesday, and first, second, and third place awards were presented at the end of the day.
UE has committed more than $1 million in scholarships to winners of this competition since its inception. Those who choose UE as their college destination will each receive 4-year scholarships as listed below: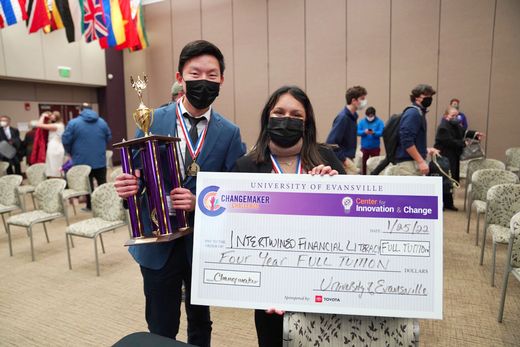 1st place team: Full tuition
Kerry Ao and Naina Muvva
Signature School (Evansville, IN)
Intertwined Financial Literacy - An online, interactive simulator used in schools to enhance students' understanding of finance through portfolios, stocks, and more
---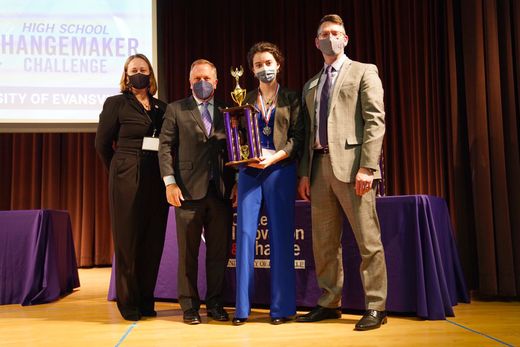 2nd place team: $23,000 per year
Neva Verbik
Avon High School (Avon, IN)
Uptown Gardens - Addresses solutions to the constant issues of pollution, increasingly less space for plants to grow, and global warming
---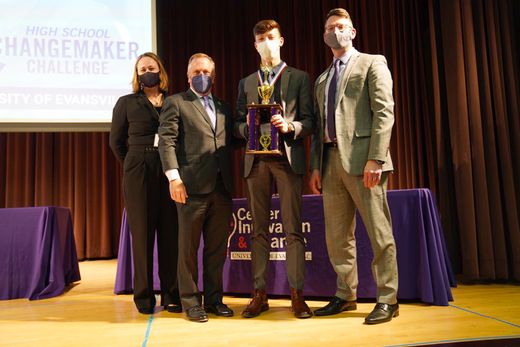 3rd place team: $18,000 per year
Jack Deig
Castle High School (Newburgh, IN)
The Hydration Station - Easily accessible water dispensing units placed throughout Evansville for a healthier, more hydrated community
---
The remaining students who placed in the top six included:
Tyler Myers
Evansville Day School (Evansville, IN)
Driving for Change, Sensory Inclusion – helping individuals with special needs by partnering with local agencies and offering sensory-friendly locations and items
Faith Field
Edgewood High School (Ellettsville, IN)
Restore and Rebuild – a nonprofit organization which would provide housing for the homeless population of Indiana and inspire them to find work they enjoy
Zeke Grant
Perry Central High School (Leopold, IN)
Additive Affordable Prosthetics – prosthetics and biological augmentations that have full range of motion and are truly affordable
Intramural Intertube Bball, Floor Hockey, Volleyball Registration Open
Intramural's are set to begin the 2022 Spring Semester. Volleyball, Intertube Basketball, and Floor Hockey will be the first sports and registration is available on imleagues.com for students, faculty or staff to sign up a team!
If you have any questions feel free to reach out to Drew @ah519 !
Charlas: Informal conversation in Spanish
Wanting to practice conversation in Spanish? The next session of Charlas is Thursday, January 27 at 5:30 p.m. - Central Time. This opportunity is for anyone at the intermediate or advanced Spanish language level. For more information, contact associate professor of Spanish Diana Rodríguez Quevedo at dr130@evansville.edu.
UE Work Study Now Available
A limited number of UE Work Study positions are now available in select departments. Openings are listed on WebAdvisor under Student Employment. Students do not need to be eligible for Federal Work Study to apply. For questions, email Sean Riley in the Office of Student Financial Services at sr252.
Professor Azarian Publishes Reviews of Research Papers in the Mathematical Reviews of the American Mathematical Society (MathSciNet)
Mohammad K. Azarian, Professor of Mathematics, published reviews of five research papers in the Mathematical Reviews of the American Mathematical Society (MathSciNet), the "most prestigious and the authoritative gateway to the scholarly literature of mathematics in the world".
MR4223623: The Fibonacci-circulant sequences in the binary polyhedral groups, Int. J. Group Theory 10 (2021), no. 3, 97–101, 20F05 (11B39 20D60). The authors of this paper are Erdal Karasumi and Ömür Deveci from Atatürk University, Turkey.
MR4219513: Mathematical geography in the western Islamic world: geographical coordinates of localities in the al-Maghreb and al-Andalus localities (9th–18th centuries), Suhayl 18 (2020/21), 25–49, 01A30. The author of this paper is Eric Mercier from Université de Nantes, France.
MR4115321: The Hadamard-type k-step Fibonacci sequences in groups, Comm. Algebra 48 (2020), no. 7, 2844–2856, 11B39 (11B50 11C20 20D60 20F05). The authors of this paper are Yesim Aküzüm and Ömür Deveci from Kafkas University, Turkey.
MR4113640: A remark on periods of periodic sequences modulo m, Integers 20 (2020), Paper No. A49, 15 pp, 11B50 (11B39)1B39 (11B50 11C20 20D60 20F05). The author of this paper is Shoji Yokura from Kagoshima University, Japan.
MR4060496: The Jal?l? calendar: the enigma of its radix date, Arch. Hist. Exact Sci. 74 (2020), no. 2, 165–182, 01A30. The author of this paper is Hamid-Reza Giahi Yazdi from Encyclopaedia Islamica Foundation, Iran.
Condolences to Fred Wilson
Condolences to Fred Wilson, Manager of Residential Maintenance and Family in the death of his Father, Frederick Ray Wilson II of Chandler, IN who passed away on January 16, 2022. A celebration of Ray's life will be held at 11:00 am on Friday, January 28, 2022 at Browning Funeral Home, 738 Diamond Ave., Evansville, IN 47711, with Pastor Mike Jones officiating. Burial will follow at Oak Hill Cemetery.
More details and an obituary can be found at: https://www.browningfuneral.com/obituaries/Frederick-Ray-Wilson-II?obId=23786179#/celebrationWall
Aces battle Panthers to the wire in close contest at Ford Center
Trailing by 15 points in the second half, the University of Evansville men's basketball team rallied to make it a 1-possession game before Northern Iowa fended off the challenge to take a 64-59 win over the Purple Aces on Wednesday evening at the Ford Center.
Leading UE (5-14, 1-7 MVC) was Evan Kuhlman and Blaise Beauchamp, who scored 13 points apiece. Kuhlman was 5-of-9 from the field and hit three triples while Beauchamp was one off of his career scoring mark and connected on 5 of his 7 attempts. Jawaun Newton scored 12 points while leading the team with 7 rebounds and 4 assists. UNI (10-9, 6-3 MVC) saw AJ Green score 18 points while Nate Heise had 12 points and tied for the game high with 7 caroms.
"It was a struggle at times but there was no lack of competitiveness by our guys. You could see that down the stretch," UE head coach Todd Lickliter said. "We had good contributions from everyone who played and gave ourselves a chance. Unfortunately it is all or nothing and we came up just short."
Northern Iowa hit their opening four shots and five of their first six on their way to an 11-3 lead just over four minutes into the game. Shamar Givance took matters into his own hands, hitting consecutive baskets, including a triple at the 14-minute mark that started a 7-0 run. Trailing 13-5, Givance knocked down a triple before finding Preston Phillips for an open layup. Blaise Beauchamp completed the rally with a layup to get Evansville within one at 13-12 with 11:49 left in the half.
After the Aces grabbed the momentum, UNI regained their edge, scoring seven of the next eight points to go up 20-13. Evansville scored just one point over a 6-minute stretch before Beauchamp took over. The sophomore recorded eight out of ten points for his squad as the Aces rallied to tie it up at 23-23 with 4:13 left in the period.
With the Panthers holding onto a 28-27 edge, they reeled off the final seven tallies of the period over the final minutes to take their largest lead of the game - 35-27. Beauchamp recorded 10 points in the half while AJ Green had 13 for the Panthers.
Another strong offensive start by UNI saw them connect on their first seven attempts from the field while stretching the lead to 51-38 over the first 6+ minutes. Over that sequence, UNI took its largest lead of 15 points (47-32). Blake Sisley blocked a shot by Bowen Born for the first Panther miss of the half and it was Noah Frederking taking advantage of a second-chance triple on the other end with 12:45 remaining to cut the deficit to seven.
A field goal with 9:21 left put UNI up 57-48 and it was a defensive struggle for both teams from that point. The next score would come three minutes later when Beauchamp drained his third triple of the night, but a Noah Carter free throw solidified a 60-52 edge for UNI heading into the final four minutes. Evansville continued to fight back when Jawaun Newton grabbed an offensive rebound before converting the ensuing attempt. On the defensive end, Preston Phillips forced a steal and Kuhlman turned it into a 3-pointer that made it a 60-57 game with 2:20 showing on the clock.
Defensive efforts by both teams were pivotal for each squad in the final minutes. Evansville forced three turnovers in the final two minutes while the Panthers forced two UE misses along with a turnover in the next three possessions, keeping it a 3-point game. Trae Berhow and Carter knocked down four late free throws to seal the 64-59 victory.
A pair of road contests are on the docket for UE, starting on Saturday night with a 7 p.m. game at Missouri State.
Women's Basketball opens weekend against Missouri State on Thursday
Back home for just the third time in 2022, the University of Evansville women's basketball team welcomes in preseason favorite Missouri State for a Thursday evening matchup at 6 PM inside Meeks Family Fieldhouse in Evansville.
Previewing the Matchup: Missouri State
• Evansville and Missouri State are meeting for the 60th time in series history with the Lady Bears owning a 45-14 advantage in the all-time series.
• Last season, Evansville and the Lady Bears met twice inside Meeks Family Fieldhouse with the visitors capturing a pair of wins in the final weekend of the regular season.
• The Lady Bears sit 35th in NET rankings, the second-highest ranked opponent for UE this season behind Iowa, who is currently 23rd.
• The Aces will be playing just their third home game since December 11 after playing six of their last eight games on the road.
Importance of Free Throws
• Thursday's contest pits two of the top 60 teams in the nation in getting to the line. Evansville is 38th in NCAA DI in free throw trips and the Lady Bears are not far behind in 58th.
Efficiency for Je'Naiya
• Through just 11 games in her Aces career, junior Je'Naiya Davis has made her name known for her ability to score from just about anywhere.
• But what many may not know about Davis is she has been incredibly efficient in scoring from all three levels.
• Davis is shooting 43.7% from the field this season, the third best percentage for the Aces and best by a pure guard.
Contribute to AceNotes
To have content considered for inclusion in AceNotes, please submit a Marketing Request Form. Deadline for submission to AceNotes is 10:00 a.m. on the requested date of publication. Only articles concerning UE related/sponsored activities will be accepted. Articles submitted to AceNotes may be edited for length and clarity. Submitter contact information is at the end of each article.