| | |
| --- | --- |
| AceNotes Today | Wednesday, January 26, 2022 |
1098-Ts Have Been Processed
1098-T forms have been processed for students. By providing consent for electronic 1098-T, you can view/print your 1098-T now. Simply log into Self-Service, and go to "Tax Information". Click the option "1098 Information".
1098-T will be mailed to those students who do not provide their consent to electronic 1098-T.
View the 1098-T webpage for more information about how to use this informational tax document.
FREE At-Home COVID Tests Available
Order your FREE set of 4 Free At-Home COVID-19 Tests
The USPS is taking orders for at home COVID tests. One per household. So only one test kit can be ordered per room address or apartment. Roommates will need to coordinate and share.
Students will be notified of test kit arrival via the normal package tracking process for pickup. As a reminder, Distribution Services Hours are M-F 8am - 5pm. Please note that these free test kits could take a couple of weeks to arrive (i.e. 7-12 days to ship and several days for USPS to deliver). But you'll have some tests to have on hand if you develop symptoms.
Provide your complete on-campus residential address when ordering in the following format:
First Name Last Name
Hall Address, Room Number
Evansville, Indiana 47714
Questions? Contact coronavirustaskforce@evansville.edu or check out UE's COVID resources.
New Hall Information Meetings

We are excited about New Hall and hope you are too! Students interested in living in New Hall for 2022-23 should plan to attend an information meeting on Wednesday February 2, 2022. Meetings will be held in Eykamp 252 at 4:00pm and 9:00pm.
New Hall is for new and returning students:
New Students: For incoming Freshmen, Freshmen Transfers, or Sophomore Transfers entering Fall 2022.
Returning Students: For current Freshmen or Freshmen Transfers who entered UE in Fall 2021 or Spring 2022.
Stop by the 2nd floor of Ridgway, outside Student Life to see some interior examples of New Hall. Plus you can explore all that New Hall has to offer here - https://www.evansville.edu/residencelife/campushousing/new-residence-hall.cfm
New Hall housing placements is just the fist part of the upcoming housing assignments process. Village and Residence Hall placements will take place after New Hall assignments.
Additional information on applying for Village and Residence Hall housing can be found here - https://www.evansville.edu/residencelife/housingapplyreturn/calendar.cfm
Writing Center Opens Thursday
The Writing Center will be open starting Thursday, January 27th. There will be a mix of hours and each tutor has decided whether they will be working online or in person. Please make note of what kind of appointment you've scheduled. There will be some hours on Sunday as well as hours throughout the week, though they won't be solid blocks like normal. You can find the time that suits you and your schedule best at Evansville.MyWCOnline.com.
This Week in Religious Life
Monday = Engage Community Group @ 8pm (Grabill Lounge)
Weekly Community Bible Study focusing on how the Bible interacts with us as Christians and within our cultural context. We will be jumping into all kinds of issues and looking to see what scripture says about them!
Tuesday = TotalFit @ 7:30pm (Carson Center)
• Group workout focusing on holistic health by incorporating exercises to grow the Body, Mind, and Spirit!
Wednesday = Prayer Group @ 6pm (Upstairs Ridgway)
TotalFit @ 7:30pm (Carson Center)
Thursday = Prayer Group @ 6pm (Upstairs Ridgway)
Friday = Common Table @ 5:30 & 6:30pm (Neu Chapel & Grabill Lounge)
• Come worship with us for a quick devotional thought and song from 5:30-6pm in Neu Chapel.
• At 6:30pm, Everyone is invited to share a FREE meal with us as we simply practice the lost art of hospitality and sharing a meal!
You're Invited! Coffee, Cocoa, and Cupcakes with Dean Clayton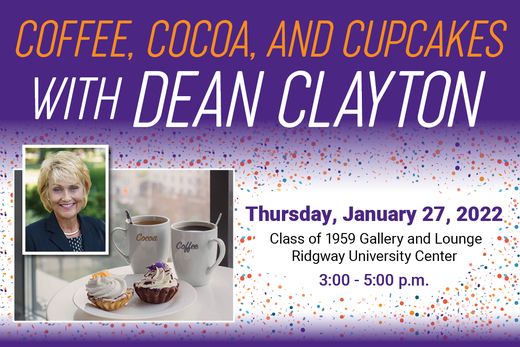 After 32 years of extraordinary service, Dr. Dana Clayton will retire at the end of January as Vice President for Student Affairs and Dean of Students for the University of Evansville.
To celebrate her remarkable contributions and legacy as an advocate, mentor, and friend to countless individuals, the entire campus community is invited to Coffee, Cocoa and Cupcakes with Dean Clayton on Thursday, January 27, from 3:00-5:00 p.m. in the Class of '59 Gallery and Lounge (located on the second floor of Ridgway University Center).
Please contact Alexandra Cooper, Administrative Assistant and Events Coordinator in the Office of the President, by email at aa308@evansville.edu if you have any questions.
Engineering Career Forum- Register TODAY
Join us Wednesday, January 26 from 6:00pm-8:30pm in Eykamp Hall for the 2022 Engineering Career Forum. Don't miss this opportunity to meet and network with more than a dozen engineering and computer science employers. Panel sessions available to discuss internships, senior year and job search. Contact the Center for Career Development at 812-488-1083 with any questions. Register in Handshake.
Charlas: Informal conversation in Spanish
Wanting to practice conversation in Spanish? The next session of Charlas is Thursday, January 27 at 5:30 p.m. - Central Time. This opportunity is for anyone at the intermediate or advanced Spanish language level. For more information, contact associate professor of Spanish Diana Rodríguez Quevedo at dr130@evansville.edu.
UE Work Study Now Available
A limited number of UE Work Study positions are now available in select departments. Openings are listed on WebAdvisor under Student Employment. Students do not need to be eligible for Federal Work Study to apply. For questions, email Sean Riley in the Office of Student Financial Services at sr252.
Art Exhibit "David Unsupervised" on Display at Melvin Peterson Gallery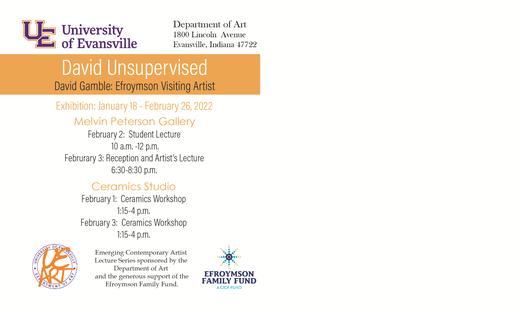 The University of Evansville presents "David Unsupervised," an exhibit by David Gamble, on display at the Melvin Peterson Gallery through Saturday, February 26.
The gallery is open to the campus community and public from noon until 3:00 p.m. on Mondays, Tuesdays, Fridays, and Saturdays; and from noon until 6:00 p.m. on Wednesdays and Thursdays.
A public reception for the artist will be held on Thursday, February 3, from 6:30-8:30 p.m. The reception will be held in the Melvin Peterson Gallery. Gamble will also conduct multiple workshops for art students while visiting.
The exhibit and reception are part of the Emerging Contemporary Artist Lecture Series, sponsored by the Efroymson Family Fund and the UE Department of Art.
The hours for the Melvin Peterson Gallery are Monday 12-3pm; Tuesday 12-3pm, Wednesday 12-6pm, Thursday 12-6pm, Friday 12-3 pm, and Saturday 12-3pm.
The public reception and lecture will take place on February 3 from 6:30-8:30pm in the Melvin Peterson Gallery.
These events are for students only:
Ceramic Workshops on Feb 1 and Feb 3 from 1:15-4pm in Ceramic Studio
Lecture Feb 2 10am-12pm in Melvin Peterson Gallery
Sculpture class on Feb 2 2-4:30pm
David Gamble will be conducting student workshops.
David Gamble has over four decades of balancing art and business in the ceramics industry. While making clay art and teaching, he also developed products and designed marketing campaigns. Gamble has conducted hundreds of workshops in North America, and he has participated in five clay symposiums in Eastern Europe. He holds a Master of Fine Arts degree and contributes an educational focus to the kilns and pottery wheels for Skutt Ceramic Products.
"The glaze surface has always interested me more than the sculptural possibilities in clay," said Gamble. "I layer and multi-fire glaze combinations as if I were using oil paints. I have found I am able to produce what many might consider glaze defects, with some control. This allows me to achieve interesting surfaces, depth, and imagery like I were painting."
For more information, email art@evansville.edu or visit the gallery's Facebook page.
Road Trip Hosts Needed
The Office of Admission needs current UE students who live in the residence halls or Jones Hall to host prospective high school seniors for Road Trip February 25-27. If you are available, you can apply to host online or by emailing Heather Cook (hw30@evansville.edu) or Jill Fisher (jf223@evansville.edu), or stopping by the Office of Admission (OH 104). Deadline to sign up is Friday, February 11.
Please note that Road Trippers are required to follow the same COVID-19 precautions as current students. This includes being vaccinated or submitting a negative test prior to arriving on campus.
Become An RA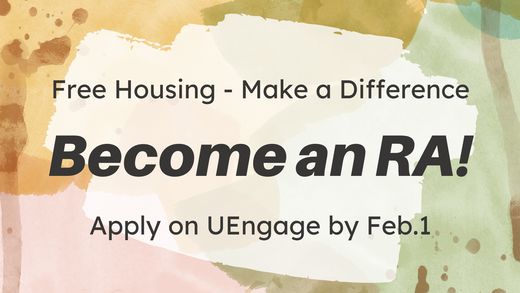 Interested in creating community? Getting involved? Free Housing? Apply to be an RA on UEngage by Feb.1! If you have question, email Lily Renfro (lr156) or Will McDonner (wm99) for more information.
Professor Azarian Publishes Reviews of Research Papers in the Mathematical Reviews of the American Mathematical Society (MathSciNet)
Mohammad K. Azarian, Professor of Mathematics, published reviews of five research papers in the Mathematical Reviews of the American Mathematical Society (MathSciNet), the "most prestigious and the authoritative gateway to the scholarly literature of mathematics in the world".
MR4223623: The Fibonacci-circulant sequences in the binary polyhedral groups, Int. J. Group Theory 10 (2021), no. 3, 97–101, 20F05 (11B39 20D60). The authors of this paper are Erdal Karasumi and Ömür Deveci from Atatürk University, Turkey.
MR4219513: Mathematical geography in the western Islamic world: geographical coordinates of localities in the al-Maghreb and al-Andalus localities (9th–18th centuries), Suhayl 18 (2020/21), 25–49, 01A30. The author of this paper is Eric Mercier from Université de Nantes, France.
MR4115321: The Hadamard-type k-step Fibonacci sequences in groups, Comm. Algebra 48 (2020), no. 7, 2844–2856, 11B39 (11B50 11C20 20D60 20F05). The authors of this paper are Yesim Aküzüm and Ömür Deveci from Kafkas University, Turkey.
MR4113640: A remark on periods of periodic sequences modulo m, Integers 20 (2020), Paper No. A49, 15 pp, 11B50 (11B39)1B39 (11B50 11C20 20D60 20F05). The author of this paper is Shoji Yokura from Kagoshima University, Japan.
MR4060496: The Jal?l? calendar: the enigma of its radix date, Arch. Hist. Exact Sci. 74 (2020), no. 2, 165–182, 01A30. The author of this paper is Hamid-Reza Giahi Yazdi from Encyclopaedia Islamica Foundation, Iran.
Faculty Scholarship Display & Reception
The Libraries will be hosting the FACULTY SCHOLARSHIP DISPLAY from January 24 through February 6, 2022. Works produced or published or grants received from August 2020 until July 2021 were eligible for inclusion. You should wander over and take at look at your colleagues' impressive scholarship!
A reception in honor of all Faculty Scholars will be held on Wednesday, January 26th @ 4 pm in the Libraries' Boardroom. I hope you can attend.
Condolences to Fred Wilson
Condolences to Fred Wilson, Manager of Residential Maintenance and Family in the death of his Father, Frederick Ray Wilson II of Chandler, IN who passed away on January 16, 2022. A celebration of Ray's life will be held at 11:00 am on Friday, January 28, 2022 at Browning Funeral Home, 738 Diamond Ave., Evansville, IN 47711, with Pastor Mike Jones officiating. Burial will follow at Oak Hill Cemetery.
More details and an obituary can be found at: https://www.browningfuneral.com/obituaries/Frederick-Ray-Wilson-II?obId=23786179#/celebrationWall
Aces look to capitalize on momentum in Wednesday home game vs. UNI
Looking to build off of the momentum from Sunday's win over Illinois State, the University of Evansville men's basketball team welcomes UNI to the Ford Center on Wednesday for a 6 p.m. contest. ESPN+ and the Purple Aces Radio Network will have the coverage.
Last Time Out
- In a remarkable turnaround, the Purple Aces defeated Illinois State by a 56-53 final at home on Sunday, less than 48 hours after a 94-56 road defeat to the Redbirds
- An inspired defense held ISU to a season-low 53 points while forcing a season-high 21 turnovers
- Shamar Givance led the way for UE with 18 points and 4 assists while Noah Frederking and Evan Kuhlman finished with 14 and 12 points, respectively
- While Frederking led the team with 7 caroms, Preston Phillips finished with six, including an offensive board with 29 seconds remaining that led to the game-winning shot by Givance
What a Turnaround
- In a weekend home-and-home with Illinois State, the Purple Aces saw a massive turnaround over the course of 48 hours
- On Friday in Redbird Arena, ISU defeated UE by a final of 94-56 while shooting 70.2% from the field. A quick transition saw the squads match up on Sunday at the Ford Center and a focused UE squad earned a scrappy 56-53 win
- Interestingly enough, UE scored the same number of points in each game, but the defense held ISU to 41 fewer points on Sunday
- It was the top defensive improvement from one game to the next since 2017 (not including a pair of 3OT games) - following a 109-83 loss at Wichita State on 2/21/17, UE rebounded with a 65-63 home win over Indiana State on the 25th
- Evansville forced a season-low five turnovers in the road contest, but came back to force the highest turnover total of 21 in the home victory
Clutch Rebounds
- What may have been the most important rebound of the season was hauled in by Preston Phillips in Sunday's win over Illinois State
- His offensive board with 26 seconds remaining in a tie game led to the game winner from Shamar Givance
- He finished the game with his second-highest total of six rebounds in the winning effort and has averaged 3.5 per game over the course of the season while finishing with 2+ caroms in all but one game he has played in
- Phillips has started five games in a row and seven overall
Still Going Strong
- With 15 seconds remaining in a tie game on Sunday, Shamar Givance hit what would prove to be the game-winner in a 56-53 win over Illinois State
- The senior led UE with 18 points to improve his season average to 14.3 PPG, which ranks 8th in the MVC
- Givance remains in a tie for 4th in the Valley with 1.4 steals per game while his 3.7 assists/contest ranks 5th
- He continues to score at the top rate of his career with his average...as a junior he finished with 13.3 PPG
- In the MVC opener against SIU, he set his career mark with 31 points on 11-of-16 shooting and has scored in double figures in 14 out of 18 games this season
Scouting the Opponent
- Back-to-back overtime losses have seen Northern Iowa drop to 9-9 on the season and 5-3 in Valley play
- On Saturday, the Panthers fell by an 82-74 final at home to Drake after an 83-80 defeat at Valpo last Wednesday
- Leading scorer AJ Green checks in with an average of 18.3 points per game and is coming off of a 27-point outing versus the Bulldogs
- Green has scored 22 or more in three of the last four games
- Noah Carter is averaging 13.9 PPG while Nate Heise sits with 10.3
- Heise along with Trae Berhow lead UNI with 5.0 rebounds per game
Contribute to AceNotes
To have content considered for inclusion in AceNotes, please submit a Marketing Request Form. Deadline for submission to AceNotes is 10:00 a.m. on the requested date of publication. Only articles concerning UE related/sponsored activities will be accepted. Articles submitted to AceNotes may be edited for length and clarity. Submitter contact information is at the end of each article.