| | |
| --- | --- |
| AceNotes Today | Tuesday, January 25, 2022 |
FREE At-Home COVID Tests Available
Order your FREE set of 4 Free At-Home COVID-19 Tests
The USPS is taking orders for at home COVID tests. One per household. So only one test kit can be ordered per room address or apartment. Roommates will need to coordinate and share.
Students will be notified of test kit arrival via the normal package tracking process for pickup. As a reminder, Distribution Services Hours are M-F 8am - 5pm. Please note that these free test kits could take a couple of weeks to arrive (i.e. 7-12 days to ship and several days for USPS to deliver). But you'll have some tests to have on hand if you develop symptoms.
Provide your complete on-campus residential address when ordering in the following format:
First Name Last Name
Hall Address, Room Number
Evansville, Indiana 47714
Questions? Contact coronavirustaskforce@evansville.edu or check out UE's COVID resources.
Writing Center Opens Thursday
The Writing Center will be open starting Thursday, January 27th. There will be a mix of hours and each tutor has decided whether they will be working online or in person. Please make note of what kind of appointment you've scheduled. There will be some hours on Sunday as well as hours throughout the week, though they won't be solid blocks like normal. You can find the time that suits you and your schedule best at Evansville.MyWCOnline.com.
This Week in Religious Life
Monday = Engage Community Group @ 8pm (Grabill Lounge)
Weekly Community Bible Study focusing on how the Bible interacts with us as Christians and within our cultural context. We will be jumping into all kinds of issues and looking to see what scripture says about them!
Tuesday = TotalFit @ 7:30pm (Carson Center)
• Group workout focusing on holistic health by incorporating exercises to grow the Body, Mind, and Spirit!
Wednesday = Prayer Group @ 6pm (Upstairs Ridgway)
TotalFit @ 7:30pm (Carson Center)
Thursday = Prayer Group @ 6pm (Upstairs Ridgway)
Friday = Common Table @ 5:30 & 6:30pm (Neu Chapel & Grabill Lounge)
• Come worship with us for a quick devotional thought and song from 5:30-6pm in Neu Chapel.
• At 6:30pm, Everyone is invited to share a FREE meal with us as we simply practice the lost art of hospitality and sharing a meal!
CDEI Presents...I-House: Civil Rights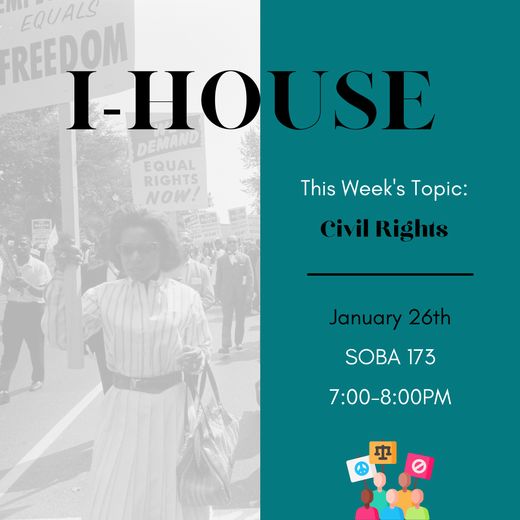 The Center for Diversity, Equity, and Inclusion is proud to announce that it will be hosting its first I-House of the semester on Wednesday, January 26th from 7-8pm. Join us in SOBA 173 for a discussion on Civil Rights. Hope to see you there!
You're Invited! Coffee, Cocoa, and Cupcakes with Dean Clayton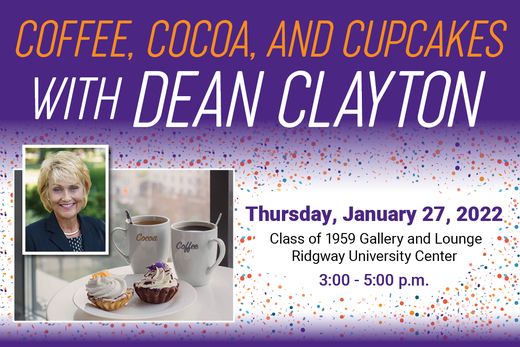 After 32 years of extraordinary service, Dr. Dana Clayton will retire at the end of January as Vice President for Student Affairs and Dean of Students for the University of Evansville.
To celebrate her remarkable contributions and legacy as an advocate, mentor, and friend to countless individuals, the entire campus community is invited to Coffee, Cocoa and Cupcakes with Dean Clayton on Thursday, January 27, from 3:00-5:00 p.m. in the Class of '59 Gallery and Lounge (located on the second floor of Ridgway University Center).
Please contact Alexandra Cooper, Administrative Assistant and Events Coordinator in the Office of the President, by email at aa308@evansville.edu if you have any questions.
UE Work Study Now Available
A limited number of UE Work Study positions are now available in select departments. Openings are listed on WebAdvisor under Student Employment. Students do not need to be eligible for Federal Work Study to apply. For questions, email Sean Riley in the Office of Student Financial Services at sr252.
Art Exhibit "David Unsupervised" on Display at Melvin Peterson Gallery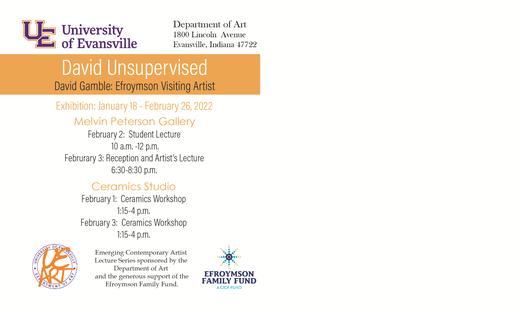 The University of Evansville presents "David Unsupervised," an exhibit by David Gamble, on display at the Melvin Peterson Gallery through Saturday, February 26.
The gallery is open to the campus community and public from noon until 3:00 p.m. on Mondays, Tuesdays, Fridays, and Saturdays; and from noon until 6:00 p.m. on Wednesdays and Thursdays.
A public reception for the artist will be held on Thursday, February 3, from 6:30-8:30 p.m. The reception will be held in the Melvin Peterson Gallery. Gamble will also conduct multiple workshops for art students while visiting.
The exhibit and reception are part of the Emerging Contemporary Artist Lecture Series, sponsored by the Efroymson Family Fund and the UE Department of Art.
The hours for the Melvin Peterson Gallery are Monday 12-3pm; Tuesday 12-3pm, Wednesday 12-6pm, Thursday 12-6pm, Friday 12-3 pm, and Saturday 12-3pm.
The public reception and lecture will take place on February 3 from 6:30-8:30pm in the Melvin Peterson Gallery.
These events are for students only:
Ceramic Workshops on Feb 1 and Feb 3 from 1:15-4pm in Ceramic Studio
Lecture Feb 2 10am-12pm in Melvin Peterson Gallery
Sculpture class on Feb 2 2-4:30pm
David Gamble will be conducting student workshops.
David Gamble has over four decades of balancing art and business in the ceramics industry. While making clay art and teaching, he also developed products and designed marketing campaigns. Gamble has conducted hundreds of workshops in North America, and he has participated in five clay symposiums in Eastern Europe. He holds a Master of Fine Arts degree and contributes an educational focus to the kilns and pottery wheels for Skutt Ceramic Products.
"The glaze surface has always interested me more than the sculptural possibilities in clay," said Gamble. "I layer and multi-fire glaze combinations as if I were using oil paints. I have found I am able to produce what many might consider glaze defects, with some control. This allows me to achieve interesting surfaces, depth, and imagery like I were painting."
For more information, email art@evansville.edu or visit the gallery's Facebook page.
Professor Azarian Publishes Reviews of Research Papers in the Mathematical Reviews of the American Mathematical Society (MathSciNet)
Mohammad K. Azarian, Professor of Mathematics, published reviews of five research papers in the Mathematical Reviews of the American Mathematical Society (MathSciNet), the "most prestigious and the authoritative gateway to the scholarly literature of mathematics in the world".
MR4223623: The Fibonacci-circulant sequences in the binary polyhedral groups, Int. J. Group Theory 10 (2021), no. 3, 97–101, 20F05 (11B39 20D60). The authors of this paper are Erdal Karasumi and Ömür Deveci from Atatürk University, Turkey.
MR4219513: Mathematical geography in the western Islamic world: geographical coordinates of localities in the al-Maghreb and al-Andalus localities (9th–18th centuries), Suhayl 18 (2020/21), 25–49, 01A30. The author of this paper is Eric Mercier from Université de Nantes, France.
MR4115321: The Hadamard-type k-step Fibonacci sequences in groups, Comm. Algebra 48 (2020), no. 7, 2844–2856, 11B39 (11B50 11C20 20D60 20F05). The authors of this paper are Yesim Aküzüm and Ömür Deveci from Kafkas University, Turkey.
MR4113640: A remark on periods of periodic sequences modulo m, Integers 20 (2020), Paper No. A49, 15 pp, 11B50 (11B39)1B39 (11B50 11C20 20D60 20F05). The author of this paper is Shoji Yokura from Kagoshima University, Japan.
MR4060496: The Jal?l? calendar: the enigma of its radix date, Arch. Hist. Exact Sci. 74 (2020), no. 2, 165–182, 01A30. The author of this paper is Hamid-Reza Giahi Yazdi from Encyclopaedia Islamica Foundation, Iran.
Faculty Scholarship Display & Reception
The Libraries will be hosting the FACULTY SCHOLARSHIP DISPLAY from January 24 through February 6, 2022. Works produced or published or grants received from August 2020 until July 2021 were eligible for inclusion. You should wander over and take at look at your colleagues' impressive scholarship!
A reception in honor of all Faculty Scholars will be held on Wednesday, January 26th @ 4 pm in the Libraries' Boardroom. I hope you can attend.
Condolences to Fred Wilson
Condolences to Fred Wilson, Manager of Residential Maintenance and Family in the death of his Father, Frederick Ray Wilson II of Chandler, IN who passed away on January 16, 2022. A celebration of Ray's life will be held at 11:00 am on Friday, January 28, 2022 at Browning Funeral Home, 738 Diamond Ave., Evansville, IN 47711, with Pastor Mike Jones officiating. Burial will follow at Oak Hill Cemetery.
More details and an obituary can be found at: https://www.browningfuneral.com/obituaries/Frederick-Ray-Wilson-II?obId=23786179#/celebrationWall
UE Swimming & Diving Earns Scholar All-America Team Honors Once Again
The University of Evansville men's and women's swimming and diving teams have earned Scholar All-America Team honors from the College Swimming and Diving Coaches Association of America (CSCAA) for their work in the classroom during the fall 2021 semester.
The UE women were one of 171 Division I women's programs to earn CSCAA Scholar All-America Team honors while compiling a 3.47 team GPA during the fall. Meanwhile, the UE men were one of 99 Division I men's programs to garner the award after posting a 3.24 team GPA in the fall. It marks the third-straight year in which both UE programs earned Scholar All-America Team honors under the direction of third-year head coach Stuart Wilson.
"Succeeding in the pool and in the classroom is one of the benchmarks of our program here at the University of Evansville," said Wilson. "I am really proud of the effort that the student-athletes put in both in the pool and in the classroom this past fall. They really excelled in both areas this fall."
Evansville will return to the pool this Friday when UE travels north to Bloomington, Indiana to battle the nationally-ranked Indiana University Hoosiers. Friday's meet begins at 2 p.m. eastern, 1 p.m. central.
Contribute to AceNotes
To have content considered for inclusion in AceNotes, please submit a Marketing Request Form. Deadline for submission to AceNotes is 10:00 a.m. on the requested date of publication. Only articles concerning UE related/sponsored activities will be accepted. Articles submitted to AceNotes may be edited for length and clarity. Submitter contact information is at the end of each article.