| | |
| --- | --- |
| AceNotes Today | Monday, January 24, 2022 |
FREE At-Home COVID Tests Available
Order your FREE set of 4 Free At-Home COVID-19 Tests
The USPS is taking orders for at home COVID tests. One per household. So only one test kit can be ordered per room address or apartment. Roommates will need to coordinate and share.
Students will be notified of test kit arrival via the normal package tracking process for pickup. As a reminder, Distribution Services Hours are M-F 8am - 5pm. Please note that these free test kits could take a couple of weeks to arrive (i.e. 7-12 days to ship and several days for USPS to deliver). But you'll have some tests to have on hand if you develop symptoms.
Provide your complete on-campus residential address when ordering in the following format:
First Name Last Name
Hall Address, Room Number
Evansville, Indiana 47714
Questions? Contact coronavirustaskforce@evansville.edu or check out UE's COVID resources.
Writing Center Opens Thursday
The Writing Center will be open starting Thursday, January 27th. There will be a mix of hours and each tutor has decided whether they will be working online or in person. Please make note of what kind of appointment you've scheduled. There will be some hours on Sunday as well as hours throughout the week, though they won't be solid blocks like normal. You can find the time that suits you and your schedule best at Evansville.MyWCOnline.com.
This Week in Religious Life
Monday = Engage Community Group @ 8pm (Grabill Lounge)
Weekly Community Bible Study focusing on how the Bible interacts with us as Christians and within our cultural context. We will be jumping into all kinds of issues and looking to see what scripture says about them!
Tuesday = TotalFit @ 7:30pm (Carson Center)
• Group workout focusing on holistic health by incorporating exercises to grow the Body, Mind, and Spirit!
Wednesday = Prayer Group @ 6pm (Upstairs Ridgway)
TotalFit @ 7:30pm (Carson Center)
Thursday = Prayer Group @ 6pm (Upstairs Ridgway)
Friday = Common Table @ 5:30 & 6:30pm (Neu Chapel & Grabill Lounge)
• Come worship with us for a quick devotional thought and song from 5:30-6pm in Neu Chapel.
• At 6:30pm, Everyone is invited to share a FREE meal with us as we simply practice the lost art of hospitality and sharing a meal!
CDEI Presents...I-House: Civil Rights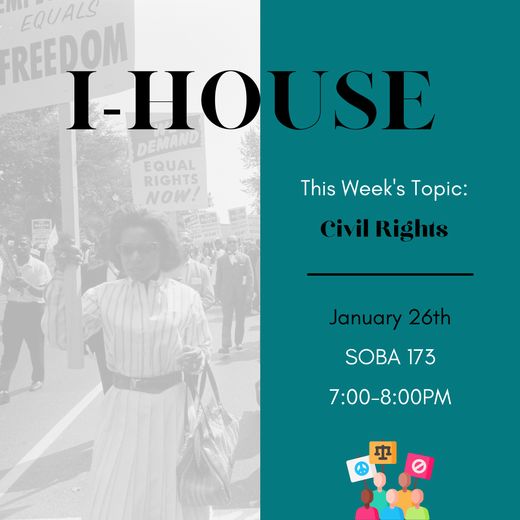 The Center for Diversity, Equity, and Inclusion is proud to announce that it will be hosting its first I-House of the semester on Wednesday, January 26th from 7-8pm. Join us in SOBA 173 for a discussion on Civil Rights. Hope to see you there!
Take Back the Night vigil on Jan 24
Join Women's Rights Awareness as we hold an event to raise awareness and support victims and survivors of domestic violence on Monday, January 24. We will begin in SOBA 170 at 5pm with a speaker from Albion Fellows and a chance for people to share their own stories, followed up by a short walk around campus and a silent vigil on the East Terrace Lawn.
You're Invited! Coffee, Cocoa, and Cupcakes with Dean Clayton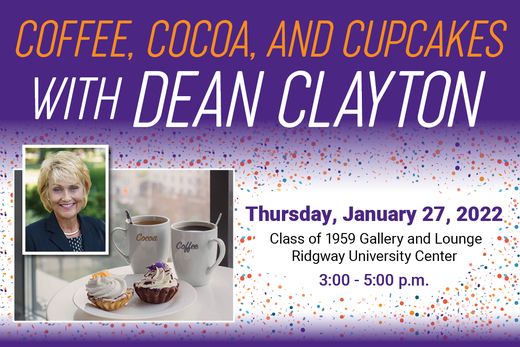 After 32 years of extraordinary service, Dr. Dana Clayton will retire at the end of January as Vice President for Student Affairs and Dean of Students for the University of Evansville.
To celebrate her remarkable contributions and legacy as an advocate, mentor, and friend to countless individuals, the entire campus community is invited to Coffee, Cocoa and Cupcakes with Dean Clayton on Thursday, January 27, from 3:00-5:00 p.m. in the Class of '59 Gallery and Lounge (located on the second floor of Ridgway University Center).
Please contact Alexandra Cooper, Administrative Assistant and Events Coordinator in the Office of the President, by email at aa308@evansville.edu if you have any questions.
Engineering Career Forum- Register TODAY
Join us Wednesday, January 26 from 6:00pm-8:30pm in Eykamp Hall for the 2022 Engineering Career Forum. Don't miss this opportunity to meet and network with more than a dozen engineering and computer science employers. Panel sessions available to discuss internships, senior year and job search. Contact the Center for Career Development at 812-488-1083 with any questions. Register in Handshake.
UE Work Study Now Available
A limited number of UE Work Study positions are now available in select departments. Openings are listed on WebAdvisor under Student Employment. Students do not need to be eligible for Federal Work Study to apply. For questions, email Sean Riley in the Office of Student Financial Services at sr252.
Art Exhibit "David Unsupervised" on Display at Melvin Peterson Gallery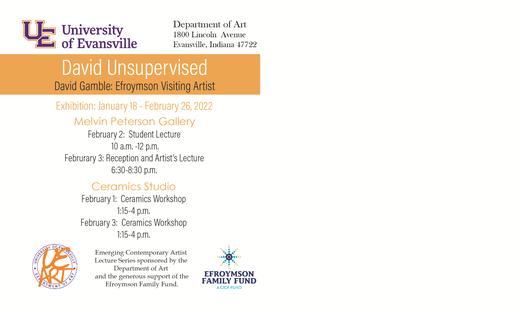 The University of Evansville presents "David Unsupervised," an exhibit by David Gamble, on display at the Melvin Peterson Gallery through Saturday, February 26.
The gallery is open to the campus community and public from noon until 3:00 p.m. on Mondays, Tuesdays, Fridays, and Saturdays; and from noon until 6:00 p.m. on Wednesdays and Thursdays.
A public reception for the artist will be held on Thursday, February 3, from 6:30-8:30 p.m. The reception will be held in the Melvin Peterson Gallery. Gamble will also conduct multiple workshops for art students while visiting.
The exhibit and reception are part of the Emerging Contemporary Artist Lecture Series, sponsored by the Efroymson Family Fund and the UE Department of Art.
The hours for the Melvin Peterson Gallery are Monday 12-3pm; Tuesday 12-3pm, Wednesday 12-6pm, Thursday 12-6pm, Friday 12-3 pm, and Saturday 12-3pm.
The public reception and lecture will take place on February 3 from 6:30-8:30pm in the Melvin Peterson Gallery.
These events are for students only:
Ceramic Workshops on Feb 1 and Feb 3 from 1:15-4pm in Ceramic Studio
Lecture Feb 2 10am-12pm in Melvin Peterson Gallery
Sculpture class on Feb 2 2-4:30pm
David Gamble will be conducting student workshops.
David Gamble has over four decades of balancing art and business in the ceramics industry. While making clay art and teaching, he also developed products and designed marketing campaigns. Gamble has conducted hundreds of workshops in North America, and he has participated in five clay symposiums in Eastern Europe. He holds a Master of Fine Arts degree and contributes an educational focus to the kilns and pottery wheels for Skutt Ceramic Products.
"The glaze surface has always interested me more than the sculptural possibilities in clay," said Gamble. "I layer and multi-fire glaze combinations as if I were using oil paints. I have found I am able to produce what many might consider glaze defects, with some control. This allows me to achieve interesting surfaces, depth, and imagery like I were painting."
For more information, email art@evansville.edu or visit the gallery's Facebook page.
Purple Patrol: February 18 and March 25
We have just two spots left for Spring 2022 Purple Patrol! If you'd like to be a patroller and pass out giveaways with your team or other coworkers, sign up while the spots remain open! The two final dates are for February 18 and March 25.
To sign up, visit this link. Be sure to leave your name and your department when signing up. When it's your turn for Purple Patrol, you will receive an email with instructions.
Road Trip Hosts Needed
The Office of Admission needs current UE students who live in the residence halls or Jones Hall to host prospective high school seniors for Road Trip February 25-27. If you are available, you can apply to host online or by emailing Heather Cook (hw30@evansville.edu) or Jill Fisher (jf223@evansville.edu), or stopping by the Office of Admission (OH 104). Deadline to sign up is Friday, February 11.
Please note that Road Trippers are required to follow the same COVID-19 precautions as current students. This includes being vaccinated or submitting a negative test prior to arriving on campus.
Become An RA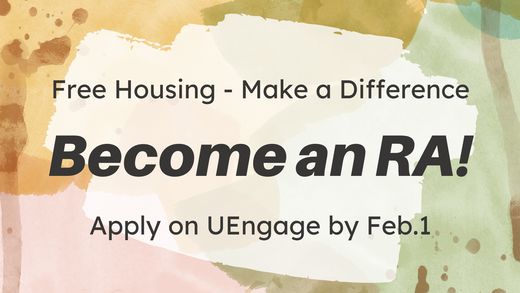 Interested in creating community? Getting involved? Free Housing? Apply to be an RA on UEngage by Feb.1! If you have question, email Lily Renfro (lr156) or Will McDonner (wm99) for more information.
Center for Diversity Equity and Inclusion is Hiring
The Center for Diversity Equity and Inclusion (CDEI) is hiring 2 new Federal Work Study Student Assistants for the Spring semester. Student Assistants will focus on projects and programming related to DEI at UE. All of those interested in DEI and fostering a sense of inclusion and belonging at the University of Evansville are encouraged to apply.
As a Center for Diversity, Equity, and Inclusion Student Assistant, you will be expected to work approximately 9 hours per week during arranged office hours Monday through Friday during those times when fall and spring classes are in session. The specific hours worked will be at the discretion of the Center for DE&I (based on your class schedule and the needs of the office). Some work may include evenings and weekends based on event and project needs.
Required Skills:
Excellent written and verbal communication skills, demonstrated organizational skills, attention to detail, strong interest in promoting diversity, equity, and inclusion at the University of Evansville, interest and/or experience in programming/ events, experience with social media, strong comfort level with people from a variety of backgrounds, as well as a willingness to expand knowledge and skills related to diversity and inclusion, ability to convey complicated and/or controversial information in a respectful manner, commitment to fostering diversity in a working and learning environment.
Positions are open until filled.
To be considered, please fill out an application through Webadvisor and email to the CDEI at Center4DEI@evansville.edu
Faculty Scholarship Display & Reception
The Libraries will be hosting the FACULTY SCHOLARSHIP DISPLAY from January 24 through February 6, 2022. Works produced or published or grants received from August 2020 until July 2021 were eligible for inclusion. You should wander over and take at look at your colleagues' impressive scholarship!
A reception in honor of all Faculty Scholars will be held on Wednesday, January 26th @ 4 pm in the Libraries' Boardroom. I hope you can attend.
Men's basketball rebounds with home win over ISU
Less than 48 hours after a road defeat at Redbird Arena, a reenergized University of Evansville squad battled it out with Illinois State, earning a 56-53 win over the Redbirds inside the Ford Center on Sunday.
The defense for the Purple Aces (5-13, 1-6 MVC) stepped up to the challenge, holding ISU (10-10, 3-4 MVC) to 40.0% shooting for the game and 38.5% in the second half. That effort came less than two days after Illinois State shot 70.2% on their way to 94 points. Shamar Givance led UE with 18 points and four assists. Noah Frederking had a strong performance, scoring 14 points while finishing with a game-high 7 rebounds. Evan Kuhlman scored 12 points while hitting a pair of triples.
"For our guys to respond the way they did today is very encouraging," UE head coach Todd Lickliter exclaimed. "They were committed to playing better and the leadership that we had from our players was really important."
Over the first five minutes of the game, Illinois State took a 6-0 lead while the defense held the Aces to an 0-for-6 start from the floor and four turnovers. Preston Phillips found Blake Sisley underneath the basket for UE's first basket of the game before the Redbirds countered with a basket to cap off a 4-for-8 start.
After ISU took a 17-9 lead with the period entering the midway point, Evansville began to claw its way back. Evan Kuhlman's second 3-pointer of the day was followed by a Phillips bucket to get UE back within a possession at 17-14. Mark Freeman converted for Illinois State at the 5:01 mark to push the lead back to five, but a quick spurt by the Aces tied the score.
Noah Frederking connected from downtown with Shamar Givance earning the assist. On the ensuing ISU possession, Givance hauled in the defensive rebounds and went the distance, hitting a layup in transition to tie the score at 19-19 with 4:24 showing on the clock. After a time out to regroup, ISU went on to score the final six points of the half while holding UE to 0-5 shooting and a turnover as they entered the break with a 25-19 advantage.
Kuhlman continued his strong performance in the second half, knocking down a pair of free throws following an ISU technical before finding Frederking cutting to the basket to make it a 25-23 game. With 18:39 remaining, a 3-point play by Shamar Givance gave Evansville its first lead of the day at 26-25. Jawaun Newton added a triple to cap off a 3-for-5 start to the half while cementing a 4-point lead.
Evansville added to the lead over the next segment with two free throws by Givance pushing the advantage to 38-30 with 13:23 left in the game. Facing its largest deficit of the day, the Redbirds kicked it into gear, hitting five of their next six shots while scoring 12 in a row to retake the lead at 42-38. Givance halted what was a scoreless drought of just over four minutes with a 3-point play at the 9:07 mark before a Redbird score cemented a 44-41 edge.
Back-to-back fast break baskets saw UE jump back in front. Kuhlman scored following an ISU turnover before Givance ran it down the floor following a Redbird miss. With just over five minutes left, it was Freeman who gave ISU the lead with a floater in the lane before Frederking knocked down two free throws to put UE back in front. A huge defensive possession saw Evansville force an ISU miss with Phillips grabbing the rebound and finding Givance for a bucket to push the lead to 49-46 with 3:54 remaining, but ISU got back within one thanks to an Antonio Reeves basket on the next possession.
Frederking's second triple of the day proved to be a big one as he took a Givance pass and turned it into a 52-48 edge. Illinois State made a final rally, scoring the next four points to tie it up at 52-52 entering the final minute. A pivotal UE possession saw Phillips grab an offensive carom before Givance scored to break the tie. ISU went to the line with a chance to tie it with three seconds left, but after making the first, the second one hit the front of the rim, giving the Aces the possession. Phillips was fouled on the inbound and the freshman converted both free throw attempts to make it a 56-53 game with just over a second left. ISU had a final heave from half court fall just short, giving UE the win.
"We played with a chip on our shoulder today – ISU shot 70% against us on Friday and we were not going to let that happen again," Frederking said after the win. "Coach told us that we needed to either play hard or get beat. Our guys brought that intensity on every play today."
Reeves was the leading scorer for ISU, finishing with 23 points on 11-of-19 shooting while Freeman scored 11. For the game, the Redbirds finished at 40.0% with UE shooting 38.0%. A strong final 20 minutes saw the Aces saw them shoot 52.2% on the way to the win. Another home game is set for Wednesday when UE plays host to UNI in a 6 p.m. start at the Ford Center.
UE men welcome Illinois State for West Side Game on Sunday
Game two of a weekend home-and-home will see the University of Evansville men's basketball team welcome Illinois State to the Ford Center for a 1 p.m. tip on Sunday. The MVC TV Network, ESPN+ and the Purple Aces Radio Network will have the coverage.
West Side Night
- One of the new traditions at the Ford Center continues on Sunday with the annual West Side Game
- Fans who mention "West Side Game" will have the opportunity to purchase tickets to the contest for just $5 (locations determined by availability)
Last Time Out
- Another big second half by the opposition saw Illinois State turn a 44-34 lead at the half into a 94-56 win on Friday night inside Redbird Arena
- ISU shot 70.2% in the contest, the most this season by a Division I school versus another DI opponent
- Jawaun Newton and Blake Sisley finished with 10 points apiece...Newton paced the team with six caroms while Sisley reached double figures for the second time in his career, just behind his high of 12 at SEMO
- Preston Phillips tied his freshman scoring high with five points
Second Half Woes
- Huge second-half runs by the opposition has played a huge role over the last three contests
- In the first half, the Aces have held the opposing teams to 40-of-86 shooting (46.5%) while being within 12 points at the break in each game
- The second half has been a different story with the last three teams outscoring UE by a 140-69 margin in the final 20 minutes while hitting 58 out of 85 attempts (68.2%)
Taking Care of the Ball
- UE has excelled in taking care of the basketball, finishing with single digit turnovers in seven of the last 10 games
- Over those 10 outings, UE has turned the ball over just 89 times, an average of 8.9 per game - that tally is on pace with the best in the nation with Wisconsin currently averaging 8.4
- The 10-game streak has seen Evansville turn it over 11 times of less in each game
- That is a huge disparity from the first seven outings where UE committed 99 turnovers, an average of 14.1 per game
Taking Advantage
- One of the bright spots over the previous three contests has been the efficient free throw shooting by UE
- As a team, the Aces have hit 91.3% of their attempts from the line (21/23) while pushing the season mark to 70.8%
Make it 15
- For the 15th time in the last 16 games, Jawaun Newton reached double figures, tying for the team lead with 10 points in Friday's contest at Illinois State
- His season mark of 14.1 points per game is tied with Shamar Givance for the team lead along with the 10th spot in the Valley
- Since opening the season with 5 points at Cincinnati, Newton has averaged 14.6 points with his career game coming against Rice where he scored 30 points on a 12-of-25 shooting effort
- An efficient shooter, Newton checks in at 44.4% on the season, but over the last three games he has finished at 13-of-37 (35.1%)
- Newton continues to rack up the rebounds a the top level of his career, pacing the squad with 5.9 per game; that average is even higher over the last nine games with his mark standing at 6.6
Making the Adjustment
- For the second time this season and first since a career-high of 12 points against Tennessee Tech, Blake Sisley finished in double figures with 10 points on Friday at Redbird Arena
- Sisley opened the season with a total of three points in his first six games, but his career game against TTU got him on track and he has posted an average of 5.4 PPG in his last seven contests
- Sisley has earned more playing time as the season has moved along, culminating in his top total of 24:33 against Drake...entering the EIU game, Sisley played an average of 4.2 minutes per game and had not seen the floor for more than 8 minutes in any contest...since then, he has played 12+ minutes in 8 out of 9 games
- Over the last seven outings, Sisley has drained 6 out of 12 attempts from outside
Matching His High
- Hitting two of his three field goal tries, Preston Phillips tied his freshman high of five points in the contest at Illinois State
- Phillips has started the last four games and a total of six contests on the season
- He had a strong performance at Bradley that saw him set his freshman marks in rebounds (9) and minutes played (30:32)
- In an interesting twist, Phillips was credited with 2+ rebounds in each of his first 13 games of the season, but he has not recorded a board over the last two contests
- Averaging 18.4 minutes per game, Phillips has played at least 15 minutes in six consecutive outings
UE Track & Field Breaks Two More Records, Sets Eight PRs at Bellarmine Open
The University of Evansville track and field teams broke both distance medley relay records on Friday, and the Purple Aces set eight individual personal-best marks, as UE competed in the Bellarmine Open presented by Urban Shipper at the Norton Healthcare Sports & Learning Center in Louisville, Kentucky.
The men's distance medley relay team of freshman Adam Oulgout (St. Paul, Minn./Central), sophomore Peter Epur (Eldoret, Kenya), graduate student J.J. Pedersen (Milford, Conn./Platt Tech) and junior Jackson Maurer (Evansville, Ind./Gibson Southern) opened the track portion of the meet for UE by breaking a 40-year-old record in the event with a time of 10:44.40. The previous mark was 10:50.82 and was set in 1982.
The women's DMR team of seniors Sam Weldon (Ft. Wayne, Ind./Bishop Dwenger) and Haley Dean (Lacombe, La./Lakeshore), freshman Kara Yunker (Evansville, Ind./North) and graduate student Anna Lowry (Taylorville, Ill./Taylorville) then took the track and demolished the school record in the event by nearly 40 seconds by clocking in with a time of 12:51.96. Those times set the tone for the day for UE, as Evansville would experience individual success in a meet with no team scores.
"I continue to be impressed with this group this year," said UE head track and field coach Don Walters. "We were short-handed today, but that didn't stop anyone from going out and giving it their all and setting some personal-best times and throws.
"This bus ride back is going to be an enjoyable one, and I am really proud of the team for the effort they put in today."
Senior thrower Andrew Schuler (Ferdinand, Ind./Forest Park) would record his best career shot put mark of 13.47 meters to place sixth in an event won by teammate Mike Boots (Evansville, Ind./Mater Dei), who won with a toss of 14.87 meters. Junior thrower Zach Dove (Princeton, Ind./Princeton Community) would also turn in a personal-best performance in the weight throw, as he finished second with a PR mark of 15.26 meters.
On the track, UE set four individual PRs in the 800-meters, with Weldon turning in her second indoor-best mark in as many meets this year with a time of 2:27.03. Oulgout (2:01.83) and Pedersen (2:03.28) also set PRs in the event on the men's side, while senior Joey Rucinski (Ft. Wayne, Ind./Concordia Lutheran) joined them with a personal-best time of 2:09.12 in the 800-meters.
Maurer would also set a personal-best indoor-mark in the 400-meters for the second time in a week with a time of 55.92. Freshman Denzel Lasam (St. Louis, Mo./De Smet Jesuit) also turned in his best 60-meter dash time as a Purple Ace with a time of 7.51.
Individually, Boots and Lowry both took home individual titles at the meet, as Boots won the shot put, and Lowry cruised to a victory in the women's 3,000-meter race with a time of 10:01.62 to win by over 20 seconds. Dove also finished second overall in the weight throw, and Rucinski claimed a second-place finish in the pole vault with a jump of 4.15 meters.
Evansville will compete for the third weekend in a row next Friday, as the Purple Aces will travel to Muncie, Indiana to take part in the Ball State Indoor Meet, beginning at 9 a.m. central time.
Illinois State erupts in second half to defeat UE men
Friday's home-and-home opener saw Illinois State score the first six points of the game before erupting in the second half to defeat the University of Evansville men's basketball team by a final of 94-56 at Redbird Arena.
Jawaun Newton and Blake Sisley led the Purple Aces (4-13, 0-6 MVC) with 10 points apiece. Newton led UE with six rebounds while Sisley's effort was his second double figure game of his freshman campaign. His top tally of 12 points came in a December win over Tennessee Tech. Four Redbirds (10-9, 3-3 MVC) scored in double figures with Antonio Reeves leading the way with 16.
Illinois State scored the opening six points of the contest before Shamar Givance put UE on the board with a pair of triples that made it an 8-6 game in favor of the Redbirds. Noah Frederking connected on Evansville's third trey to make it a 10-9 ISU lead at the 16:48 mark. While the UE offense was doing a solid job of finding the bottom of the net, Illinois State scorched the nets, hitting 8 of their first 10 attempts to go up 22-12.
The lead for ISU was pushed to 26-11 nine minutes into the game before the Aces chipped away. Triples by Preston Phillips, Antoine Smith Jr. and Gage Bobe highlighted a 12-4 stretch to get UE within seven with 7:29 remaining in the half. With just over five minutes on the clock, ISU pushed the advantage back out to 14 points before UE cut the deficit to 44-34 at the half. Both teams shot very well in the opening 20 minutes with ISU knocking down. 62.1% of their attempts while UIE finished at 48.3%.
Out of the break, the first five points belonged to the Redbirds as they opened their largest lead at 53-36 in the opening four minutes. What would end up being a 19-2 stretch to go up 68-38 and their lead would reach 40 before the Redbirds finished with the 94-56 win. ISU shot 70.2% for the game with the Aces finishing at 43.1%.
Game two of the home-and-home will take place on Sunday with a 1 p.m. tip at the Ford Center.
Contribute to AceNotes
To have content considered for inclusion in AceNotes, please submit a Marketing Request Form. Deadline for submission to AceNotes is 10:00 a.m. on the requested date of publication. Only articles concerning UE related/sponsored activities will be accepted. Articles submitted to AceNotes may be edited for length and clarity. Submitter contact information is at the end of each article.