| | |
| --- | --- |
| AceNotes Today | Friday, January 21, 2022 |
FREE At-Home COVID Tests Available
Order your FREE set of 4 Free At-Home COVID-19 Tests
The USPS is taking orders for at home COVID tests. One per household. So only one test kit can be ordered per room address or apartment. Roommates will need to coordinate and share.
Students will be notified of test kit arrival via the normal package tracking process for pickup. As a reminder, Distribution Services Hours are M-F 8am - 5pm. Please note that these free test kits could take a couple of weeks to arrive (i.e. 7-12 days to ship and several days for USPS to deliver). But you'll have some tests to have on hand if you develop symptoms.
Provide your complete on-campus residential address when ordering in the following format:
First Name Last Name
Hall Address, Room Number
Evansville, Indiana 47714
Questions? Contact coronavirustaskforce@evansville.edu or check out UE's COVID resources.
Zoom Poetry Reading Tomorrow
Join UE Creative Writing grad Jenna Sumpter at the Kelsay Books poetry reading tomorrow (Saturday, January 22nd) at 2 PM Central Time! Email js839@evansville.edu or kelsay.karen@gmail.com to reserve a place, or register here.
MOVED to ZOOM: UE Gospel Choir Interest Meeting
The Gospel Choir interest meeting will take place on Zoom today (1/20) at 7:00 pm.
Please use the following connection information to join the call.
Rob Shelby (he/him) is inviting you to a scheduled Zoom meeting.
Topic: Gospel/P&W Choir Callout Meeting
Time: Jan 20, 2022 07:00 PM Central Time (US and Canada)
Join Zoom Meeting
https://evansville-edu.zoom.us/j/94108626548
Meeting ID: 941 0862 6548
One tap mobile
+13126266799,,94108626548# US (Chicago)
+16465588656,,94108626548# US (New York)
Dial by your location
+1 312 626 6799 US (Chicago)
+1 646 558 8656 US (New York)
+1 301 715 8592 US (Washington DC)
+1 346 248 7799 US (Houston)
+1 669 900 9128 US (San Jose)
+1 253 215 8782 US (Tacoma)
Meeting ID: 941 0862 6548
Find your local number: https://evansville-edu.zoom.us/u/abJqHONsry
Join by SIP
94108626548@zoomcrc.com
We look forward to seeing you.
CDEI Presents...I-House: Civil Rights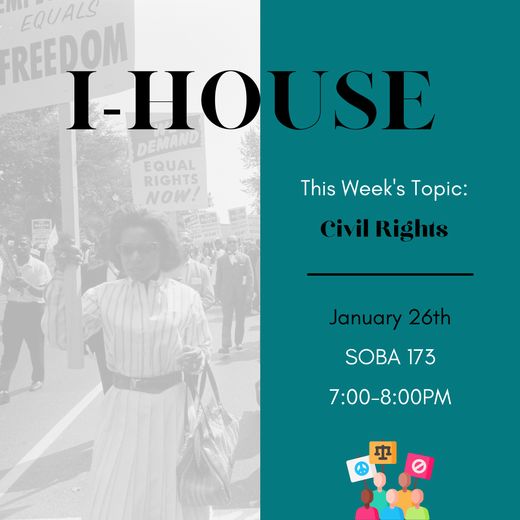 The Center for Diversity, Equity, and Inclusion is proud to announce that it will be hosting its first I-House of the semester on Wednesday, January 26th from 7-8pm. Join us in SOBA 173 for a discussion on Civil Rights. Hope to see you there!
Take Back the Night vigil on Jan 24
Join Women's Rights Awareness as we hold an event to raise awareness and support victims and survivors of domestic violence on Monday, January 24. We will begin in SOBA 170 at 5pm with a speaker from Albion Fellows and a chance for people to share their own stories, followed up by a short walk around campus and a silent vigil on the East Terrace Lawn.
You're Invited! Coffee, Cocoa, and Cupcakes with Dean Clayton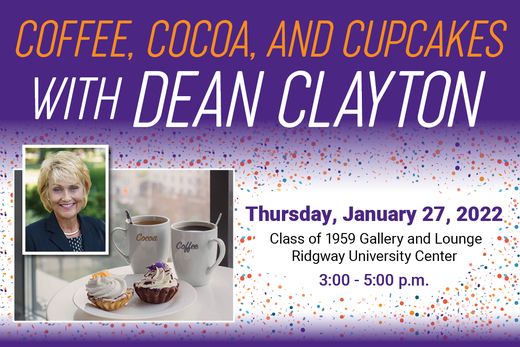 After 32 years of extraordinary service, Dr. Dana Clayton will retire at the end of January as Vice President for Student Affairs and Dean of Students for the University of Evansville.
To celebrate her remarkable contributions and legacy as an advocate, mentor, and friend to countless individuals, the entire campus community is invited to Coffee, Cocoa and Cupcakes with Dean Clayton on Thursday, January 27, from 3:00-5:00 p.m. in the Class of '59 Gallery and Lounge (located on the second floor of Ridgway University Center).
Please contact Alexandra Cooper, Administrative Assistant and Events Coordinator in the Office of the President, by email at aa308@evansville.edu if you have any questions.
Coming Up in Religious Life
Faith In Action is sponsoring a RunHard RestWell Retreat. March 4-6, 2022 @ St. Meinrad Archabbey in St. Meinrad, IN
This is the Friday, Saturday and Sunday before Spring Break (we will be finished by 12 noon on Sunday)
Run Hard. Rest Well is a Non-Profit organization that specializes in Restorative Wellness.
From the stress of Covid, school, jobs, relationships and many more things, our emotional and physical reserves are near empty.
This retreat will help give us the tools and practices we need in our lives to prioritize rest and wellness.
"Navigating seasons of crisis, comeback, and recovery requires the ability to create connection, reduce cortisol, hit pause, and prioritize sleep. These four strategies help students and teachers combat anxiety, restlessness, and depression and position people of every age to flourish." RunHard.RestWell website (runhardrestwell.org)
Cost of the retreat is only $100/ student for the entire retreat. This includes lodging (2 students/room with a private bath) and all meals.
A deposit of $50 is due by February 1st. Please Jeremy Seger js948@evansville.edu, Madeline Ebbott, me170@evansville.edu or Emilee Scheumann, es331@evansville.edu to reserve your spot.
There are only 10 spots available so please let us know as soon as possible.
Engineering Career Forum- Register TODAY
Join us Wednesday, January 26 from 6:00pm-8:30pm in Eykamp Hall for the 2022 Engineering Career Forum. Don't miss this opportunity to meet and network with more than a dozen engineering and computer science employers. Panel sessions available to discuss internships, senior year and job search. Contact the Center for Career Development at 812-488-1083 with any questions. Register in Handshake.
Purple Patrol: February 18 and March 25
We have just two spots left for Spring 2022 Purple Patrol! If you'd like to be a patroller and pass out giveaways with your team or other coworkers, sign up while the spots remain open! The two final dates are for February 18 and March 25.
To sign up, visit this link. Be sure to leave your name and your department when signing up. When it's your turn for Purple Patrol, you will receive an email with instructions.
Road Trip Hosts Needed
The Office of Admission needs current UE students who live in the residence halls or Jones Hall to host prospective high school seniors for Road Trip February 25-27. If you are available, you can apply to host online or by emailing Heather Cook (hw30@evansville.edu) or Jill Fisher (jf223@evansville.edu), or stopping by the Office of Admission (OH 104). Deadline to sign up is Friday, February 11.
Please note that Road Trippers are required to follow the same COVID-19 precautions as current students. This includes being vaccinated or submitting a negative test prior to arriving on campus.
Consent to Receive Electronic W-2s and 1095-Cs
Consent to Receive Electronic W-2s and 1095-Cs
The Office of Accounting/Payroll will be issuing W-2s for 2021 no later than January 31, 2022. You may choose 1 of 2 options to receive your W-2:
Electronic W-2 – If you provide your consent, you will be able to view/print in Self-Service as soon as they are ready. Notification will be sent through AceNotes.
Paper W-2 – If you prefer, you can continue to receive your W-2 in the mail.
An electronic W-2 will give you earlier access than a mailed copy. It is IRS compliant and can be submitted with your tax return as usual.
To give consent for the electronic W-2, log in to Self-Service https://selfservice.evansville.edu and go to "Tax Information". Select "Receive my W-2 only in electronic form" and save.
If you are eligible to participate in the university's health plans, you may give consent to receive your 1095-C form electronically here also. If you choose to withhold your consent to view/print your online W-2 and 1095-C, a paper copy will be mailed to your home address.
If you have questions, please contact Dawn Bury at ext 2159 or db287@evansville.edu.
Center for Diversity Equity and Inclusion is Hiring
The Center for Diversity Equity and Inclusion (CDEI) is hiring 2 new Federal Work Study Student Assistants for the Spring semester. Student Assistants will focus on projects and programming related to DEI at UE. All of those interested in DEI and fostering a sense of inclusion and belonging at the University of Evansville are encouraged to apply.
As a Center for Diversity, Equity, and Inclusion Student Assistant, you will be expected to work approximately 9 hours per week during arranged office hours Monday through Friday during those times when fall and spring classes are in session. The specific hours worked will be at the discretion of the Center for DE&I (based on your class schedule and the needs of the office). Some work may include evenings and weekends based on event and project needs.
Required Skills:
Excellent written and verbal communication skills, demonstrated organizational skills, attention to detail, strong interest in promoting diversity, equity, and inclusion at the University of Evansville, interest and/or experience in programming/ events, experience with social media, strong comfort level with people from a variety of backgrounds, as well as a willingness to expand knowledge and skills related to diversity and inclusion, ability to convey complicated and/or controversial information in a respectful manner, commitment to fostering diversity in a working and learning environment.
Positions are open until filled.
To be considered, please fill out an application through Webadvisor and email to the CDEI at Center4DEI@evansville.edu
Faculty Scholarship Display & Reception
The Libraries will be hosting the FACULTY SCHOLARSHIP DISPLAY from January 24 through February 6, 2022. Works produced or published or grants received from August 2020 until July 2021 were eligible for inclusion. You should wander over and take at look at your colleagues' impressive scholarship!
A reception in honor of all Faculty Scholars will be held on Wednesday, January 26th @ 4 pm in the Libraries' Boardroom. I hope you can attend.
Men's basketball set for home-and-home with Illinois State
A unique weekend is on tap for the University of Evansville men's basketball team, who will take on Illinois State in a home-and-home, which begins on Friday at 6 p.m. in Normal, Ill. ESPN+ and the Purple Aces Radio Network will have the coverage.
Last Time Out
- Just a day after moving into the national rankings, Loyola shot 62.8% on Tuesday on its way to a 77-48 win over the Purple Aces
- Evansville scorched the nets in the opening minutes, hitting its first five attempts on its way to a 6-0 lead; the Aces would lead by a 13-8 score before the Ramblers flexed their muscle, taking a 30-24 halftime lead before pulling away in the second half
- Jawaun Newton and Shamar Givance led UE with 13 and 12 points, respectively while Noah Frederking recorded 11 points as he went a perfect 4-for-4 from the field and 3-of-3 from outside
Leading the Way
- Jawaun Newton scored a team-high 13 points on Tuesday against #22 Loyola and stands with a season average of 14.3 PPG and ranks 9th in the MVC
- Since opening the season with 5 points at Cincinnati, Newton has averaged 14.9 points with his career game coming against Rice where he scored 30 points on a 12-of-25 shooting effort
- An efficient shooter, Newton checks in at 44.6% on the season, but over the last two games he has finished at 9-of-27 (33.3%)
Back in Form
- Over the last three games, Noah Frederking has converted 5 of his 9 3-point attempts and appears to be rebounding from a tough stretch in December
- While the last 10 games have seen him hit 14 out of 58 triples, he was a perfect 3-of-3 against Loyola and has hit at least two shots from outside in four of the last five games
- Frederking is averaging 7.5 points on the season, which was capped off by an 11-point game on Tuesday against the Ramblers where he was 4-for-4 from the field
Scouting the Opponent
- Illinois State comes into Friday's game with a 9-9 overall mark while going 2-3 through their opening five MVC outings
- On Wednesday, the Redbirds dropped an 88-63 decision at Missouri State to split the season series against the Bears
- Antonio Reeves is the leading scorer for ISU while pacing the MVC
- Reeves has averaged 20.4 points per game and is shooting 45.9% from the field and 78.1% from the line
- Sy Chatman has notched 14.2 PPG while pacing the team with an average of 6.4 rebounds
- Josiah Strong checks in with a 12.7 PPG average
UE Track & Field Heads To Bellarmine Open On Friday
The University of Evansville track and field teams will return to the track on Friday, as the Purple Aces will take part in the Bellarmine Open presented by Urban Shipper at the Norton Healthcare Sports & Learning Center in Louisville, Kentucky. The meet will begin Friday morning at 10 a.m. central.
Evansville will return to action just six days after opening its 2022 indoor season at the John Craft Invitational hosted by Eastern Illinois last Saturday. In a meet that did not feature team scores, Evansville set nine personal-best marks on Saturday, including a school-record indoor long jump of 6.66 meters by senior Trey Riggs (Ft. Branch, Ind./Gibson Southern).
"Looking back on last weekend, I was really proud of how the team performed last Saturday," said UE track and field coach Don Walters. "Across the board, even from people who did not place, we had people step up and turn some really good times, and produce some really good throws, and turn in some amazing jumps, and I really could not ask much more for the first meet of the year.
"This week, I'm just excited to be able to go to a new, state-of-the-art facility to compete. I think that the student-athletes are really going to enjoy this facility, as it is one of the best in the region, and I think that we are going to go over there and lay down some really good times and good jumps."
The Norton Healthcare Sports & Learning Center opened last February, and features the only banked indoor track in the state of Kentucky. It's 200-meter hydraulically banked track designed by Mondo and Kiefer is one of only eight such tracks in the United States, and only 17 such tracks in the world. It also features an eight-lane 60-meter track on the infield and a separate area for throws and jumps.
Evansville will be joined at the meet by teams from Bellarmine, Campbellsville (KY), Centre, Cumberland (TN), Illinois-Springfield, IUPUI, Morehead State, Murray State, Northern Kentucky, the University of Southern Indiana, UT Martin, Union (KY), and Xavier. Spectators are allowed. Cost is $10 for adults, $7 for kids (3-17), and children under three-years-old are free. Parking is $5 per car, and all payments must be made with credit/debit card, as there will be no cash accepted. Masks are mandatory for all spectators.
Contribute to AceNotes
To have content considered for inclusion in AceNotes, please submit a Marketing Request Form. Deadline for submission to AceNotes is 10:00 a.m. on the requested date of publication. Only articles concerning UE related/sponsored activities will be accepted. Articles submitted to AceNotes may be edited for length and clarity. Submitter contact information is at the end of each article.