| | |
| --- | --- |
| AceNotes Today | Wednesday, January 19, 2022 |
CDEI Presents...I-House: Civil Rights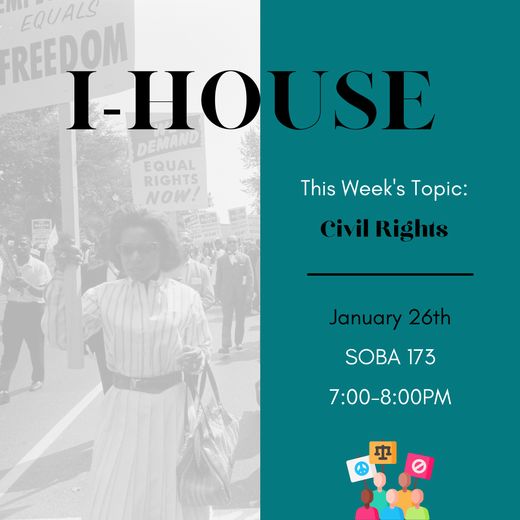 The Center for Diversity, Equity, and Inclusion is proud to announce that it will be hosting its first I-House of the semester on Wednesday, January 26th from 7-8pm. Join us in SOBA 173 for a discussion on Civil Rights. Hope to see you there!
You're Invited! Coffee, Cocoa, and Cupcakes with Dean Clayton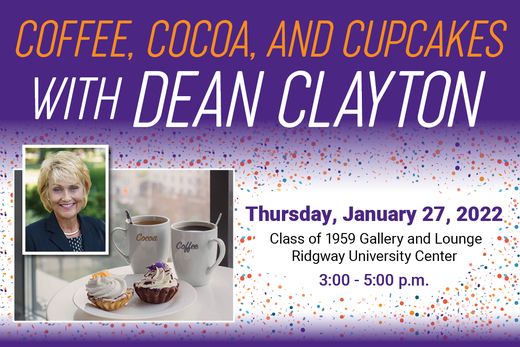 After 32 years of extraordinary service, Dr. Dana Clayton will retire at the end of January as Vice President for Student Affairs and Dean of Students for the University of Evansville.
To celebrate her remarkable contributions and legacy as an advocate, mentor, and friend to countless individuals, the entire campus community is invited to Coffee, Cocoa and Cupcakes with Dean Clayton on Thursday, January 27, from 3:00-5:00 p.m. in the Class of '59 Gallery and Lounge (located on the second floor of Ridgway University Center).
Please contact Alexandra Cooper, Administrative Assistant and Events Coordinator in the Office of the President, by email at aa308@evansville.edu if you have any questions.
Charlas: Informal conversation in Spanish
Wanting to practice conversation in Spanish? The next session of Charlas is Thursday, January 20 at 5:30 p.m. - Central Time. This opportunity is for anyone at the intermediate or advanced Spanish language level. For more information, contact associate professor of Spanish Diana Rodríguez Quevedo at dr130@evansville.edu.
Coming Up in Religious Life
Faith In Action is sponsoring a RunHard RestWell Retreat. March 4-6, 2022 @ St. Meinrad Archabbey in St. Meinrad, IN
This is the Friday, Saturday and Sunday before Spring Break (we will be finished by 12 noon on Sunday)
Run Hard. Rest Well is a Non-Profit organization that specializes in Restorative Wellness.
From the stress of Covid, school, jobs, relationships and many more things, our emotional and physical reserves are near empty.
This retreat will help give us the tools and practices we need in our lives to prioritize rest and wellness.
"Navigating seasons of crisis, comeback, and recovery requires the ability to create connection, reduce cortisol, hit pause, and prioritize sleep. These four strategies help students and teachers combat anxiety, restlessness, and depression and position people of every age to flourish." RunHard.RestWell website (runhardrestwell.org)
Cost of the retreat is only $100/ student for the entire retreat. This includes lodging (2 students/room with a private bath) and all meals.
A deposit of $50 is due by February 1st. Please Jeremy Seger js948@evansville.edu, Madeline Ebbott, me170@evansville.edu or Emilee Scheumann, es331@evansville.edu to reserve your spot.
There are only 10 spots available so please let us know as soon as possible.
Engineering Career Forum- Register TODAY
Join us Wednesday, January 26 from 6:00pm-8:30pm in Eykamp Hall for the 2022 Engineering Career Forum. Don't miss this opportunity to meet and network with more than a dozen engineering and computer science employers. Panel sessions available to discuss internships, senior year and job search. Contact the Center for Career Development at 812-488-1083 with any questions. Register in Handshake.
Road Trip Hosts Needed
The Office of Admission needs current UE students who live in the residence halls or Jones Hall to host prospective high school seniors for Road Trip February 25-27. If you are available, you can apply to host online or by emailing Heather Cook (hw30@evansville.edu) or Jill Fisher (jf223@evansville.edu), or stopping by the Office of Admission (OH 104). Deadline to sign up is Friday, February 11.
Please note that Road Trippers are required to follow the same COVID-19 precautions as current students. This includes being vaccinated or submitting a negative test prior to arriving on campus.
Consent to Receive Electronic W-2s and 1095-Cs
Consent to Receive Electronic W-2s and 1095-Cs
The Office of Accounting/Payroll will be issuing W-2s for 2021 no later than January 31, 2022. You may choose 1 of 2 options to receive your W-2:
Electronic W-2 – If you provide your consent, you will be able to view/print in Self-Service as soon as they are ready. Notification will be sent through AceNotes.
Paper W-2 – If you prefer, you can continue to receive your W-2 in the mail.
An electronic W-2 will give you earlier access than a mailed copy. It is IRS compliant and can be submitted with your tax return as usual.
To give consent for the electronic W-2, log in to Self-Service https://selfservice.evansville.edu and go to "Tax Information". Select "Receive my W-2 only in electronic form" and save.
If you are eligible to participate in the university's health plans, you may give consent to receive your 1095-C form electronically here also. If you choose to withhold your consent to view/print your online W-2 and 1095-C, a paper copy will be mailed to your home address.
If you have questions, please contact Dawn Bury at ext 2159 or db287@evansville.edu.
Center for Diversity Equity and Inclusion is Hiring
The Center for Diversity Equity and Inclusion (CDEI) is hiring 2 new Federal Work Study Student Assistants for the Spring semester. Student Assistants will focus on projects and programming related to DEI at UE. All of those interested in DEI and fostering a sense of inclusion and belonging at the University of Evansville are encouraged to apply.
As a Center for Diversity, Equity, and Inclusion Student Assistant, you will be expected to work approximately 9 hours per week during arranged office hours Monday through Friday during those times when fall and spring classes are in session. The specific hours worked will be at the discretion of the Center for DE&I (based on your class schedule and the needs of the office). Some work may include evenings and weekends based on event and project needs.
Required Skills:
Excellent written and verbal communication skills, demonstrated organizational skills, attention to detail, strong interest in promoting diversity, equity, and inclusion at the University of Evansville, interest and/or experience in programming/ events, experience with social media, strong comfort level with people from a variety of backgrounds, as well as a willingness to expand knowledge and skills related to diversity and inclusion, ability to convey complicated and/or controversial information in a respectful manner, commitment to fostering diversity in a working and learning environment.
Positions are open until filled.
To be considered, please fill out an application through Webadvisor and email to the CDEI at Center4DEI@evansville.edu
Biology Professors Publish Research
Dale Edwards, Professor of Biology, and Noah Gordon, Associate Professor of Biology, published the results of a long-term study in the latest issue of the Journal of Parasitology. This study compared the parasite faunas of green treefrogs from historical and expanded-range populations to determine whether these latter populations exhibited reduced parasitism by escaping their native range parasites. Results of this study revealed that green treefrogs from expanded-range locations exhibited significant decreases in parasite species diversity compared with those from historical sites and support the notion that individuals at the front of a range expansion often invest less energy in reproduction and in doing so allocate more energy to dispersal and other life-history traits, including resistance to parasites.
Slow start trips up Aces in road loss at Indiana State
Troubled by an early shooting slump, the University of Evansville women's basketball team dropped a road MVC contest at Indiana State, 69-51, on Tuesday evening in Terre Haute, Ind.
With the 1,000 point mark on the horizon, junior Abby Feit led the way for the Aces, coming-up just seven points shy of the plateau, scoring 16 points and adding 12 boards for a double-double. Putting in one of her best performances of the season was senior Anna Newman, who finished with 11 points with six coming at the charity stripe. The Sycamores were led by Del'Janae Williams, who tallied a game-high 21 points, shooting 7-13 from the field on the night.
A sluggish start out of the gate for the Aces allowed Indiana State to build an early advantage. The Sycamores scored 12 of the game's first 15 points building a 12-3 lead over Evansville with nearly seven minutes gone by in the opening stanza. In the first quarter, the Aces shot just 11.8% (2-17) from the field, but Anna Newman banked home a triple in the final seconds to push UE back within single digits at 15-8 following the opening 10 minutes.
Indiana State rebuilt its lead to open the second quarter, growing it to its largest point at 20-8 on a three-pointer less than two minutes into the period. Evansville would roar back, putting together a solid eight miutes to close-out the half. Answering Indiana State's 12-3 game-opening run, the Aces put together a 12-3 run of their own, closing within three at 23-20 and forcing a Sycamore timeout with 3:16 left in the half. Evansville kept pace with the Sycamores as the half came to a close, getting a layup from Newman late to trail 30-24 at the break.
Coming out of the half, the Sycamores went on a 9-2 run to take control of the contest, shooting nearly 50% (18-37) from the field over the final three quarters as Indiana State captured the 69-51 win.
Evansville's busy week continues with a trip to take on Loyola on Friday in Chicago, followed by a contest at Valparaiso to close the weekend on Sunday in Valparaiso, Ind.

Second half rally pushes #22 Loyola to win over Aces
Jawaun Newton, Shamar Givance and Noah Frederking scored in double figures on Tuesday when the University of Evansville men's basketball team fell to #22 Loyola by a final of 77-48 inside the Ford Center.
Newton led the Purple Aces (4-12, 0-5 MVC) with 13 points while Givance finished with 12. Frederking was a perfect 3-for-3 from outside on his way to an 11-point outing. Evan Kuhlman paced the team with five rebounds while tying for the team lead with three assists. Leading the Ramblers (14-2, 5-0 MVC) was Lucas Williamson, who converted five 3-pointers to finish with 15 points. Chris Knight added 12 points for the Ramblers.
"We have played some good basketball, but have not been able to do it consistently. When you are trying to develop and build, you are likely to struggle," UE head coach Todd Lickliter said following the game. "I told the guys not to give in or feel sorry for ourselves. We need to take away the positives and concentrate on putting together longer stretches of good basketball."
A pair of 3-pointers got things going for UE, who jumped out to a 6-0 advantage. Preston Phillips and Jawaun Newton hit the triples to give Evansville the early lead. Both teams enjoyed early shooting success, combining to hit the first eight attempts of the night. The Aces were 5-for-5 while the Ramblers knocked down their first three tries, leading to a 13-8 UE lead just over four minutes into the contest.
Loyola battled back, tying it at 13-13 at the 12:41 mark before going in front for the first time at 16-15. A 9-0 run saw the Ramblers open up a 22-15 lead with 8:58 showing on the clock, but the Aces would not let them get too far in front, clawing back with Noah Frederking knocking down a triple to end the Rambler run. Inside of seven minutes remaining, a basket by Newton tied the score at 22-22.
The Ramblers countered with a score on the other end on their way to completing the half on an 8-2 run to take a 30-24 halftime advantage. After making their first five attempts of the night, UE hit four of the final 20 attempts while the Ramblers, who were 3-for-3 to open the game, hit six of their final 15 tries in the opening stanza. Newton led all scorers with 11 at the break.
Things continued to trend in the Ramblers direction in the second half with back-to-back triples extending the lead to 15 points (46-31) before the advantage reached 20 points (51-31) with 11:36 showing on the clock. Loyola would extend the advantage to as many as 31 in the final minutes before taking home a 77-48 decision. UE finished the game shooting 32.7% while the Ramblers finished at 62.8% for the game while scoring the nets to the tune of 72.0% in the second half. In the final 20 minutes, Loyola hit 6 out of 7 attempts from outside.
This weekend, the Aces will face Illinois State in a home-and-home series. UE will be in Normal, Ill. on Friday for a 6 p.m. game with the return contest at the Ford Center set for Sunday at 1 p.m.
Contribute to AceNotes
To have content considered for inclusion in AceNotes, please submit a Marketing Request Form. Deadline for submission to AceNotes is 10:00 a.m. on the requested date of publication. Only articles concerning UE related/sponsored activities will be accepted. Articles submitted to AceNotes may be edited for length and clarity. Submitter contact information is at the end of each article.