| | |
| --- | --- |
| AceNotes Today | Tuesday, January 18, 2022 |
Event today for domestic violence awareness
Join Women's Rights Awareness in Eykamp 253-255 today from 4-5pm to participate in the Clothesline Project. Anyone can come by and paint a shirt, which will be hung in Ridgway as a visual reminder of the victims and survivors of domestic violence. This event will culminate in a Take Back the Night vigil next week.
You're Invited! Coffee, Cocoa, and Cupcakes with Dean Clayton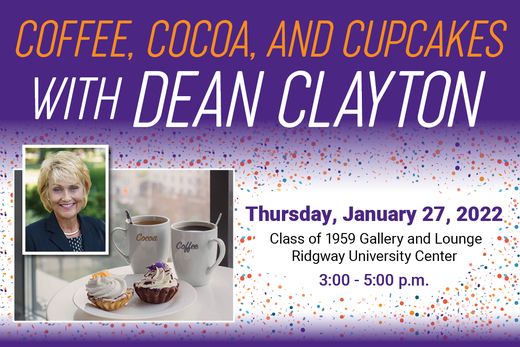 After 32 years of extraordinary service, Dr. Dana Clayton will retire at the end of January as Vice President for Student Affairs and Dean of Students for the University of Evansville.
To celebrate her remarkable contributions and legacy as an advocate, mentor, and friend to countless individuals, the entire campus community is invited to Coffee, Cocoa and Cupcakes with Dean Clayton on Thursday, January 27, from 3:00-5:00 p.m. in the Class of '59 Gallery and Lounge (located on the second floor of Ridgway University Center).
Please contact Alexandra Cooper, Administrative Assistant and Events Coordinator in the Office of the President, by email at aa308@evansville.edu if you have any questions.
This Week in Music
The Music Conservatory recital series resumes this Tuesday, January 18 with the Harlaxton Quintet, UE's resident faculty woodwind quintet. The quintet's members, Leanne Hampton, flute; Elizabeth Robertson, oboe; Thomas Josenhans, clarinet; Edwin Lacy, bassoon, and Rebecca Salo, horn will perform a recent word by Fred Onovwerosuoke as well as historical works by Johann Joachim Quantz and Carl Nielsen. The program begins at 7:30 p.m. in Neu Chapel. Admission is free and open to the public. Live-stream is available at: https://www.evansville.edu/majors/music/calendar.cfm
Charlas: Informal conversation in Spanish
Wanting to practice conversation in Spanish? The next session of Charlas is Thursday, January 20 at 5:30 p.m. - Central Time. This opportunity is for anyone at the intermediate or advanced Spanish language level. For more information, contact associate professor of Spanish Diana Rodríguez Quevedo at dr130@evansville.edu.
Coming Up in Religious Life
Faith In Action is sponsoring a RunHard RestWell Retreat. March 4-6, 2022 @ St. Meinrad Archabbey in St. Meinrad, IN
This is the Friday, Saturday and Sunday before Spring Break (we will be finished by 12 noon on Sunday)
Run Hard. Rest Well is a Non-Profit organization that specializes in Restorative Wellness.
From the stress of Covid, school, jobs, relationships and many more things, our emotional and physical reserves are near empty.
This retreat will help give us the tools and practices we need in our lives to prioritize rest and wellness.
"Navigating seasons of crisis, comeback, and recovery requires the ability to create connection, reduce cortisol, hit pause, and prioritize sleep. These four strategies help students and teachers combat anxiety, restlessness, and depression and position people of every age to flourish." RunHard.RestWell website (runhardrestwell.org)
Cost of the retreat is only $100/ student for the entire retreat. This includes lodging (2 students/room with a private bath) and all meals.
A deposit of $50 is due by February 1st. Please Jeremy Seger js948@evansville.edu, Madeline Ebbott, me170@evansville.edu or Emilee Scheumann, es331@evansville.edu to reserve your spot.
There are only 10 spots available so please let us know as soon as possible.
Save the Date: UE Gospel Choir Call Out Meeting
Come One, Come All!
Do you like to sing? Can you play a musical instrument (drums, bass/electric guitar, etc.)?
The Center for Diversity, Equity, and Inclusion and the Office of Religious Life are hosting a callout meeting for all UE campus members (students and employees) who are interested to learn about UE's new Gospel Choir.
Thursday, January 20, 2022 at 7:00 pm
SOBA 170
Submit advance inquiries to Center4DEI@evansville.edu
Did You Miss the Watch Party?
Did you miss our watch party for The College Tour on Wednesday evening? If you couldn't make it, don't worry! Our very own episode is now available on our website for your viewing at any time that's convenient for you!
To stream the 30-minute video, visit The College Tour webpage (evansville.edu/TheCollegeTour). You can also view indiviudal segments that focus on different areas of UE, including the School of Engineering and Computer Science, Harlaxton, Athletics, and more.
After watching the episode, or if you did attend the watch party, be sure to share our episode or individual segments on social media!
Consent to Receive Electronic W-2s and 1095-Cs
Consent to Receive Electronic W-2s and 1095-Cs
The Office of Accounting/Payroll will be issuing W-2s for 2021 no later than January 31, 2022. You may choose 1 of 2 options to receive your W-2:
Electronic W-2 – If you provide your consent, you will be able to view/print in Self-Service as soon as they are ready. Notification will be sent through AceNotes.
Paper W-2 – If you prefer, you can continue to receive your W-2 in the mail.
An electronic W-2 will give you earlier access than a mailed copy. It is IRS compliant and can be submitted with your tax return as usual.
To give consent for the electronic W-2, log in to Self-Service https://selfservice.evansville.edu and go to "Tax Information". Select "Receive my W-2 only in electronic form" and save.
If you are eligible to participate in the university's health plans, you may give consent to receive your 1095-C form electronically here also. If you choose to withhold your consent to view/print your online W-2 and 1095-C, a paper copy will be mailed to your home address.
If you have questions, please contact Dawn Bury at ext 2159 or db287@evansville.edu.
Become An RA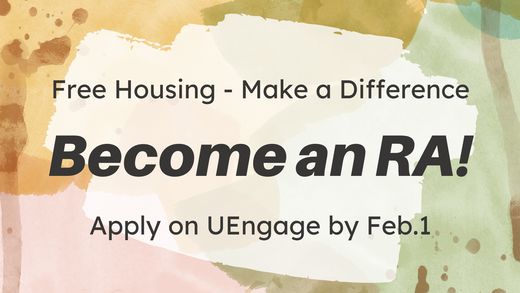 Interested in creating community? Getting involved? Free Housing? Apply to be an RA on UEngage by Feb.1! If you have question, email Lily Renfro (lr156) or Will McDonner (wm99) for more information.
Biology Professors Publish Research
Dale Edwards, Professor of Biology, and Noah Gordon, Associate Professor of Biology, published the results of a long-term study in the latest issue of the Journal of Parasitology. This study compared the parasite faunas of green treefrogs from historical and expanded-range populations to determine whether these latter populations exhibited reduced parasitism by escaping their native range parasites. Results of this study revealed that green treefrogs from expanded-range locations exhibited significant decreases in parasite species diversity compared with those from historical sites and support the notion that individuals at the front of a range expansion often invest less energy in reproduction and in doing so allocate more energy to dispersal and other life-history traits, including resistance to parasites.
Professor Khan Published a Global Research Paper
Walayet A. Khan, Professor of Finance, published a coauthored paper titled, "Impact of global residential real estate on portfolio diversification" in the Journal of Real Estate Portfolio Management.
The study uses a comprehensive sample of 23 countries and a new residential real estate index (as opposed to previously used real estate investment trust index) during various market conditions from 1995 through 2018. Results show adding international real estate to a US stock portfolio is beneficial in reducing portfolio risk, and this diversification benefit is consistent over time.
Men's basketball home on Tuesday to face Loyola at 7 p.m.
With a rare January off weekend complete, the University of Evansville men's basketball team returns to the Ford Center on Tuesday for a 7 p.m. game against Loyola. The MVC TV Network, ESPN+ and the Purple Aces Radio Network will have the coverage.
Season Update
- The MVC recently announced make-up dates for games that have been postponed
- On Jan. 21, UE travels to Illinois State for a 6 p.m. game before ISU returns the trip two days later in a 1 p.m. game at the Ford Center
- Evansville will play Indiana State in Terre Haute on Feb. 8 before the Sycamores come to Evansville on the 10th
- The Purple Aces played 12 games over the course of 30 days to open the year, but went 25 days in between the 12/8 game at SEMO and the 1/2 contest at UNI
Last Time Out
- An extended second-half run lifted Bradley to a 79-47 win over the Purple Aces on Wednesday night in Peoria
- Trailing by 12 at the half, Evansville made it a 38-31 game in the opening minutes of the second period before the Braves were able to regroup and pull away
- Jawaun Newton and Shamar Givance led UE with 16 points apiece...Newton added eight rebounds while Givance picked up two assists
- Preston Phillips set career highs in rebounds (9) and minutes (30:32)
Still Going Strong
- Shamar Givance scored 16 points at Bradley to improve his season average to 14.7 points per game, which ranks 8th in the MVC
- Givance is alone in 6th in the league with his mark of 3.7 assists per game while tying for 6th in steals (1.4/game)
- He continues to score at the top rate of his career, recording an average of 18.3 points over the last seven contests, including his career high of 31 against SIU...since opening with seven points against Cincinnati in the season opener, he has averaged 15.4 points while scoring at least 11 in all but two games since
Making a Contribution
- Freshman Preston Phillips has started the last two games and a total of four contests on the season
- He is coming off of a strong performance at Bradley that saw him set his freshman marks in rebounds (9) and minutes played (30:32)
- Phillips has been credited with 2+ rebounds in each game that he has played in and is averaging 3.8 per game for the year
- His top scoring mark came at SEMO where he finished with 5 points while registering 5 boards
- Averaging 17.5 minutes per game, Phillips has played at least 15 minutes in four consecutive outings
Clamping Down
- Through six homes games, the UE defense has shined, allowing the opposition to score an average of just 56.33 points per game...just one opponent has scored over 60 points at the Ford Center this season with UCF finishing with 75 on Nov. 20
- In nine road/neutral site games, the opposition has averaged 74.8 PPG
Scouting the Opponent
- Winners of nine games in a row, Loyola enters Tuesday's game with a 13-2 overall mark while standing at a perfect 4-0 in the Valley
- Two of the Ramblers last three games have gone to overtime with home contests versus Bradley and Valparaiso going to an extra period with Loyola winning on both occasions
- Lucas Williamson leads the Ramblers with 12.3 points per game and an average of 5.1 rebounds
- He is tied for the team lead with 32 3-pointers while pacing the squad with 20 steals
- Coming off the bench, Ryan Schwieger has recorded 11.4 PPG while shooting 48.8%
Contribute to AceNotes
To have content considered for inclusion in AceNotes, please submit a Marketing Request Form. Deadline for submission to AceNotes is 10:00 a.m. on the requested date of publication. Only articles concerning UE related/sponsored activities will be accepted. Articles submitted to AceNotes may be edited for length and clarity. Submitter contact information is at the end of each article.