| | |
| --- | --- |
| AceNotes Today | Monday, January 17, 2022 |
Symbolic March has Been Cancelled
Due to the weather conditions, and being unable to move the event indoors with current COVID-19 guidelines, the symbolic march today (January 17) has been cancelled. We are disappointed to do this but have the safety of our campus community in mind.
All other events for our Martin Luther King Jr. will continue as planned! This includes:
Grand opening of the Center for Diversity, Equity, and Inclusion and the Multicultural Student Commons / 10:30 a.m. on the 2nd floor of Ridgway
Rally / 11:15 a.m. in Meeks Family Fieldhouse
Local Leaders Panel Discussion / 1:00 pm. in Smythe Lecture Hall (Room 170) of SOBA (also available on Facebook Live for the CDEI Facebook page)
Community Service Projects / 2:00 p.m. in Ridgway
Lectureship / 6:00 p.m. in Eykamp Hall (also available at evansville.edu/live)
Reception / 7:00 p.m. in Class of 1959 Gallery (2nd floor of Ridgway)
Please make plans to join us for the events throughout the day!
Martin Luther King, Jr. Celebration - Today!
Please join us today for our annual Martin Luther King, Jr. Celebration! Various events and activities will be held throughout the day in remembrance of Dr. King and his passionate pursuit of social justice and the work that remains today. Events are for the UE community as well as the public.
Order of Events
10:30 a.m. – Grand opening of the Center for Diversity, Equity, and Inclusion (CDEI) and the Multicultural Student Commons (MSC). The event will be held on the second floor of Ridgway University Center, near the Center for Diversity, Equity, and Inclusion.
11:15 a.m. – Rally at Meeks Family Fieldhouse; this will include comments from President Pietruszkiewicz, Dr. Rob Shelby, and the president of the Black Student Union.
1:00 p.m. – Local Leaders Panel Discussion; this will take place in Room 170 of Schroeder School of Business (SOBA). For those who cannot attend in-person, you can stream live through the CDEI Facebook page.
2:00 p.m. - Community service projects; various projects will be organized for the campus community. For more information, you may contact Abagail Catania.
6:00 p.m. - William G. and Rose M. Mays Lectureship, 2022 Mays Legacy Award, and Inaugural Rising Start Service Award presentations; this will take place inside Eykamp Hall. The 2022 keynote speaker will be Dr. Lerone Martin, who will provide a live, simulcast lecture. Martin recently became the faculty director for the Martin Luther King, Jr. Research and Education Institute at Stanford University. The King Institute supports a broad range of educational activities illuminating Dr. King's life and the movements he inspired. If you are unable to attend in-person, you may also stream this at evansville.edu/live.
7:00 p.m. – Reception. Light refreshments will be served in the Class of 1959 Gallery (outside Eykamp Hall)
This Week in Music
The Music Conservatory recital series resumes this Tuesday, January 18 with the Harlaxton Quintet, UE's resident faculty woodwind quintet. The quintet's members, Leanne Hampton, flute; Elizabeth Robertson, oboe; Thomas Josenhans, clarinet; Edwin Lacy, bassoon, and Rebecca Salo, horn will perform a recent word by Fred Onovwerosuoke as well as historical works by Johann Joachim Quantz and Carl Nielsen. The program begins at 7:30 p.m. in Neu Chapel. Admission is free and open to the public. Live-stream is available at: https://www.evansville.edu/majors/music/calendar.cfm
Charlas: Informal conversation in Spanish
Wanting to practice conversation in Spanish? The next session of Charlas is Thursday, January 20 at 5:30 p.m. - Central Time. This opportunity is for anyone at the intermediate or advanced Spanish language level. For more information, contact associate professor of Spanish Diana Rodríguez Quevedo at dr130@evansville.edu.
Coming Up in Religious Life
Faith In Action is sponsoring a RunHard RestWell Retreat. March 4-6, 2022 @ St. Meinrad Archabbey in St. Meinrad, IN
This is the Friday, Saturday and Sunday before Spring Break (we will be finished by 12 noon on Sunday)
Run Hard. Rest Well is a Non-Profit organization that specializes in Restorative Wellness.
From the stress of Covid, school, jobs, relationships and many more things, our emotional and physical reserves are near empty.
This retreat will help give us the tools and practices we need in our lives to prioritize rest and wellness.
"Navigating seasons of crisis, comeback, and recovery requires the ability to create connection, reduce cortisol, hit pause, and prioritize sleep. These four strategies help students and teachers combat anxiety, restlessness, and depression and position people of every age to flourish." RunHard.RestWell website (runhardrestwell.org)
Cost of the retreat is only $100/ student for the entire retreat. This includes lodging (2 students/room with a private bath) and all meals.
A deposit of $50 is due by February 1st. Please Jeremy Seger js948@evansville.edu, Madeline Ebbott, me170@evansville.edu or Emilee Scheumann, es331@evansville.edu to reserve your spot.
There are only 10 spots available so please let us know as soon as possible.
Engineering Career Forum- Register TODAY
Join us Wednesday, January 26 from 6:00pm-8:30pm in Eykamp Hall for the 2022 Engineering Career Forum. Don't miss this opportunity to meet and network with more than a dozen engineering and computer science employers. Panel sessions available to discuss internships, senior year and job search. Contact the Center for Career Development at 812-488-1083 with any questions. Register in Handshake.
Martin Luther King Jr. Day Celebration
UE's annual MLK Celebration will be held on Monday, January 17, 2022. Events throughout the day will be offered in-person and are listed below. For the latest health and safety guidelines on the UE campus, please visit our Coronavirus webpage.
Martin Luther King Jr. Symbolic March
During the Civil Rights March of 1965, activists gathered in Selma, Alabama, to complete a 54-mile trek to the state capital in Montgomery. In recognition of this historical event, UE invites everyone to participate in 54 Miles to Social Change, a virtual march that raises awareness for social injustice in the United States.
The race (miles 1-53) will be held January 1-16, and together the 54th mile will be completed on MLK Day. Individuals or teams can participate by logging their miles spent walking, running, biking, or swimming. Register online at RunSignUp and receive a T-shirt to celebrate the march.
All proceeds will go directly towards Journey to Justice Scholarships for students expressing a financial need. To donate, visit UE Alumni Online.
Rally– 11:15 a.m.
To kick off our MLK Celebration, we will hold a rally in Meeks Family Fieldhouse, located inside Carson Center. The rally will recap the significance of the celebration and include remarks from Christopher M. Pietruszkiewicz, president of UE; Rob Shelby, PhD, chief diversity officer; Abagail Catania, assistant director of diversity recruitment and programming; and the president of the Black Student Union.
Symbolic March- 11:45 a.m.
After the rally, UE invites everyone to complete the 54th Mile of Social Change together. The march will begin at Meeks Family Fieldhouse and down nearby streets before returning to campus at Ridgway University Center.
Local Leaders Forum – 1:00 p.m.
Held in the Schroeder School of Business room 170, the panel will be led by Melissa Morehead, a UE alum and Secretary for the Legal Aid Society Board of Vanderburgh County. The event may also be streamed live at evansville.edu/live.
Community Service- 2:00 p.m.
Participate in community service projects alongside various UE departments and student organizations. A list of projects and locations will be provided on the day.
Lectureship – 6:00 p.m.
Each year, the Martin Luther King Lectureship is made possible by the generous support of William G. and Rose M. Mays. The 2022 lectureship will feature keynote speaker Dr. Lerone A. Martin. Martin is currently an associate professor of religion and politics in the John C. Danforth Center on Religion and Politics at Washington University in St. Louis. He is also an associate professor for African and African-American Studies at WashU.
Martin is the author of the award-winning Preaching on Wax: The Phonograph and the Making of Modern African American Religion, which tracks the role of the phonograph in the shaping of African American religion, culture, and politics during the first half of the twentieth century.
In 2021, Martin was appointed as the next faculty director for the Martin Luther King, Jr. Research and Education Institute at Stanford University. The King Institute supports a broad range of educational activities illuminating Dr. King's life and the movements he inspired. Martin will be only the second director, and he will begin his professorship at Stanford in 2022.
After the lectureship, the 2022 Mays Legacy Award and the inaugural Rising Star Service Award will be presented.
Reception – 7:00 p.m.
Students and guests are invited for a reception following the lectureship, hosted in the Class of 1959 Gallery outside Eykamp Hall. The reception will include light refreshments.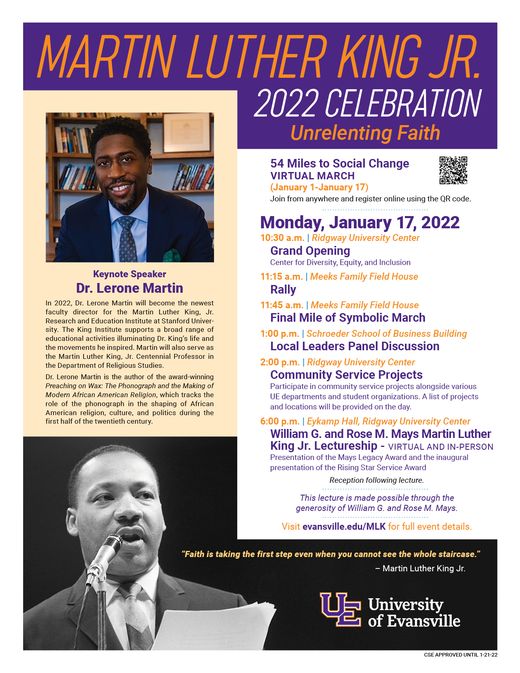 Did You Miss the Watch Party?
Did you miss our watch party for The College Tour on Wednesday evening? If you couldn't make it, don't worry! Our very own episode is now available on our website for your viewing at any time that's convenient for you!
To stream the 30-minute video, visit The College Tour webpage (evansville.edu/TheCollegeTour). You can also view indiviudal segments that focus on different areas of UE, including the School of Engineering and Computer Science, Harlaxton, Athletics, and more.
After watching the episode, or if you did attend the watch party, be sure to share our episode or individual segments on social media!
Consent to Receive Electronic W-2s and 1095-Cs
Consent to Receive Electronic W-2s and 1095-Cs
The Office of Accounting/Payroll will be issuing W-2s for 2021 no later than January 31, 2022. You may choose 1 of 2 options to receive your W-2:
Electronic W-2 – If you provide your consent, you will be able to view/print in Self-Service as soon as they are ready. Notification will be sent through AceNotes.
Paper W-2 – If you prefer, you can continue to receive your W-2 in the mail.
An electronic W-2 will give you earlier access than a mailed copy. It is IRS compliant and can be submitted with your tax return as usual.
To give consent for the electronic W-2, log in to Self-Service https://selfservice.evansville.edu and go to "Tax Information". Select "Receive my W-2 only in electronic form" and save.
If you are eligible to participate in the university's health plans, you may give consent to receive your 1095-C form electronically here also. If you choose to withhold your consent to view/print your online W-2 and 1095-C, a paper copy will be mailed to your home address.
If you have questions, please contact Dawn Bury at ext 2159 or db287@evansville.edu.
Center for Diversity Equity and Inclusion is Hiring
The Center for Diversity Equity and Inclusion (CDEI) is hiring 2 new Federal Work Study Student Assistants for the Spring semester. Student Assistants will focus on projects and programming related to DEI at UE. All of those interested in DEI and fostering a sense of inclusion and belonging at the University of Evansville are encouraged to apply.
As a Center for Diversity, Equity, and Inclusion Student Assistant, you will be expected to work approximately 9 hours per week during arranged office hours Monday through Friday during those times when fall and spring classes are in session. The specific hours worked will be at the discretion of the Center for DE&I (based on your class schedule and the needs of the office). Some work may include evenings and weekends based on event and project needs.
Required Skills:
Excellent written and verbal communication skills, demonstrated organizational skills, attention to detail, strong interest in promoting diversity, equity, and inclusion at the University of Evansville, interest and/or experience in programming/ events, experience with social media, strong comfort level with people from a variety of backgrounds, as well as a willingness to expand knowledge and skills related to diversity and inclusion, ability to convey complicated and/or controversial information in a respectful manner, commitment to fostering diversity in a working and learning environment.
Positions are open until filled.
To be considered, please fill out an application through Webadvisor and email to the CDEI at Center4DEI@evansville.edu
Biology Professors Publish Research
Dale Edwards, Professor of Biology, and Noah Gordon, Associate Professor of Biology, published the results of a long-term study in the latest issue of the Journal of Parasitology. This study compared the parasite faunas of green treefrogs from historical and expanded-range populations to determine whether these latter populations exhibited reduced parasitism by escaping their native range parasites. Results of this study revealed that green treefrogs from expanded-range locations exhibited significant decreases in parasite species diversity compared with those from historical sites and support the notion that individuals at the front of a range expansion often invest less energy in reproduction and in doing so allocate more energy to dispersal and other life-history traits, including resistance to parasites.
Professor Khan Published a Global Research Paper
Walayet A. Khan, Professor of Finance, published a coauthored paper titled, "Impact of global residential real estate on portfolio diversification" in the Journal of Real Estate Portfolio Management.
The study uses a comprehensive sample of 23 countries and a new residential real estate index (as opposed to previously used real estate investment trust index) during various market conditions from 1995 through 2018. Results show adding international real estate to a US stock portfolio is beneficial in reducing portfolio risk, and this diversification benefit is consistent over time.
Senior Nursing Students Make Donation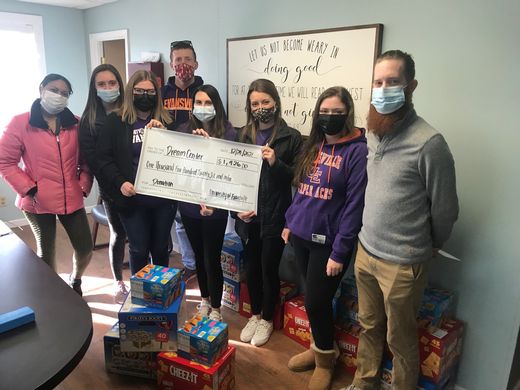 Senior Nursing Students made a donation of over $1,400 to the Dream Center Evansville. They also provided healthy snacks to their after school program and education on the importance of diet and exercise in prevention of childhood obesity. We are proud of their hard work in the community!
UE Swimming & Diving Sweeps Bellarmine
The University of Evansville swimming and diving teams picked up right where they left off in the fall on Saturday, as the Purple Aces swept the home-standing Bellarmine Knights in a dual meet at Mary T. Meagher Aquatic Center in Louisville, Kentucky.
The UE men remained undefeated in dual meets on the season with a 156-106 victory, while the UE women improved to 5-1 in dual-meet action with a 142-118 victory.
"Today was a total team effort on both sides," said UE head swimming and diving coach Stuart Wilson. "We had a lot of different people step up, and it was good to see both teams competing again after two months off from competition."
The UE men won 10 of the meet's 14 events, with three Purple Aces posting two wins on the day. Sophomore Jackson Caudill (Mount Sterling, Ky./Montgomery County HS) collected wins in both the 500- and 1,000-yard freestyle events with times of 4:46.09 and 9:47.88 respectively. Junior Riccardo Di Domenico (Johannesburg, South Africa) was also victorious in both the 100- (47.39) and 200-yard freestyle (1:43.51) events, while freshman Daniel Santos Lopez (Madrid, Spain) won both the 100-yard backstroke (52.03) and the 50-yard freestyle (21.75). Mid-year arrival Patrik Vilbergsson also impressed in his first meet at UE, as he posted the Purple Aces' fastest time of the year in the 200-yard backstroke at 1:55.47 while winning the event by over two seconds.
The UE women also won 10 of the meet's 14 events, with junior Sarah Jahns (Lilburn, Ga./Parkview HS) putting on a show by winning three individual events in three swims. Jahns started the meet by winning the 1,000-yard freestyle in a time of 10:48.47, before coming back to win the title in the 200-yard backstroke by over six seconds with a time of 2:05.01. Then, four events later, Jahns returned to the pool to win the 500-yard freestyle by over 14 seconds with a strong time of 5:14.73.
Senior Jessie Steele (Houston, Texas/Klein) and junior Maya Cunningham (Yakima, Wash./Eisenhower HS) both recorded doubles for the UE women as well, as Steele won both the 50- and 100-yard freestyle events, while Cunningham took home titles in the 200-yard butterfly and IM events.
"What Sarah was able to do today was impressive, and she really stepped up when we needed her to," said Wilson. "I thought that the women did a great job of holding together as a team today."
Evansville will take the next week off before returning to the road on Friday, January 28, as UE will travel to Bloomington, Indiana to take on the nationally-ranked Indiana Hoosiers.
Riggs Breaks Long Jump School Record, As PRs Abound For UE Track & Field at Eastern Illinois
University of Evansville senior Trey Riggs (Ft. Branch, Ind./Gibson Southern) broke the school's indoor long jump record Saturday, and the Purple Aces set nine different personal-best marks overall, as the UE track and field teams had a strong showing at the John Craft Invitational hosted by Eastern Illinois University.
Just over an hour into UE's first indoor track meet of the season, Riggs soared to a school-record indoor mark of 6.66 meters in the long jump to place fifth in the event. He held the previous mark of 6.64 meters, set at Eastern Illinois last winter.
"Trey really helped set the tone early for us today, and overall, for our first meet of the year, I was really pleased with what I saw," said UE track and field head coach Don Walters. "Today was a long day, but we really needed it, and I saw a lot of good things on both teams today."
In a meet with no team scores, individual personal-best marks were the story of the day for UE, as Evansville set nine different PR marks including Riggs' school record. Senior Andrew Schuler (Ferdinand, Ind./Forest Park) began the day by setting a PR mark of 13.93 meters in the weight throw – the day's first event – to place sixth, behind teammate Mike Boots (Evansville, Ind./Mater Dei), who placed second in the event.
Riggs not only set the school record in the long jump, but also placed fourth in the 60-meter hurdles, edging junior teammate Steven Burkhart, who ran a personal-best time of 8.62.
Sophomore Geordan Blades (Avon, Ind./Avon) and junior Giovanni Purser (Port Maria, Jamaica) finished third and sixth overall in the 60-meter dash in personal-best times of 7.02 and 7.12, respectively. Junior Jackson Maurer also set a personal-best indoor mark of 56.09 in the 400-meters for UE, while sophomore Luke Watts (Austin, Ind./Austin) turned in a personal-best time in the 800-meters. Meanwhile, on the women's side, senior Sam Weldon (Ft. Wayne, Ind./Bishop Dwenger) turned in personal-best indoor marks in both the mile (5:36.96) and the 800-meters (2:28.69), as she finished second overall in the 800-meter race.
UE's lone individual champion of the day was graduate student Anna Lowry (Taylorville, Ill./Taylorville), who won the 3,000-meter race in convincing fashion, beating the field by over 32 seconds just two hours after placing second in the mile race.
Evansville also received second-place finishes in the pole vault events on the men's and women's sides by seniors Joey Rucinski (Ft. Wayne, Ind./Concordia Lutheran) and McKenna Sapp (Bloomington, Ill./University HS).
"I was really impressed by both Joey and McKenna today," said Walters. "We have not had much practice yet this year in the pole vault, but both Joey and McKenna did a great job today. Hopefully, that is a good sign going forward this year."
UE will have a short week of practice this week, as Evansville will travel to Louisville, Kentucky on Friday to take part in the Bellarmine Open.
UE Swimming & Diving Returns To Action Saturday At Bellarmine
Six school records. Twenty-five top 10 fastest times in program history. Twenty-one various pool records.
For most swimming and diving programs, that would be considered a great season. For the University of Evansville swimming and diving teams, that was just the first month-plus of the season.
Now, after two months off from competition, the UE swimming and diving teams will return to the pool this Saturday at 12 p.m. (central) when they head east to Louisville, Kentucky to face Bellarmine University in a dual meet. Saturday's meet will take place at the Mary T. Meagher Aquatic Center in Louisville.
"We are excited to get back to competition," said UE head swimming and diving coach Stuart Wilson. "Both teams have been working really hard over the last two months, and it will be good to get into the pool on Saturday and be able to compete against another school and see how we stack up.
"This will be a good measuring stick to see where we are at after our winter training period, as we begin to prepare for the conference championship portion of our schedule beginning next month."
UE last competed on November 13 at the A3 Performance Invitational in Carbondale, Illinois, where both the men and women placed second in the five-team meet. The UE men are currently 3-0 in dual meet action, while the women stand at 4-1.
Both teams have broken three school records each so far this year. On the men's side, sophomore Jackson Caudill (Mount Sterling, Ky./Montgomery County) broke both the 1,000- (9:35.58) and 1,650-yard freestyle (15:57.49) school records at the A3 Invitational, while freshman Carlos Souto Vilas (A Coruna, Spain) broke the 100-yard breaststroke school record (55.74). Meanwhile, on the women's side, junior Sarah Jahns (Lilburn, Ga./Parkview HS) reset the 200-yard backstroke record (2:00.17), while freshman Sveva Brugnoli (Rome, Italy) and junior Maya Cunningham (Yakima, Wash./Eisenhower HS) made history in the 200- and 400-yard IM respectively with new school-best times of 2:04.39 and 4:27.16 at the A3 Invitational.
Finishing right behind UE at the A3 Invitational was Saturday's opponent, the Bellarmine Knights. Bellarmine currently stands 2-1 on the men's side in dual-meet action, and 3-3 on the women's side this year.
Aces release loaded 2022 baseball schedule
Continuing to compile one of the most challenging schedules in the Missouri Valley Conference, the University of Evansville baseball team has announced its slate for the 2022 campaign.
"I'm excited for the 2022 schedule we have put together as it is a challenging slate of games," said Aces head baseball coach Wes Carroll. "I believe this group is ready to compete on the road in some of the best college baseball environments that will prepare us for MVC play. We also have some great games at home for our fans and this community to enjoy. I really look forward to the 2022 Aces Baseball campaign."
The 2021 season as a positive step for the Aces, finishing with a 29-27 record. Evansville's season mark was its best since the 2016 campaign when UE also finished 29-27 and is the first time since 2016 that Evansville finished above .500 for the season. With that, Evansville returns 11 of 14 pitchers from a season ago, and eight of 15 positions players.
The Aces 2022 schedule features a pair of teams who reached the College World Series a year ago along with four teams that made the 2021 NCAA Tournament and seven power five opponents.
Evansville opens the season with a road trip to College World Series participant NC State on Feb. 18-20, marking the first time the Aces have met the Wolfpack. The Aces make it four-straight games against CWS teams to open the season with a midweek trip to take on Vanderbilt in Nashville on Feb. 23.
The home-opening weekend comes on Feb. 25, 26, and 27 when Evansville plays host to Dayton for a three-game set at German American Bank Field at Charles H. Braun Stadium. Its back on the road for the Aces following the weekend series with the Flyers, traveling to Lexington, Ky. for a midweek matchup with Kentucky on March 2.
UE hosts a home classic on March 4-6, welcoming in Ohio and UIC for five total games with four featuring the Aces spread across three days at GAB Field. Following the home weekend, Evansville goes on the road for 13-straight games beginning with a midweek contest at future MVC member Belmont on March 9 and a three-game series at Tulane in New Orleans on March 11, 12, and 13.
Another midweek dots the schedule with a trip to Austin Peay on March 16 before a three-game series at Northwestern on March 19 and 20 in Evanston, Ill. Two more single games lay ahead for the Aces with contests at Western Ketucky and SIUE on March 22 and 23, respectively.
A staple of most season schedules for Evansville, the Aces make a trip to Bloomington, Ind. for a three-game series against Indiana on March 25, 26, and 27, following a win in their last meeting for UE in a thrilling 5-4 win in the reopening of GAB Field.
Back home after 23 days, Evansville begins a seven-game homestand beginning with their third Big Ten opponent of the season, Michigan State, in a three-contest set at GAB Field on April 1, 2, and 3 before welcoming Indiana back to the River City for a single game on April 5.
Conference play begins on April 8, 9, and 10 for the Aces with a series with Southern Illinois, a team the Aces became very familiar with last season, playing four non-conference and four conference games against the Salukis a season ago.
Following a midweek at Butler on April 12, Evansville makes the trip to Springfield, Mo. for a series with the Bears of MIssouri State on April 15-17. The final Big Ten team on the schedule pops up on April 20 as the Aces head north to take on Purdue on in West Lafayette, Ind.
The Aces then take to the road for a short trip to Terre Haute, Ind. and a series with Indiana State on April 22, 23, and 24, a team Evansville split with in 2021. A return from Belmont highlights the midweek on April 26, followed by back-to-back home series against Bradley (April 29-May 1) and Illinois State (May 6-8).
The penultimate midweek contest of the season comes on May 11 at home against SIUE before the Aces longest trip of the season, a three-game set at reigning MVC Champion Dallas Baptist on May 13, 14, and 15.
In the final week of the regular season, Evansville plays four-straight at home to close out the year, hosting Murray State on May 17 and welcoming Valparaiso in for three games on May 19, 20, and 21.
Contribute to AceNotes
To have content considered for inclusion in AceNotes, please submit a Marketing Request Form. Deadline for submission to AceNotes is 10:00 a.m. on the requested date of publication. Only articles concerning UE related/sponsored activities will be accepted. Articles submitted to AceNotes may be edited for length and clarity. Submitter contact information is at the end of each article.