| | |
| --- | --- |
| AceNotes Today | Thursday, January 13, 2022 |
Martin Luther King, Jr. Celebration - Today!
Please join us today for our annual Martin Luther King, Jr. Celebration! Various events and activities will be held throughout the day in remembrance of Dr. King and his passionate pursuit of social justice and the work that remains today. Events are for the UE community as well as the public.
Order of Events
10:30 a.m. – Grand opening of the Center for Diversity, Equity, and Inclusion (CDEI) and the Multicultural Student Commons (MSC). The event will be held on the second floor of Ridgway University Center, near the Center for Diversity, Equity, and Inclusion.
11:15 a.m. – Rally at Meeks Family Fieldhouse; this will include comments from President Pietruszkiewicz, Dr. Rob Shelby, and the president of the Black Student Union.
1:00 p.m. – Local Leaders Panel Discussion; this will take place in Room 170 of Schroeder School of Business (SOBA). For those who cannot attend in-person, you can stream live through the CDEI Facebook page.
2:00 p.m. - Community service projects; various projects will be organized for the campus community. For more information, you may contact Abagail Catania.
6:00 p.m. - William G. and Rose M. Mays Lectureship, 2022 Mays Legacy Award, and Inaugural Rising Start Service Award presentations; this will take place inside Eykamp Hall. The 2022 keynote speaker will be Dr. Lerone Martin, who will provide a live, simulcast lecture. Martin recently became the faculty director for the Martin Luther King, Jr. Research and Education Institute at Stanford University. The King Institute supports a broad range of educational activities illuminating Dr. King's life and the movements he inspired. If you are unable to attend in-person, you may also stream this at evansville.edu/live.
7:00 p.m. – Reception. Light refreshments will be served in the Class of 1959 Gallery (outside Eykamp Hall)
Engineering Career Forum- Register TODAY
Join us Wednesday, January 26 from 6:00pm-8:30pm in Eykamp Hall for the 2022 Engineering Career Forum. Don't miss this opportunity to meet and network with more than a dozen engineering and computer science employers. Panel sessions available to discuss internships, senior year and job search. Contact the Center for Career Development at 812-488-1083 with any questions. Register in Handshake.
CDEI Presents: Passport to Inclusion Info Sessions
The Center for Diversity Equity and Inclusion invites you to attend one of the following Passport to Inclusion Information Sessions! During the info session a representative from the CDEI will discuss the background and history of Passport to Inclusion, the requirements for the program, how to get involved and more.
Passport to Inclusion is aimed at University of Evansville employees to help raise awareness of issues relating to race, sexual orientation, gender identity, disability status and accommodation, as well as other historically underrepresented identities in higher education and other systems. Employees engaged with Passport to Inclusion will not only gain knowledge of diverse experiences but are encouraged to utilize their knowledge and skills to inform their own workspaces.
All info sessions will take place in SOBA 271
January 5: 12-1pm (virtual at Zoom meeting ID: 572 831 8957)
January 6: 2-3pm (virtual at Zoom meeting ID: 572 831 8957)
January 7: 9-10am (virtual at Zoom meeting ID: 572 831 8957)
January 11: 3-4pm
January 13: 4-5pm
The last date to register to engage in Passport to Inclusion for this year is January 15, 2022. Please direct any questions to the CDEI at Center4DEI@evansville.edu.
If you are interested in Passport to Inclusion but unable to attend an info session, please watch this video.
NEW ChangeLab Opportunity: PSYC 489 T04 is now cross-listed with CHNG 310 Y10 – Children's Mental Health Testing

NEW ChangeLab Opportunity: PSYC 489 T04 is now cross-listed with CHNG 310 Y10 – Children's Mental Health Testing. Students can take the class for either section. The class is going to examine why there is such a long wait list for children to access mental health testing services, and then make recommendations on what our community might be able to do about it. The students on this team will make a huge difference in the lives of children and their families. About your Coach: Dr. Jennifer Braun is the Clinical Director and Chief Psychologist at the Evansville State Hospital in Evansville, Indiana. She also serves as the primary forensic evaluator and educator for the state's only Jail-Based Competency Restoration Program, which brings mental health treatment and competency restoration services to patients while they are incarcerated. Her path to become a psychologist began as a Philosophy Major at the University of Evansville many moons ago. She has extensive supervision and clinical experience in the assessment and treatment of psychiatric disorders in children, adolescents, and adults. Students have until Friday 1/14 to add this class to their schedule.
Did You Miss the Watch Party?
Did you miss our watch party for The College Tour on Wednesday evening? If you couldn't make it, don't worry! Our very own episode is now available on our website for your viewing at any time that's convenient for you!
To stream the 30-minute video, visit The College Tour webpage (evansville.edu/TheCollegeTour). You can also view indiviudal segments that focus on different areas of UE, including the School of Engineering and Computer Science, Harlaxton, Athletics, and more.
After watching the episode, or if you did attend the watch party, be sure to share our episode or individual segments on social media!
New faces across campus
The Office of Technology Services has seen a few changes over last semester. Say hello to new roles and new members of the Client Services team!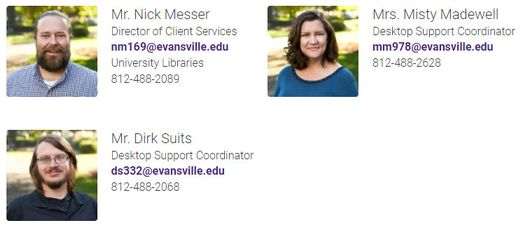 Whatever your need, email us at help@evansville.edu or call 812-488-2077. We look forward to supporting our campus community!
Consent to Receive Electronic W-2s and 1095-Cs
Consent to Receive Electronic W-2s and 1095-Cs
The Office of Accounting/Payroll will be issuing W-2s for 2021 no later than January 31, 2022. You may choose 1 of 2 options to receive your W-2:
Electronic W-2 – If you provide your consent, you will be able to view/print in Self-Service as soon as they are ready. Notification will be sent through AceNotes.
Paper W-2 – If you prefer, you can continue to receive your W-2 in the mail.
An electronic W-2 will give you earlier access than a mailed copy. It is IRS compliant and can be submitted with your tax return as usual.
To give consent for the electronic W-2, log in to Self-Service https://selfservice.evansville.edu and go to "Tax Information". Select "Receive my W-2 only in electronic form" and save.
If you are eligible to participate in the university's health plans, you may give consent to receive your 1095-C form electronically here also. If you choose to withhold your consent to view/print your online W-2 and 1095-C, a paper copy will be mailed to your home address.
If you have questions, please contact Dawn Bury at ext 2159 or db287@evansville.edu.
Share your Harlaxton story!
Have you had the chance to study abroad at Harlaxton? We want to hear your story! Tell us all about your experience, and it could be a featured yourHarlaxton story on the Harlaxton website!
If you're interested in discussing your time spent studying abroad, please email Julie Bryant, university relations coordinator, at jb855@evansville.edu. A small list of questions will be sent via email, and you can answer them in your own words. Some of the questions will include:
Which semester you studied abroad
How did Harlaxton benefit your undergraduate experience?
What was your favorite part of studying abroad?
Why do you recommend studying at Harlaxton? What would be your advice to others planning to attend?
2022 Pcard Monthly Cycle Calendar
The 2022 Pcard Monthly Cycle Calendar is available and posted and available on My Portal on the Pcard website under Dates to Remember.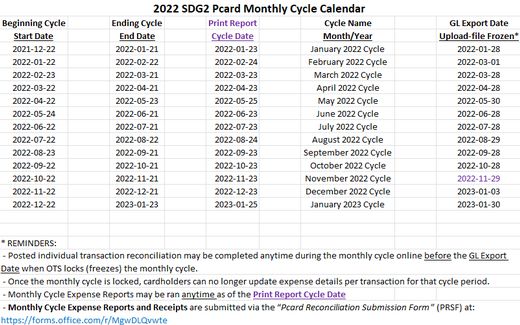 NEW 2022 Indiana Sales Tax Exemption Certificate
NEW 2022 Indiana Sales Tax Exemption Certificate
The UE Indiana State Sales Tax Exemption Certificate for 2022 is now available on the My UE portal under the Office of Administrative Services – Pcard, Purchasing or Travel websites under Sales Tax tab for your convenience.
Center for Diversity Equity and Inclusion is Hiring
The Center for Diversity Equity and Inclusion (CDEI) is hiring 2 new Federal Work Study Student Assistants for the Spring semester. Student Assistants will focus on projects and programming related to DEI at UE. All of those interested in DEI and fostering a sense of inclusion and belonging at the University of Evansville are encouraged to apply.
As a Center for Diversity, Equity, and Inclusion Student Assistant, you will be expected to work approximately 9 hours per week during arranged office hours Monday through Friday during those times when fall and spring classes are in session. The specific hours worked will be at the discretion of the Center for DE&I (based on your class schedule and the needs of the office). Some work may include evenings and weekends based on event and project needs.
Required Skills:
Excellent written and verbal communication skills, demonstrated organizational skills, attention to detail, strong interest in promoting diversity, equity, and inclusion at the University of Evansville, interest and/or experience in programming/ events, experience with social media, strong comfort level with people from a variety of backgrounds, as well as a willingness to expand knowledge and skills related to diversity and inclusion, ability to convey complicated and/or controversial information in a respectful manner, commitment to fostering diversity in a working and learning environment.
Positions are open until filled.
To be considered, please fill out an application through Webadvisor and email to the CDEI at Center4DEI@evansville.edu
Professor Khan Published a Global Research Paper
Walayet A. Khan, Professor of Finance, published a coauthored paper titled, "Impact of global residential real estate on portfolio diversification" in the Journal of Real Estate Portfolio Management.
The study uses a comprehensive sample of 23 countries and a new residential real estate index (as opposed to previously used real estate investment trust index) during various market conditions from 1995 through 2018. Results show adding international real estate to a US stock portfolio is beneficial in reducing portfolio risk, and this diversification benefit is consistent over time.
Senior Nursing Students Make Donation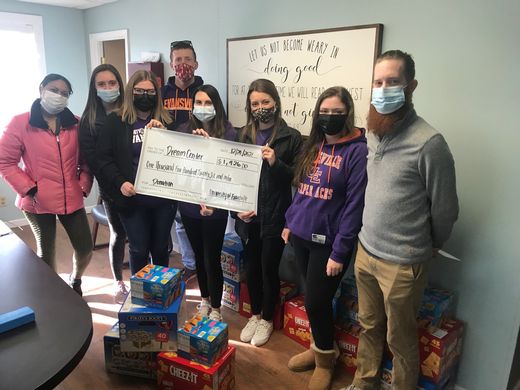 Senior Nursing Students made a donation of over $1,400 to the Dream Center Evansville. They also provided healthy snacks to their after school program and education on the importance of diet and exercise in prevention of childhood obesity. We are proud of their hard work in the community!
Congratulations to Dr. Kenneth Steinsultz
Congratulations to Dr. Kenneth Steinsultz, Professor of Music and Co-Director of the UE Music Conservatory. Dr. Steinsultz was the recipient of the 2021 Arts Educator of the Year Award, awarded by the Arts Council of Southwestern Indiana. We appreciate all the years of service and mentoring Dr. Steinsultz has provided to UE students and to the greater Tri-State musical community.
UNIVERSITY OF EVANSVILLE THEATRE ASSISTANT PROFESSOR WES GRANTOM DIRECTS WORLD PREMIERE AT PIONEER THEATRE IN SALT LAKE CITY, UTAH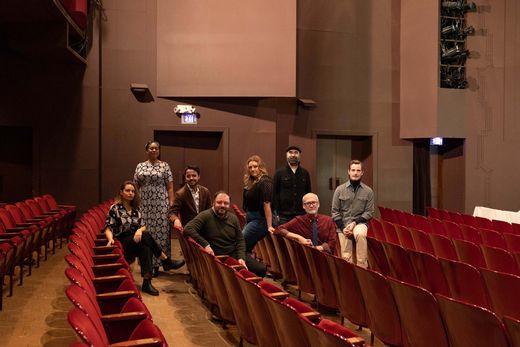 Assistant Professor of Theatre Wes Grantom is in Salt Lake City, Utah, directing the world premiere production of THE MESSENGER, by Jeff Talbott, an adaptation of Henrik Ibsen's AN ENEMY OF THE PEOPLE, at the Pioneer Theatre Company. The production opens January 14 and runs through January 29.
This timely new play deals with the consequences of speaking out about a public health threat. THE MESSENGER is a dramatic roller-coaster ride that examines the relationship between the press and the community and challenges beliefs about when and where to draw the line when public safety and economics clash.
"I have been recently fascinated by classic pieces of theatre containing social and political themes that closely mirror our current climate," says PTC's Artistic Director Karen Azenberg. "Ibsen's whistleblower story has always been intriguing and even more so in the last year." This production was part of a new play reading series at PTC, when it was interrupted by the pandemic in March of 2020.
In addition to Grantom, a 2003 graduate of the University of Evansville, directing the production, Yoon Bae is serving as the scenic and costume designer. An international designer, Bae was in residence at UE last fall and designed the set for THREE SISTERS.
Grantom has been on faculty at UE since 2018 and teaches directing, stage management, and a senior capstone in performance. His directing credits at UE include: ONCE IN A LIFETIME, SPRING AWAKENING, VIOLET, and this season's GONE MISSING.
In addition to his work at UE, Grantom continues to direct professionally, including BEEP BOOP, by Richard Saudek, at Ars Nova and at the Edinburgh Fringe Festival in Scotland, A COMEDY OF TENORS, by Ken Ludwig, at Pioneer Theatre Company, OLDER BROTHER'S ALMANAC, by Richard Thieriot, at the Edinburgh Fringe Festival, TOXIC AVENGER: THE MUSICAL, by David Bryan and Joe DiPietro, at Pittsburgh Civic Light Opera, LONE STAR SPIRITS, by Josh Tobiessen, NYC's Crowded Outlet, EAGER TO LOSE, by Matthew-Lee Erlbach, at Ars Nova, THE STEADFAST, by Mat Smart, and MINE, by Bekah Brunstetter, for Slant Theatre Project.
He also has several Broadway credits as resident and associate director, working alongside James Lapine, Emma Rice, John Rando, Anthony Page and Rufus Norris, and he is a member of the Stage Directors and Choreographers Society, recipient of multiple Drama League Fellowships, and a member of Lincoln Center Directors Lab.
Ebeling joins Editorial Advisory Board of Biblical Archaeology Review magazine
Associate Professor of Archaeology Jennie Ebeling recently joined the Editorial Advisory Board of Biblical Archaeology Review (BAR), the only magazine that connects the academic study of archaeology to a broad general audience eager to understand the world of the Bible. Members of the Editorial Advisory Board are leading archaeologists and biblical scholars in the US and Israel. In recent years, Ebeling has contributed articles on the Jezreel Expedition, UE's excavation project in Israel, and other topics to the magazine. She also currently serves on the editorial boards of the academic journals Near Eastern Archaeology, Bulletin of the American Society of Overseas Research, and Avar: An Interdisciplinary Journal of Life and Society in the Ancient Near East and edits ASOR's Archaeological Report Series. Ebeling is the co-editor of five volumes and the author of Women's Lives in Biblical Times (T&T Clark, 2010); her second monograph will be published by Oxford University Press later this year.
Kora Ruff named Iowa Gatorade Player of the Year
Two more prestigious honors were picked up by Kora Ruff, who is set to join the University of Evansville volleyball program as a freshman next fall.
Ruff was named the Iowa Gatorade Player of the Year on Tuesday. The award recognizes the nation's most outstanding high school student-athletes for their athletic excellence, academic achievement and exemplary character. She is eligible for the Gatorade National Player of the Year, which will be announced later in January.
She was also recognized as a Prepvolleyball.com Second Team All-American. Both honors come on the heels of her leading Pleasant Valley High School to the Iowa Class 5A State Volleyball Title in November.
The setter recorded a total of 950 assists in her senior campaign while leading her team to a 33-4 record on the way to the state championship. The 2-time Mississippi Athletic Conference Player of the Year led Pleasant Valley to it's fourth MAC title in 2021.
Her career total of 3,262 assists was the most in Quad Cities history. The senior currently has a 4.2 GPA.
Winners of the Iowa Gatorade Player of the Year Award have gone on to enjoy successful college careers with recent recipients continuing their playing careers at UCLA, Notre Dame, Mississippi State and Nebraska.
Women's Basketball to play at Indiana State on Tuesday
The Missouri Valley Conference has announced a new date for the University of Evansville women's basketball team's contest at Indiana State.

Evansville will now travel to Terre Haute, Ind. to take on the Sycamores on Tuesday, January 18 at 5 PM (CT). The game was originally scheduled to be played on Thursday, January 13, but Indiana State determined it was unable to compete at the originally scheduled date.

The Conference office will continue to work in conjunction with its member schools throughout the rescheduling process.
Givance and Newton lead UE in road contest at Bradley
An extended rally in the second half saw Bradley turn what was a 7-point lead into a 79-47 win over the University of Evansville men's basketball team on Wednesday night inside Carver Arena.
Jawaun Newton and Shamar Givance led the Purple Aces (4-11, 0-4 MVC) with 16 points apiece. Newton added eight rebounds. Freshman Preston Phillips had his top defensive effort, hauling in a career-best 9 board with eight coming on the defensive end. Leading Bradley (8-9, 2-3 MVC) was Rienk Mast with 23 points and 13 boards, both game highs. Terry Roberts added 19 points and 10 caroms.
"We defended pretty well initially and kept it manageable at halftime, trailing by just 12 points," UE head coach Todd Lickliter said. "In the second half, we had some good possessions to cut into the lead, but Bradley got on a roll and we were not able to keep up."
Neither team had success finding the bottom of the net in the opening moments with both crews combining to miss the first seven shots of the game. After Bradley opened the scoring, Jawaun Newton gave UE a 3-2 lead with a triple. The Braves retook the lead, going up 11-5 while the shooting woes continued for the Aces, who started the game 1-for-11 from the field.
Shamar Givance got Evansville back within a possession at 11-8 when he converted a 3-point play. Momentum swung right back to the Braves, who reeled off the next seven points to take the first double-digit lead of the night at 18-8 with 8:46 left in the half. Their lead reached as many as 14 points (31-17) in the opening 20 minutes before the Aces cut it to a 36-24 contest at the break.
Another Newton triple in the opening minutes of the second half cut the Bradley deficit to seven (38-31), but BU knocked down a triple on the ensuing possession and would score the next 10 points to take a 17-point advantage. Inside of the 14-minute mark. The third triple of the half by Malevy Leons extended the Braves lead to 53-33.
What would turn into a 29-7 run, Bradley would go up 67-38 with the game entering the final 10 minutes. Emmette Page connected on a three with seven minutes remaining to halt the run, but the Braves would continue to add to the advantage in the final minutes on he way to clinching the win. Bradley finished the night with a 47-26 rebounding edge while shooting 48.4%.
On Tuesday, January 18, the Aces will return to the Ford Center to take on Loyola.
Women's Basketball game at Indiana State postponed
The University of Evansville women's basketball game at Indiana State scheduled for Thursday evening has been postponed. The Sycamores have determined they are unable to compete in Thursday's game. The game has been postponed, and the Conference office will attempt to reschedule the game, if possible. Indiana State is scheduled to play at Valparaiso on Friday, Jan. 21. The Conference will share information about the status of that contest as soon as possible.
Contribute to AceNotes
To have content considered for inclusion in AceNotes, please submit a Marketing Request Form. Deadline for submission to AceNotes is 10:00 a.m. on the requested date of publication. Only articles concerning UE related/sponsored activities will be accepted. Articles submitted to AceNotes may be edited for length and clarity. Submitter contact information is at the end of each article.