| | |
| --- | --- |
| AceNotes Today | Wednesday, January 12, 2022 |
Martin Luther King, Jr. Celebration - Today!
Please join us today for our annual Martin Luther King, Jr. Celebration! Various events and activities will be held throughout the day in remembrance of Dr. King and his passionate pursuit of social justice and the work that remains today. Events are for the UE community as well as the public.
Order of Events
10:30 a.m. – Grand opening of the Center for Diversity, Equity, and Inclusion (CDEI) and the Multicultural Student Commons (MSC). The event will be held on the second floor of Ridgway University Center, near the Center for Diversity, Equity, and Inclusion.
11:15 a.m. – Rally at Meeks Family Fieldhouse; this will include comments from President Pietruszkiewicz, Dr. Rob Shelby, and the president of the Black Student Union.
1:00 p.m. – Local Leaders Panel Discussion; this will take place in Room 170 of Schroeder School of Business (SOBA). For those who cannot attend in-person, you can stream live through the CDEI Facebook page.
2:00 p.m. - Community service projects; various projects will be organized for the campus community. For more information, you may contact Abagail Catania.
6:00 p.m. - William G. and Rose M. Mays Lectureship, 2022 Mays Legacy Award, and Inaugural Rising Start Service Award presentations; this will take place inside Eykamp Hall. The 2022 keynote speaker will be Dr. Lerone Martin, who will provide a live, simulcast lecture. Martin recently became the faculty director for the Martin Luther King, Jr. Research and Education Institute at Stanford University. The King Institute supports a broad range of educational activities illuminating Dr. King's life and the movements he inspired. If you are unable to attend in-person, you may also stream this at evansville.edu/live.
7:00 p.m. – Reception. Light refreshments will be served in the Class of 1959 Gallery (outside Eykamp Hall)
Save the Date: UE Gospel Choir Call Out Meeting
Come One, Come All!
Do you like to sing? Can you play a musical instrument (drums, bass/electric guitar, etc.)?
The Center for Diversity, Equity, and Inclusion and the Office of Religious Life are hosting a callout meeting for all UE campus members (students and employees) who are interested to learn about UE's new Gospel Choir.
Thursday, January 20, 2022 at 7:00 pm
SOBA 170
Submit advance inquiries to Center4DEI@evansville.edu
The College Tour Watch Party – Coming up January 12!
The spring semester is coming up, and you may want an entertaining outlet during the stress and workload of your first week. Take a break and make plans to join us for The College Tour Watch Party next Wednesday, January 12! We're inviting all students, employees, alumni, and prospective students to join us.
At 8:30 p.m., the pre-show will begin in Ridgway University Center. Show up early to get your seat, grab some free snacks from Café Court, and even take your photo on our purple carpet. At 9:00 p.m., the 30-minute episode will premiere in Eykamp Hall.
We are so excited to share this video with you, because it tells the story of what makes UE such a special place. If you can't make it in-person, you can also join us virtually by streaming at evansville.edu/live.
NEW ChangeLab Opportunity: PSYC 489 T04 is now cross-listed with CHNG 310 Y10 – Children's Mental Health Testing

NEW ChangeLab Opportunity: PSYC 489 T04 is now cross-listed with CHNG 310 Y10 – Children's Mental Health Testing. Students can take the class for either section. The class is going to examine why there is such a long wait list for children to access mental health testing services, and then make recommendations on what our community might be able to do about it. The students on this team will make a huge difference in the lives of children and their families. About your Coach: Dr. Jennifer Braun is the Clinical Director and Chief Psychologist at the Evansville State Hospital in Evansville, Indiana. She also serves as the primary forensic evaluator and educator for the state's only Jail-Based Competency Restoration Program, which brings mental health treatment and competency restoration services to patients while they are incarcerated. Her path to become a psychologist began as a Philosophy Major at the University of Evansville many moons ago. She has extensive supervision and clinical experience in the assessment and treatment of psychiatric disorders in children, adolescents, and adults. Students have until Friday 1/14 to add this class to their schedule.
New faces across campus
The Office of Technology Services has seen a few changes over last semester. Say hello to new roles and new members of the Client Services team!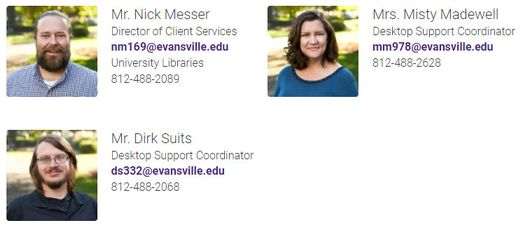 Whatever your need, email us at help@evansville.edu or call 812-488-2077. We look forward to supporting our campus community!
SOC Race & Ethnic Relations Course Now Offered in Spring Semester
SOC 438- Race and Ethnic Relations is being offered this semester! This timely and important course will be taught mostly asynchronously, with 4 online synchronous discussion sessions and a required field trip to the Evansville African American Museum. The instructor, Dr. Michael Woodard, is a UE SOC alumnus who earned his PhD at University of Chicago. Now an emeritus professor and consultant in Atlanta, Dr. Woodard will be bringing his extensive research, teaching, and professional experience to teach Sociology of Race and Ethnic Relations.
While course activities for SOC 438 will begin on Tuesday, January 18, the course must be added before THIS Friday, January 14, during the University's add/drop period. The section size is limited and by permission only. For more information or to request permission to add the course, please email Dr. Mari Plikuhn, Director of Sociology Programs at plikuhn@evansville.edu.
Consent to Receive Electronic W-2s and 1095-Cs
Consent to Receive Electronic W-2s and 1095-Cs
The Office of Accounting/Payroll will be issuing W-2s for 2021 no later than January 31, 2022. You may choose 1 of 2 options to receive your W-2:
Electronic W-2 – If you provide your consent, you will be able to view/print in Self-Service as soon as they are ready. Notification will be sent through AceNotes.
Paper W-2 – If you prefer, you can continue to receive your W-2 in the mail.
An electronic W-2 will give you earlier access than a mailed copy. It is IRS compliant and can be submitted with your tax return as usual.
To give consent for the electronic W-2, log in to Self-Service https://selfservice.evansville.edu and go to "Tax Information". Select "Receive my W-2 only in electronic form" and save.
If you are eligible to participate in the university's health plans, you may give consent to receive your 1095-C form electronically here also. If you choose to withhold your consent to view/print your online W-2 and 1095-C, a paper copy will be mailed to your home address.
If you have questions, please contact Dawn Bury at ext 2159 or db287@evansville.edu.
Share your Harlaxton story!
Have you had the chance to study abroad at Harlaxton? We want to hear your story! Tell us all about your experience, and it could be a featured yourHarlaxton story on the Harlaxton website!
If you're interested in discussing your time spent studying abroad, please email Julie Bryant, university relations coordinator, at jb855@evansville.edu. A small list of questions will be sent via email, and you can answer them in your own words. Some of the questions will include:
Which semester you studied abroad
How did Harlaxton benefit your undergraduate experience?
What was your favorite part of studying abroad?
Why do you recommend studying at Harlaxton? What would be your advice to others planning to attend?
2022 Pcard Monthly Cycle Calendar
The 2022 Pcard Monthly Cycle Calendar is available and posted and available on My Portal on the Pcard website under Dates to Remember.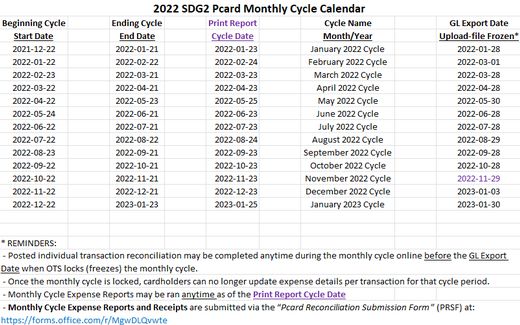 NEW 2022 Indiana Sales Tax Exemption Certificate
NEW 2022 Indiana Sales Tax Exemption Certificate
The UE Indiana State Sales Tax Exemption Certificate for 2022 is now available on the My UE portal under the Office of Administrative Services – Pcard, Purchasing or Travel websites under Sales Tax tab for your convenience.
Become An RA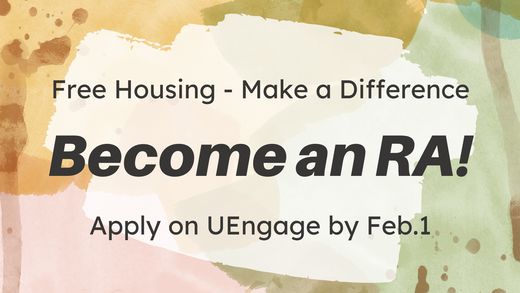 Interested in creating community? Getting involved? Free Housing? Apply to be an RA on UEngage by Feb.1! If you have question, email Lily Renfro (lr156) or Will McDonner (wm99) for more information.
Spring Meal Plan Changes
Students can adjust meal plans for the Spring semester until Friday, January 14, 2022 at 5:00 p.m.
Congratulations to Dr. Kenneth Steinsultz
Congratulations to Dr. Kenneth Steinsultz, Professor of Music and Co-Director of the UE Music Conservatory. Dr. Steinsultz was the recipient of the 2021 Arts Educator of the Year Award, awarded by the Arts Council of Southwestern Indiana. We appreciate all the years of service and mentoring Dr. Steinsultz has provided to UE students and to the greater Tri-State musical community.
Ebeling joins Editorial Advisory Board of Biblical Archaeology Review magazine
Associate Professor of Archaeology Jennie Ebeling recently joined the Editorial Advisory Board of Biblical Archaeology Review (BAR), the only magazine that connects the academic study of archaeology to a broad general audience eager to understand the world of the Bible. Members of the Editorial Advisory Board are leading archaeologists and biblical scholars in the US and Israel. In recent years, Ebeling has contributed articles on the Jezreel Expedition, UE's excavation project in Israel, and other topics to the magazine. She also currently serves on the editorial boards of the academic journals Near Eastern Archaeology, Bulletin of the American Society of Overseas Research, and Avar: An Interdisciplinary Journal of Life and Society in the Ancient Near East and edits ASOR's Archaeological Report Series. Ebeling is the co-editor of five volumes and the author of Women's Lives in Biblical Times (T&T Clark, 2010); her second monograph will be published by Oxford University Press later this year.
Aces travel to Peoria for Wednesday contest at Bradley
Looking to get back on the winning track, the University of Evansville men's basketball team returns to the road on Wednesday evening for a 7 p.m. game against Bradley inside Carver Arena. ESPN+ and the Purple Aces Radio Network will have the coverage.
Season Update
- The MVC recently announced make-up dates for games that have been postponed
- On Jan. 21, UE travels to Illinois State for a 6 p.m. game before ISU returns the trip two days later in a 1 p.m. game at the Ford Center
- Evansville will play Indiana State in Terre Haute on Feb. 8 before the Sycamores come to Evansville on the 10th
Last Time Out
- Another one came down to the wire on Saturday with Drake defeating the Purple Aces by a 60-59 final inside the Ford Center
- Trailing by as many as nine points in the second half, UE stormed back and had a chance to win at the buzzer before two shots came up short
- Jawaun Newton had one his top games of the season, totaling 21 points on 8-of-11 shooting along with tying for the top rebound tally in the game with nine
- Shamar Givance recorded 18 points, 4 rebounds, 2 assists and 2 steals
Clamping Down
- Through six homes games, the UE defense has shined, allowing the opposition to score an average of just 56.33 points per game...just one opponent has scored over 60 points at the Ford Center this season with UCF finishing with 75 on Nov. 20
- In eight road/neutral site games, the opposition has averaged 74.25 PPG
Taking Care of the Ball
- One of the things that has kept the Aces in each contest over the recent stretch has been the ability to take care of the ball
- The last seven games have seen UE turn the ball over just 57 times - an average of 8.1 per game...that tally is lower than the national leader in that statistic
- Evansville has finished with single digit turnovers in five of the last seven games and has not turned it over more than 11 times during that span
- That is a huge disparity from the first seven outings where UE committed 99 turnovers, an average of 14.1 per game
Another 20-point Performance
- For the second time this season and first since his 30-point game against Rice, Jawaun Newton finished with 21 points against Drake
- His season average is 14.3 PPG, but over the last nine games, he has recorded 16.4
- Newton continues to rack up the rebounds a the top level of his career, pacing the squad with 5.9 per game; that average is even higher over the last seven games with his mark standing at 7.0
Making the Adjustment
- As his freshman season has moved along, Blake Sisley has looked more and more comfortable at the next level
- After scoring a total of three points in his first six games, Sisley has averaged 6.5 points in the last four outings
- His top game saw him hit 5 out of 6 attempts on his way to 12 points versus Tennessee Tech
- Sisley has earned more playing time as the season has moved along, culminating in his top total of 24:33 against Drake
Scouting the Opponent
- A 78-71 overtime loss at Loyola on Saturday saw Bradley fall to 7-9 on the season and 1-3 through four MVC contests
- The Braves defeated UNI in the conference opener in December by a 71-69 final, but have fallen in three close games since the New Year
- Terry Roberts has leads the Braves in points, assist and steals
- His average of 15.3 PPG is 7th in the Valley while he ranks third with 4.2 assists per game and second with his average of 1.7 steals
- Rienk Mast is Bradley's top rebounder, hauling in 7.8 per contest
- His average is second in the league
Contribute to AceNotes
To have content considered for inclusion in AceNotes, please submit a Marketing Request Form. Deadline for submission to AceNotes is 10:00 a.m. on the requested date of publication. Only articles concerning UE related/sponsored activities will be accepted. Articles submitted to AceNotes may be edited for length and clarity. Submitter contact information is at the end of each article.