| | |
| --- | --- |
| AceNotes Today | Thursday, January 6, 2022 |
CDEI Presents: Passport to Inclusion Info Sessions
The Center for Diversity Equity and Inclusion invites you to attend one of the following Passport to Inclusion Information Sessions! During the info session a representative from the CDEI will discuss the background and history of Passport to Inclusion, the requirements for the program, how to get involved and more.
Passport to Inclusion is aimed at University of Evansville employees to help raise awareness of issues relating to race, sexual orientation, gender identity, disability status and accommodation, as well as other historically underrepresented identities in higher education and other systems. Employees engaged with Passport to Inclusion will not only gain knowledge of diverse experiences but are encouraged to utilize their knowledge and skills to inform their own workspaces.
All info sessions will take place in SOBA 271
January 5: 12-1pm (virtual at Zoom meeting ID: 572 831 8957)
January 6: 2-3pm (virtual at Zoom meeting ID: 572 831 8957)
January 7: 9-10am (virtual at Zoom meeting ID: 572 831 8957)
January 11: 3-4pm
January 13: 4-5pm
The last date to register to engage in Passport to Inclusion for this year is January 15, 2022. Please direct any questions to the CDEI at Center4DEI@evansville.edu.
If you are interested in Passport to Inclusion but unable to attend an info session, please watch this video.
The College Tour Watch Party – Coming up January 12!
The spring semester begins next week, and we have something very exciting planned! Take a break from your classes and workload and join us for The College Tour Watch Party next Wednesday, January 12! We're inviting all students, employees, alumni, and prospective students to join us.
At 8:30 p.m., the pre-show will begin in Ridgway University Center. Show up early to get your seat, grab some free snacks from Café Court, and even take your photo on our purple carpet. At 9:00 p.m., the 30-minute episode will premiere in Eykamp Hall. Those who attend will be the first to see this episode!
We are so excited to share this video with you, because it tells the story of what makes UE such a special place.
If you're unable to attend in person, you can also stream with us at evansville.edu/live.
Fitness Center Closed Until Monday, January 10
We apologize for the inconvenience, but the Fitness Center will be closed until Monday, January 10. It will resume with normal hours then.
Fitness Center Hours of Operation:
Monday - Friday: 6:30 a.m. - 10:00 p.m.
Saturday: 11:30 a.m. - 5:30 p.m.
Sunday: 11:30 a.m. - 9:00 p.m.
2022 Pcard Monthly Cycle Calendar
The 2022 Pcard Monthly Cycle Calendar is available and posted and available on My Portal on the Pcard website under Dates to Remember.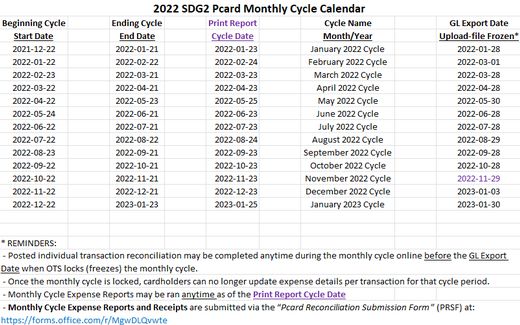 NEW 2022 Indiana Sales Tax Exemption Certificate
NEW 2022 Indiana Sales Tax Exemption Certificate
The UE Indiana State Sales Tax Exemption Certificate for 2022 is now available on the My UE portal under the Office of Administrative Services – Pcard, Purchasing or Travel websites under Sales Tax tab for your convenience.
UE Jazz
Do you play guitar, keyboard, drum set, bass, trumpet, trombone, or saxophone? The UE Music Conservatory offers two ensemble experiences (chamber jazz and big band). If you are interested contact Dr. Zifer at tz3@evansville.edu or (812) 488-2878. Come swing with us!
UE Wind Ensemble Auditions
Auditions for the UE Wind Ensemble will be January 11 and 13, 2022. The UE Wind Ensemble audition will consist of prepared excerpts, two major scales (one in a flat key, one in a sharp key), chromatic scale (practical range of instrument), and sight reading. Excerpts can be found at https://www.evansville.edu/majors/music/ensIntro.cfm
Audition Schedule
Tuesday, January 11, 2022, 3:00 - 5:00 p.m.
Thursday, January 13, 2022, 3:00 - 5:30 p.m.
First Rehearsal is Tuesday, January 18. 2022
Auditions are held in Krannert Hall of Fine Arts, Room 103. Please sign up for an audition on the UE Bands bulletin board, across from FA 103.
For further information, please contact Dr. Kenneth Steinsultz (ks306@evansville.edu)
UE Orchestras seeking new members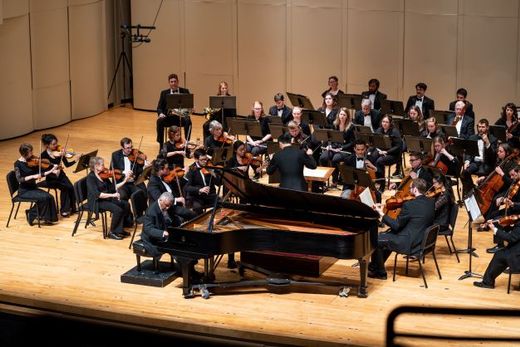 Students, staff, faculty, and administrators are invited to play in the University Symphony Orchestra (Audition Required) and String Chamber Ensemble (No Audition Required!). The University Symphony Orchestra meets on Monday at 5:30 p.m. and Wednesday at 6:30 p.m. The String Chamber Ensemble meets on Thursday at 4 p.m. in the Krannert Hall of Fine Arts. Join us!
Please E-mail Chun-Ming Chen, director of orchestral activities, at cc319@evansville.edu for more information.
Spring Meal Plan Changes
Students can adjust meal plans for the Spring semester until Friday, January 14, 2022 at 5:00 p.m.
UE Announces Dean's List for Fall 2021 Semester
The University of Evansville is pleased to announce that over 630 students were named to the Dean's List for the Fall 2021 semester. To merit the honor of being placed on the Dean's List each semester, a student must have carried a full academic load of 12 hours or more and have earned a grade point average of 3.5 or above.
Congratulations, students!
You can find the full list on our website news.
Condolences
Condolences to Bob Szurgot, Business Systems Director, on the death of his mother, Linell D. Szurgot. Linell passed away on December 18th.
Sympathy to Ms. Leanne Nayden
The University extends its sympathy to Ms. Leanne Nayden, Lecturer in the School of Education, in the passing of her brother Lee Michael Howerter in Anderson, SC. Michael passed away Dec 14, 2021. He was a member of the Knights of Columbus and served in the Army Reserves. Michael worked as a yacht broker in Florida before retiring to South Carolina. A funeral Mass will be held on Saturday, Jan 8, 2022, in Anderson, SC.
Contribute to AceNotes
To have content considered for inclusion in AceNotes, please submit a Marketing Request Form. Deadline for submission to AceNotes is 10:00 a.m. on the requested date of publication. Only articles concerning UE related/sponsored activities will be accepted. Articles submitted to AceNotes may be edited for length and clarity. Submitter contact information is at the end of each article.