| | |
| --- | --- |
| AceNotes Today | Wednesday, January 5, 2022 |
Purple Patrollers Needed for February and March!
There are still time slots for Purple Patrol this spring, and we need your help! The first week of Purple Patrol will be Friday, January 14, marking the first week of classes.
Sign up on behalf of your team or coworkers here.
When it's your week to help, you will receive an email in advance with basic instructions. Purple goodies will be waiting for you on Friday morning in the Office of Marketing and Publications (top floor of the Schroeder Family School of Business Administration Building). There is no specific time or place to hand out these items; the only requirement is that the recipients are wearing purple!
If you have any questions about the sign-up or Purple Patrol, please contact Julie Bryant, university relations coordinator, at jb855.
CDEI Presents: Passport to Inclusion Info Sessions
The Center for Diversity Equity and Inclusion invites you to attend one of the following Passport to Inclusion Information Sessions! During the info session a representative from the CDEI will discuss the background and history of Passport to Inclusion, the requirements for the program, how to get involved and more.
Passport to Inclusion is aimed at University of Evansville employees to help raise awareness of issues relating to race, sexual orientation, gender identity, disability status and accommodation, as well as other historically underrepresented identities in higher education and other systems. Employees engaged with Passport to Inclusion will not only gain knowledge of diverse experiences but are encouraged to utilize their knowledge and skills to inform their own workspaces.
All info sessions will take place in SOBA 271
January 5: 12-1pm (virtual at Zoom meeting ID: 572 831 8957)
January 6: 2-3pm (virtual at Zoom meeting ID: 572 831 8957)
January 7: 9-10am (virtual at Zoom meeting ID: 572 831 8957)
January 11: 3-4pm
January 13: 4-5pm
The last date to register to engage in Passport to Inclusion for this year is January 15, 2022. Please direct any questions to the CDEI at Center4DEI@evansville.edu.
If you are interested in Passport to Inclusion but unable to attend an info session, please watch this video.
The College Tour Watch Party – Coming up January 12!
The spring semester begins next week, and we have something very exciting planned! Take a break from your classes and workload and join us for The College Tour Watch Party next Wednesday, January 12! We're inviting all students, employees, alumni, and prospective students to join us.
At 8:30 p.m., the pre-show will begin in Ridgway University Center. Show up early to get your seat, grab some free snacks from Café Court, and even take your photo on our purple carpet. At 9:00 p.m., the 30-minute episode will premiere in Eykamp Hall. Those who attend will be the first to see this episode!
We are so excited to share this video with you, because it tells the story of what makes UE such a special place.
If you're unable to attend in person, you can also stream with us at evansville.edu/live.
UE Wind Ensemble Auditions
Auditions for the UE Wind Ensemble will be January 11 and 13, 2022. The UE Wind Ensemble audition will consist of prepared excerpts, two major scales (one in a flat key, one in a sharp key), chromatic scale (practical range of instrument), and sight reading. Excerpts can be found at https://www.evansville.edu/majors/music/ensIntro.cfm
Audition Schedule
Tuesday, January 11, 2022, 3:00 - 5:00 p.m.
Thursday, January 13, 2022, 3:00 - 5:30 p.m.
First Rehearsal is Tuesday, January 18. 2022
Auditions are held in Krannert Hall of Fine Arts, Room 103. Please sign up for an audition on the UE Bands bulletin board, across from FA 103.
For further information, please contact Dr. Kenneth Steinsultz (ks306@evansville.edu)
UE Orchestras seeking new members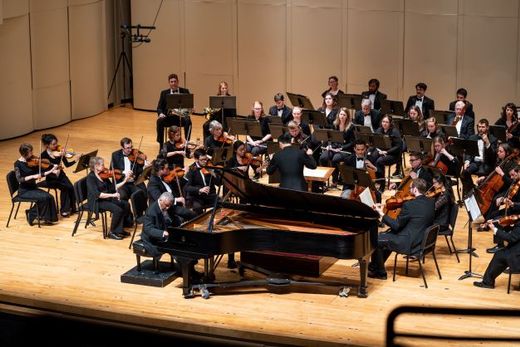 Students, staff, faculty, and administrators are invited to play in the University Symphony Orchestra (Audition Required) and String Chamber Ensemble (No Audition Required!). The University Symphony Orchestra meets on Monday at 5:30 p.m. and Wednesday at 6:30 p.m. The String Chamber Ensemble meets on Thursday at 4 p.m. in the Krannert Hall of Fine Arts. Join us!
Please E-mail Chun-Ming Chen, director of orchestral activities, at cc319@evansville.edu for more information.
Center for Diversity Equity and Inclusion is Hiring
The Center for Diversity Equity and Inclusion (CDEI) is hiring 2 new Federal Work Study Student Assistants for the Spring semester. Student Assistants will focus on projects and programming related to DEI at UE. All of those interested in DEI and fostering a sense of inclusion and belonging at the University of Evansville are encouraged to apply.
As a Center for Diversity, Equity, and Inclusion Student Assistant, you will be expected to work approximately 9 hours per week during arranged office hours Monday through Friday during those times when fall and spring classes are in session. The specific hours worked will be at the discretion of the Center for DE&I (based on your class schedule and the needs of the office). Some work may include evenings and weekends based on event and project needs.
Required Skills:
Excellent written and verbal communication skills, demonstrated organizational skills, attention to detail, strong interest in promoting diversity, equity, and inclusion at the University of Evansville, interest and/or experience in programming/ events, experience with social media, strong comfort level with people from a variety of backgrounds, as well as a willingness to expand knowledge and skills related to diversity and inclusion, ability to convey complicated and/or controversial information in a respectful manner, commitment to fostering diversity in a working and learning environment.
Positions are open until filled.
To be considered, please fill out an application through Webadvisor and email to the CDEI at Center4DEI@evansville.edu
UE Announces Dean's List for Fall 2021 Semester
The University of Evansville is pleased to announce that over 630 students were named to the Dean's List for the Fall 2021 semester. To merit the honor of being placed on the Dean's List each semester, a student must have carried a full academic load of 12 hours or more and have earned a grade point average of 3.5 or above.
Congratulations, students!
You can find the full list on our website news.
Sympathy to Ms. Leanne Nayden
The University extends its sympathy to Ms. Leanne Nayden, Lecturer in the School of Education, in the passing of her brother Lee Michael Howerter in Anderson, SC. Michael passed away Dec 14, 2021. He was a member of the Knights of Columbus and served in the Army Reserves. Michael worked as a yacht broker in Florida before retiring to South Carolina. A funeral Mass will be held on Saturday, Jan 8, 2022, in Anderson, SC.
Men's basketball game at Indiana State postponed
Indiana State University has determined it is unable to compete in tonight's (Jan. 5) home men's basketball game against the University of Evansville men's basketball team.

The game has been postponed, and the Conference office will attempt to reschedule the game, if possible. Indiana State is scheduled to play at Drake on Saturday, Jan. 8. The Conference will share information about the status of that contest as soon as possible.
Multiple schedule changes announced for UE men
The Missouri Valley Conference has announced schedule changes that will impact three University of Evansville men's basketball games over the coming weeks.
Evansville and Illinois State will swap home dates for the regular season series. This weekend, the Purple Aces will travel to ISU on Sunday for a 1 p.m. game inside Redbird Arena.
On Sunday, January 23, the Aces and Redbirds will square off inside the Ford Center. Tip time will be determined in the coming days. UE's trip to Valparaiso will shift ahead by a day to Wednesday, February 2 and the start time will be announced at a later date.
Tomorrow, UE is back on the road for a 6 p.m. CT contest at Indiana State.
Aces travel to Indiana State on Wednesday
Another road game is on tap for the University of Evansville men's basketball team with the Purple Aces heading to Terre Haute for a 6 p.m. CT game against Indiana State on Wednesday evening at the Hulman Center. ESPN+ and the Purple Aces Radio Network will have the coverage.
Season Update
- After two cancellations due to COVID, UE played its first game in 25 days on January 2 at UNI
- The Purple Aces played 12 games over the course of 30 days to open the year, but went 25 days in between the 12/8 game at SEMO and the 1/2 contest at UNI
Last Time Out
- Making his first UE start, Blaise Beauchamp scored a team-high 14 points in an 83-61 loss at UNI on Sunday
- Beauchamp's career game saw him knock down four triples while playing his top total of over 28 minutes...in the opening minutes, his back-to-back triples put UE in front at 8-5 before the Panthers retook the lead
- Evan Kuhlman had his top performance in over a month, recording 12 points while hitting 4 of his 6 shot attempts
- Jawaun Newton added 11 points while Shamar Givance had 7 points, 5 assists and 4 rebounds
Home Cooking
- The January 2 contest at UNI was a special one for Blaise Beauchamp, who made his first start just a handful of hours from his home town of Minnetonka, Minnesota
- He finished the contest with a career-high 14 points while playing his top total of 28:45
- His total at UNI marked the fifth double digit game of the season and second in a row after scoring 11 at SEMO
- Over the course of the last four games, he 9 of his 21 3-point attempts
- Prior to his 14-point game in Cedar Falls, his top scoring mark came against IUPUI and at EIU where he registered 12 points while he opened the season with 11 at Cincinnati
Battling Back
- In his final four games of the 2021 calendar year, Evan Kuhlman battled a mild injury and scored a total of three points while going 1-for-13 from the field
- The layoff between 12/8 and 1/2 helped Kuhlman, who posted 12 points at UNI on 4-of-6 shooting...it was his first double figure game since recording 10 against Rice in the Gulf Coast Showcase
- After reaching double figures in the final six games last spring, Kuhlman has done so in five games thus far (11 out of 17 overall) - the top streak of his career
Scouting the Opponent
- Indiana State evened its MVC mark at 1-1 with a 76-71 win over Bradley on Sunday as their overall season record stands at 8-6
- Four Sycamores average double figures with Cooper Neese leading the way with 16.3 points per game
- Neese is a 42.8% shooter from the field and has converted 81.1% of his free throw tries
- Cameron Henry sits at 14.1 PPG while Micah Thomas and Xavier Bledson average 12.4 and 12.1 points, respectively
- On the boards, it is Henry tallying an average of 6.3 caroms to lead the squad
- Matthew Graves, who was a player at Butler for Todd Lickliter and an assistant coach at UE in 2018-19, is currently the Associate Head Coach at ISU

Contribute to AceNotes
To have content considered for inclusion in AceNotes, please submit a Marketing Request Form. Deadline for submission to AceNotes is 10:00 a.m. on the requested date of publication. Only articles concerning UE related/sponsored activities will be accepted. Articles submitted to AceNotes may be edited for length and clarity. Submitter contact information is at the end of each article.