| | |
| --- | --- |
| AceNotes Today | Thursday, December 16, 2021 |
AceNotes on Holiday Until January 3
Friday, December 17 will be the last day AceNotes is published until Monday, January 3.
AceNotes Extras will still be published if necessary.
PAYROLL REMINDER FOR 12/24/21
With a very short work week approaching, the Payroll Department is requesting the following:
Staff and students please submit timecards by Friday, December 17th for the 12/05/21 - 12/18/21 pay period.
Supervisors are reminded to approve timecards before noon on Monday, December 20th.
Thank you, and please contact Dawn Bury at EXT 2159 or db287@evansville.edu if you have questions.
2021 Employee Holiday Schedule
The University of Evansville will be closed during the holidays to allow our employees to enjoy this special time with their families. This year, our December holiday will be extended for one additional day, closing on December 22 to provide extra time with your families.
Winter Holiday Break
Closed Wednesday, December 22 through Friday, December 31
Offices reopen on Monday, January 3
Required COVID-19 Testing for the Spring Semester
The Coronavirus Task Force thanks the campus community for creating a successful fall semester with very few COVID-19 cases on our campus. Looking ahead at the Spring 2022 semester, UE will continue with the same requirements for students and employees that were in place this fall.
A negative COVID-19 test (either rapid or PCR) will be required for all full and part-time students and employees (including adjunct instructors) who have reason to be on the UE or Stone Center for Health Sciences campuses. Those who submit a negative COVID-19 test will be required to participate in the Random COVID-19 Testing program throughout the semester.
If you submitted proof of full vaccination for the fall semester, you are not required to submit a negative test, participate in the Random COVID-19 Testing Program, or re-upload your documentation.
Those who became fully vaccinated after the fall semester began will need to upload their documentation. Full vaccination is considered two doses of Pfizer or Moderna or one dose of Johnson & Johnson, plus a 14-day waiting period.
Students and faculty participating in study abroad programs, including Harlaxton College, will be provided specific information from the Study Abroad Office regarding testing and vaccine requirements for spring travel.
Please click on the links below for important information specific to requirements, submitting documents, and important deadlines:
The College Tour Watch Party – January 12, 2022
Do you remember earlier in the semester when we announced on-campus filming for our very own episode of The College Tour? This 30-minute video allows anyone in the world to get an in-depth look into our campus, programs, student life, and athletics. If the pandemic or finances get in the way of traveling to the UE campus, our episode helps high school students feel like they're right here in Evansville!
So without further ado, before you head home for the holidays, mark your calendar for The College Tour Watch Party on Wednesday, January 12, 2022!
The event will be held in Eykamp Hall that evening. Pre-show entertainment will begin at 8:30 p.m. with free snacks in Café Court, giveaways, music, and even a purple carpet! At 9:00 p.m., the episode will premiere. Make sure to get there early to secure your seat!
Whether you're a student, employee, alum, or a prospective student, we want to see you there. Those who attend the watch party will be the very first audience to see the final cut! We're so excited to share the completed episode with you.
Top 20 Finalists for the 2022 UE High School Changemaker Challenge Announced

Top 20 Finalist for the 2022 UE High School Changemaker Challenge Announced!
In no particular order...
Intertwined Financial Literacy: Kerry Ao and Naina Muvva
Genocide Education Project: Max Roberts
Women in STEM Careers: Madelyn Tarvin and Hannah Adison
Vol-Grad: Cody Bunch
The Hydration Station: Jack Deig
The ART Van: Anika Pai
Glow in the Dark Cemetery Angels: Vivian Galey
Ethical Clothing: Braelyn McKenzie and Emma Thompson
Driving for Change, Sensory Inclusion: Tyler Myers
Garden-Way: Jet Gregory
The Wholesome Forest: Elliott Foresterwelsh
Project CuRe: Sabreen Hussain
Restore and Rebuild: Faith Field
Walkers for Mental Health: Rebecca Rzeszut
Do You Mind?: Brooke Williard
Teach the Educator: Save our Future: Alison Gansman
Produce Prescription Program: Carlie Hayward
Additive Affordable Prosthetics: Zeke Grant
Improving Academic and Physical Success: Lydia Jourdan, Adison Young, and Madison Schenk
Every Body Helps: Emmett Bowman
The Top 20 Finalists will compete on January 25th in person at the University of Evansville. The winner of the FULL TUITION Scholarship will be announced that day.
Toyota Manufacturing, Indiana Graciously Donated $350,000 to the UE Trinity Storm Waterpark ChangeLab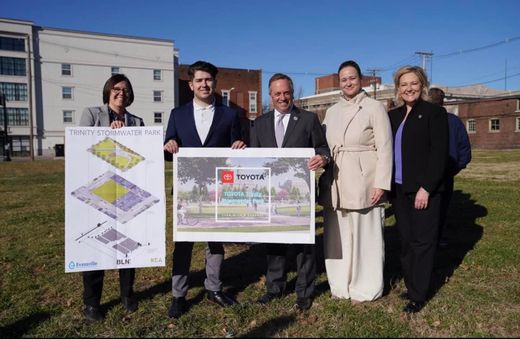 Toyota Manufacturing, Indiana graciously donated $350,000 to the UE Trinity Storm Waterpark ChangeLab. A formal announcement was made on December 13, 2021. The story of Robert Lopez, UE Junior, is one for the books. He started out competing in the UE High School Changemaker Challenge. He did not win, but continued literally walking to UE Campus from Bosse High School just to work on his dream. Fast forward 5 years later… After being coached in ChangeLabs by Erin Lewis and her gift of bringing people and resources together, we celebrate Robert's dream becoming a reality. This collaboration of UE CFIC/ChangeLab, Toyota Manufacturing Indiana, The Honorable Mayor Lloyd Winnecke, the City of Evansville, EVSC, and so many more, is a memorable example of partners coming together for something bigger than all of them. This feel good story is perfect timing as we celebrate a season of giving. Robert's speech during the formal announcement reminds all of us to dream big, and never give up. May you too be inspired by Robert's true grit, tenacity and heart of excellence. I know we are. #bethechange
Training for Freshmen, Juniors, Transfers, and First-Year Grad Students
ALL freshmen, juniors, transfer, and 1st year graduate students are encouraged to complete the U Got This! online bystander intervention, consent, and sexual assault prevention training. Please check your student email for a personal link sent by 'Catharsis Online Support Team.' By using the link, the university will be notified once you have completed the training. A few minutes of your time makes our campus safer for everyone! The deadline for completion inDecember 31st.You will not have access to the training after this date.
We are aware that training such as this can be triggering for some. The university offers resources for students who may experience difficulty completing the bystander training. Please contact Annie Sills: cs175@evansville.edu, titleIX@evansville.edu, or 812-488-5261 if you need assistance.
Clark Kimberling publishes article about Christmas Carols
Clark Kimberling, Professor of Mathematics, wrote an article recently published by the West Gallery Music Association. Entitled "The Carol Books of Thomas Hardy (1778-1837) and Thomas Hardy (1811-1892)", the article studies the sources of texts in the manuscript books of Christmas carols used by the father and grandfather of novelist Thomas Hardy (1840-1928). The article also discusses the influence of these carol books in the writings of Hardy the novelist. Copies of the books, dated 1799 and circa 1842, were made available to Dr. Kimberling by the Dorset County Museum, in Dorchester, Dorset, England. To download the article, go to https://wgma.org.uk/articles.htm and scroll to the last article under "Regional".
Contribute to AceNotes
To have content considered for inclusion in AceNotes, please submit a Marketing Request Form. Deadline for submission to AceNotes is 10:00 a.m. on the requested date of publication. Only articles concerning UE related/sponsored activities will be accepted. Articles submitted to AceNotes may be edited for length and clarity. Submitter contact information is at the end of each article.